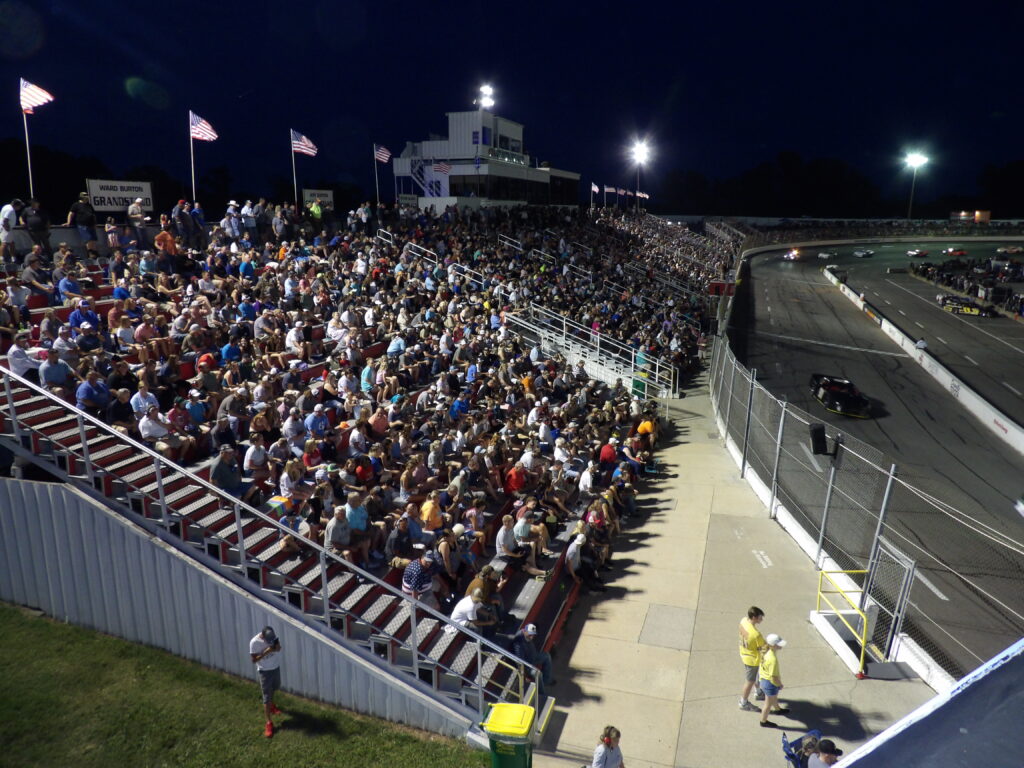 "If you're interested, you do what is convenient; If you're committed, you'll do whatever it takes."
John Assaraf
On Independence Day weekend, to say we were excited to cover our first Virginia Triple Crown race would be quite the understatement. The prestige that goes with winning just one of the Triple Crown events is huge. To win one of these races is to beat the best in the business. Everything has to come together just right, and even then, Lady Luck has to be by your side.
We arrived early at the Jewel Of The Commonwealth as South Boston Speedway has the honor of hosting the first leg in the Triple Crown, and already the parking lot is filling up. Just a week before, the speedway hosted the Superstar Racing Experience that features some of the best racers in the world. The SRX Series knows how to put on a premier racing event, and they bring with them the media and TV crews that cover it. But Saturday has that same big event feel. The media lot is again full and there's more excitement in the air than I've ever felt at this place. And when they opened the gates, the crowd started rolling in, and that didn't stop until right before race time. The place is packed. 42 of the best Late Model talent in the region and beyond is on hand, and walking around in the pits talking to the teams makes me aware immediately that for any one of these teams to win here today, they will have to lay it all on the line.
South Boston however knows how to put on a big event, and being Independence Day Weekend, they have quite the show planned for the fans here today. The autograph session is completed, the invocation has been spoken and the flags are out as a stunning 21 gun salute is given followed by a playing of God Bless The USA and a very touching rendition of Taps, which is then followed by the National Anthem as most everyone in attendance sings along. As the pre-race ceremonies come to an end, the crowd roars in applause and the excitement level raises up a notch as race cars fire to get the show underway. The crowd is pumped, the racers are ready and the TV cameras are rolling, so, Let's Go Racin'!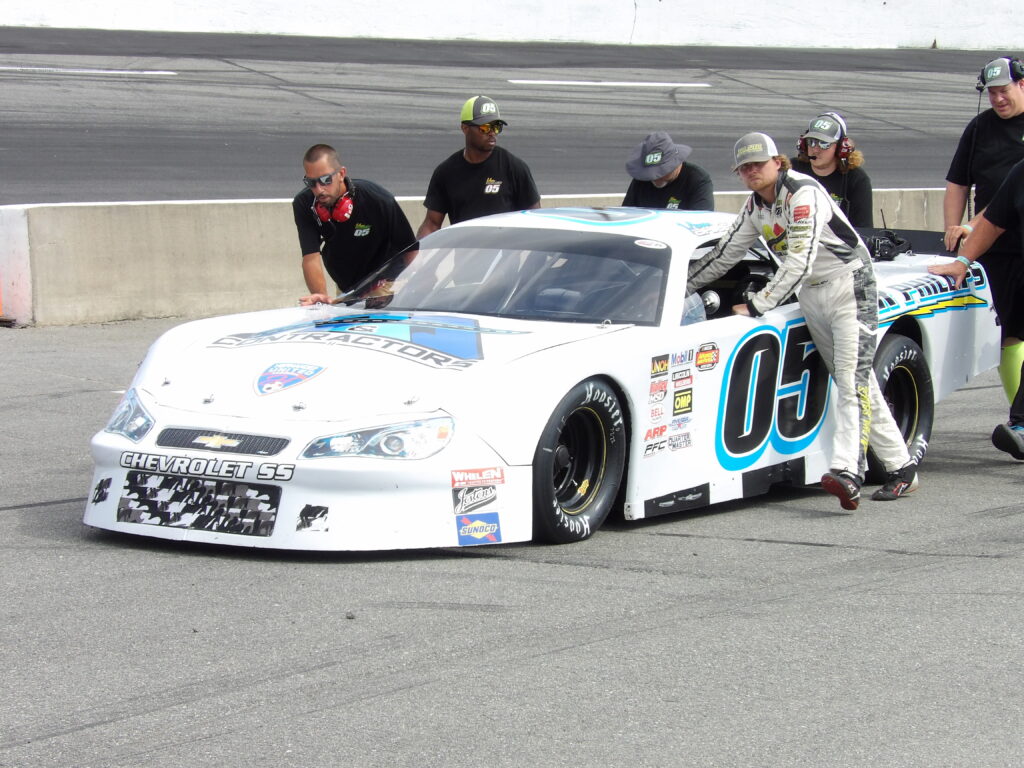 VA HEAT HORNET FEATURE
The # 28 of Kendall Milam starts up front for this one alongside the # 3 of Steven Layne. Rounding out the top five will be # 49 Kevin Currin, # 50 Landon Milam, and # 54 Jason DeCarlo. South Boston flagman Brandon Willard looks over the field, likes the formation, and we're green! Kendall gets the jump as Currin is able to get around Layne for second. But there's big trouble behind as Landon Milam and DeCarlo get together in turns three and four, also collecting the # 02 of Colton Moore. It'll be a complete restart as Kendall lines up first followed by Layne, Currin, # 12 Andrea Ruotolo, and the # 14 of Mark Cauley. Willard likes the view and we're back green. Milam gets a nice jump as the # 63 of Dillon Davis flies by Cauley for fifth. As Milam starts to pull away, Currin is able to get around Layne and now sets his sights on the leader. Behind them, Davis gains another spot as Ruotolo drops to fifth. Back up front, Currin is all over Milam and after some brief contact, is able to take the top spot. Behind them, the other Milam brother in Landon is starting to make his way back through the field, getting by both Ruotolo and Davis, securing his spot in fourth. Before you know it, Milam is also able to get by Layne, now moving into third. Davis takes advantage of the lost momentum and powers by Layne for third. None of that matters to Currin though as he cruises to victory followed by Kendall and Landon Milam. But behind them is major trouble as Layne gets back underneath Davis and the two get together! Layne slams the turn four wall coming to the line. Out of the wreckage is Davis who still finishes fourth followed by Ruotolo.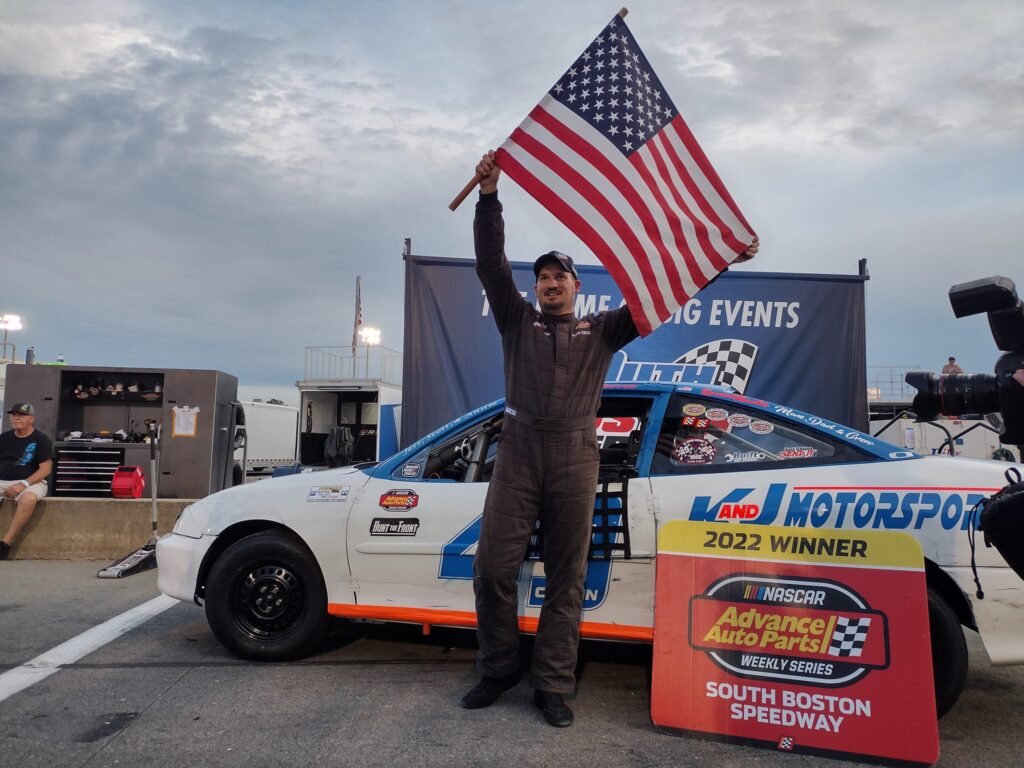 SOUTHSIDE DISPOSAL PURE STOCK FEATURE
The # 3 of Nathan Crews will start on pole for the Pure Stocks followed by the # 9 of Johnny Layne, # 66 Scott Phillips, # 11 B.J. Reaves, and # 77 Zach Reaves. Flagman Brandon Willard looks over the healthy field, likes what he sees, and we're green! Crews gets an amazing jump as everybody else slots in line behind. As the field starts to spread out early, the caution flies as the # 16JR of Jeb Redman has contacted the tire barrier out of turn two. As they lineup for the restart, it'll be Crews, Layne, Phillips, Reaves, and the # 61 of Jimmy Wade who's made his way up slowly but surely. The green is back out as Crews gets another great jump but Phillips and Layne get together! Layne goes around in turn two as Phillips made contact with the # 9 machine. After the lineup is sorted out, it'll be Crews, B.J. Reaves, Zach Reaves, # 12 Andrea Ruotolo, and Wade. Willard likes the view and we're green once again. Crews gets another outstanding start but behind him, Layne enacts his payback on Phillips, spinning Phillips in turn two and collecting Jeb Redman. Phillips is none too happy as he flies around the racetrack, trying to find the Layne machine. The fans go crazy as Phillips catches up to Layne on the backstretch and runs him into the wall under caution. The two drivers have to be separated by track officials as the race's time limit has run out, sending Nathan Crews to victory lane yet again. B.J. Reaves comes home second, Zach Reaves finishes third, Ruotolo gets a hard earned fourth, and the # 2 of Kendall Milam comes out of nowhere for a top five finish.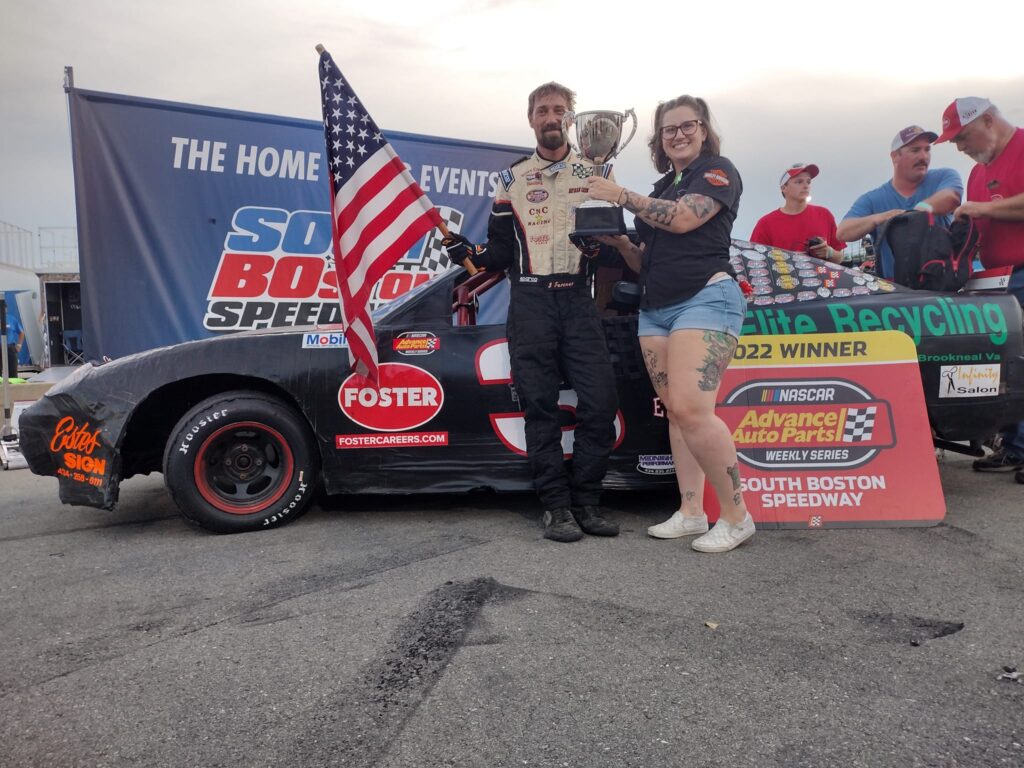 BUDWEISER LIMITED SPORTSMAN FEATURE
Starting on pole will be division veteran # 17 Jason Myers followed by the # 88 of Justin Dawson. Rounding out the top five will be the # 00 of Kyle Barnes, # 47 Chris Donnelly, and the # 21 of Carter Russo. Flagman Brandon Willard likes what he sees and we're green! Dawson immediately clears on the outside as Barnes and Donnelly make major contact on the backstretch. This sends Donnelly to sixth as the # 19 of Bob Davis gets around him. But the caution is out early as debris from Donnelly's machine has found its way onto the track. After the choose rule is applied, it'll be Dawson, Myers, Barnes, Russo, and Donnelly moving up a spot. The green flies and Dawson is able to get a great start, but it's too good as it'll be called off. The second go around is good as Dawson clears again, looking to get a big victory tonight. Barnes is able to capture second from Myers as his car seems to be coming to life. Barnes gets his car pointed and is now all over Dawson, eventually making the pass for the lead. Meanwhile, Donnelly has gotten around Russo and now looks to Myers. The # 29 of Brian Obiedzenski now looks on Russo, and he will fight his way into the top five as Barnes starts to gap the field slightly. Myers now looks on Dawson for second, but Dawson won't give up without a fight. Myers is just too much though as he gets by Dawson and brings Donnelly along, giving him third. Back up front, Myers has started to gain tremendously on Barnes and is now all over the # 00. He looks inside, but he doesn't have enough power as Barnes keeps clear. Myers tries one last time, but it's not enough as Barnes will bag the victory tonight followed by Myers, Donnelly, Dawson, and Obiedzenski.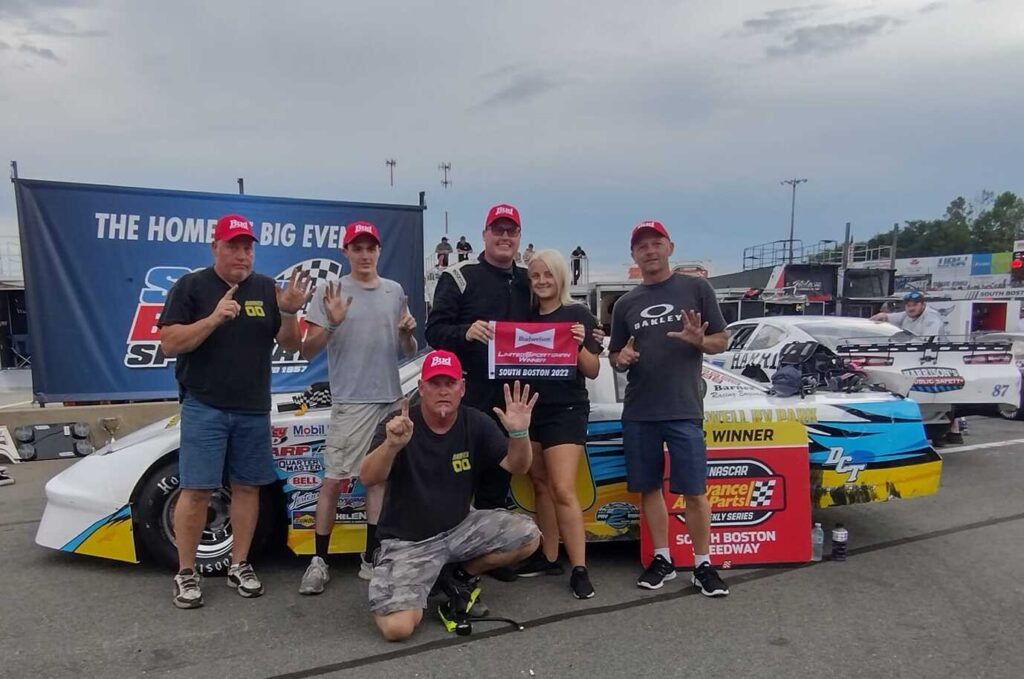 LATE MODEL STOCK THUNDER ROAD HARLEY-DAVIDSON 200 FEATURE
The # 78 of two-time 2022 Truck Series winner Corey Heim qualifies fastest with a time of 15.004 seconds. Starting alongside will be South Boston regular # 25 Jacob Borst followed # 5 Carter Langley, # 8 Carson Kvapil, and the # 24 of Mason Diaz. The crowd is on their feet, flagman Brandon Willard looks over the huge 42 car field of Late Model Stocks, likes the formation, and we're green for the first Virginia Triple Crown race of the year! Borst gets a great start and immediately clears for the lead. Behind him, Diaz and # 99 Layne Riggs are battling tooth and nail for fifth, but there's early trouble as the # 28 of Jason Barnes has looped his machine in turn three. As Barnes tries to come down the track, the # 2 of Brandon Pierce has nowhere to go and makes contact with the # 28, ending Barnes' night and hindering Pierce's. The # 77TC of Trey Crews also has mechanical problems under this caution, ending his night prematurely. After the frontrunners choose lanes, it'll be Borst restarting on the outside followed by Langley moving up a spot, Heim, Kvapil, and Riggs. The green is out and we're back racing. Borst clears once again after a quick fight as Langley slides in behind. Riggs moves his machine to fourth ahead of Kvapil as # 26 Peyton Sellers peeks his nose inside, moving Kvapil to sixth. Heim is now all over Langley, eventually clearing himself into the second spot behind Borst. Riggs follows Heim through, moving Langley to fourth ahead of Sellers. Back up front, Borst has run into some lap traffic, allowing Heim to close up and eventually take the top spot. There's more trouble however as the # 06 of Terry Dease and # 74 of Quin Houff have made contact on the frontstretch, sending Dease around going into turn one. It'll end both drivers' nights as their damage is unrepairable. Back up front for the restart will be Heim, Borst, Riggs, Langley, and Sellers. Willard likes the lineup and we're back green.
Heim gets a spectacular jump as Langley powers back by Riggs for third. Diaz has also reemerged, getting by Sellers. In front of him, Langley gets loose and nearly loses it, giving that spot back to Riggs. Sellers also won't give up without a fight, getting back by Diaz for fifth. Sellers then gets by Langley, leaving Langley to fend off Diaz. He's able to fend him off long enough for our first competition caution at lap 50, ending the first stage with Heim taking the victory. Under the caution, fan favorite # 03 Brendan "Butterbean" Queen takes his car behind the wall along with western short track star # 43 Derek Thorn due to both having mechanical gremlins. Lining up for the restart will be Heim, Borst, Riggs, Sellers, and Langley. Heim gets the jump as Langley and Diaz battle side by side multiple laps for the fifth spot. Langley somehow holds off the hungry Diaz and settles in fifth. Back up front Heim and Borst are nose to tail with Borst occasionally looking to the inside, but to no avail. As the field tries to settle in, the caution flies once again, this time for the # 2CD of Chris Denny who has spun out of turn two. South Boston gets them reracked quickly though as Heim lines up first followed by Borst, Riggs, Sellers, and Langley. To no one's surprise, Heim gets a great jump with the field settling in behind. Langley just can't get a break tonight as now the # 87 of Mike Looney is now all over him, challenging for the top five. The two engage in a classic South Boston battle with Looney winning out after a handful of laps. The field calms as they finish stage two with Heim getting the victory. Everybody comes down pit road as the halfway break has been reached and teams can now make any adjustments they need for the next half of the race.
After the halfway break, it's still Heim up front followed by Borst, Riggs, Sellers, and Looney. Willard looks over the field, likes the view, and we're back green. Again, Heim gets a massive restart with Langley clearing Looney for the fifth position. Riggs looks under Borst for second, but can't get it done as Heim continues to dominate out front. Behind them, Kvapil slows on track as he joins the long list of people behind the wall in this one, bringing his car to pit road with no issue, meaning no caution. As the back half of the field jockeys for position, Heim cruises to yet another stage win as the caution flies on lap 150, setting up a 50 lap dash for $10,000. Heim, Borst, Riggs, Sellers, and Looney will be the top five as they battle for a Virginia Triple Crown victory. Willard looks over the field, likes what he sees, and we're green! For the first time all night, Borst is right there with Heim as they battle side by side for the lead. Heim eventually clears but Borst is all over his rear bumper. Langley is able to get by Sellers for fourth but Sellers isn't going to give up the ghost as he powers to the inside, making contact with Langley and getting the spot back. Looney follows Sellers through as Langley drops to sixth. Behind him, the pack is racing three and sometimes almost even four wide. The # 55 of Mark Wertz starts to storm up through the pack but all of the close racing finally catches up to the field as the # 4KD of Kyle Dudley has spun in turn two. Still no changes up front though as Heim will lead the field to green followed by Borst, Riggs, Sellers, and Looney. Heim and Borst are pretty even but Borst gets loose out of two, allowing Heim to again clear for the lead. Langley slides by the Looney machine as Riggs is now on the outside of Riggs. But there's trouble! Borst pinches Riggs up on the backstretch and Riggs makes contact with the wall, cutting his tire. The caution flies as Riggs brings his battered machine to pit road. It's now inside of fifteen to go with all of the heavy hitters still up front. Heim will line up first, Borst second, Sellers third, Langley fourth, and Looney fifth. Willard nervously looks over the field, likes the view, and we're green.
Borst gives Heim another challenge, but Heim is just too strong as now the # 91 of Jonathan Shafer has made his way into the top five. Borst is now under fire from Sellers as the two make contact, giving Sellers second for the first time tonight. But behind them is HUGE trouble. Shafer and Looney make contact going down the frontstretch which sends Shafer around in front of the whole field. Literally every single car behind piles in, leaving only 7 cars unscathed. Two of the lucky ones that got through were Wertz, who miraculously gets through by the skin of his teeth and Dudley, who was lucky enough to have enough time to mash on the brakes. The # 17 of Stacy Puryear and the # 44 of Conner Jones leave via ambulance, though both are thankfully okay. Everyone else is bruised and battered, but okay nonetheless as a very lengthy cleanup takes place to get rid of the carnage. After all is said and done, it's still Heim up front followed by Sellers, Borst, Langley, and Looney, who also escaped the monster crash. Willard looks over the dwindled field, gives the thumbs up, and we're green! Sellers spins his tires and slides sideways into Heim at the line, but they barely save it as Heim tries to run away. Borst and Langley get by as Borst starts to look on Heim. But behind, Sellers gets into Langley and spins him around! Looney piles in and destroys both his and Langley's car. The caution flies again, setting up a duel between Heim and Borst. The South Boston track crew has the track cleaned, the fans are on their feet, and we're green to settle the crown jewel race of South Boston!
Heim and Borst are dead even heading into turn one with Heim doing what he's done all night,clearing Borst without hesitation. But Borst is back underneath! Heim slips up for the first time all night and can't rid Borst as they're side by side! They come to the white flag with Heim still leading and Borst in hot pursuit. Heim nails turns one and two, but here comes Borst! Borst dives into turn three and they're side by side coming onto the frontstretch! They slam doors as Borst hits him once, gets loose, slides back into him and they spin across the finish line side by side with Heim slamming the inside wall in first! An AMAZING finish to an amazing race as Heim takes the first leg of the Virginia Triple Crown with Borst coming home second, Sellers third, Diaz with half a race car comes in fourth, and Langley somehow comes home fifth after a late race crash.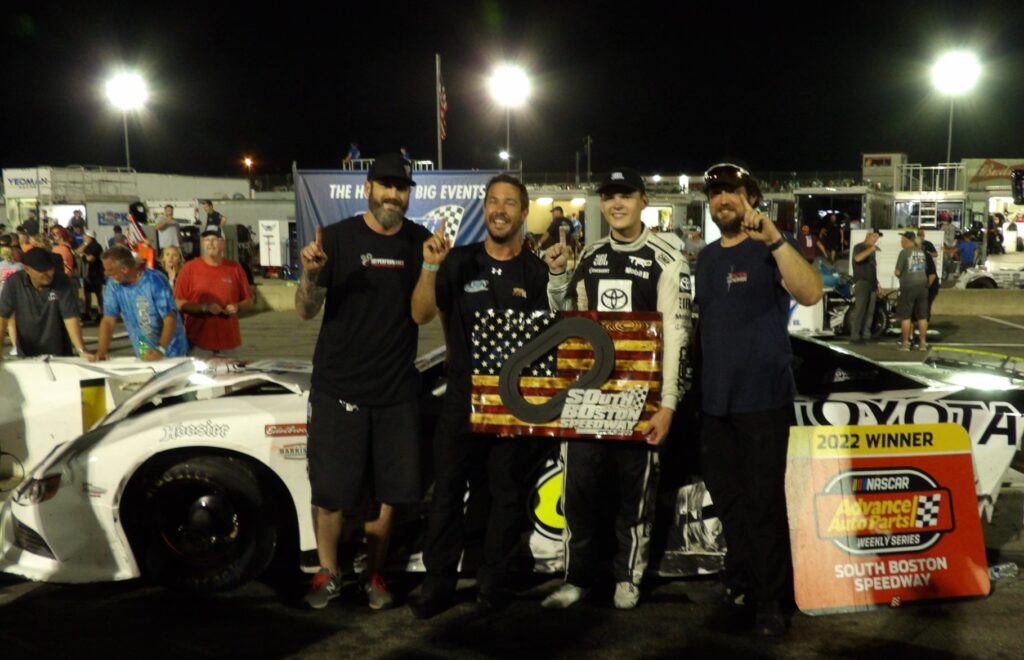 MY TAKE
It's not hard for me to know where to start on this one and I am happy to address it. We've taken a good look at the social media squabble after this race and frankly I'm a little surprised. We've seen Jacob Borst taken to task for his move to try and win the race so let's unpack that a bit. Generally in the big races we've covered, especially in the longer races, the top half of the field ride for a bit to save tires. But in this race, from the very outset, the front runners played a high speed game of chess. They felt each other out and challenged each other the whole race, especially coming to the end of the stages. And it just heated up in intensity as the laps wound down. If anyone had a real argument on the race Borst put together however, it would be Layne Riggs and his team. As Riggs came to the front, he and Jacob Borst had a battle when Riggs got to him. And as he went to the outside, Jacob ran him high and Riggs was bounced off of the outside wall, sustaining damage and cutting a tire in the process. So we can understand the chatter surrounding that incident. When it comes down to it, that's two guys racing for points at their local track, and they still have half a season to go and so these guys will have the opportunity to work that out the rest of the season.
Both of these drivers are running for a National Title, as well as a South Boston Late Model Championship, and so they will answer for how they race each other on the track, and that battle is far from done. But other than that incident, and what happened on the last lap, Jacob Borst ran about a clean a race as you can imagine. And if you watch the race closely and pay attention to the chess game being played, that has to be considered. So that said, let's address the closing laps. First, those criticizing Borst for his move on the last lap seem to be forgetting the second to last restart after the big pileup in the race. Coming to the restart, Carter Langley nudged up to Peyton Sellers" rear, making contact just before the leader Corey Heim took off to restart the field. Langley didn't hit Sellers enough to cause Sellers' car to go askew, but it happened at the same time the leader was restarting the race, and it threw Sellers off enough that he spun his tires and got into the side of Heim who then used every bit of Sellers' machine to get righted. Then Sellers and Langley had a battle that led to Langley being spun out, ending Langley's great run and putting an end to his chances for a win. Now knowing racers as I do, I can tell you Corey Heim did what he needed to do to correct his machine in an amazing save, but after he saved it, he made sure Sellers didn't get by. Something he needs to give no apology for, but, he also sent a message to anyone paying attention to what he was willing to do to win this race.
This is what I expect from a racer. You see, we live in a day where people seem to want to forget how stock car racing began. When racers raced in a field with little rules, and the winners got paid by the promoters through a cracked car window with a man in the passenger seat holding a rifle in case things got out of hand during the payoffs, which often were not as advertised by a long shot. Yes, the sport has changed, but let's not pretend that short track stock car racing is a non contact sport. It's not for the weak or timid. There are those that think that great racing involves no contact and entirely clean racing to have credibility. To those people I say there are other forms of racing you should check out. IndyCar, F1…I could go on and on. But this is stock car racing. A sport grown by moonshiners and veterans looking for excitement after facing years of imminent death. And while some seem to want to move away from this, I am not one of those people. There was a term that sums it up too that most want to forget – "Rubbing Is Racing." And no matter what some want to try and believe, this is the truth of it.
After evaluating this race extremely close and taking in the race as a whole, Jacob Borst has nothing to apologize for. He did what he needed to do to try and win the race. And when we talked to him after it was all over he said just that. "…the fans can be mad, but I gave it all I had and he gave it all he had, and I did what I had to do to win the race." Corey Heim wasn't happy with Borst nor should he be. But I look at it like this – No competitor will be happy with you taking a shot at them as they go for the win to counter it, especially if you rough them up. But champions don't show up to make friends, they show up to win.
In the end, this was one of the best races we have ever seen, much less covered. It had everything. Action, drama, excitement, and yes, leaders spinning across the line sideways going for the win. All of it led to a race for the ages that those in attendance won't soon forget, and that's good for the sport. Jacob Borst has had an amazing year and he has shown that he will be a force to contend with all year and into the future, and Corey Heim reminded everyone why he is one of the very best. And that was just the first leg of the Triple Crown, with two races to go before the Crown is awarded. The National Points race just got even more exciting as did the South Boston Championship race. And excitement is growing again for short track racing across the nation. Just at a time when the sport needs it most.
In all the drama, many might not have noticed the performance by Mark Wertz in the # 55 machine, but they should have. Wertz started 28th on the field, but he used the early portion of the race to work his way through the field in amazing fashion and settled in the the back half of the top 10 and he bid his time until it was time to settle it at the end. And when the big one happened, he was the only car in his group to slip through, coming through the carnage almost completely unscathed. And when it was all said and done, Wertz turned his twenty eighth starting position into a sixth place finish in a performance that earns Mark Wertz this week's Blue Collar Racer Of The Week. Congratulations to Wertz and his team on a hard working performance that nets them a finish right outside the top five after starting near the rear of the field.
So there you have it and I'm sure many this week will disagree with my insights on the finish of this race but we have to call it as we see it. Now we don't advocate for dirty driving, and our supporters know how we feel about that. But coming to the finish with so much on the line we feel you do what it takes to win if you think you have the piece to do it. You work too hard. Your team works too hard to settle for anything less. For them you do what you have to, and at all costs. 'Till next time, See You At The Track!