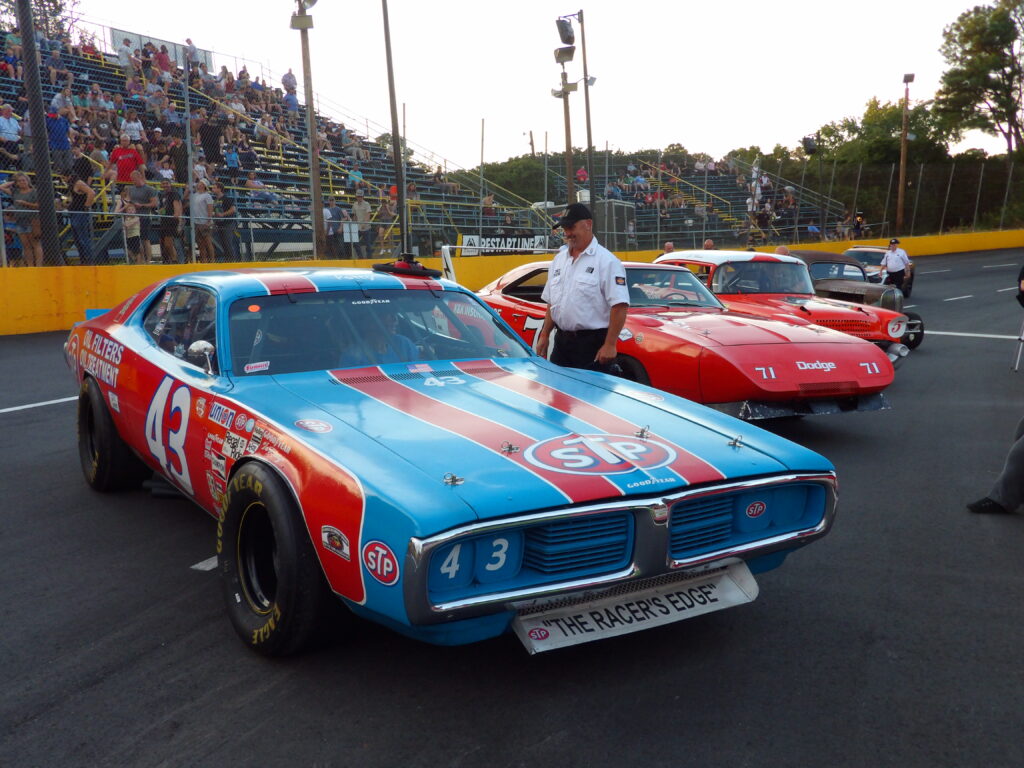 Every short track in America that's survived to this point has it's own unique characteristics that make it special. Whether it's the history, the competition, the way it's catering to the fans, or all of the above, short tracks that have made it this far have done so because they have something that keeps the fans coming back. It's a business, but it's also a business of entertainment as well as competition, and so if a track had set out just to make money, they would have run out of it a long time ago. And unless there was an intervention of sorts, they would just be another name on a long list of lost speedways. So in our racing coverage of the great competition that happens at any great short track, we have a goal of trying to also give you a feel of the tracks they compete on as well. It's important if you want to understand the greatness that is short track stock car auto racing. The drivers and teams bring the competition to a whole new level as they've done throughout the history of the sport. But it is the tracks themselves that allow them to do so. It's a show after all, and it's all in how the show is presented that keeps the fans coming year after year. And let's face it. In today's world especially, you have to be strong in whatever you do if you want to survive, much less thrive. And if we've said it once, we've said it a million times, short track racing is in an age of resurgence. It's not perfect, but it's evolving into a new era after some would have and did leave it for dead. Not all tracks will survive the transformation. But the real truth is that the ones that do will find themselves on the top of a mountain of sorts in a sport that has evolved into the next great era of competition. So let the naysayers point out the obvious and cry to oblivion. For the rest of us it's time to get on with the show. And this week, we headed out to a place that knows how to put on a show. A place where you'll find nothing less than a 'Festival Of Speed', and a place that does it better than most. A place that knows how to give it's fans a show, and a place where the fans always have a great time, no matter what happens on the track!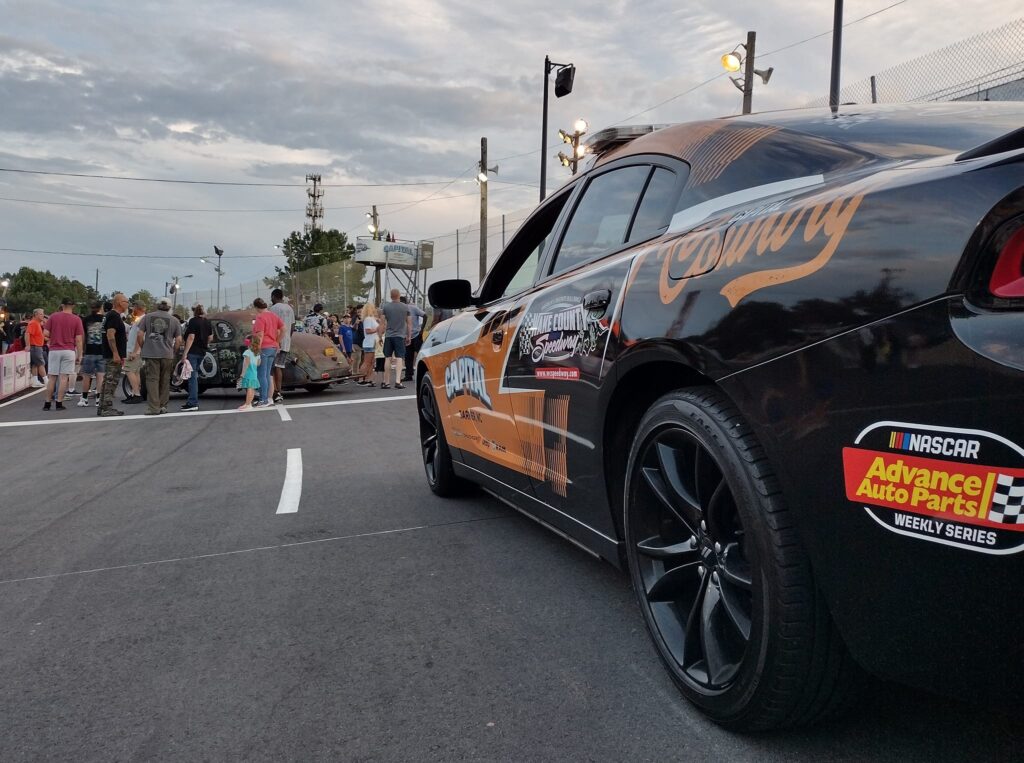 ANY CAR/BOMBER FEATURE ONE
The # 75 of James Barbour has the privilege of starting up front for Any Car/Bomber race one followed by the # 8D of Daniel Stephenson, # 29 Shawn Padgett, # 18 Eric Martin, and the # 08 of Andrew Watson. Wake County Speedway flagman Hunter Hansen looks over the great field, likes what he sees, and we're green! Watson automatically makes his move at the line, going three wide on Martin and Padgett, eventually moving past them and tracking down the leaders. It's a short lived battle though as Watson makes his home up front. Barbour falls back to third now as Padgett runs in fourth followed by Martin. Padgett turns up the wick though as he's able to power by Barbour, moving into third. Behind them, the # 53X of Parker Deatley muscles past Martin as Martin seems to have a problem as he falls through the field. But up front, it's all about the Ford Mustang of Watson as he grabs the first checkered of the night followed by Stephenson, Padgett, Barbour, and a spinning Deatley who still finishes fifth while impacting the inside wall.
ANY CAR/BOMBER FEATURE TWO
An eight car invert for race two allows for the # 95 of Joshua Marley to begin on the point with the # 81 of Tim Clevinger starting second, # 06 Celeste Clevinger third, Barbour fourth, and rounding out the top five will be Stephenson. Marley gets a good jump as the field scatters behind, even trying three wide at points on the tight bullring. All of the chaos eventually results in a caution as Celeste Clevinger comes to a stop on track. The top five lining up for the restart will now be Marley, Stephenson, a hard charging race one victor in Watson, Padgett, and Tim Clevinger. Stephenson is the one with the jump this time as Watson follows through as well, moving Marley to third. Watson now looks to the inside of Stephenson, but Stephenson isn't going to give this one up easily as he defends the inside lane. With desperate times come desparate measures though as Watson looks on the tricky outside and makes the pass! Stephenson now slots second in line as Watson begins to pull away. Meanwhile, Padgett moves into third past Marley with the # 65 of Jason Bryant breaking into the top five by Tim Clevinger. But none of that matters to Watson as he sweeps the night in a fantastic performance in the Any Car/Bomber division. Stephenson once again finishes second, followed by Padgett, Marley, and Bryant.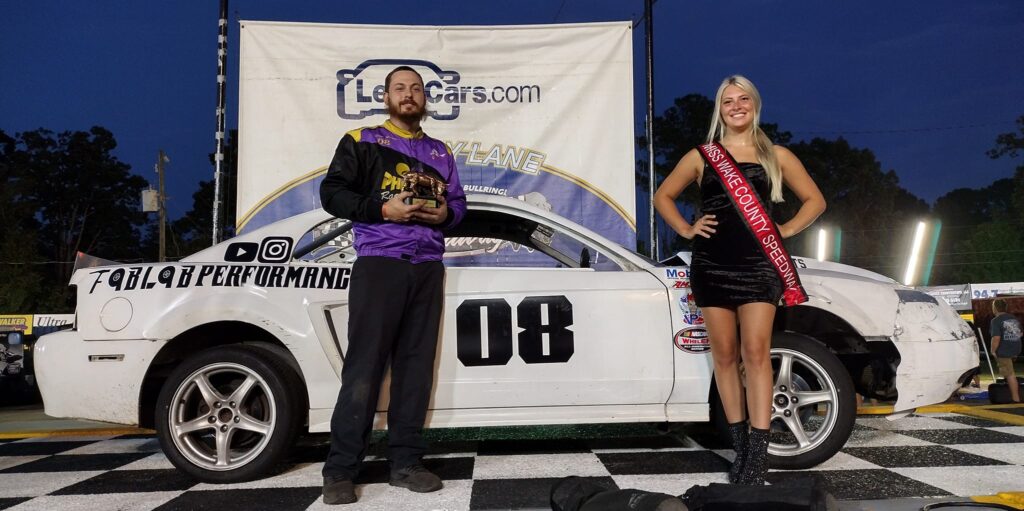 MINI STOCK FEATURE
Short track veteran # 27 Lee Kozikowski grabs the pole, with the # 00 of Jason Adams starting second followed by the # 62 of Michael Woodard. Hansen looks them over, approves the lineup, and we're green for the Mini Stocks! Kozikowski and Adams are dead even, with Kozikowski barely getting the advantage early. Adams is determined though as he gives Kozikowski a big bump going into the turns, but Kozikowski hangs on. Adams is a menace going into the corners, but Kozikowski is better coming off as Adams continues to breath down Kozikowski's neck. He efforts are interrupted though as the caution flies for Woodard spinning around in turn four. Kozikowski will line up first for the restart followed by Adams. It's another great side by side fight with Kozikowski prevailing. But Adams continues his mission, trying his best to give Kozikowski a shove. The fans are absolutely loving it as Adams is dirt tracking it into the corners. On the white flag, Adams gives one last effort, but it's a little too much as he spins! The caution flies once more, setting up a green white checkered finish. Kozikowski gets a brilliant restart, but Adams won't give up. He attempts one last send on the last lap, but it's not enough as Kozikowski fends him off and takes the victory. Adams crosses the line second with Woodard coming in third. What a race!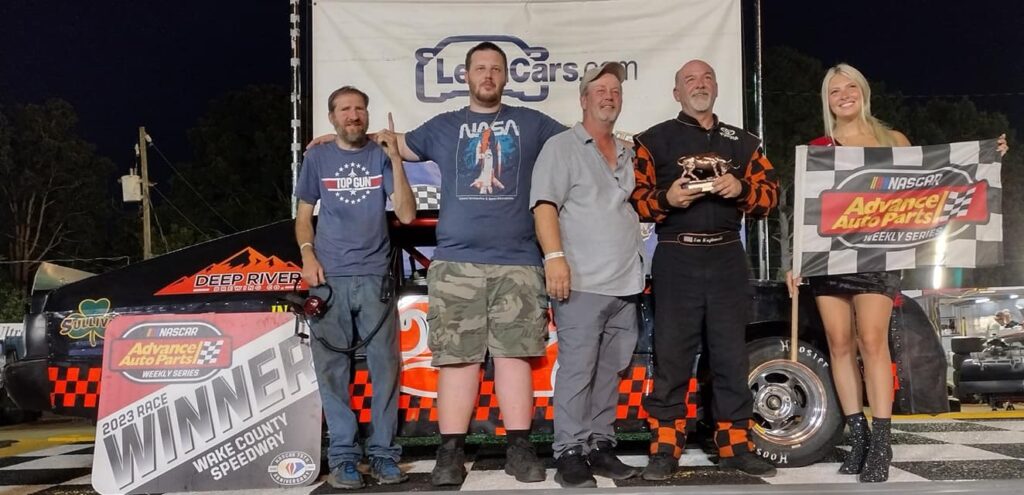 INEX BANDOLERO FEATURE
Aidan Zschiedrich in the # 38 is the fastest in qualifying, so he'll line up on the pole with the # 9 of T.J. Moon starting second followed by the # 12R of Eli Russell in third. Hansen looks them over, likes the formation, and we're green for the INEX Bandoleros! Zschiedrich gets a good start, but Moon gets a better one as he'll clear for the top spot. The # 12 of Jay Hemenway is on the move, as he gets by Russell, then Zschiedrich. But Zschiedrich has a run and gets back by Hemenway, and now starts to look on leader Moon. Zschiedrich dives under, makes a little contact, and he's now the leader as Hemenway follows through as well. The caution is out though as the # 41 of Mandi Lee loops it in two. Resorting back to the previous lap, Moon restarts up front with Zschiedrich in second and Hemenway third. The green is back out and Zschiedrich gets aggressive. He makes more contact with Moon, now allowing the # 1 of Gavin Holland to enter the frame! Zschiedrich starts to fall a bitback as Holland takes over the top spot followed by Hemenway and the # 88R of Brian Rundstrom. Holland tries to make a gap but the caution flies again as Lee is around on the frontstretch. Lining up for the ensuing restart will be Holland, Hemenway, and Rundstrom. Holland gets the jump but there's a big stackup going into turn one, collecting multiple drivers including frontrunner Zschiedrich. He's back rolling though as it'll be the same top three. The green flies and Hemenway gets an outstanding restart! He grabs the lead as Holland and Rundstrom fight hard for second, with Holland securing the spot. But out in front is Hemenway as he crosses the line first. However, following post-race technical inspection, Hemenway is disqualified, giving Holland the win. Rundstrom now finishes second followed by Russell.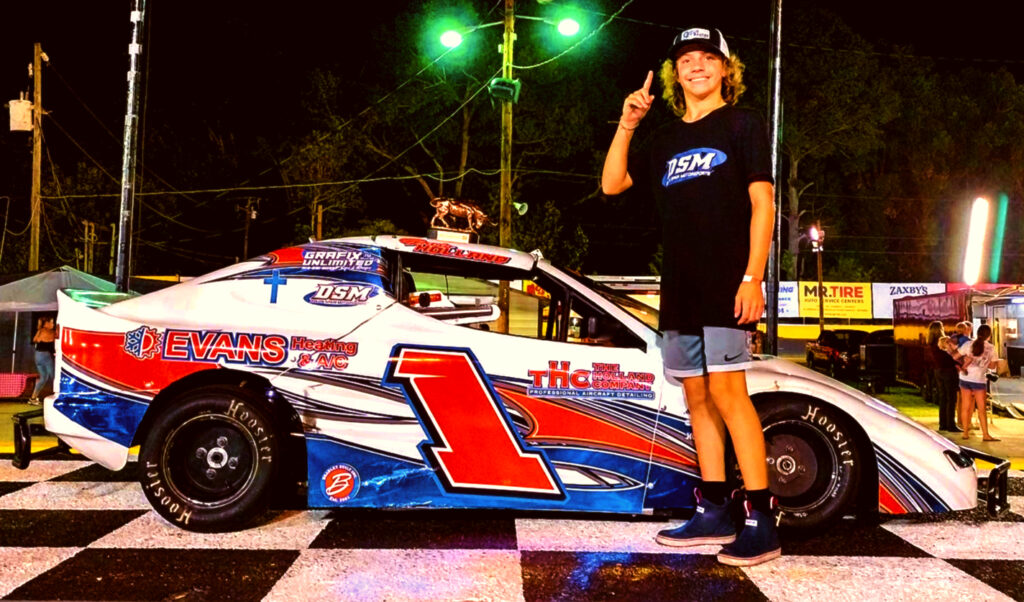 INEX LEGEND FEATURE
Trevor Thacker in the # 22 rips around Wake County Speedway in 13.623 seconds, giving him the first starting position followed by the # 9V of Chase VanHouten, # 08 Carson Haislip, # 97 Isaac Kitzmiller, and the # 95 of London McKenzie. Hansen looks over the stacked field, likes the lineup, and we're green for the INEX Legends! Thacker is able to clear as the field races hot and heavy behind, resulting in our first caution as the # 5A of Clayton Austin spins in turn one. On the ensuing restart, Thacker once again gets a flawless start, but behind is carnage as VanHouten spins in front of the field, collecting numerous cars! Most are able to drive away, but the same is not said for VanHouten, the # 46 of Kaleb Bradley, and the # 79 of Neal Dulin. It's a lengthy cleanup, but after all is said and done, Thacker will once again line up first followed by the # 23 of Josh Lowe, Haislip, the # 18 of Chris Kuhn, and the # 00 of Aaron Crumpler. Thacker launches like a rocket and gets away as Haislip slides by Lowe for second, putting teammates one and two. Crumpler's car begins to come to life now as he gets by Kuhn for fourth, but another caution flies as the # 88K of Phoenyx Kimball and Austin have collided. After the choose, Thacker will be on the point followed by Crumpler who moves up a spot thanks to the cone, Haislip, the # 2 of Jim Sylvester, and Lowe. It's the same song and dance for Thacker with Haislip moving by Crumpler as Kuhn is back into fifth. The caution fever won't let up though with the # 21 of David Hall spinning in one. Once more the cone is put out, as Thacker lines up first, Crumpler second, Haislip third, # 51K Raven Kimball fourth, and Lowe fifth. Thacker gets maybe the best start of the night with Crumpler once again falling victim to Haislip. Meanwhile, Lowe gets by for fourth and brings the # 4 of Ryan Zima along with him in fifth. Zima doesn't let up, getting by Lowe and now Crumpler, breaking into the top three. Behind him, Kitzmiller is back in the fray, taking fifth away. He then moves up another spot as Kuhn now emerges in fifth. But back up front, Haislip is right there with Thacker, looking for any mistake to be made. But Thacker is picture perfect as he takes the victory ahead of Haislip, Zima, Kitzmiller, and Kuhn.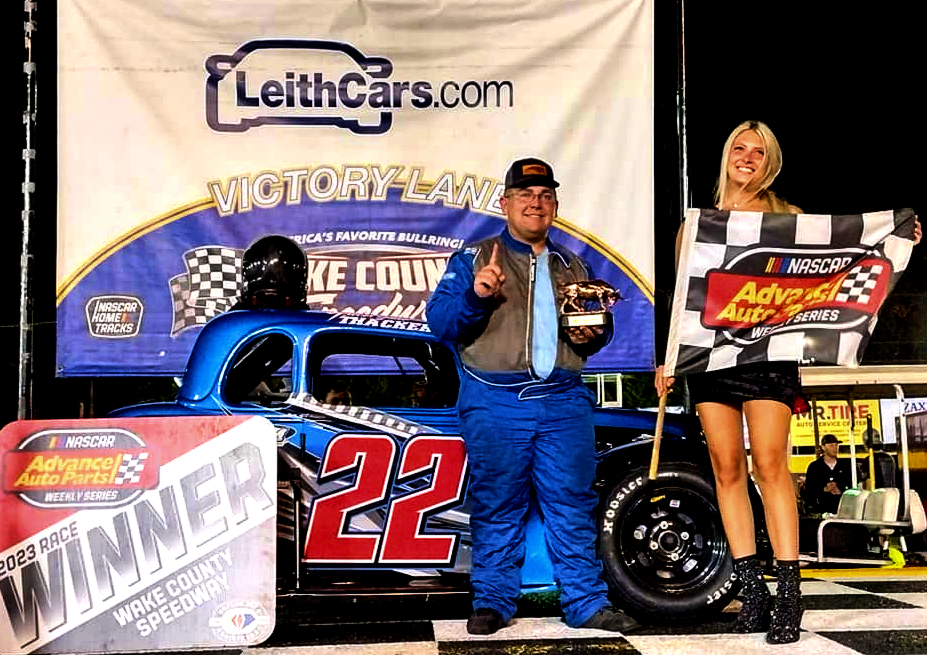 LATE MODEL STOCK FEATURE
Defending Late Model Stock champion Clay Jones in the # 15 puts down a blistering lap in qualifying, getting around 'America's Favorite Bullring' in 12.485 seconds. Starting alongside on the outside pole will be Carson Haislip in the # 08, followed by Tyler Matthews in the # 63, # 50 Daniel Vuncannon, and the # 85 of Mason Ford. Hansen looks over the field, approves what he sees, and we're green for the Late Model Stocks! Jones fires off first and immediately situates himself in the front. Behind, Matthews is able to get around Haislip for second. But Haislip has something to prove, as he crosses over and gets back by Matthews. Matthews tries to mount another charge at the # 08, but now Vuncannon is there in the # 50, as he looks and gets around Matthews. Meanwhile, Jones continues to walk away but the caution is out as Mason Ford has slowed on track, taking him out of contention. The choose cone comes out with Jones taking the inside. Coming up to second though on the outside is Daniel Vuncannon, as he feels he has what it takes to challenge for the lead. Haislip lines up third followed by Matthews and the # 88B of Zack Brown. Vuncannon gets a great restart on the dreaded Wake County outside, but Jones is just too strong as he clears without issue. That leaves Vuncannon to deal with Haislip, as Haislip is able to get around as well. But Vuncannon has a great run, now looking back on Haislip and getting around, bringing Matthews along with him. But up front, Jones starts to spread the field out, running picture perfect laps and grabbing his fifth win of the year ahead of Vuncannon, Matthews, Haislip, and Brown in a dominant performance.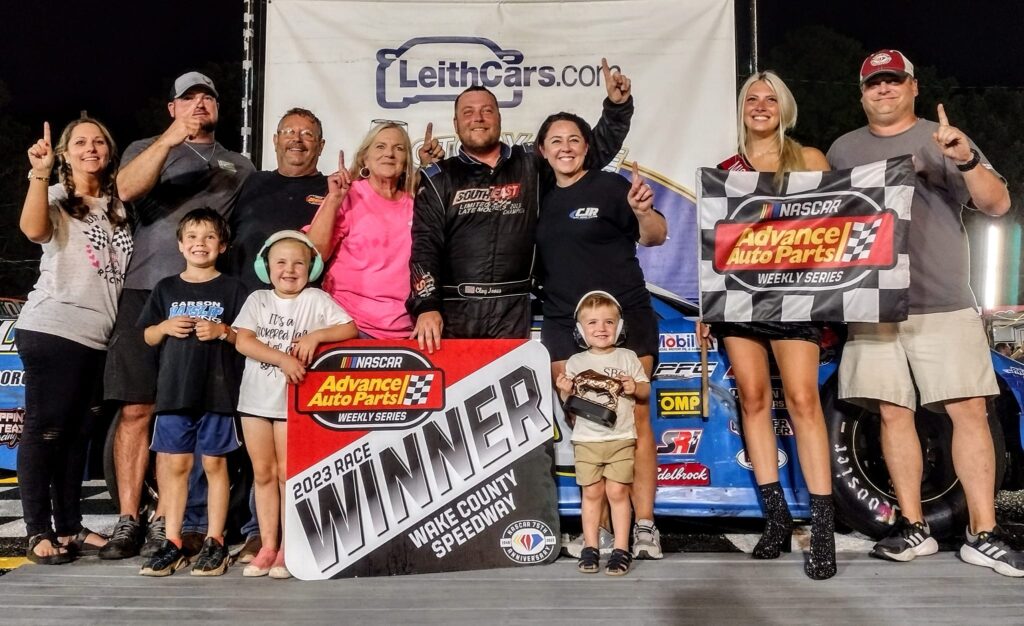 MY TAKE
We've been to Wake County Speedway a couple of times now as a race coverage entity. The first time was to cover the CARS Tour in 2021, so we knew we wanted to get back to the speedway for a local show. Fortunately this year, we were able to adjust our schedule to be able to cover some Friday races, and we plan on continuing that trend in the future as we also continue to build our platform. And it was important to us to be able to confirm what we found about Wake County on our first visit to the track, and that was as I stated earlier that a trip to Wake County Speedway is like going to a 'Festival Of Speed'. Promoter/owner Charlie Hansen knows how to put on a show for his track's fans! And when you get to understand the challenges any short track promoter faces, you start to understand that attributes like that come from a promoter's love of the sport itself. And Charlie Hanson's love of the sport shows in how he presents it. And the fans' reactions to his shows and their dedication to his track confirms that he has a special connection with them. Wake County Speedway has an atmosphere to it like no other in the central east coast region. From the antics of Checkers (the Wake County mascot with his own social media page with the moniker America's Favorite Bull), to the concert series Rock The Ring this week featuring musical artist WONDR, to the action on the track, this Friday's race was a true indication of how Hansen makes sure the speedway puts on a great show for the fans.
And this week's show had some great highlights that some might have missed but were not lost on us. Firstly the performance of Late Model Stock winner Clay Jones has been stellar this year with 5 wins on the season at Wake County Speedway as he looks to repeat as Late Model Stock champion, but he still remains in a heated battle with Tyler Matthews who holds a tight three point lead heading into the final stretch of the season. Second, we couldn't help but notice two contenders who ran double duty on Friday competing in the INEX Legend event and the Late Model Stock race. We make it a point to take a closer look at certain young competitors as we're fully aware that they are indeed the future stars of the sport. And we also are fully aware that just like any other sport, a lot of things can happen on the way up through the ranks that will filter out a lot of talent, and so we like to keep an eye on the best young talent and their progression. And for us it was great to see Carson Haislip and Zack Brown quietly getting their feet wet in the Late Model Stock ranks as we know it will serve them well in the future. And third, we can't understate the presence of INEX at Wake County Speedway. Legends and Bandoleros are arguably the best developmental divisions in short track racing today, and INEX is where a ton of young talent hone their skills, and it doesn't look as though this trend is ending anytime soon. And what better place to gain those skills than Wake County Speedway? The seven degree banking at the exciting quarter mile challenges all who try to conquer it, and can and will be a great learning curve for the young talent in the central east coast region. And we can tell you firsthand that the fans that show up to the track are very attentive to these facts. Some of the loudest cheering we heard all night was when these divisions were on track, and it's very indicative of a fanbase that understands what we just stated about these young divisional drivers.
And so now we come to the final observation of this great show or Festival Of Speed if you will, and that's naming our Short Track Report Blue Collar Racer Of The Week. For us, after our extensive review of every driver's on track performance, it came down to 3 names this week. First on that list was Carson Haislip as the young driver pulled double duty racing in the Legends and Late Model Stock features, coming away with a second place finish in the Legends race, and then managing a fourth place finish in the evening's feature event race in the Late Model Stock event for a great night for that young driver. Second, we couldn't ignore Clay Jones' outstanding performance in the Late Model Stocks, taking the pole and leading every lap of the event. It would have been easy to just hand the award to Jones and his team after such a dominating performance, and one that goes a long way in his championship hopes for the 2023 season. But after our evaluation was complete, we also couldn't ignore the performance of one other name on our list. Proving once again that our award winner can come from any division, and literally this week, as we couldn't help but notice and recognize the on track performance from Andrew Watson on his double header wins in the Any Car/Bomber double feature. Starting sixth in the first event, he worked his way through the field for the impressive win, and then turned around and repeated the feat in the second, only bettering himself as he started eighth and once again found himself first to the checkered flag. Congratulations Andrew Watson and crew for two outstanding performnaces that earnes you this week's Short Track Report Blue Collar Racer Of The Week! And until next time, See You At The Track!
(Race write up by Joshua Weatherman. Intro and My Take written by Billy Weatherman. 2023 Copyright SHORT TRACK REPORT)
Tags
Aaron Crumpler
,
Aidan Zschiedrich
,
Andrew Watson
,
Any Cars
,
Bandoleros
,
Blue Collar Racer Of The Week
,
Bombers
,
Brian Rundstrom
,
Carson Haislip
,
Celeste Clevinger
,
Charlie Hansen
,
Chase VanHouten
,
Chris Kuhn
,
Clay Jones
,
Clayton Austin
,
Daniel Stephenson
,
Daniel Vuncannon
,
David Hall
,
Eli Russell
,
Eric Martin
,
Hunter Hansen
,
INEX
,
Isaac Kitzmiller
,
James Barbour
,
Jason Adams
,
Jason Bryant
,
Jay Hemenway
,
Jim Sylvester
,
Josh Lowe
,
Joshua Marley
,
Kaleb Bradley
,
Late Model Stocks
,
Late Models
,
Lee Kozikowski
,
Legend Cars
,
Legends
,
LeithCars.com 160
,
London McKenzie
,
Mandi Lee
,
Mason Ford
,
Michael Woodard
,
Mini Stocks
,
Neal Dulin
,
Parker Deatley
,
Phoenyx Kimball
,
Raven Kimball
,
Rock The Ring
,
Ryan Zima
,
Shawn Padgett
,
Short Track Racing
,
T.J. Moon
,
Tim Clevinger
,
Trevor Thacker
,
Tyler Matthews
,
Wake County Speedway
,
WONDR
,
Zack Brown