TRI-COUNTY SPEEDWAY SEPTEMBER 18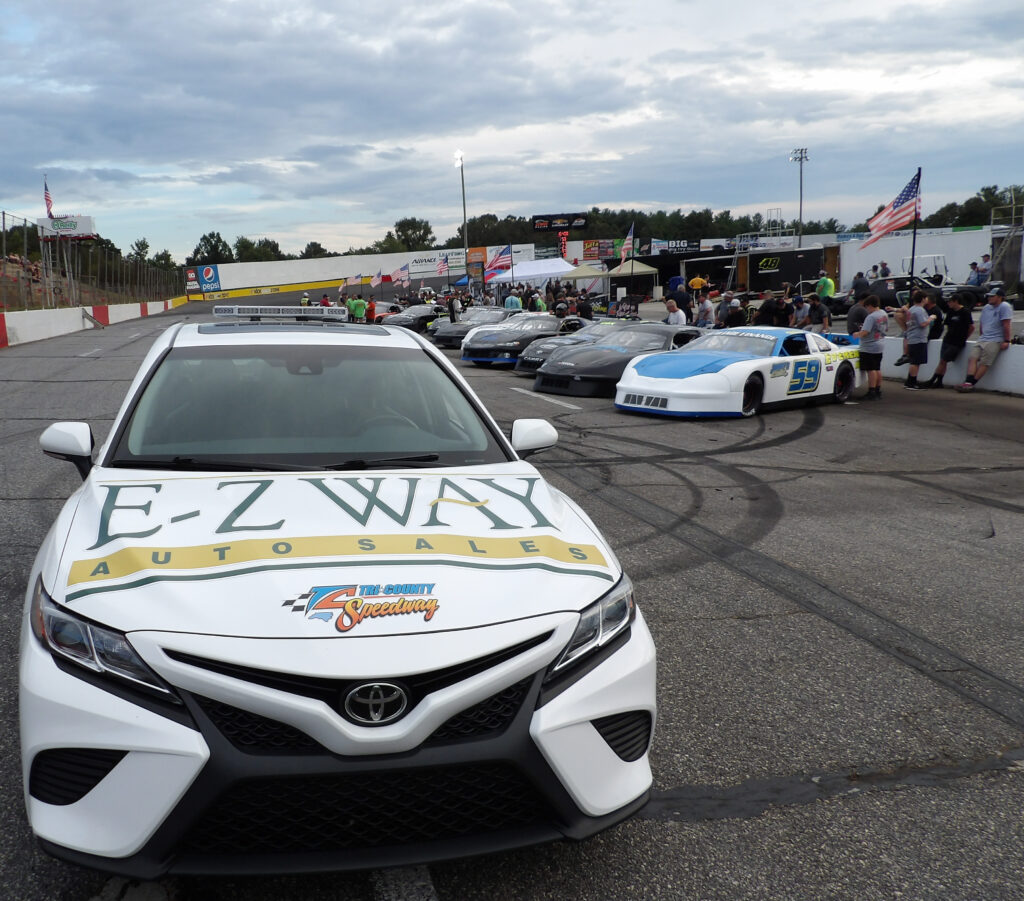 Look beneath the surface; Do not let the several qualities of a thing nor it's worth escape thee~

Marcus Aurelius
Many racing fans hardly know the challenges of a track promoter, and the track management that run the show. It's something that escapes many who claim to love the sport of short track stock car racing. Those challenges in today's era have grown substantially, but it's barely acknowledged in today's world, as in today's world, many have unfortunately learned to barely see beyond their own perspective. It's an unfortunate edition to the long list of challenges track promoters already face. But the track promoter who comes to his job with a love for the sport versus those who do what they do solely for profit, will always have a foundation that leaves them not having to scramble to fill the voids. Foundations have to be maintained in a way that leaves you able to adjust on your own hidden strengths, not having to lean on the foundations of others. In today's racing promotion climate, you need that strength beneath the surface to fend off those always digging around you. It's an unfortunate reality. But as the racing world rebuilds from the downturn that weakened it in the past years, that saw many tracks lost like Concord Speedway, Southside Speedway, and Myrtle Beach Speedway just to name a few among many, and I stress the word many, promoters who love the sport for what it truly is have to dig in and stand on that love.
They have to adjust to not only deal with extreme competition from the other promoters, some of whom operate solely with dollar signs that impede their vision. And surprisingly now, challenged by the disgruntled fan, who claim to love the sport as a whole, but dedicate themselves to one track or series. And in doing so, have come to shrink their vision as well. But promoters who do what they do out of love know that gold is the weakest rock on which to build. And know that even though they need that gold to beautify and pay for what they build, the foundation rock that they stand upon, is the true racing fan, that loves the sport as they do. The promoter that looks to provide the best racing and competition, build with that goal in mind, as a way for their track to do business. And when those promoters meet with the challenges of putting on a show that today's promoters face, they can meet those challenges with the strengths they have forged, often hidden beneath the surface, on which they will stand far into the future. They say all glitter turns to gold, but truth is, gold is soft. But a well maintained foundation rock will always leave you a place to stand.
The show at Tri-County Speedway on September 18 was originally slated as a Carolina Pro Late Model race, and we were looking forward to that for a long time. As our readers and followers know, we have been super impressed with that series, and so when we saw they were coming to Tri-County, home track to Short Track Report for reasons we have stated numerous times, we were super excited. And we were looking forward to seeing the super competitive series at the multiple groove racing track. But due to the ongoing tire shortage, the series, though able to avoid it through the way their tour is structured all year, finally had that tire shortage catch up to them, and they had to cancel their appearance at the track. So Tri-County turned of course, at first, to it's feature division, the Late Model Stocks. It was the natural turn, but it was bad timing, as one of, if not the biggest Late Model Stock race in the country was slated just around the corner, and many Late Model Stock teams were preparing for what could be compared to their Daytona. The hugeness of the Martinsville race for the Late Model Stocks cannot be understated.
And so, as the Late Model Stocks prepared for this monumental event, the areas tracks had to deal with low car counts in that division. As an example, historic Hickory Motor Speedway, a track built on the Late Model Stock division, only had themselves, 10 Late Model Stocks for their championship event. To note, the Hickory Motor Speedway champion team was not present at that event. And of those 10 Late Model Stocks were a couple of Tri-County teams that ended up there, when Tri-County, gauging the numbers they were faced with, gathered the Late Model Stock teams that came to their event and discussed the situation openly with them. The mutual consensus was, for the fans themselves, to eliminate that race from the schedule for the night. The track decided to meet with them early so that they could make the decision on whether the teams themselves thought this was the show they wanted to put on, and if not, to give them time to make different arrangements if they so chose. The teams agreed that with the numbers they were faced with, it wasn't going to be the show the fans deserved here at Tri-County. And so a couple of teams bit on the carrot offered by Hickory, who again, still managed just 10 Late Model Stocks on Championship night. The reality was, that the race at Martinsville, the crown jewel for most Late Model Stock teams, with over 60-70 Late Model Stock teams vying to compete in that event, left the tracks running Late Model Stocks this weekend with a much smaller number of competitors that would be at any other given time frame. So, Tri-County pivoted to a strength it had built early on, and that's the Limited Late Model class, one of the strongest in the central east coast region, as we have stated many times. Tri-County has a Limited Late Model division of racers that rival any in the country, and we'll stand on that statement with all that we are. And so, the track adjusted to it's strength, and announced twin Limited Late Model features would headline the night, bolstered by the visit of the USAC Eastern Midgets who agreed to join the show when the Carolina Pro Late Models had to bow out.
So the track, to it's credit, turned our initial disappointments, back into great excitement for the newly adjusted race schedule it would enact. USAC Midgets and twin Limited Late Model features? Yeah, count us in for that. And so, me and Josh, who always discuss what we would see going into any event, had to have a whole new discussion. We concluded that with the Tri-County Limited Late Models, a prediction on who wins is done for our entertainment only, as it's truly a toss up with this highly competitive group. And with the edition of some new arrivals, we only knew it was going to be an exciting night of racing for sure. And we'd seen the USAC Eastern Midgets at Dillon Motor Speedway earlier in the year, and we were stoked to see them on this high speed track. And as a bonus, we learned that Mini Stock master A.J. Sanders was going to make a start in the Midgets, and we couldn't wait to see how that played out. We've seen him dominate the Mini Stock division wherever he goes for years, and we were really excited to see him run a Midget, showing his diversity as a driver. All of that was running through our minds when the pre race ceremonies began. And those ceremonies commenced with the most fitting thing you could imagine for this event, after all that had transpired over the last days, including the morning of the show, and that was the track employees taking the time before this event to honor the track's owners and promoters with plaques that commemorates all their hard work and efforts they spent rebuilding Tri-County Speedway. Our year this year has been one of fate and destiny, and this short celebration honoring this group couldn't have happened at a more fitting time. And the small groups response was not at all a surprise for me, as I have come to know their hearts as it pertains to short track racing here in Caldwell County, and it was one of humbleness, but with a strong assurance of their dedication in making Tri-County Speedway a showplace in the short track racing world going forward into the future. Trust me folks, and believe it, they really have literally only just begun. Afterwards, as always at this great American track, the pre race ceremonies celebrated the county, the fans, and the sport that they love. The invocation was said, the National Anthem played, and so it's time…Let's Go Racin'!
PATRIOT JERKY RENEGADE DIVISION
The # 65 of William Aldred qualifies fastest with a lap of 20.002 seconds. But the invert puts the # 18 of Rodney Elkins up front with # 9 Klint Townsend starting second. Flagman Timmy Hutson looks over the field, likes what he sees, and waves the green flag for the Renegades. Townsend immediately puts up a good challenge on the outside, but Elkins ultimately clears him out of turn 2. Behind him, they're three wide with Townsend, # 73 Kyle Boice, and # 1 Justin Austin all vying for what they can. Austin has an incredible run, gets alongside Elkins, and powers by to take the lead. Elkins seems to have a problem as he drops a ton of spots and eventually goes to the pits. Meanwhile, Austin is running the perfect line and is starting to pull away from the field. Behind him, Aldred is making his way through the pack as he gets under the second place running Boice and takes the spot. Right as he takes second, the caution flies on the race track for debris, exactly what Austin didn't want to see. The cone comes out and Austin takes the inside lane as Boice takes advantage and takes the outside front row to gain a spot. Hutson looks them over, likes the formation, and the green is back out.
Austin doesn't get the greatest of starts and Boice gives him all he can handle on the outside. The # 73 machine tries and tries, but Austin is just too strong and prevails on the inside. Aldred takes advantage of Boice's lost momentum and dives under to retake second. And before you know it, Aldred is right there with Austin. Aldred knows that Austin likes the bottom, so he looks up top and gets right alongside. It's white knuckled racing here with just a few laps to go. And they make contact! Aldred spins while Austin drifts up and slams the outside wall violently. The crowd goes wild and Boice passes them both to take the caution flag. Coming back to the restart, it'll be Boice followed by the # 9 of Klint Townsend with a few laps to go. Hutson looks over the hungry field, likes what he sees, and throws the green. Boice gets a great start but Townsend is right there as the white flag waves. Townsend dives it into three and four right on the back bumper of Boice. He tries to get under but just can't do it as Boice crosses the line first, followed by Townsend, and an amazing comeback for Aldred who comes home third.
FWD DIVISION
With lots of bonus money up for grabs in the Front Wheel Drive division, the drivers bring their absolute best setups to the track for qualifying. In the end, it's Blake Walker in the # 9 who comes home with the fastest time of 19.197 seconds, but due to the invert, the # 11 machine of Bradlee Jones starts on point with the # 27 of James Powell starting second. Hutson looks over the hearty field of FWD machines, likes what he sees, and we're green for the big 35 lap FWD race. Jones doesn't get a good start which allows Powell along with Walker to get by. Powell and Walker have battled numerous times for the win this season, and tonight looks no different as Walker is all over Powell for the top spot. As Walker looks to get by, the # 54 of Gary Willard seems to have a strong car as he takes advantage of the # 4 of Brian Dodd drifting up the track to take fourth position. As the lead battle starts to heat up, both the # 1 of Dana Maxwell and the # 12 of Kayla Powell head to the pits as their night is unfortunately over. With such a stout field of cars, lap traffic starts to play a role up front. Willard loses fourth position to Dodd in the middle of battling lapped cars, but Willard is able to get the spot right back. The caution flies however, due to the # 53 of Ben Burch who spins in the middle of turns one and two.
Right before the restart, the # 75 of James Solesby takes his machine to the pits and is done for the night. Powell takes the inside as Walker picks the outside for the restart. Hutson looks over the field, likes what he sees, and the green is back out. Powell and Walker both get great starts as again, behind them, Bradlee Jones gets another bad start and loses several positions. But up front, Powell and Walker are duking it out, as Walker finally clears from the outside. Dodd and Willard are also duking it out once again, as they trade spots left and right, with Willard eventually coming out on top. But the caution is out yet again as Bradlee Jones has spun his # 11 machine in turns one and two. Walker takes the inside as Powell takes the outside. Hutson likes the formation and we're back green as Willard is the unlucky one this time as he gets a bad start behind the leaders and loses a handful of spots. But up front, we're reminded of why Tri-County is one of the greatest tracks in the country. Walker and Powell are dead even, with neither of them giving an inch for the lead. They race like this for a long time, like a high speed pace lap. Powell finally wears Walker out and clears the # 9 machine from the outside. Walker is still right there as the white flag flies, but Powell is just too strong as he takes the victory with Walker finishing second and Dodd finishing third.
FOX PROPERTY MAINTENANCE STREET STOCK DIVISION
The Tri-County Street Stock division is what we believe to be one of the most entertaining in the central east coast region. And tonight's race proved just that. The # 12 of Cody DeMarmels gets the fastest time with a lap of 17.394 seconds, but Drew Cox inherits the lead after the invert with the # 14 of Davey Smart second. Hutson looks over the field, likes the formation, and we're underway in the Street Stock Division. But trouble already as DeMarmels loops it in turns one and two! The caution flies and we'll try again. Hutson once again waves the green, but we've got trouble once again as the # 94 of Luke Fox and the # 82 of Gene Griffey collide on the backstraight. It's not a pretty start for the Street Stocks here tonight. We'll try once again as Hutson waves the green flag. The start is clean this time as Davey Smart clears Cox for the lead without much of a challenge. Meanwhile, DeMarmels is charging through the field like a man possessed. As Smart puts down great laps up front, Cox is breathing down his neck, looking to take back the lead. He gets under him on the backstraight, and they make contact! Smart goes around off of the nose of Cox. The crowd goes wild as the top two contenders in the Street Stocks make contact. Smart accelerates from the wreck scene and comes up to Cox under caution to show his displeasure. But Smart eventually gets his emotions in check and drops to the back. Cox, now the leader again, takes the outside for the restart which allows Kevin Eby in the # 03 to take the inside. Hutson looks over the field, likes what he sees, and we're back green. Cox gets a great jump and Eby is suddenly under fire from, you guessed it, Cody DeMarmels. DeMarmels powers by for second, and sets his sights on Cox. DeMarmels looks under Cox, but Cox just barely hangs on as the caution flies for the # 12H of Mike Hatton who has a problem in turn two. Smart, who was just the leader minutes ago, makes his way into the pits to fix some problems with the car. But Cox also pits! The top two just a few laps ago now find themselves both in the pits with separate problems. They both eventually file back out, but this is great news for DeMarmels, who clearly has a winning machine.
DeMarmels picks the outside, with Eby again taking in the inside line. Eby gets a great start, but DeMarmels gets a monster start and tries to immediately gap the field. As he tries to walk away, both Smart and Cox are making a charge through the field. Every move Smart makes, Cox follows. But Cox goes too hard and spins out of turn four, almost hitting the pit entrance tire, bringing out another caution! A tough break for Cox, who was looking to follow Smart to the front of the field. DeMarmels once again picks the outside, with Eby going low. Hutson likes the formation and we're back racing. DeMarmels again gets a fantastic start, but Eby has no such luck as he spins in turn two to bring out another caution. DeMarmels decides to switch it up and he takes the inside this time with the # 7 of Dustin Atkins taking the outside. DeMarmels once again gets a great start, but here comes Davey Smart! He's making hay through the field and is now in second looking on DeMarmels. DeMarmels has a good gap on him coming to the white, but the caution flies! Luke Fox and the # 56 of John Guker get together on the frontstraight, setting up a shootout to the finish. DeMarmels will again take the inside this time, with Smart taking the outside. Hutson likes what he sees and waves the green flag. But Smart is overzealous and jumps the start which brings out another caution. They'll try again with the same lineup. Hutson gives him a warning, surveys the rest of the field, and we're green. DeMarmels gets a great start, but Smart is right there! Smart gives him a run for his money but DeMarmels hangs on and takes the hard fought victory. Smart comes home second, and the # 70 of James Dolan takes third.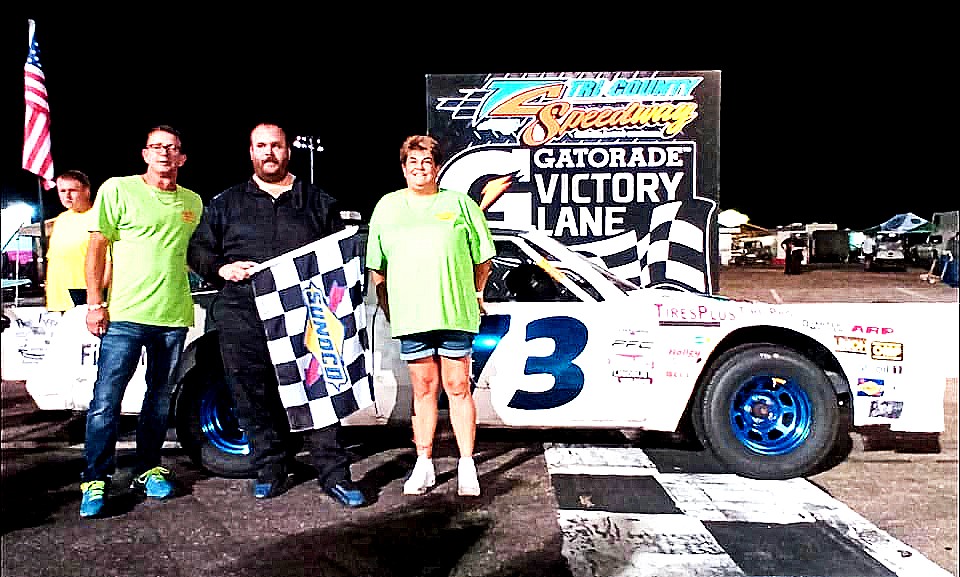 USAC EASTERN MIDGETS
The USAC Eastern Midgets tackle fast Tri-County Speedway with Sam Mazzo in the # 31 getting the fastest time in qualifying with a blistering lap of 15.869 seconds. After the invert, the # 1 of Mini Stock legend A.J. Sanders starts on point with the # 9 of Chris Lamb starting second. Hutson looks over the field, likes what he sees, and we're green for the Eastern Midgets. Sanders gets a great jump and is holding his own out front. The # 5 of Jessica Bean makes her way to third after getting by the # 47 of Hunter Wise. The crowd is on their feet however as the whole field is in a Talladega style pack, with every car twitching as if a huge crash could happen at any moment. An amazing display of talent. Bean eventually slides by the Lamb machine as his car seems to be going away. She then sets her sights on Sanders, who she gets by moments later. As Bean starts to pull away, Wise and Sanders are duking it out with both of their machines sliding through the turns. I almost have to try to watch with my eyes closed as these guys and gals are still sliding their machines around the track as if Tri-County was dirt. Lamb eventually takes his machine to pit road as it seemed his car was going away. Sanders starts to drop back a few more positions, as he almost crashes while battling the # 87 of Brady Allum for fourth. But none of this matters to Jessica Bean, as she takes a demanding victory over Hunter Wise in second. Sam Mazzo would come home in third, Brady Allum fourth, and A.J. Sanders in an impressive fifth.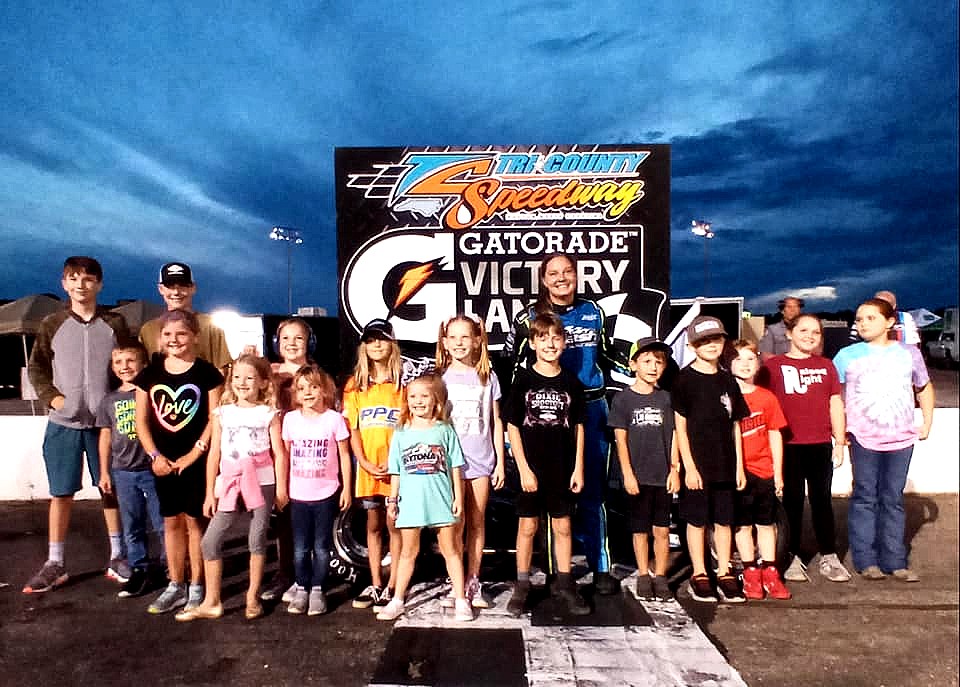 HERITAGE FINANCE LIMITED LATE MODEL DIVISION RACE ONE
So, the Limited Late Models, after the Speedway's morning meeting, have been assigned the main event features here tonight. It's a natural choice as the Limited Late Models have been strong all year, and it's no different here tonight. 17 deep and full of talent, this division could be the main event on any track's card on any given Saturday night. And it's to Tri-County Speedway's credit that they can turn and lean on this group here tonight, having built one of the strongest Limited fields in the country.
Austin Harris is your top qualifier with a lap of 16.400 seconds, and so he will lead the field down for the first race. On his outside is # 41B Joey Braun who will be making his first starts in a Limited Late Model, stepping up from Legend cars, followed by # 21 Monty Cox, # 97 Jacob York, and # 18 Casey Pierce rounding out the top 5. The parade laps have been run, and flagman Timmy Hutson gives them the sign to double up. Harris brings them down as Hutson looks over the field. He likes the view, and the green is out, and we are underway in the first of two Limited Late Model features. Harris gets a great start, as Cox looks under Braun for the second spot. Braun holds him off however, as they are two wide for fifth a little ways back, with # 1 Zack Franks and Casey Pierce jockeying for position. Franks takes it, and now # 65 Josh Goble moves under Pierce as well for sixth. Pierce is forced to race up high, but he finds his footing, and he holds Goble off as they settle back in line. Meanwhile up front, Braun has made his way to the bumper of Harris and starts breathing down his neck, looking to lead his first ever laps in a Limited Late Model. As they battle for the top spot, # 55 Johnny Reynolds slows on the track, but he manages to make it to pit road, but it's terminal and unfortunately they are done early here today. Jacob York has found his way under Cox for third, but Cox holds him off. The top of the field is looking to gain all they can as they approach the rear of the field, and soon will be working through some lapped traffic. And on a high speed, multi groove race track like Tri-County, how you get through lap traffic is the key to success, or can become the epitome of failure. And when you are in a highly competitive field such as this, your competitor will use any opportunity to get an advantage. Harris so far has been flawless in his effort, but he is given a reprieve as # 12 Eric Wallace spins in between turns 3 and 4 as he tried to get too much going into 3. He doesn't make contact with anything or anyone however, and so the track crew gets a break as Wallace pulls away and makes his way to pit road before coming back out and joining the rear of the field for the restart. And in no time, we are ready to restart with a little over 20 laps left in feature one.
Harris will lead them down at the restart, followed by Braun, Cox, York, and Franks as your top 5. Harris has the field looking good coming to the restart line, and Hutson again likes the view, and he throws the green and we are back underway. Again Harris gets a great start, as Goble again looks under Franks, and this time he's got the momentum to move past for fifth. And whether it's because of the speed of the race, or the scuffs the drivers have been forced to start on due to the tire shortage, almost the entire field is loose in and sliding off, as Goble takes advantage and moves to fourth after moving under York. And as York tries to move back under him, he spins coming off of turn 4, and as Pierce checks up trying to miss him, # 5 Toby Hollifield has nowhere to go and gets into him, almost turning Pierce into a ramp, getting airborne for just a moment. Pierce pulls away, and remarkably York does as well, but York has to stop for sheet metal damage. Hollifield gets the worst of the deal as he's towed away and is done here in race one. York's team is able to patch up the # 97 and he rejoins the field for the restart. The track crew goes to work, and in just a short time we are ready to get back underway, so Hutson gives them the signal, and the field bunches up for the restart. It's still Harris up front, followed by Braun, Cox, Goble, and Franks as your top 5. Hutson throws the green, and again Harris gets a stellar start, but Braun stacks up the field with a misshift, and Goble gets into him but holds on as the field scrambles behind them, and # 27 Eugene Norton runs out of room and spins it off of turn 2 to miss the jammed up pack of racers. Everyone survives however, but the caution is out, and we'll see if we can get a better restart this time.
Again it's Harris, Braun, Cox, Goble, and Franks as your top 5 on the restart. Harris brings them down, Hutson throws the green, and Braun gets an amazing restart. You guessed it though, it's too good, and Hutson has the black flag and waves it over front running Braun, who'd run out to a 4 car length lead. Hutson is vigorously waving the black flag over Braun, but he's not acknowledging and refuses to come to pit road. And so after 5 laps, Hutson throws the yellow to try and get the lead car of Braun to heed the black flag. But Braun's not having it, and you can see the crew chief of his machine in a heated discussion with track officials as they put out the red and stop the field. ( And so let's address this development here. As this is going on, I can hear several people in the crowd asking what the # 41B car is doing. And I have to be transparent here, as I myself get caught up in it, and I make the wrong assumption here as many do. The race is being disrupted by a driver who is refusing to pit after a black flag, and now is even refusing to drop to the rear of the field so we can resume. But turns out, he is in the right. We are caught up in it as Joey Braun has bunched up two restarts. And now he's refusing to acknowledge a penalty, delaying the race. But, he is right to refuse the penalty because, the rule is that if you jump a restart, you are given a warning and allowed to restart in the same spot. It is only if you restart early twice that you are sent to the rear. So Braun and his team were right to protest it as he is allowed another chance at the restart. He's messed up twice, but there is no penalty for a misshift, and he is supposed to be allowed two chances at a clean restart. The track has made an error, and so, they move to correct it. No one's perfect and to note, this is the first time I've seen Tri-County make an error like this all year. So, they acknowledge the error, allow Braun to return to the second spot, and remove the last 6 laps from the board.
So Braun gets a warning and a second shot as is right, and again the field is doubled up for the restart. Harris again leads Braun, Cox, Goble, and Franks to the restart. The field is in order, and Hutson waves the green and we are again back underway. This time Harris gets another great start, as Braun, whether being cautious or again having trouble shifting, loses a couple of car lengths. Behind him, that puts Cox and Goble neck and neck, as Goble gets by on the outside. Pierce, having troubles from his earlier incident, is having mechanical issues and he brings his machine down pit road and the care of his crew, and with 5 laps to go, Cox, who's been up front the whole event, spins on the back stretch coming off of turn two. So, with 5 to go, it comes down to this. Hutson gives the signal, and the field bunches up for the restart with Harris, Braun, Goble, Cox, and Eugene Norton your top 5 on this last restart. Harris brings them down, and Hutson gives them a good look, and he throws the green to let the field decide it. Harris again gets a good start, but Braun gets his best start of the night and he's right there dancing in Harris's mirror looking for any mistake from the leader. And there it is, as Harris makes the slightest of errors and Braun moves underneath. Harris tries the patented crossover but he can't get back underneath and instead pushes Braun down the backstretch. Harris tries to give all the pressure he can but Braun holds him off and gets his first Limited Late Model win in his first ever Limited Late Model start. Harris comes home second, Franks third, Goble fourth, and Goble fifth.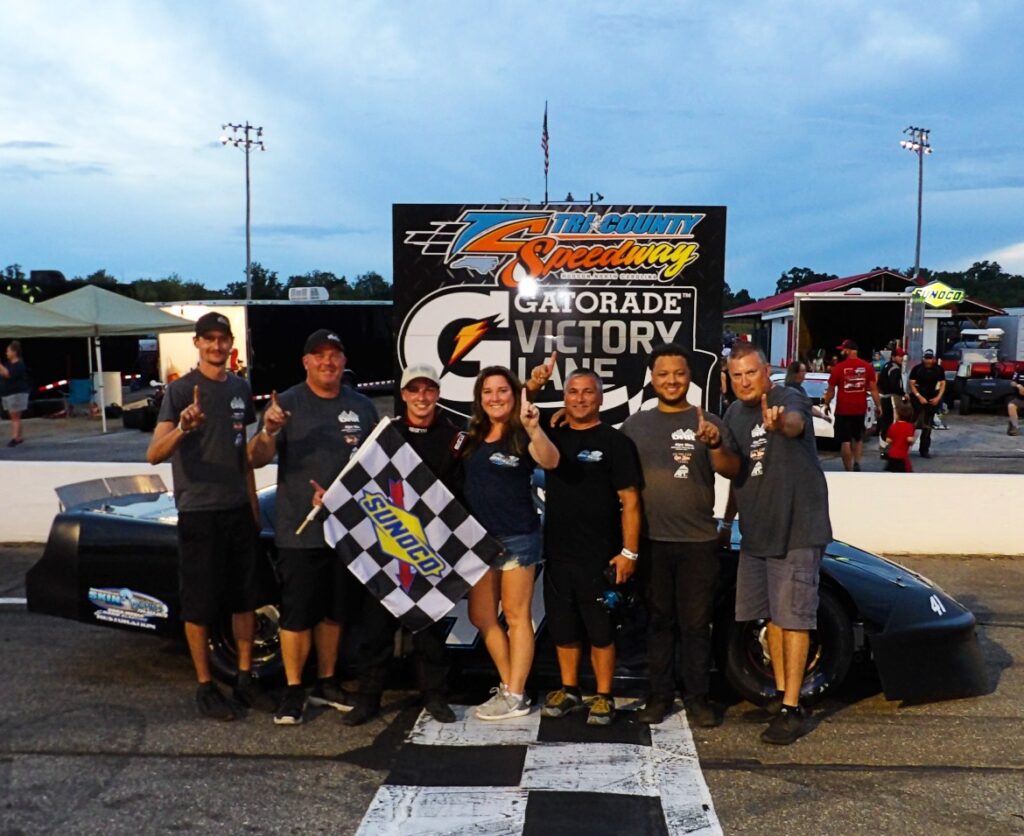 HERITAGE FINANCE LIMITED LATE MODEL DIVISION RACE TWO
For the second feature, the Limiteds will be inverted from the first race, and the magic number is 8, so that will put # 52 Lance Gatlin on the point, with # 12 Eric Wallace, # 27 Eugene Norton, # 97 Jacob York, and # 1 Zack Franks your top 5 starters. Tri-County official flagman Timmy Hutson gives them the double up signal, and Gatlin brings them down. The field looks good and Hutson concurs, as he throws the green and we are underway in the second Limited Late Model feature. Gatlin gets a good start, but Wallace is right there with him fighting for the top position. Gatlin holds him off, as Norton looks under Wallace and moves underneath, as Wallace fights back on the outside. Meanwhile, # 65 Josh Goble who'd sustained damage in race one, pulls his modified looking machine down onto pit road, taking the starting points, but unable to compete competitively with his heavily damaged hot rod. On just lap 3, the # 3 of Everett McMahan goes hard into the outside wall coming off of turn 2, and we are under our first caution of this event. His car is heavily damaged but the driver is ok, and walks off under his own power. The track crew has their hands full, but as always are up to the task, and after an extensive cleanup, we are ready to get back underway. Gatlin will lead them down, followed by Wallace, Norton, Franks, and York. The field is doubled up and again Gatlin brings them down to the flag. Flagman Hutson likes the view and we are back under green with Gatlin again getting a good start. Again Wallace challenges him, this time trying the crossover, but Gatlin holds on and keeps him at bay. Then Franks shows his muscle and moves past Norton and Wallace in a power move, but again the yellow is waving, this time for debris, and so in no time at all, Hutson signals the field and they bunch up for the restart. Gatlin will again lead them down, with Franks, Wallace, Harris, who was also making moves, and York your top 5 restarters.
Hutson signals the field, and Gatlin brings them down. Hutson surveys the field, and the green is out. Franks moves way out front, but Gatlin lets him go as Franks jumps the start. He's given a warning and the field doubles back up and we will try again. Gatlin paces them around, Hutson likes the view as the field files back around, and he again throws the green and this time we have a good restart, as Gatlin gets another good restart and moves out front. In the middle of the pack, Norton has problems and brings his machine down pit road. Back up front, Wallace gets freight trained by Harris, York, and Braun as he finally finds a place in line. Braun's machine starts to come alive as he gets by the York machine. In front of them, Franks has found some speed and ultimately gets by Gatlin to take the lead. Taking advantage of Gatlin's lost momentum, Harris and Braun sneak under to take second and third respectively. Gatlin tries to get back in line, but now York is on him, and York eventually gets by. The # 21 of Monty Cox also gets by as Gatlin continues to fall. But right after Cox gets by, he has trouble and takes his car to the pits. Up front, Harris is all over Franks, looking for redemption after the first race. Harris gets under Franks going into three, but here comes Braun out of nowhere! Braun takes them three wide and amazingly takes the lead! Harris realizes that Braun is the fastest car on track and starts to put the bumper to Franks, and moves him out of the way. York takes advantage and takes third from Franks. But it doesn't matter to rookie Braun, as he pulls off the unthinkable and sweeps the Limited Late Model features in his first ever Limited Late Model starts. Harris would again finish second, York third, Franks fourth, and Wallace fifth.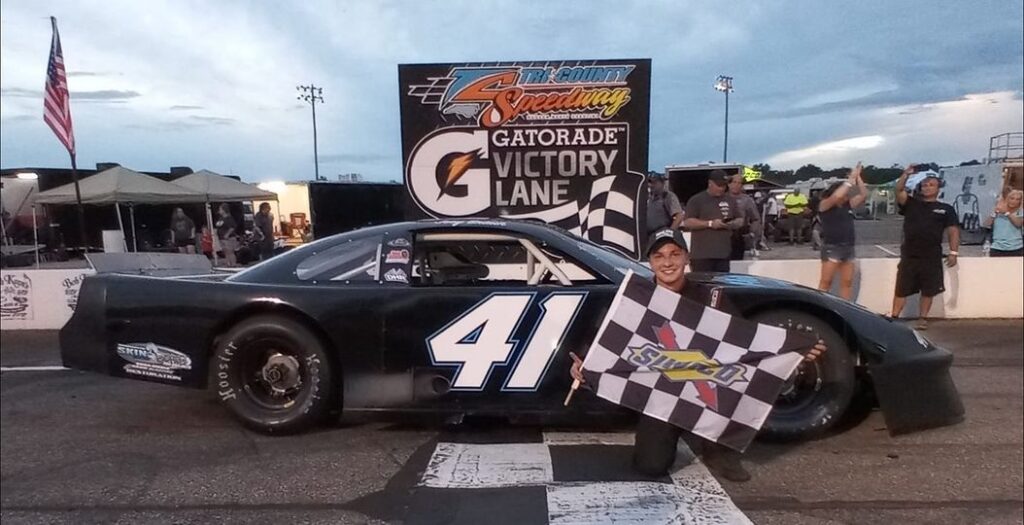 MY TAKE
I was born in Winston-Salem, North Carolina in 1966. By 1973 I was a stock car racing fan. I lived on the outskirts of the city, and every Saturday night during racing season, you could hear those cars running at Bowman Gray Stadium. Yes, they rang throughout the city in glorious fashion, and this 'ol boy, little at the time, was already falling in love. See, in those days, they weren't afraid of letting you have a great time, and being loud enough in that, to let everybody else be able to hear it. The track is and was, one of the only tracks to be located inside of a city's limits. And they didn't muzzle those hot rods back then with mufflers, like Bowman Gray runs today, because they are inside the city limits, and the city had to do something about all those noise complaints. It was a sign of the new overbearing social norm of people worried about hurting someones simple, easily offended feelings, but at the same time, it stifled joy of wondrous celebration. They replaced it with, "keep it down". But, I digress. They gave power to the minority of complainers, who have taken advantage of it to this day…but again, I digress. I was a little boy in a time that people weren't afraid to live to the fullest, and people who didn't have a problem with other people doing the same, regardless of the choices they made in their quest. Respect. Live and let live. Now, it's regulate and complain. Mandate. Back then, I was truly free in at least, I could stand outside on Saturday night and hear those engines roar. And on occasion, you could even hear the crowd roar over them. When I was finally able to go, and I saw those Modifieds run, I was hooked. But truth be told, the love I have for stock car racing, was born in my yard before I was even able to go. We live in a time now, where a little boy standing in the same yard, standing there on a Saturday night during racing season, can hear in the city the awesome sound of sirens and city life, but you won't be able to hear those cars at Bowman Gray anymore, all because someone didn't like the noise.
On the way to the track, and to note for you that the thought would be skipped over, way before the gates open, we got a Facebook notification that the Late Model Stock feature would be scratched from the night's schedule, and replaced with twin Limited Late Model features. So we contacted a driver to ask how that went down so that we could have all the context. These articles we do go deeper than some would maybe know. We want to get as in depth as we can with information so we can put it all in the best perspective of the reality of the event. In other words, we don't just observe and write, we try our best to get understanding of why and how everything occurred. And so, we reached out and were affirmed of what we expected of how things went. The track and the drivers want to put on the best race possible for the fans of Tri-County Speedway. And they wanted to also do what was best for the racing community. In the discussions of what would be best for both, Tri-County, and the drivers themselves, made the decision to drop the race. That gave the drivers the opportunity to run at a nearby track, and gave the fans a great alternative event, featuring one of the best short track racing divisions in the country. That's not an understatement. Come see the Tri-County Limited Late Models and see for yourself. It is an awesome, strong division, as are the other divisions they run here. The Limiteds were 17 strong this night, and they made for a great feature card, leading to us seeing an amazing performance by a young man making his very first Limited Late Model start, stepping up from the Legends where he'd found some winning success. Yet, on social media, on the track's own page where they invite the fans of the track and it's drivers, negative comments were made clearly by people that didn't know the full story, and insinuating a false narrative. Sadly, this kind of thing has become commonplace today, but today, we here at Short Track Report want to point it out.
In my day, growing up, there were many tracks because they were many fans. And we as fans didn't limit ourselves to just one track. We believed in diversity. We wanted it all. We loved short track racing. Why would you want to limit that? The sounds…the smells…the atmosphere, different but great at every place we went. But all the tracks had fans, as we traded seats. We knew we were a family. And since we were a large family, we shared with each other what we thought was great. And we spread ourselves around. We got to know each other. We had our home track, yes, but we loved many. We loved the sport and we showed it. So, I'm addressing this here and now because I've seen this one comment more than once, and it perplexes me. It asks, "Why do you run at Tri-County on Saturday now?" Or it will be a statement of, "You would have more cars if you run on Friday like you used to." See that one gets me the most, and so to the ones asking that, tell me, how did that work out for Tri-County Speedway in the past? You see, Tri-County Speedway spent 10 years in litigation about noise ordinances for running on Friday nights under the original owners, and now read that again, 10 years in litigation. Now we are talking about here, one of the best short tracks I've ever been to, and I've been to a lot. And since it is, does it not have the obligation to do what is necessary to grow and to thrive? You don't go into success by catering to limitations. And Tri-County owes it also to the community that came to embrace it, by respecting the concerns they had from the beginning. Tri-County does this as respect to their neighbors around them.
I mention all this, because I have seen the resurgence of short track stock car auto racing. And I stand against anything that limits it. I love great short track racing, and I want to see it everywhere great short track racing is had. And I look for the day when the fans can sustain it at the level I've seen it grow before, and I will stand against what I think stifles it. We all experience things we don't agree with. But to comment on it really before you know all the facts, is detrimental. I was even reminded of this myself this week, as when Joey Braun didn't take the black flag, I assumed at first myself he was wrong, and wondered why they didn't make him pit, letting him start up front. I knew something was wrong with that, and I made a silent assumption. But in the end, my assumption was wrong. Braun was right to hold his ground, as the track made an error. If you jump the start, you first get a warning. If you do it again, that's another story, but the first time, just the warning, and a restart. But, the track corrected it, and they restarted as they should have, taking the 6 laps run beforehand off of the board. Now imagine if I would have just tweeted out my false assumption?
In the end, what should be known, is that as always, we saw a great event here at Tri-County Speedway. We got to see an eventful to say the least Renegade race. We saw another hard fought Street Stock race with many twists. We saw a spectacular FWD race, and we got to see the winningest female USAC Eastern Midgets driver do it again and top the field, and we got to see Joey Braun win two feature events in his very first Limited Late Model starts. I mean, that was an amazing night. Our Blue Collar Racer Of The Week this week we feel is quite obvious, as Braun sweeps the field and takes home the nod for his outstanding performance, and for fighting for what he knew was right even in the face of adversity. It's another example of the youth entering this sport, and I keep pointing it out, as this is what's leading to the regrowth of the sport. An ultra talented veteran core of drivers, in competition with a smart and extremely talented new generation. And now why would you want to limit that in any way? We've lost too many short tracks already, and so if you want to save the ones we have before the regrowth really takes hold…to save the ones that could be lost in the transition if we're not careful, like popular Beech Ridge Speedway right now under everyone's eyes, we have to look beyond the obvious, and remember what lies underneath. We can't lose sight of the true value of great short track racing. And if you say you love short track stock car racing, it's time to act like it. Stamp out the keyboard warriors by simply coming out to the tracks and experiencing an amazing and possible historic event, like the one we came out to see this weekend at Tri-County Speedway. See You At The Track!