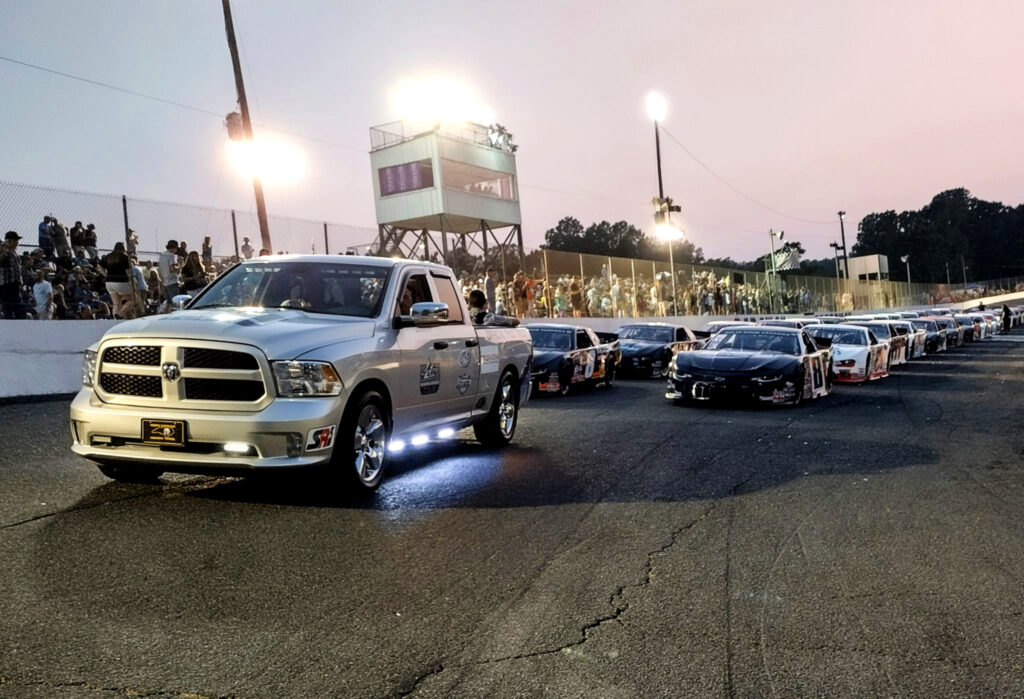 In case you didn't know, Late Model Stock races at historic Caraway Speedway can give you everything under the sun. They can be extremely challenging for any Late Model Stock competitor and their team. The track requires a heavy amount of braking in the corners as the competition requires a great amount of speed down the straights if you are to be successful. It can become quite tricky and truth be known, to win here, there is no margin for error. And this year with so much extreme talent coming to race in the late June CARS Tour event, everyone is going to have to bring their A game. It's halfway time in the CARS Tour season and the battle for the championship is already beyond heated. Added to the field is the 2022 NASCAR Late Model Stock National Champion, a former Cup star, and a current Cup contender that many feel is the best in the game. A nearly sold out crowd has arrived to see it all go down and on a Wednesday night no less. To sum it up, this is a huge race and as a mid week event, thousands if not millions of eyes will be watching, and it comes at a time when the short track resurgence is ramping up in a way that even the skeptics are starting to notice. No matter what happens here today, it will be remembered for some time to come. So without any further delay, let's get to all the night's racing action at one of the most historic tracks in the nation. The crowd is here in numbers and vocal, the invocation has been spoken and the National Anthem has been sung with conviction…Let's Go Racin'!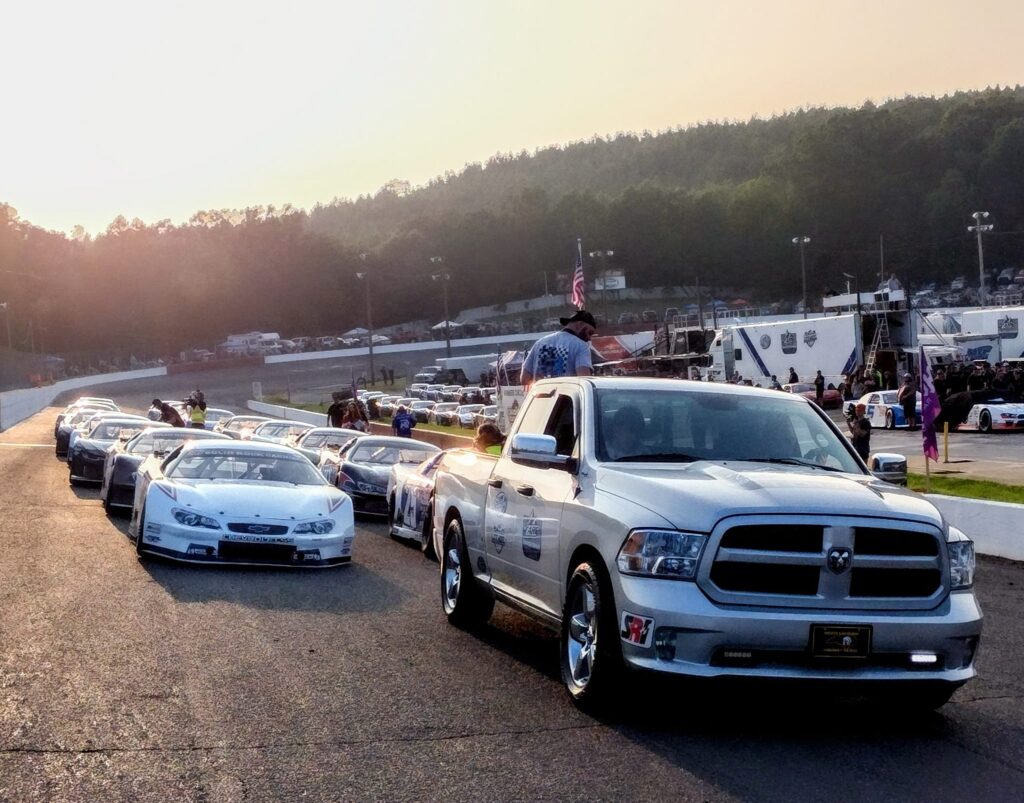 INEX BANDOLERO FEATURE
Sarah Whitesell in the # 21 grabs the pole for the Bandoleros as the # 12 of Jay Hemenway starts second followed by local favorite Bryson Brinkley in the # 24. Hemenway gets a rocket like launch on the outside as he immediately takes the lead heading into turn one. As he begins to pull away slightly, Brinkley finds his way by Whitesell as they team together to try and draft their way to Hemenway. They eventually get separated, but it's no problem for Brinkley as he powers his way by Hemenway for the lead. It soon turns into a three way battle for the lead as Whitesell is there as well, waiting in the wings for any mistake to be made by the top two. Hemenway tries multiple times to dive under Brinkley, but it's to no avail as Brinkley takes home the huge win in front of a packed house ahead of Hemenway and Whitesell.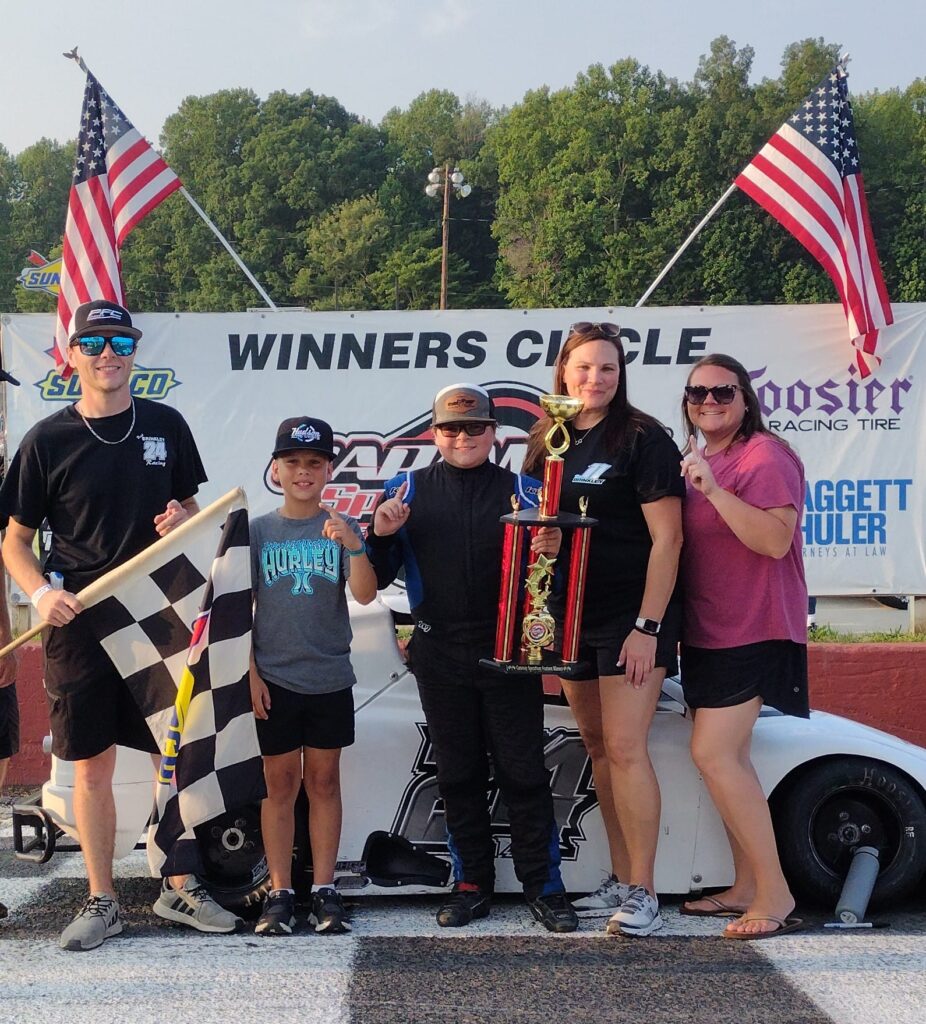 INEX LEGEND FEATURE
A fantastic field of Legends have arrived in the Sophia foothills as former Southeast Bandolero champion Neal Dulin in the # 79 starts on the pole followed by the # 08 of Carson Haislip, # 62 Keelan Harvick, # 95 London McKenzie, and the # 99 of former ARCA winner Landen Lewis. It's a dead heat for the lead as Dulin somehow clears his way out of turn four to complete lap one with Haislip dropping through the field after a slight slip up. Through all of the shuffling, Lewis now finds himself in second, bringing along the # 7 of Karter Beattie in third followed by McKenzie and Harvick. Before you know it, the veteran Lewis peeks his nose to the inside of Dulin, and is able to muscle his way to the top spot. McKenzie goes to war with Beattie for third, with McKenzie the victor. Behind them, Charlie Beals in the # 5 breaks into the top five ahead of Harvick. Dulin now loses another spot, this time to McKenzie as now Beattie is all over Dulin's machine. The caution flies though as the # 78 of Atley Wiese spins in turn two. On the restart, Lewis is able to sneak ahead as Beattie now takes the third spot from Dulin. Cautions breed cautions though as Spencer Bradshaw in the # 99B has stopped on the backstretch. Harvick is able to creep back into the top five when they get going again, but another yellow waves, this time for the # 18 of Alex Meggs who spins in turn one. Lewis has to be agitated for sure as every caution means a restart, which gives Beattie and McKenzie chance after chance to pounce. He gets yet another flawless start at the line, but the caution is immediately out as Dulin makes contact with McKenzie, sending Dulin into the outside wall very hard before they even reach the line. The red flag is shown as one of Dulin's wheels rolls all the way over to turn two, just an indication of the hard impact. Thankfully, Dulin is okay as we'll try to get things rolling for a green finish. It's all for naught though as on the restart, the # 63 of Ethan Coleman takes a hard impact in turn two. Coleman, like Dulin, is okay as his night, along with Keelan Harvick, is done. Race control decides to give it one last go, but as the # 99B of Spencer Bradshaw spins in turn one, the yellow and checkered is thrown, giving Landen Lewis the win. Rounding out the top five will be Beattie, McKenzie, Beals, and the # 97 of Isaac Kitzmiller.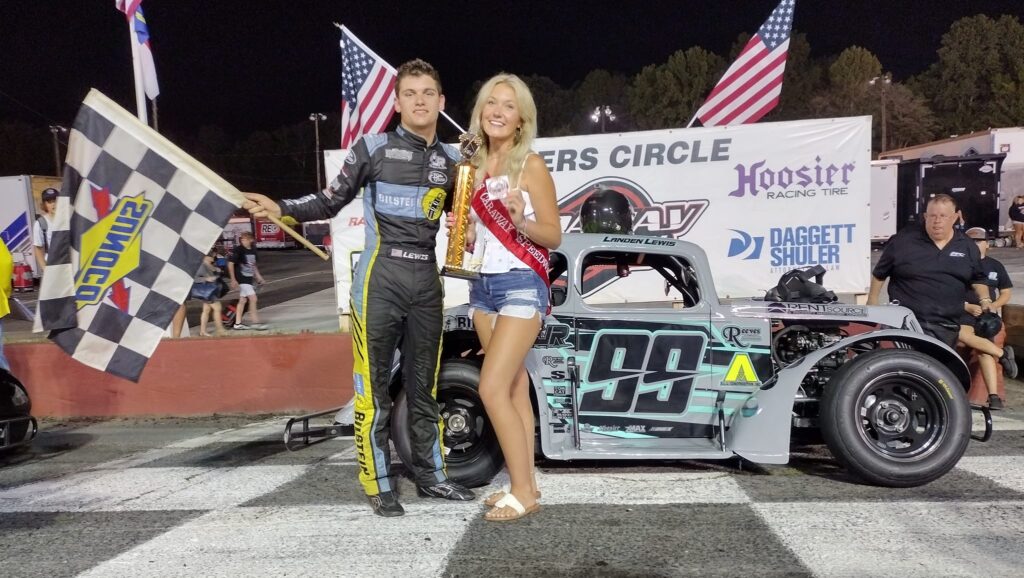 CARS TOUR PRO LATE MODELS
The # 25 of Rackley WAR hotshoe Connor Zilisch grabs another pole, this time at Caraway with a time of 16.743 seconds. Starting alongside will be the # 96 of Caden Kvapil followed by # 81 Katie Hettinger, # 15W Tate Fogleman, and the # 4 of Justin Hicks. CARS Tour flagman Brandon Willard looks over the competitive field, likes what he sees, and we're green for 100 laps of Pro Late Model action! Zilisch and Kvapil briefly doorbang a bit as Zilisch clears for the lead early. But not so fast as Kvapil gives Zilisch a nudge, and they doorbang again! Kvapil finally clears after a hard battle for the preferred inside lane here at Caraway. Now Hettinger is breathing down Zilisch's neck as Kvapil tries to pull away for the time being. Behind, Hicks is able to get around Fogleman for fourth, allowing the # 28 of Cole Butcher to peek his nose in as well, breaking into fifth. Now Hettinger is to the inside of Zilisch, gets around, but Zilisch tries the crossover and gets into Hettinger! Zilisch retakes the spot, but Hettinger isn't done and makes even more contact as the fans are on their feet! Hettinger finally keeps the spot for good, albeit with some door donuts to show. After 35 consecutive laps, the competition caution flies over the field, setting up the first restart of the race with Kvapil lining up first followed by Hettinger, Zilisch, Hicks, and Butcher. Willard looks them over, gives his approval, and we're green!
Kvapil gets a good launch but the caution is out right away as George Phillips in the # 6 doesn't get going, causing Rusty Skewes in the # 8 to spin and collecting Dawson Sutton in the # 26 as well. All three continue on as after the choose, Kvapil remains up front followed by Hettinger, Zilisch, Butcher who moves up a spot on the outside, and Hicks. Kvapil duels with Hettinger and clears her before completing the lap as behind, Zilisch powers ahead of Butcher. But Butcher comes into turn one hot and gets into the back of Zilisch, spinning him around! The caution comes back out and Butcher is sent to the back as a result of the contact. This sets up another round of the choose as Kvapil will start on point in front of Hettinger, Hicks, the # 77 of Logan Jones, and Fogleman. Kvapil clears yet again with Fogleman getting by Jones as the # 9 of Ashton Higgins also follows through. The field beats and bangs behind as Kvapil runs smooth laps up front. Both Butcher and Zilisch are starting to move their way back up through the field as Hettinger is running near identical, sometimes faster lap times than Kvapil. And much to Kvapil's chagrin, the final competition caution flies with 29 laps to go. It's a quick caution with Kvapil still retaining the lead over points leader Katie Hettinger in second, followed by Hicks, Higgins, and Fogleman, who are all looking for their first CARS Tour win. At the line, Kvapil and Hettinger make contact right away, with Kvapil leading as Fogleman moves into fourth. Behind him, a hard charging Butcher is back into the top five at the expense of Higgins. The # 9 machine can't stop the bleeding as Zilisch is now by as well. But up front, Hettinger is quickly closing in on Kvapil. But Kvapil turns up the wick, now slowly but surely pulling back away while using every bit of tire he can. Fogleman is now looking on Hicks, who's machine is starting to fade. Fogleman gets the spot and brings Butcher along. But up front, Hettinger doesn't have enough as Kvapil grabs the win at Caraway. Hettinger comes home second followed by Fogleman, Butcher, and Hicks.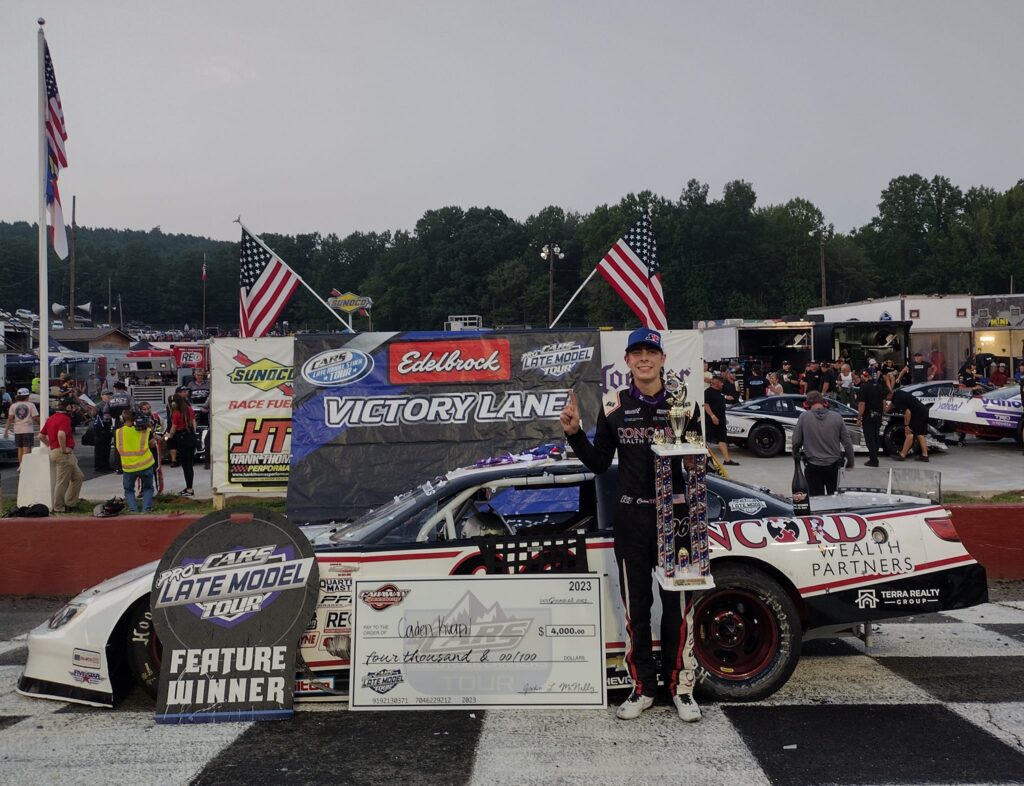 CARS TOUR LATE MODEL STOCK FEATURE
Top Gun Motorsports driver Chase Burrow puts down the lap of his life in qualifying, circling the historic Caraway Speedway in 16.779 seconds. The second starting position is held by points leader # 8 Carson Kvapil, followed by the # 62 Kevin Harvick Inc machine of Layne Riggs, # 14 Jared Fryar, and the # 77W of Trevor Ward. Willard glances over the phenomenal field of talent, featuring Cup champion Kyle Larson the # 5 and the # 19 of Cup winner Jeremy Mayfield, likes the formation, and we're green! Burrow jumps ahead of Kvapil with Fryar and Trevor Ward making slight contact, allowing Trevor Ward to eek ahead. Coming to pit road is Mayfield, as his night is unfortunately over very early. Back in the middle of the pack, the # 6 of Bobby McCarty and the # 7 of Dylan Ward make contact, causing Dylan to spin in turn one, bringing out the first caution of the race. After the first choose, Burrow lines up first followed by Kvapil, Riggs, Trevor Ward, and Fryar. Burrow and Kvapil have an intense battle for the lead for a handful laps, neither one giving an inch. Somehow, Kvapil is able to muscle by on the outside, relegating Burrow to the silver posotion as Fryar is now by Trevor Ward for fourth. In the back of the pack, it's a usual CARS Tour race with half of the field side by side, door to door, fighting tooth and nail for every position. In the middle of it, Larson grabs the outside wall out of turn four next to # 24 Mason Diaz, who's crawling his way through the pack from 20th. Larson gathers it back up as Burrow now loses second to Riggs, setting his sights on the JR Motorsports # 8. Riggs begins dancing in Kvapil's mirror, looking to the inside, then outside. But behind, Burrow has an issue and stops on the backstretch, bringing out the caution. He brings it down pit road, also being issued a penalty for intentionally bringing the caution out. He gets it back going though as near the front, Kvapil will remain first followed by Riggs, Fryar, Trevor Ward, and the # 03 of Brenden Queen. Willard observes the pack, likes what he sees, and we're back racing!
Kvapil quickly clears this time ahead of the fast Riggs as Queen barely holds off the # 77 of Connor Hall to keep himself in the top five. A little behind him, Diaz is still gaining ground, now up to seventh in a brilliant performance. But there's trouble as Connor Zilisch in the # 57 is around in between one and two after contact with the # 81 of Mini Tyrrell. Zilisch gets his Carroll Speedshop machine righted though, making way for a quick caution period. Kvapil and Riggs remain your front row followed by Fryar and Trevor Ward, with Queen rounding out the top five. Kvapil maintains his ground out of turn two ahead of Riggs as Trevor Ward is stuck on the outside, now allowing the # 10 of Kaden Honeycutt into the top five. Next in line is a determined Diaz, who sticks it on the inside of Ward as well and takes sixth. Ward finally slots into seventh as Riggs is still right in Kvapil's tire tracks. Now Riggs gives him the bumper! Kvapil gets loosened up and Riggs gets by, sending Kvapil to second position. Diaz still continues to take spots, now taking away fifth from Honeycutt just in time for the final competition caution. After the choose, Riggs will now line up in front of Kvapil, with Fryar, Diaz who takes advantage of the choose, and Queen rounding out the top five. Willard looks over the field, approves the lineup, and we're green!
Riggs clears after a short battle as now Fryar pounces on Kvapil, getting by as Kvapil begins to fade. But behind, the # 45 of Matt Gould has a brake failure and spins into the turns one and two outside wall hard. He's thankfully okay as after a short red flag, the lineup will resort back to Riggs and Kvapil, followed by Fryar, Queen, and Diaz. Riggs once again clears as Diaz takes fourth away from Queen, bringing Honeycutt along as well. Fryar again makes a move on Kvapil, now followed by Diaz as Kvapil falls to fourth. But up front, it's all Layne Riggs as he crosses the line first at Caraway. But during post-race inspection, a sway bar infraction is found on the 62, resulting in Layne Riggs being disqualified and giving the win to Jared Fryar. Diaz now finishes second followed by Kvapil, Honeycutt, and McCarty.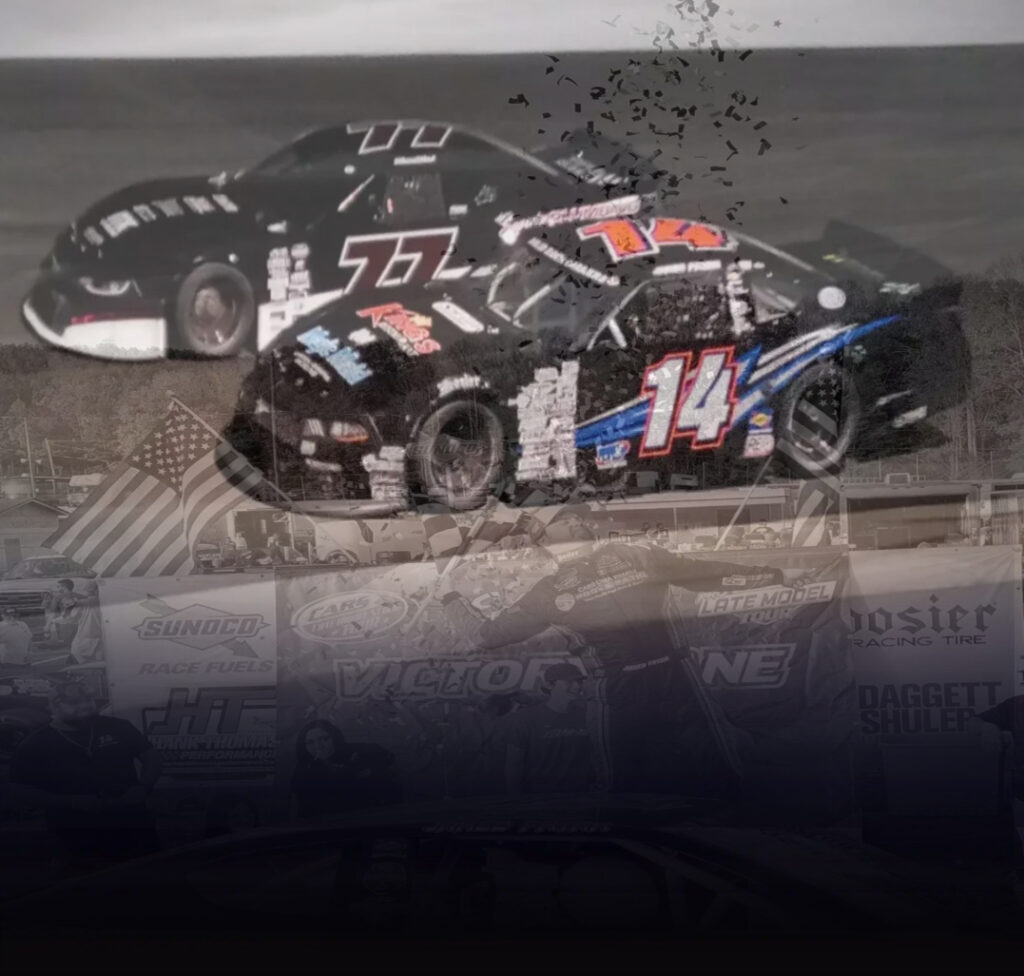 MY TAKE
As in most really big events you're bound to have some drama and maybe some controversy to boot, but that's not even where I'm going to start. I have to start with thanking the fans that showed up to this event. You see, I've been going to Caraway Speedway for a long time and I've been there for many great events at the historic track and I've not seen a crowd like that for awhile to be honest. And to top it all off this race was a mid week event. It's been said by the naysayers that you can't hold an event in the middle of the week because well, who will show up? Who? Well all those that don't pay attention to the naysayers and keyboard warriors, that's who. And we here at Short Track Report celebrate them all. As many of you know, since we started covering short track events here at Short Track Report, we've told you that short track racing is in a resurgence, but many of those naysayers and keyboard warriors have only wanted to talk about everything they see wrong in the sport of stock car racing. But you, the true short track racing fan knew better as we did. Yes, short track stock car racing reached a pinnacle in the mid 90's and it's because the racing was great. But truth be known, and we'll say it as long as it's true, the competition today in stock car racing is as good as it ever was and for many reasons that we talk about all the time. And so to all of you who are taking notice and showing up at these great local short track events in growing numbers…we couldn't be happier to see you! For at least three years since we've been doing this, we've seen your numbers grow and we applaud you! The crowd at Caraway Speedway Saturday night was amazing! That was the biggest story for us. You…the short track racing family.
And before we get into the most talked about storylines from this event, we also have to say that the Pro Late Model race was also amazing. The points battle in the CARS Tour Pro Late Model division highlights the competition and that battle is getting very interesting. In the race here at Caraway it was Kvapil and Hettinger as Caden set the pace with Katie stalking. It looked like she had something for him all the way, but as I watched them in the corner I saw her slip a little late and I knew. Again, on a night like this, there's no room for error. And as it has been all year, the battle in the middle of the field is extremely underrated. And to note, the addition to the show of the INEX Bandoleros and Legends was a great call. The Legends contenders came out in a good number and the crowd was entertained as young Keelan Harvick worked his way into the top 5 before a bad series of events took him out of contention, but no one had anything for Landen Lewis in that race.
At the end of the day however, one storyline emerged. After a flawless performance by Layne Riggs in the Kevin Harvick Inc # 62 machine prepared by Rodney Childers, race reporter Matt Weaver was the first to report that the post race tech inspection had revealed a discrepancy on the car. And the following day, after the tour had a chance to consider the minor rule infraction, the win was taken away from the team, leaving Jared Fryar and the Jimmy Mooring team victorious. Fitting as Fryar also ran a flawless race, conserving tires throughout, and running as smooth a race as one can imagine. But what will be lost is the performance Layne Riggs put together on the night. You see, what was found to be illegal on the # 62 machine were the sway bar ends. And if you know anything about those parts, you will know they're not performance enhancing. It was a clear oversight by a team that shouldn't have missed it. An error on a night that didn't permit any. When all is said and done however, despite what many seemed to think as the tour was considering the infraction, the rule was enforced. They didn't overlook it, even as it involved a car owned by one of the new owners of the tour itself, high profile co-owner Kevin Harvick. The tour proved it's integrity again when many doubted it. All that said however, nothing can be taken away from the performance of Jared Fryar and his team as well. Opting for the setup that left them with a better long run car, it came down to a 27 lap shootout where they crossed the line second after holding off every contender behind them as they had hoped for a long green flag run in the end. But when all was said and done, the team comes away with it's second straight Caraway win in the last two CARS Tour events there, and his first win of the season.
Mid pack battles in short track racing are becoming the most underestimated facet of the sport to those who watch the races online. Don't get us wrong, anyway to watch some great short track racing is a good way, but I saw a comment online that read: "People must be really bored to watch races without an invert…" and I couldn't help but laugh a little. The battles mid pack in ANY CARS Tour race are nothing short of epic. It makes our Short Track Report Blue Collar Racer Of The Race choices challenging to say the least. And it's no different in that aspect this week as it was a VERY difficult choice. First, we have to look at the Pro Late Model race and Cole Butcher. After being sent to the rear, Butcher made a charge all the way back to fourth. And what about rookie Cameron Bolin? Bolin started 22nd, was patient and methodical all throughout, and ended up with an 8th place finish, the first top ten for a Rookie Of The Year contender this season. But in the end, it came down to two drivers, and boy was it a hard decision. Bobby McCarty got caught up in an accident with Dylan Ward early in the going, causing him to make a trip to the attention of his team. After restarting in the back, McCarty picked off drivers one by one, and just like Bolin, was patient and let the spots come to him, eventually ending up fifth. But after much deliberation, we have to give the nod to Mason Diaz. Diaz started all the way back in 20th, and immediately went on the charge. Everytime we looked at Mason Diaz, he was either sideways hanging it all out or was right on someone's bumper, pressuring them as much as he could. And after all was said and done, he moves all the way to second place, a huge finish for his Chad Bryant Racing team, giving him the Blue Collar Racer Of The Race, on a night where there was no room for error. Until next time, we'll See You At The Track!
(Race write up by Joshua Weatherman. Intro and My Take written by Billy Weatherman. 2023 Copyright SHORT TRACK REPORT)