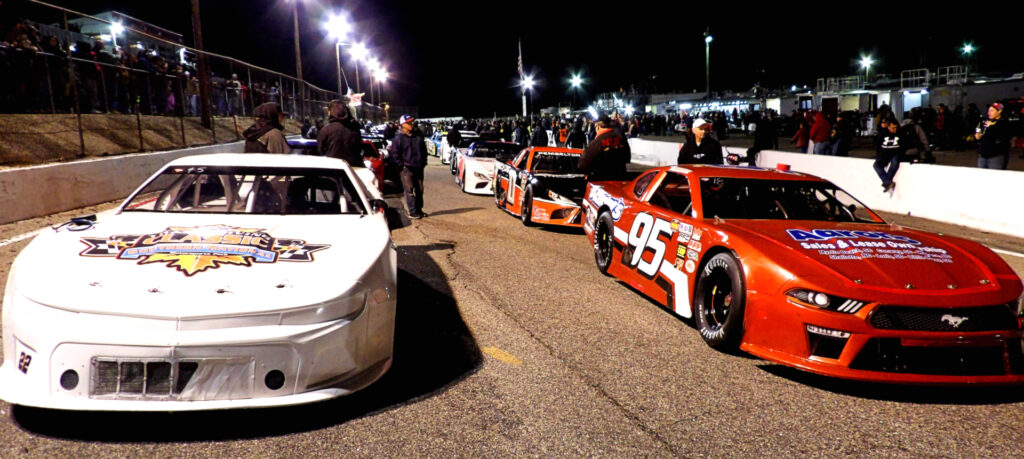 "Playing safe is very risky."

Seth Godin
We got up early Saturday morning with excitement as we prepared to head out to Florence Motor Speedway for their signature event, the 2022 South Carolina 400 Charlie Powell Memorial. This was the 30th annual running of this great event, but only the third year being held at Florence Motor Speedway, having been moved from it's origins in Myrtle Beach, South Carolina after Myrtle Beach Speedway was forced to close the gates. And while many lament the closing of the famous .538 mile speedway, and for good reason, we were truly looking forward to seeing this event at Florence. You see, we've built quite the appreciation for the place. Although this was the first South Carolina 400 for Short Track Report, we were of course familiar with the race itself and it's 29 year history. But this race was going to be special for many reasons. NASCAR Hall Of Famer Dale Earnhardt Jr. has entered the event for the 30th running, returning to a track he won at in a Late Model Stock many years ago as he started his illustrious career. And we knew the dynamic of having NASCAR's Most Popular Driver in the ranks of competitors entered into this event was going to change things. Dale's a superstar simply put, and we knew it was going to be interesting to see how his presence would effect this already prestigious event.
But the truth is, we had this race penciled in before that announcement came. It was important for us to make this event this year, and it all goes back to our first visit to Florence Motor Speedway. Last year, we came down to see the SMART Modified Tour, as they bring excitement wherever they go, and we were looking forward to seeing them at a track we'd never been to before. We were working the race for another national race coverage entity and the article we wrote on that race resonated across the country. But it wasn't for the race itself per say, even though that was an amazing event in it's own right, but more for what we had to say about the track itself that struck a cord with the sincere short track racing fan. Truth is, we fell in love with the place, but not for the reasons some might expect. As a matter of fact, we almost didn't write the article at all, because honestly, when we got to the old 4/10ths mile track, we almost turned around and left, not sure if we were even in the right place. But hearing some cars firing up, we realized we were indeed, and proceeded to enter the facility. And when we went in and looked around, it seemed as though everything there was in need of repairs and refurbishing, and we truly wondered what we had gotten ourselves into. To be quite frank, after taking in the place, we again almost turned around and left. But instead we took a seat on the front stretch to contemplate exactly what we were doing there. And then the cars started their practice sessions. And we knew.
We instantly knew why Steve Zacharias and his crew took over the track, even in it's current state. The answer became crystal clear. We've never seen drivers work as hard as they were trying to lay down a good lap. At most tracks, you'll see the practice leaders barely even moving the wheel as they've achieved the perfect setup that'll allow them to compete for the win. But not here. Not at Florence Motor Speedway. There is no perfect setup you can bring there. And we immediately realized what this place was. This was the quintessential drivers track. Watching those drivers working off of turn 4 to come down the straight at Florence is priceless if you know what you're looking at. And a setup that can even come close only comes from making laps at this track, so it's the driver that can improve. It is indeed one of the hardest short tracks to navigate in our region and beyond, and having success here is, well, let's just say you're going to have to work for it. We were immediately sold, realizing why Charlie Powell worked so hard to keep it alive. We knew it would be a challenge for Steve and his crew, especially after so many years at Myrtle Beach Speedway given the facility they had, and the contrast here can't be underscored. But realizing why it's worth the effort, we were really interested to see what happens when you bring the most popular stock car driver of the era there to race, and how many true race fans would appreciate what they were about to witness. What we encountered was quite the adventure! But one we feel must be put into the proper perspective. There was indeed a lot to unpack from this race.
The invocation was spoken, and Skyler Whitfield has the crowd ready after a great performance of our National Anthem, followed by a round of fireworks, adding to excitement as the crowd remained standing on their feet so, Let's Go Racin'!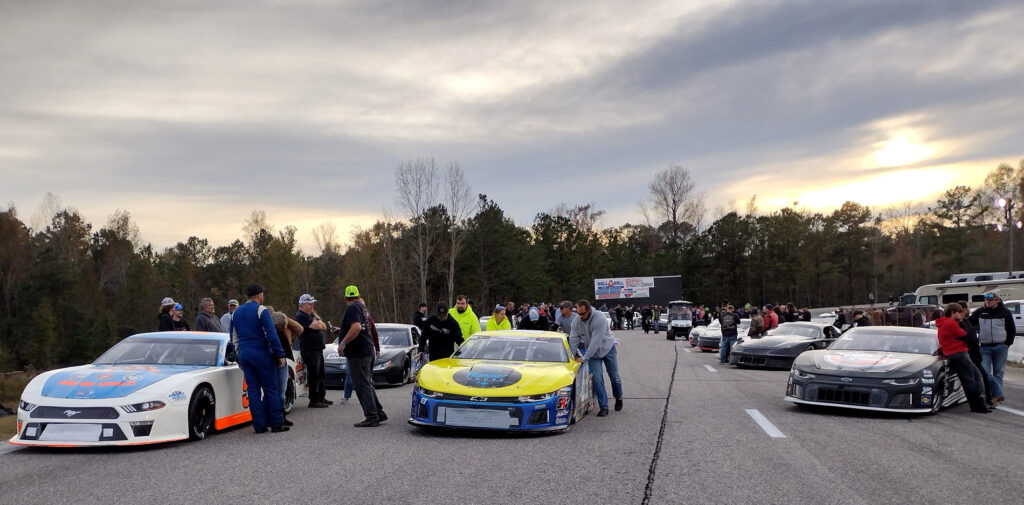 BANDOLERO FEATURE
The # 81 of 2022 Southeast Bandolero Tour champion Hunter Jordan will start on the pole with Owen Zacharias in the # 35 starting alongside. # 44 Bobby Gossett, # 78 Gracie Crocker, and the # 77 of Ellie Gossett will round out the top five. Jordan gets the jump while Bobby Gossett gets by Zacharias for second. The # T 2 of Cam Truett spins out of turn four, bringing out the caution. On the restart, Jordan yet again gains the advantage but there's a horrifying crash on the backstretch as Ellie Gossett slams into the inside wall, does a complete 180 in the air, and comes back down with only half of the body left. The # 19 of Mason Lutz and the # 55 of Mardy Roberts are also involved. All three are thankfully okay as the race is red flagged to clean the carnage. The rash of cautions would continue in the race, exceeding the time limit and giving Jordan the win. Bobby Gossett comes home second, Zacharias third, Gracie Crocker fourth, and the # 75 of Makenna Crocker fifth.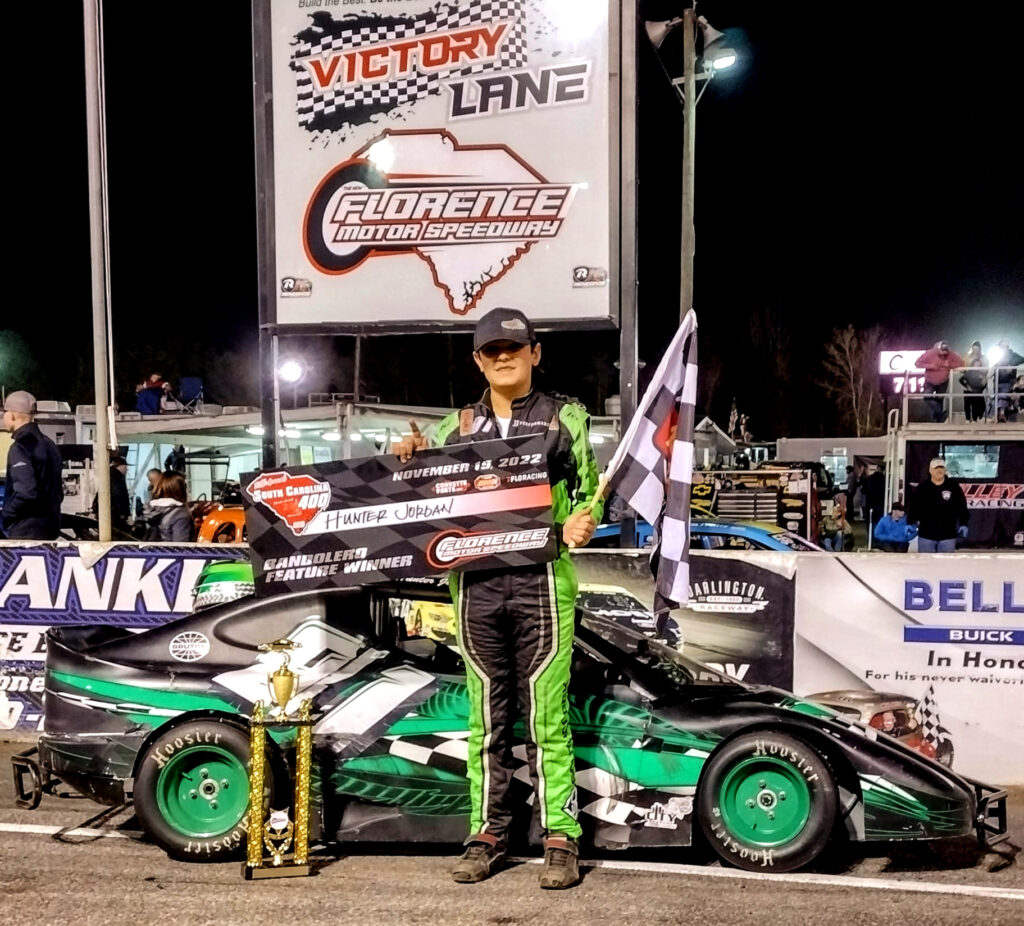 LEGEND FEATURE
Joshua Dickens finds himself on the pole in the # 20 as the # 28 of Carson Brown will start alongside. ARCA winner # 99 Landen Lewis starts third followed by the # 93 of Jake Tretow and the # 16 of Josh Speas. Dickens gets a great launch on the start as Lewis pounces on Brown, taking second away. Speas races by Tretow and now looks on Brown for third. Brown holds tight for a second, but Speas is too much to handle and gets by, bringing Tretow through as well. Behind them brings the first caution as the # 93 B of Luke Baldwin is around off of turn two. The # 29 of Cole Robie is also involved, ending the night for him. For the ensuing restart, it will be Dickens, Lewis, Speas, Tretow, and Brown the top five. Dickens gets a picture perfect restart as now the # 26 of Dawson Sutton breaks into the top five by Brown. Sutton is now on a rail as he gets by both Tretow and Speas. The caution is back out again though as the # 62 Keelan Harvick and Baldwin get together, sending Harvick around and Baldwin off of the track in turn three. It's a quick caution as Dickens, Lewis, Sutton, Speas, and Tretow will make up the top five. Everybody stays double file on the restart, as Dickens finally clears Lewis after almost a whole lap side by side. Speas gets by Sutton with Tretow also sliding through. Tretow continues his momentum, getting by Speas. Speas can't stop the bleeding as he allows Sutton under and by. But up front, Lewis gets into Dickens and Dickens is around! The crowd is on their feet as Florence makes the call to put Lewis in the rear! A major turn of events as the top five will now be Tretow, Sutton, Speas, Brown, and the # 5 of Garrett Gumm. It's Sutton who gets the jump this time around as it's mayhem behind as they go three wide for second, resulting in Speas getting into Brown and spinning him around in between three and four. After all of the chaos, Florence decides to implement single file restarts from here on out, with Sutton, Tretow, Gumm, # 51 Donovan Strauss, and the # 18 of Alex Meggs making up the top five.
Sutton gets a phenomenal restart as everybody starts to calm a little and log some laps. Two people who aren't calm however are Lewis and Dickens, as they're already flying through the field, picking off Legends one by one. Back up front, Strauss is under Gumm and steals the third spot. But now, to Sutton's chagrin, Lewis has broke his way back into the top five, getting by Meggs with ease. Now he's by Gumm, then Strauss, then Tretow as Sutton tries to pedal away. Lewis is already there though, as he looks under. Sutton throws the block, making contact with Lewis and keeping the lead. Lewis looks under again, and this time it's too much for Sutton as he takes the lead with the fans cheering him on in the background. The caution flies for the # 25 of Sam Brochu, who has spun on the backstretch, meaning the race will end under the caution due to time constraints, handing Lewis the hard fought win. Sutton comes home second, Tretow grabs third, Strauss finishes fourth, and Dickens makes a late race pass on Gumm to capture fifth.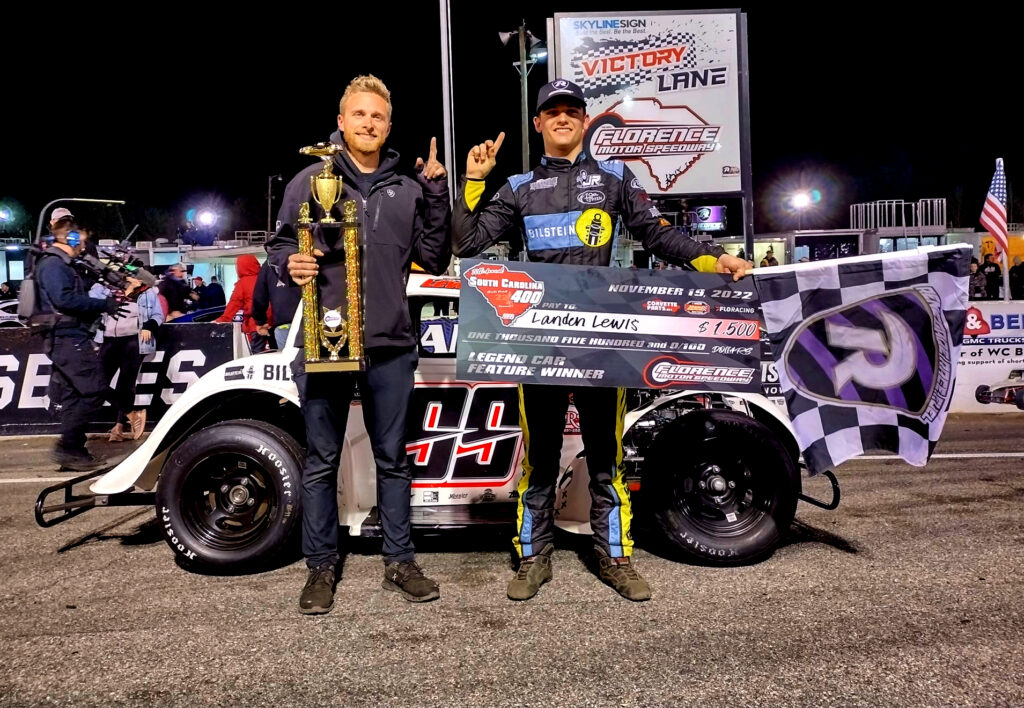 SUPER TRUCK FEATURE
It's a stacked field of Trucks as the # 27 of Ross "Boo Boo" Dalton will start on the pole followed by the #00 of Jody Measamer, # 7 Strom Altman, # 07 Robert Tyler, and the # 49 Ralph Carnes. Dalton rockets out in front as the # 36 of Neil Meredith takes fifth from Carnes. But as is the trend tonight, there's early trouble as multiple Trucks pile up in between three and four with the # 63 of Jim Krakeel getting the worst of it. Lining up for the ensuing restart will be Dalton, Measamer, Altman, Tyler, and Meredith as the top five. Dalton once gets the jump with the # 15 of Joe Heigl getting fifth from Meredith. Tyler now sneaks by Measamer on the outside as Dalton starts to pull away. Altman takes advantage of Measamer's lost momentum as he's now in third. Altman keeps the speed up, now looking on Tyler and taking second away. Further back, Heigl gets passed by the # 41 of Jeb Bootle, as Bootle enters the top five. Measamer's Truck seems to worsen as the run gets longer, allowing Bootle to now take fourth, setting his sights on Tyler. The # 18 of Neal Grant enters the frame, getting by Measamer, dropping the # 00 out of the top five. Back up front, Altman has slowed dramatically! He luckily brings it to pit road without incident, keeping the race under green. That brings everyone up a spot behind Dalton, who has built an astonishing six second lead over the field. Carnes throws his hat into the ring once again as he's now by Measamer, gaining fifth. Just as it seems Dalton has an easy journey to victory lane, the # 03 of Kary Lawrence spins in turn four. The caution doesn't fly however, resulting in the # 29 of Julian Primus slamming into Lawrence's driver's side, which finally results in a caution. Everyone is okay however, as it'll be a two lap shootout to the finish with Dalton, Tyler, Bootle, Grant, and Carnes as the top five. Dalton gets a flawless restart with Grant powering by Bootle for third. But here comes Carnes as they're three wide for third as Dalton crosses the line first followed by Tyler. Bootle spins as Grant gets third, Carnes fourth, and Bootle crosses the line backwards in fifth.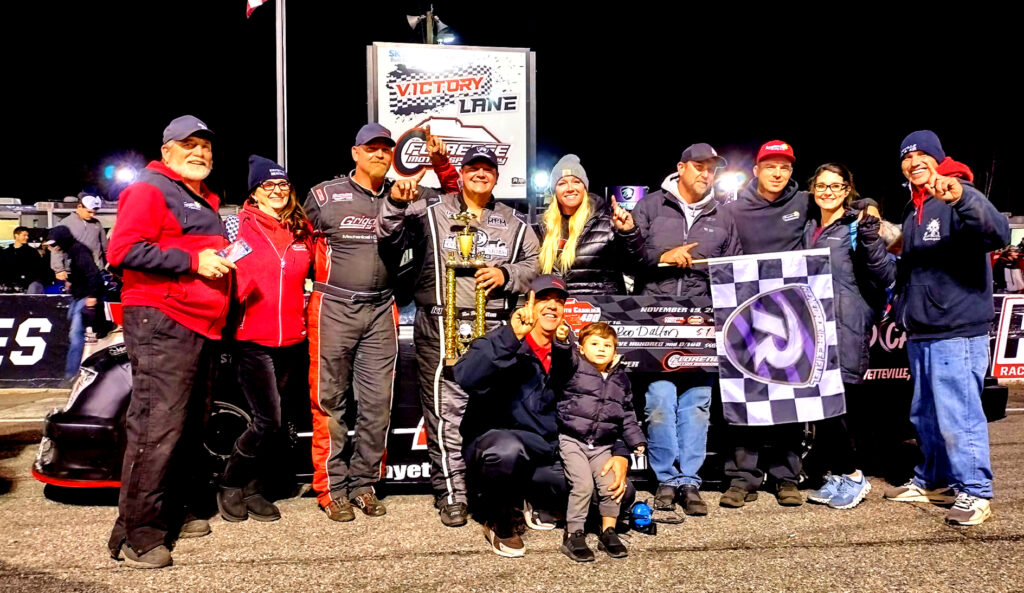 LATE MODEL STOCK SOUTH CAROLINA 400 FEATURE
After a hectic qualifying session, the # 95 Y of former Myrtle Beach 400 winner Sam Yarbrough grabs the pole with a time of 17.438 seconds. The # 22 of Mason Diaz will line up second followed by the # 0 of Landon Pembelton who rounds out the top three. The fans are on their feet as 42 Late Model Stocks double up and head to the finish line. The flagman has the green in hand and we're underway in the South Carolina 400!
Yarbrough grabs the point early as the # 51 of Matt Cox gets by Pembelton for third as Pembelton starts to drop back to conserve tires along with drivers such as the # 10 of Kaden Honeycutt. The field is reminiscent of Talladega behind as they're all two wide, with some even three. Cox is now by Diaz as Yarbrough looks to gap the field. Breaking through that pack behind is the # 44 J of Conner Jones as he's now all over Diaz. He eventually gets by and now sets his sights on Cox. Cox puts up a good fight, but Jones won't be denied as he's by and all over Yarbrough. Yarbrough, playing a little strategy, lets Jones have the spot for the time being, as now the # 54 of Super Late Model veteran Matt Craig is there, as he door bangs with Yarbrough. All of the hectic action is broken up by a caution as the # 61 of Justin Hicks, the # 44 W of Justin Whitaker, and the # 47 of Ryley Music pile up on the backstretch. It's a relatively quick caution as the top three will be Jones, Yarbrough, and Craig. Jones and Yarbrough are dead even, with Yarbrough getting the edge after a lap. Cox now takes second back as the racing is absolutely incredible here at Florence. Cox now looks under Jones, but Jones is holding strong on the outside as he now powers to the outside of Yarbrough. It's a dead heat for the lead as they stay side by side for a handful of laps. Jones gets the advantage as the yellow is out again, this time for a hood that has found it's way on the track. The hood is identified as that of the # 16 of 2022 Florence Late Model Stock champion Kade Brown. For the restart, it'll be Jones, Yarbrough, and Cox as Yarbrough and Jones are once again side by side for the restart. No one gives an inch as it's a high speed chess match with no advantage. Jones finally clears for the top spot as he starts to open a gap. But right when I say that, the pack racing is back as Yarbrough is under Jones followed by Cox and the # 17 of Ryan Millington battling for third as they're all under a blanket. Jones clears again for the moment as Millington now secures third and looks on Yarbrough for second and gets it. And now there's a huge crash behind as the # 5 C of Dexter Canipe Jr, # 75 Landon Huffman, # 1 Jamie York, and the # 71 of Katie Hettinger among others have piled up in turn one! The red flag is displayed as Canipe Jr heads out onto the track to display his displeasure with Hettinger. Everything is cleaned up diligently as Jones, Millington, and Yarbrough line up for the restart.
It's the same song and dance as everyone is side by side with no breathing room given. Jones barely clears for the point as Cox gets by Yarbrough for third. Cox is now beside and by Millington as they're finally single file in the top three. But not for long as Millington now looks to the outside of Cox and they battle side by side for nearly fifteen laps. Cox prevails and he's under Jones for the lead. Cox has no problem and clears as he now leads. But Jones is right back to the outside and retakes it. Behind, Yarbrough is back in third and breathing down Cox's neck. I can't even focus on all of the action as Cox is now the leader once again. Jones falls back to third as Yarbrough is back in second. The much needed competition caution flies on lap 75 as everyone catches their breath for the time being. As everyone makes adjustments, the top three stays the same for the restart with Cox lining up first followed by Yarbrough and Jones. Cox and Yarbrough battle for the top spot on the restart as Craig now flies by Jones for third. Cox wins out the battle with Yarbrough as they go single file for the moment. Meanwhile, moving through the field feverishly is the # 3 of Dale Earnhardt Jr, as he's taken the tire conservation route and has decided to start making his way through the field. Back up front, the # 8 of Carson Kvapil has found his way by Craig as Yarbrough now powers by Cox to lead yet again. Another driver working his way up front is the # 03 of Brenden "Butterbean" Queen, as he looks to put in a good debut performance for Lee Pulliam Performance. And now the caution flies for the # 07 of Averitt Lucas, who has looped his machine out of four. It's another quick caution with Yarbrough, Cox, and Kvapil the top three. Yarbrough gets the better restart this time as he clears Cox, but there's another huge crash behind as Honeycutt spins into Diaz, sending both around and collecting numerous others. Thankfully, most are able to drive away as this will count as our second and final competition caution, giving teams another chance to make needed changes to their hot rods. After all is said and done, it's Yarbrough, Cox, and Kvapil as the top three once again. No one has the clear edge as we head into the fifty lap Terry Evans Shootout, and saving time is over as the green flies for the final 50 laps!
Cox momentarily takes the gold spot, but Yarbrough is right there. He gives Cox a fit, but Cox has an amazing car and powers ahead. Back in the middle of the field, Diaz takes it three wide underneath the # 7 of Tristan McKee and the # 28 of Ryan Glenski. It's too close for comfort on the backstretch as Glenski runs off of the road. He gathers it back up, but is none too happy with McKee. He catches back up to him on the frontstraightaway and spins him into the inside wall, resulting in a vicious impact for McKee. The caution is called and McKee is thankfully okay. Cox will lead this time around followed by Yarbrough and Kvapil. Right before the restart, the # 95 H of Jacob Heafner pulls to the outside with a problem, but the flagman nor race control sees it. The field goes green and the caution thankfully comes back out just before they reach Heafner. Heafner limps to pit road and is done for the night as the second time is the charm with Yarbrough taking the lead. But the caution flies once more as the # 18 A of Anthony Adams takes a trip off of turn one. It's the same top three with Yarbrough firing off perfectly. He clears as Kvapil now moves up a spot, dropping Cox to third. Earnhardt Jr continues to pick off positions left and right as does the # 55 of Isabella Robusto, as she's putting in the run of her life. Now Cox is back by Kvapil, and here comes Diaz! Diaz is all over Kvapil and gets by for third, and is visibly the fastest car on track as the fans begin to get loud. But the caution makes it's presence known again as the # 2 of Brandon Pierce and # 88 Doug Barnes Jr have spun in between turns three and four. For the restart, it'll be Yarbrough, Cox, and Diaz. Yarbrough is caught sleeping this time around as both Cox and Diaz get by. And now Diaz looks under Cox, and the two make contact! Diaz finally clears and looks to run away with just fifteen laps to go. Yarbrough gathers his machine back up and picks off Cox, leaving Cox to deal with Earnhardt Jr in the 3. Earnhardt Jr looks on Cox down the backstretch and makes contact! Cox spins hard into the inside wall and nearly climbs it! Florence officials seem to think that Earnhardt Jr is to blame for the incident and put him to the rear, causing an explosion of boos to roar down on the track. The top three is now Diaz, Yarbrough, and an emerging Queen. The fans, already in a frenzy, are on their feet and the green waves to settle the South Carolina 400!
Yarbrough and Diaz are dead even for the top spot, as they both lean on each other battling for the lead. Smoke flies off of their machines as now Yarbrough is pushed off into the dirt and shoots back out into traffic, causing an immediate caution to avoid any carnage. Yarbrough somehow saves it, and therefore gets his spot back. Diaz pleads his case, but Yarbrough wins out with Diaz restarting second and Kvapil back in third. Yarbrough clears with ease, but Diaz crosses over and takes the top spot back as the fans go wild! Yarbrough now goes into turn three deep and spins Diaz! The fans are now louder than the cars themselves as Diaz begins to protest for his spot back. Race control denies, and out of protest, Diaz parks his car in victory lane and engages in a mock celebration with his crew. Yarbrough is also put in the back as a result with Diaz's car now being towed off into the pits. Yarbrough decides to park his machine as well. The top three will now be Queen, Kvapil, and the # 32 of Zack Miracle, who has been patient all night and now finds himself in a winning position. Queen and Kvapil are dead even as they now make contact for the lead after the restart. Queen clears and here comes Miracle! Miracle nearly spins on the backstretch but somehow saves it until turn three where he loops it, bringing out the caution. Queen will once again restart first followed by Kvapil and the # 98 of Cody Kelley. Queen clears easily this time, but behind, Earnhardt Jr gets into Pembelton and spins him around in turn one, resulting in the fifteenth caution. Earnhardt Jr is once again put to the back as Queen, Kvapil, and Robusto will be the top three for the final restart. Kvapil gives Queen one last run for his money, but it's not enough as Queen wins one of the craziest Late Model Stock races in history in his debut with Lee Pulliam Performance. Kvapil comes home second, Robusto gets an outstanding third, Kelley guts out a great fourth, and Craig grabs a fifth. What a race!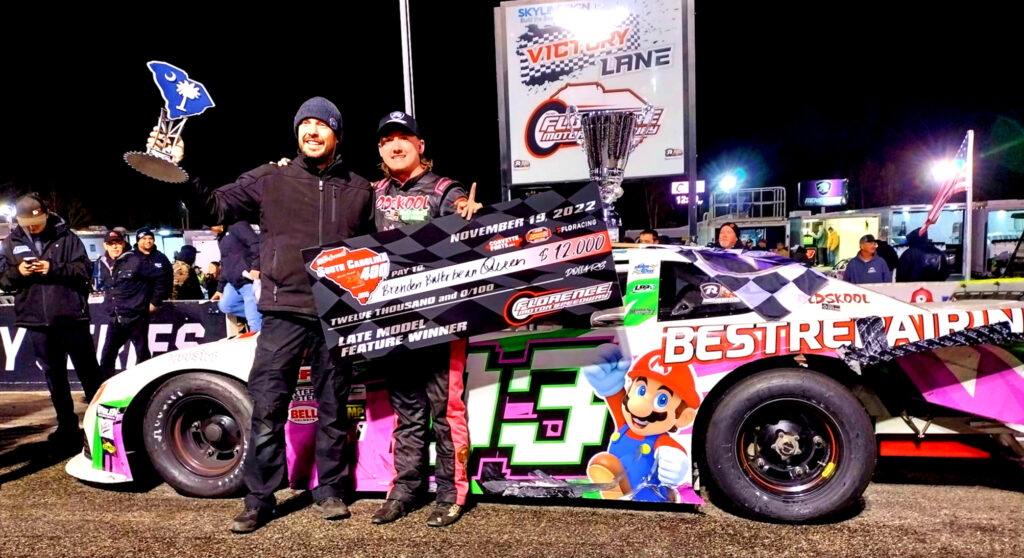 MY TAKE
Well it's hard to know where to start on this one, as there were quite a bit of rumblings on social media about how everything went down in this year's South Carolina 400, and we feel a lot of it may be a bit misguided. And so we do what we always do and took a good hard look at the big picture. And we have to start of course with Sam Yarbrough and Mason Diaz. What it comes down to is the "We have a failure to communicate" situation here. And we can talk all day about what happened but the bottom line is that it came to a point to where neither one of them was going let the other one win, and they both succeeded and cancelled each other out. They both felt the other was out of line, and they got caught up in it. But, let's take a look at it. There's a saying that "Actions have consequences". And that sums it up here. A series of events that took out two of, if not the best cars in the race. But what everybody missed was that the progression of that series of events actually started before the Late Model Stock race had even begun. You see, earlier in the night, during the Super Truck feature, a Truck went off in turn 1 and there was a slight delay in the caution being waved. And before you start to make any insinuations, know that the Truck was flat black with a dark number, going off inconspicuously on a cold hazy night, with hotly contested racing in front of him looking like a potential caution. And, it was just a brief hesitation, and it was all handled quickly by the track crew. But I saw the look in one particular official's eyes and knew it wasn't going to happen again. So when in the Late Model Stock race when Sam Yarbrough almost went around after contact from Mason Diaz as the two were battling for the lead, the official made the call to put out the caution because of what was happening behind Sam Yarbrough, as it was almost the exact same incident he had seen earlier playing out, and he indeed made the decision for safety, and not the # 95 car who had saved his machine and was looking for position on the track with chaos forming behind him. And for the record, even though I watched this sequence of events happen, I did follow up on my suspicion and confirmed it with said official.
Things only got more interesting from there as when Yarbrough was then given his place back at the front of the field, Diaz didn't agree with the call and contested his position for starting lane choice, and the two were challenging each other under caution with the officials having the ultimate say. And so when the race went green again Yarbrough spun Diaz around, bringing out another caution on the track. Naturally as heated as Diaz was, he was going to try and reclaim his position up front, only to be told he would have to start in the back. In turn, Diaz parks his car in victory lane, does a slight victory celebration with his crew, and walks off into the pits in frustration. And the crowd got caught up in it too, and I could see their confusion. But the reality is that at Florence Motor Speedway, the after caution lineup resorts back to the previous lap. And you can argue the rule, but it is an established rule clearly stated in the drivers meeting. Yarbrough didn't go around, but Diaz did. And in that moment really, their races were over. But it only added to the emotions of the crowd. But truth is, they were already shocked from something that had happened earlier in the race. And so we have to take a good hard look at that as well.
It's no secret that many of the people at this race were there to see Dale Earnhardt Jr. in the 3. What fan wouldn't want to see a Cup superstar of that magnitude compete at a local short track? But it wasn't just fans of course, but the media as well, as JR is going to draw attention to this race like no other stock car driver can. And so it's safe to say that a majority of the people that came to that race, came to see Dale Earnhardt. And wouldn't it be great if they could see him win it? So, that in mind, it's also safe to say that most people were very emotionally invested. And so it only built as even after starting toward the rear of the field, he began to work his way to the front. I even texted Josh up in the booth saying, "He's coming". Knowing if he got to the front the crowd was going to be rockin'. They had already been loud through the night, but it was already building up.
And when he got to fourth the excitement grew, even when another series of events began to play out when JR got into Matt Cox and it sent him around. Later he would say he thought he gave him enough room, but race control took a look, and sent Dale Jr to the rear. The crowd wasn't as loud then but they were shouting things. But soon that anticipation started to build once more as JR showed his skill and again began working his way back to the front when for one moment, he got out of line. He then aggressively tried to correct his position, but it was too late and got into Landon Pembelton who also went spinning. And in an indication that he was going to own up to that one came when he put himself in the back, saving the official on the track the hassle. But it was the first call from the officials that many people didn't agree with. But again, this is not uncommon here. And that call is not uncommon at a lot of tracks across the country. In cases like this, at most tracks across the country it comes down to a judgement call. I personally have never liked judgement calls in general. But in a disclaimer, I should note that I grew up going to Bowman Gray Stadium where everyone knows that to a great extent, they let the drivers settle it on the track. But though I know that has limits, I just hate to see a call come down to opinion, respectively. I've never been one to agree with the "We must save them from themselves" argument when it comes to this level of racing. These drivers are professionals, and they should be able to operate in an environment that allows them to fully utilize their skills. All that said however, a track runs the show as they see fit and I say it's fair as long as everyone knows the game. And to be fair to the official that made the call… JR said he thought he gave Cox enough room, but however unpopular this may be to some, after looking at that very closely, it's our unbiased opinion that there wasn't enough room for Cox to survive it, but it's also dually noted that there was no indication of intent on JR's part either. Truly just one of those racing deals.
And so also after stepping back and taking a look at this race, it also became obvious how difficult picking our Short Track Report Blue Collar Racer Of The Week was going to be. And it turned out to be one of the hardest decisions we've had to make all year. We took a look at Landen Lewis' run in the Legends race, coming from the back of the field to the front for the exciting win, and we even had to take a look at JR's performance as he still managed a top 10 finish after it was all over. He did say he wanted to get the full local short track experience and he definitely achieved that in one of the most eventful performances we've seen all year. But in the end it came down to two drivers that we feel worked the hardest for the payoff at the end of the day. Brenden Queen had nothing short of an amazing run, but he had to work for every inch. Starting 17th, he made his way toward the front, battling every inch of the way, making a statement that he wasn't going to be denied, becoming the 2022 South Carolina 400 Champion in his first race with Lee Pulliam Performance. But lurking up behind him was what may be 2022's most improved driver, Isabella Robusto. And although not a win, it still may be her best performance to date. Starting 29th in a field filled with some of the very best Late Model drivers in the region, she used what she learned this year and exercised patience, using just enough aggressiveness to slowly and methodically work her way through the field of talented racers, still managing to get faster as the race progressed. And even though she ran out of time in the end to mount a charge on the leader, she was running third and pulling away from the drivers behind her even after an intense battle for position on the last restart, proving she was indeed one of the fastest cars on the track. At the South carolina 400, Isabella Robusto upped her game, earning her and her Lee Faulk Racing And Development crew this week's Short Track Blue Collar Racer Of The Week.
Despite what some may have you believe, this race had everything you could ask for. The action, excitement, and drama couldn't have been more intense. The crowd was electric, and you could really feel their passion. But again, what stood out to us the most may be what a lot of people miss. This track brings out the best in the best of drivers. It truly is a drivers track of immense proportions, and a driver has to earn everything he gets on every inch of track. But truth is, if you're looking for the champagne experience, this track may not be for you. But if you're wanting to see the best drivers have to use every bit of skill they have, this tracks for you. Steve Zacharias and company still have their work cut out for them in getting this place the best it can be, but the improvements they've made should be noted. And pulling such a huge event as this at a track like Florence should be as well. Us short track racing purists know what you're doing here and we truly appreciate it. The South Carolina 400 was quite the adventure. 'Till next time, See You At The Track!
(Race writeup by Joshua Weatherman. Intro and My Take written by Billy Weatherman. 2022 Copyright SHORT TRACK REPORT)
Tags
Alex Meggs
,
Anthony Adams
,
Averitt Lucas
,
Bandoleros
,
Bobby Gossett
,
Boo Boo Dalton
,
Brandon Pierce
,
Brenden Queen
,
Butterbean Queen
,
Cam Truett
,
Carson Brown
,
Carson Kvapil
,
Charlie Powell
,
Cody Kelley
,
Cole Robie
,
Conner Jones
,
Dale Earnhardt Jr.
,
Dale Jr.
,
Dawson Sutton
,
Dexter Canipe Jr.
,
Donovan Strauss
,
Doug Barnes Jr.
,
Ellie Gossett
,
Florence Motor Speedway
,
Garrett Gumm
,
Gracie Crocker
,
Hunter Jordan
,
Isabella Robusto
,
Jacob Heafner
,
Jake Tretow
,
Jamie York
,
Jeb Bootle
,
Jim Krakeel
,
Jody Measamer
,
Joe Heigl
,
Josh Speas
,
Joshua Dickens
,
Julian Primus
,
Justin Hicks
,
Justin Whitaker
,
Kade Brown
,
Kaden Honeycutt
,
Kary Lawrence
,
Katie Hettinger
,
Keelan Harvick
,
Landen Lewis
,
Landon Huffman
,
Landon Pembelton
,
Late Model Stocks
,
Lee Faulk Racing And Development
,
Lee Pulliam Performance
,
Legends
,
Luke Baldwin
,
Makenna Crocker
,
Mardy Roberts
,
Mason Diaz
,
Mason Lutz
,
Matt Cox
,
Matt Craig
,
Neal Grant
,
Neil Meredith
,
Owen Zacharias
,
Ralph Carnes
,
Robert Tyler
,
Ross Dalton
,
Ryan Glenski
,
Ryan Millington
,
Ryley Music
,
Sam Brochu
,
Sam Yarbrough
,
South Carolina 400
,
Steve Zacharias
,
Strom Altman
,
Super Trucks
,
Terry Evans Shootout
,
Tristan McKee
,
Zack Miracle