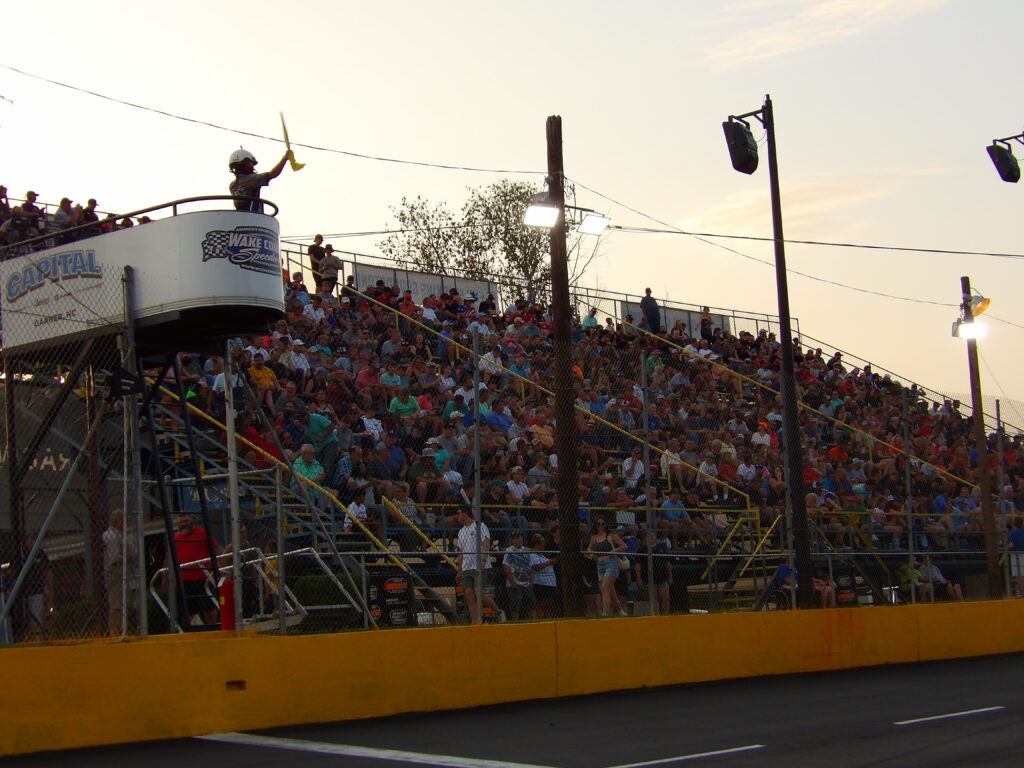 Bringing the CARS Tour Late Model Stocks to Wake County Speedway with just a handful of races left to decide this year's CARS Tour Late Model Stock Champion is nothing short of genius really. Wake County is challenging on the cars themselves, but even more so on the drivers that pilot them. And so when you're deciding a champion by running a very diverse schedule that leaves no doubt to who the best of the year really is, you could have no better pick than 'America's Favorite Bullring' coming down the final stretch. The track is super fast with the new repave, and in the race, any mistake will cost you. And on a tour featuring some of the very best Late Model Stock drivers in the country, you will need to be nearly flawless to pull off the win. So that also leaves the drivers and teams with a choice to make, especially the ones in championship contention. You can play it safe or you go take it to the limit. Truth is however, either way on a tight quarter mile is a gamble. In the end, it will come down to how the drivers handle themselves on the track. This race was run on the hottest day of the year thus far, and what was guaranteed was that things would get even more heated on the track. Pastor Joe Louis gives the packed house a touching and hopeful invocation and Wake County's own Sabrina Dew gives a beautiful National Anthem performance. And so without any further delay…Let's Go Racin'!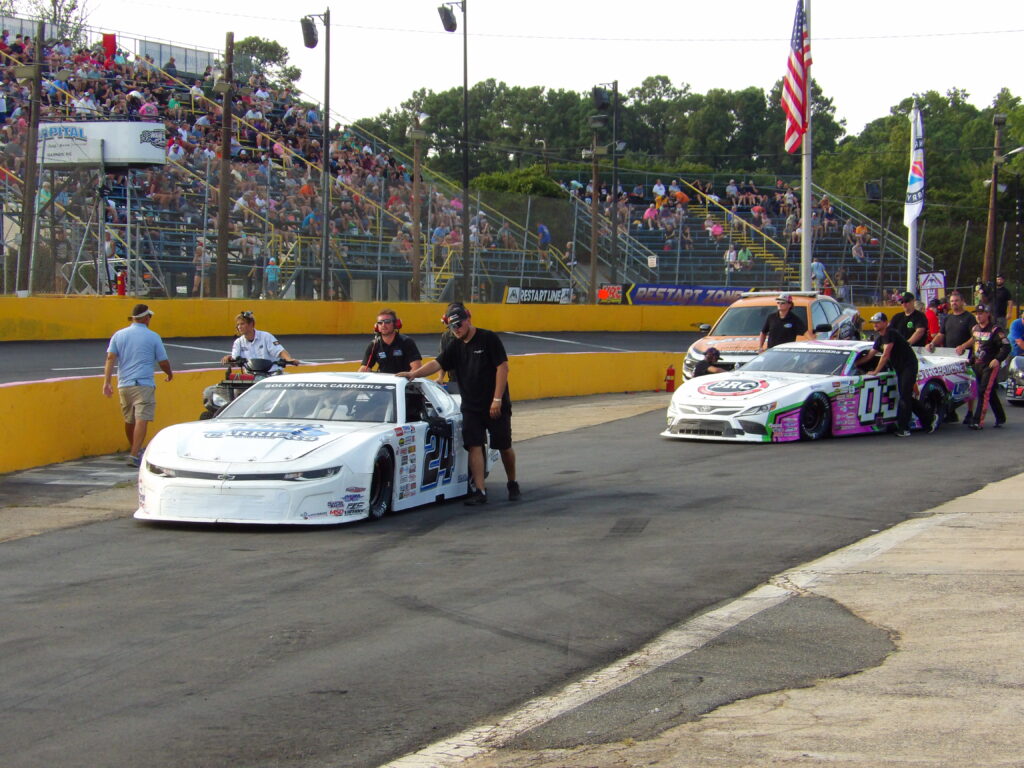 94.7 QDR BANDOLERO FEATURE
There's a talented field of Bandoleros on hand tonight as T.J. Moon in the # 9 rolls off first followed by Aidan Zschiedrich in the # 38, the # 1 of Gavin Holland, the # 9M of Ben Morabito, and the # 12H of Jay Hemenway. CARS Tour flagman Brandon Willard looks over the young field, likes what he sees, and we're green in the Bandoleros! Zschiedrich gets a fantastic launch, but it's a little too good as the start is called off. The second time around is better as Holland is able to power by Zschiedrich and gets underneath Moon. Zschiedrich decides to try to make it three wide but Moon is able to hang on and clear. The action is still hot and heavy behind though as Zschiedrich holds second but there's trouble now as Holland has stopped in turn two, bringing out the caution. Lining up back for the restart will be Moon, Zschiedrich, the # 12R of Eli Russell, Hemenway, and Morabito. Moon fires off like a rocket as Holland is already on the move. Up ahead, Sarah Whitesell in the # 21 gets by Morabito but it doesn't last long as Whitesell spins her machine in between three and four, bringing out another yellow. That'll set up another restart with Moon, Zschiedrich, Russell, Hemenway, and Holland your top five. Moon gets another perfect restart as Holland dives underneath Hemenway and takes fourth away, bringing Morabito along with him. Ahead, Russell slides by Zschiedrich. Holland takes advantage of Zschiedrich's lost momentum and grabs third. He can't stop the bleeding there either as now Morabito takes fourth, as Zschiedrich finally slots into line fifth. But coming to the line it's all T.J. Moon as he takes the victory. Behind, the field encounters lap traffic, causing Russell to spin right before the line. That allows Holland to take second, Morabito third, Zschiedrich recovers for fourth, and the # 22 of Joshua Culbreth gets a quiet fifth.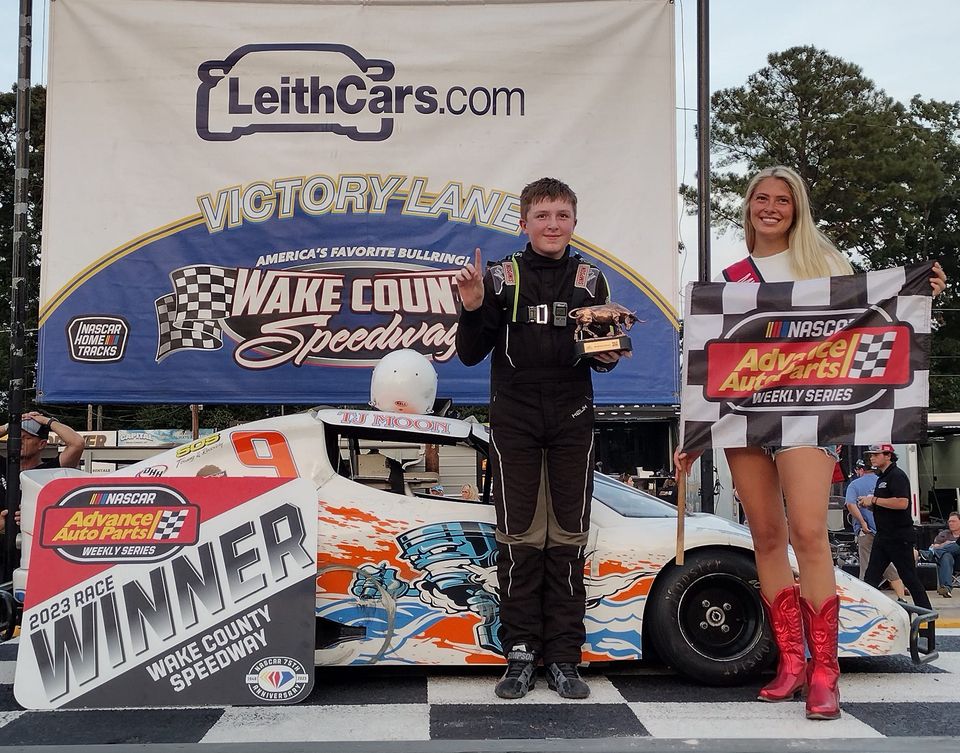 ZAXBY'S CHARGER FEATURE 1
John Fitzhugh in the Rusty Wallace inspired throwback # 2 will start up front for tonight's first Charger feature alongside Jacob Bradley in the # 13 in second followed by # 60 Chance Carpenter in third. Willard gazes over the pack, approves the formation, and we're green! Fitzhugh clears after a short battle with Bradley. But Bradley won't give up that easily as he dives under Fitzhugh and takes the top spot. Fitzhugh gets free up in the marbles and loses yet another position, this time to Carpenter. And now there's big trouble behind as Austin Ferrell in the # 41 pounds the wall in between one and two. After the choose, Bradley remains in front followed by a brave Cory Walker in the # 51, who takes the outside in second. Carpenter will round out the top three as Bradley gets a great restart, clearing Walker almost immediately. Walker is now stuck on the dreaded high side allowing Carpenter and Fitzhugh to get by. Now, Fitzhugh makes a daring move and dives to the inside of Carpenter, making it work and taking back second. Bradley is driving off into the sunset though, taking the victory ahead of Fitzhugh and Carpenter.
ZAXBY'S CHARGER FEATURE 2
Ferrell turns his bad luck into good for the second race as he'll start on pole followed by the # 88 of Zack Brown and Walker. The green is out and it doesn't take long at all for Bradley to start moving up through the field as Walker will take the lead for the time being. But here comes Bradley as he'll take the lead, but he grazes the wall! That allows Walker to take the top spot back now followed by Ferrell and Carpenter. But just like the first race, Bradley isn't one to bow out as he gets by Carpenter. Ferrell gives him a challenge but it's not enough as he now stalks Walker. Walker tries to hang on but Bradley is just too fast and takes the lead. Bradley starts to pull away as there's now a great battle for third with Fitzhugh making his way into the frame. Carpenter makes his car wide, but Fitzhugh uses his experience and gets by as Bradley sweeps the Charger features. Walker comes home in second followed by Fitzhugh in third.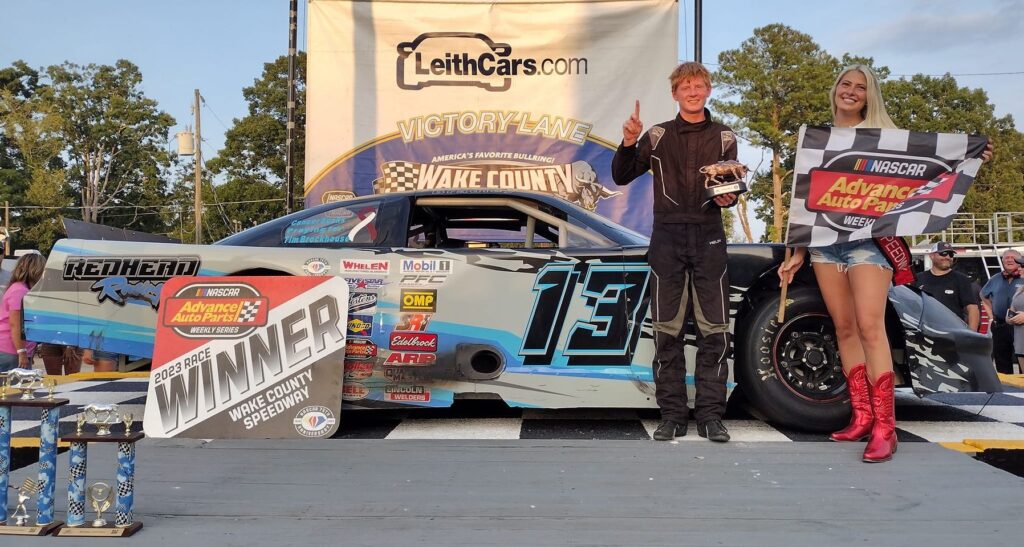 CARS TOUR LATE MODEL STOCK FEATURE
Wake County Late Model Stock points leader Clay Jones in the # 1J lays down a phenomenal lap in qualifying, pacing around America's Favorite Bullring in 12.023 seconds. He starts on the pole followed by Lee Pulliam Performance driver Brandon Pierce in the # 2, Mason Diaz in the # 24, Brenden Queen in the # 03, and Chad McCumbee in the # 16. Brandon Willard looks over the tightly packed field, likes the formation, and we're green for 125 door banging laps! Jones and Pierce immediately make contact as Jones clears for the lead early. Diaz and Queen battle door to door for third, with Queen somehow making the outside work as he passes Diaz. He doesn't stop there either as he gets by Pierce, bringing McCumbee through as well. Behind, Buddy Isles Jr now works his way to fifth in the # 11B as Diaz falls back. Ahead, McCumbee gets loose under Queen and spins his # 03 machine in turn two! That brings the first caution out and allows both Diaz and the # 4 of Dylon Wilson to head down pit road as they both sustained damage during that wreck. They're both able to bring their hot rods back out as now Jones will line up first followed by Isles Jr who takes the outside on the choose, McCumbee, the # 6 of Bobby McCarty, and Pierce. Jones gets another great restart as Pierce traps McCarty on the outside, allowing Wake County favorite Andrew Grady in the # 1 to break into the top five. Grady keeps his momentum up, moving by Pierce up to fourth in a break out performance so far. Also making his way up through the field already is points leader Carson Kvapil in the # 8 as he emerges into the top ten. Back up front, Pierce continues to drop, this time at the helm of McCarty. But now there's big trouble as Ethan Johnson in the # 19 suffers a mechanical problem and lays fluid all over turns one and two, causing his machine to spin into the outside wall. It's a lengthy cleanup as the track crew puts all of their might into clearing the track back into racing shape.
After another round of the choose, Jones will remain in front now followed by McCarty, Isles Jr, Pierce, and McCumbee. It's the same song and dance for Jones as he clears the three time CARS Tour champion heading down the backstretch. Pierce is now stuck up high, allowing both McCumbee and Grady to get by. Behind them, not only is Kvapil continuing his charge, but both Queen and Diaz are knifing their way through the pack. And here comes McCarty! McCarty sets Jones up perfectly and makes the pass for the lead as the # 81 of Mini Tyrrell has spun in turn four. Pit lane is a busy place under the caution as Ronnie Bassett Jr in the # 04, Cameron Bolin in the # 67, and Chase Burrow in the # 8B among others take their machines to the attention of their crews. And right before the choose, here comes Grady! Grady's night is unfortunately done due to mechanical issues in an absolute heartbreak. Back on the racetrack, McCarty now starts first followed by McCumbee, Jones, Kvapil, and Isles Jr in the Flyin' 11. McCarty clears with ease as Jones now gets back to second. Now Jones drifts up high, allowing both McCumbee and Kvapil by for second and third respectively. Behind, both Queen and Diaz show their muscle by getting by Isles Jr and around goes Isles Jr after contact with the # 22 of Landon Huffman! They both drive away as after the choose, it'll be McCarty, Kvapil, McCumbee, Queen, and Jones. Kvapil gets an outstanding launch and takes the lead on the outside. Behind, Queen is by McCumbee as Pierce goes around on the frontstretch, causing another caution. It's a quick caution though, setting up a restart between Kvapil, Queen, McCarty, Tyrrell, and McCumbee. Queen drifts way high, allowing Kvapil to once again clear for the lead. McCumbee now moves up to fourth with Jones joining the party in fifth. The former ARCA winner continues his charge by McCarty with Diaz now breaking back into the top five. Diaz now gets by McCarty and out of nowhere, here comes Bassett Jr who gets by McCarty as well. Bassett Jr continues to mirror Diaz as they both get by McCumbee, and now Queen.
Bassett Jr gives Diaz a nudge for second and he'll take it. But Diaz hits right back and crosses back over for the second position in a great battle. But across the line, Carson Kvapil grabs his fifth CARS Tour Late Model Stock win of 2023. Diaz gets second, Bassett Jr finishes third, Queen bags fourth, and McCumbee snags fifth.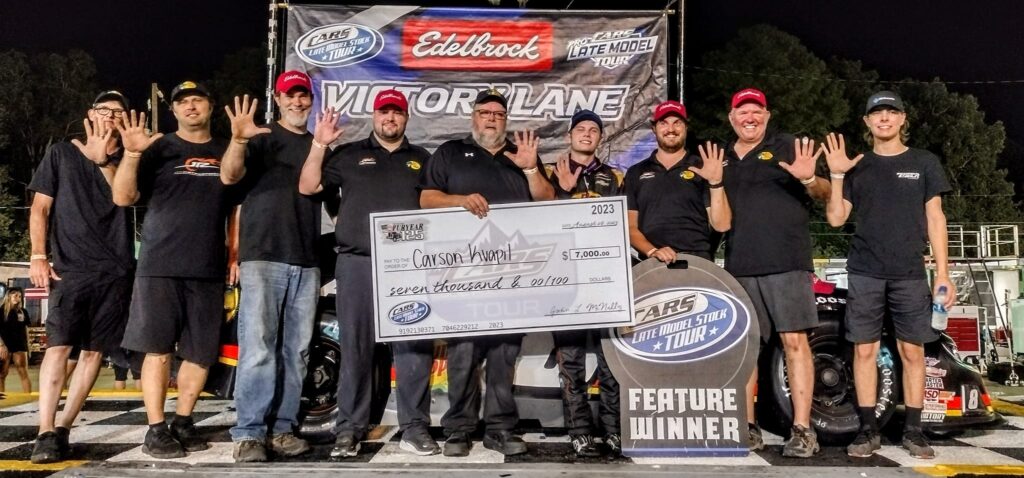 MY TAKE
To master any game or meaningful skill, you have to make the right moves at the right time. Patience truly is a virtue, but timing is the key. And Carson Kvapil is proving to be a master of it. You can have all the talent in the world, but if you don't understand when to use that talent and to the maximum extent, you will rarely find yourself in a position to showcase it. True, Carson has the car and the team to put him on top, but without perfectly timed execution of his talents, it would all truly come to nothing. And in this race, his talents were indeed on full display. On a night when track position was a key factor for success, he started with none. As a matter of fact, he qualified 18th in the 21 car field. But when the race got underway, it was clear to me pretty early how good his car really was. But it was what he did with it that was most impressive. The race was a battle that the CARS Tour is known for, but on an unforgiving track. Still, Carson Kvapil moved through the field meticulously. Not with caution, but waiting for his moments and taking full advantage of them. And as attrition and aggression started to take their toll on the field, Kvapil found himself right where he needed to be.
This win couldn't have come at a better time. In fact it was perfect timing. He had been challenged all year, but when it counted, he put himself in position to win and capitalized on it. He is the only multi-timr winner on the tour, leaving all other winners with just one as he's racked up five, and this win coming down the stretch of the season was another nail in the coffin to his contenders for the title. This win in particular was a message, and we know it was received loud and clear. And so in a year when our Short Track Report Blue Collar Racer Of The Week has seen a series of incredibly tough choices for us, this week's is quite obvious. That said however, it didn't come without extreme contention. And the conversation started with a Wake County Speedway local division driver, Redhead Racing's Jacob Bradley. He was stellar in his twin performances in the Charger division, bringing out the broom and sweeping both events. But our conversation quickly turned to the CARS Tour as the race was defined by adversity and hard racing. Mason Diaz started third but quickly found himself in a bit of trouble as Chad McCumbee and Brenden Queen got together, leaving Diaz to have to come down to his team for repairs and having to restart in the back of the field. But then he was a man on a mission, spending the rest of the race to get back the positions he lost, and in the end leaving him in an epic battle with fellow competitor Ronnie Bassett Jr, ultimately finishing one spot greater than he started, but having to work for everything he gained as he crossed the line in the runner up position.
The driver that finished third that Diaz was locked in battle with though had to work even harder for his podium finish, as he also had to make repairs on his machine due to some very intense battles on the track. But Ronnie Bassett Jr spent a great deal of time on pit road to keep his car in contention, leaving his team working nearly the entire race to get the car to where they needed it to be. Honestly, at one point, after watching them working on the car at every opportunity, I wondered if they would even be a factor coming down the stretch of the race. But Bassett Jr, in true Blue Collar fashion, paid his team's hard work off with an amazingly dedicated performance, fighting through the adversity and found himself in a battle for second with Diaz for several laps coming to the line in a third place podium performance that was amazing to watch. And on any other night, that would have probably gotten Bassett and his team the nod, but our conversation turned to the performance we just couldn't look past this week. It's really kind of surprising to us that this week's Short Track Report Blue Collar Of The Week winner is a first time winner of the award. But when you have a team of the quality he drives for, and the talent he's shown, they've made it look quite easy really, and they've left everyone else raising their level of competition to a whole new level, even for the most competitive Late Model Stock Tour in the country.
But this week, at the perfect time in a quest to achieve their goals of repeating as champions, the JR Motorsports CARS Tour driver showcased more than just talent. Carson Kvapil was nothing less than flawless. He could've gotten impatient. He could've been more aggressive and gotten himself in trouble on a track known for close quarters, hard nosed racing. But he worked his way through the field making moves when he needed to, and making opportunities for himself with near perfect precision. He was aggressive when he needed to be, but smooth as he cut through the competition, working in the car for every inch he took until he crossed the line and took the impressive win. His fifth on the year, and one we couldn't deny for this week's Blue Collar Racer Of The Week. Congratulations team! You've been the best all year, but this week was quite the statement. Once again, we have to give the Wake County Speedway fanbase another shoutout as one of the most dedicated in the region, leaving us looking forward to the next time we get the privilege to visit 'America's Favorite Bullring'. Until next time, as always, See You At The Track!
(Race write up by Joshua Weatherman. Intro and My Take written by Billy Weatherman. 2023 Copyright SHORT TRACK REPORT)
Tags
94.7 QDR Bandoleros
,
Aidan Zschiedrich
,
America's Favorite Bullring
,
Andrew Grady
,
Austin Ferrell
,
Bandoleros
,
Ben Morabito
,
Bobby McCarty
,
Brandon Pierce
,
Brandon Willard
,
Brenden Queen
,
Buddy Isles Jr.
,
Cameron Bolin
,
CARS Tour
,
Carson Kvapil
,
Chad McCumbee
,
Chance Carpenter
,
Chargers
,
Chase Burrow
,
Clay Jones
,
Cory Walker
,
Drive For Puryear 125
,
Dylon Wilson
,
Ethan Johnson
,
Flyin' 11
,
Gavin Holland
,
Jacob Bradley
,
Jay Hemenway
,
Joe Louis
,
John Fitzhugh
,
Joshua Culbreth
,
Landon Huffman
,
Late Model Stocks
,
Late Models
,
Lee Pulliam
,
Lee Pulliam Performance
,
Mason Diaz
,
Mini Tyrrell
,
Redhead Racing
,
Ronnie Bassett Jr.
,
Sabrina Dew
,
Sarah Whitesell
,
T.J. Moon
,
Wake County Speedway
,
Zack Brown
,
Zaxby's Chargers