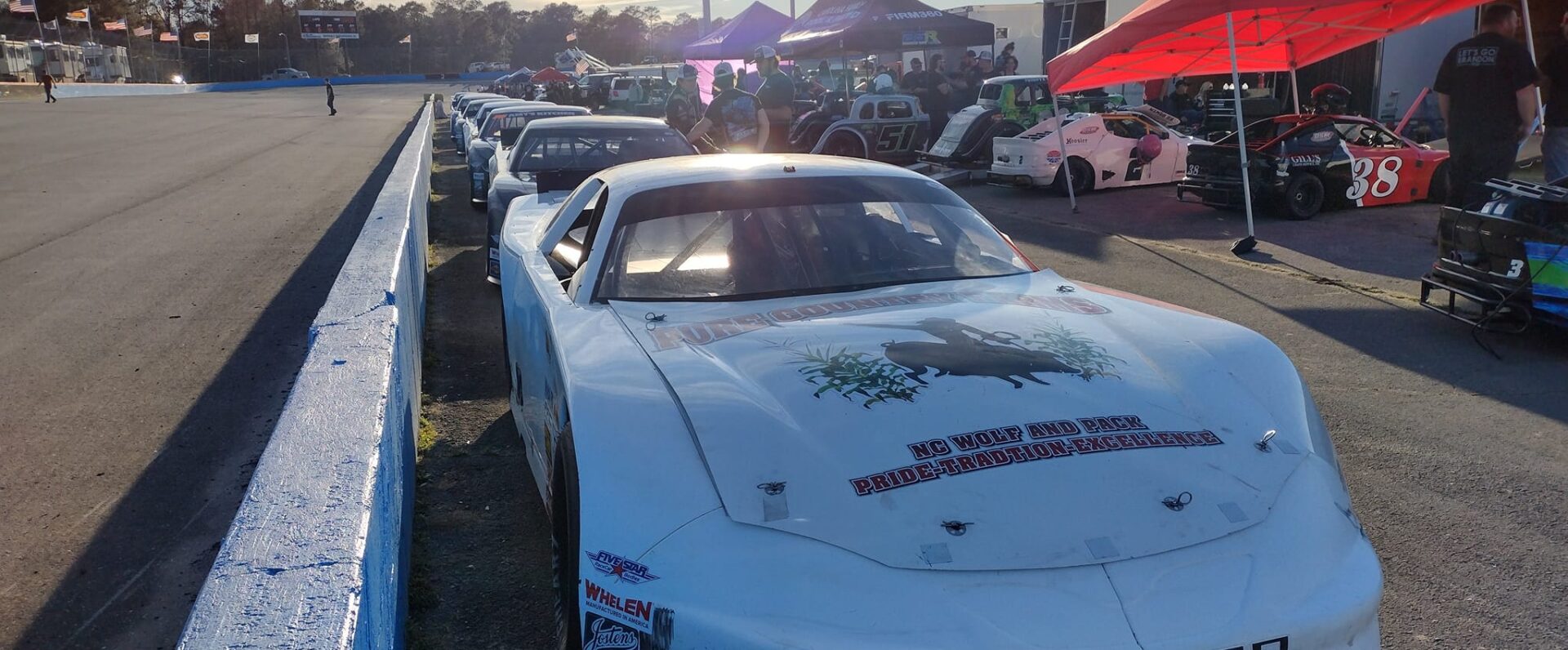 THE DAWNING OF A NEW ERA – 2023 Solid Rock Carriers Battle Of The Stars At New River All-American Speedway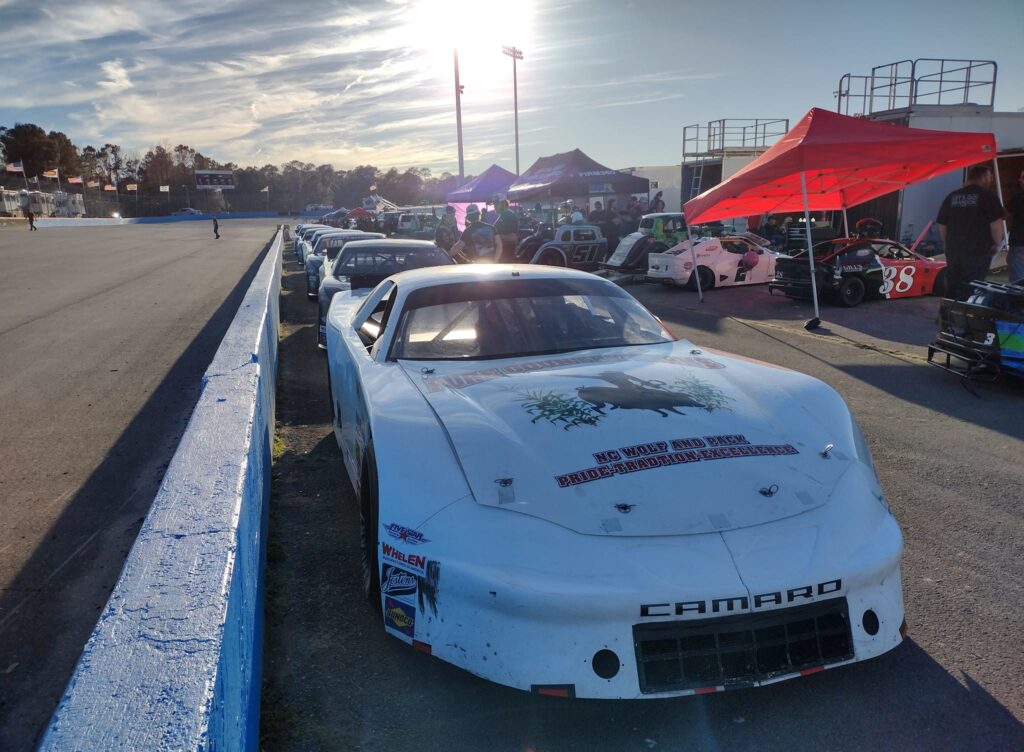 "Every new beginning is forged from the pieces of the past, not from the abandonment of it."

Craig D. Lounsbrough
As fate would have it, we started our 2023 short track racing coverage season at New River All American Speedway, a track entering into a new era. Formerly Coastal Plains Raceway, the new owners have spent the last couple of years since taking over in 2021 to refurbish and regrow the speedway into it's beginning envisioned glory. Just reaching it's 20 year birthday, the track had seen great growth followed by an abrupt downturn that left it a bit worn and honestly, in the beginning stages of being forgotten. And those who long for the original glory days of the track seem to soon forget the condition of the track when the Goodyears rescued it from near obscurity just a few short seasons ago. Fortunately the track fell into the caring hands of the Goodyear family who could still see the original dream of the speedway's origins, and have for the last 2 seasons put a tremendous amount of work into the place to see it rise back to it's full potential. Admittedly, the track still has a ways to go to see it to it's pinnacle, but they are well on their way to that goal. So much so that on March 4th of this year, the track opened it's formal 2023 season with a new name in New River All American Speedway, and with coveted NASCAR Advance Auto Parts Weekly Racing sanctioning. Any track owner and promoter knows how hard all this is to accomplish, and the short track racing world should take note that this season marks a new era for the speedway, and we found it only fitting that the season opener, the Solid Rock Carriers Battle Of The Stars was filled with storylines of new beginnings.
There was a lot beneath the surface of this great event that in some ways went undetected by the central east coast short track nation, so let's take a good look at all the days action. The invocation has been spoken, and the National Anthem sung, so Let's Go Racin'!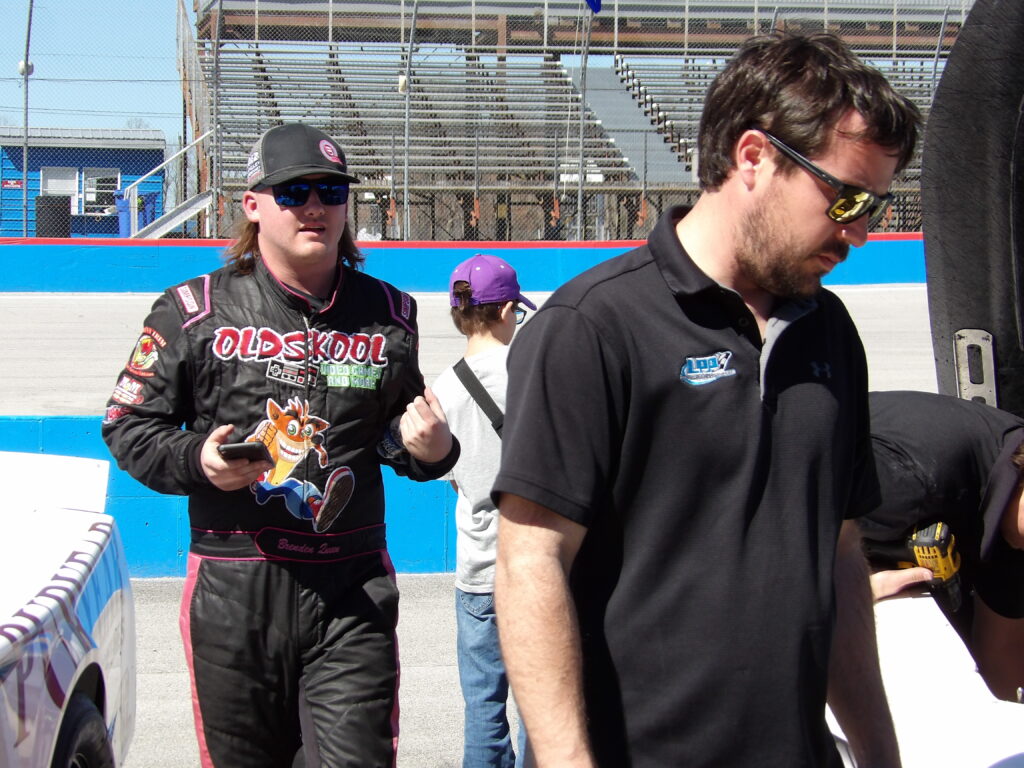 BANDOLERO FEATURE
The # 38 of Aidan Zschiedrich starts on the pole for the Bandolero feature followed by the # 84 of fan favorite Delaney Gray and the # 21 of Sarah Whitesell. Flagman Brandon Willard looks over the eager field, approves the formation, and we're green to kick off the night! Gray gets a huge jump and the # 3 of Landon Burbage shoots up into second ahead of Zschiedrich and Whitesell. But Whitesell is back on the move as she moves by Zschiedrich. That leaves the 38 machine to fend off the # 2 of Kasey Bowen, but coming off of turn two, they come together, sending both into the wall with horrific force. Bowen's Bandolero body disintegrates upon impact as the field immediately goes under the red flag. The crowd breathes a sigh of relief as both drivers climb out of their vehicles, thanks to the safety of INEX construction. After a lengthy red flag, Gray lines back up first ahead of Burbage and Whitesell. The green flies as Gray gets the jump, followed by Whitesell who scoots in front of Burbage. Whitesell is all over Gray's bumper but the caution flies again as Burbage spins on the backstretch. It's a very quick stoppage as the green comes out and Gray rockets out front. Whitesell has a big run, but it's not enough as Gray cruises to the checkered ahead of Whitesell and Burbage.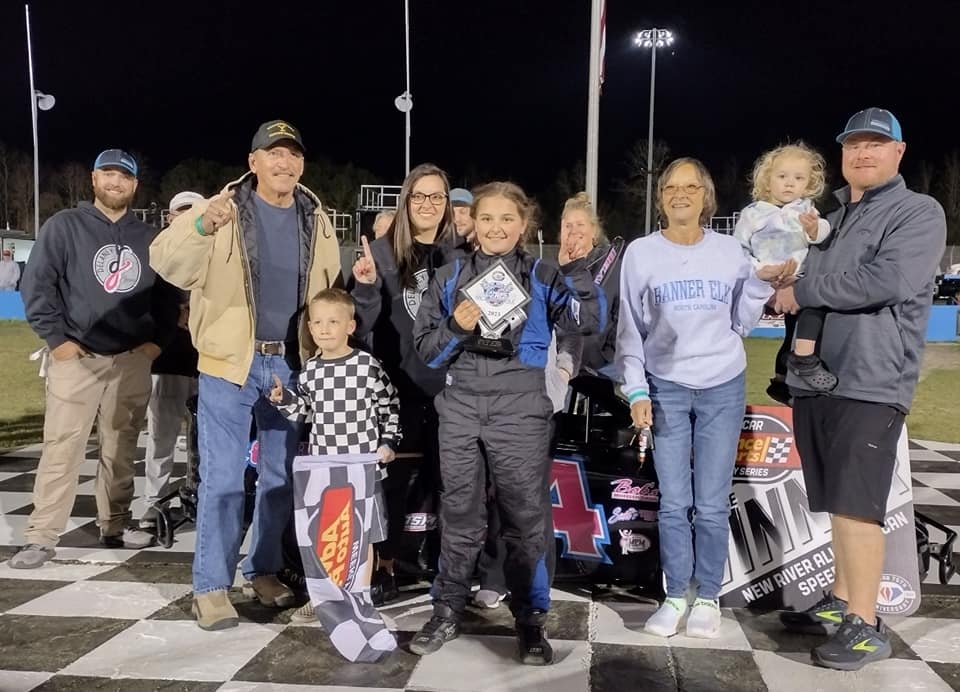 CHAMP KART FEATURE
The always crazy Champ Kart feature is highlighted by the # 75 of Dustin Phillips starting on the pole followed by the # 28 of Josh Eubanks, the # 44 of John Ottoway, # 2 Lee Ottoway, and the # 46 of Tony Arnold who will round out the top five. Willard looks over the great field, gives the thumbs up, and we're underway for the Champ Karts! Eubanks grabs the lead going into turn one but John Ottoway has something to say as they're already three wide in the pack. They somehow get it sorted out for the time being as John and Lee Ottoway are the top two. Not for long however as Lee Ottoway teams up with Eubanks, pushing each other into the top two. Lee leads for only a split second as Eubanks now goes under and takes the lead away with the pack pushing and shoving behind. Again the lead is contested though, with John Ottoway now to the point. Now all of a sudden we're four wide for the lead! Lee Ottoway takes back the first spot as John tries to push him ahead of the field. Eubanks and Arnold break up the tandem however as they come to ten laps to go. The yellow then flies as debris is found on the racetrack. Lee Ottoway, Eubanks, Arnold, John Ottoway, and the # 55 of Corey Lucas make up the top five as they come back to the green. Lee Ottoway gets the jump as the field scrambles behind. Eubanks now dives under Ottoway and reassumes the lead. But just like all race long, the lead changes hands once again, this time to Lee Ottoway. The white flag flies as Lee still maintains the point, but here comes Eubanks! Eubanks dives under into turn three and holds off a hard charging pack behind to cross the line first! Lucas crosses the line second, Arnold third, Lee Ottoway fourth, and John Ottoway fifth. After the race however, Arnold and both Ottoways refuse inspection, handing third to the # 2L of Aaron Layden, fourth to # 7X Tripp Dail, and fifth to the # 08 of Keith Webb.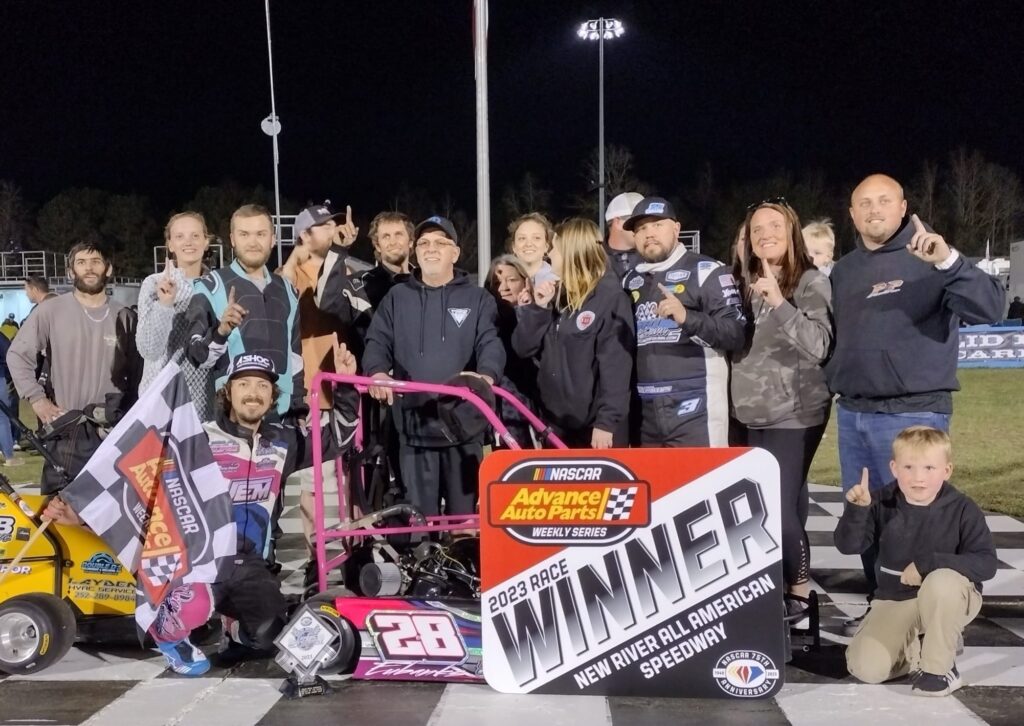 BOMBER FEATURE
Andrew Jackson in the # 3J starts on point for the Bomber feature as the # 33 of Nathan Hall starts alongside followed by # 77 Richard Smith, # 13 Bob Snow, and the # 83 of Robert Drum. Willard likes what he sees and we're green in the Bombers! Jackson jumps ahead while the # 11 of Wayne Phillips makes it three wide and grabs the fifth position. Snow is now under Hall and takes third while Phillips follows through for fourth. The # 29 of Shawn Padgett now assumes fifth as there's trouble behind with the # 09 of Daniel Sloan going around in between turns three and four, collecting the # 3 of Taryn Baggs-Floyd and the # 22 of Albert Stout. Jackson lines up in front for the restart followed by Smith, Snow, Phillips, and Padgett. Jackson gets a huge launch as the field bunches behind, allowing Hall to sneak back into third followed by Phillips and Snow. Snow now looks under and takes the fourth position as Jackson continues to lead. Snow continues his train of momentum as he now passes Hall. But back up front, Jackson encounters lap traffic, allowing Smith to race by. And here comes Snow as he now gets by Smith for second! He then wastes no time, racing by Jackson with ease. Jackson now begins to drop back with a potential problem, dropping him out of the top five, allowing the # 41 of Kevin Wrenn to break into the top five. Drum's slowing Bomber necessitates the caution however, as Jackson goes into the pits. There's some gamesmanship prior to the restart as Phillips comes all the way up into second with Wrenn moving into fourth. Snow gets the jump with Smith moving past Phillips. Meanwhile, Hall gets right back by Wrenn as Phillips races back by Smith. It's a mad scramble behind Phillips as after the crazy battle, Wrenn takes third followed by the # 17 of David Fulk and Hall. Up front though sees Phillips now slowly but surely reeling in Snow. Before you know it, Phillips is right there as the white flag waves. Snow tries his best to hold him off, but Phillips is underneath out of turn four and it's a near dead heat coming to the line, with the nod going to Phillips. Snow crosses the line second, Wrenn third, Fulk fourth, and Hall fifth. But after evaluating the lap times of the top four and the final restart, they were all docked for breaking the speed rule, a rule in which you are not allowed to run under a certain lap time to keep the competition as fair and even as possible. That gives fifth place Nathan Hall the victory followed by Smith.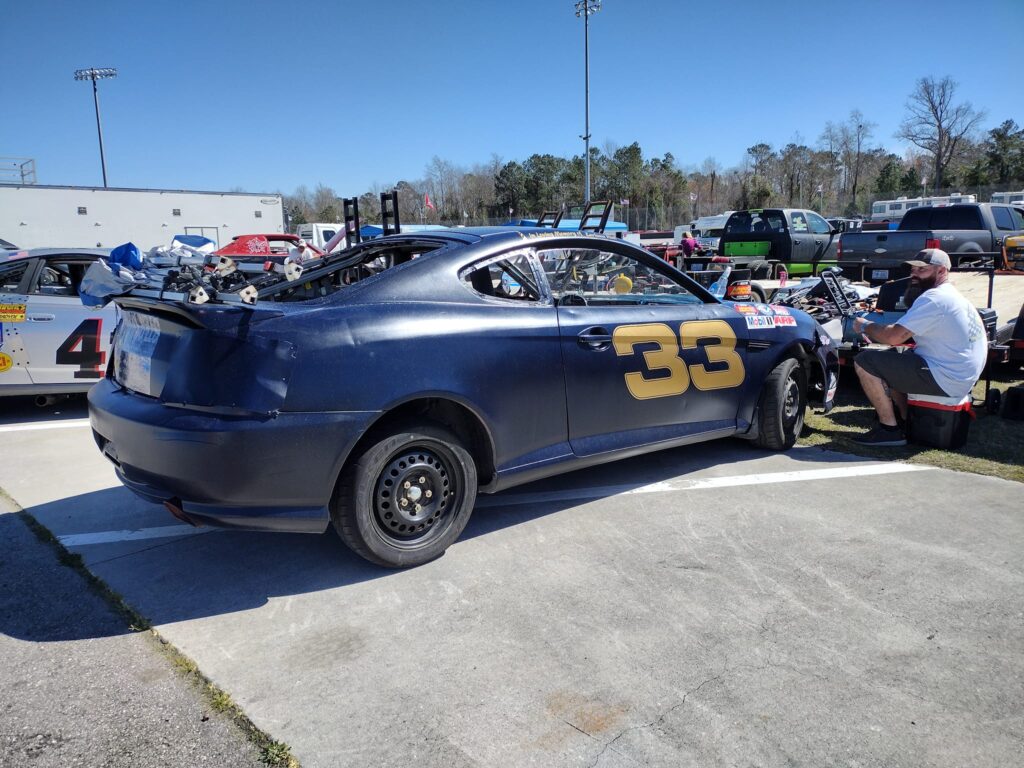 LEGEND FEATURE
Brenton Irving in the # B1 starts on the pole for the always competitive Legend division with the # 08 of Carson Haislip starting second, # 13 D.J. Murphy third, the defending New River Bandolero champion Phoenyx Kimball in the # 88 fourth, and the # 51 of Raven Kimball fifth. Willard looks them over, likes what he sees, and we're green for the Legends! The start is dead even as Irving eventually clears. Haislip has none of it however as he's underneath Irving and takes the early lead. The # 51B of Scotty Benford makes his presence known as he moves into the top five past Raven Kimball. Phoenyx Kimball now looks on Murphy for third. Murphy puts up a great challenge, but Kimball races past as now Benford starts to put some pressure on Murphy. The ensuing battle is interrupted however as the caution flies for the # 77 of Ferrari George spinning in turn two. Haislip will line up first followed by Irving, Phoenyx Kimball, Murphy, and Benford. Haislip launches like a rocket as Benford gets by Murphy for fourth. Irving won't give up without a fight as he dances in Haislip's mirror hoping for Haislip to slip up. But a mistake never happens as Haislip collects yet another Legend victory followed by Irving, Phoenyx Kimball, Murphy, and Benford. Haislip said of the win: "The race went well, was able to take the lead on the initial start under the B1. Once I was around him, we evened out and I was just keeping the car under me and saving tires. A yellow flag came out with 10 to go, this stacked up the field once again and I was able to hold off Brenton for the win. I want to thank Brenton for racing me clean and all the fans that came out, Dillon Spain and Connor Bushee for giving me a blazing fast car to drive, and all my sponsors!"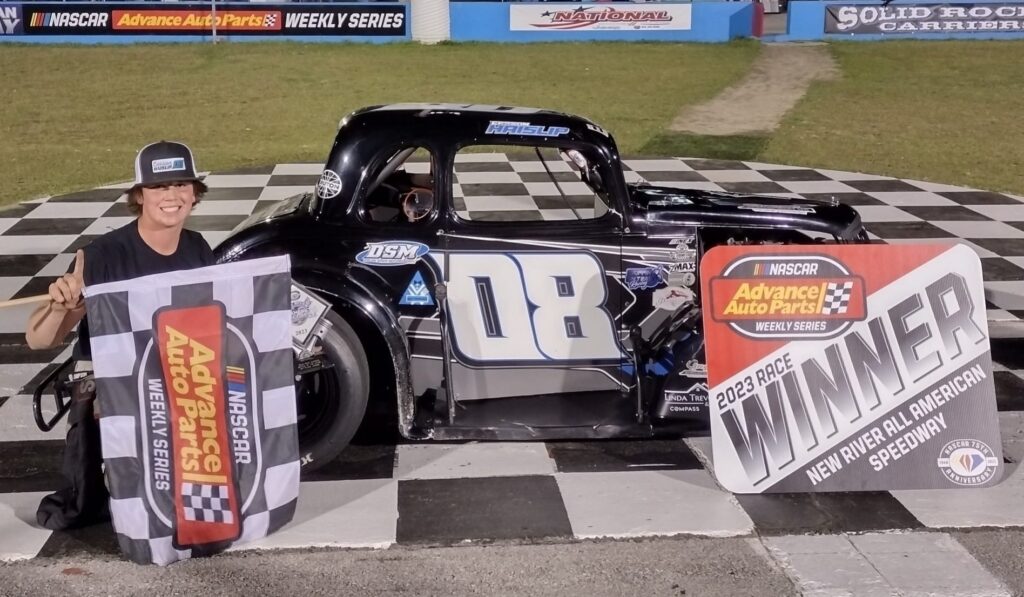 SOLID ROCK CARRIERS BATTLE OF THE STARS $20,000 TO WIN LATE MODEL STOCK FEATURE
Former New River champion # 16 Rusty Daniels puts down a career lap of 16.154 seconds to start on the pole with the # 77 of Connor Hall starting alongside. Rounding out the top five will be the # 44 of Conner Jones, # 01G Camden Gullie, and the # 14 of Jared Fryar. Willard looks over the star-studded field, gives the thumbs up, and we're green for 200 laps! Daniels jumps out to the lead as the field already starts to save tires behind. Jones takes second away as Hall starts to drop back, allowing Fryar through as well. Fryar then gets by Jones as the # 1Y of Jamie York and the # 1 of Tony Grady move into fourth and fifth respectively. Jones starts to adapt the Hall strategy as he gives Jamie York the third spot. Grady moves by as well while Daniels has a huge lead. Grady now turns up the wick as he gets by both Jamie York and Fryar. The caution is out though as debris is found on the backstretch. Lining up for the restart will be Daniels, Grady, Fryar, Jamie York, and Jones. Daniels once again gets the jump as Hall takes fifth, leading a pack behind him all playing tire strategy. The # 74 of Ronald Hill has none of it though as he charges by Hall for fifth. The # 6 of Bobby McCarty follows suit, moving up through the pack and by Hill. McCarty continues that streak, racing past Jamie York and Fryar. To no one's surprise, he then gets by Grady and starts to stalk Daniels. It doesn't last long as he flies by Daniels, bringing Grady along with him. Behind them, Hill moves up a couple positions by Jamie York and Fryar. Jamie York then gets by Fryar as McCarty continues to lead. Jamie York then drops back a few positions, allowing the # 7 of Brandon Clements to move into the picture for fifth. Fryar continues to play cat and mouse though as he moves back by Clements.
Clements retakes the spot once more as Fryar loses another position, allowing Jones to grab sixth. Clements now moves into fourth by Hill, bringing Jones along with him. Meanwhile, the # 03 of Brenden "Butterbean" Queen is in the sights of leader McCarty as he takes his tire conservation to the extreme. Back towards the front, Fryar is back by Jones for fifth. And with just one to go in stage one, Grady muscles his way past McCarty for the stage victory, grabbing some extra bonus money in the process. After an invert of 2, McCarty, Grady, Daniels, Clements, and Fryar will make up your top five. Grady rockets out to the lead as Clements moves up into second. The racing begins to get hot and heavy as Jones moves into second as the field goes crazy behind. Hall moves into third with now McCarty moving back by after dropping a few positions. The # 18 of Jason York now breaks into the top five and here comes McCarty to the lead! Grady regains second as the field reaches halfway. The field finally starts to single file out as McCarty leads Grady, Jones, Hall, and Jason York. Jones now moves into second by Grady as the field starts to up the pace a bit. Daniels makes his return into the top five as he passes Jason York while Jones starts to pressure McCarty a bit. Daniels' top five run is shortened as Fryar gets his nose under and by for fifth. Sneakily moving up through the field is Queen, running moderate lap times in sixth. In front of him, Grady is double teamed by Hall and Fryar as they get by, now followed by Queen who takes fifth. Queen wastes no time with Fryar, moving into fourth as Rusty Daniels blows a tire in turn four and slams the wall, bringing out the yellow. This'll set up a restart with McCarty lining up first followed by Hall who takes advantage of the choose rule, Jones, Queen, and Fryar. There's a short lived battle between McCarty and Hall but McCarty retains the point. Queen moves up to third with stage three looming. Fryar makes an aggressive pass on Jones for fourth while also bringing Gullie back into the mix, taking fifth. Queen now moves into second as McCarty takes the stage two win.
After tires are changed and adjustments made, McCarty leads the way into stage 3 with Queen lurking in second, Hall in third, Fryar fourth, and Gullie steadily in fifth. Willard looks them over, likes the formation, and we're green for a fifty lap shootout for $20,000! They're dead even on the restart as Queen rockets to the lead on the outside. McCarty's car seems to be fading away as now Hall squeezes by with Fryar now hot on McCarty's back bumper. But up front, it's all Queen as he can let it all hang out now with thirty laps to go. Fryar is now breathing down McCarty's neck, looking for any way by. McCarty maintains for the moment, but not for long as Fryar shows his muscle, moving by for third. But up front, there's no denying who had the best car as Brenden "Butterbean" Queen plays the tire game to perfection and pockets $20,000 in the Battle Of The Stars! Hall comes home second, Fryar gets a hard earned third, McCarty falls back to fourth, and Gullie rounds out the top five.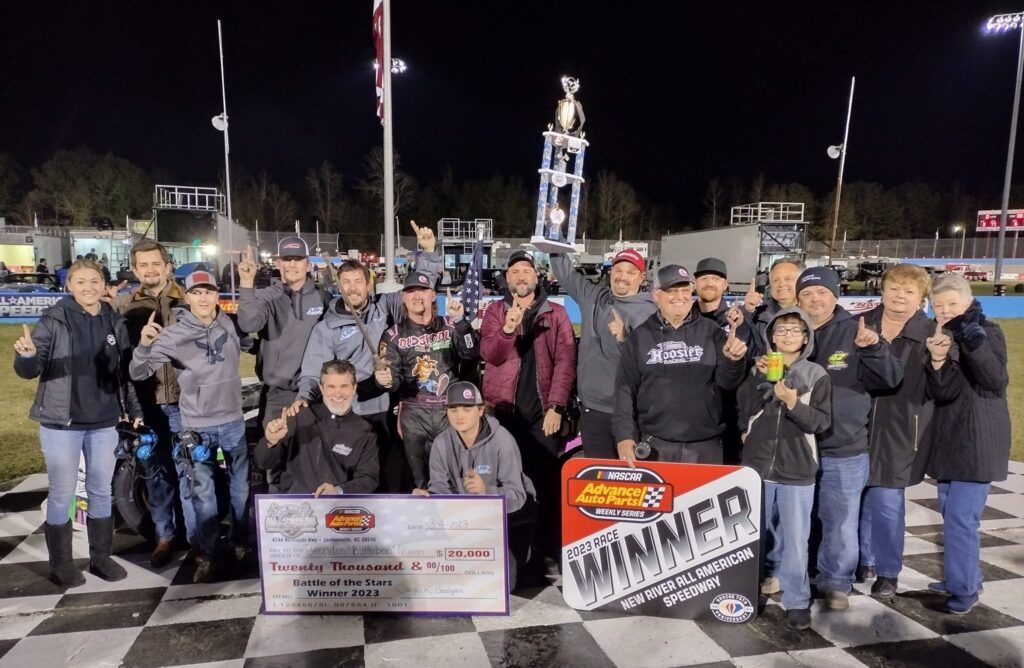 MY TAKE~
Yes, we saw the online comments that left us shaking our heads. "Only 13 cars for a $20,000 race?" Yes, 13 cars. 13 cars in a 'Late Model Stock stars' race, and the reasons are quite obvious. First, let's not underrate this Late Model Stock field that was represented by CARS Tour Champions and winners, New River All American Speedway Champions, Hampton Heat winners, a multi-time Larry King Law's Langley Speedway Champion and East Carolina Motor Speedway Champion, a Thanksgiving Classic winner, a Rodney Cook Classic winner, a Thunder Road-Harley Davidson 200 winner, a Caraway Speedway and Ace Speedway Champion and ValleyStar Credit Union 300 winner, not to mention former Craftsman Truck Series and current ARCA Series starters. So let's not begin to say that this was not a quality field. Secondly, this was a Late Model Stock All Star racing event one week before the CARS Tour Opener, and held on the same day as the Hickory Motor Speedway opener. This race was in no way an end of the season blowout big purse race where drivers and teams don't need to worry about bringing their car the next week to a points race, this was an event highlighting some of the best Late Model Stock talent in the region and nation, giving these teams a chance to win some big money before the points season truly begins. Not just a tune up race, but an all star type of event that marks a new era for New River All American Speedway. But as nay sayers often do, some folks that didn't even bother to make it out to the track took a quick look and took a cheap shot without knowing the full truth of it all. A common development on social media these days, but fortunately there are those who are starting to see above the den and ignore the negative hype so common on the internet these days.
This race was also the marking of new beginnings for more than just the track however, as Brenden Queen starts his first full year with Lee Pulliam Performance in victory lane. It also marked new beginnings for Bobby McCarty and R&S Race Cars as McCarty starts a new era in his racing career, coming home fourth in his first outing for the team. And this event marks a new season for many of the teams in the event, as they were able to gauge the progress they made in the offseason as they prepare for a new short track racing year that in many ways will represent the new regrowth of the short track racing scene. As we have stated since our beginnings, while many declared short track racing dead, we have harkened to a new era for short track racing that is starting to become obvious to anyone who's actually paying attention.
We started our year off with a rare easy decision on our first Blue Collar Racer Of The Week however, but it was not without a good deal of contention. The decision came down to 2 drivers that made the most ground on their starting positions in a race that was run with the most respect we've seen in a Late Model Stock event, but not unexpected in a field full of winners and champions. Brandon Clements had clutch issues during his qualifying run, delegating him to start in the rear of the field for the race, but when all was said and done, he finished with a hard fought seventh place finish. But Brenden Queen was the 'Star' of the event and the class of the field as he qualified a mere eighth, but spent the race with his long run car putting him position to make an epic run at the finish, pulling away from the rest of the Late Model Stock talent and taking the big money win on the eve of the CARS Tour season which begins on Saturday, March 11. All in all we started our season at a track entering a new era of competition, watching a new team begin a new era that could become one of the most memorable ever. The outcomes have not been determined, but we left New River All American Speedway eager to see how it all plays out in 2023. It's going to be a great and exciting short track racing season, and so as always we hope to See You At The Track!
(Race writeup by Joshua Weatherman. Intro and My Take written by Billy Weatherman. 2023 Copyright SHORT TRACK REPORT)
*This extended short track racing coverage article is brought to you by – Short Track Report – and is presented by The Winston Cup Museum – Celebrating 33 years of the pinnacle of NASCAR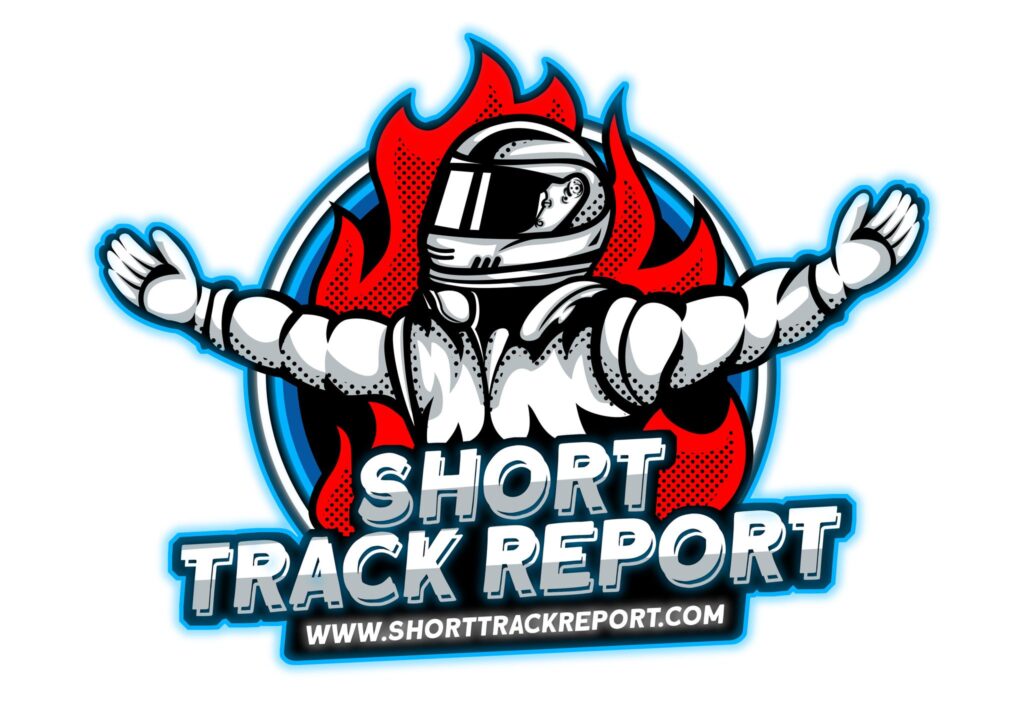 Tags
Aidan Zschiedrich
,
Albert Stout
,
Andrew Jackson
,
Bandoleros
,
Battle Of The Stars
,
Bob Snow
,
Bobby McCarty
,
Bombers
,
Brandon Clements
,
Brandon Willard
,
Brenden Queen
,
Brenton Irving
,
Camden Gullie
,
Carson Haislip
,
Champ Karts
,
Conner Jones
,
Connor Bushee
,
Connor Hall
,
Corey Lucas
,
D.J. Murphy
,
Daniel Sloan
,
David Fulk
,
Delaney Gray
,
Dillon Spain
,
Dustin Phillips
,
Ferrari George
,
INEX
,
Jamie York
,
Jared Fryar
,
Jason York
,
John Ottoway
,
Josh Eubanks
,
Kasey Bowen
,
Kevin Wrenn
,
Landon Burbage
,
Lee Ottoway
,
Lee Pulliam Performance
,
Legends
,
Nathan Hall
,
New River All American Speedway
,
Phoenyx Kimball
,
R&S Race Cars
,
Raven Kimball
,
Richard Smith
,
Robert Drum
,
Ronald Hill
,
Rusty Daniels
,
Sarah Whitesell
,
Scotty Benford
,
Shawn Padgett
,
Solid Rock Carriers Battle Of The Stars
,
Taryn Briggs-Floyd
,
Tony Arnold
,
Tony Grady
,
Wayne Phillips
,
Winston Cup Museum