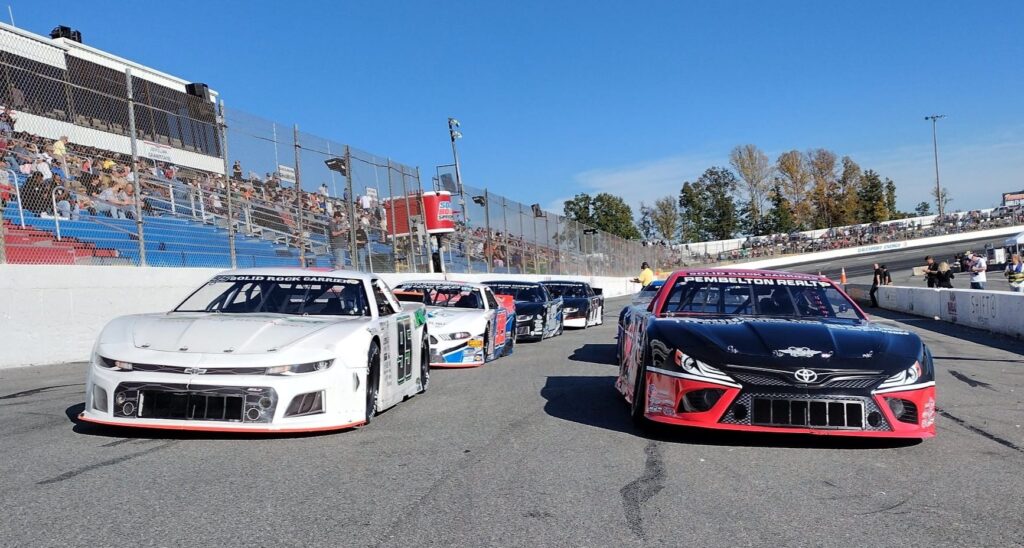 At 5 in the morning this past Saturday, me and my son Josh were up and ready to make the 2 hour trip from our new office to South Boston, Virginia for the Commonwealth 225 at the track we've dubbed the "Jewel Of The Commonwealth". Usually you can't even get me to acknowledge danger, or anything else at 5 in the morning these days, as I'm in the land of dreams oblivious to the world around me. But this was raceday Saturday. And not just any raceday Saturday, this was the day race for the CARS Tour at South Boston Speedway. A combination that is guaranteed to provide the best racing possible. This year, 31 of some of the best Late Model drivers in the country are signed up to go to battle in the Virginia Commonwealth, not to mention the new Pro Late Model division that always provides for exciting racing action. The weather is predicted to be stellar despite the morning chill in the air that signals the onset of the Fall. This is going to be a beautiful day.
On the way to the track, we have our usual conversation about what we are going to see today. Can Layne Riggs, who passed on the full tour this year to successfully chase the NASCAR National Championship along with the South Boston Late Model Stock championship, come into his fourth race on the CARS Tour and win on his home track? Can Carson Kvapil overcome a one race suspension and still win the CARS Tour title, or will Connor Hall chip into his lead and give himself a chance at the 2022 championship at the season finale at The North South Shootout? Or will one of the tour's outstanding rookies take their first win on the year? All of this is possible as after one of the most competitive seasons for the tour as a whole, the teams on the tour are at the top of their game. It's not uncommon on the tour to have the fields starting positions determined by mere thousandths of a second throughout the field. This is the CARS Tour. The tour that prepares drivers to compete at the very top levels of the sport. Wins don't come easy here. In fact, nothing comes easy here. And today they come to a track that after a few years separated from a fresh repave, has become perfectly seasoned.
What you have is a recipe for outstanding racing, and the one thing we can agree on during the conversation to the Speedway, is that this will be an amazing race. With just 2 races left on the season, these drivers still have a lot to prove, and there won't be an inch given. And even as we arrive early in the morning to catch the early 8:30 practice session, the big race feel is in the air, and it only builds during the day until it's time for the pre-race ceremonies that includes one of our favorite track activities, the fan meet and greet. This week it's a Trunk Or Treat being so close to Halloween, and it's awesome to see the kids running around in their costumes collecting candy from the stars of the tour. That's followed by a touching invocation from tour Chaplain Joe Louis, and the singing of our National Anthem, followed by the command that all fans love to hear given by the 2022 South Boston Speedway Late Model Stock Champion Layne Riggs. The Pros fire their hot rods up as the crowd rises to their feet. It's time, and everybody here and following online throughout the nation are ready, so, Let's Go Racin'!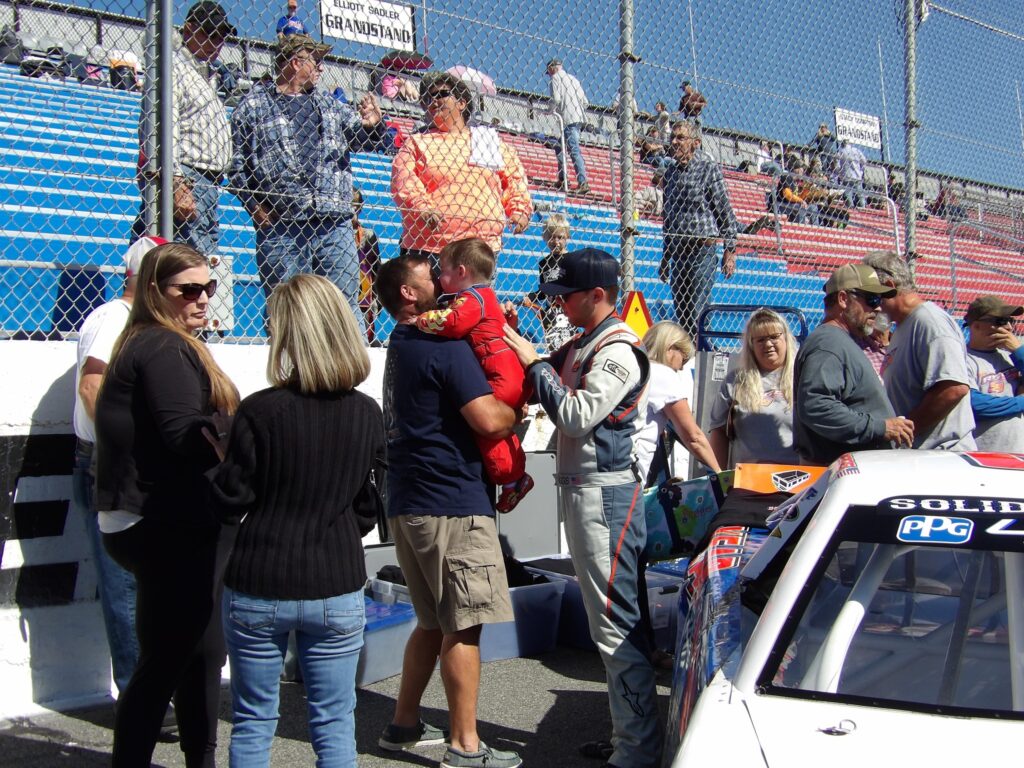 CARS PRO LATE MODEL COMMONWEALTH 225 FEATURE
William Sawalich grabs yet another Pro Late Model pole with a rocket time of 14.716 seconds. Starting alongside will be the # 96 of Luke Fenhaus, followed by the # 24 C of Brent Crews, # 74 Ryan Moore, and the # 35 of Caden Kvapil. CARS Tour flagman Brandon Willard looks over the competitive field, likes what he sees, and we're green for the Pro Late Model feature! Sawalich immediately clears for the lead as the # 29 of Nick Loden gets by Kvapil for fifth. Crews and Moore are door to door for third, with Moore ultimately gaining the advantage. Moore is on a mission early as he now looks under Fenhaus, and grabs that spot with ease. Behind them, the # 24 P of veteran Penn Crim takes his machine to the pits and is unfortunately done for the day. As Sawalich continues to cruise out front, the competition caution will fly as thirty consecutive green flag laps have been completed. Under caution, Kvapil takes his machine down pit lane, as his crew gets to work. He's able to get back out on track before the green as the lineup will be Sawalich, Moore, Fenhaus, Crews, and Loden. Sawalich gets a great start but Moore is right there as the two make slight contact. They're still side by side as now they hit even harder and Sawalich gets way loose! He nearly spins the car, but is able to get it righted as he slides up and hits Fenhaus in the process. They fall back to fifth and sixth respectively as now the white # 13 of Austin MacDonald has made his way into third, just in front of Loden. Fenhaus now has to deal with dirt racing prodigy # 24 K Buddy Kofoid, as they battle multiple laps side by side. Fenhaus finally clears as Moore starts to gap the field in first. Sawalich now begins to make his way back up as he picks off Loden for fourth. He doesn't stop there as he now looks on MacDonald. Without hesitation, he takes third and now sets his sights on Crews in second. Behind him, the battle rages on for sixth as now Kofoid is back under Fenhaus, and races by. As Sawalich continues to gain, much to his delight, the second and final competition caution is thrown. Lining up for the restart in the top five will be Moore, Crews, Sawalich, MacDonald, and Loden. Willard looks over the eager field, likes the formation, and we're back green.
Moore gets a monster start, but it's not to the liking of CARS Tour president Jack McNelly, so we'll go back and do it again. On the second time around, it's more even but Moore still gets the lead with Crews filing in for second. Behind him, MacDonald gets the run on the outside of Sawalich, and grabs the podium spot. But Sawalich is right back on the attack, looking beneath MacDonald and ultimately getting back by. Fenhaus and Kofoid continues their epic battle as they bang doors for sixth. Fenhaus barely holds on as Kofoid's teammate Crews is slowly but surely gaining on Moore. Before you know it, Crews is there and dives under Moore. But Moore is holding strong on the outside, and isn't giving an inch. The two make contact, allowing Sawalich to inch in ever so slightly. Right when it seems Crews is clear, Moore gains momentum on the outside. They're still side by side as they bang once, twice, and they crash on the frontstretch! Crews spins and hits the inside wall while Moore hits the outside wall. The fans are on their feet as now Sawalich will inherit the lead. For the ensuing restart, it'll be Sawalich, MacDonald, Loden, Fenhaus, and Kofoid. Willard nervously looks over the field, gives the thumbs up, and we're green for a nine lap shootout! MacDonald is the one with the great launch as he clears Sawalich, but the caution is immediately out as Crews' ailing machine pounds the turn three outside wall. We'll revert back to the original lineup as this time, Sawalich will choose the outside. Willard likes what he sees and we're green again. MacDonald gets another great jump but it's a little too good as the start is called off. The green flies again and it's much more even as Sawalich jumps ahead with Kvapil taking fifth from Kofoid. MacDonald is now under fire from a determined Fenhaus, who flies by and is now starting to pressure Sawalich. Behind, Kofoid challenges Kvapil as they battle side by side multiple laps, with Kofoid taking the spot back. Kofoid takes that momentum and now slides under Loden, taking possession of that spot. But back up front, Fenhaus peeks a nose under Sawalich, but Sawalich closes the door. They continue to do this all the way up to the white flag. Coming to the white, Fenhaus nearly spins trying to stay on Sawalich's bumper. This allows Sawalich to gap and take yet another CARS Tour Pro Late Model victory. Fenhaus comes home a hard earned second, MacDonald third, Kofoid a great fourth, and Loden fifth.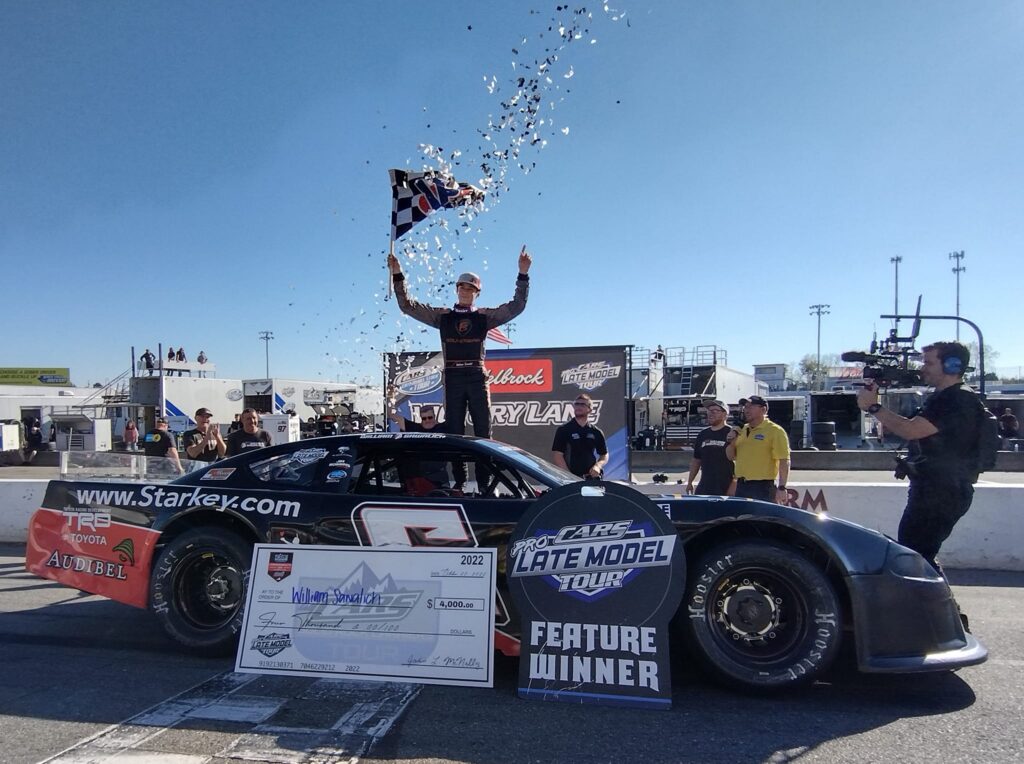 CARS TOUR LATE MODEL STOCK COMMONWEALTH 225 FEATURE
South Boston regular # 0 Landon Pembelton grabs the pole with an impressive time of 14.960 seconds. The # 95 of Jacob Heafner will roll off a career best second, followed by # 08 Deac McCaskill, 2022 South Boston Late Model Stock champion # 99 Layne Riggs, and # 8 Carson Kvapil. Willard looks over the huge field, loves what he sees, and we're green for 125 laps at The Jewel Of The Commonwealth. It's Pembelton who gets the jump as Riggs gets by both McCaskill and Heafner to take second. It's a mess behind already as the # 32 of Zack Miracle will find himself in fourth along with the # 77 W of Trevor Ward in fifth. McCaskill and Kvapil drop to sixth and seventh respectively as Pembelton looks to pull away early. In the dogfight that is the middle of the field, the # 2 of Brandon Pierce and the # 44 of Conner Jones are already gaining ground as is the # 9 of Ashton Higgins. The field finally begins to calm with Kvapil now getting by McCaskill for sixth. But behind them there's catastrophic trouble as the # 16 of Chad McCumbee has gone aflame, laying oil all over the frontstretch. Multiple drivers nearly spin but save their cars with the exception of # 71 Katie Hettinger, who spins into the outside wall, ending her day early. Thankfully everyone is okay as we go under a lengthy red flag. After all is said and done, the restart top five will be Pembelton, Riggs, Heafner, Miracle, and Ward. Willard likes the formation and we're green. Pembelton continues to lead as, like always in the CARS Tour, the field goes crazy behind. Kvapil powers by a loose Ward for fifth with Heafner barely holding off Miracle to keep the third position. Now Miracle is under attack from Kvapil, but Miracle sticks on the outside of Kvapil, eventually keeping the spot after a short battle. Now, McCaskill is back in the fray, as he powers by Kvapil for fifth. And here comes the # 77 of Connor Hall, peeking beside Kvapil and getting the run to pass for sixth. Up front, Riggs is breathing down Pembelton's neck. He looks under once, Pembelton closes the door. He keeps looking but he just doesn't have the run. Finally, after a little contact, Riggs is in the lead at South Boston, a sight very familiar to fans. Just as Riggs starts to pull a gap, the competition caution is thrown, this time after forty laps are completed, due to the Late Model Stock races being longer. It's a quick caution though as Riggs will line up first, Pembelton second, Heafner third, Miracle fourth, and McCaskill fifth. Willard likes the lineup and we're green once again.
Riggs gets a flawless restart as Hall gets by McCaskill for fifth. The top five single files out as in the middle of the warzone, Pierce, Jones, and Higgins continue to make their way up, with Jones leading the charge. But the caution is back out as the # 8 B of Chase Burrow has stopped on the track. It's another quick caution as Riggs will line up first followed by Pembelton, Heafner, Miracle, and Hall. Willard looks them over and we're back racing. Riggs gets another perfect restart with Miracle getting by Heafner. Hall is then passed by both the # 24 of Mason Diaz and McCaskill, dropping him to seventh. Now Diaz and Heafner are side by side, ensuing in an epic battle as they're side by side for multiple laps. Diaz gets the advantage, but then Heafner gets the advantage. This continues for nearly seven laps with Diaz finally stealing the spot. McCaskill is now to the outside of Heafner, with Kvapil and Hall in tow as the racing at South Boston today has been phenomenal. Heafner takes McCaskill high as now Kvapil goes three wide for the fifth spot! They somehow keep it all together as Heafner continues to lead that pack. Heafner now sends it in on Diaz for fourth, but Diaz crosses over. Diaz slips a little though, as he makes contact with Heafner. Heafner finally clears as Riggs continues to pull away up front. And now here comes Kvapil again, as he dives under Diaz and breaks back into the top five. He then takes advantage of a loose Heafner, getting under and by for fourth. Next up is Miracle, but Miracle will not back down without a fight as Kvapil keeps looking under only for Miracle to shut the door. As they continue to play cat and mouse, the caution flies as the # 1 of Andrew Grady has slammed the wall hard in turn two. This will set up a 24 lap shootout with Riggs lining up first, Pembelton second, Miracle third, Kvapil fourth, and Heafner fifth. Willard anxiously looks over the field, gives the thumbs up, and we're racing!
Riggs jumps in front as they're three and even four wide in the middle of the field. Pembelton won't lay down easily though as he gives a shot to Riggs. Hall is back into the top five as he gets around Heafner with Kvapil now finally clearing Miracle. But again, Pembelton gives Riggs another shot, this time even bigger. Riggs hangs on though as Hall is now ahead of Miracle. As Pembelton now pushes Riggs, Kvapil starts to peek his nose into the battle. The fight for the lead has turned into an all out bare knuckle brawl as Pembelton now pushes Riggs out of the way, nearly spinning him. This now allows Kvapil to charge under as they're three wide for the lead! The fans are going crazy as Pembelton now takes the top spot. Riggs falls to third with Kvapil looking all over Pembelton. Kvapil is under but Pembelton continues to fight. But Kvapil's JR Motorsports entry is just too strong as he now clears for the lead. The fans know what to expect next as Riggs catches Pembelton and retaliates, pushing him and nearly spinning him out of the way. But up front, it's all Carson Kvapil as he takes the South Boston victory and, in the process, locks up the 2022 CARS Tour Late Model Stock title. Riggs comes home second, Pembelton third, Hall fourth, and Miracle fifth.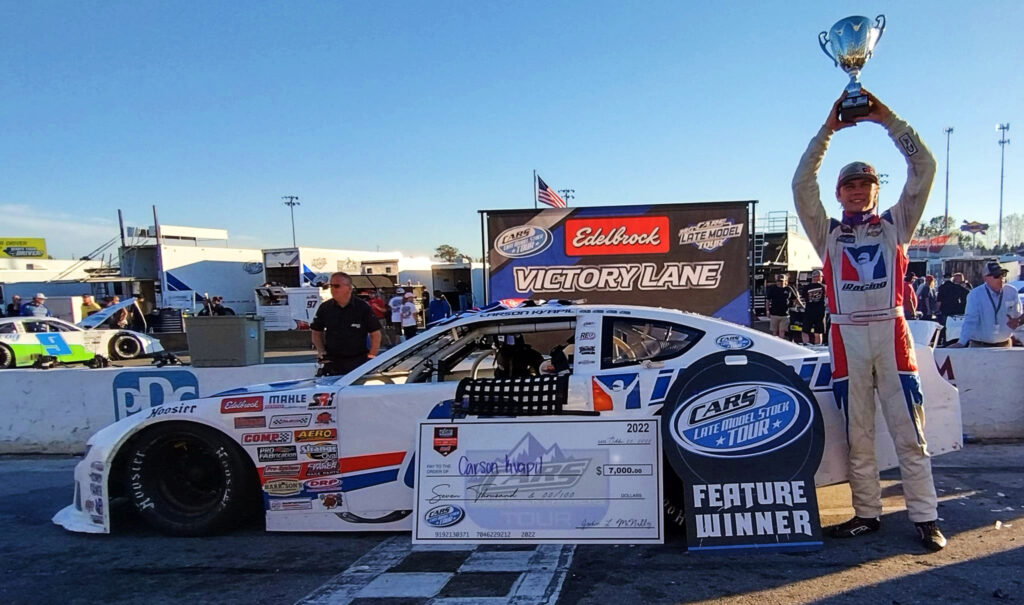 MY TAKE
You know, we've gotten flack from some, especially from short track fans in other regions of the country for stating that the CARS Tour is the most competitive, most exciting independent tour in the nation. But this race is a perfect example of why and how we can state it. After all, as a short track racing journalistic entity, we are tasked to call it like it is. There is a reason that this tour breeds talent for the top levels of the sport of stock car racing. And we have never been challenged calling a race like we are challenged by this tour. If we were to describe to you each and every bit of the action that happens at a CARS Tour race, we would have to write a book, not an article. In this race, the battles in the middle of the field were nothing short of epic. Zack Miracle and Jacob Heafner were beasts in the field, and in the end it equaled fifth and sixth respectively. Ahead of them was Connor Hall who challenged the front of the field equally as hard, in the end finishing behind Riggs and Pembelton who literally went to war in the closing laps. And how Carson Kvapil managed to get by all of them after dropping a bit early to save tires still befuddles me. Those battles alone made our Short Track Report Blue Collar Racer Of The Week another amazingly difficult choice, as any of those drivers could have easily gotten the nod and justifiably so. And of course it would be so easy to just choose Carson Kvapil as he skillfully weaved his JR Motorsports prepared machine through the thick of that intense competition to secure not only the win, but the 2022 CARS Tour Late Model Stock Championship to boot.
But those battles were just at the front, and if you just focused on that, you missed out on battles that equaled or surpassed it going on throughout the entire field. It was amazing to watch. The saves, the challenges, the downright knock down drag out battles in this race were simply amazing to watch. I could literally go on and on and delve into that novel of a race, but just to say, once again, after several days of evaluating it all, we centered in on three drivers who we felt had to work the hardest for what they got. These drivers actually played it smart, running together once they found their groove, and made their way skillfully through all the battles on the track to come home just outside the top 10. That's usually outside of our realm of contention, but considering this race, and where they came from, the feat can't be ignored. Starting outside the top 20 was Conner Jones starting twenty-first, Ashton Higgins twenty-second, and Brandon Pierce starting twenty-fifth. Conner Jones led the group at first as they started climbing through the field, but just staying together as they progressed was a challenge, as every position was challenged, and every driver they got to, once cleared by one, tried to save the next spot by filling the gap behind them. But to no avail as these drivers kept nose to tail like a train rolling down the track. They eventually ran out of time to challenge the leaders but they were coming throughout, only hindered by the challenge from each and every driver they got to. And in the end, since we can only pick one driver and team, the default on this group goes to Brandon Pierce, who somehow in the closing laps managed to get in front of Jones and Higgins as he tried to break free and into the top 10, coming just short, finishing eleventh. So our congratulations goes to Brandon Pierce and the Lee Pulliam Performance team on a remarkable run that we just couldn't deny for this week's Short Track Report Blue Collar Racer Of The Week. An amazing run with all things considered, so our hats are off to you and your team on receiving the well earned nod this week.
Now the tour turns it's focus on the last race of the year at The North South Shootout at historic Caraway Speedway. It's the first time the tour has been a part of this great event, but there's a reason they have been added and those who have attended the Shootout for years are going to understand why there is a new headline card on the bill. The CARS Tour comes into this event at the top of their game having just crowned the 2022 CARS Tour Late Model Stock Champion, Carson Kvapil, and with the Pro Late Model Title still up for grabs. If you thought the Shootout was good before, we can tell you firsthand, you haven't seen nothing yet. Until next time, See You At The Track!
(Race writeup by Joshua Weatherman. Intro and My Take written by Billy Weatherman. 2022 Copyright SHORT TRACK REPORT)
Tags
Andrew Grady
,
Ashton Higgins
,
Austin MacDonald
,
Blue Collar Racer Of The Week
,
Brandon Pierce
,
Brandon Willard
,
Brent Crews
,
Buddy Kofoid
,
Caden Kvapil
,
CARS Tour
,
Carson Kvapil
,
Chad McCumbee
,
Chase Burrow
,
Commonwealth 225
,
Conner Jones
,
Connor Hall
,
Deac McCaskill
,
Jack McNelly
,
Jacob Heafner
,
Joe Louis
,
JR Motorsports
,
Katie Hettinger
,
Landon Pembelton
,
Late Model Stocks
,
Late Models
,
Layne Riggs
,
Luke Fenhaus
,
Mason Diaz
,
Nick Loden
,
Penn Crim
,
Pro Late Models
,
Ryan Moore
,
South Boston Speedway
,
Trevor Ward
,
William Sawalich
,
Zack Miracle