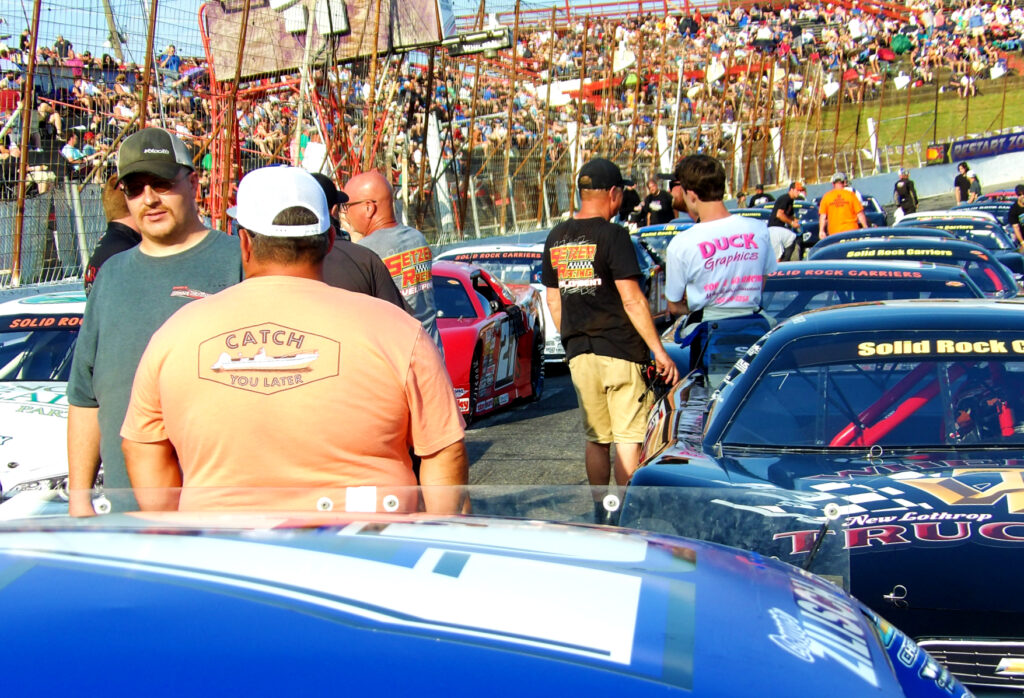 If you're interested, you will do what is convenient; If you're committed, you'll do whatever it takes.

John Assaraf
The CARS Tour Pro Cup Throwback 225 at Hickory Motor Speedway is a very important race for every competitor and fan of the series for a number of reasons, and that fact was no different this year. It was a chance for the tour to take a look back and honor it's very roots even as it moves into the future. It was also an event that has it's own special set of challenges. Aside from all that, it's also the race that marks the start of the final stretch of the season. With just 7 scheduled events left on the calendar after this race, it's crucial for the teams and drivers to hit their marks and leave Hickory, North Carolina in a good position to challenge their competitors down through the end of the season. And if you know anything about Hickory Motor Speedway, you know that'll be a challenge all in itself. Hickory is an unforgiving place. It's hard to get around. And any mistake can become a very costly error. But that's precisely why this race is placed at this point of the season. To become champion on this tour, you have to be prepared and willing to do whatever it takes to handle any situation thrown your way. And with the competition also so willing and most importantly able, you also have to be able to do what it takes to rise above. Being adaptable to any situation is key. Able to keep cool as everything around you heats up becomes critical.
It's also important to note at this historical race, that by now, every driver and team on this tour is aware of the of the historical moment for the tour this year has become as it literally steps into a new era of competition. Every single one of them wants to find their place in the moment as they know it will be remembered for years to come. It's a bigger deal than some may realize for these teams, and it's also showing in the rise of the competition. What's for sure too is that every single one of them knows the importance of leaving this race better than they came in. That said, it's also a tour that can see most every driver in the field capable of winning. That puts just that extra bit of stress on the teams themselves that are tasked with giving their driver the tools they need to succeed. And this race this year will throw a huge monkey wrench into that challenge with a weather rodeo that will take them all for a ride. Let's take a close look at the racing itself to see how it all plays out. The fans are ready and the track has put on a great pre race ceremony that has everyone ready to see some great short track action from arguably the best Late Model tour in the nation so, Let's Go Racin'!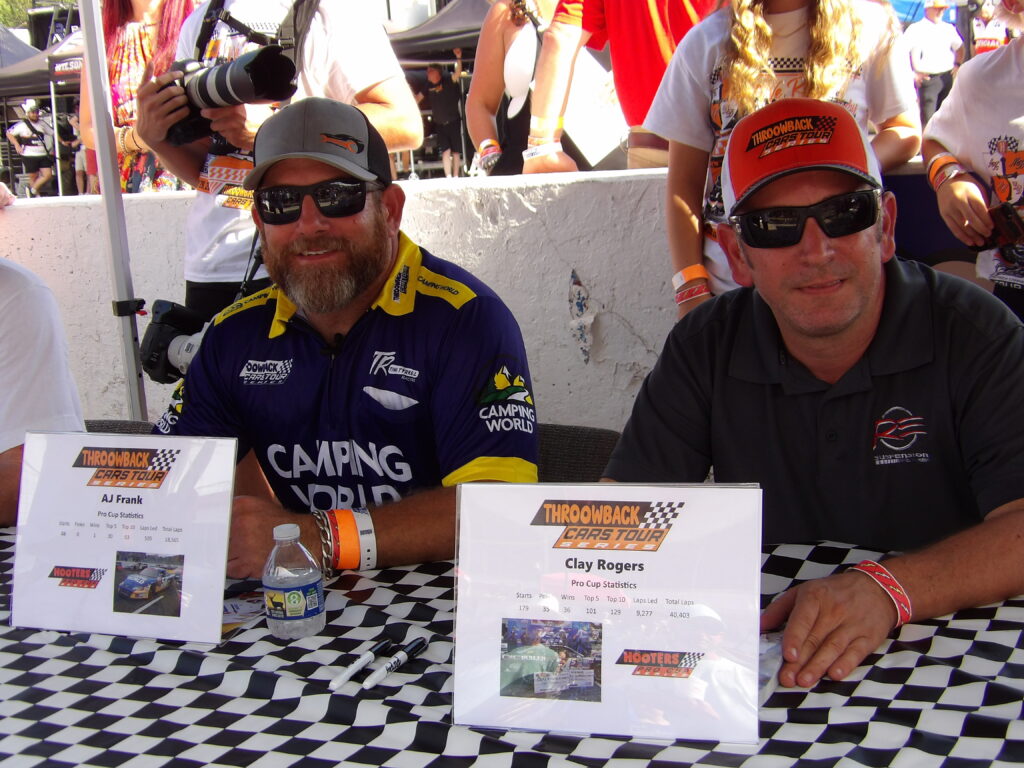 CARS TOUR PRO LATE MODEL DIVISION
Connor Zilisch starts his double duty effort by putting the # 25 machine on the pole for the Pro Late Model Division with a lap of 14.816, followed by Canadian competitor Cole Butcher in the # 28 in second with a lap of 14.881, and Rookie Of The Year and overall points leader Katie Hettinger close behind in third in the # 81 with a lap of 14.891. It's been a scorcher all day and the track is hot and slick, so it'll be key for the 22 teams set to start this event to manage the conditions as the sun starts to set toward the middle of the 100 lap race. Parcels
Pace laps are complete as flagman Brandon Williard gives the signal to double up and we're set to go green here at Hickory Motor Speedway.
Connor Zilisch gets a great start but so does Cole Butcher on his outside and it's a drag race into turn 1. Behind them however the # 6 of George Phillips doesn't get going and he stacks up the field behind him with # 7C Justin Crider buried into his rear with # 55 Charlie Keeven following him in along with the # 37 of Brett Suggs. Behind them # 13 Austin MacDonald gets turned around by # 7 Tristan McKee as he has nowhere to go. The # 4 of Matt Caprara also has trouble getting slowed down as the # 43 of Josh Horniman is buried in his bumper and he then also makes contact with Tristan McKee. Looks like after it's all said and done, Caprara and McKee get the worst end of body damage as they'll have to come down to pit road for repairs. We're back where we started as no laps scored before chaos ensues with Zilisch again leading them to the restart with Butcher to his outside and a field of eager drivers tightening up for the green. Again flagman Willard waves the flag and again Zilisch and Butcher get a great start, and again Phillips doesn't get going but everyone manages to deal with it as he finally gets the machine up to speed. Zilisch and Butcher battle for dominance up front as the # 9 of Ashton Higgins settles in behind them with the # 96 of Caden Kvapil looking to advance outside of the Hettinger machine. Butcher takes the point from outside of Zilisch as Kvapil squeezes in front of Katie Hettinger and the front 5 settle in single file. Kris Wright in the # 27 makes an amazing save as he's contacted by the # 15 of Luke Baldwin as they battle in the upper mid pack where the field is very tight and jockeying for position as Keeven and Crider both retire due to damage from the first lap chaos. Kvapil moves his way past Higgins for third and now Higgins is being challenged by Hettinger for fourth. And now Matt Caprara is around in turn two as rain begins to fall from the clouds that moved in quickly over the track. And just like that the mini monsoon takes a hold and stops all action for the night as tour management postpones the race until 2 pm Sunday.
The teams also now have to deal with the fact that after preparing the cars to race in night conditions on a cooling track, they will now have to compete in the heat of the day when the track is again hot and slick. Drivers will have to adjust their driving styles as well if they want to be there in the end to challenge for the win. And so the teams are once again ready to get back racing, eager after a night of thinking about it. Now it will be Cole Butcher leading them down with Zilisch second, Kvapil third, Hettinger fourth as she had slipped past Higgins who will finish out the top 5. And just as they were ready to give the command to refire the engines, we are under another rain delay for a nagging rain that started falling right at race time. It continues for a few hours but then the sun makes an appearance and they are past ready to get back racing here at Hickory Motor Speedway. A number of fans have endured both rain delays with some sitting through the bulk of it in an exhibition of pure dedication, but now the weather has started to cooperate and everyone is ready to get back at it. The tour management orders the drivers to take hot laps to make sure the track is dry enough to race and to get even just a little bit of rubber back into it before we go back green. Soon however, flagman Williard gives the signal after the choose cone was displayed and the drivers made their choices, and the cars move in double file on the second day of the Pro Cup Throwback 225. Cole Butcher interestingly chooses the outside, and there it is, the green flag waves and we're back in action with 68 laps to go. Butcher gets an incredible start an immediately moves into the power position with Zilisch falling in behind in second followed by Kvapil, Hettinger, and Higgins. Zilisch takes a look underneath for the lead as he's pressured by Kvapil and he goes into a slide in turn 2, saving it but not before Kvapil gets by and now he's under attack from Hettinger in the 81. The battle side by side but Zilisch fights his way back to the third position.
TJ DeCaire in the # 88 machine battles side by side with George Phillips as they jockey for sixth behind Higgins, and here comes Austin MacDonald trying to get into the action. DeCaire doesn't settle for sixth though as he dives in under the 9 of Ashton Higgins and takes fifth as well. Meanwhile up front, Zilisch looks to take second back from Kvapil as they run side by side for the position. Give it to him as we're now back to where we restarted the day up front, with drivers battling and trading positions behind them. And that takes us to the competition caution with just over 30 laps to go. The choose cone is out and Butcher again takes the outside and interestingly Zilisch lines up behind him giving Kvapil the inside lane. Hettinger goes to the outside as well as MacDonald lines up on the inside behind Kvapil. Flagman Willard shows them the green for the restart and Butcher again gets a good start but Kvapil rolls his machine in perfectly to challenge on the inside. Kvapil gets loos off of 2 however and that squeezes Zilisch on the outside as he bounces off the wall. Austin MacDonald moves into second as Deire dives in under Kvapil and tries to take the third position. Kvapil fights him off however as they settle in with Butcher at the point, MacDonald second, Kvapil third, DeCaire fourth, and Hettinger closing out the top 5. Zilisch battles with Hettinger trying to get back to the top 5 and he does momentarily but Hettinger battles back and retakes the spot. Kvapil dives in under MacDonald with 6 to go and takes the second position, but he's got a long way to get to Butcher and a short time to get there as Hettinger moves DeCaire to fifth as Butcher takes the win in the Pro Late Model feature. Kvapil comes home second, MacDonald third, Hettinger fourth, and DeCaire with a hard fought fifth place finish.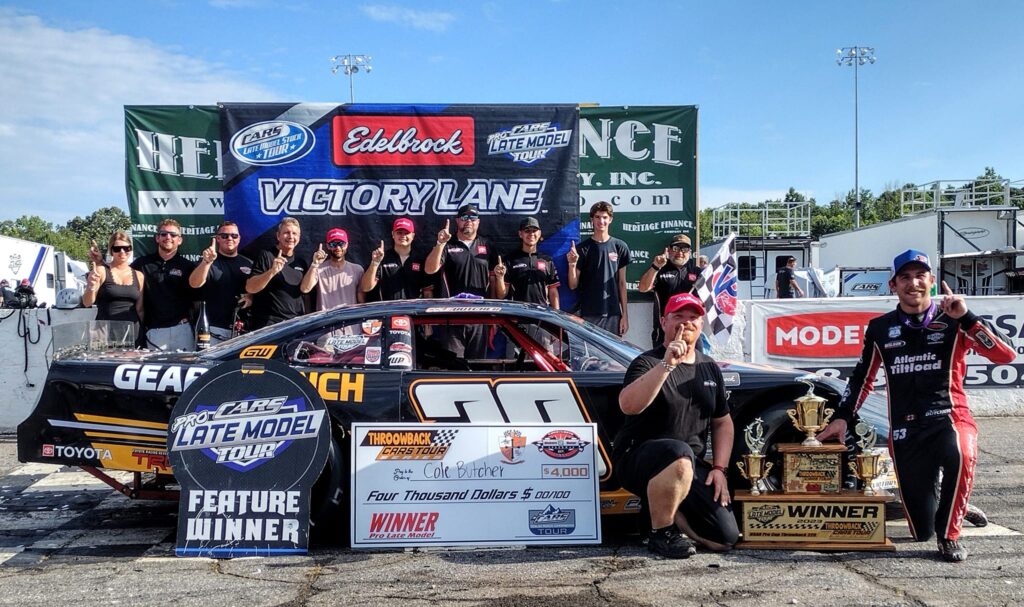 CARS TOUR LATE MODEL STOCK
The # 44 of Kade Brown will lead the Late Model Stocks to green after his pole lap of 14.918, followed by Mason Diaz in the throwback # 52S with a second place lap of 14.949 with defending Champion Carson Kvapil in the # 42 machine putting in a third place qualifying lap of 14.981. The # 6 of multi time champ Bobby McCarty will roll of fourth after a lap of 14.998, and Ronnie Bassett Jr. round out the top 5 starters with a lap of 15.005. The entire field is separated by only .346 seconds with teams running in the heat of the day after initially setting up for a night race, changing the CARS Tour Throwback underway. After a few pace laps to warm up these Late Model machines, flagman Willard gives the signal and the drivers double up for the start. The drivers tighten up as they come to the stripe and the green is out and we are underway. Kade Brown gets the jump but he spins the tires a bit, throwing the car sideways, but manages to recover as he takes the point over Diaz who battles now outside of Carson Kvapil with Bobby McCarty looks to pick up the scraps. behind them as per usual is a double file jockey for position as the drivers look to get what they can on the initial start. Bassett's caught in a two wide fight for fifth but he finally settles in in front of the # 62 of Layne Riggs who falls into sixth as the rest of the field have yet to sort it out. And with just over 100 laps to go, the # 4S machine of Connor Hall makes contact with a loose Landon Huffman in the # 22 machine and they both go around coming off of turn # 2. Ryan Millington in the # 15 makes slight contact as he tries to maneuver around the spinning drivers, and the rest of the field manage to make it past unscathed.
No surprises as they line back up for the restart as Kade Brown chooses the inside line with Diaz to his outside, Kvapil on the inside of row two with Mccarty to his outside, and Ronnie Bassett still holding the fifth position on the inside of row 3 as Landon Huffman and Connor Hall restart in the rear of the field. Not far ahead of them is the # 55 of Brenden Queen who's fallen back early in this race. Hard to tell if the championship contender is CARS Tour flagman Brandon Willard has them lined up for the restart and he enthusiastically throws the green flag and we are back underway in the Pro Cup Throwback 225 here at Hickory Motor Speedway. Kade Brown again gets the start he needs to move in front as Diaz and Kvapil work side by side with Diaz getting the upper hand and settling into second as Kvapil secures the third place spot. Bassett has to work a bit harder as McCarty challenges on the outside and again the rest of the field is two wide trying to settle it out. Bassett finally takes the fourth position leaving McCarty battling with the # 98 of Connor Zilisch as he looked to challenge for fifth. McCarty holds off Zilisch however as behind them Riggs gets into the # 45 of Kaden Honeycutt as they battle just outside the top 5. Finally the field settles in for the most part single file as they look to save what they can. Brown catches the rear of the field putting a few cars a lap down and works on the # 4 of Dylon Wilson just as the competition caution begins to wave. Great timing for Brenden Queen as well as he was just a couple of cars ahead of Wilson, and both of those cars are really glad to see the yellow waving as some of the teams take this chance to make adjustments to their machines.
Again up front with 62 laps left to complete it, Kade Brown leads Mason Diaz, Carson Kvapil, Bobby McCarty, and Ronnie Bassett as your top 5 coming back to green. Willard looks over the field, is happy with the view, and once again we are green in the 2023 CARS Tour Throwback late Model Stock feature. Kade Brown once again executes a great restart but this time Diaz matches it and they are two wide in an intense battle up front. The whole field follows suit in double file as Mason Diaz goes in deep on the outside and wrangles the lead away from Brown. Kvapil falls into third, McCarty again fourth with Ronnie Bassett once again securing the fifth place position. It's anyone's guess behind them as the field remains doubled up as the intensity starts to build. There begins to be some contact through the field as Riggs hood comes loose on the drivers side as he battles with Jacob Heafner in the # 16 machine, and one can only guess if the hood will stay intact on the 62. And with 53 laps to go the # 92 of Bryant Barnhill is off the pace and trying to make it to pit road. he makes it to pit road but sits in the entrance, bringing out yet another caution with just over 50 laps remaining. Now it's Diaz leading them back to the restart with Brown to his outside followed by Kvapil, McCarty, and Ronnie Bassett Jr. Once again Brandon Willard looks over the field, likes the view, and we are once again underway in the 2023 CARS Tour Throwback event. Diaz clears for the lead with Brown falling in behind in front of Kvapil who tried for a moment to get in under Brown with no luck as McCarty and Bassett fall in line. Again a heated battle ensues behind them with Brenden Queen starting to make ground through the field. Now with 32 laps remaining Bryant Barnhill and Dylon Wilson make contact off of turn number four, after Wilson suffers a flat tire, leaving Barnhill with noticeable front end damage as Wilson got loose and up into Barnhill who'll have to come down for repairs to his machine.
So with just over thirty laps to go, Diaz will once again lead brown, Kvapil, McCarty, and Bassett to green as we head down the stretch. On the restart Diaz once again clears Brown up front as Carson Kvapil tries again to get under Brown for second to no avail as McCarty also once again clears a challenging Ronnie Bassett. But chaos ensues behind them as Zilisch goes around after he squeezes Kaden Honeycutt up high and then gets sideways in front of him after slight contact between the two, stacking up the field and leaving Layne Riggs nowhere to go but into the back of Honeycutt after he also has contact from Jacob Heafner as he was working underneath, sending him into the outside wall in turn 4, and leaving Zilisch turned around as well in the middle of the track. Fortunately everyone else escapes the carnage, but Honeycutt's car sits heavily damaged against the wall. Honeycutt is not happy as he exits the car, giving a few gestures to Heafner, but after he watches the replay of this one he might have to send his frustrations in another direction. truly in the end though it was a close pack of hard racing where just one slight mistake can build into disaster. But in the Throwback 225, Honeycutt gives a throwback to Kurt Busch with the patented patting of the butt gesture as he then points at Jacob Heafner in the belief that he got run over by the 16. Once again Diaz leads Brown, Kvapil, McCarty, and Bassett respectively, but don't look now as Brenden Queen has brought his throwback # 55 machine into the top 10 here in the closing laps. Flagman Willard once again surveys the field and throws the green as business is about to pick up significantly here in Hickory. Diaz and Brown go side by side for the lead as Kvapil momentarily looks to make it 3 wide but wisely reconsiders it. Brown gets looks to clear on the outside but Diaz will not concede as Kvapil finally clears McCarty for third. Diaz contacts Brown's fender on the inside not wanting to give him any room up top as Brown seeks to get the advantage as the leaders battle it out for the top spot. Lap after lap they battle but eventually Diaz works Brown over and wrestles his way into the lead as Kvapil and McCarty lurk behind waiting on any kind of mistake from the two. Brown now uses his front bumper trying to give what he got from Diaz as Brenden Queen moves in on Ronnie Bassett for fifth. Brown gets Diaz a little sideways and dives in underneath and now it's Brown on the inside with Diaz trying to hold the lead on top. What a battle up front. And now Brown clears for the lead but Diaz looks to cross him over as he dives back in under Brown. And Diaz hip checks Brown this time looking for room and it works as Brown has to go wide but is still able to dive back in in front of Kvapil as he tries once again to get to the bumper of Diaz. Meanwhile Queen has taken fifth from Bassett and sets his eyes on Mccarty who's now right in front of him. And now Queen clears McCarty and immediately starts looking at the rear of the Kvapil machine looking for more. He dives underneath and takes third but he doesn't look done yet as he now sets he locks in on the leaders. He's saved his car all day and now he makes his run and has the leaders in his sights with just 14 laps to go. Up front however Diaz has separated himself from the field. Queen gets to Brown but it's too late as Diaz takes the checkered flag with Brown, Queen, Kvapil, and Bobby McCarty the top 5 at the finish, and the 12 of Austin McDaniel sits in the wall on the frontstretch after contact with the # 41 of Chase Burrow as they battled for the twelfth coming to the stripe. Diaz has finally done it and wins his first CARS Tour win!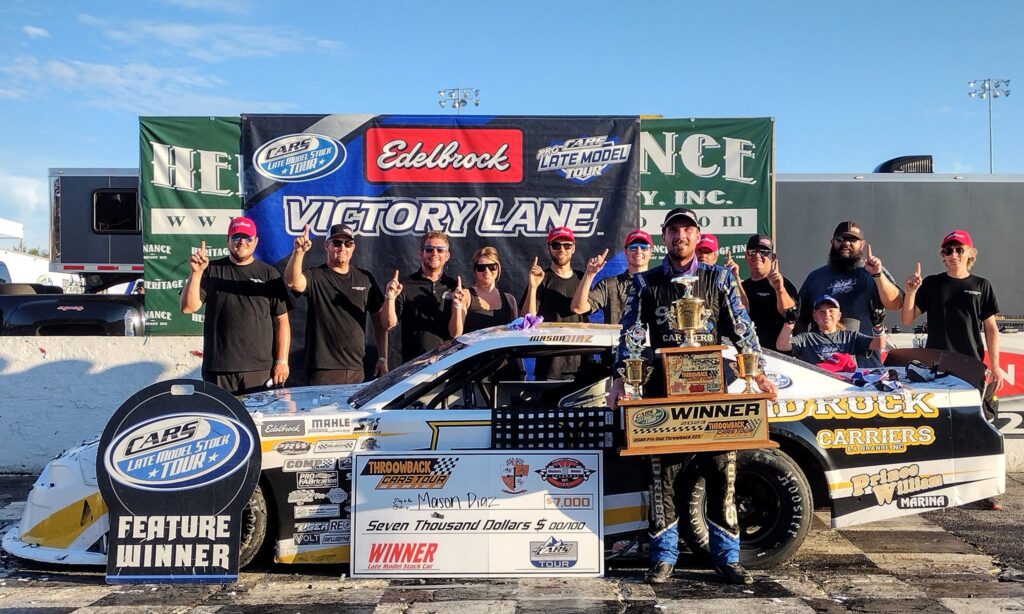 MY TAKE
Mason Diaz did what it took to get his first win on the Tour. A win that's been a long time coming. And it wasn't easy as Hickory Motor Speedway regular Kade Brown took him to the limit, and in so doing sent a message to the series. And that message is that if he finds a way to join the tour full time, he will be a young contender that will challenge for wins. The tour sent a message of sorts itself this weekend, proving once again that they will do what it takes, and everything in their power to get the races in regardless of the situation. And they will do it in the most professional way possible. But for us, we can't go much further without mentioning one group of individuals who went above and beyond in our eyes. They took doing what it takes to a whole new level. You see, we have been no less than amazed at the professionalism and competition on this tour as we've mentioned many times. They have everything it takes to be the best Late Model tour in the entire nation. But no matter what they do, they have to have one thing to make it all work. One thing that makes it all a success. And that's a dedicated fanbase that recognizes every achievement they make and in light of that, dedicates themselves to it.
This week, as I stood and sit through the delays, I saw that dedication on full display. And while there were murmurs from some to just call it, I looked up into the stands and saw an amazing sight. I saw a fanbase willing to deal with it all in support for the sport they love. I'm sure there are many who would chastise them and say they "don't even know how to get in out of the rain." But you see, those people are missing it. The message these dedicated fans were sending is we'll do what it takes. And I heard it loud and clear. There's a quote by John Assaraf that says – "If you are interested, you'll do what's convenient; If you're dedicated you'll do what it takes." Those fans were giving that message to everyone that saw them, and fortunately the head race day decision maker for the Tour, Mr. Jack McNelly heard it too and he made sure the tour repaid them with it's own dedication.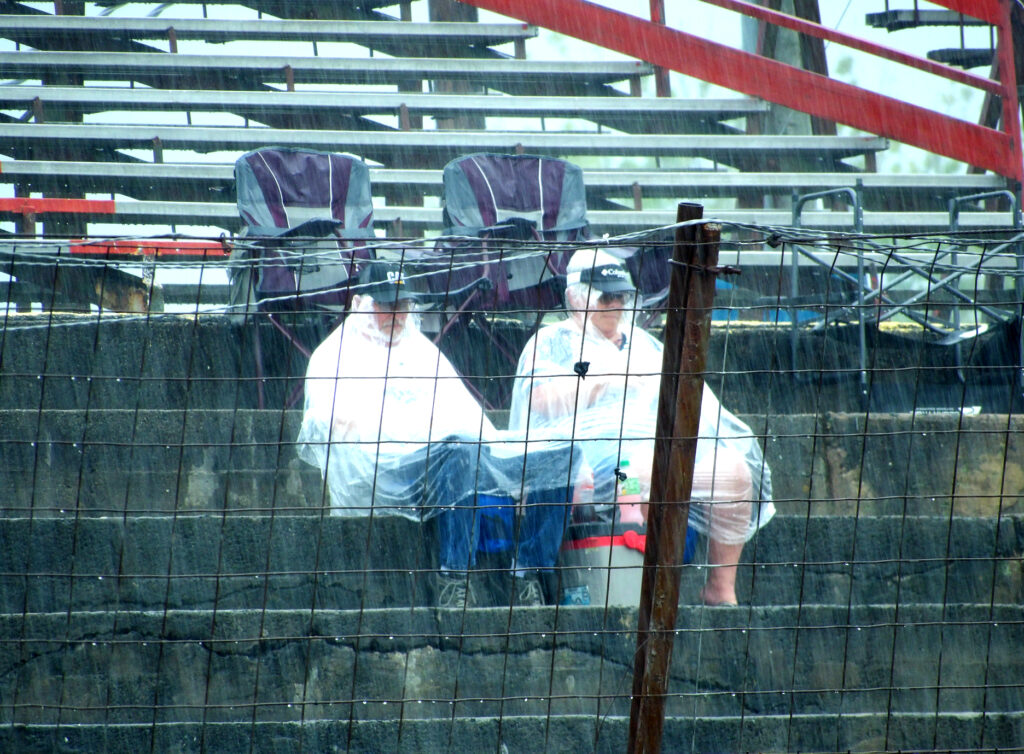 And in the end, we got to see Cole Butcher follow up his ASA STARS National Tour Redbud 400 win with a win in the CARS Tour Pro Late Model division at Hickory Motor Speedway. We also got to see Mason Diaz break through for his first CARS Tour Late Model Stock win, and how cool was it to see it come at a throwback event as he paid tribute to Kirk Leon. And we got to see Brenden Queen tighten up the points chase just a little tighter in an amazing performance that leaves us no choice in this week's Short Track Report Blue Collar Racer Of The Week nomination. After falling to the back of the field in a bid to save the car, Brenden Queen at one point was just a few positions away from being a lap down. But he and his Lee Pulliam Performance team stuck to their strategy. And when it was time to go and the laps started winding down, Queen came back up through the field with a vengeance, bringing the car back to third place but running out of laps to challenge for the lead. In so doing, he also skirted the chaos that broke out on his way, in the end putting himself and his team in great position to challenge for the championship title down the stretch. Congratulations Brenden and team on a well executed game plan that earns you this week's nod for the award we give in honor of the hard work drivers put into a great racing performance! You definitely earned this one! Until next time, as always, See You At The Track!