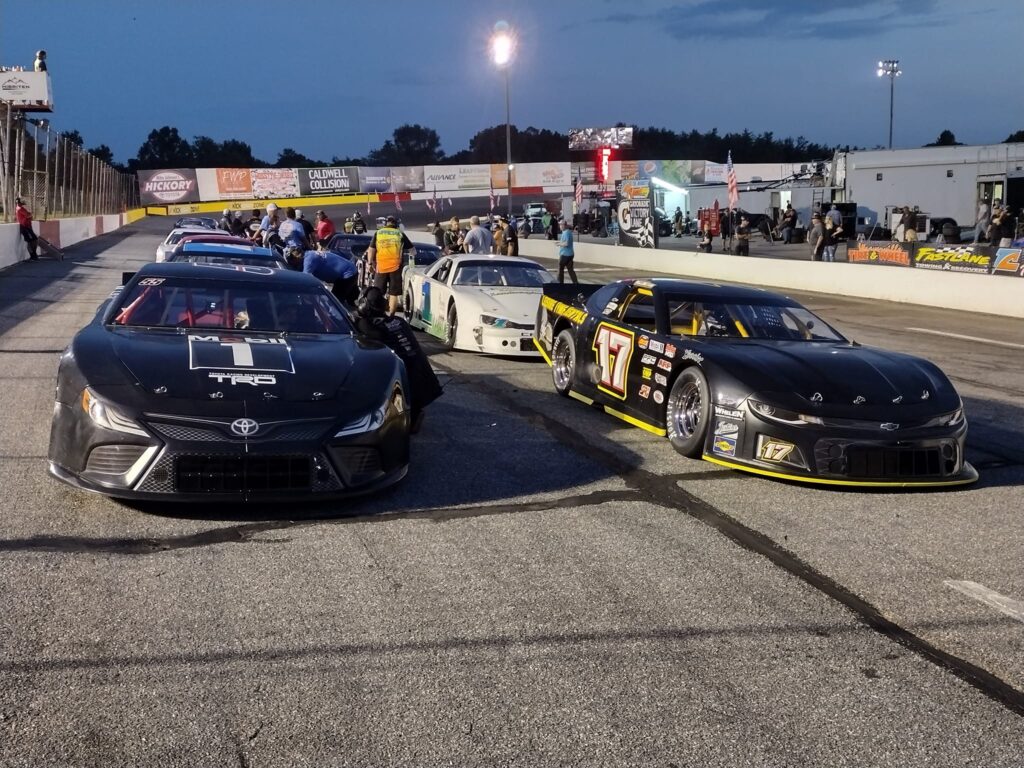 This week we headed out to Tri-County Speedway for their signature event, the Pepsi Firecracker 250. Initially slated for Independence Day Weekend, rain delays regulated the event to July 16, but the track and the large number of fans that came out to this event were no less excited for this race. The track has scheduled a meet and greet on the front stretch to give the fans a chance to meet their favorite stars and as a bonus, they've invited Tommy Houston to join in the autograph session. There's a great number of cars here to compete in front of the growing crowd and the weather is near perfect for this race here tonight. After the meet and greet autograph session, the pre race ceremonies begin. The heartfelt invocation is spoken, a patriotic National Anthem is played, and the crowd stays on their feet as Terry Anderson gives the command to fire the engines for the first race of the night. The cars roar to life as the crowd stays on their feet ready for another great night of exciting racing. The racers are also ready to go and the track is prepared, so, Let's Go Racin'!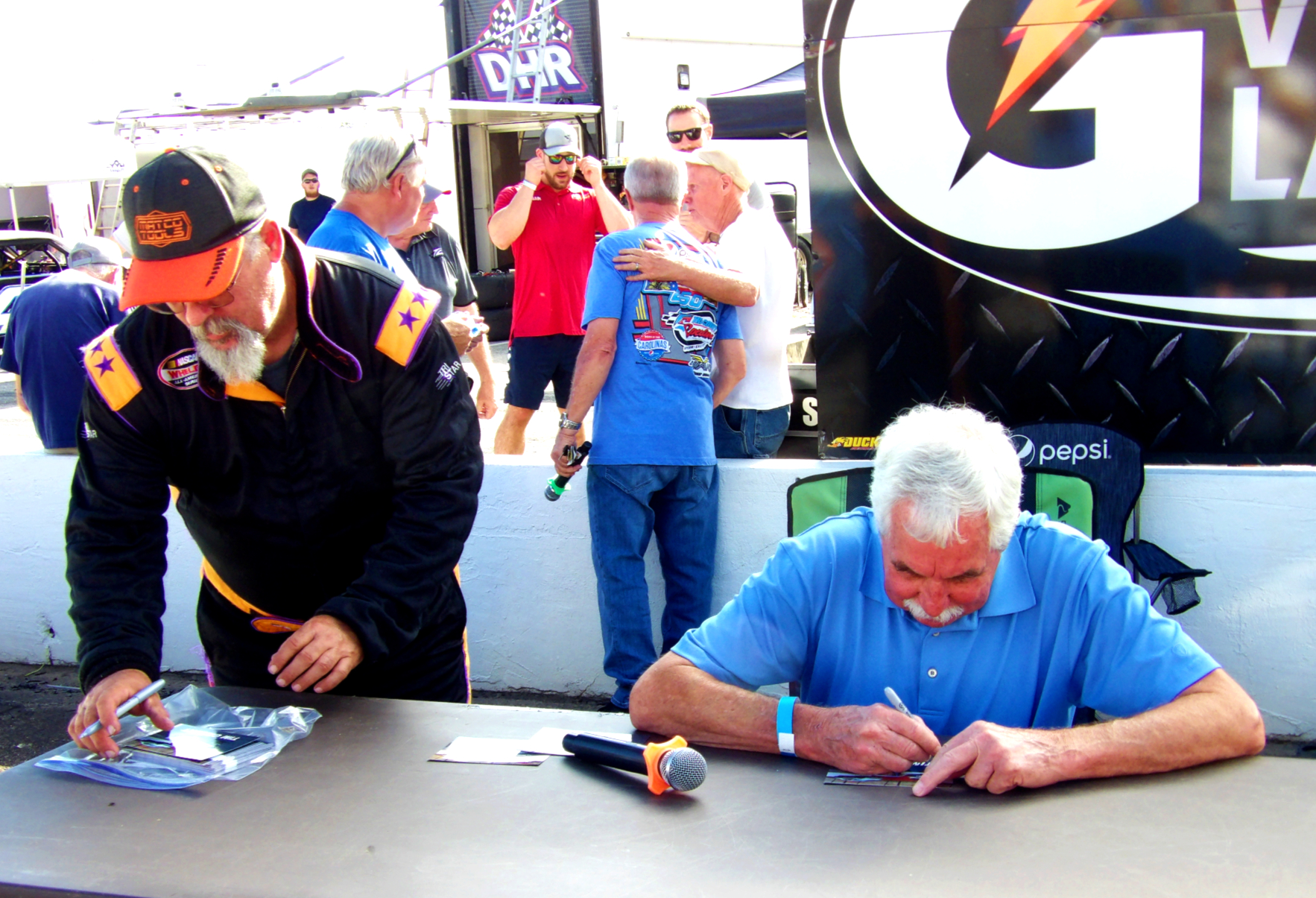 VINTAGE FEATURE
The # 41 of veteran short track racer Marty Ward would start on the pole for this one with the # 95 of Tim Gilbert starting alongside in his Tommy Houston throwback machine. The race would be a war between Ward and Gilbert, with the caution only coming out once for the # 4 of Dennis Hinkle looping his machine out of turn two. Gilbert would try every move in the book, but would come up just short as Marty Ward takes the checkered first followed by Gilbert.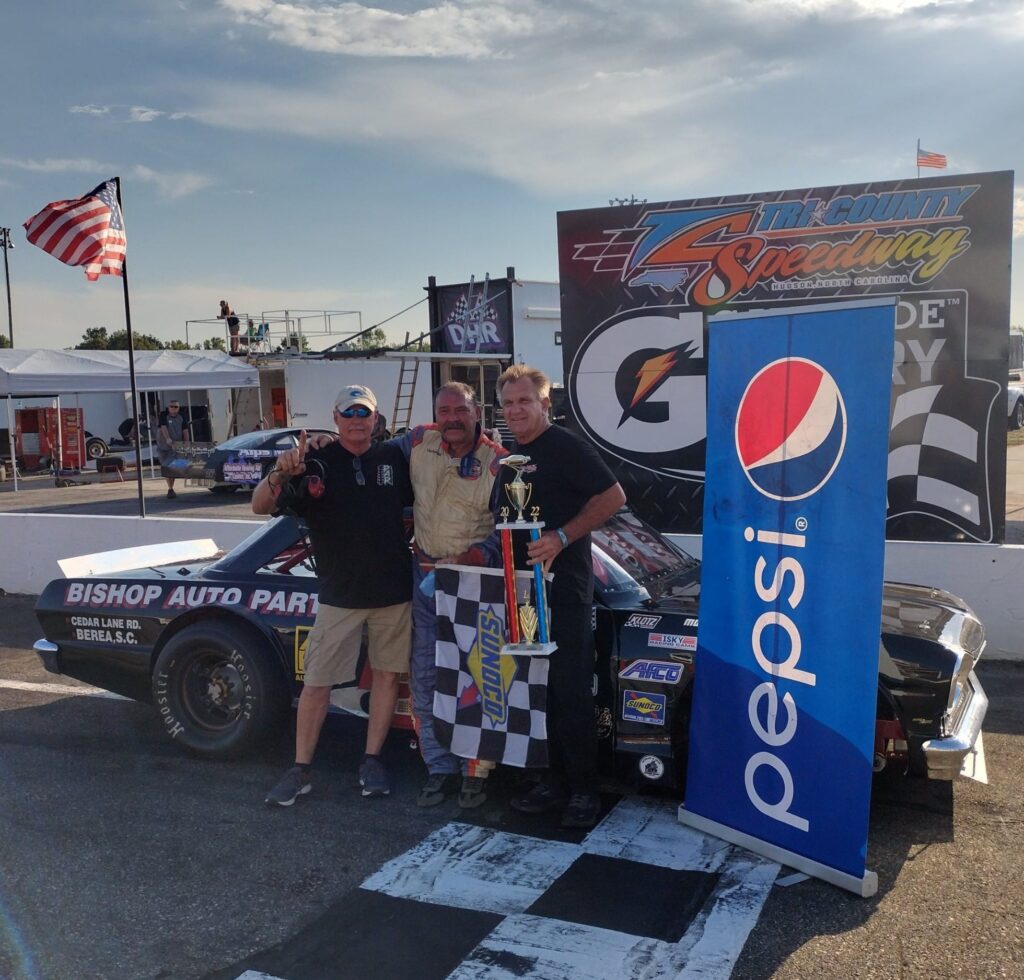 FRONT WHEEL DRIVE FEATURE
The # 10 of Donny Holland finds himself out front for the start as # 4 Brian Dodd starts second followed by the # 0 of Jacob Hayes. Flagman Timmy Hutson looks the field over, likes the formation, and we're green! Holland gets a great jump, but Dodd is right there, waiting for any mistake to be made. Behind them, the # 1 of Dana Maxwell is able to get by Hayes for third as Dodd is under Holland and takes the lead early. Dodd looks to gap the field as the # 27 of James Powell has made his way up through the field, getting by Maxwell with ease for third. Powell now looks under father-in-law Donny Holland for second as Dodd starts to pull away. But not for long as Powell gets by Holland and is now breathing down the neck of Dodd. It's a little too much to handle for Dodd as he spins from the lead, bringing out the caution. For the restart, it'll be Powell, Holland, and Hayes now the top three. Hutson looks them over and we're green once again. Powell gets a massive jump as it looks like it's going to be Powell in victory lane once more. But before the race, a deal was made…
Track co-owner Shad Higgins made a deal with Powell that stated if Powell went to the rear with five to go and still came back to win that Powell would get a bonus along with the normal purse. Powell agreed, and sure enough, with five to go, the caution was thrown. Powell gets put to the rear, putting Holland back in the lead followed by Hayes and Maxwell. Hutson looks over the field with anticipation, the crowd is on their feet, and we're green! Holland gets a great jump, but Powell is already moving his way up, getting by some of the track's best in the middle of the field. Soon enough, he's by both Maxwell and Hayes. As the white flies, Powell is all over Holland yet again. Holland runs the perfect line, keeping Powell at bay. Heading into turn three, Powell dives it in, putting him alongside. But it's not enough as Donny Holland breaks the Powell streak, taking home his first career Front Wheel Drive victory! Powell comes home second in a valiant effort followed by Hayes in third.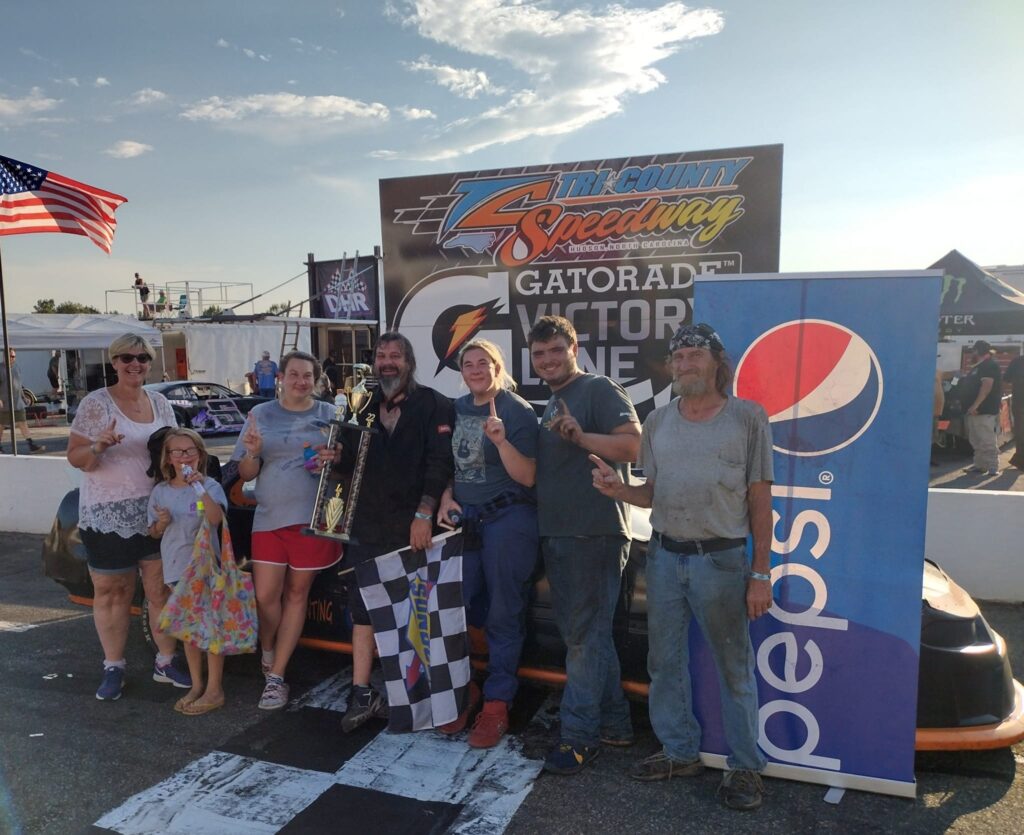 RENEGADE FEATURE
Gage Austin in the # 4 machine inherits the top starting spot after a complete invert of the field. The # 1.5 of Shawn Thomason starts second with the # 22 of Jacob Hickman rounding out the top three. Flagman Timmy Hutson looks the field over, likes what he sees, and we're green for the rough and tumble Renegades! Thomason immediately looks to the outside of Austin for the lead, but the # 25 of Skylar Hudson comes out of nowhere from fourth and takes the lead away from Austin. Behind him, Austin starts to fall through the field, along with both Thomason and Hickman. This allows the # 18 of Rodney Elkins to make his way to second, with the # 16 of Steve Smart following through for third. Elkins looks strong in second, but Smart is stronger as he dives in for second and takes the spot with ease. Elkins is now under fire from the # 9 of Klint Townsend, who's able to take advantage of the lost momentum to take third. Townsend is on a roll as he now looks on Smart for second. Smart gives him a great fight, but it's not enough as Townsend gets by and sets his sights on Hudson. Everyone behind tries to file in line as Townsend is now right on the back bumper of Hudson. Townsend looks to the outside, gets the run, and it's now Townsend leading with Hudson second. Hudson gets a little out of shape, allowing Smart to barely get by as Townsend is now set on cruise control. Smart tries to mount one last charge but he comes up just short as Townsend comes home the victor with Smart coming in second followed by Hudson in third.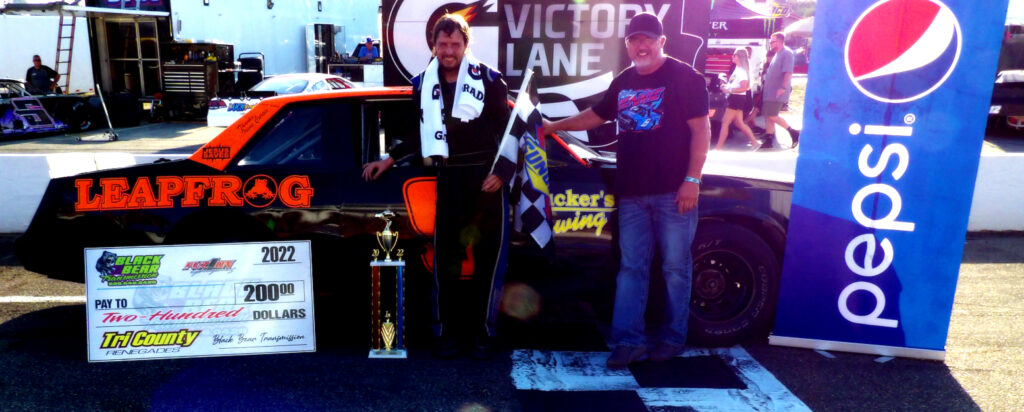 STREET STOCK FEATURE
Blake Walker in his debut Street Stock start will start first in his # 9 machine, followed by the # 55 of Johnny Reynolds second, # 00 Boo Carlisle third, # 07 Davey Smart fourth, and # 12 Cody DeMarmels fifth. Hutson looks over the beautiful field, likes the formation, and we're green! Walker is able to clear early as Smart gets by Carlisle for third, bringing the # 32 of Gary Ledbetter through to fourth as DeMarmels starts to drop through the field. Carlisle slots in fifth while Smart looks to take second away from Reynolds. Reynolds hangs tough though as he and Smart have a classic Tri-County battle, staying side by side for multiple laps. Ledbetter takes advantage of this as he makes it three wide for second. Reynolds is able to hang on as Ledbetter slips by Smart for third. Smart gets slightly out of shape, allowing Carlisle by. But Smart stays persistent, getting back by Carlisle. Ledbetter powers by Reynolds for second, now looking on Walker for the lead. But on the backstraightaway, the # 12H Mike Hatton spins in front of the leaders, collecting Walker who has nowhere to go. The # 03R of Alan Rich is also involved. Carlisle also has trouble, bringing his machine down pit road under caution. He's able to drive back out right before the green though as Ledbetter will line up first followed by Smart, the # 03 of Kevin Eby, DeMarmels, and the # 4 of James Dolan. Hutson gives the thumbs up and we're back green. Ledbetter gets a great start but Smart is right there, hanging on the outside. Ledbetter is just too strong though as he clears. Carlisle starts to make his way back up as his machine is on rails tonight. He eventually gets by Dolan for fifth. DeMarmels looks to be slightly off the pace as Carlisle now gets by him, bringing Dolan along. Back up front, Smart is still trying to get by Ledbetter, but to no avail. DeMarmels is suddenly back up to speed as he's back by Dolan for fifth. In front of him, Carlisle starts to stalk Eby, eventually getting by for the podium spot. But up front, it's still all Ledbetter as he picks up the dominant victory followed by Smart, Carlisle, Eby, and DeMarmels.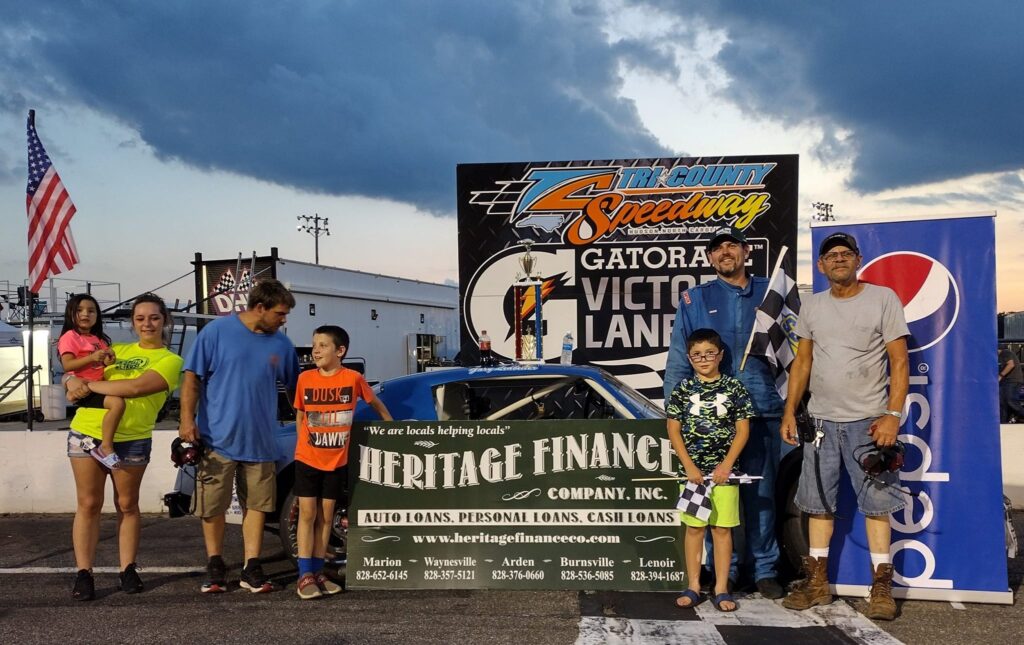 LIMITED LATE MODEL FEATURE
Second place points runner # 15 William Aldred will start first for the Limited race followed by the # 5 of Trey Canipe Jr., # 92 Taylor Nesbitt, # 14 Don Carlton, and the # 97 of Jacob York. Hutson looks over the competitive field of Limited Late Models, likes what he sees, and we're green! Aldred gets a great jump as Carltongets a two for one early, getting by both Nesbitt and Canipe. But Canipe fights back, retaking that spot. Behind them, points leader # 59 Austin Harris gets by York for fifth and looks to be moving in a hurry. But the caution waves early as the # 70 of Marion Thomas has his hood fly up. Aldred will lead the field back for a restart followed by Canipe, Carlton, Nesbitt, and Harris. Hutson gives the thumbs up and we're back green. Aldred gets a great jump as York slips back by Harris and now goes to battle with Nesbitt for fourth. In front of them, Carlton sneaks underneath Canipe, but they touch, setting off a huge wreck! Harris gets collected along with the # 25 of Ricky Parker. After the cleanup, they'll rerack with Aldred still in front followed by Nesbitt, the # 1 of Junior Franks, # 22 Jonathan Philyaw, and York. Hutson looks them over and we're back green. Aldred once again fires off perfectly, but we've got another caution as debris is found on the backstraightaway. It'll be the same lineup as before with Aldred firing off great again. York finds his way by Philyaw and now sets up Franks for a battle. Franks hangs on as the battered Harris machine has found his way back to fifth by Philyaw. As Harris tries to pick off more cars, there's major trouble ahead as Franks gets into Nesbitt, sending her around! Franks, York, and # 41 Marvin Miller all receive major damage and are done for the night. Through that mess, Harris moves all the way up to second behind Aldred. Lining up in third will be Carlton, fourth will be Parker, and fifth will be Philyaw. Hutson looks over the battered field, gives the thumbs up, and we're back green.
Aldred gets another great start, but Harris is right there on the outside and powers by for the lead. Meanwhile, Nesbitt is a woman on a mission, getting by both Philyaw and Parker with ease. She catches up to Carlton, which sets up a raging battle for second between Aldred, Carlton, and Nesbitt. Nesbitt somehow wins out, leaving Aldred in second and Carlton in third. Carlton won't stay for long though as he now looks under Aldred, getting that spot. But up front, both Harris and Nesbitt look as if they've been in a demolition derby. But it's no matter as Nesbitt is quickly catching up to Harris. Hutson gives the two to go signal, and Nesbitt is right there! She looks inside, outside, as the white waves. Harris tries all he can to block, but Nesbitt dives under going into three. Out of four, they're side by side! They bang doors coming to the line with Harris barely edging out Nesbitt in a finish for the ages! Carlton comes home in third, Aldred falls to fourth, and Philyaw guts out a top five in fifth.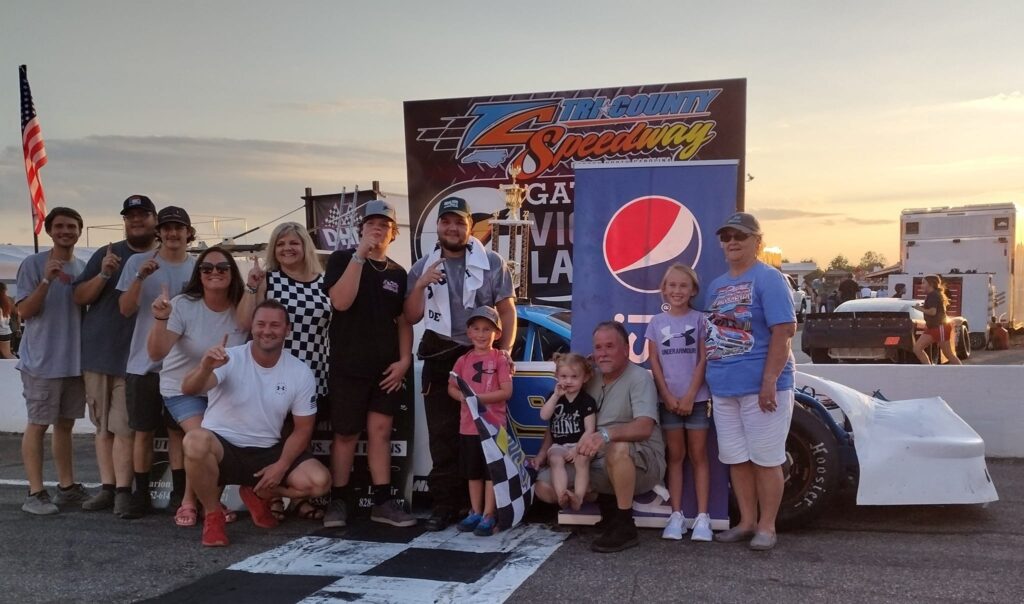 LATE MODEL STOCK PEPSI FIRECRACKER
Ryan Millington in the # 17 grabs the pole with a blistering time of 15.474 seconds. Starting alongside will be the # 55 of Isabella Robusto followed by the # 1 of Zack Franks, # 25 Kevin Leicht, and the # 12M of Austin McDaniel. Timmy Hutson looks over the great field of Late Model Stocks, likes what he sees, and we're green for the biggest race of the year! Millington gets a great start as the # 11 of local favorite Dillon Houser is able to get by McDaniel for fifth. Robusto looks for the lead numerous times, but Millington hangs on as the field tries to get into an early rhythm in this long 100 lapper. But don't tell that to young Connor Zilisch in the Carroll Speedshop # 57 as he's furiously moving his way up the field, getting by the likes of # 28M Connor Mosack and # 21 Mike Darne. He eventually makes his way up to Houser, who diligently tries to hold off the road racer, but can't as Zilisch enters the top five. Behind, the # 9 of Samantha Rohrbaugh has major issues and brings her machine down pit road, ending her night prematurely. Just a few laps later, the fast # 21 machine of Mike Darne takes his machine down pit road as it seems to be a race of attrition early here tonight. Zilisch looks under Leicht and gets that spot as Millington leads to the halfway break. As the field heads down pit road, the invert is revealed as five, putting Leicht up front for the restart followed by Zilisch, Franks, Robusto, and Millington.
Leicht takes the outside on the restart as Hutson looks over the field, likes the formation, and we're back green. Leicht gets a great start as Millington quickly moves around Robusto, putting him in fourth. There's trouble behind though as Houser and the # 19 of Jaiden Reyna make contact, sending Houser around. Leicht lines back up first with Zilisch in second, Franks third, Millington fourth, and Robusto fifth. Hutson likes the lineup as we're back green. Leicht fires off great but Zilisch is right there as he makes contact with Leicht, moving him up the track! Zilisch gains the lead as Franks loses third to Millington. Leicht can't properly get his machine righted as he starts to drop through the field. He eventually brings the car down pit road with a major issue, ending his night early. As he has issues, the # 28B of Thomas Beane loops his machine, bringing out the caution. Zilisch will line up first for the ensuing restart followed by Millington, Robusto, Franks, and an emerging # 61 Justin Hicks in fifth. Zilisch gets a great restart as Millington seems to have spun his tires. Franks is able to get by Robusto for third, but it's not for long as Robusto fights right back by, retaking the third position. # 34 Lavar Scott powers by Hicks for fifth as Millington is now following in Zilisch's footsteps. As they battle, Robusto enters the picture, now looking under Millington. Beane looks under Scott and gains the fifth position as Millington hangs on for second and pounces for the lead, barely getting by Zilisch. Hicks spins around behind all of the chaos, bringing out another caution. For the restart, it'll be Millington, Zilisch, Robusto, Franks, and Beane. Hutson looks over the field, likes what he sees, and we're green for a shootout.
Millington gets a good restart, but Zilisch hangs tough, never letting Millington have a break. Franks and Beane battle it out for fourth, with Franks hanging onto that position. But back up front, it's still Millington and Zilisch. When Millington goes high, Zilisch goes low. When Millington goes low, Zilisch goes high. It's a high speed game of chess as they close in on the checkered flag. Zilisch finds a second life as he keeps looking underneath Millington, but Millington is just too experienced. Zilisch tries one more time as the white flag flies. Both Millington and Zilisch execute perfect laps, with Zilisch trying one last time to look under. But it's not enough as Ryan Millington wins the Pepsi Firecracker two years in a row. Zilisch comes home second, Robusto third, Franks fourth, and Beane fifth.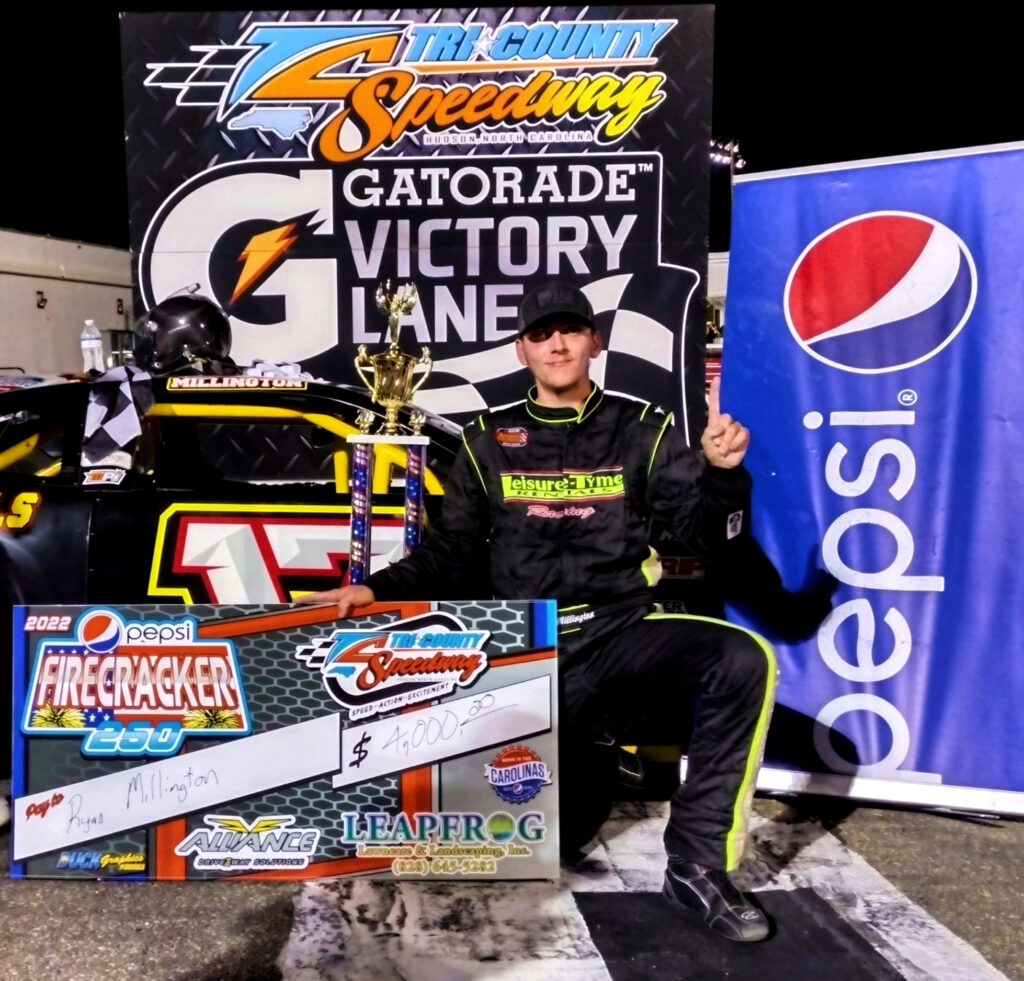 MY TAKE – (Written By Billy Weatherman)
What a night of great short track racing. Ryan Millington comes to Tri-County and takes his second consecutive Pepsi Firecracker 250. He was challenged by Connor Zilisch and Isabella Robusto through the entire event, but he kept control of the race throughout and put on a masterful show for the fans. The Limited race was everything you'd expect from the Limited division here at Tri-County Speedway. Always competitive and always exciting racing from this group. The Vintage put on quite a show with Marty Ward taking the awesome win in his awesome Vintage Chevy, and Klint Townsend takes another great win in the Renegades. Gary Ledbetter does what Gary Ledbetter does and that's win Street Stock races, and Donny Holland gives the fans a new look in victory lane in the FWD division.
But the highlight of the night for me as an observer of the signature race for Tri-County Speedway was the cars and drivers lining up on the frontstretch to meet the great fans that came out to see this premier event. Seeing Tommy Houston there signing autographs for the fans, and supporting his grandson Clark in his first Late Model Stock race was special to say the least. But to watch the kids' eyes light up when they came over to visit Street Stock driver Boo Carlisle really touched my heart. To see their eyes twinkle as he gave each and every one of those kids that came to see him special attention, was heartwarming to say the least. It took me back to my youth when I went to get Richard Petty's autograph all those years ago, and watched as he signed for everyone that came over to him. That's how you make fans for life. But you can tell that it meant as much to him as it did those kids. I've said it before and I'll say it again. Every track should do this as much as possible. It's one of the things that makes this sport special, and Boo Carlisle understands what it means to those kids as many of the blue collar racers do.
All in all, this was a great night for Tri-County Speedway and the fans and drivers that supported it. It was a night filled with memorable moments and great racing. And speaking of great racing, our Blue Collar Racer Of The Week is Taylor Nesbitt. Starting up front, Nesbitt got spun mid way through the event and had to join the field at the rear of the pack on the restart after the caution. But for the rest of the race she scratched and clawed her way back to the front, setting her eyes on the leader. She challenged Austin Harris throughout the ending laps of the race, and could of sent him around at any time. But she didn't even lay a fender on him, racing Harris as clean as you can imagine. And on the last lap she was there alongside as the two came to the stripe in a near photo finish. Austin Harris pulled off the hard fought win with sheet metal gone on the left side due to the battles he had getting to the front, and made a case for the Blue Collar Racer Of The Week himself, but in the end, we couldn't deny Taylor Nesbitt's amazing performance that put her in contention for the win. Congratulations Taylor Nesbitt and team for a battle worthy this week for Short Track Report's Blue Collar Racer Of The Week.
We'll remember this event for a long time to come, as it had everything a track could want in it's signature race. Stars, excitement, drama, fireworks…and most of all, sparkles in the eyes of the children who were there to witness it all. 'Till next time, See You At The Track!