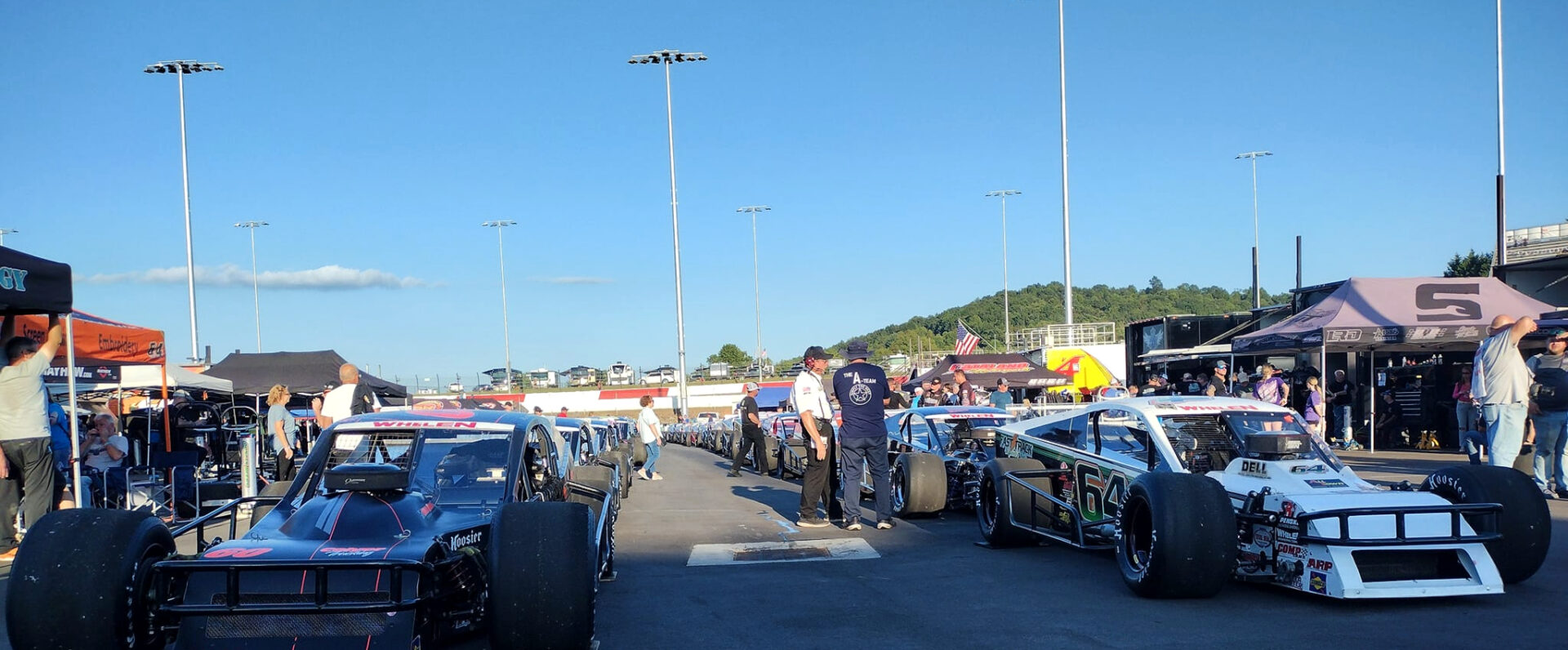 BY THE GRACE OF GOD – 2023 NASCAR Whelen Modified Tour And Carolina Crate Modified Series At North Wilkesboro Speedway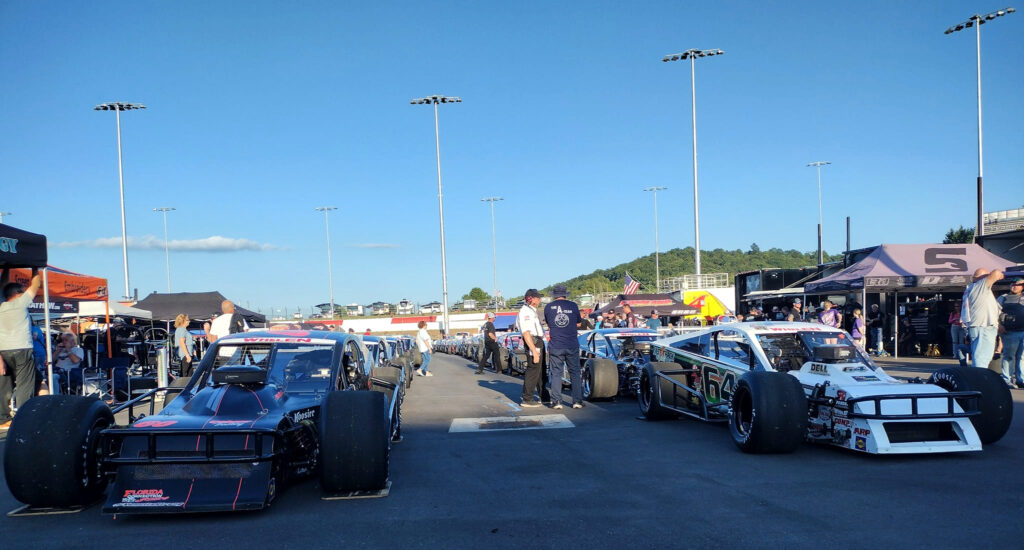 "I never thought I'd have a chance to race there, so it was a huge privilege to be a part of a race there, even better it being in the best racecar on earth."

Andy Seuss
If you spend any time around Modified racing, you'll more than likely hear the quote "By the grace of God and 600 horsepower." It was a saying coined some say by popular racing announcer Gary Montgomery who announced for years at Canandaigua Speedway in Canandaigua, New York. It's unknown however truly if he was the first to say it, but what is true is that it's a quote that perfectly sets the tone for a Modified race car as the ground pounders of stock car racing and the fastest stock cars in the country. What's also true is that tremendous horsepower and tons of grip make Touring Asphalt Modified racing a genre not for the weak. And so when we heard that the NASCAR Whelen Modified Tour was coming to historic North Wilkesboro Speedway joined by the Carolina Crate Modified Series, we knew this was a show we just couldn't miss. Modifieds and North Wilkesboro are a combination that goes way back and so we knew this was going to be a great show, but this event absolutely exceeded our expectations by a long shot. The best in the business came to town to be the very last drivers to race on the old surface making it a historic moment. And the competition they brought to the 'Old Girl' also made it a very memorable one. The crowd came in numbers and so did the teams they came to see, making this event one of the best of the year. So let's get to the action and break down all the exciting racing from North Wilkesboro Speedway from this weekend.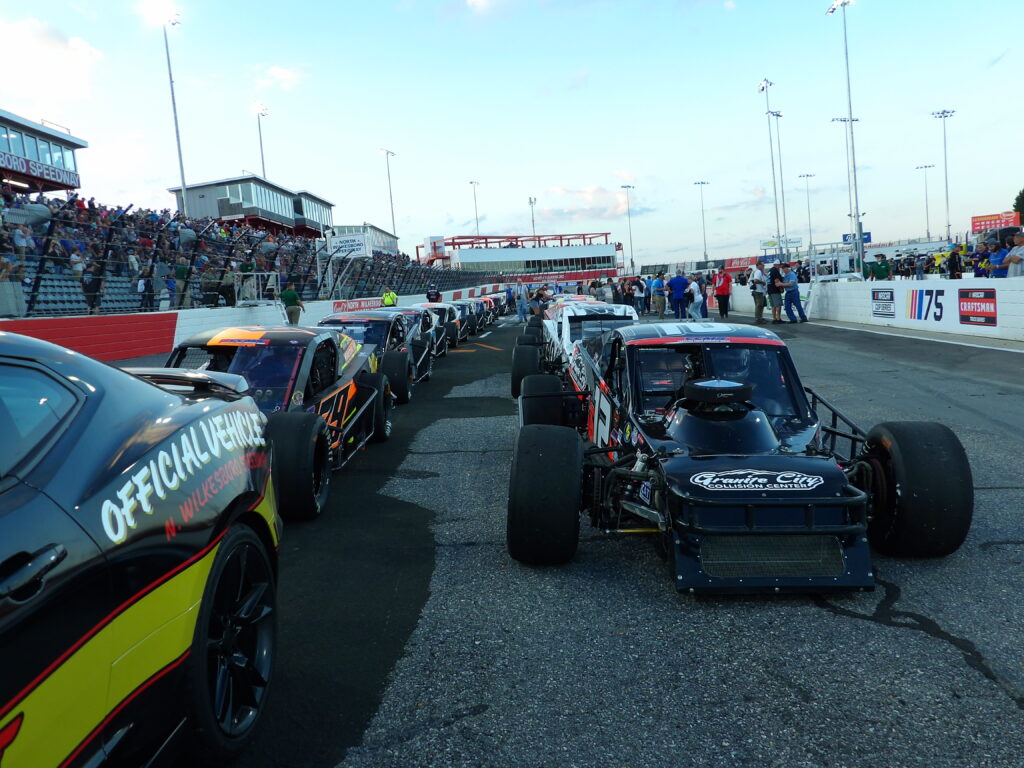 CAROLINA CRATE MODIFIED SERIES CENTRAL LOGISTICS 75
Son of southern Modified legend Burt Myers, # 14M Slate Myers qualifies on pole with a blistering lap of 19.745 seconds. But after a complete redraw of the top fifteen, Jake Crum in the # 12C will start on point followed by the # 79 of veteran Tour Modified driver Eric Goodale, # 40 Chase Lewis, # 9S Gabriel Saavedra, and the # 63 of Josh Lowder, with Myers redrawing the sixth position. Guest flagman Pro Late Model racer Kyle Campbell looks the massive field over, approves what he sees, and we're green at North Wilkesboro! Crum gets the early advantage as Saavedra finds his way around Lewis, with Myers breaking into the top five. Lowder looks back under though, but there's major issues behind in turn one as nearly a dozen cars pile up after the # 33D of Carsten DiGiantomasso gets loose and a chain reaction forms behind. Most of the victims are able to pull away with minimal damage, with drivers like Riley Neal in the # 73H coming in to repair damage. Coming back to the restart will be Crum, Goodale, Saavedra, Lewis, and Myers. Crum jumps out ahead once again but coming out of turn two, Saavedra makes contact with Lewis and another huge pileup ensues, with the # 1 of 2023 champion Dale Ogburn nearly flipping over! After all is said and done, the # 22M of Ricky Moxley, # 35 Troy Bollinger, # 36 Rich Cooper, Ogburn, # 25 Mitchell Wright, # 33 Tanner Young, DiGiantomasso, and # 29 of Matt Caprara all go behind the wall after the two early pileups. Once the lengthy cleanup wraps up, your top five will now be Crum, Goodale, Lowder, Myers, and the # 00 of Kevin Orlando.
It's the same song and dance for Crum as he clears once more, with Orlando getting by Myers. Myers loses another spot right after, this time to the # 77 of Lee Sharpsteen. Now Lowder is able to slide by Goodale, with Orlando following through. The bleeding continues for Goodale, who surrenders another position to Sharpsteen. Lowder looks under Crum for the lead, but Crum slams the door with a little contact, causing tire smoke to fly. The second time's the charm however as Lowder takes the lead. Right as that happens, the # 07 of Jesse Hilger contacts the turns one and two wall hard, bringing the caution out. He's okay, but the car is not, taking him out of the race. Setting up for the next restart will see Lowder line up first followed by Crum, Orlando, Sharpsteen, and Goodale. Lowder gets a fantastic restart, but Crum fights back on the outside. Lowder is just too strong though as Goodale takes fourth, with defending North Wilkesboro winner # 73 Paulie Hartwig III following through. Hartwig keeps his momentum up and passes Goodale, now bringing Sharpsteen along. Myers looks to join the fight but he drifts up high into Goodale and spins coming out of two, bringing the caution out. Myers gets back going, as Lowder will restart first joined by Crum, Orlando, Hartwig III, and Goodale. Crum gets the run on the outside and retakes the top spot, but Lowder crosses over to no avail. Behind, Lewis spins around out of four, with Myers spinning to avoid. It's another quick caution with Crum, Lowder, Orlando, Hartwig III, and Goodale your top five. Crum clears for a split second before Lowder makes the crossover work this time, positioning himself up front. Orlando now gets by Crum as Crum's car seems to be going away. A reemerging Sharpsteen and Hartwig III get by as Crum finally slots into fifth. Hartwig III muscles under Sharpsteen and makes it work for third as Lowder starts to pull away. Crum loses another spot behind, this time to the # 47 of Jaxson Casper. Making his presence known is Neal, as he's somehow found himself in the tenth position. Caution flies once again as Saavedra spins around in turn one. This sets up an interesting dynamic as due to the Whelen Modified Tour having a start time of 8 PM, the Carolina Crates will go under an effective red flag until the conclusion of the Whelen Modifieds.
Once the Crate Modifieds get back going, it's Lowder who continues to lead followed by Orlando, Hartwig III, Sharpsteen, and Casper. Lowder gets a phenomenal launch as Hartwig III makes a little contact with Orlando, allowing Hartwig III to take over second. Sharpsteen follows through as does Casper and Crum, with Orlando's handle starting to go away. Lowder's gap continues to grow, but Saavedra has slowed on track, causing a caution. Lowder will now have to fend off a hungry field behind as Hartwig III lines up second, Sharpsteen third, Casper fourth, and Crum fifth. Hartwig III doesn't get the best of restarts, stacking the field up a bit going into turn one. Most of the field gets it sorted out, but there's trouble up front as Crum gets into Sharpsteen out of two, collecting Orlando as well! They come away with minimal damage, leading to a quickie yellow. Lowder will once again lead followed by Hartwig III, Casper, the # 3 of Blake Barney, and Goodale. Lowder again gets an amazing restart with Goodale taking fourth. Barney looks back under Goodale, but the two make contact heading into three, causing Barney to spin! Another spin, another quick yellow with Lowder up front, Hartwig III second, Casper third, Goodale fourth, and somehow, someway, Neal has found his way into fifth after a very hard fought night. Lowder gets the jump but Hartwig III is there on the outside. He slots into line and gives Lowder a big shove heading into three, now battling side by side on the frontstretch, touching wheels in the process! Hartwig III takes Lowder wide into turn one, taking the lead as the fans go crazy! Casper now grabs second in the shuffle as a myriad of cars spin in between turns one and two including the # 15NC of Paul Hartwig Jr and Orlando. They're fortunately able to fire back off, as the focus turns toward the front. It's now Hartwig III who rolls off first followed by a hungry Casper, a determined Lowder, Goodale, and Neal. Casper gets loose on the outside, allowing Lowder to close in on the restart. Now Lowder dives into one and they both bang wheels! Lowder barely grabs the lead with Casper now moving to second! Casper gives it all he's got, but it's not enough as Lowder grabs the biggest win of his career! After post-race inspection, both Casper and Goodale lose their finishing positions, putting Hartwig III in second after a hard fought battle, the # 12 of Cody Norman with a great third, the # 98 of Billy Gregg with an amazing fourth, and Neal grabs an outstanding fifth after an adventurous day.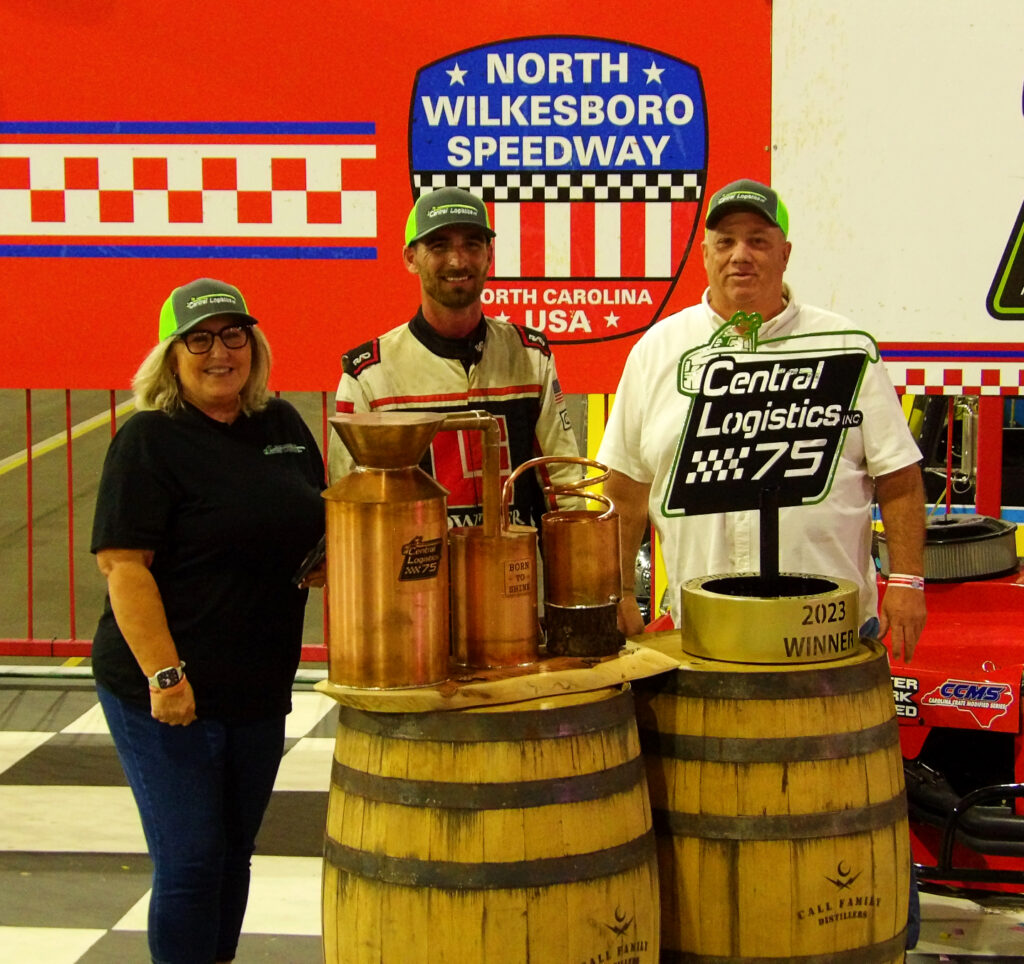 NASCAR WHELEN MODIFIED TOUR BRUSHY MOUNTAIN POWERSPORTS 150
The # 64 of Austin Beers finds himself starting on point after laying down a lap of 18.318 seconds. Starting second will be 'Big Money' Matt Hirschman in the # 60, starting third is the # 14 of Patrick Emerling, starting fourth is points leader Justin Bonsignore in the # 51, and the # 82 of Craig Lutz rounds out the top five. The NASCAR flagman looks over the best Modified racers in the country, gives the thumbs up, and we're green in the Brushy Mountain Powersports 150! Beers takes command early with Justin Bonsignore moving up to third. The # 3 of Jake Johnson has good momentum on the outside and looks to take fifth from Lutz, but can't make it happen just yet. Now Lutz moves by Emerling, then getting by Justin Bonsignore as Lutz looks strong. The first caution flies for the # 77 of Gary Putnam, who has looped his machine in turn four. It's a quick caution though as Beers will restart first, leading Hirschman, Lutz, Justin Bonsignore, and Emerling. Beers clears quickly as Lutz finds his way by Hirschman for second. Behind, it's Doug Coby in the # 7 who moves into fifth. The leaders start to approach lap traffic, one of them being the # 4 of Tim Connolly. And now there's trouble as Coby makes contact with Connolly on the frontstretch, sending Connolly into the wall hard. Connolly is okay as under caution, Hirschman and Justin Bonsignore play some strategy and head down pit road for a tire change. That shakes up the top five a bit with Beers and Lutz still your front row followed by Coby, Cup Series veteran Ryan Newman in the # 39, and Emerling.
Beers gets the launch as Coby gets by Lutz behind. Now second place points runner Ron Silk in the # 16 slides into the top five by Emerling. Both Hirschman and Justin Bonsignore are on the charge, already rolling into the top ten. Lutz starts to fall back now as Newman gets by along with Silk. Silk gets a run on Newman and makes that pass as Hirschman gets by Lutz for fifth with brand new tires. Hirschman is on fire, moving all the way up to second by Coby, who's now under fire from Justin Bonsignore. Justin Bonsignore can't make a move yet as Hirschman takes the lead from Beers. Behind, Burt Myers in the # 1 moves into fifth as behind, Coby spins in turn one! He makes it out with no damage as the caution flies, allowing Beers, Newman, and Silk among others to come down pit road. Under the pit cycle, Lutz has a tire fall off on track! That'll derail his winning chances, as for the restart, it'll be Hirschman, Justin Bonsignore, Myers, the # 04 of Brandon Ward, and the # 70 of Andy Seuss. Hirschman easily clears for the top spot over Justin Bonsignore as Seuss makes major contact with Ward! They somehow avoid wrecking, but it allows the # 22 of Kyle Bonsignore to take away fifth. And now there's trouble as the # 21 of Jacob Perry has spun in between turns three and four. That'll set up another restart with Hirschman lining up first followed by Justin Bonsignore, Myers, Ward, and Kyle Bonsignore. Hirschman again gets a fantastic restart as Bobby Labonte in the # 38 is able to find his away around Kyle Bonsignore. Labonte's teammate Newman is now on the charge, finding his way behind and now around Labonte. He doesn't stop there either, now moving around Ward, Myers, and Justin Bonsignore all in one fell swoop. Another driver with new tires in Beers finds himself in fourth, with Silk now fifth. Up front, it's Newman who takes the lead, taking advantage of his new rubber. Hirschman really needs a caution and gets it as Ken Heagy in the # 18 has come to a crawl. With this caution, the entire field with the exception of Brett Meservey in the # 59 come down pit road with Hirschman winning the race off. Coming to the restart, Meservey starts first accompanied by Hirschman in second, Coby third, Newman fourth, and Silk fifth.
Hirschman makes easy work for the lead as Meservey is eaten up by the field on old tires. Silk is able to move into third with Newman and Emerling behind. Newman and Emerling go to battle, allowing Tyler Rypkema in the # 32 to get by both for fourth, with Emerling slotting into fifth. Labonte impacts the wall hard, bringing the caution out as Labonte will be done for the night. They'll restack once more with the lineup being Hirschman, Coby, Silk, Rypkema, and Emerling. Coby spins the tires a bit, giving Silk second as Hirschman tries to build a gap. Emerling will get by Rypkema, as will Newman, but there's more trouble as Anthony Nocella in the # 92 comes to a stop. Hirschman, Silk, Coby, Emerling, and Newman are your new top five as the green flies again. Hirschman once again gets the jump as Coby takes away second. Silk gets trapped on the outside, allowing Newman to take third. Justin Bonsignore finds his way to fourth now followed by a fantastic run by Andrew Krause in the # 24. Now Krause looks underneath Justin Bonsignore, and the two make contact. Krause nearly spins but saves it. That allows Silk to retake fourth by Justin Bonsignore and the caution is out again, as Perry has spun on the backstretch. This is not what Hirschman wanted to see as he'll be joined on the front row by Coby followed by Newman, Silk, and Justin Bonsignore. Newman nearly makes it three wide but Hirschman slams the door! The field races wildly behind as Silk gets by Newman for third. Up front though it's Hirschman, who has built another big gap with two to go. But there's a caution! Seuss has spun and hit the wall hard in between turns one and two. Hirschman will restart first, Coby looks to rebound in second, Silk looks to make a big move in the points in third, Newman looks to add another North Wilkesboro victory in fourth, and Justin Bonsignore looks to widen his points lead in fifth. Two laps to go. Who takes it?
Hirschman quickly gains the advantage as the entire field is side by side behind. Silk breaks away for second with points rival Justin Bonsignore in third. But it's all about 'Big Money' Matt Hirschman as he takes the big victory at North Wilkesboro! Silk and Bonsignore cross the line second and third followed by Emerling and Eric Goodale in the # 58. Behind them, Coby makes contact with Newman and sets off a frightening crash across the line, collecting numerous cars as J.B. Fortin in the # 34 goes airborne over the top of Rypkema, destroying both cars. Thankfully, everyone is okay. What a pair of races!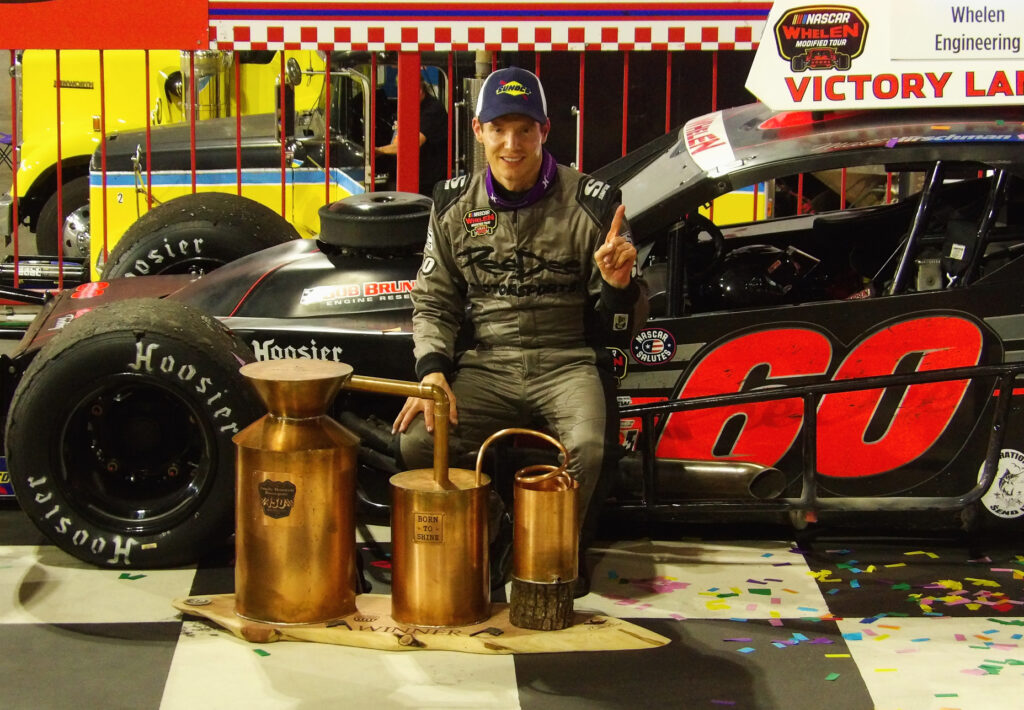 MY TAKE
There was A LOT to love about this event. Besides being historic as the first NASCAR Touring Modified race at North Wilkesboro Speedway under the Whelen banner, it was also the last race run on the surface here since the last repave in 1981. It was also the largest NASCAR Whelen Modified race of the year as far as the competition goes with 39 entrants, and the biggest Carolina Crate Modified Series race in the tour's history with 48 teams showing up to make the field of 36 starters. Simply put, some of the very best Touring Modified drivers in the country came out to this event, and they put on quite the show. Both races came down to the closing laps to decide the winners, keeping the crowd on their feet and vocal all night long.
It's clear that 'Big Money' Matt Hirschman is arguably the one of the best Modified racers of this era, and I'll just say it here, one of the best of all time. And it was also great to see Josh Lowder take the biggest win of his career in a Crate Modified field full of some of the best talent in the country. And in doing so, he and the series took a HUGE step forward for Crate Modified racing in the south. There's no denying it. It was a big day for Southern Modified racing. The battle at the end of that race between Josh Lowder and young Paulie Hartwig lll was nothing short of epic as they traded the lead back and forth to decide the winner. And it was a great testament to the work put in by Keith and Wendi Graham as the nation got to see a great glimpse of their vision for Crate Modified racing in the central east coast region. But the biggest winners were the fans that showed up to witness it all. And at the end of it all, we were left with the huge task this week of picking our Short Track Report Blue Collar Racer Of The Week. An award that recognizes the driver we feel worked the hardest on the track to receive the most gain. And on a night that saw so much hard fought racing between such an immense depth of talent, our conversation to decide it turned quite intense as these decisions tend to be.
In the end however, it landed on three performances that stood out to us. First of those was the performance put on by NASCAR Whelen Modified Tour driver Andrew Krause and the Supreme Racing team. They didn't get the qualifying effort they would have wanted leaving them starting in the 32nd starting spot. But Krause and his team weren't deterred. And in a race that saw some close quarters racing, Andrew Krause used his head as his team used every opportunity to make the car better. And when the checkered flag flew, Andrew took the # 24 machine to a remarkable 7th place finish in one of the smartest, most determined finishes we've seen on the tour all year. Next on our list was a competitor that knows about close, hard nosed racing as he's spent a good portion of his career at famed Bowman Gray Stadium. Nothing comes easy there. Billy Gregg managed to start in the middle of the pack in the Carolina Crate Modified Series feature, but it didn't take him long to find the front portion of the field. He then battled for position through the rest of the feature, gaining and losing spots until the closing laps when he made a spirited march to the front. When it was all said and done, he was credited with a top 5 finish, coming home 4th for the family owned Gregg Racing team.
But as our conversation came to a close, we couldn't ignore the outstanding performance of one driver and team. Making gains in the Carolina Crate Modified Series in this race was an extremely tough affair, and it highlighted the closeness of the competition. That was not only a tribute to the work put in by the series, but by the teams that came to this event. Evenly matched, it made for some great Crate Modified racing where every inch of track was fought for. Riley Neal driving the Hartwig family owned # 73H machine started out with a steep hill to climb, starting 27th in the 36 car field. He then would sustain damage in the first caution of the night, making the hill even steeper. But in his first ever start in the series, Riley Neal raced hard and with a determination that was not hard to miss, and when the dust settled, came home with an impressive top five finish, scored fifth overall. It wasn't a given by any means as Neal spent a good portion of the race locked in a battle with drivers fighting for dominance in the middle of the field, and using a late race stretch to make his run to the front. Congratulations Riley Neal and team for quite the racing performance that earns you this week's Short Track Report Blue Collar Racer Of The Week! And until next time, we'll See You At The Track!
(Race write up by Joshua Weatherman. Intro and My Take written by Billy Weatherman. 2023 Copyright SHORT TRACK REPORT)
Tags
Andrew Krause
,
Andy Seuss
,
Anthony Nocella
,
Austin Beers
,
Billy Gregg
,
Blake Barney
,
Blue Collar Racer Of The Week
,
Bobby Labonte
,
Brandon Ward
,
Brett Meservey
,
Brushy Mountain Powersports 150
,
Burt Myers
,
Carolina Crate Modified Series
,
Carsten DiGiantomasso
,
Central Logistics 75
,
Chase Lewis
,
Cody Norman
,
Craig Lutz
,
Crate Modifieds
,
Dale Ogburn
,
Doug Coby
,
Eric Goodale
,
Gabriel Saavedra
,
Gary Putnam
,
J.B. Fortin
,
Jacob Perry
,
Jake Crum
,
Jake Johnson
,
Jaxson Casper
,
Jesse Hilger
,
Josh Lowder
,
Justin Bonsignore
,
Kevin Orlando
,
Kyle Bonsignore
,
Kyle Campbell
,
Lee Sharpsteen
,
Matt Caprara
,
Matt Hirschman
,
Mitchell Wright
,
Modifieds
,
NASCAR Whelen Modified Tour
,
North Wilkesboro Speedway
,
Patrick Emerling
,
Paul Hartwig Jr.
,
Paulie Hartwig III
,
Rich Cooper
,
Ricky Moxley
,
Riley Neal
,
Ron Silk
,
Ryan Newman
,
Slate Myers
,
Tanner Young
,
Tim Connolly
,
Touring Modifieds
,
Troy Bollinger
,
Tyler Rypkema