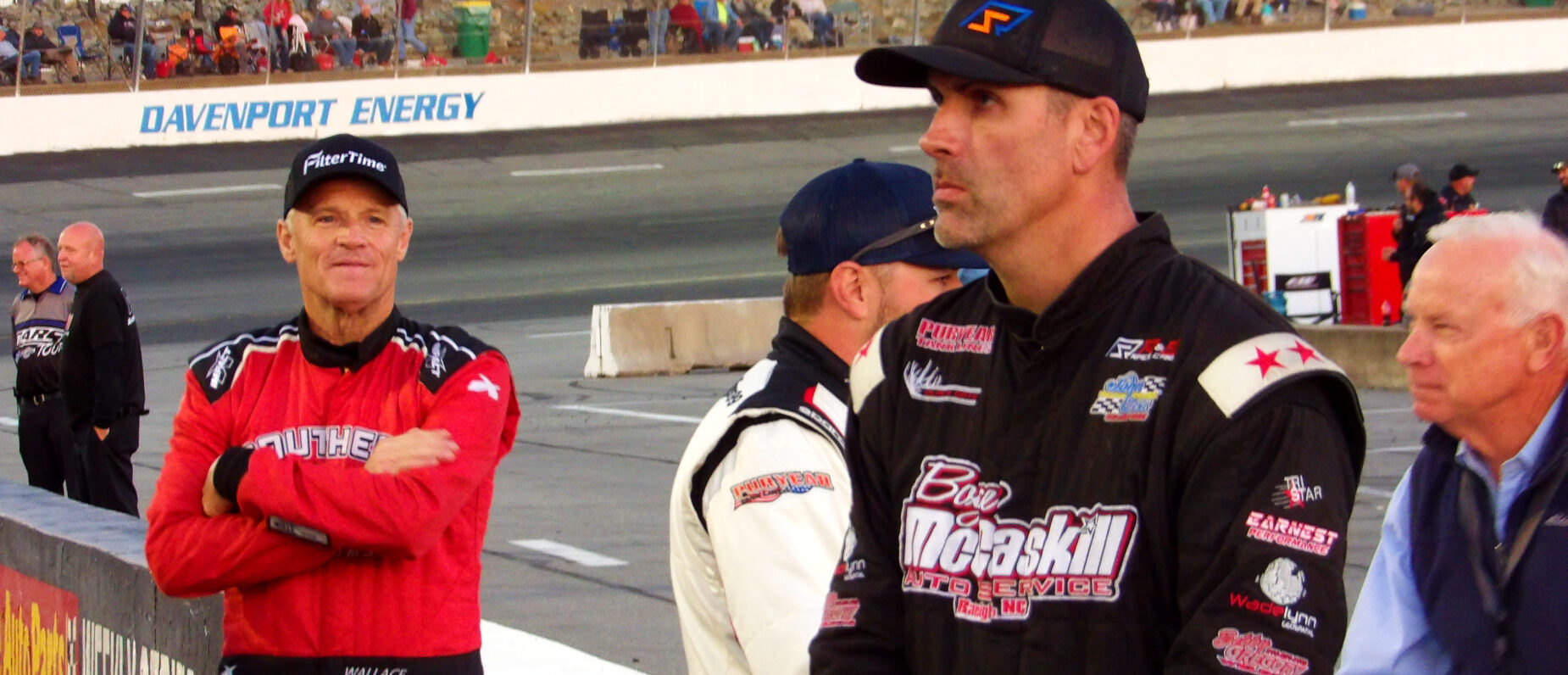 RESPECT IS EARNED NOT GIVEN – The 2023 CARS Tour Autos By Nelson 225 At South Boston Speedway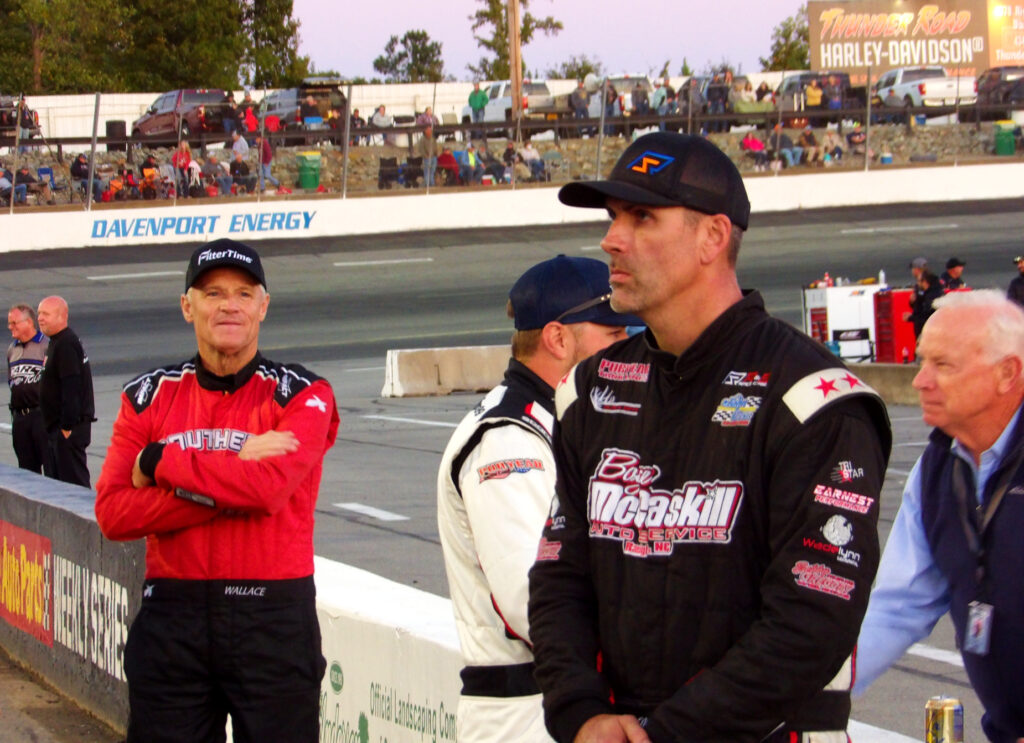 In sports, the way you compete is remembered by your competitors. And despite the notion that respect can be commanded for every individual, in reality, what's true is that respect is earned, not given. And the steeper the competition level rises, the harder it is to earn that respect. It's becoming increasingly known that to get respect on the CARS Tour you have to not only have extreme racing talent, but the intelligence to know when and where to use that talent to the fullest extent. The fact is that the competition on the tour is as high as it's ever been. The tour is becoming a true stepping stone to the very pinnacle of the sport of stock car auto racing. And to those who are paying attention, it's not hard to realize that the young drivers you see racing on the CARS Tour on Saturday at the highest level will also be the drivers you see racing on Sunday in the not so distant future.
And so as the tour prepared to roll into South Boston Speedway again this year at this point of the season, we knew it would do so in high gear in a year that has been more than tremendously exciting thus far. The teams have moved beyond hitting their stride and the drivers at this point of the season are racing for more than just pride and points. It's a guarantee that the intensity will be ramped up, and the way the teams and drivers handle that will more than define their year, but it will start to set the tone for next year. But what is lost on some is that more than that, how they handle racing on this level right now will go a long way on how they will be remembered for some time to come. South Boston Speedway has a way of bringing it all out in the open. And going into the 2023 Autos By Nelson 225, we came here expecting nothing less. We weren't alone in that assumption. The crowd came out in numbers hoping to see another epic race at one of the premier short tracks in the region. Did the racing live up to the hype? Let's take a closer look at this year's CARS Tour Autos By Nelson 225!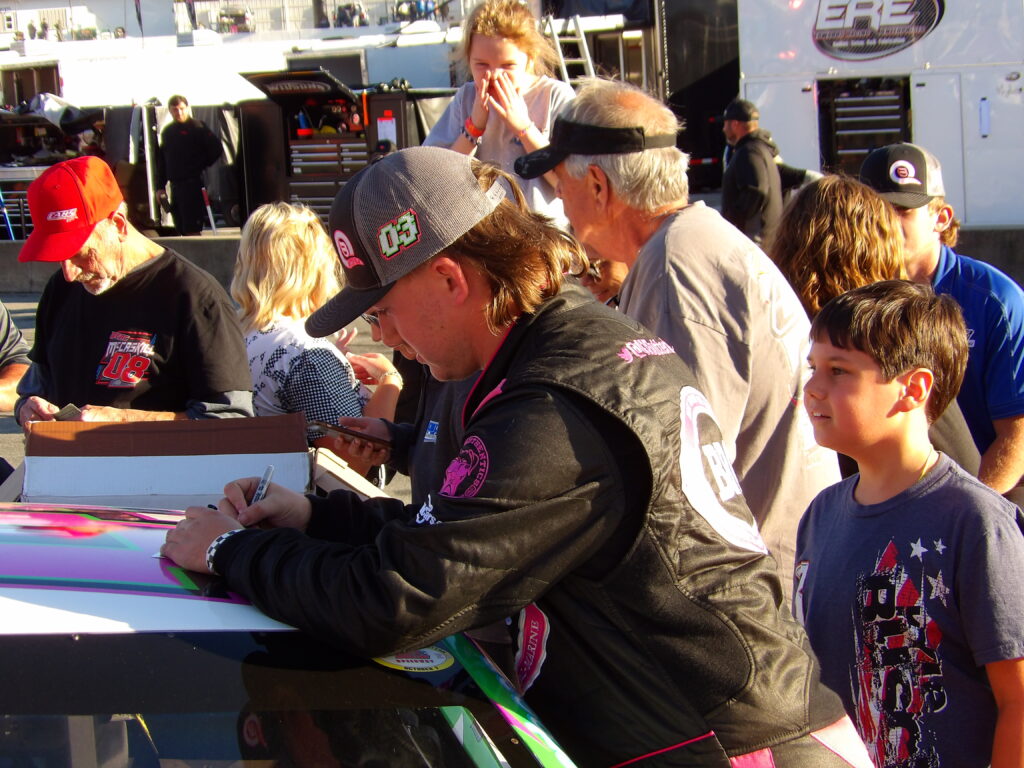 VIRGINIA MINI CUP RACING ASSOCIATION FEATURE
Points leader Tyler Warriner in the # 12 will roll off on the pole for tonight's Virginia Mini Cup feature with the # 11 of Noah Matthews starting alongside in second followed by # 86 Zach Sprouse, # 7 Nate Thomas, and the # 64 of Josh Dillon. CARS Tour flagman Brandon Willard looks over the great field, likes what he sees, and we're green for some Mini Cup action! Warriner gets the jump early but it's not to the liking of the race director, causing the start to be called back. It's a cleaner start this time as Warriner is able to clear and lead lap one. Behind, Zach Sprouse makes his way by Matthews while Dillon loses fifth to the # 97 of Michael Bivens. Bivens now looks to the outside of Thomas as those two engage in a great battle. Thomas hangs on as now the # 22 of John Hager looks to the inside of Bivens heading into turn three and they touch! They both spin along with the # 33 of Harley Hatten and the # 98 of Scott Sprouse as they spin to avoid. Miraculously, nobody sustains damage and all four racers get back going without issue. Lining up for the restart, it'll be Warriner now starting alongside the # 00 of Tyler Roach who takes advantage of the choose rule. Rounding out the top five will be Zach Sprouse, Matthews, and Thomas. Warriner gets another fantastic launch as the inside line freight trains Roach, allowing Dillon to retake fifth. That doesn't last long though as Bivens breaks into the top five by Dillon. Dillon continues to fall as now Bivens is under fire from Hager and Hatten. They're both able to get by and follow that up by passing Thomas as well. But up front, it's all Warriner as he extends his points lead and takes the win. Zach Sprouse comes home second followed by Matthews, Hager, and Hatten.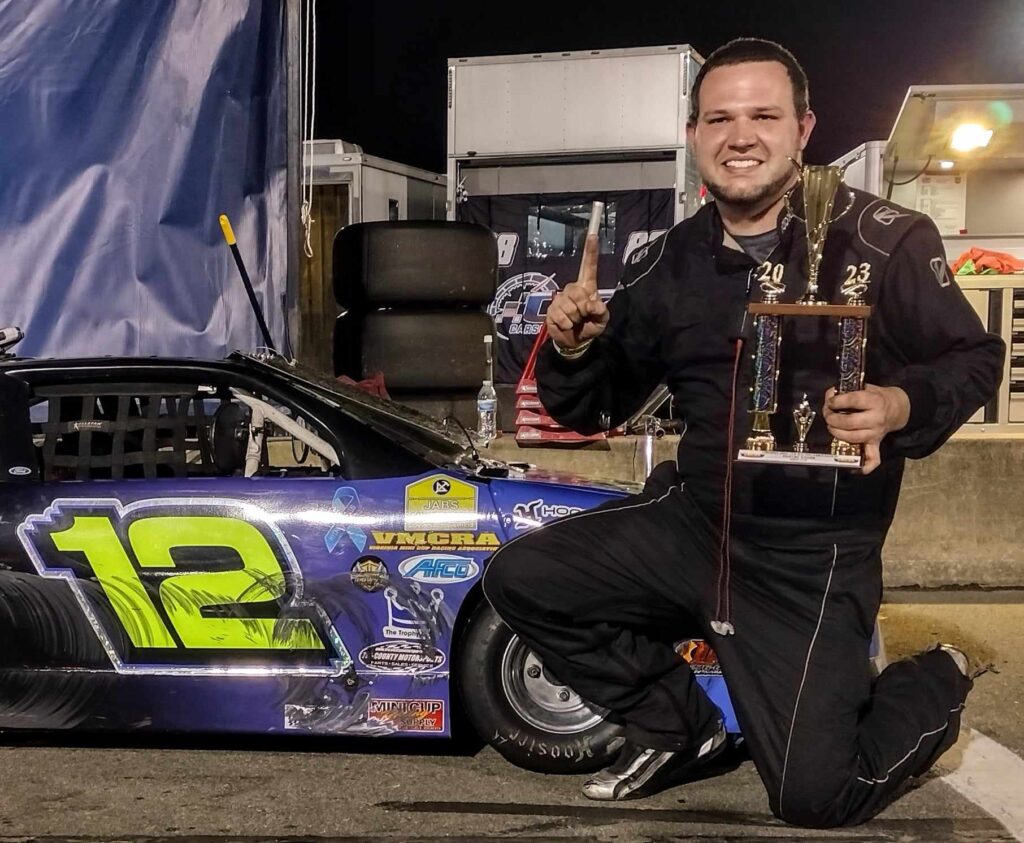 CARS TOUR PRO LATE MODEL FEATURE
With a lap of 14.816 seconds, Nick Loden in the # 43 scores his first career CARS Tour Pro Late Model pole award. Starting beside will be the Wilson Motorsports # 28 of Cole Butcher followed by the # 74 of Ryan Moore, # 96 Caden Kvapil, and the # 13 of Austin MacDonald. Willard looks over the highly competitive field, approves the formation, and we're green! Going into turn one, Loden and Butcher already trade a little paint with Butcher grabbing the top spot. Now Kvapil is on the charge as he gets by Moore and is all over Loden, grabbing that spot as well. Loden is determined though as he dives under Kvapil, but can't make it work for the moment. MacDonald makes a clean pass on Moore and brings the # 81 of Katie Hettinger along with him, kicking Moore to sixth. Loden continues to peek on Kvapil, but Kvapil holds the high ground and makes it work. Meanwhile up front, it's all Cole Butcher as the competition caution flies for the first time tonight. South Boston, while multi-grooved, is a lane sensitive track, so choosing the right line on the restart is key. Butcher picks the outside while Kvapil goes to the inside. Restarting in third will be Loden followed by MacDonald and Hettinger. Butcher gets a huge restart as the # 27W of Kris Wright takes fifth away from Hettinger. Back up front, you can throw a blanket over the top three as they're all nose to tail. Now Kvapil and Loden are in lockstep, side by side but Kvapil again hangs on. It's wash, rinse, and repeat for Kvapil and Loden. Loden will look to the inside, they race side by side for a handful of laps, and Kvapil ulitmately clears. And now the final competition caution flies, setting up a mad dash to the finish. Butcher again picks the high side with Kvapil restarting second, Loden third, MacDonald fourth, and Wright fifth. Butcher again gets a good jump, but it's a little too good as it's called back. But behind, some drivers don't realize the caution is out, resulting in Rusty Skewes in the # 8 spinning into the inside backstretch wall! His night is unfortunately done as it'll be the same top five as before. Who takes the win?
Butcher yet again launches like a rocket, but Kvapil is right there with him along with Loden. But there's a stack up behind, causing George Phillips in the # 6 to spin in turn three. Also as a result of all of the contact, Hettinger's hood flies off, huge implications for the second place runner in points! Phillips gets back going as Hettinger rushes down pit road for a new hood. She barely makes it out before the green as Butcher restarts first followed by Kvapil, Loden, MacDonald, and Wright. Kvapil gives Butcher another run for his money but here comes Loden! He tries the outside this time and it works like a charm, getting by for second and setting his sights on Butcher. And he's there! Loden gives Butcher a bit of a shove, opening the door on the inside. And here comes Kvapil as well as they go three wide for the lead! The crowd is on their feet as Kvapil falls back a few car lengths while Butcher and Loden door slam! Butcher is fast, but Loden's car has truly come to life as he takes the lead! Now Kvapil is to the inside of Butcher, but just can't make it work at the moment. And behind there's trouble! Wright and Aiden King in the # 15B get together in turn one, sending both spinning. That'll set up a dash to the finish with only a handful of laps left. Loden, looking for his first career win starts first. Butcher, in a career year is looking for his second win while in second. Kvapil, the points leader, is looking to extend his points lead even more in third. MacDonald hasn't won since Caraway last year, and is very hungry in fourth. And in fifth is the # 9 of Ashton Higgins, another determined driver looking for his first career win. Willard nervously looks them over, gives the thumbs up, and the green flies! Butcher flies into turn one and washes up into Loden! Loden crosses over and takes it back! Butcher gives Loden a handful of shoves, but it's not enough as the 2021 Carolina Pro Late Model Series champion grabs the checkered! Butcher hangs on in second followed by Kvapil who extends his gap in the points, MacDonald, and a great comeback for Moore in fifth.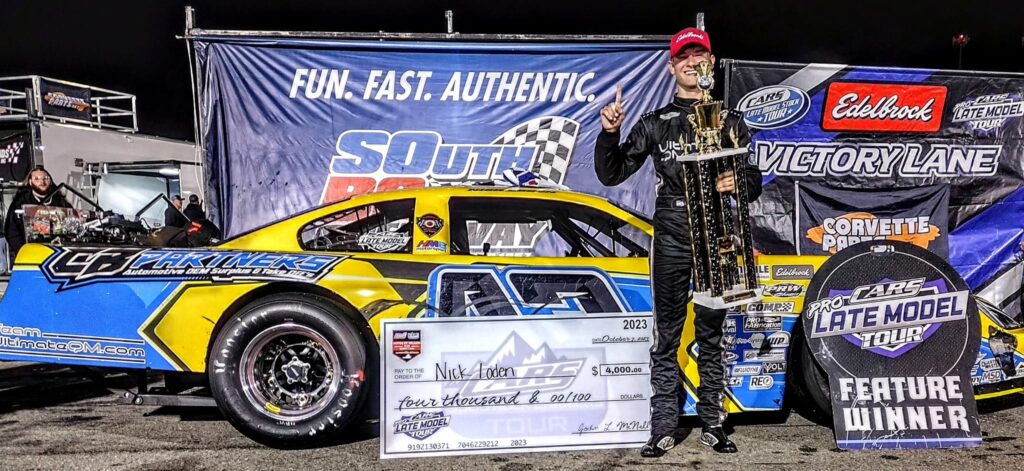 CARS TOUR LATE MODEL STOCK FEATURE
Piloting the familiar Kevin Harvick Incorporated # 62, Layne Riggs puts a hot lap down of 15.086 seconds, taking the pole award at the venue where he won last year's track championship. Starting in second will be seasoned veteran Deac McCaskill in the # 08, points leader Carson Kvapil in the # 8 will start third, Chad McCumbee in the # 16 puts in a great qualifying effort to start fourth, and the # 6 of Thunder Road Harley-Davidson 200 winner Bobby McCarty rounds out the top five. Willard looks over the strong 29 car field, gives the lineup his approval, and we're racing at South Boston! Riggs and McCaskill are in a dead heat for the top spot, but it's McCaskill who clears on the top side. Behind, both McCumbee and McCarty find their way around Kvapil, sending Kvapil to fifth. McCarty is on a roll as he now passes McCumbee while Riggs is breathing down McCaskill's neck. McCarty breaks that up though, diving down underneath Riggs and claiming second. McCarty takes a turn at McCaskill, but the caution flies for a crash on the frontstretch involving Mini Tyrrell in the # 81 and Stacy Puryear in the # 17. Both are unfortunately done for the evening. Lining up for the restart will be McCaskill who picks the outside, McCarty, Riggs, McCumbee, and Kvapil. McCarty sticks like a thorn on McCaskill's inside, but the # 08 machine is just too strong on the outside and clears for the top spot. Behind, Brenden Queen in the # 03 finds himself in fifth. McCarty again puts his nose under McCaskill, but it's not enough as the South Boston high line is very strong tonight. Queen makes up another position by McCumbee as McCaskill starts to build a gap between he and McCarty. But the gap is erased as Blake Stallings in the # 77S gets together with the # 20 of Josh Dickens in turn two, sending Stallings around. Stallings fires back up but Dickens is not as lucky as a left rear tire has let go on his machine. Dickens gets back out before the restart, but he'll have a long road to run restarting in the rear. McCaskill, McCarty, Riggs, Queen, and McCumbee are your top five heading into the next restart.
McCaskill gets a fantastic restart and is able to fend off another short challenge from McCarty. Riggs now looks to the outside of McCarty as it's starting to look like the Pro Late Model race with the top three under a blanket. Riggs finally clears McCarty after a hard battle while Riggs starts to plan out his move for the race lead. McCarty is just too determined though as he dives under Riggs, now bringing Queen and McCumbee into the fight. Despite all drivers being in this pack, there is hardly, if any contact made between these competitors. Riggs finally wiggles his way out of the fight to keep second as the competition caution flies. McCaskill remains the leader on the restart followed by Riggs, McCarty, Queen, and McCumbee. McCaskill clears as the field scrambles behind. And here comes Kvapil as he gets by both McCumbee and Queen. Kvapil slots into fourth as Riggs starts to battle McCaskill once again on the low side. Behind, Ronnie Bassett Jr in the # 04 gets into the back of the # 44 of Conner Jones and spins him around in turn two, as Stallings spins to avoid. Jones is none too happy as he tracks Bassett Jr down under caution and swerves at him. He speeds up for more retaliation, but thinks better of it as the fans are letting their opinions be known. Lining up for the restart after the choose will be McCaskill, Riggs, McCarty, Kvapil, and Queen. Riggs gives McCaskill a hard fight, but McCaskill clears again as McCarty and Kvapil battle hard. Smoke flies however as Mason Diaz in the # 24 makes contact with the # 25 of Jacob Borst, sending Borst spinning into the inside frontstretch wall. Borst showcases his displeasure and gives Diaz a gesture on track as we're back under caution.
Another caution means another restart as McCaskill will stick to the outside again followed by a hungry Riggs, McCarty, Kvapil, and Queen. McCaskill clears quickly this time as the middle of the field behind beat and bang lap after lap. One of those in the middle of that is Dickens, who somehow has made his way into the top fifteen after his troubles. Back up front, Kvapil falls back to sixth, losing spots to Queen and the # 15 of Ryan Millington. For the lead, Riggs continues to dive under McCaskill, but little contact is made as both of these drivers have immense respect for each other. Kvapil looks back under Millington with the # 22 of Landon Huffman entering the picture as well. As McCaskill and Riggs duel for the win, the battle between third to seventh turns into an all out war as it looks like a scene out of Talladega. Kvapil makes his way around Millington, as does Huffman. But up front, Riggs is right there on McCaskill, waiting for any mistake to be made. Riggs drives it in hard, but it's not enough as McCaskill wins at South Boston! Riggs grabs second followed by McCarty, Queen, and Kvapil.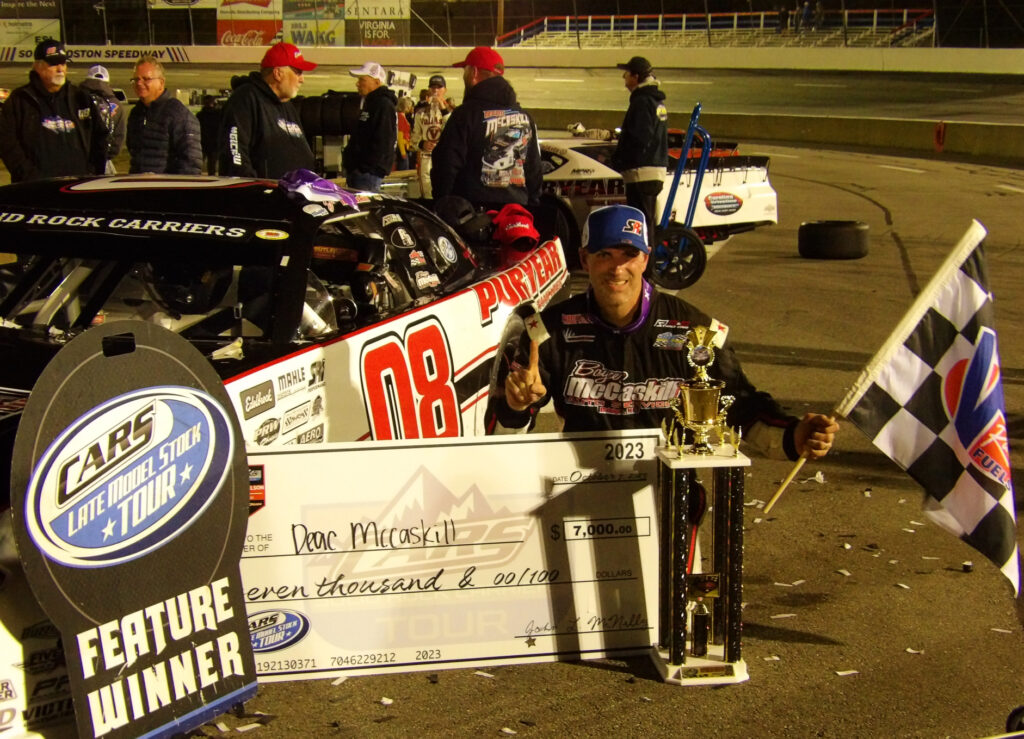 MY TAKE
This event was highlighted by three battles that featured something that's becoming increasingly rare in today's sports. Respect. The battle to decide the winner of the Late Model Stock race between Deac McCaskill and Layne Riggs was especially exciting for the fans, but on an even deeper level, it was good for the sport itself. We are completely aware that through our coverage since our inception, we've highlighted the youth in the sport. But how can we not? We made an oath to call it as we see it and the new generation of drivers is better than a lot of people want to give them credit for. I mean let's face it. As far as talent goes, the future of the sport of stock car racing is very bright. But to those who've been paying attention, there are guys from my generation that are still going a long way in helping to make them better racers. One of those guys is Deac McCaskill. In an era when the norm was to start racing at a later age, Deac began his racing career in earnest at the age of twelve at Wake County Speedway. It took him only six races at 'America's Favorite Bullring' to find victory lane. That was in the late 1990's. Eventually becoming the CARS Tour Late Model Stock Champion in 2016, Deac McCaskill is still winning races on the tour today.
But besides being known as a winner, it's how he races and wins that sticks in the mind of his competitors. As me and my son Josh started to break down this thrilling race and took a closer look at the battle between McCaskill and Riggs to decide it, Josh made a comment that if it'd been any one else that Riggs was racing against, it might have turned out a bit different. He was right. It's not that Layne didn't try every lane or make his best effort to root McCaskill out of the lead because he did those things. What he didn't do was put Deac McCaskill in jeopardy. I replied to Josh with just one word. Respect. We watched Deac McCaskill in the same situation two years ago at Orange County Speedway going for $30,000 against now soon to be NASCAR Cup driver Josh Berry. After the race someone asked him if he might should've did more to win it, and Deac said, "I don't race like that." Respect. The great ones in the sport go by a motto. "I'll drive every driver the same way that they drive me." Deac McCaskill has earned the reputation of being one of if not the cleanest drivers in all of short track racing. And if you think that the other drivers in the sport don't respect that, just ask Layne Riggs about it. He did everything he could to beat McCaskill but wreck him because the simple truth is, he deserved nothing less than that.
Behind them was an even more intense battle if you can believe it as no less than 5 cars went for the final podium position. Bumper to bumper and fender to fender, Bobby McCarty, Brenden Queen, Carson Kvapil, Landon Huffman, and Ryan Millington battled for third coming down the stretch and it was nothing short of epic. They leaned on each other as hard as you could imagine, coming across the line under a blanket. Every one of those guys did everything they could but wreck each other. Respect. A true testament to the talent on this tour. It makes our Short Track Report Blue Collar Racer Of The Week choices every time we cover them a tremendously intense debate. And though respect was a running theme this week, so was extremely hard racing on the track. Nick Loden was the perfect example of that. He took the pole for the Pro Late Model feature, but he spent that race earning the respect of his competitors as he became locked in a tremendous battle with Cole Butcher and Caden Kvapil. In the end he wouldn't be denied, taking the victory in memorable fashion, sealing the deal in the closing laps as the intensity rose. And in the Late Model Stock feature, Landon Huffman once again showed he is one of the most improved drivers in all of Late Model Stock racing as he took his machine from a sixteenth place starting position to a sixth place finish after battling most of the race just trying to break into the top ten.
In the end however, in the middle of a number of great performances, one stood out to us for the tremendous amount of work it took to pull it off. We try to state as often as possible that our Blue Collar Award is not a hard charger spotlight. It's our way of paying tribute to the driver we feel worked the hardest to achieve the most gain in a race. And this week it comes down to a driver that's only made a handful of starts on the tour. But this week we learned a lot about him and his team's tenacity. Josh Dickens probably wasn't too happy about his 27th place qualifying effort. But what we're sure of is that he was less happy about getting caught up in an on track incident early in the race that left him with just a bit of body damage, but even worse, a flat left rear to boot. That left him having to come down pit road to the care of his team and restarting again near the rear of the field. He then however spent the rest of the race battling through the field in an effort to match the work his team put in to keep him in the fray. When the dust settled, Dickens found himself with sight of a top ten, crossing the line in fourteenth position and in the middle of a pack of eager combatants, and on a tour that makes you fight for every inch of track. Congratulations Josh Dickens and team on a hard fought performance that we couldn't ignore for Short Track Report's Blue Collar Racer Of The Week! And until next time, See You At The Track!
(Race write up by Joshua Weatherman. Intro and My Take written by Billy Weatherman. 2023 Copyright SHORT TRACK REPORT)
Tags
Aiden King
,
Ashton Higgins
,
Austin MacDonald
,
Blake Stallings
,
Blue Collar Racer
,
Blue Collar Racer Of The Week
,
Bobby McCarty
,
Brandon Willard
,
Brenden Queen
,
Caden Kvapil
,
CARS Tour
,
Carson Kvapil
,
Chad McCumbee
,
Cole Butcher
,
Conner Jones
,
Deac McCaskill
,
George Phillips
,
Harley Hatten
,
Jacob Borst
,
John Hager
,
Josh Dickens
,
Josh Dillon
,
Katie Hettinger
,
Kevin Harvick Incorporated
,
Kris Wright
,
Landon Huffman
,
Late Model Stocks
,
Layne Riggs
,
Mason Diaz
,
Michael Bivens
,
Mini Cups
,
Mini Tyrrell
,
Nate Thomas
,
Nick Loden
,
Noah Matthews
,
Pro Late Models
,
Ronnie Bassett Jr.
,
Rusty Skewes
,
Ryan Millington
,
Ryan Moore
,
Scott Sprouse
,
South Boston
,
South Boston Speedway
,
Stacy Puryear
,
Tyler Roach
,
Tyler Warriner
,
Virginia Mini Cup Racing Association
,
VMCRA
,
Wilson Motorsports
,
Zach Sprouse