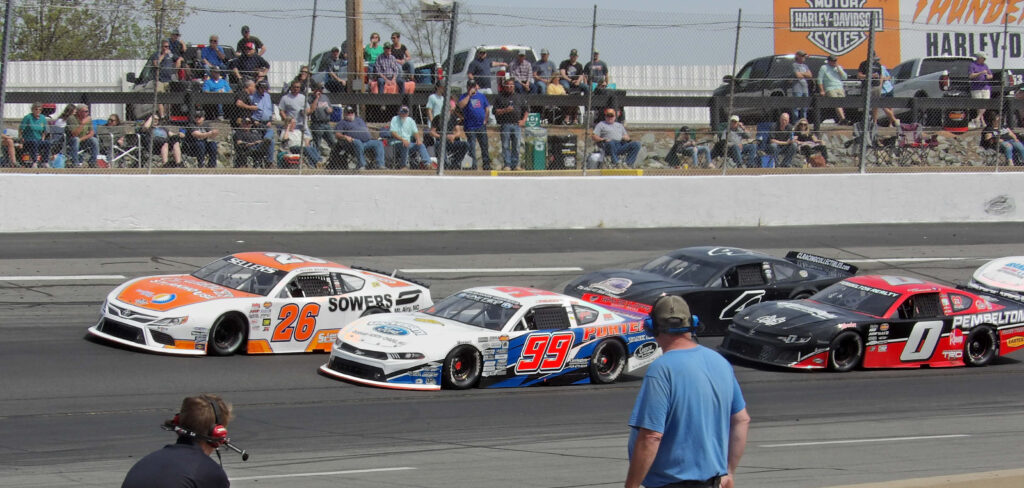 There are the rare cases when things, and in this case, places, become better with time. And where others become run down and worn, while others yet weathered but with character, some places seem to welcome age, and use it as a chance to become experienced and settled. Continuously improving, but with a steady grace the knowledge of a purposed life brings. Like a rare jewel that shines in it's ever perfecting glimmer brought about by the sands of time itself. A place like that can be where you find yourself in the middle of pursuing greatness, like a crossroads in the midst of destiny when you take the time to look around to see where the roads have taken you. So it was probably owed to destiny that after our previous engagement fell through for Saturday April 16, we found ourselves headed in the opposite direction to see a team and it's driver chase history amidst a driver and his team chasing a bit of history of their own. And in the acts of achieving their quest, we landed on their battlefield at what could be a pivotal moment for the two. They couldn't have picked a more fitting place for it, nor could we have found ourselves with a better viewpoint of this crucial crossing.
In 1960, as South Boston was becoming an independent city, South Boston Speedway had it's first NASCAR sanctioned race on April 16. A modified race won by Baltimore, Maryland's Johnny Roberts. And we feel it may be more than irony that sees us here at South Boston Speedway on April 16, 2022 to witness two of the best Late Model drivers in the country battle it out for a NASCAR Advance Auto Parts Weekly Racing Series title at South Boston, with even greater aspirations for a 2022 NASCAR National Championship. We were in for an amazing day of hard fought racing that we couldn't help but think was meant to be as it all unfolded. The invocation was given, and the National Anthem performed. The crowd was ready and excited on what turned out to be an absolutely gorgeous day, so Let's Go Racin'!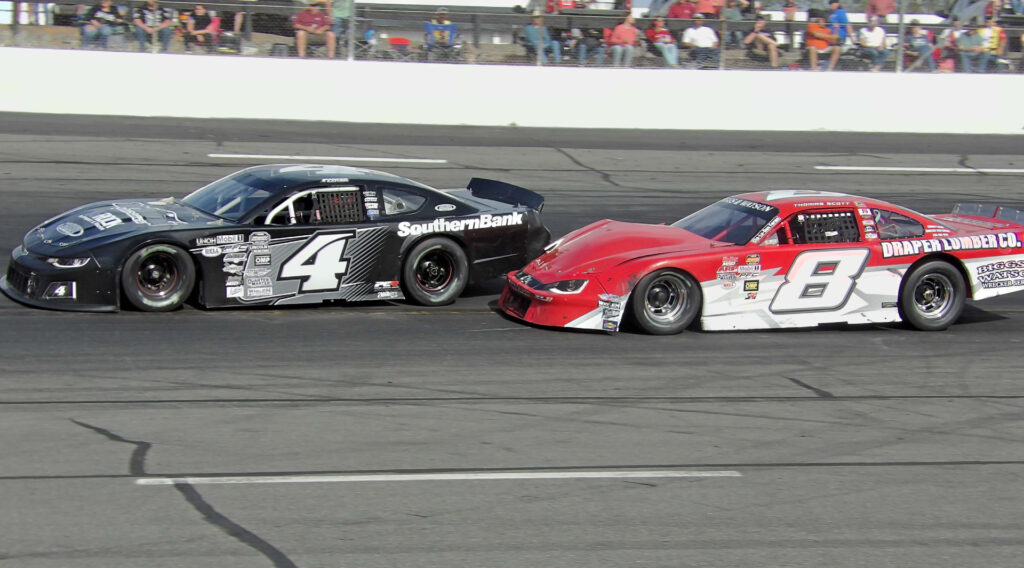 To start the day, in the Southside Disposal Pure Stocks, # 9 Johnny Layne easily takes the win in the first 15 lap event going away from the field. And in the second, it looked as if Layne would make it a sweep, but mechanical problems on the last lap would end up benefiting the # 11 of B.J. Reaves, as he brings his machine home to victory in the second race in the popular division. In the always wild Hornet division, # 50 Kendall Milam, son of South Boston veteran Jarrett Milam, scored an emotional victory. Just four days after losing his grandmother, Milam laid it all on the line and took to the track with a goal and determination, scoring a statement win, and defeating all of the usual hard hitting Hornet front runners in the process, and giving the family and team a win they'll never forget.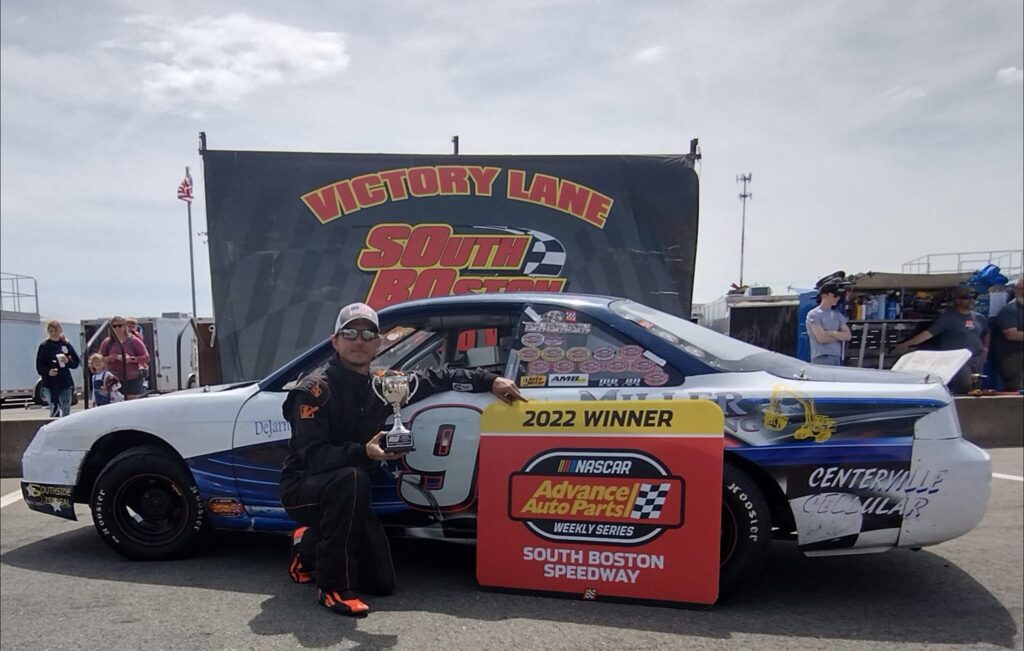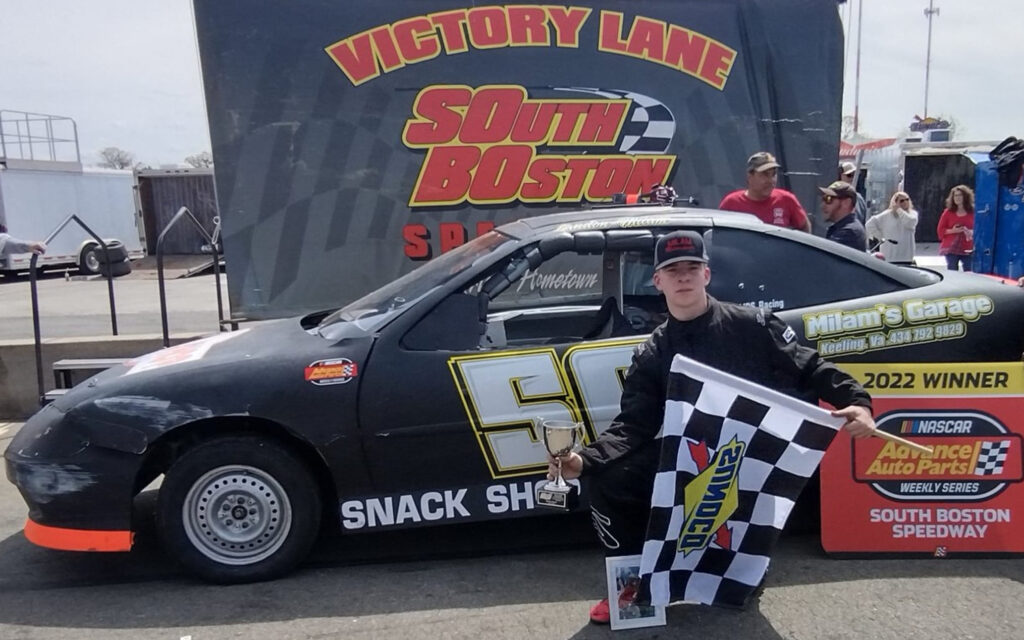 And as the crowd was processing all that emotion from the Milam's celebration of life in victory lane, the Budweiser Limited Sportsman division were preparing to do battle. And they proceeded to carry the crowd's emotions to an intense battle of will and ultimately attrition. In the end however, # 00 Kyle Barnes would outlast # 98 J.D. Eversole as half of the field would succumb to trouble. It was amazing to see these guys go at it from my point of view, as these guys challenged each other every step of the way. The fans were treated with an emotional roller coaster, and that included more than just this race. With Milam's emotional win, and the dogfight that followed in the Sportsman race, the crowd was also treated to a game of high speed chess of sorts in the feature events.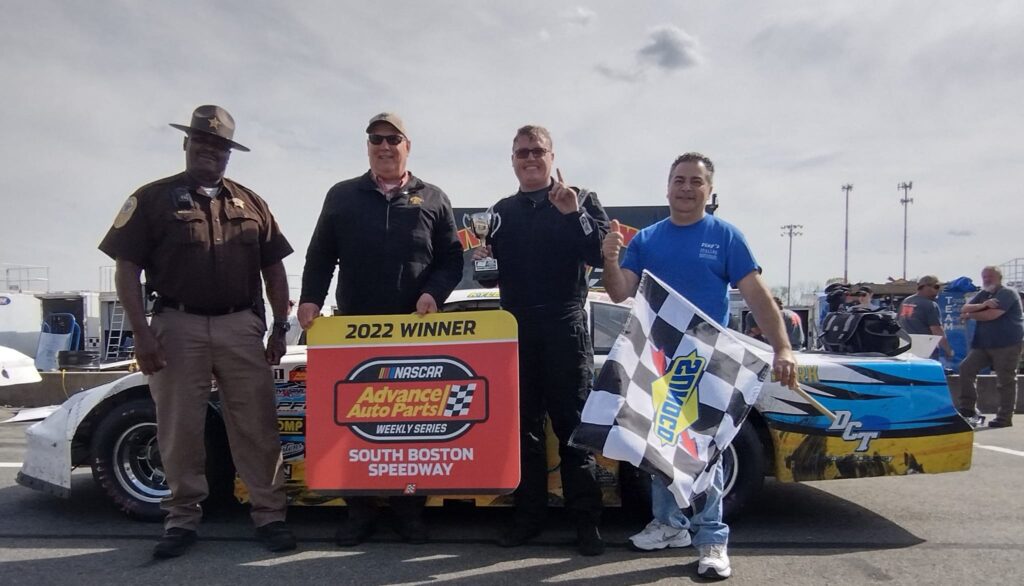 In a not uncommon sight, # 26 Peyton Sellers would start up front for the first of two Late Model Stock 75 lap Features. Layne Riggs' # 99 machine would start just outside the top ten again as he's gone three in a row in the division to start the season. Sellers would dominate the race from the beginning, leading the most laps and keeping his car clean up front. But in the waning stages, Riggs worked himself into prime position behind Sellers. And on the last lap, going into turns three and four, Riggs would make his move. In so doing, he makes contact with Sellers, and then once again as he moves alongside, sending Sellers up the track and giving Riggs his fourth win in a row, and bringing the crowd to their feet in a surge of emotion at the exciting finish.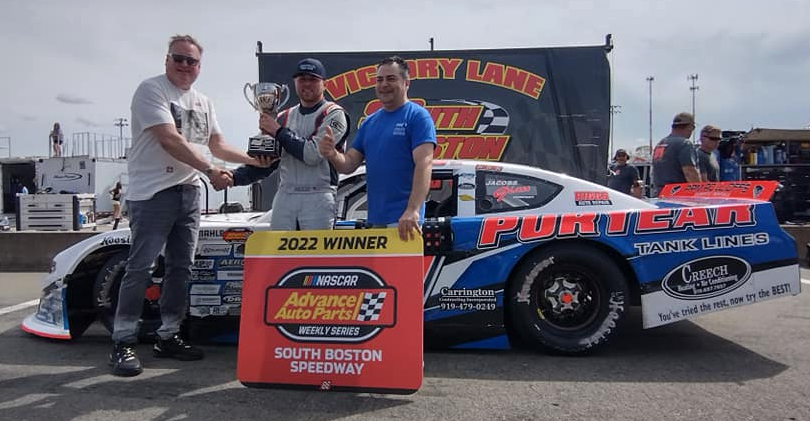 When the second race came around, it was the same song and dance with Sellers in first, but again with Riggs coming through the field, and in the closing stages, finding himself yet again in prime position in second as the final laps commenced. The crowd is again on their feet, but there would be a different result this time as Riggs just couldn't capitalize on Sellers. He took his shot however, even getting his nose just inside as he did in race one. But Peyton turns it up a bit this time, allowing the iconic # 26 machine to break Riggs' impressive streak and visit victory lane at South Boston for the first time this season.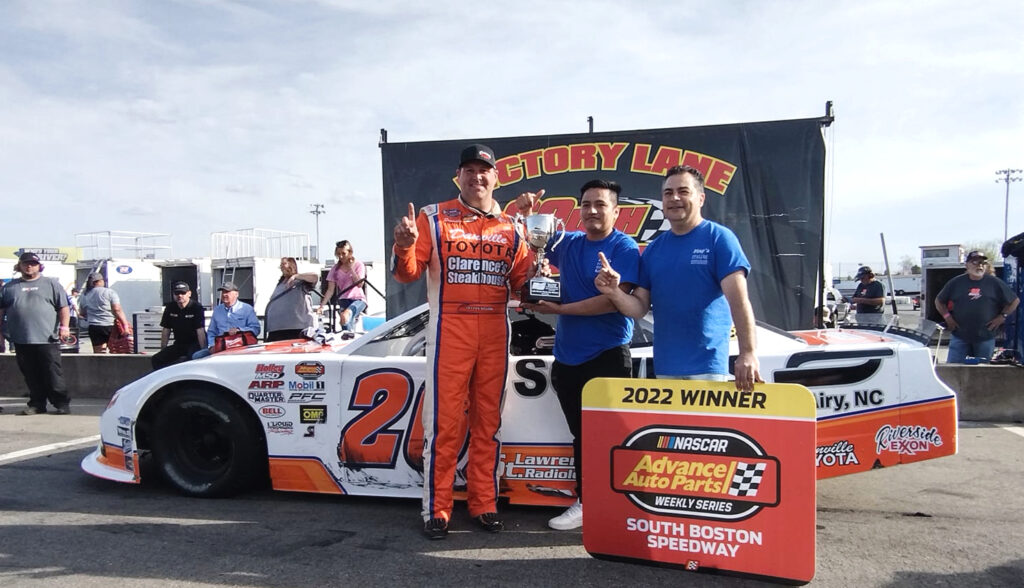 MY TAKE
There's no understatement in saying that South Boston Speedway is a showcase of a track. The fans in this area have dedicated and passionate track owners in the Mattioli family. A family that knows a thing or two about professional track management on a huge scale. But it's clear that they do what they do out of the love for racing. South Boston Speedway then is a speedway with the future in mind, not only for a great fan experience, but down to the track surface itself. Every detail is considered here. And so it's only fitting that this year, on April 16, the very anniversary of the tracks very first NASCAR sanctioned event, that we would be at the track for what we feel could be a pivotal moment in the battle of supremacy in the NASCAR sanctioned Late Model division. You see, as Layne Riggs was in the middle of a quest to win the most ever back to back wins at the speedway with 4 in a row to start the 2022 season, he roughed up Peyton Sellers to get that fourth straight win. In the last corner of the first 75 lap Late Model feature, Riggs used his front bumper to nudge Sellers up so he could get inside, then he doored him for good measure, and Sellers couldn't recover, finding himself in the marbles, and on the other side of yet another Layne Riggs win.
But before the second feature for the Late Models, Sellers came over to Riggs while the second Pure Stock winner was celebrating in victory lane, and everyone's attention was focused there. And while everyone was distracted, Sellers motioned Riggs where no one else could hear, or at least where he thought no one else was listening, and he talked about the ending of the first race. He did it without any fan fare. He did it in a way that it was just him and Riggs. No yelling, no fussing. But, trust me when I say that the message from both were clear to each other. It went unnoticed by most. But, we know it's importance. These drivers looked each other in the eye, and it was clear that messages were sent. In that race, Sellers broke Riggs' winning streak. But, Riggs for his credit did the same thing he did in the first race, except, there was no contact. Whether that was because Layne Riggs washed up, or because Sellers found that extra something coming off the corner, or for whatever reason, this time there was no contact. But there was a different winner.
In the American Revolution there were many reasons that the American rebels were triumphant over the British. But what is often overlooked is the true turning point in the war that led to America's freedom from the crown. General Cornwallis had won battles all along areas in what is now the central east coast region of the country, and found himself in pursuit of America's General Greene. But at Boyd's Ferry, what is now South Boston, Virginia, Greene made a crossing of the Dan River that would leave Cornwallis over extended, and he eventually wore the British General down, becoming obvious at the Battle Of Guilford Courthouse in Greensboro, North Carolina. But it was the crossing of the river in South Boston that truly was the beginning of the end of victories for the Crown in America. And one can only wonder if Sellers and Riggs had a similar moment in the battle for crowns in the east coast short track racing world. Only time will tell, but we find it interesting that we watched this all go down on April 16, in South Boston, Virginia at South Boston Speedway, The Jewel Of The Commonwealth. 'Till next time, See You At The Track!