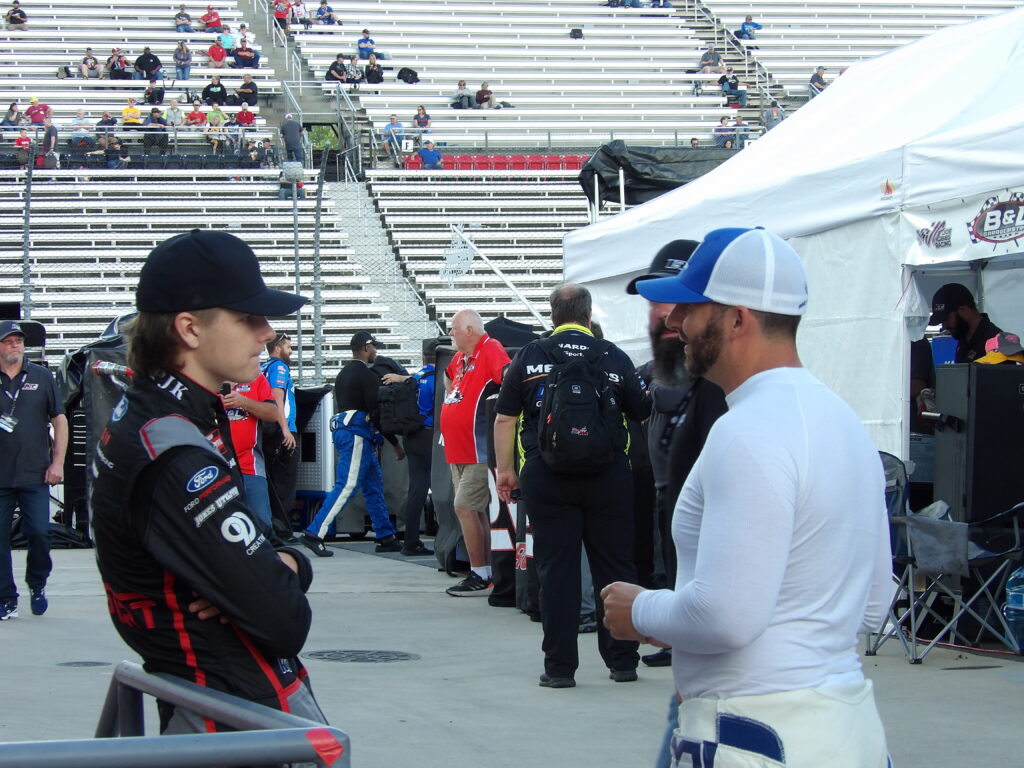 Just a couple of years ago we briefly met a kid named Conner Jones at Orange County Speedway in Rougemont, North Carolina. He was driving for Mike Darne on the CARS Tour in a Late Model Stock. We were there for our first official short track racing news coverage event covering the Carolina Pro Late Model Series, but as fate would have it, the Carolina Pro Series weekend race date was cancelled and rescheduled for the next day which also happened to be the date for the CARS Tour Late Model Stock event. And so there we were, as fate often does, not only covering the best developmental tour in the region in the Carolina Pro Late Model Series, but also covering the most competitive Series in our region practically by default in our first father-son outing as a coverage team. The Carolina Pro Late Model Series was first on our list because of what we knew to be true, and what we wanted to focus our reporting on from the very beginning that, tomorrow's NASCAR stars are running right now at your local short tracks. Running in the series at the time were young and aspiring Late Model drivers learning their craft on a low cost touring series that is structured specifically to help a young driver develop his skills. And at the time those young drivers were William Sawalich, Leland Honeyman, Caden Kvapil, Nick Loden, and Kyle Campbell among others, driving against veterans Josh Lowder and occasionally Dylan Ward from the Ward racing family, a name synonymous with Late Model racing.
And so as we were focused on coverage for the Carolina Pros, fate threw us a bonus, and we were very fortunate to be able to get our first up close look at the most competitive Late Model Series in the region. And what we found was a Tour with open arms who greeted us both professionally and courteously, and not only allowed us to take that up close look into the workings of the Tour, they encouraged it. And since that time we've not only gotten to meet their drivers and teams, we have watched them develop over the past few seasons. And we couldn't have seen how things would progress over the next couple seasons, but even we have been surprised by the growth of what was already the biggest and baddest Tour in the central east coast. A growth that has allowed it's drivers and teams even more opportunity as well, even so far as to lead to the new ownership team of Dale Earnhardt Jr., Jeff Burton, Kevin Harvick, and Justin Marks. A current Hall Of Famer, two future Hall Of Famers, a Hall Of Fame nominee, and an elite owner already on the Cup Series side of the sport. But, what we did know already by what the Tour was at the time, was that drivers come to this tour because it is the most competitive. And they know that to be the best, and be recognized as such, you had to beat the best. And in doing so, get the attention from the most elite in the sport of stock car racing. And again, one of those drivers was a young Conner Jones from Fredericksburg, Virginia.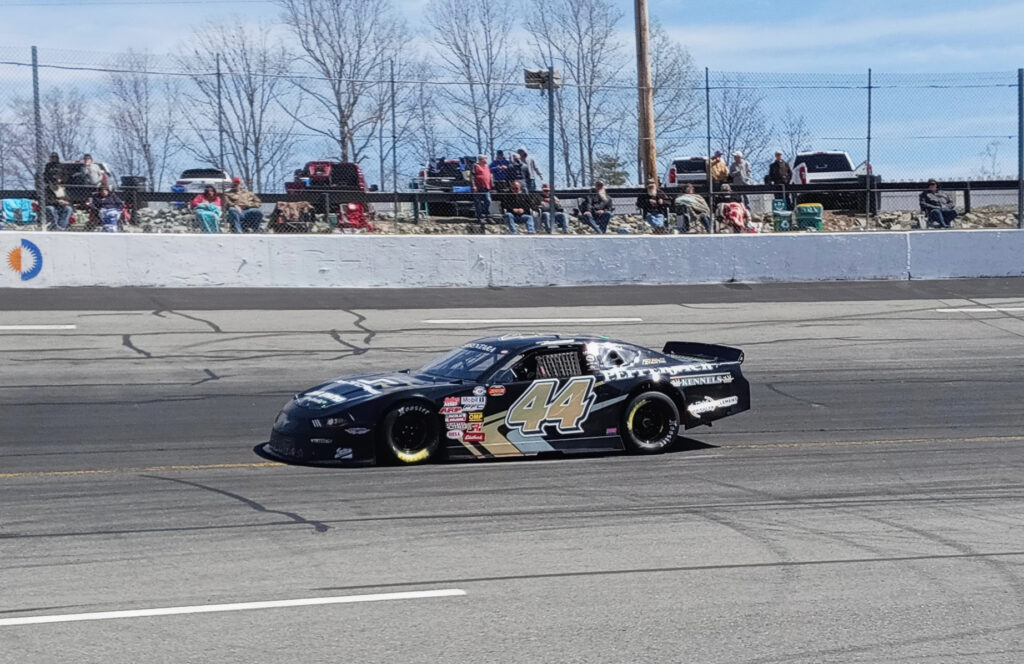 Many would've said that when we got to Martinsville Speedway this past weekend that it would be highly unlikely that we would also see Conner Jones there as well, and especially if they would have been asked that fateful day two years ago. In his third start on the Tour he spun early in the event, but already showing fortitude, he still managed to come away with a fourteenth place finish. Not too bad for a kid in his early teens. But to be perfectly honest, the next year and a half were not that kind to Conner Jones on the Tour. At one point we even heard a comment from the stands directed at the young driver that stood out, "Kid's a wrecking ball." Now of course we didn't totally agree with that statement, but to some Conner seemed to be struggling a bit, even after he signed to drive for JR Motorsports for a good portion of a season. Conner was being tested like this Tour will do to any young driver looking to make a name on the Tour, because the drivers there require that you earn your way. Your name, your money, none of that means anything to those competitors. It comes down simply to your abilities on the track. And they will test each and every one of them. They know where to put you on any given track to put you at a disadvantage, and they know every piece of a fender to bend. And all of this may not even be obvious to a young driver just trying to find his way. But somewhere between Conner Jones signing with Justin Johnson's Racing development team that evolved into Jones driving the R&S house car, Conner Jones figured it out leading to his first CARS Tour win at our home track at Tri-County Speedway in September 2022, and he's been a contender ever since. He's run one race on the Tour this year at Florence Motor Speedway garnering a fourth place finish. He also has a top five finish in the ARCA Menards Series finishing fifth at Iowa for Venturini Motorsports in 2022, and most recently taking home a top 20 in his first ever Craftsman Truck Series start this past weekend at Martinsville driving the # 66 ThorSport Racing entry, finishing eighteenth. Conner Jones is proving that he is indeed a focused student of the sport who thrives when placed in the most challenging positions. A trait that will serve the young driver well as he gets his feet wet in the elite divisions in the sport of stock car racing and in life in anything he chooses to do going forward.
Conner joins a group of drivers we have been fortunate enough to see grow on the CARS Tour, propelling them as we have said all along since our beginnings, into the upper echelon of NASCAR's top three premier series. Josh Berry, William Sawalich, Layne Riggs, Tyler Ankrum, Corey Heim, Christian Eckes, Sam Mayer, Ty Gibbs, Jonathan Shafer, and Kaden Honeycutt among others, have used the CARS Tour to up their game in the sport. Only adding to the excitement of this weekend's race at Hickory Motor Speedway, The Birthplace Of The NASCAR stars, the CARS Tour comes to town for the Tuff Shed 250 with one of the biggest entry lists the Tour has ever had, leading the Tour to add a last chance race to the event, giving every competitor the fairest chance to make the field for the coveted race this Saturday. Conner Jones will be on that list of competitors along with William Sawalich, Kaden Honeycutt, along with all the Tours regulars including defending CARS Tour Late Model Stock Champion Carson Kvapil.
I heard a statement on social media recently that just made no sense to me and had me scratching my head, and I heard it more than once. You see, this week's CARS Tour event happens to fall on the season opener of one Bowman Gray Stadium. THE weekly racing track. The longest running, most exciting of them all of weekly racing tracks. The original weekly racing track! All of that is true. I know as it's where I found my love for stock car racing, living just minutes from the Stadium in Winston-Salem, North Carolina. It's the best place to see weekly racing period. It's the home of the hot southern Modifieds, and the track that kept Modified racing alive in the south for years. It's a destination, not just a short track, and it's a place that every short track racing fan in the country should visit at least once in their lifetime. But that said, the statement that led me to scratching my head was, "Why would the CARS Tour hold this event at Hickory Motor Speedway on the opening night of Bowman Gray Stadium?" And I probably shouldn't, but I have to answer it, as honestly as fate would have it, I've been put in a position to where I can be perfectly clear about it. And I'll start with, why not? These events couldn't be more dissimilar. One is a local short track weekly racing event. The other is the third leg for a Touring Series at a track monikered The Birthplace Of The NASCAR Stars, which ironically for this race is very apt as it's hosting a Tour that is indeed the pathway to the upper echelon of NASCAR. Bowman Gray Stadium hasn't had a Tour with the exception of the Flathead Fords, on their grounds in years, and right now it doesn't look to be adding one soon, even as the SMART Tour is rising in popularity and prestige and would be the most obvious if they chose to. But to answer fully, and the answer should be obvious, is that I doubt either the Tour, Hickory Motor Speedway, or Bowman Gray Stadium itself even thought of each other as they laid out their schedules for the year, at least when it came to this weekend as the events are totally different in scope. One is a weekly Racing Series event that you can see almost any given weekend on Saturday nights in Winston-Salem throughout the 2023 season and beyond, albeit it honestly still the most exciting weekly racing series of them all as I have stated. The other is the most competitive touring series on the east coast and beyond, featuring the best Late Model drivers in the country, and the very future of NASCAR itself, running on one of the twelve tracks it runs in a year.
Fortunately, in today's world with today's technology, everyone can make their choice to where they want to be during the live events, and catch the other on the streaming channel that covers both events live and on demand, so no one really misses out. And it also just goes to show you that the question really just shows the comeback that short track racing is making in a most obvious way, as the question wouldn't have been asked if it weren't relevant to the state of the sport today. The excitement is growing and more than is even realized inside the circle. Not only because of the great weekly racing series tracks in the country, but especially in our region, that contributes also to the Touring Series that grow the future stars of the sport. Can you hear us now? Leading to a driver like Conner Jones to be able to take his love and drive to improve in the sport to a whole new level. And this is what we should all want to see from our region and beyond. So until next time, as always, See You At The Track!
Tags
ARCA Menards Series
,
Bowman Gray Stadium
,
Caden Kvapil
,
Carolina Pro Late Model Series
,
CARS Tour
,
Carson Kvapil
,
Christian Eckes
,
Conner Jones
,
Corey Heim
,
Dale Earnhardt Jr.
,
Dylan Ward
,
Florence Motor Speedway
,
Hickory Motor Speedway
,
Jeff Burton
,
Jonathan Shafer
,
Josh Berry
,
Josh Lowder
,
JR Motorsports
,
Justin Marks
,
Kaden Honeycutt
,
Kevin Harvick
,
Kyle Campbell
,
Late Model Stocks
,
Late Models
,
Layne Riggs
,
Leland Honeyman
,
Martinsville Speedway
,
Mike Darne
,
NASCAR Craftsman Truck Series
,
NASCAR Cup Series
,
Nick Loden
,
Orange County Speedway
,
Pro Late Models
,
R&S Race Cars
,
Sam Mayer
,
SMART Modified Tour
,
ThorSport Racing
,
Tri-County Speedway
,
Tuff Shed 250
,
Ty Gibbs
,
Tyler Ankrum
,
William Sawalich