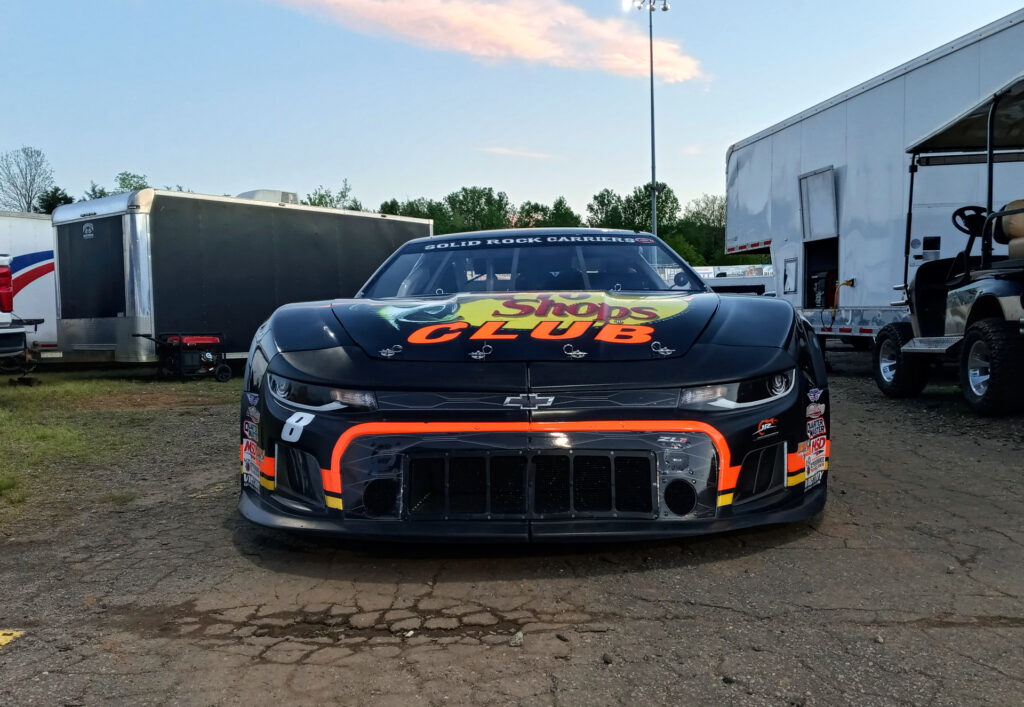 Sometimes you just need to be reminded that local and regional short track racing can be the most exciting racing on the planet. That's not an exaggeration. Sometimes at your local short track, everything comes together like a firestorm. You'll know when your at one of those special moments when the hair on the back of your neck stands up. You'll hear people saying things around you like, "You can just feel the excitement in the air.", and you most definitely can. It can even be a bit of a surreal moment because you were just thinking the same thing but haven't told a soul, but you can hear the chatter that starts to confirm it. And that's before a lap has even been had on race day. But when the crowd senses it, and the drivers get wind of it and start to tune into it, special things can happen on the track when it gets time for the drivers to do their special kind of work. And when it happens and the drivers start to strap in for qualifying, the lap times start to show it. Fast laps get laid down. Amazing saves are made and overcome, and when it's over the drivers and teams are separated by mere thousandths of a second. Maybe a half second from the pole sitter and the last place qualifier, and things from there just kinda fall in place in a special way that people like us have seen only on a few special occasions. Every night at a short track for a true short track fan is a good night, but sometimes it goes from good, to great, to epic, and it's a thing that's hard to explain. If you could you'd give the formula to every promoter you could reach, but it's just not that simple. Sometimes the stars line up just right, and 20 years from now you and someone that was there at the track with you that night will talk about that special night that you as a race fan will never forget.
This past Saturday night at one of the oldest and historic NASCAR tracks in the country, Hickory Motor Speedway had one of those nights as the CARS Tour came to town. And the racing had something for every type of fan you can imagine. Besides the action, drama, and skill exuded from the huge turnout of racers that showed to compete, there was also strategy and gamesmanship from the teams themselves that added the special elements needed for every great competition. And it all came together in a way that when it came down to any challenge, there was not an inch given. No…not even an inch. From the very beginning of the event, when the green fell for the very first qualifying lap, we saw drivers determined to be the best, willing to adjust their expectations to fit their goals even in those opening laps. Over 70 cars came here to compete, and when the fields were set, you could see the drivers were ready to get at it. A great number of fans came to support them, and you could see them all start to feel that special excitement that builds during any epic show. They were pumped and ready when the invocation was spoken, and they remained on their feet as the drivers were given that awesome command. Not one soul was sure what truly lies in store, but we were all ready to see this history be made, and why wouldn't we be? Some of the best in the country are ready to go at it gladiator style, so lets get to it. Let's Go Racin'! Short track style!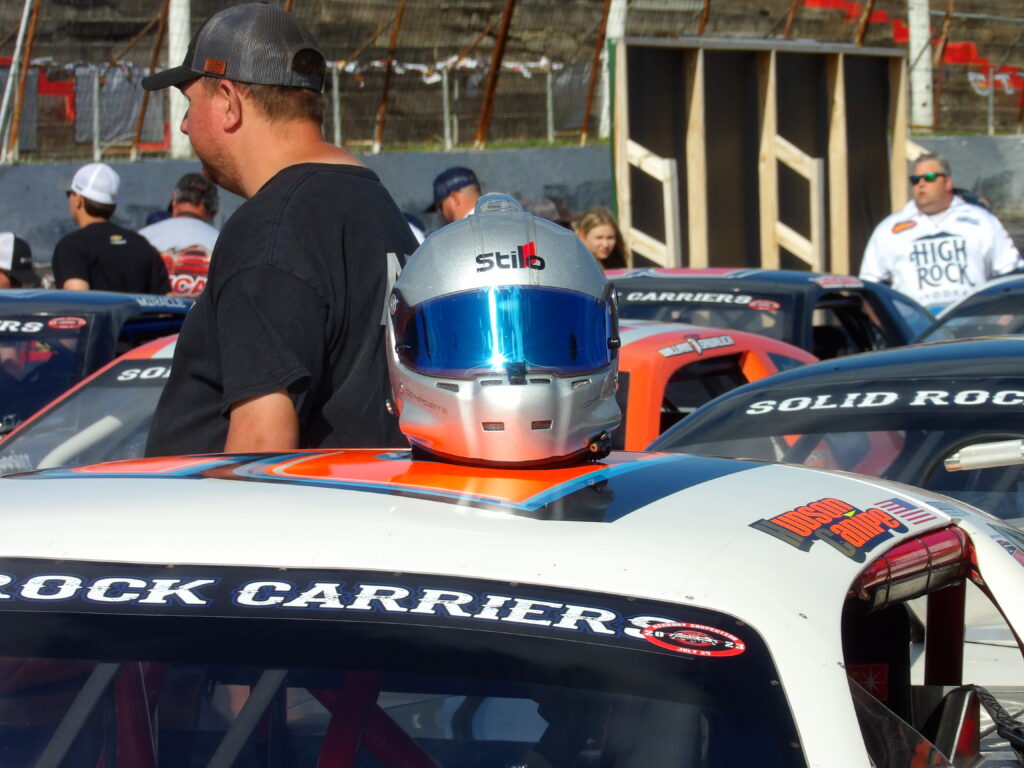 CARS TOUR PRO LATE MODEL FEATURE
Connor Zilisch in the # 25 Rackley WAR machine qualifies on point with a fast lap of 14.576 seconds. The # 81 of Katie Hettinger will start alongside followed by # 24 Brent Crews, # 54 Matt Craig, and the # 15H of Mike Hopkins. Flagman Brandon Willard looks over the fantastic field of Pro Late Models, likes what he sees, and we're green for the first portion of the Tuff Shed 250! Zilisch gets the early jump as Hettinger grazes the outside wall on the backstretch, causing her to fall to fifth. She continues to struggle though as she's now passed by the # 13 of Austin MacDonald and the # 28 of Isabella Robusto. Back up front, Crews is underneath Zilisch as they battle side by side for the lead, with Crews getting the advantage. The caution is out early though as the # 27 of Lee Tissot has spun in turn four. Lining up for the restart will be Crews, Zilisch, Craig, Hopkins, and MacDonald. The green is out as Zilisch and Crews battle door to door for multiple laps on end for the top spot. Crews finally clears after numerous laps with Hopkins now moving up to third and Robusto showing her muscle as she breaks into the top five by MacDonald. Another caution flies however as Logan Jones in the # 77 and Rusty Skewes in the # 8 collide in turn four. Crews will line up first followed by Zilisch, Hopkins, Craig, and Robusto. Crews retains the lead again but Zilisch crosses over as he gets back underneath, but to no avail. Robusto speeds past Craig as a big crash unfolds behind! The middle of the pack gets stacked up, causing the # 6 of George Phillips to spin into the turn four outside wall hard, collecting the # 03 of Kyle Campbell and the # 44 of Justin Whitaker. Both Phillips and Campbell are done for the evening as an extensive cleanup takes place. The track crew has it cleaned in no time as Crews lines up first followed by Zilisch, Hopkins, Robusto, and Craig. It's another multi-lap drag race with Crews once again holding off Zilisch. Robusto is by Hopkins for third as Zilisch once again looks on Crews, somehow muscling past and bringing Robusto along. MacDonald gets by Craig for fifth as Robusto is all over Zilisch for the point. Crews continues to fall back, now falling victim to Hopkins. This is the point in the article where I'd say the field has finally settled in for the time being, but that's just not true as the entire middle of the field is leaning on one another, leading to multiple near misses. Zilisch and Robusto have now encountered lap traffic, as Robusto is still right there. Zilisch is checked up by the Tissot machine on the frontstretch and Robusto has nowhere to go, getting into the back of Zilisch, sending him around! Robusto keeps her spot due to the nature of the incident as she'll be followed on the restart by Hopkins, Crews, MacDonald, and Craig.
Robusto gets a great start, but not great enough as Hopkins clears. Craig finds his way past MacDonald as Robusto won't back down, getting underneath and by Hopkins for the lead. Behind, MacDonald is under fire from the # 26 of Dawson Sutton. Sutton breaks into the top five as Robusto looks to try and build a gap up front, something that hasn't been done all race. In the middle of the field, Zilisch is an absolute rocketship, passing cars left and right. Robusto and Hopkins have walked away from the pack, looking to settle the race amongst themselves. The gap is vanished though as Rusty Skewes has spun in turn four. For the ensuing restart, Robusto will line up first followed by Hopkins, Crews, Craig, and Sutton. Robusto clears for the lead as Craig and Sutton beat and bang for fifth position. Sutton prevails as Zilisch is somehow already back into the fray, spectacularly moving past Sutton for fifth. Meanwhile, Hopkins continues to stay right in Robusto's footsteps, waiting for any mistake to be made. But Robusto keeps a smooth wheel as Zilisch is now by Craig for fourth. Craig and Sutton continue to fight for fifth, as Craig finally moves Sutton up the hill and stays in the top five. With the help of lap traffic, Hopkins moves underneath Robusto, but Robusto is strong on the outside, standing her ground. Hopkins won't give up though, driving under again as the two lean on each other. Hopkins clears but Robusto crosses over as the fans are on their feet! They race to the white flag side by side and they touch! The contact sends Robusto's car full speed into the inside jersey barrier, completely going through it, striking a photographer in the process as the speedway goes silent. Thankfully, both Robusto and the photographer are okay as the fans all breathe a collective sigh of relief after the horrific scene. The photographer would be taken to the hospital and would be discharged the next day. It's a lengthy red flag as the barrier is put back into place and Robusto's mangled car is taken into the pits.
When it's all said and done, Hopkins will line up first followed by a determined Zilisch, Crews, Craig, and a reemerging Hettinger. The field is stacked up side by side going onto the backstretch, but the caution flies once again as the # 44L of Michael Lichtfeld and the # 43 of Nick Loden slam the backstretch outside wall hard, necessitating another long cleanup. It'll be the same top five as before with the green flying for the final time. Hopkins and Zilisch are door handle to door handle for the entire lap as the white flag is thrown. The two begin to slam, opening the door for Crews! Coming to the line, they're nearly three wide as Hopkins and Crews are sideways under the flag, with Hopkins taking the checkered while spinning! What an unbelievable finish! Crews takes home second, Zilisch comes back through the field for third, Craig survives for fourth, and Sutton secures fifth.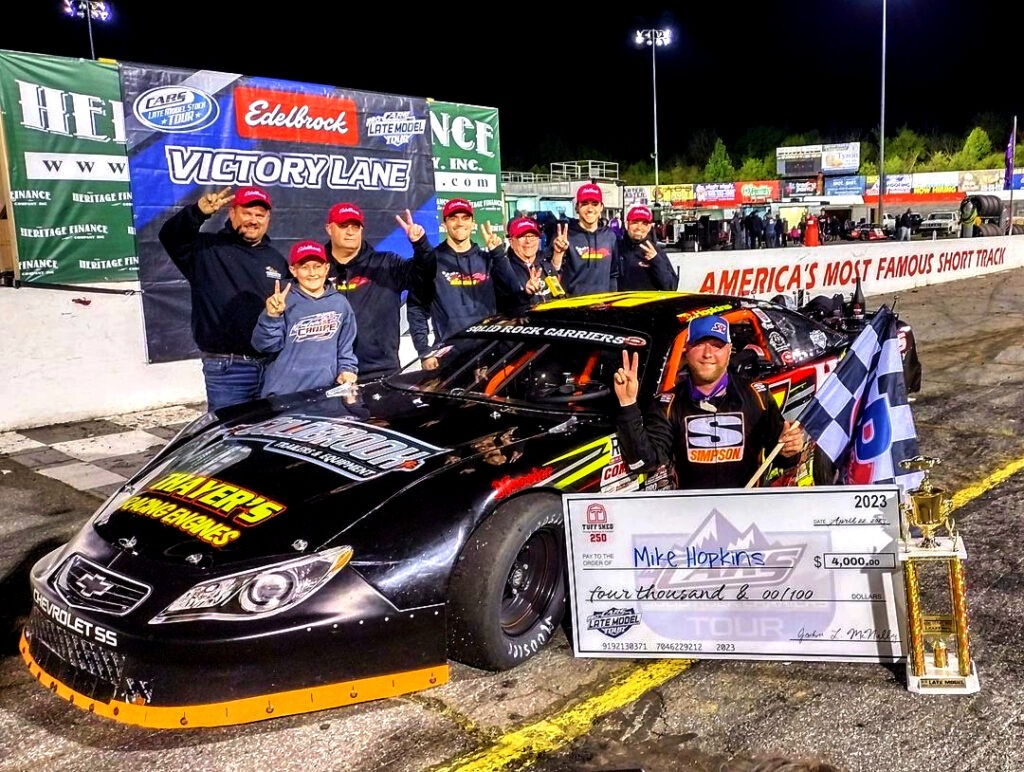 CARS TOUR LATE MODEL STOCK FEATURE
Perennial contender Carson Kvapil in the # 8 captures the pole with a time of 14.749 seconds. Local track contender # 23 Kade Brown starts second with a great qualifying run followed by Zack Miracle in the # 32, Kaden Honeycutt in the # 10 and William Sawalich in the # 43. As a result of a record Hickory entry list, numerous names went home following a last chance race including Ryan Wilson, Tyler Gregory, Josh Dickens, Blake Lothian, Tate Fogleman, Bryant Barnhill, Landon Pembelton, and Cale Gale. Flagman Brandon Willard looks over the huge field, approves the formation and we're green for the Late Model Stocks! Brown grabs the lead from the outside as Honeycutt powers ahead of Miracle. Mini Tyrrell in the # 81 moves up to fifth as Sawalich starts to fall. That spot continues to shuffle though as now Chad McCumbee in the # 16 takes it from Tyrrell. The competition caution flies for forty consecutive green flag laps as Cody Kelley in the # 98 spins from contact with the # 9 of Ashton Higgins at the same time the yellow flies. Brown lines up first for the ensuing restart followed by Kvapil, Honeycutt, Miracle, and McCumbee. Kvapil easily clears this time around with Miracle moving by Honeycutt and the # 77 of Connor Hall moving into fifth. But major trouble happens ahead as Brown goes up in smoke! Oil is scattered all over the race track as the Hickory track crew works diligently to get it back into racing condition. Kvapil lines up first followed by Miracle, Honeycutt, Hall, and McCumbee. Kvapil executes a flawless restart as everyone files in line for the time being. Kvapil starts to put down nearly identical lap times back to back up front but the caution flies, this time for the # 6 of Bobby McCarty who goes up in smoke in turn four, with the # 21 of Lanie Buice and the # 1 of Andrew Grady spinning in the aftermath. This caution period is a little quicker however with Kvapil lining up first followed by Miracle, Honeycutt, Hall, and McCumbee. Same song and dance for Kvapil as he immediately clears with ease as Miracle falls victim to Honeycutt, falling to third. The # 57 of Connor Zilisch starts to move up from his 21st place starting postion as there's trouble behind him! Chase Burrow in the # 8B seems to have an issue coming off of turn two, causing Buice, Gentry, and the # 75 of Hickory regular Landon Huffman to pile up on the backstretch. This will end Buice and Gentry's nights unfortunately as Kvapil will restart first, Honeycutt second, Miracle third, Hall fourth, and McCumbee fifth.
Kvapil slides up in front of Honeycutt to retain the lead with Hall now gaining an extra spot by Miracle. McCumbee and Tyrrell have an all out war for the fifth spot as neither one gives an inch. Tyrrell just barely gets in front of McCumbee, moving McCumbee to sixth. McCumbee moves right back around though, kicking Tyrrell through the field a bit. In front of him, Hall turns the wick up, sliding past Honeycutt for second. McCumbee now looks underneath Miracle, who slips up going into three, allowing McCumbee by and the # 15 of Ryan Millington to make contact, sending Miracle around! Millington is sent to the rear as a result of the contact, as he is none too happy on the radio about the decision. Up front, it'll be Kvapil, Hall, Honeycutt, McCumbee, and the # 95 of Jacob Heafner. Kvapil easily clears as Honeycutt and McCumbee battle for third. McCumbee takes it as the # 03 of Brenden Queen clears Heafner for fifth. Heafner battles back though, retaking fifth as Hall and Kvapil run identical lines up front. Heafner keeps his momentum up as he now moves by McCumbee as there's trouble right in front of the leader! Carson Brown in the # 42 and Kelley spin in turn four with Kvapil having to go up in the marbles to miss the chaos. The caution flies as Kvapil will once again fire off the leader followed by Hall, Honeycutt, Heafner, and Queen, who takes advantage of the choose cone. Kvapil again gets a great start with McCumbee getting by Queen, but there's more trouble behind as the # 9 of Charlie Watson, Grady, # 04 Ronnie Bassett Jr, Tyrrell, and Millington all pile up in between three and four. That'll hamper both Bassett and Tyrrell's nights as after all of the cars come down for a splash of fuel due to the number of caution laps, Kvapil restarts first with Hall second, Honeycutt third, McCumbee fourth, and Heafner fifth after the cone. Willard nervously looks over the field and we're back green!
To no one's surprise, Kvapil rockets out in front as Heafner and Queen battle side by side for fifth. The racing is hot and heavy, with Honeycutt now looking on Hall as the caution flies again, this time for Bassett and the # 55 of Isabella Robusto. Coming to the line for a 26 lap shootout will be Kvapil, Hall, Honeycutt, McCumbee, and Heafner. Who takes the victory? Kvapil fires off perfectly again, but Hall is right there, dancing in the JR Motorsports driver's mirror. Back for fifth, a hard charging # 08 Deac McCaskill grabs fifth after starting thirtieth. Hall is still right there, looking for any opening to take. The white flag flies as Kvapil has just one more lap to hold Hall off. Going into three, Hall gives him a huge shot! They come off of turn four side by side as they cross the line in a photo finish, with the win going to Kvapil! Hall stays in second followed by Honeycutt, McCumbee, and McCaskill. Another fantastic finish!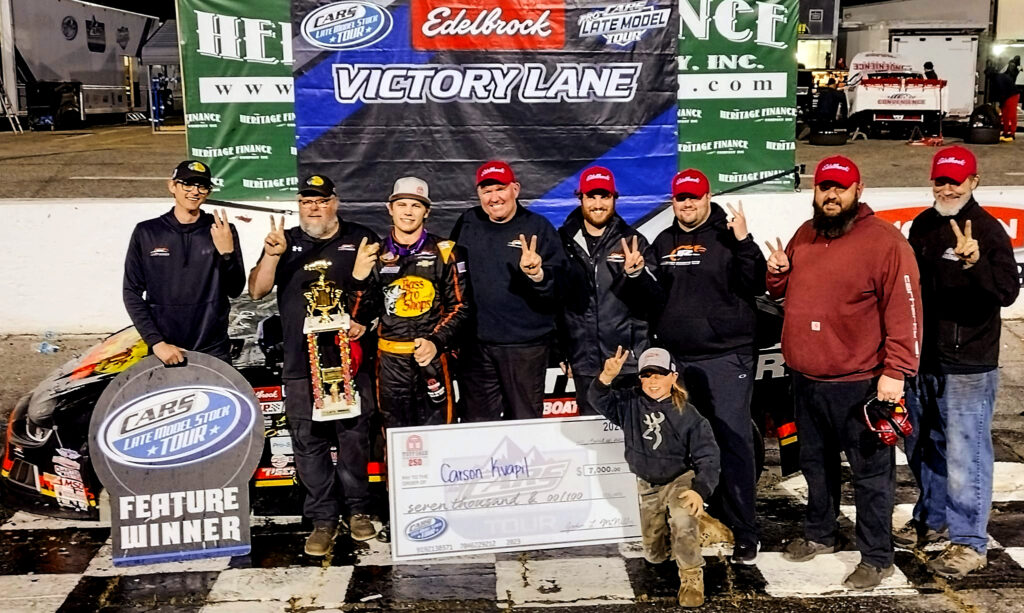 MY TAKE
What a night! It's hard to even know where to begin. But I'll start by wishing a fellow media industry professional our best, and thank God that we can even do it. Our job can sometimes be thankless and even brutal if the elements are not ideal, and we can be easily forgotten and overlooked honestly doing what can become very dangerous in just a moment. But, that is the nature of what we do. Those of us doing it for the right reasons have issues with our own promotion as we know it's the sport we highlight, the sport we love that gets all of our attention. And if we get lucky and do it right from time to time, it is the sport we love that gets the notice and the intention as we try our best to blend into the background. It's as it should be. And so when we see one of our own go down, it gets personal. But we first and foremost want for our comrade to know we wish him the best and breathed a sigh of relief when we heard that they were indeed okay and can begin the unenviable task of healing. And we are reminded why safety rules are important and to be followed, especially covering the fastest sport in the world. And it's important to also realize that the racing incident that occurred that sent Isabella Robusto into the end of the frontstretch barricade was just that, a racing deal. She was leaning on Mike Hopkins to get an advantage as they were going for the win coming to the closing laps. No inch was given. And whether it was car damage to her right front as the team believes, and they would know, or if it was that Robusto's right front climbed up onto Hopkins left rear simulating a parts failure as this can cause the steering wheel to be ripped right from a drivers hands. Either way, and no matter what anyone says about it, it was a scary racing incident and nothing more. And we can breathe a sigh of relief knowing that in the end, it could have been a much worse deal. Things in racing happen fast and that's just the truth of it.
Secondly, the racing all night was intense, and the tone was set early in a fifteen lap last chance race for the Tuff Shed 250 Late Model Stock feature where some really good Late Model Stock teams went home, but not without a fight as these guys put it all on the track to make the feature race, leaving the top four finishers fighting for every inch because again, none were given as no one wanted their day ended that early and left to the fate of the only two provisional spots given to two lucky drivers that would bring up the rear of the Late Model Stock feature behind the four that had to battle their way in. That intensity followed into the Pro Late Model race that was in our opinion the most intense CARS Tour Pro Race feature we've seen to date. A race that left Mike Hopkins battling every contender that got to him as they let him know they were there, leaving his rear fenders under attack for the majority of the laps he ran in the front, as he took every shot down to the wire, being spun across the stripe with the checkers waving, and taking his second CARS Tour Pro Late Model win in as many races, and leaving Mike Hopkins unbeaten so far in every race he's entered on the Tour. The intensity continued into the CARS Tour Late Model Stock feature.
Tire saving is an art in the Late Model Stock division. But for whatever reason, though they tried early on to run those easy laps, saving tires and cars in the process, once the wick started to be turned up, there was no turning back. From the middle to back of the pack, a war ensued. But that battle quickly spread toward the front of the field as the fastest cars on the track started the fight for supremacy for who would challenge Carson Kvapil for the win, as he used his pole lap that allowed him to start P1 to hold the lead for almost the entirety of the event as the cars closest behind chip away in the battle that would decide his true challenger for the win in the closing laps. Down the stretch that was Connor Hall who would close in on Kvapil in the end, and gave no inch to Carson as they came off the final turn. But Carson didn't panic and he took the inches back as he too wasn't giving any, even as his competitor's Late Model was literally into his rear fender coming off turn 4 and started heading down the frontstretch, holding off Connor hall at the line. That was the racing on Saturday night at Hickory. Old school racing on an old school track that proved she has many laps left for those who challenge her. And it was a night that left our Short Track Blue Collar Racer Of The Week decision with a lot of pages to sort through. So much hard driving by so many talented drivers. We saw Joshua Horniman and Lee Tissot's driving talent overcome their machine's capabilities, taking them deep into the money class with no apologies, fighting for every inch as they came away with impressive finishes that should clearly give anyone paying attention their true skill level inclination, to the point that we had to start our Blue Collar Racer discussions with them after their performances in the Pro Late Model feature event.
But then our attention quickly shifted to one Deac McCaskill in the Late Model Stock event, as Deac started the race thirtieth, having to rely on one of those provisional starting positions, then worked his way in the race to the top five, giving the field all he had in the process. And of course we looked at the dominating performance of Carson Kvapil and the JR Motorsports team as the defending CARS Tour Late Model Stock Champion took the pole and led nearly every lap, holding off Connor Hall in the final turns as he had taken every inch Carson had fought for all night, except for the last one that Kvapil took back, not willing to settle for anything less than the win itself. But there was one more name on our list believe it or not as we scoured every inch of the track during the races as we always do to find our final choice, unwilling to give this award any less than every bit of seriousness that it deserves. And that name was Connor Zilisch. Connor pulled double duty on the night, earning the pole in the Pro Late Model division event, only to be spun from the lead as the field got bottled up, leaving Zilisch to see the opposite end of the division's starters, restarting in the rear on the restart. By the time the race was over, Zilisch was third and staring at the leaders, just out of time to make an honest challenge to retake the lead. So he took that momentum into the Late Model Stock feature where he started 21st and used every inch he could find to battle to the top ten, listed as coming in ninth when it was all said and done in two performances that we couldn't ignore and on a night when advancement was challenging to say the very least. His hard fought efforts weren't lost on us, and we feel Conner Zilisch's performance on this night was exactly what this award was intended to highlight. Congratulations Connor Zilisch and team on two hard fought on track performances we just couldn't deny for this week's Short Track Report Blue Collar Racer Of The Week! You guys definitely earned it. And so until next time, as always, See You At The Track!
(Race writeup by Joshua Weatherman. Intro and My Take written by Billy Weatherman. 2023 Copyright SHORT TRACK REPORT)
Tags
Andrew Grady
,
Ashton Higgins
,
Austin MacDonald
,
Blake Lothian
,
Blue Collar Racer Of The Week
,
Bobby McCarty
,
Brandon Willard
,
Brenden Queen
,
Brent Crews
,
Bryant Barnhill
,
Cale Gale
,
CARS Tour
,
Carson Brown
,
Carson Kvapil
,
Chad McCumbee
,
Charlie Watson
,
Chase Burrow
,
Cody Kelley
,
Connor Hall
,
Connor Zilisch
,
Dawson Sutton
,
Deac McCaskill
,
George Phillips
,
Hickory Motor Speedway
,
Isabella Robusto
,
Jacob Heafner
,
Josh Dickens
,
Joshua Horniman
,
JR Motorsports
,
Justin Whitaker
,
Kade Brown
,
Kaden Honeycutt
,
Katie Hettinger
,
Kyle Campbell
,
Landon Huffman
,
Landon Pembelton
,
Lanie Buice
,
Late Model Stocks
,
Lee Tissot
,
Logan Jones
,
Matt Craig
,
Michael Lichtfeld
,
Mike Hopkins
,
Mini Tyrrell
,
Nick Loden
,
Pro Late Models
,
Rackley WAR
,
Ronnie Bassett Jr.
,
Rusty Skewes
,
Ryan Millington
,
Ryan Wilson
,
Tate Fogleman
,
Tuff Shed 250
,
Tyler Gregory
,
William Sawalich
,
Zack Miracle