BILLY PURNELL MEMORIAL EVENT AT ORANGE COUNTY SPEEDWAY AUGUST 14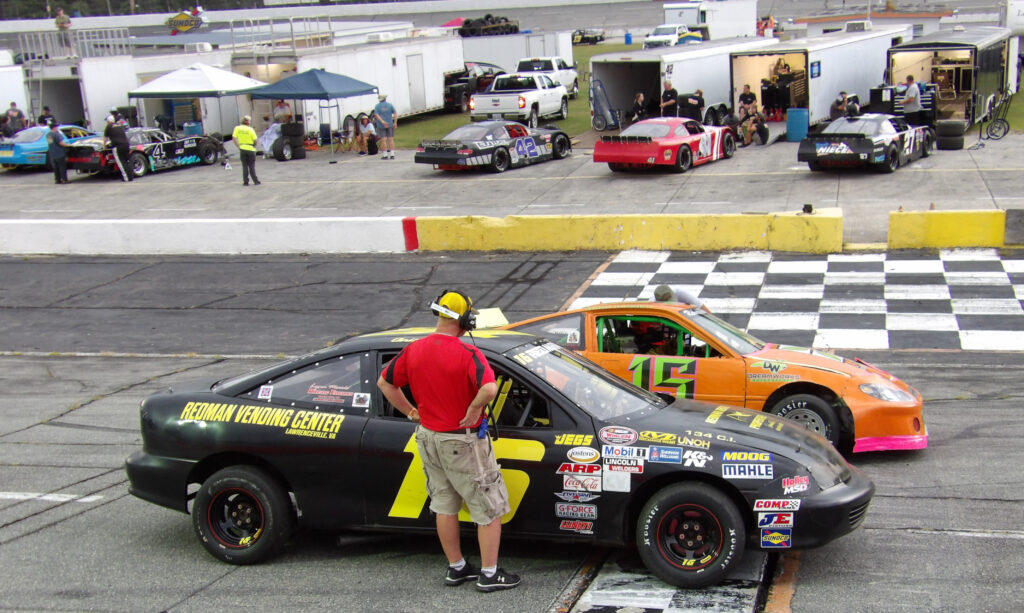 Anyone that knows us, knows that we are huge advocates for the Blue Collar Racer. And we know that today, people are losing the understanding of how hard drivers and teams work to put on a great show for the fans of short track racing. The late nights, enduring the heat during the summer months, and scrambling to put their cars back together after a bad luck weekend at the track for the next racing event, should not be understated. And for this reason, we are here today at Orange County Speedway, A.K.A "The House Of Speed", to honor and remember one Billy Purnell. Billy personifies the Blue Collar Racer in all it's facets. Born in 1952, he was drawn to fast cars and speed. He spent his early years building street cars with his buddies, as many of the youth did in the 50's and 60's, when the love for automobiles in America really took hold. And it was in those years that Purnell began to hone his talent as a mechanic in the quest for producing performance and speed. However, he didn't get into stock car racing until the 1980's, having fun racing Enduros. And then he didn't start racing competitively until the early 1990's, sharing a car with James Myers. Billy Purnell raced stock cars from 1993 until 2006, netting just one win. But it was as a owner/crew chief/head mechanic that Billy really made his mark, where he netted 55 plus wins, and 4 championships across 4 divisions. And he did it all for the love and passion he had for the sport of short track stock car auto racing. And what fed that love through all those years, was the love he had for competing at Orange County Speedway. It's understandable. There is a reason we nicknamed the track "The House Of Speed". A track like this does something to a competitor. We've heard it from many. And Purnell was no different in that respect. The dedication that he gave to this amazing race track, earns a day from the track in turn, to honor it. As in many ways, though Billy Purnell is no longer with us, he is still giving to the Speedway, as his sons Austin and Cory Purnell now compete here, inheriting Billy's love for the place. And, as a confirmation that he indeed earned the two Crew Chief Of The Year honors he received from the Speedway over the years competing here, there are still cars that he built still racing around this place. A true indicator of his great abilities. So we here at Short Track Report commend the Deal family, and Orange County Speedway, for setting aside the time to honor this great short track racing legend, acknowledging their appreciation of the dedication and work given by Billy Purnell and his family through the years, at this high speed action track. And we highlighted this date on our calendar to join them in honoring this true Blue Collar Racer, to humbly show our appreciation to all of Purnell's work and accomplishments, and to the track that has the incite to remember all he'd done here.
All across the area, thunderstorms loom large as we head out to the Speedway, but we're not deterred, even though we know that this is a day that would be lucky to see any racing. Rain chances are higher than not, but the way this year has gone for us, we decide to take the chance, and hope for the best. On the way, we are already experiencing rain drops, and as the track is just a little over an hour away, we can't be sure what to expect when we arrive. And as we approach, we see we are not alone. The car count though not the usual number here, is great considering the circumstances, and we see every indication that the Speedway itself is prepared to do all in their power to get this event in. The cars are all covered with car covers to keep them dry, as light sprinkles start and stop. But when it's time to qualify, the track is ready, and the drivers lay down their times. Meanwhile, the gates have opened, and people are coming in. But just like the car count, the numbers are lower than normal, but it's even better than we expected, considering the dire forecast. But these are people dear to our heart, as we know them. They are people like us, who love, and I mean really love, short track racing. They have arrived here knowing the race can easily be rained out, and probably so. But willing to give their time on the chance they will get to see some great racing here today. And as the time trials come to an end, the track goes into overdrive mode, working to accommodate them. And it's announced they will start just a bit early to try to get the advantage they will need to pull it off. Pre race ceremonies begin, firstly honoring Billy Purnell and his surviving family, listing his accomplishments, and giving the family a chance to speak about the family patriarch. The invocation is given, and the National Anthem is played, and immediately after pre race ceremonies conclude, Ray Knight by telecommunications, gives the command to the Southern Outlaw FWDs, already pre-positioned on the track, to start their engines. For the time being, even though weather has disintegrated all around us, and tracks are forced to cancel throughout the region, Orange County Speedway, the drivers and teams, and a score of dedicated race fans in Billy Purnell's honor, are ready, so, let's go racin'!
SOUTHERN OUTLAW FWD
The Southern Outlaw FWD division starts off tonight's event. # 15 Thomas Penny starts on the pole, followed by # 16 Chris Redman, and # 3 Steven Layne as your top 3 starters. To note, # 83 Tommy Raino will start in the rear, as he's won every race in this division this year. You heard that right. Tommy Raino is undefeated in the Southern Outlaw FWDs here at Orange County in 2021. And pole sitter Thomas Penny? Well, he's run second at every event, and probably has every contour of Raino's machine engraved in the depths of his brain. The Speedway gives the cars a few parade laps to warm up the cars and to put heat in their tires, but they're running a race of their own against Mother Nature, and so the Orange County flagman doubles up the field, and gives the one to go signal. Penny brings them around, the field is looking good, the flagman likes the view and throws the green, and we are underway in the Billy Purnell Memorial. Penny gets a good start, but here comes Raino. He's by Layne, and he moves in on Redman, and he motors past. Up front, Penny has gotten up to a good lead, but if the rest of the season is an indicator, he's going to need it. And sure enough, Raino has made quick work of the field and he has his sights set on the leader. And before you know it, he's there. He moves to dive underneath Penny, but wait…Penny moved up top for a reason. He just sent that Civic into 3 so hard I knew he wasn't coming out. But he does. He sent it, and the car stuck, and now he's doing it lap in and lap out, and he's pulling away from Raino. Raino does all he can to find the line that will get him back to the leader, and he's driving so hard, his right front is literally smoking. He is trying everything in his repertoire. And he even starts to try and change tactics, breaking the car loose, and moving to the middle groove. And in his searching, he spins around and the caution flies. But he never really loses it, as he spun around and still came out ahead of the rest of the field. In the back of my mind I have to wonder if it wasn't on purpose, so he can cancel out the lead that Penny built. But only Raino will know, as he was indeed looking for something, and throwing the car into the corner as hard as it would go. Too hard as he ends up around. So I can only guess, and my wondering is just that, speculative at best. Either way, it will tighten him up to Penny, and he'll have the best shot at him he's had in this event. So Penny again leads them down, with Raino lined up beside him, and Redman rounding out the top 3. Penny brings them down, and the flagman likes the lineup, and the green is out again. Penny again gets a good start, but this time Raino's with him. Penny makes one and two, but Raino powers up down the back stretch, and motors alongside Penny going into turn 3. Raino throws it in there hard looking for the point. But again, Penny takes her in high and sends it. Wow! I don't know how he makes it back out going in that hot, but the car sticks again. Raino looks to have just a bit more power down the straights, but Penny is crazy fast up high in the corner. Redman has the best seat in the house, but all he can do is watch these two go at it. And although Raino has won every event before tonight this year, he throws everything he has at Penny, who just keeps sending it lap after lap, and goes on to the huge win here tonight.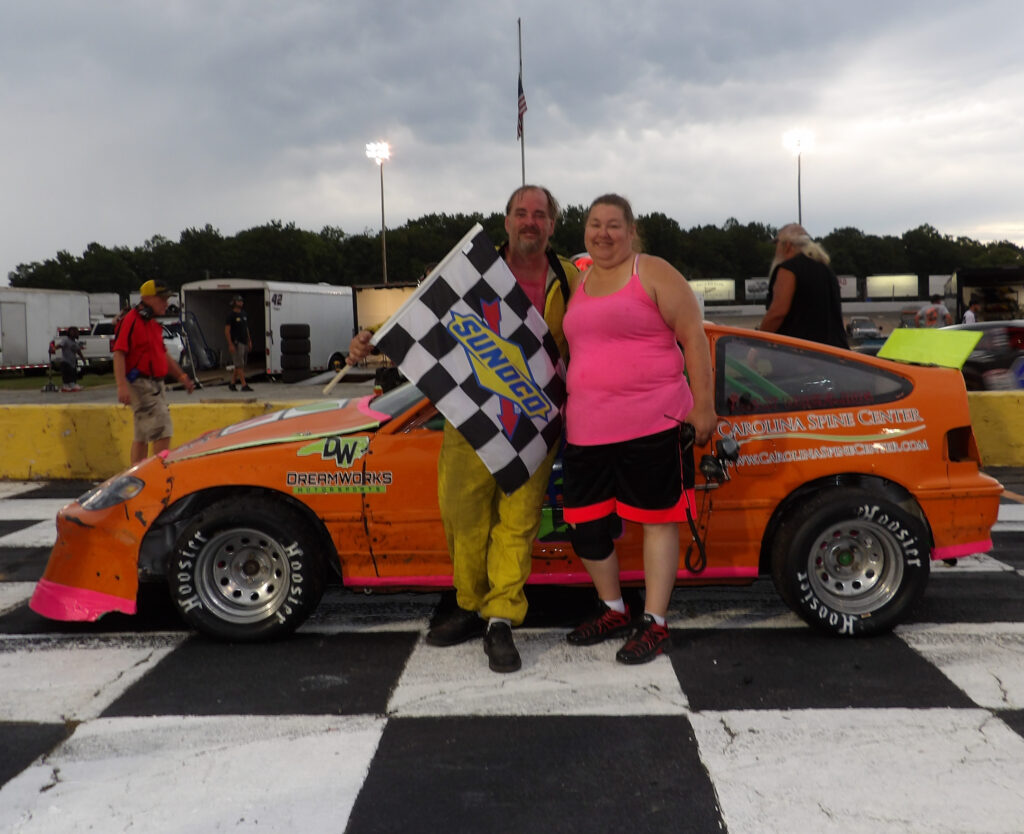 BILLY PURNELL MEMORIAL LATE MODEL STOCK FEATURE EVENT
Matt Gould is your fastest qualifier with a blistering lap of 14.272. So he will be on the pole for the scheduled 75 lap main event, followed by # 12 Daniel Schadt, # 31 Richard Hayden, # 58 Daniel Moss, and # 77 Tracey Chambers. The track is in hurry up mode working their best to get in the whole event, but they are hampered immediately in this one, as # 31 Richard Hayden has stalled on the parade laps. Tough luck for Hayden and the team, who'd qualified third, and had every intention on a great race here tonight. So Moss will start third, Chambers fourth, and that will bring the # 7 of Louis White to round out our first 5 starters. The track crew gets Hayden's car back to the pit stall, and the team tries to diagnose the issue to no avail.
Orange County's flagman gives the double up signal to the drivers, and Gould brings them down. The flagman surveys the field and sees they are ready, and the green is out for the main event. Gould gets a good start, but Schadt settles right in his tracks, with Moss lined up behind him. # 12J Wesley Johnson gets past # 41 Christian Rose and # 42 Amber Mae Slagle for seventh as White gets under Chambers for fourth. She isn't giving up the spot easily though, as the two almost make contact, but White finally manages to get the advantage and moves past. Shortly after, the caution is out for debris, but it's a quick cleanup, and in no time they are all lined back up for the restart. Gould will lead them back down, with Schadt, Moss, White, and Chambers your top 5. The field looks good, the flagman likes the view, and we are back underway. Gould again gets a good start, and everyone has to get in line except Johnson, who tries to make a move on # 19 Jessica Cann in sixth, but she has a good car today and he has to settle in behind her. Rose steps out of line to challenge Slagle, and he makes it work and starts looking on seventh running Johnson, and starts tapping on his bumper. But now Slagle wants her spot back from Rose, and you can put the three in a blanket, all racing for the sixth spot that belongs to Cann. Cann takes this as a signal to make some ground or fall back, and so she chooses the first option and makes a move on Chambers for fifth, and gets it, moving into the top 5 for the first time in the event, and on lap 48 as the group races as hard as possible, Rose goes around, bringing out the second caution of the race. Rose pulls away however, and again the track crew gets a break, and we are quickly lined up for the restart.
Gould again will lead them down, followed by Schadt, Moss, White, and Cann rounding out your top 5 on the restart. Again the Orange County flagman surveys the field as Gould brings them around, this time a little slow as Gould uses a bit of restart strategy, and the field has to check up a bit to get down to the speed Gould chooses to bring them to, and the green flies and Gould gets a great restart, as Moss is into the rear of Schadt as Schadt and the rest of the field slowed to the pace Gould brought them to except Moss who chooses to start with his front into Schadt's rear, and he never backs off giving Daniel a chance on getting going, as Moss has his rear end all jacked up, and he pushes him clear up into the outer lane and into the wall. Oh my. The field scrambles to get themselves clear, but Schadt is into the wall hard as the rest of the field passes by in shambles, but everyone else gets away with no damage. And everyone's attention goes to Schadt as his car finally comes to rest between turns one and two. Finally the window net comes down, and Schadt is out, clearly upset with the turn of events. And as he walks around trying to figure out what happened, and surveying the heavy damage to his machine, the rains finally come. And so Matt Gould will be declared the winner, deservedly, as he sets fastest pole time, and leads every lap of the rain shortened event, with # 7 Lewis White second, # 19 Jessica Cann third, # 77 Tracey Chambers fourth, and # 12J Wesley Johnson fifth.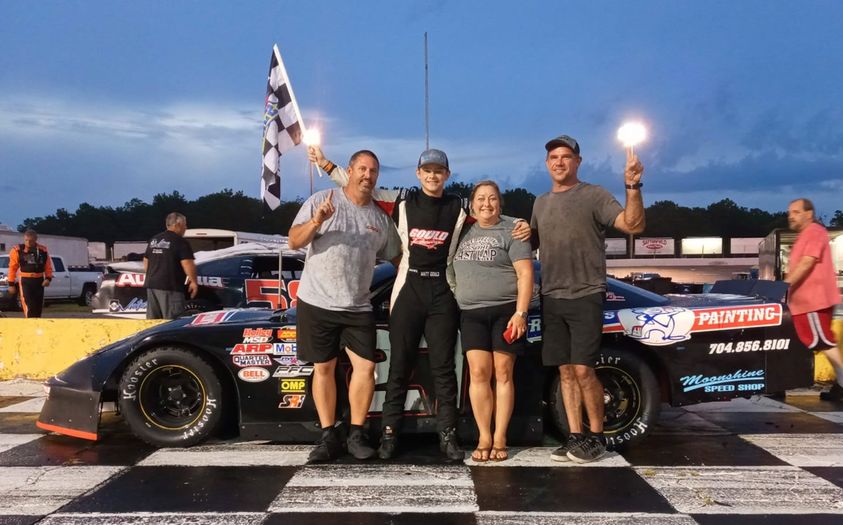 MY TAKE
Do you love short track racing? Me too. It's grown to be one of the most exciting chapters that define my existence. Now I know others don't quite have the love of the sport I do. But I also know there are many that share my passion for it. And when many in my generation that shared the passion with me have lost that love for whatever reason, I have continued to support what I have embedded deep into my heart. It will never leave me. And so when others tell me why their passion has waned, from feeling that stock car racing has changed and went down a path they don't know or want to, or the trauma of losing a legend they idolized, I have kept the core of my love focused on grassroots short track racing. For one, because what ever happens at the echelon of the sport, AKA NASCAR, the grassroots short track racers have continued to do what they have always done. And Blue Collar Racers have not diminished. Cost, rule changes, etc..or overall change in general has not eliminated them. Short track racers are family. Families are not perfect. They grow, and they adapt. And true families do not desert each other over loss of a family member, or a complicated challenge. They work through it, and continue to honor those who raised the family up, especially when they are lost. To not do so, is to desert the very legacy they left behind. Heroes come and go, and families stick together and ride the waves of greatness. That is what happened here on Saturday night.
One of the things I love about short track racing, is going to a track, and sitting where someone saw history being made. Sitting where someone watched brother Darrell and Michael Waltrip win. Or be in a seat where someone watched Jeff Gordon get one of his early wins in a Sprint Car, perfecting his craft, and learning the skills he would need to be a Hall Of Famer. To sit where someone watched Benny Parsons win, or Bobby Allison. Buddy Baker, and one of my childhood Modified legends Monk Tate. And now, to be able to think about sitting where someone saw the great Jack Ingram get one of his many short track victories. Gives me a bit of sentimental satisfaction. And what many in our area don't know, or are losing memories of, is that all that I mentioned above, happened in one place. Orange County Speedway. That's right. And so one of the things we do what we do for, is to remind you of it. Me and my son Josh share a love for short track racing, and it's a tighter bond than you would imagine. And it's a bond we share for life. And we are aware also that we share this bond with many others. To us, they are family. And so the first time we came to Orange County Speedway together, it was special. And it was special here tonight as well, as we joined Billy Purnell's family in honoring all their father had done here, for the love of short track racing. That love was shared by legends like Dale Earnhardt. And so, is it to be abandoned because of his absence? Of course not! It is to be remembered, and honored, and his legacy as those of all the legends of our great sport, by continuing what they left, and supporting those that come after. After all, to me, they are family. And that's what families do.
Tonight, we saw only two races. but man…they were great races. First, because Thomas Penny, many don't know, has worked for two years to get his car setup to handle the way he needs it to in order to have a chance to win. They struggled with it. And this year, he's run second to a guy that'd won every race. Like I said in the race rundown, he knows every contour of the Tommy Raino machine. But he worked on it. And he worked on it. And tonight, it was right. And he got some great starts. And when Raino got to him the first time, he went into turn 3 so hard, I knew he wasn't gonna make it. But he did. It stuck. It was awesome. And Raino, trying to walk him down, burnt his right front up enough that it was smoking. And when that line didn't work, he drifted it. To no avail. All he could do tonight is drive as hard as possible and try to gain any ground he could, looking for the first time this year, at the rear end of the Penny machine, where it reads, "4 more power dial Jesus" every lap.. And so we got to see Thomas Penny get his first win of the year in exciting fashion. Then we got to see Matt Gould get his first ever Late Model win. I love seeing drivers get their first. You never know how far a driver can go in his career, and you can say you saw him win his first race in a certain division or level. But mostly because of all the years of hard work, determination and learning that took place to make it a reality. Wins don't just happen. It's because of the years of preparation before this day, that the people here tonight that braved the elements will be able to say they saw Matt Gould get a first. That's priceless. Gold!
This week, our Blue Collar Racer was an easy pick. It's seldom that it goes to an event winner on the night, and is usually an indicator of a special run. Not that all wins aren't special of course, but some wins are harder to come by that some others. Thomas Penny not only worked for 2 years to have the car to beat Raino here tonight and end an amazingly impressive winning streak, he did it working the wheel as hard as we've seen anyone work it all year. Our hats are off to you sir, for truly "sending it", lap after lap here in the Southern Outlaw FWD portion of the Billy Purnell Memorial. My guess is that Billy himself would be complimentary of your performance here tonight.
So we leave here tonight knowing why we take every chance to watch some great short track racing, as you never know what history can happen. And it leaves us excited to come back to the "House Of Speed" in just a few short weeks to see the Carolina Pro Late Model Series, and the Carolina Crate Modifieds make some history of their own. And to the people that braved the elements with us, Orange County has graciously decided to grant them half price admission to the next show, so that said, we hope everyone that's able will join us in watching some great racing action here on August 28. And Orange County Speedway is packed as it should be with fans that love short track racing as we do, at what we feel is the area's most underrated showcase facility. Because we know 100% that those who attend will be treated with some of the best racing the region can offer. And in our region? That means the best short track racing the country itself has to offer. See you at the track!
Orange County Speedway – August 14, 2021 – Late Model Stock Results
1. # 27 – Matt Gould
2. # 7 – Lewis White
3. # 19 – Jessica Cann
4. # 77 – Tracey Chambers
5. # 12J – Wesley Johnson
6. # 42 – Amber Mae Slagle
7. # 41 – Christian Rose
8. # 12 – Daniel Schadt
9. # 58 – *Daniel Moss
DNS – # 31 – Richard Hayden
*Disqualified
Tags
2021 Billy Purnell Memorial Night
,
Amber Mae Slagle
,
Amber Slagle
,
Billy Purnell
,
Billy Purnell Memorial Night
,
Chris Redman
,
Christian Rose
,
Daniel Moss
,
Daniel Schadt
,
FWD
,
Jessica Cann
,
Late Model
,
Late Model Stock
,
Lewis White
,
Matt Gould
,
OCS
,
Orange County
,
Orange County Speedway
,
Richard Hayden
,
Southern Outlaw FWD
,
Steven Layne
,
Thomas Penny
,
Tommy Raino
,
Tracey Chambers
,
Wesley Johnson