CAROLINA PRO LATE MODEL SERIES AT DILLON MOTOR SPEEDWAY JULY 24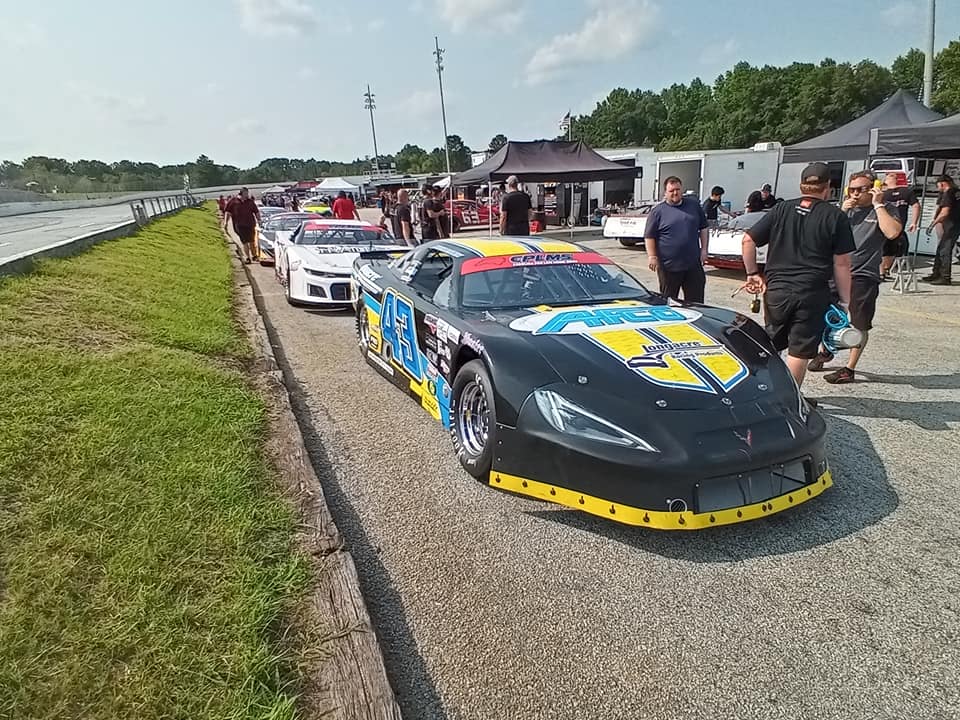 On July 24, me and my son Josh headed out to Dillon, South Carolina to make our first visit to Dillon Motor Speedway. As always, we wondered what we would see throughout the day and night, especially since we were going to a track we had never been to. Of course, we heard a lot about the place, and none of it bad, so we were eager to get a look for ourselves. We were excited for one, because the place is owned by one Ron Barfield. That's right. Guys my age probably already know about Ron, but if you don't, you should know that Ron Barfield is an ARCA Series winner at Michigan in 1996. He would go on to run races in the Craftsman Truck Series with 17 top tens, the Busch Series with 2 top tens, and even ran a Cup race at Indy. He started racing Karts when he was 6, becoming the World Karting Association Dirt Series Champion in 1987, and was the Myrtle Beach Speedway Late Model Champion in 1991, winning over 40 features there. And after Ron's racing career winded down, instead of just settling on the memories he had in racing, Ron went and saved a decaying dirt race track in Dillon, South Carolina. Formerly Dillon County Raceway, the 4 tenths dirt track was born in 1966, and operated until 1973 before it closed the first time. It was reborn in 1977, but found itself shuttered again in 1980. And there it sat, rotting away, when Ron decided to step in and save it. And being an asphalt racer, the track was paved and upgraded to the 4 tenths mile oval that you find today. What we found when we arrived, was a clean, professionally ran track, full of race cars on the inside infield pit area, with some Vintage racers, (including Monk Tate's old winning Modified), who had set up just outside of the track so the visiting fans could get a look at the cool old racers as they filed into the track. When we got inside the track, after watching the Carolina Pro Late Models turn 16 second laps around the place, I went to Kyle Campbell, who's a top running regular on the tour, and asked what the difficulties were running the track here, and he gave me a perfect description I could fully understand. He said, "Well, it's a tricky place to run a lap at. Where as a place like Franklin County (which was their last venue), allows you to really get at it in the corner, here you have to finesse your drive into the corner, and roll it in after heavy breaking off the straights. It's kinda like Florence Motor Speedway, but with banking and walls."
See, he knows what we know about Florence, and that it's a drivers track. So, Ron Barfield, being a racer himself, made Dillon Motor Speedway a working drivers track. Where no matter how good the drivers car is, to win here at Dillon, you as a driver are going to have to work for the win. And Barfield, as a racer, also did a great service to the racing community, when laying out the track in reconstruction and paving, he made sure the fan view was outstanding. You can see the whole track from anywhere inside this place, even on the bottom row of seating. Barfield, his family, and his Dillon Motor Speedway team are to be commended for what they have and run here. It's an outstanding facility, ran by racers, for racers and their fans. And today, the track had the daunting task of running a show with 10 features on tap, and 11 races if you include the Legends division heat race that determines their feature starting order.
It's going to be an amazing night of racing action featuring the Carolina Pro Late Models and Carolina Crate Mods, with a huge card on tap including Vintage racers and USAC Midgets. The prayer has been spoken, and the National Anthem sung. It's a hot day here in South Carolina, as the crowd is ready for the action to heat up on track, so Let's Go Racin'!
Mini Cups
The Mini Cups are popular here, and has Ron Barfield's support as he himself started in Karts, and feels this is a great starter division for Dillon Motor Speedway, and the Mini Cups, you should know, get great speed and put on a great show here. Charles Foxworth in the # 41 car starts up front with the # 17 of Morgan Odom starting 2nd. The green comes out and Foxworth immediately gets a big jump. The # 1X of James Alexander gets by the # 8 of Terri Crider for 4th, but the # 33 machine of Easton Swain sneaks by both of them with the slightest of ease. Swain then gets by the # 17X of Carmen Odom for 3rd. The # 41 of Foxworth may be in inevitable danger as Swain now gets by Morgan Odom for 2nd. And before you know it, Swain is right on the back end of Foxworth. During this battle, the # 28 Davey Allison inspired machine of Lizzie Welch has problems and her day as sadly come to an end. As the 33 looks to make a move, it seems that he's burnt his stuff up as he's falling away from Foxworth, who has turned up the wick. Foxworth pulls away just enough to take the win with Swain coming in 2nd, Morgan Odom in 3rd, Carmen Odom in 4th, and Terri Crider in 5th.
4 Cylinders
Next up is the DMS 4 Cylinders. The # 6 of Mike Stafford starts on pole for this one, with # 02 Matt Briggs starting 2nd. The flagman likes what he sees and the green waves. Stafford and Briggs battle side by side in a great battle before Briggs edges him out on the outside. Briggs is clear but Stafford is breathing down his neck. Stafford looks inside time and time again, but never lays a fender on Briggs. As the white flag comes out, Stafford again looks inside, but he just can't do it as Briggs crosses the line first. Just a testament to the clean racer that Stafford is. The # 68 of Shannon Ward finishes third, the # 00 of Chris Renaud 4th, and the # 35 of Paul Speight rounds out the top 5.
Bangers
The beginner Banger division is highlighted by young racers wanting to get their feet wet in the world of asphalt stock car racing. In the end of this short event, Dylan Kelly in the # 73 Banger gets his second victory in a row in dominant fashion.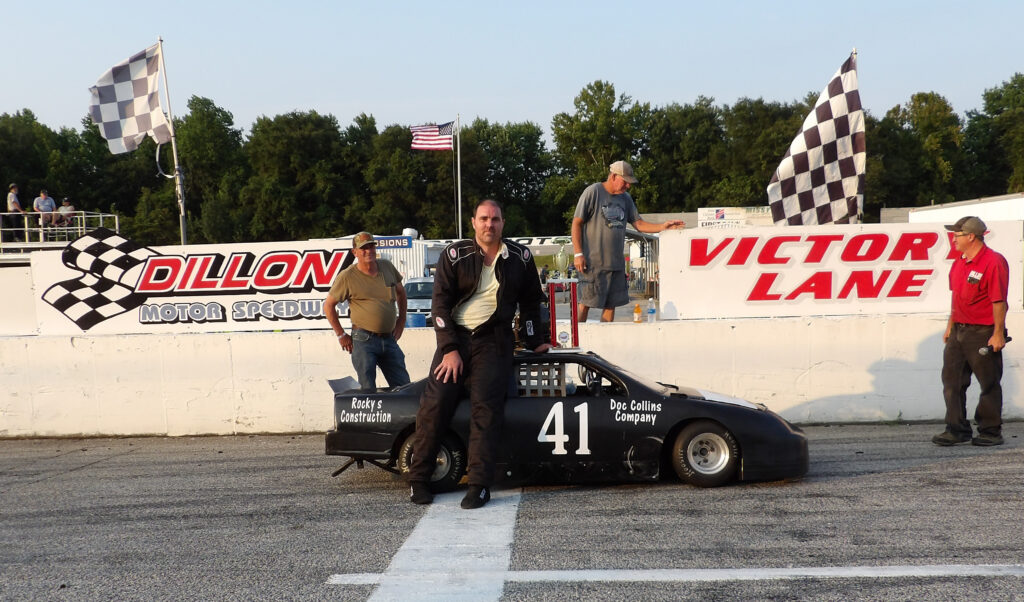 Legends
In the Legends division, the # 50 machine of Dennis Brown would start on pole with the # 18 of Connor Lee starting on his outside. Dennis gets a great jump to start, but Lee is hungry for victory lane and gets by Brown for the lead shortly after. In doing so, he brings father Jamie Lee in the # 34 and Dillon veteran Wayne Locklair in the # 12 along with him, dropping Brown to 4th. Locklair and Jamie fight it out for 2nd, and Locklair gets the nod for that spot. Shortly after, Locklair is breathing down Connor's neck and eventually gets by. Connor's father Jamie follows suit, putting Connor in 3rd. Jamie then looks under Locklair and grabs the lead swiftly as the action in this race is already outstanding. But the action is brought to a halt as Connor Lee spins in turns 1 and 2 and brings the caution out on lap 8.
For the restart, it's the # 34 in the lead with Locklair in 2nd. The flagman likes what he sees and the 34 is off with a great jump. But not for long as Locklair gets right back underneath and takes the first position back. Jamie, knowing that there's not much time left, puts the bumper to Locklair and moves him to take back the lead yet again. One lap later, the caution flies again as the third place runner of Brown gets by Locklair and makes contact with the leader of Lee and they both spin. This gives the lead back to veteran Locklair. As the green flies, Locklair is gone and eventually crosses the line to get his first career Legend victory.
Vintage
The fan favorite Vintage racers now take the track and the crowd looks in amazement as these pristine and beautiful hot rods take the track in blazing fashion. It's a great race but in the end, nobody can stop the dominant # 11 machine of Ricky Locklair Jr.
USAC Midgets
Next up is the always popular USAC Midgets. Brady Allum in the # 87 would start on the pole with # 99 Peyton Ferree starting alongside. Allum gets a great start, but the 99 machine doesn't, as Ferree falls all the way to 4th. This puts the # 9 of Chris Lamb battling for the lead with Allum. The first caution would come out on lap 20 as the # 5 of Jessica Bean goes around in turn 2. Allum and Lamb are still the top two as we head back green. As the green flies, Lamb hits the turbo button and walks away from Allum. The field is fighting hard behind him, but Lamb is just too strong and takes the victory in the 35 lapper. Allum finishes 2nd, the # 5 of Jessica Bean moves herself back up to 3rd, and the # 31 of Sam Mazzo finishes 4th.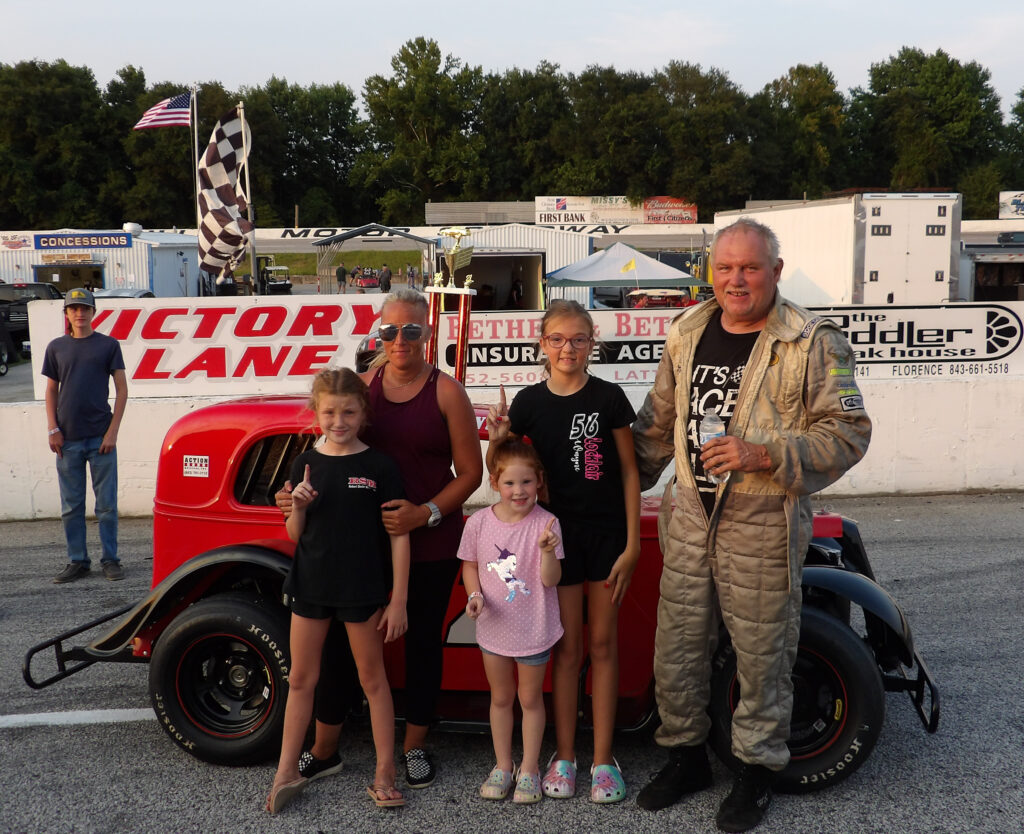 Challengers
Starting on the pole for the Challenger race is track favorite # 6 Ethan Winkeler, with the # 21 Stacy Matthews starting in 2nd place. The green flies and Winkeler takes off with a purpose. But maybe too good as he gets real loose out of turn 4 to complete lap 1 as the # 28 Larry Isenhower spins behind the field in turn 3. It'll be the same top 2 as the green flies yet again and Winkeler yet again gets a great jump. As Winkeler is sailing away from the field, third place Connor Lee in the # 18 is tasked with holding off Dillon veteran Wayne Locklair in the # 56 as he had to do earlier in the Legends race. But Locklair is just too strong and gets by the Lee machine. The field is able to stay clean and green and Winkeler is able to get his first career win. It's a very popular win as he dedicates it to his cousin, Jackson Winkeler, who was sadly killed in the line of duty in 2020.
Late Models
Next up is the fast Dillon Motor Speedway Late Models. The # 63 of Chris Throckmorton starts on the point with the # 98 Kevin Parsons starting on the outside pole. Throckmorton gets a great start as the flagman waves the green. The # 6 of Jason Clark battles his way past the Parsons machine to take 2nd place and immediately starts pressuring Throckmorton. But the experienced Throckmorton isn't phased whatsoever and starts to build a nice gap between him and Clark. As Throckmorton continues to make perfect laps, Parsons finds his way back around Clark for the 2nd position. Clark is then hounded by the # 73 of Shane Bowen, who eventually takes the 3rd position away from Clark. None of this matters to Throckmorton however as he crosses the line to win his first ever Late Model race at Dillon Motor Speedway. Parsons comes in 2nd, Bowen in 3rd, Clark in 4th, and the # 25 of Robbie Mew finishes 5th.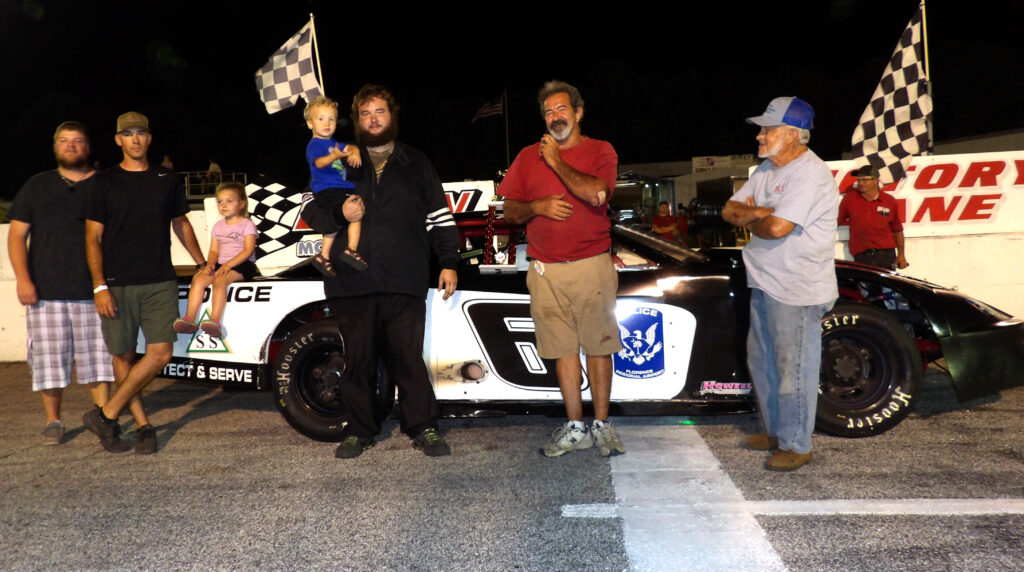 CAROLINA CRATE MODIFIED SERIES
The Carolina Crate Modified Series comes into this race with Kevin Orlando on a three race winning streak. Dean Lowder has a big lead in the points heading into the race, but he needs to have a good finish today to stem a bad luck streak that has seen second running Cody Norman chipping into Dean's lead heading into the final stretch of the season. Dean Lowder starts his night off right with the fastest qualifying lap of 17.276, but the field invert number today is 6, so that leaves Lowder starting sixth on the field for the race. The invert puts # 99 Cayden Lapcevich on the pole for the start, followed by # 163 Junior Kendrick, #12 Cody Norman, #00 Kevin Orlando, and #51 Junior Snow, rounding out your top 5 starters.
The field is all lined up, and the pace car is off. The Speedway flagman likes what he sees, and the green is out in the Carolina Crate Mod feature. Lapcevich gets a great start, but Kendrick doesn't get going, and he stacks up the field a bit, as Cody Norman dives under him and gets past for second, as Orlando almost makes it 3 wide as he looks to his outside. He thinks better of it though and drops in line behind Kendrick as they shuffle for position down the backstretch. Coming off of 4 under pressure from everyone behind him, Kendrick gets up into the wall coming off the tricky corner, and he tries to clear himself from the field, and then catches the inner wall at the end of the frontstretch, and careens up the turn 1 banking, with sparks flying as he has a right front down on the machine, almost collecting # 01 Brian Weber who'd went to the outside to miss the carnage. Everyone makes it by however, as we are under caution after just one lap in this one. The track crew gets to work and gets it all cleaned up fairly quickly however, and in no time, the drivers are all lined up for the restart. Lapcevich again leads them down, with Norman, Snow, Orlando, and Lowder in tow. Lapcevich again gets a great start, as Orlando gets a great start as well and is outside of Snow for third, and as he goes to make a move inside of Norman, Snow tries to go with him and dives down to the bottom to hold his position, but there's not enough room for all three coming off the corner, and Snow gets into the inside wall coming off of 2, as Weber slips past on the outside line, but Dean Lowder is collected with nowhere to go coming off 2 in the bottom groove. Both Lowder and Snow have significant damage, and since this is going to take a bit to clean up, the field is put under the red flag, and with the combination of how this race has started, and the huge number of divisions competing tonight, the decision is made to shorten the race to 40 laps. So, once the track is cleaned up, it will be crucial for the competitors to get an excellent start, and run hard for the rest of the race, as now there will be no need to save tires in this one.
The track crew has us all clear again, and Lapcevich brings them down, with Norman, Orlando, and Weber lined up behind him. Lapcevich again gets an amazing start, as Orlando makes a move under Norman, and sets his sights on leader Lapcevich. And what follows is an epic battle between Lapcevich and Orlando. We've seen this many times this year, but this time it's Lapcevich on point with Orlando trying to find a way past. Orlando dances in Cayden's mirror trying to get him to make a mistake. Then as Lapcevich's tires get heated, Orlando starts to put the bumper to him to amp up the pressure. This goes on lap after lap, with Cayden getting looser and looser off of turn 4. But Lapcevich keeps the hammer down skating off the corner, but in a way that he is able to still power down the backstretch. Kevin Orlando tries lap after lap, but then they start to settle out. Lapcevich is not quite as loose off the corner, but Orlando is not applying as much pressure. But I've seen this before. Kevin's cooling down his right front to make a run at the end. And when it's time, he's back at it, putting the bumper back on Lapcevich coming off of turn 4, trying to set him up for the late lap pass that will get him the victory. And again, under pressure, Cayden Lapcevich starts getting loose coming off the corner. Orlando is putting more and more pressure until he gives the leader all he's got. But Lapcevich never falters, and never gives Orlando the opening he needs, using his experience to hold him off, and takes the impressive win, leading every lap in the event.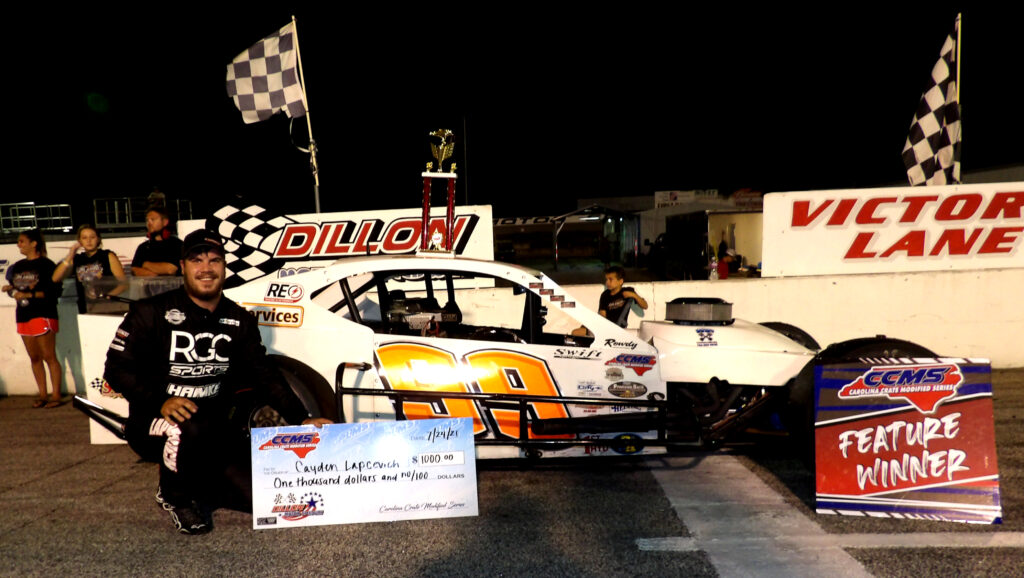 CAROLINA PRO LATE MODEL SERIES
Nick Loden is your points leader going into this race, and after a great start to the season, he is back up to form and looking for a great finish today to set himself up for the end of the season run at the championship. Leland Honeyman has worked himself in a position to challenge Loden for that championship, and could make good gains today with a great finish that could set him up to challenge Loden in the end of the season run that will determine the outcome. # 63 Josh Lowder is your fastest qualifier today however, with a lap of 16.880, and that will pose a problem with anyone wanting to get to victory lane here today, as we know Lowder to be a tough, hard nosed competitor. And with fast practice times, and the fastest qualifying lap, barring any issues with that car, Lowder will be a large factor here today.
The magic number today is 6 however, and so that puts # 35 Caden Kvapil on the pole for the start, with # 48 Tovia Grynewicz, # 43 Nick Loden, # 71 Katie Hettinger, and # 43S William Sawalich rounding out your first 5 starters. The drivers double up, the flagman is pleased with what he sees, and the green is out. Kvapil and Grynewicz battle it out early for track position, and Kvapil gets it within a few laps. Sawalich is starting to make a run early in this one as he's able to get by Hettinger and Loden to move up into 3rd. In doing so, he brings along fastest qualifier Josh Lowder with him, putting Lowder in 4th. This leaves Loden and Hettinger to battle for 5th. And they not only go to battle, they go to war for this position. Hettinger looks inside time after time, but Loden keeps closing the door on her with no remorse. Behind them, the # 21D of Gus Dean is starting to show his strength. Dean is able to power by Hettinger for 6th, and sets his sights on Loden. In the front of the field, Sawalich is doing everything he can to get by Gryncewicz for 2nd and ends up climbing on top of the # 48 machine trying to get the position. Everybody is able to keep it straight, but Sawalich's car is clearly hurt as Lowder flies by. Behind this madness, Dean has caught up to Loden and easily gets by the points leader. He then gets by the ailing Sawalich car as does Hettinger, getting by both Loden and Sawalich. As Kvapil is starting to pull away, Lowder is able to power by the Grynewicz machine for 2nd, bringing Dean and once again Hettinger along with him. As they set their sights on the leader, the caution flies as a piece of Sawalich's car has made it's home in turn 3. This gives everybody a needed chance to catch their breath.
Under the caution, I can't help but notice that the # 4 car of Leland Honeyman has brought his machine down pit road and the crew has the hood up. This is huge as Honeyman is second in points, and this is not what the Honeyman crew wanted to see. The lineup for the restart is Kvapil, Lowder, Dean, Hettinger, and Grynewicz. The green comes back out and Lowder wastes no time and powers by Kvapil easily for the lead. Loden moves his way back up to 5th as he passes the 48 of Grynewicz. It also seems that the 71 machine of Hettinger has turned up the wick has she gets by defending winner Dean and sets her sights on the front runners. Kvapil's tire wear has started to show as he is clearly not as quick as he once was. This again allows Hettinger to power by to take 2nd spot. Dean follows right in her tracks, getting by Kvapil for 3rd. Hettinger is catching Lowder slowly but surely, but her only realistic shot is a late race caution. And on lap 65, due to debris in turn 4, she gets her wish.
The crowd is up on their feet as they know they're about to see a barn burner of a finish. Lowder lines up first, Hettinger 2nd, Dean 3rd, Kvapil 4th, and Loden 5th. The green is out and the leaders engage in a furious battle for the win. But huge trouble strikes behind them as the # 51 car of Nathan Byrd climbs on top of the Grynewicz machine and nearly flips over. This immediately brings the caution out, and then the red. After a quick clean up, the top 5 is the same from the previous restart. The green flies yet again and Lowder is off to the races. Hettinger is trying as hard as she can but gets shafted up high which allows Dean and Kvapil to power by. She's then tasked once again with holding off the fierce 43 machine of Loden. They make contact numerous times, and Hettinger finally gets the advantage and keeps 4th place. But in doing so, she has killed her tires, and it bites her as she spins in turn 4 just as the white comes out. Devastating for the Hettinger team as she was having a career run up in the front. This sets up a green-white-checkered. Your top 5 is now Lowder, Dean, Kvapil, Loden, and the # 03 of Kyle Campbell, who has kept his nose clean and has stayed out of trouble for the entirety of the race. The crowd is on their feet, the drivers are up on the steering wheel, and the green is once again out. Lowder and Dean both get a great start on the field and are side by side at the white flag. Lowder slides in front at the entrance of 3 and clears Dean, but Dean keeps his foot on the gas and crosses Lowder over out of 4 and Dean gets it by a foot at the line! An amazing finish to an amazing race! Kvapil finishes 3rd, Loden gets 4th, Grynewicz comes back from a late crash to finish 5th, and, believe it or not, Hettinger ends her up and down day with an amazing 6th place finish!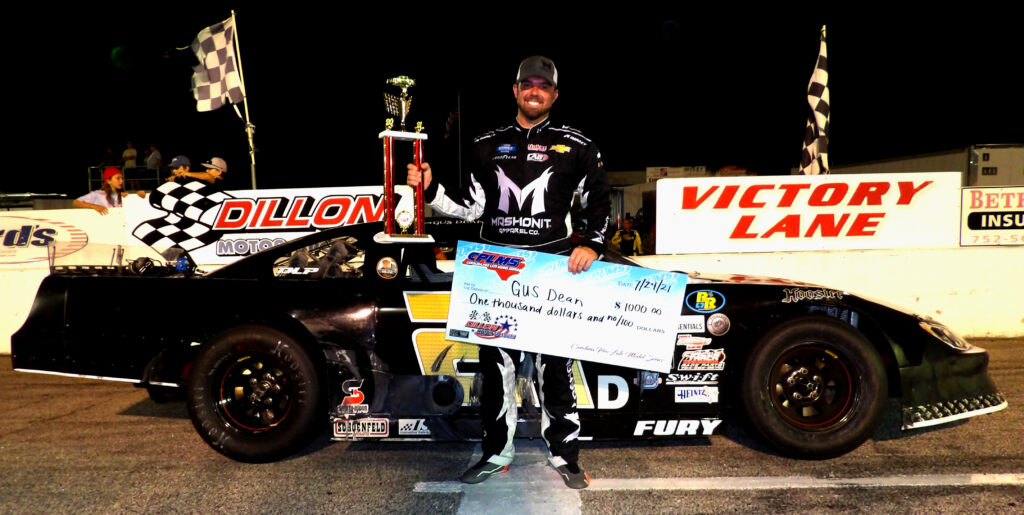 MY TAKE
Man, where do I start. First of all, we would like to apologize to our main followers who have reached this point in our extended coverage article for this race at Dillon Motor Speedway on July 24. We always want to get these out as early as we can manage, and we do have a preferred time on our article release. But in this case, we had to take some extra time to sort through all we'd seen and experienced at this event. It literally had everything a racing fan could ask for and more. From first time winners: Wayne Locklair in Legends, Ethan Winkeler in Challengers, Chris Throckmorton in Late Models, and Cayden Lapcevich in the Carolina Crate Modifieds. First time winners are special, but this list was even extra because of the stories that got them here to begin with. The Locklair's have a storied history with this track, and Ethan Winkeler is driving for the ultimate cause. Chris Throckmorton had the perfect day in Late Models. And Cayden Lapcevich? Well, his story is more than I can write here, and plans are in the works for an article on Cayden that is slated to come out before their next event at Hickory Motor Speedway on August 7, 2021. But what you should know is that at just 21 years old, Cayden Lapcevich has the experience of a veteran, and it showed tonight.
The racing was special here tonight, as along with the many firsts, and the stories we took away from this epic show, one of the most exciting was the photo finish in the Carolina Pro Late Model race. And what a race it was. Lowder gets the fastest qualifier award, and runs his car to the front as the car to beat all day. Katie Hettinger's battle with Nick Loden was worth the price of admission alone, and Gus Dean's game plan was spot on, earning the experienced veteran just enough to nose ahead of Lowder at the end. What a race. Our Blue Collar Racer Of The Event Award took us 2 days of discussion to conclude a winner. Lowder worked hard all day, and was indeed the driver to beat at the end. And Gus Dean used his experience to net him a dramatic win when it was all said and done. Nick Loden battled hard all day and came away with a much needed fourth place finish for all of his hard work. Kyle Campbell was methodical in his hard working performance that found him finishing inside the top 10. But we couldn't deny Katie Hettinger for her outstanding performance tonight. She started fourth, and finished sixth. And if I left it at that, you would wonder why we gave her the nod. So what you need to know is that starting fourth, she fought her way to second by the end of the race. She battled Loden as hard as we've seen him be raced, and she positioned herself past Gus Dean to make a run for the win. But in the end, on the second to last restart behind Caden Kvapil, she got over eager on old tires, and trying to make up the ground she had lost, spun around off of turn 4, collecting no one and sustaining no damage, bringing out the last caution, setting the race up for a green, white, checkered finish. But she didn't quit. Restarting in the back, she still worked her way back to a remarkable sixth place finish. All that earns her our Blue Collar Racer Of The Race this week. Our hats are off to you Katie Hettinger, and your team on a great hard fought finish this week.
And we owe all of this week to one Ron Barfield. A racer who is giving back to the short track racing community by running a track for the fans and racers who love short track racing in his community. His efforts reach way farther out than Dillon, South Carolina, and we personally want to thank him, his family, and his track and staff for their amazing hospitality. And we look forward to our return in the future to Dillon Motor Speedway, as we know it to be a racers track, and an outstanding place to watch short track, grassroots racing.
Tags
Carolina Crate Modified Series
,
Carolina Pro Late Model Series
,
Cayden Lapcevich
,
CCMS
,
Charles Foxworth
,
Chris Lamb
,
Chris Throckmorton
,
CPLMS
,
Dillon Motor Speedway
,
Dylan Kelly
,
Ethan Winkeler
,
Gus Dean
,
Matt Briggs
,
Ricky Locklair
,
Ricky Locklair Jr.
,
Ron Barfield
,
Ron Barfield Jr.
,
Wayne Locklair