JUSTIN JOHNSON LOOKS TO GIVE BACK TO THE SHORT TRACK RACING COMMUNITY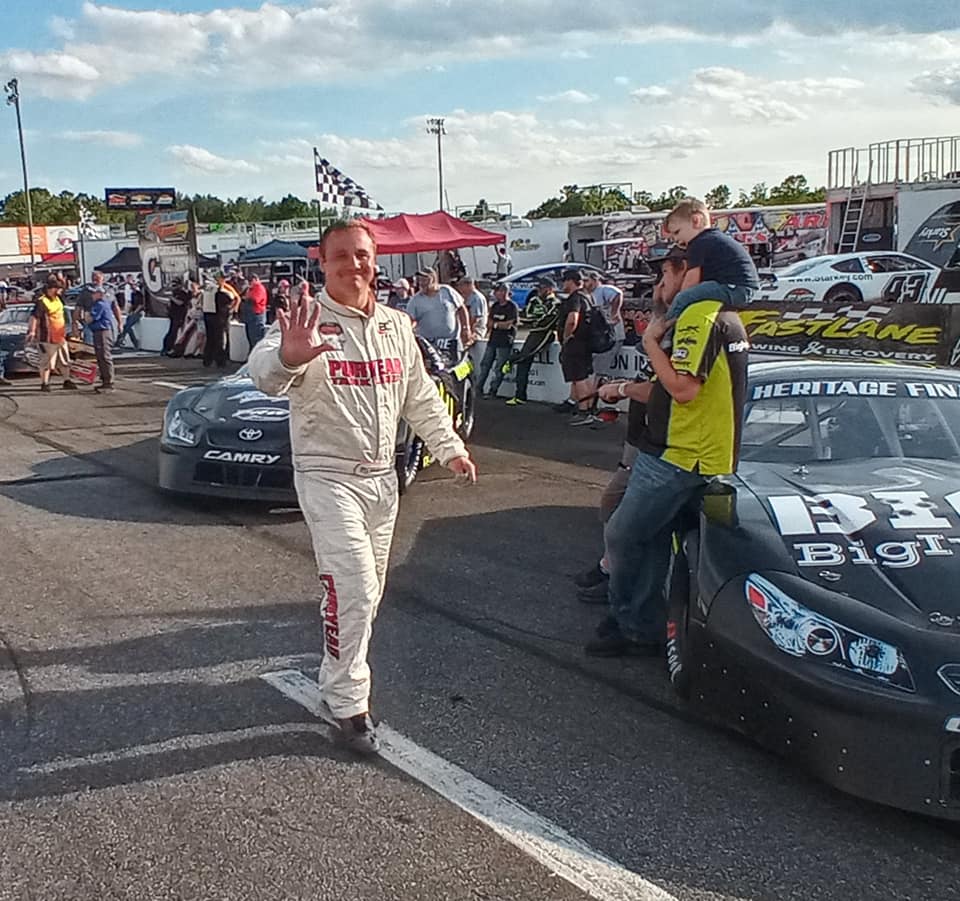 Justin Johnson from Roxboro, North Carolina finds himself at the pinnacle of his career. Born on March 3, 1987, Justin soon began racing Karts at 8 years old. And after numerous wins and championships in Karts, Mini Cups, and Legend Cars, Johnson decided to make the move into Late Models to make his mark. And in 2009 he became the South Boston Late Model Champion. He followed that up the following year, but also achieved the moniker of Whelen All- American Series Virginia State Champion. So, as before, Justin Johnson decided to make the next step and run against the best Late Model drivers in the country on their ground in the top tours he could find. He competed in the PASS Super Late Model Tour and in the Hooters Pro Cup. And when the CARS Tour began competing in 2015, Justin Johnson was there, and became a staple on the tour. And he found what many drivers do on the CARS Tour, and that it's hard to win races, as the level of competition is as fierce as you can imagine. Drivers like Josh Berry, Deac McCaskill, Mike Looney, Bobby McCarty, Jared Fryar,…the list goes on and on of great drivers who have or are competing here. But now, in 2021, Justin Johnson put himself on the coveted winners list on the greatest Late Model Tour in the country. Not once, but twice. He won the season opener, and he repeated the feat at Caraway just a few months ago. And now he finds himself sitting 3rd in points behind points leader Bobby McCarty, just 3 points back. Second in points is Kaden Honeycutt, 2 points back, who just happens to be Justin Johnson's teammate and driver at Justin Johnson Racing.
JJR was formed in 2020 by Justin Johnson, and his friend and former competitor Jason Stanley. Stanley, a former Late Model contender himself, had moved to crew the crew management side of the sport as a crew chief for Bassett Racing, earning them the UARA Championship with driver Dillon Bassettt in 2013, before moving to be Dalton Sargeant's crew chief in 2014. Stanley had garnered over 40 wins as a crew chief in the Late Model ranks, and Johnson knew Stanley would be a great asset to his newly formed race team. He knew he needed to bring in someone with expensive experience on helping drivers achieve wins, not only to help advance his career personally, but to fulfill a dream he's had to give back to the short track racing community. Johnson didn't want to just start a race team, he wanted to start a race team with a driver's development program to help young drivers achieve their dreams of racing greatness. It was a mission that came about upon reflection of his own career, and his beginnings as a child racer running Karts at the beginning of his racing career. He wanted to help young racers advance through the ranks of their start in lower developing divisions and series, up to the CARS Tour where Justin himself competes, using the same group of mentors, coaches, and crew chiefs around them throughout the development process, so they can concentrate on driving and not worry about building chemistry with different teams at each level of their development. Drivers such as Whitney Meggs and Kaden Honeycutt are perfect examples of what they are trying to accomplish. We have seen Meggs at several area tracks competing in Late Models early in her career, developing the skills she needs to compete in the super competitive class, and we have personally seen Justin Johnson on weekends he is not competing himself, come in person to mentor the young driver. And Honeycutt, in Johnson's team car, sitting second in points on the CARS Tour, and a team Johnson will have to try to beat if he wants the championship this year. So you can imagine the effect Justin Johnson Racing already has had on the local short track racing community in just a short amount of time, and you can start to realize the dream Justin Johnson is bringing to life.
As a race coverage organization traveling around to see the best tracks, tours, and teams in our region, we couldn't help but notice Justin Johnson and come to realize what he is trying to accomplish. And being fans of the sport ourselves, we definitely can't ignore the impact him and his team are having in the area. Justin Johnson became huge on our radar on May 15 of this year. We had heard of him of course, but on May 15, Justin Johnson and his team took a special place in memory for us. We went down to Tri-County Speedway with an idea to start Short Track Report to give greater focus to everything in our area that makes this the best racing region in the country. And with those thoughts in our head which we still pondered, we came to cover the Dual Track Showdown race at Tri-County Speedway. What we found was a greatly improved Tri-County with some big names entered into the Showdown. Among those names where Justin Johnson, his team car piloted by Chandler Smith, Jacob Heafner, and Tri-County Speedway Late Model points leader Braden Rogers. And what we saw during that race, was literally the greatest short track battle I have ever seen. I don't make that statement lightly. Johnson, Smith, and Heafner were going 2 and 3 wide at the end of the race in a battle of epic proportions. And in the middle of it, Braden Rogers snuck through Johnson and Heafner, walked down Chandler Smith, and almost stole a win while they fought it out. Smith went on to win, Rogers second, Johnson 3rd, and Heafner had to settle for a frustrating 6th place finish. Now what happened next is what all the social media wanted to focus on as controversy, tempers, and hurt feelings played itself out in the aftermath. But see, I as a fan grew up at Bowman Gray Stadium, and so none of this was new to me. But it's all everyone at the time wanted to talk about. But me? Well…all I could focus on was the best race I've ever seen. It changed how I saw Late Models, and it secured in my mind the fact that we indeed live in the greatest racing area in the country. And it was the final straw in our decision to step out on our own as Short Track Report. Now, the controversy has died down, and nobody even talks about it anymore. So we will remind them of the most important thing that happened that night, and that was indeed one of the greatest showdowns short track racing has ever seen.
And this reminder comes as Justin Johnson and Kaden Honeycutt reach a crucial time in the 2021 CARS Tour season, heading into the Throwback 276. And Justin Johnson, at the pinnacle of his career, looks to make his mark on the CARS Tour in a quest for a championship, among his hard fought 2 wins this season, inspired by moving to also make a mark on the short track racing community. We reached out to Justin to ask him his thoughts coming into this race at historic Hickory Motor Speedway:
"Of course Hickory Motor Speedway in it's entirety owns a lot of NASCAR history. It's a special place to race as many people who are significant to our sport cut their teeth there. For me personally, I look forward to the throwback every year and there's always a lot of chatter and promotions heading into the event. Provides big race hype for sure. Anytime there's that many fans and competitors that look forward to a certain event, it makes you want to put your name on that trophy just that much more.
For the throwback this year, it's such an honor to be able to surprise Steve (Stallings) and throwback to his racing days. I've known Steve personally since the late 1990's and early 2000's, long before I drove cars. My father for years owned Barry Beggarly's race cars. Steve is his nephew and was frequent on the pit crew. I think Steve is one of the most thoughtful and caring people I've met in my life. Always willing to lend a hand to anyone. He's a tremendous asset to the sport. He helps a number of drivers and race tracks in many different ways. Besides all that, his success as a business man, entrepreneur, and the fact that he is self made, is extremely impressive and respectable. He was instrumental in the creation of R&S Race Cars. It is a pleasure for me to be able to drive their house car, and work with such great people in both Steve and Marcus Richmond. This year has been one of the most fun years of my racing career. We all love winning, but the teams that can stay strong though losing are the true champions. And Steve is a large part of the environment and mentality surrounding R&S." (For those that are not aware, Steve Stallings and Marcus Richmond are both co-owners of R&S Race Cars)