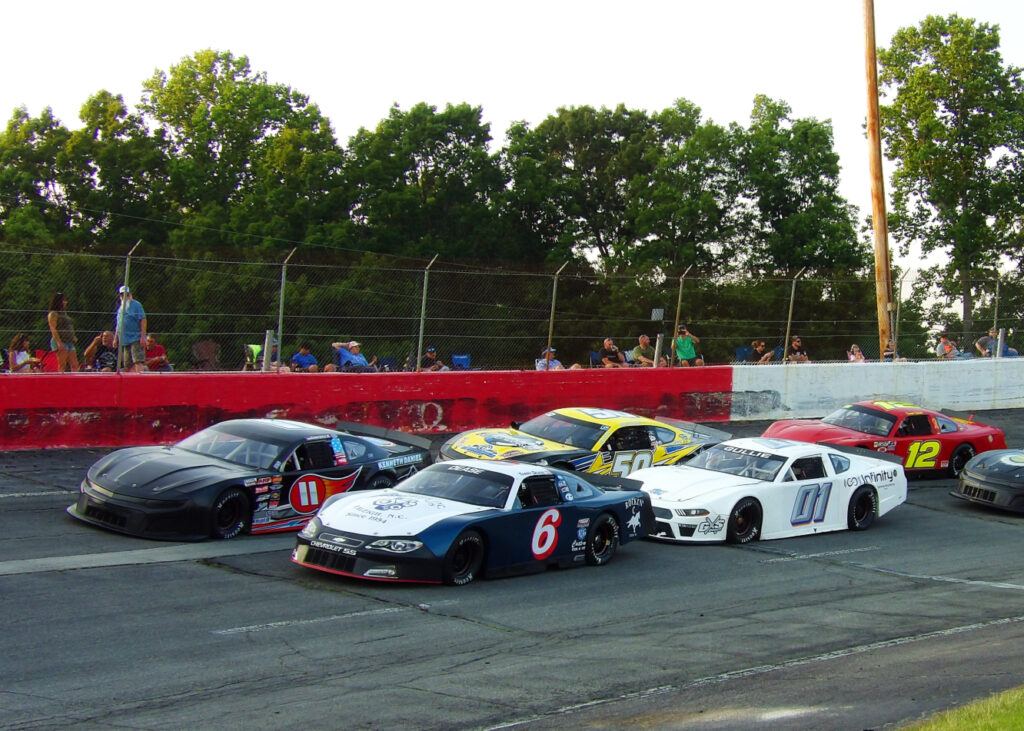 "You just can't beat the person who never gives up."

Babe Ruth
With so many great events in the short track world this past weekend in the central east coast region, we decided to try a little experiment. As a nod to the great support we receive from the short track racing fans in our region and beyond, we thought we'd give those fans a say in the choice of which track they wanted to see us cover this past Saturday night. And after the votes were tallied, we prepared to head out to the track we've dubbed the "House Of Speed", Orange County Speedway. It's a great testament to the track and it's efforts to bring Orange County back into prominence in the region as it shows with the fans support for those efforts. And we have to say, we agree with the fans. The history of the track is immense and the legacy that it has cannot be denied. But it's the track itself that stands out above it all. Multi grooved high speed racing is what it produces, creating excitement for the fans that come to see a show, and the place rarely disappoints in that. You never know what you will see at the historic speedway but one thing is for sure and that's the fact that you will see some great exciting and intriguing short track racing. So what did we see at "The House Of Speed" this weekend? Well let's get right to it! The invocation is spoken and the National Anthem sung with emotion, so, Let's Go Racin'!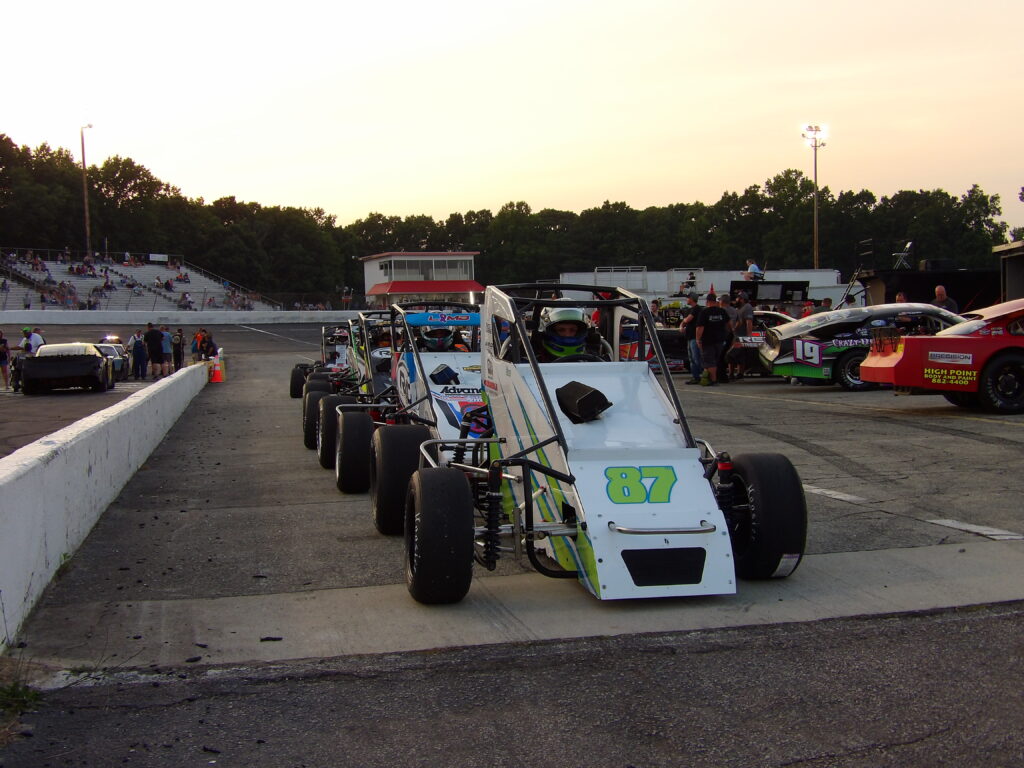 VINTAGE SPORTSMAN FEATURE
The # 88 Gatorade throwback machine of Paul Blalock starts up in front of the beautiful Vintage Sportsman field ahead of the # 22 of Lorne Long and the # 8 of newcomer Stewart Dillehay. Orange County Speedway flagman Andrew Tyree looks over the gorgeous field, likes the formation, and we're green at The House Of Speed! Blalock immediately jumps out to a comfortable lead as Dillehay starts to challenge Long for second. Long holds the position the best he can, but the # 8 hot rod is stout today as he rockets by for second. He sets his sights on Blalock, and is right in his tire tracks before you know it. But it just wouldn't be enough as Blalock breaks a long winless drought ahead of Dillehay and Long. Division dominator Chris Mincey comes home fourth in a back up car after issues with his # 11 machine earlier in the day.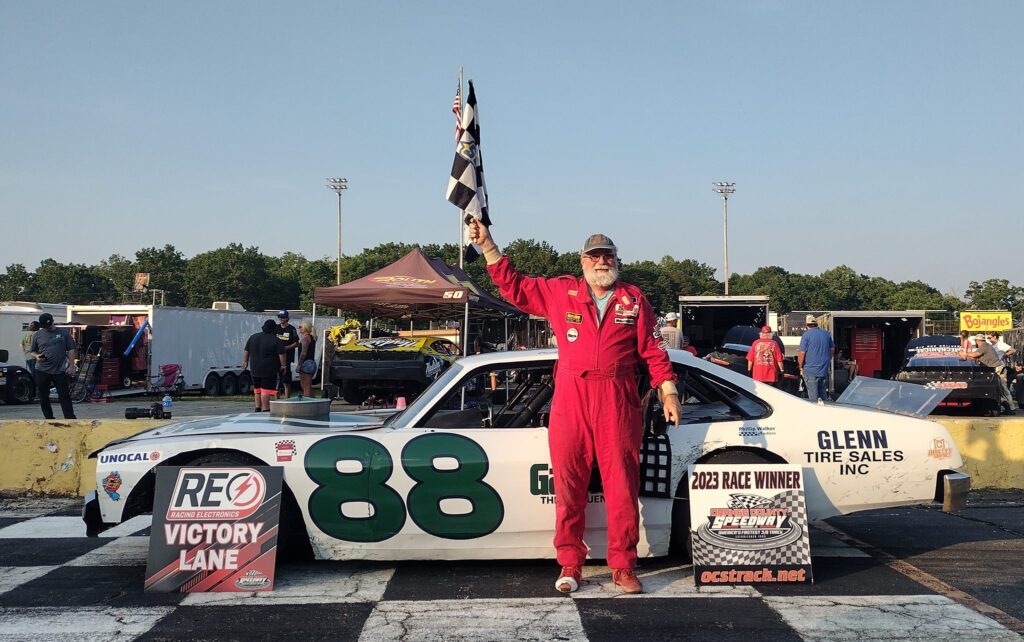 WINSTEAD FARMS PURE STOCK FEATURE
Defending South Boston Speedway Pure Stock champion Scott Phillips in the # 66 lays down a great lap in qualifying to grab the pole, followed by the # 75 of defending Mini Stock champion Hunter Durham and the # 76 of South Boston regular Andrew Turner. Phillips gets a flawless jump as the hard fought battle starts behind for second. Turner looks to the inside, then to the outside of Durham. He finally makes it stick down low and gets by Durham. Durham takes his momentum and tries a crossover maneuver, but can't finish the job. Behind him, the # 15R of Jeb Redman starts to make a charge as he now powers underneath Durham. Turner denies him this time, but Redman now looks to the outside and finally clears Durham as up front, Pure Stock ace Scott Phillips brings home the dominant victory. Turner grabs a hard earned second followed by Redman with a great third.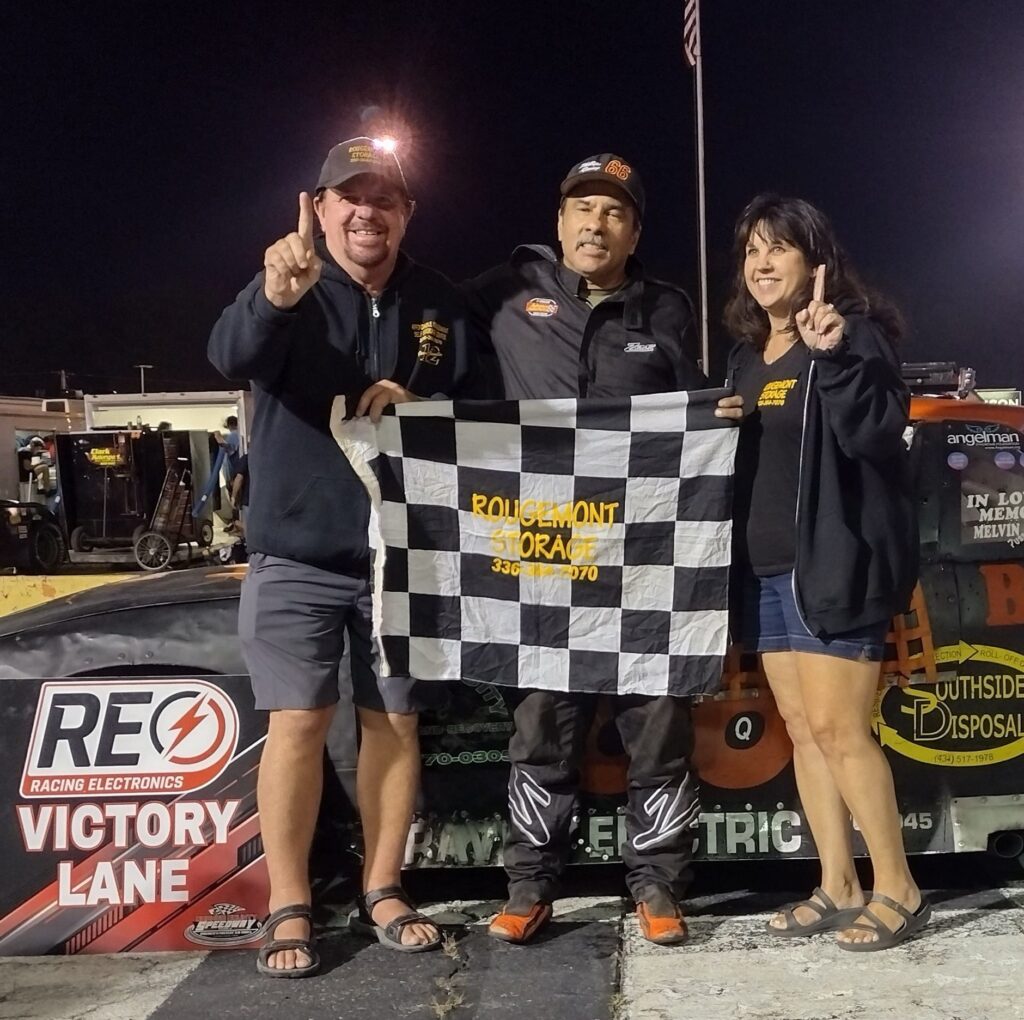 MOD 4 FEATURE
Reigning Mod 4 champion Harold Sumney Jr in the # 87 will start on point for this one followed by young phenom Lane Woods in the # 92. Rounding out the top five will be the # 12 of Joseph Kiger, # 53 Darrell Haynie, and the # 0 of Aaron Brown. Tyree looks over the impressive Mod 4 field, gives the thumbs up, and we're green! But not for long as Woods doesn't get going, stacking up the field and forcing an immediate restart. On the second go around, Woods meets a similar fate but eventually gets up to speed as he drops out of the top five. Kiger now slots into second followed by Brown, the # 00 of Ricky Brown, and the # 61 of Scottie Potter as the field shuffles. They finally get into a rhythm as young Woods is already back on the mend, getting by the Potter machine to break back into the top five. Up ahead, the battle for second heats up as Ricky Brown dives underneath Kiger going into turn one and they touch! They both head up into the turn two outside wall, with both taking big hits. The field scatters to avoid as the caution flies. It's a lengthy cleanup, but the Orange County crew is up to the task as they have the track back to racing conditions in no time. The top five looks a bit different after the wreck as Sumney Jr lines up first followed by Haynie, Aaron Brown, the # 3 of Cory Purnell, and Woods. The green flies and Haynie's machine comes to life, getting by Sumney Jr with ease. Purnell finds his way by Aaron Brown, but something is momentarily off with his car, dropping him to fifth. That now leaves Aaron Brown to deal with Woods, as Woods is fast as well, speeding by and getting onto the podium. But up front, it's the Darrell Haynie show as he wins followed by Sumney Jr and Woods.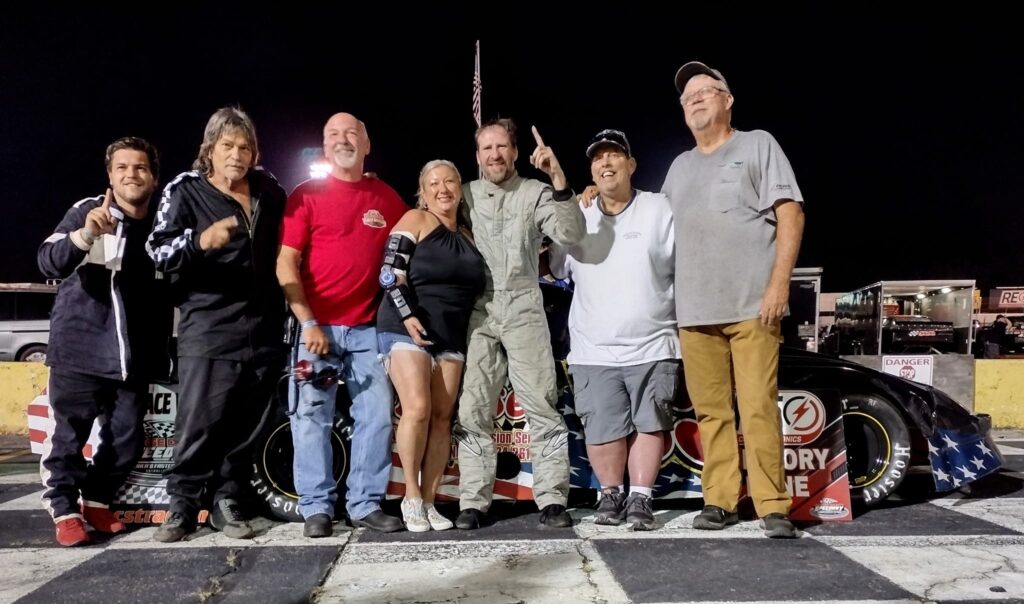 INEX BANDOLERO FEATURE
As the INEX points battles start to heat up midway through the year, drivers are looking for any chance to gain points. And that is just what Bandolero Outlaw competitor Sarah Whitesell did Saturday night at Orange County. Expecting a bigger car count, Whitesell ended up being the only Bandolero competitor at the track. But for her and her family paying entry fee, practicing, qualifying, and most importantly looking for INEX points, Orange County decides to hold a Bandolero exhibition for young Whitesell, awarding her winning INEX points in the process. She runs three green flag laps on the fast track, and as she takes the checkered flag, the crowd roars in approval as she gains valuable points on her competitors heading into the biggest INEX event of the year, the Summer Shootout at Charlotte Motor Speedway.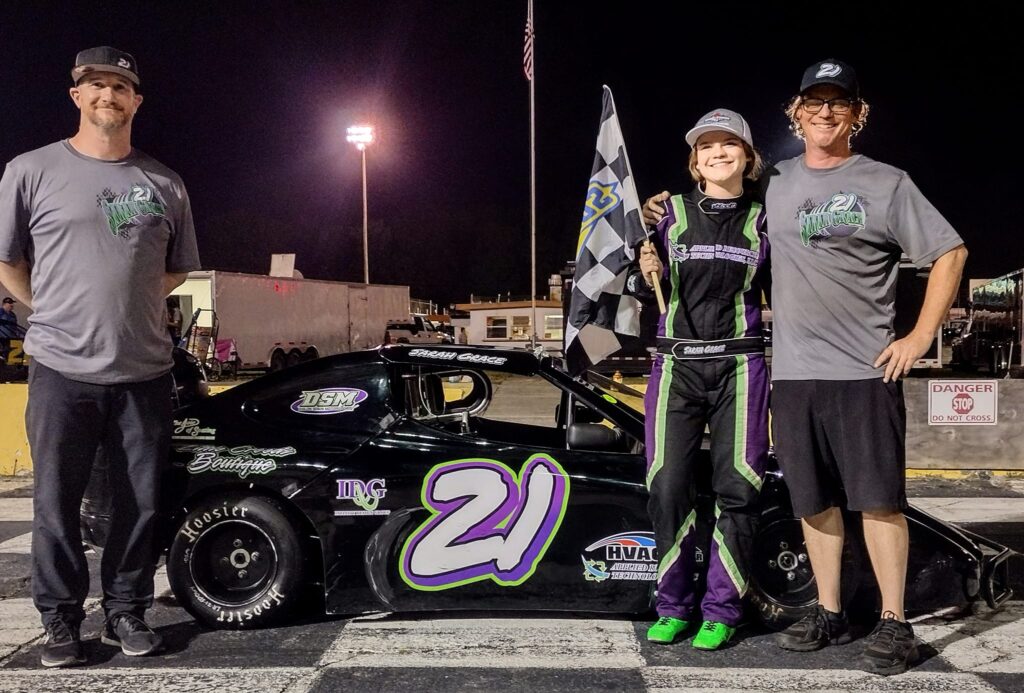 THREE SIXTEEN MOTORSPORTS INEX LEGEND FEATURE
The # 5B of Charlie Beals takes the big pole for tonight's INEX National Qualifier feature as he'll be followed by the # 110 of occasional Orange County Charger racer Kade Lambert, and the # 5BP of Bev Peregoy. Flagman Tyree looks over the field, approves the lineup, and we're green for fast Legend action! Beals gets an impressive launch as Lambert and Peregoy look to do battle. Peregoy is fast, but Lambert has an advantage as he knows the track like the back of his hand. Peregoy takes his time to experiment, running up high, down low, and even in the middle. Anything to try to cut into Lambert's second place gap. Ahead of them, Beals is basically putting down qualifying laps, getting better and better with each lap he runs. The top three are all in the sixteen second bracket, a scary fast time for these little machines on a track like Orange County. Peregoy continues to search, but just can't find the right formula to get by Lambert. But putting on a show is still Beals as he takes the big National Qualifier win ahead of Lambert and Peregoy.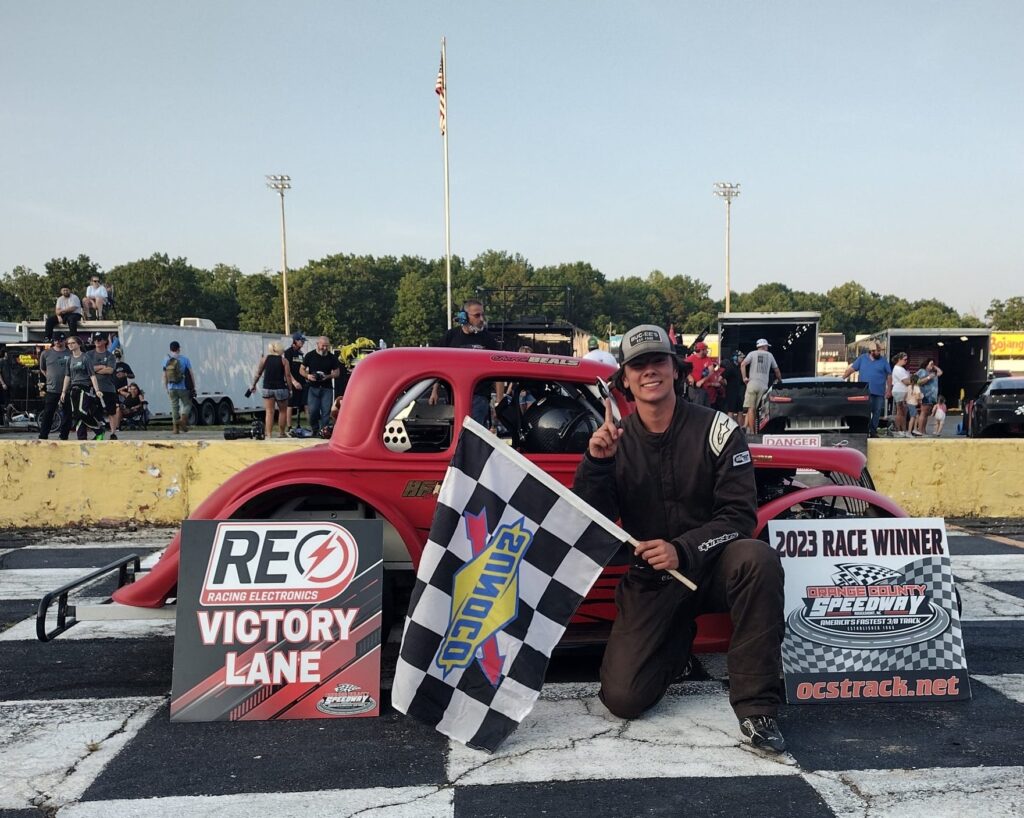 USAC EASTERN MIDGETS FEATURE
Making an impromptu visit to The House Of Speed is the popular USAC Eastern Midgets. The # 5 of J.T. Bierman qualifies on the pole with a ridiculous time of 13.867 seconds. But the redraw puts him starting third, leaving the # 87 of Brady Allum starting first followed by three time Eastern Midgets champion # 9 Chris Lamb. Tyree nervously looks over the fast field, likes what he sees, and we're green for the USAC Eastern Midgets! Right off the bat, Allum is wicked loose, sliding around Orange County like it's a local dirt track. Behind them, the field dices around, putting on spectacular racing in the process. Bierman is now hounded by the # 19 of points leader Logan Sulyi, as Sulyi gets the run and gets by the polesitter. Back up front, Lamb is there, looking for Allum to make any sort of mistake. Off of turn two, Lamb has the momentum and looks under Allum. And they nearly touch! The crowd gasps as Allum somehow keeps his Midget off of the outside wall, all while allowing Lamb to take the lead and the advantage of clean air. Allum tries his best to regather his machine, nearly losing second in the process. He somehow hangs on as now Lamb has pulled away with a one second lead. The racing is still hot and heavy behind, with the # 47 of Hunter Wise trying to enter the picture. But it's all for naught as Chris Lamb takes his 58th career victory followed by Allum and Sulyi.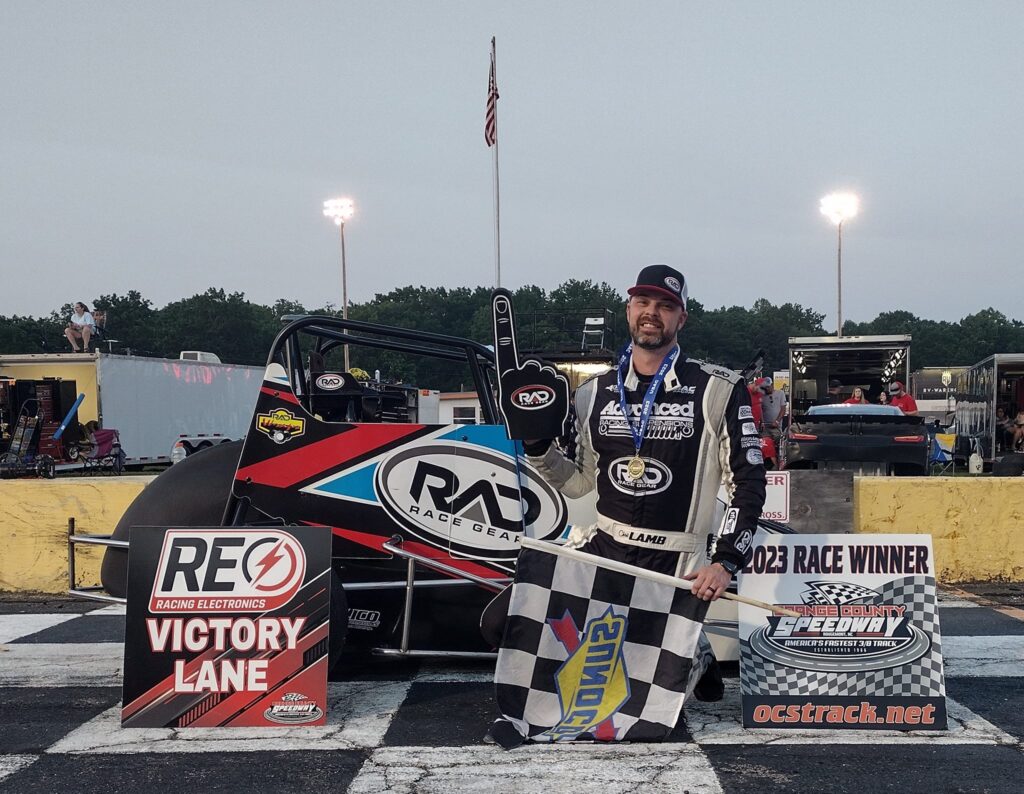 CHOICE AUTOMOTIVE CHARGERS
Lee Godbold in the # 11 Charger is the lucky pole winner tonight as he starts up front. Behind him will be short track veteran Fletcher Whaley in the # 52 followed by defending champion # 32 Austin Purnell, # 60 Chance Carpenter, and the # 12 of Tyler Kiger. It's a great start for Whaley as he immediately gets by Godbold for first, with the # 5 of Chris Gray moving up to fifth early. But now there's early trouble as Kiger gets into the # 76 of Tyler Johnson, spinning him around between turns one and two. Johnson is none too happy, but keeps his emotions in check as Whaley lines up first followed by Godbold, Purnell, Carpenter, and Gray. Whaley gets a fantastic start but it's too great as race control calls it back. The second time is the charm for Whaley as he clears once again, this time with no issue as the # 4 of J.R. Goode finds himself in fifth by Gray. He now starts to lay some wood on the Carpenter car, trying any way he can to move through the field. Back up front, Godbold is still right in Whaley's tracks as he starts to slowly cut into the leader's gap. Just as usual in the Chargers, the action is hard to keep up with as Johnson is now back in the fray, now looking under both Goode and Carpenter, killing two birds with one stone. Johnson's momentum is interrupted however as the # 82 of D.J. Moser has crashed on the backstretch. Right before the caution, Purnell gets by Godbold as he moves into second. It's another quick cleanup with Whaley lining up first followed by Purnell, Godbold, Johnson, and Goode. Whaley yet again gets a flawless restart as Godbold has a problem! He promptly gets out of the way and avoids a caution as he eventually heads down pit road, a heartbreaker for that team. But none of that matters to Whaley as he picks up his second win of the young Orange County season, followed by Purnell, Johnon with a great comeback, Goode, and Kiger.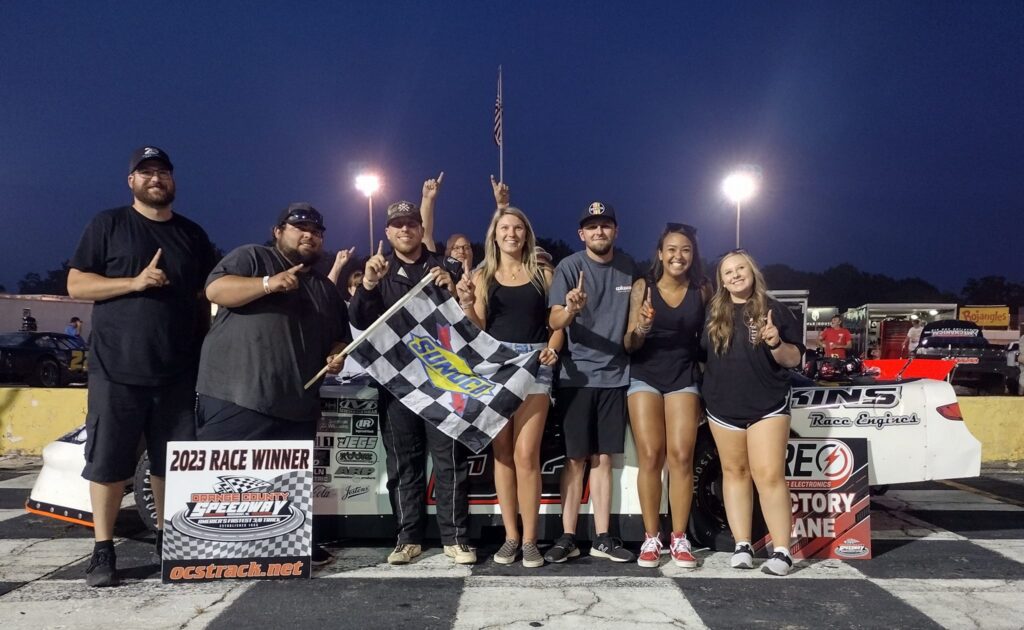 LATE MODEL STOCK FEATURE
With a time of 14.543 seconds, seasoned veteran Terry Dease in the # 6 takes the fan favorite pole over Buddy Isles Jr in the # 11. Starting third will be the # 01 of Camden Gullie, # 50 Ross "Boo Boo" Dalton will start fourth, and the # 91 of Chris Elliott will round out the top five. Flagman Andrew Tyree looks over the ultra competitve field, approves the lineup, and the green is out as the fans are on their feet! Isles Jr immediately speeds out in front, but Dease isn't here to ride around as he gives Isles Jr a slight tap. Behind, Dalton is underneath the Gullie machine and they start to bang doors a bit. Dalton finally clears as the first caution of the night has come out for the # 93 of Jonathan Simacek spinning on the backstretch. Lining up for the restart will be Isles Jr, Dease, Dalton, Gullie, and Elliott. The green flies and Isles Jr stumbles! He has some sort of issue as he drops out of the top five, allowing a returning Daniel Schadt in the # 12S to take fifth. And now Dalton has issues! It's a crazy set of unfortunate events as Dalton eventually gets back going in fifth with what would later be revealed as ignition switch issues. But that same luck doesn't befall on Isles Jr as he comes to a crawl in turn four, bringing the yellow back out. Isles Jr is sadly done for the night as they're already lining back up for the restart. Dease will restart first accompanied by Gullie, Elliott, Schadt, and Dalton. Dease and Gullie get identical restarts, battling side by side before Dease gets the edge. Dalton is already on the move as well, muscling past Schadt. He then looks to strike on Elliott as those two make a little contact. Elliott falls victim to Dalton as well with Dalton now on the podium. Meanwhile, Gullie is looking for any way by Dease, diving inside every single turn, but just can't get it done. All of this finally allows Dalton to join the fray, and what ensues is a battle for the ages between three competitors who refuse to lose.
Throw a blanket over the top three as Gullie continies to look under. Gullie doesn't succeed, now allowing Dalton to the outside. Dalton thinks about three wide for a second, but thinks better as he finally rids Gullie. It's now Dalton's turn to fight Dease with Dease not giving up the high ground. Dalton's car is better on the bottom than Gullie though as he's to the inside of Dease and the two engage in a slugfest for the top spot. That allows Gullie to dive back under! But he has a problem! Gullie starts to slow and brings the 01 to the pits, a devastating blow to that team. But on track, Dease and Dalton are still dead even as the fans aren't even using their seats at this point. But as a result of Gullie's failure, the track decides to throw the caution as a precautionary act to check the track. This has set up a late race shootout between Dease and Dalton. And don't forget about Chris Elliott in third, which in many eyes could be considered the catbird's seat. And behind him are Schadt and a career run for the # 19 of Jessica Cann. Tyree looks over the field, approves what he sees, and we're green for an Orange County duel! To no one's surprise, Dease and Dalton are dead even as they slide side by side. Dease clears for a slight moment but Dalton is right back under, as the two go back side by side like they have the majority of the late stages. Behind them is another fantastic battle as Schadt and Elliott are dead even, with Elliott winning that battle. And back up front, Dalton noses ahead and clears! The fans go wild as Boo Boo takes the lead and starts to pull a gap. Dease puts up one last fight, but it's not enough as Ross Dalton grabs the big victory ahead of Dease, a fantastic run for Elliott in third, Schadt, and a career day for Cann in fifth. One of the best races we've ever seen!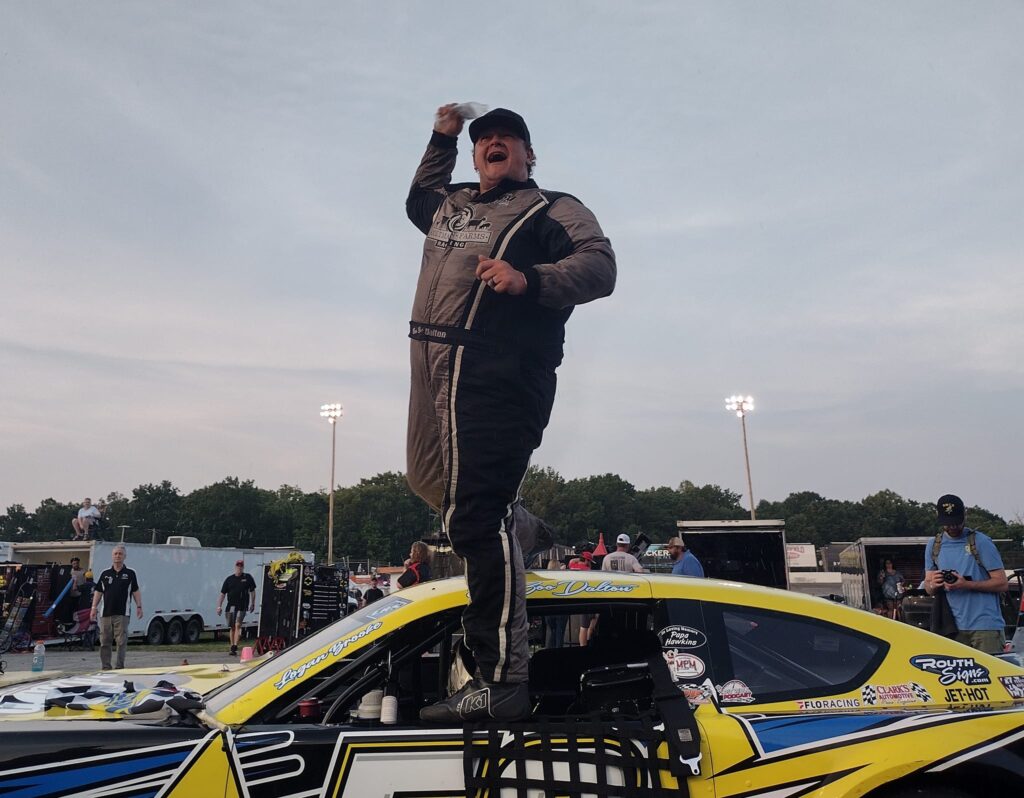 MY TAKE
Growing up as a kid, I saw the evolution of stock car racing. I watched the sport go from the Richard Petty era that was born out of the TRUE stock car era into the pinnacle of the sport in the 1980's, and down to today. But I learned my love for the sport at the nation's short tracks. I've always had an immense respect for the grassroots level because let's face it, for most stock car racing fans, that's where we had our first experience with the sport itself. But if you didn't, you might not understand the love I truly have for it. The premier series' of NASCAR is great, don't get me wrong, but if I've said it once and I'll say it a million times, grassroots short track racing is the foundation of stock car racing, make no mistake. Short tracks are where it all started. It's where the stars learned their craft. It is where the stock car family begins. It's where true stock car racing competitors and their fans come to know it as more than a sport. It's a way of life! And this past Saturday night, a pure example of why that is was on full display.
We've seen our share of great Late Model Stock races, but they're are a few that stand out, and the Late Model Stock race Saturday night at Orange County Speedway was one of those. It was special. It developed into a battle of a seasoned veteran in Terry Dease, a driver finding his prime in Ross Dalton, and a young and upcoming driver in Camden Gullie. Three guys that refused to lose, but only one could come out the victor. And don't forget about Chris Elliott either, who was slowly inching in as well. For several laps as Terry Dease paced the field, Camden Gullie and Ross Dalton battled side by side, both determined they would be the one that challenged Dease down the stretch for the win. But unfortunately for Gullie, a mechanical issue took him out of the fray in heartbreaking fashion. What ensued however was an intense fight for the win between Ross Dalton and Terry Dease. Both showed extreme patience and tremendous respect as they battled side by side, lap after lap for the lead. In the closing laps, Dease's car went away just a bit and Dalton got by on the inside, eventually taking the exciting win. But when he was about to get out of his car, he told his crew that it'd been an extremely long time since he had to work that hard in a race. And, you could see on his face how happy he was about it. As he took a minute to catch himself, Terry Dease came to the car and leaned into his window and congratulated him on his win. But not just that, they had a moment that every driver in the sport lives for. They celebrated one of the best races of their careers. It wasn't about the win in that moment, it was about the competition itself. They took each other to the very limit, and unlike what happens in most every other sport, at least at that moment, they loved each other for it.
I've heard comedians and naysayers say that stock car racing is nothing more than rednecks going around in a circle. But to me, that only shows a lack of understanding, not only of racing, but of life itself. There is an element of mankind that strives for greatness, and in that quest falls in love with the challenge. And they will go to the limits of life itself to reach the level that few dare to tread. And they dedicate themselves to the struggle that gets them there, hoping, in the case of the racer, to meet the competitor that can take them there. Ross Dalton and Terry Dease had that moment on Saturday night at Orange County Speedway. And it was special. So much so that this week there was no need for us to take our Short Track Report Blue Collar Racer conversation any further than that moment. Both of those racers fully deserved this week's nomination, but in the end, there can be only one, and so this week's Blue Collar racer award goes to Ross Dalton and the # 50 team for a performance we truly cannot deny. Congratulations team, what a way to win it! Until next time, See You At The Track!
(Race write up by Joshua Weatherman. Intro and My Take written by Billy Weatherman. 2023 Copyright SHORT TRACK REPORT)
Tags
Aaron Brown
,
Andrew Turner
,
Andrew Tyree
,
Austin Purnell
,
Bandoleros
,
Bev Peregoy
,
Boo Boo Dalton
,
Brady Allum
,
Buddy Isles Jr.
,
Camden Gullie
,
Chance Carpenter
,
Chargers
,
Charlie Beals
,
Choice Automotive Chargers
,
Chris Elliott
,
Chris Gray
,
Chris Lamb
,
Chris Mincey
,
Cory Purnell
,
D.J. Moser
,
Daniel Schadt
,
Darrell Haynie
,
Eastern Midgets
,
Fletcher Whaley
,
Harold Sumney Jr.
,
Hunter Durham
,
Hunter Wise
,
INEX
,
INEX Bandoleros
,
INEX Legends
,
INEX National Qualifier
,
J.R. Goode
,
J.T. Bierman
,
Jeb Redman
,
Jessica Cann
,
Jonathan Simacek
,
Joseph Kiger
,
Kade Lambert
,
Lane Woods
,
Late Model Stocks
,
Lee Godbold
,
Legends
,
Logan Sulyi
,
Lorne Long
,
Midgets
,
Mod 4
,
Orange County
,
Orange County Speedway
,
Paul Blalock
,
Pure Stocks
,
Ricky Brown
,
Ross Dalton
,
Sarah Whitesell
,
Scott Phillips
,
Scottie Potter
,
Stewart Dillehay
,
Terry Dease
,
Three Sixteen Motorsports Legends
,
Tyler Johnson
,
Tyler Kiger
,
USAC
,
USAC Eastern Midgets
,
Vintage Sportsman
,
Winstead Farms Pure Stocks