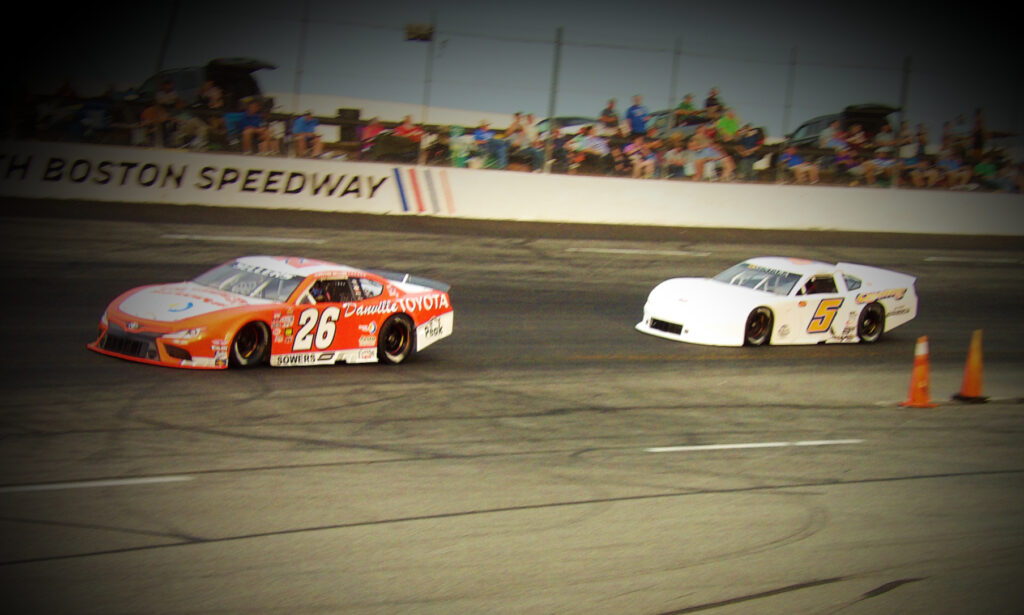 "To be the man you gotta beat the man!"

Wrestling Hall Of Famer Ric Flair
It was time. The midway point of the season for South Boston Speedway was approaching and with what some would say was a surprising points battle brewing at the prestigious speedway, we knew the time to check back in on our early season predictions for the track was now. And honestly, we couldn't have picked a better time. The Late Model Stock season has been nothing short of interesting at the short track we've dubbed 'The Jewel Of The Commonwealth' but it's fallen together just as we'd predicted. The 2023 season opener at South Boston was indeed an early sign of things to come, and with a little over half a season to go, things are heating up tremendously. The track has a knack for it. It's the Late Model testing ground for the best Late Model Stock drivers in the region and if you think you have what it takes to compete for a championship title, you had better be ready for that test. If not, weakness will become obvious and magnified and I promise, those weaknesses will be exploited. But, that said, if you're prepared and your skill set has been honed, this track can and will take you to a whole new level of competitor, and truth be known, you will be set to compete against the best Late Model Stock drivers in the nation anywhere you want to meet them.
But the track is not just known for great Late Model action, as the "support" divisions as they've become known throughout the short track racing world, at this track are just as competitive as you'll find anywhere, proven out each and every time we visit South Boston. In short, this is a place to see some absolutely great short track racing. And with so many amazing tracks in our region, that's saying something. Needless to say then we knew we were going to be in for some great racing as well this past Saturday night, but even we were left having to remind ourselves we had jobs to do as it was easy to forget and resort back to being the fans that we are, getting lost in all the action. We even came close to naming this week's article ANYTHING AND EVERYTHING, as it held absolutely everything a short track racing fan could want out of any night of stock car racing. So let's get to it and take a look at how everything played out. The Invocation has been spoken and an absolutely beautiful rendition of the National Anthem has been sung, so Let's Go Racin'!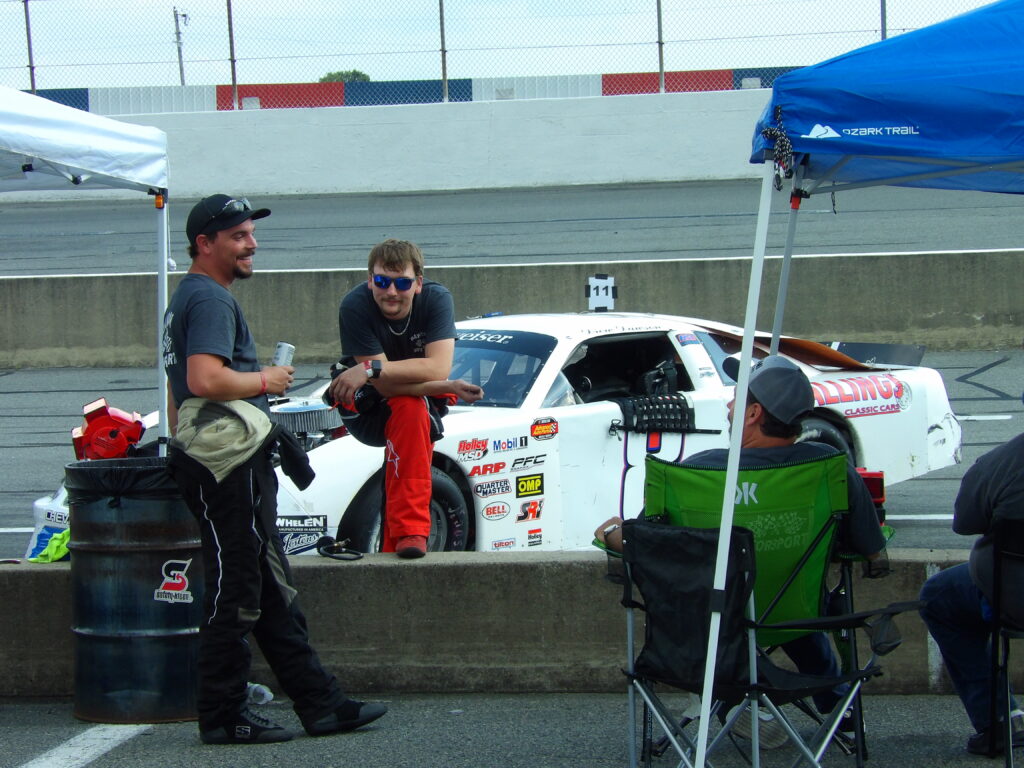 VSP HEAT HORNET FEATURE
Cameron Goble in the # 18 machine starts out front for the VSP HEAT Hornet feature alongside defending champion Jason DeCarlo in the # 54. Rounding out the top five will be the # 12 of Andrea Ruotolo, # 19 Tyler Stanley, and the # 20 of DJ Moser. Guest flagman Timmy Hutson looks over the field, likes what he sees, and the green is out for the Hornets! Goble doesn't get an ideal start which calls for a redo, but behind, Stanley and the # 63 of Dillon Davis collide with the outside wall. Stanley's night is done early as Davis is able to drive away with cosmetic damage. After a red flag for cleanup, Goble will line up first with DeCarlo, Ruotolo, # 07 Jordaine Penick, and Moser completing the top five. Goble gets an excellent start as the # 28 of Kendall Milam charges through the field, moving all the way to fourth past Penick and Moser. Penick starts to fall a bit as Goble starts to open up a gap between himself and DeCarlo. Dillon Davis in the # 63 has recovered well from the lap one crash as he's now all over # 3 Steven Layne. They make contact as Davis gets underneath on the frontstretch, door banging all the way to the line. And they hit even harder! Layne goes up into the outside wall, bringing the yellow out. Layne is not happy at all as he comes up and rams Davis' car under caution! The fans are going wild as now they both head down pit road with tempers overflowing. And to no one's surprise, security is called to the backstretch pit area as fisticuffs break out. They're eventually broken apart as both are done for the evening. Meanwhile, on the track, Goble and DeCarlo remain your front row followed by Ruotolo, Kendall Milam, and Moser. It's a much more even restart this time but DeCarlo just can't shake Goble as the # 18 machine retains the point. Milam continues his march as he now gets by Ruotolo for third. He doesn't stop there either as he looks on DeCarlo. DeCarlo hangs tough on the outside as Milam finds the grip and takes second. Moser finds his way by Ruotolo but there's trouble as Penick spins in turn one. No caution is thrown however as Goble brings home the victory followed by Milam, DeCarlo, Moser, and Ruotolo. Coming to the line, the field gets stacked up and Jimmy Wade in the # 61 spins and takes a massive hit into the inside wall. Much to the relief of the crowd, Wade eventually climbs out of his machine with nothing more than a small limp.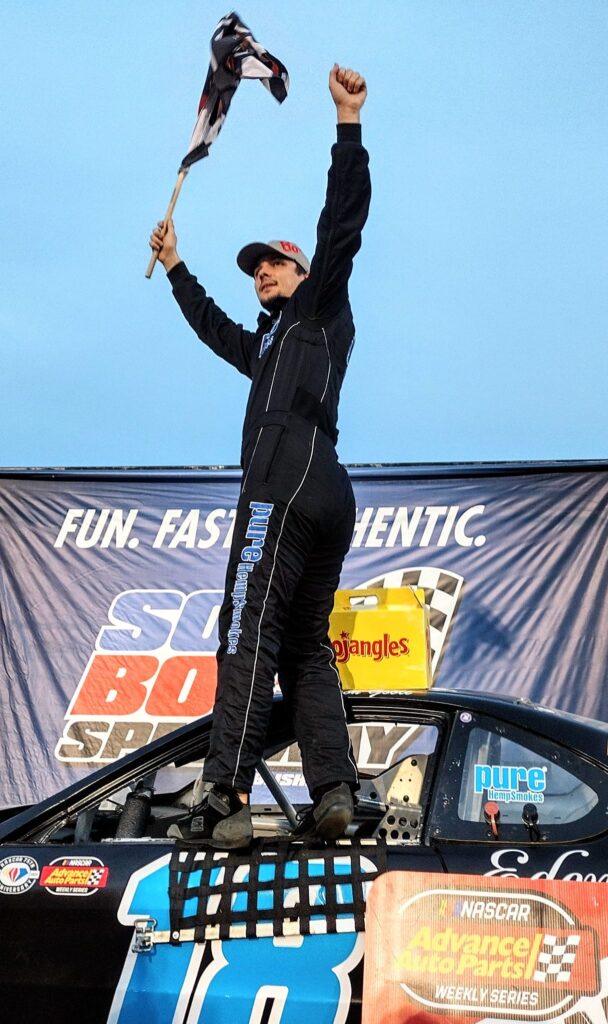 SOUTHSIDE DISPOSAL PURE STOCK FEATURE ONE
Perennial Pure Stock contender Johnny Layne in the # 9 is the lucky polesitter for race one with # 66P Scott Phillips starting second, # 77 Zach Reaves third, # 00 Bruce Mayo fourth, and # 31 Caleb Sanford fifth. Hutson approves the formation and we're underway! Layne gets a great launch as Zach Reaves doesn't get going, causing the field to shuffle. That allows Mayo to take third along with the # 11 of B.J. Reaves to take fourth as Zach somehow hangs on in fifth. Mayo now looks on Phillips and grabs that spot with B.J. Reaves following through as well. Sanford is back in the mix as he powers by Zach Reaves along with Phillips who's car seems to be going away on the long run. Zach Reaves is the next one to get by Phillips as Phillips finally settles into sixth. Andrew Turner in the # 76 loops his machine around in two, bringing out the first caution. Layne remains the leader with B.J. Reaves in second followed by Mayo, Zach Reaves, and Sanford. Layne initiates a picture perfect launch as Sanford now spins out of two! The yellow comes out yet again, but it's another quick stoppage as it's Layne, B.J. Reaves, Mayo, Zach Reaves, and Phillips your top five. It's a more even start this time around as B.J. Reaves sticks to the outside of Layne. Layne finally clears but B.J. crosses over! It's a fantastic battle as Reaves doorslams Layne a little, allowing Reaves to take the spot. But over in three and four, Reaves gets loose and now Layne retakes the point. Behind them, Mayo spins around but no caution is thrown as Layne will come home the victor in a thriller. B.J. Reaves hangs onto second followed by Zach Reaves, the # 66M of Jared Milam, and Sanford with a great comeback in fifth.
SOUTHSIDE DISPOSAL PURE STOCK FEATURE TWO
The # 15 of Jeb Redman lines up first for the second twin feature alongside Turner in second. B.J. Reaves starts third followed by Sanford and the # 16 of Chris Redman. The green is out and Jeb Redman drops to the wayside, allowing B.J. Reaves to charge up to first. Also already making his presence known is race one winner Johnny Layne as he's now already up to second. They're fighting hard in the middle of the pack and there's trouble! Turner and Zach Reaves make contact sending both into the turn four wall along with Chris Redman. All three drivers pull into the pits with battered machines but back out onto the racetrack, B.J. Reaves will now line up first accompanied by Layne, Phillips, Sanford, and Mayo. The top two are dead even on the restart with Layne eventually getting the advantage. Sanford finds his way by Phillips and now looks on Reaves with success as he moves to second. Phillips loses another position behind as Mayo is now fourth. But it's smooth sailing for Layne as he pulls off the Pure Stock sweep. Sanford comes home second followed by B.J. Reaves, Mayo, and defending champion Phillips.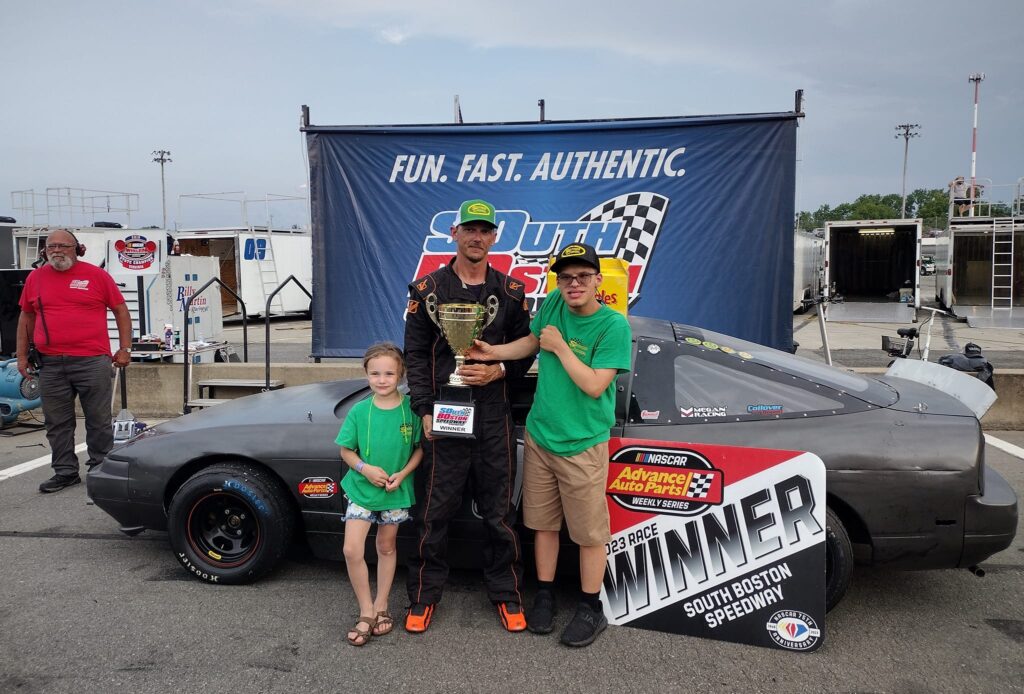 BUDWEISER LIMITED SPORTSMAN FEATURE
A familiar face will roll off first in the Limited Sportsman race as the # 17 of Jason Myers paces the field out front. Starting second will be the # 21 of Carter Russo, the # 75 of Nathan Crews is third, # 01 Jared Dawson fourth, and the # 8 of Drew Dawson will round out the top five. Timmy Hutson looks over the pack, gives the thumbs up, and we're racing! The entire pack is side by side as they complete lap one as Myers nor Russo gives an inch for the lead. But here comes Crews and they're now three wide for the top spot! Myers files in third as Crews eventually wrestles the lead away from Russo. Myers now looks to the inside of Russo, but Russo is really good top side as those two play cat and mouse for the time being as Crews has gapped the field tremendously. Russo and Myers continue to race hard but Myers has an issue down the backstretch! He immediately slows as the # 31 of Chris Donnelly is collected in the stackup, taking him out of the race along with Myers. After cleanup, Crews remains the leader followed by Russo, Jared Dawson, Drew Dawson, and the # 4 of Ronnie Jones. Crews and Russo battle side by side for a full lap as coming out of four, Crews nearly loses it in front of the entire field, but somehow hangs on! He clears for the lead as Jared Dawson has started to fade, moving Drew Dawson to third, Jones fourth, and now the # 19 of Bob Davis to fifth. Jones and Drew Dawson engage in a great duel for third as Dawson somehow hangs on. But not so fast as Jones is back under as they fight lap after lap after lap! Jones finally breaks away and now he's under Russo as you could throw a blanket over the pack. Jones takes second away as Davis gets by Drew Dawson on the outside. Meanwhile, Crews is in a different zip code with Davis now around Russo. Now moving through the field is the # 22 of Dusty Garus, grabbing fifth from Drew Dawson. Davis looks to have an amazing long run car but Jones is intent on keeping the second position. Davis is just too strong though as Jones falls to third with Russo now falling victim to Garus, moving Garus to fourth. Garus is now all over Jones, even making slight contact that sees Garus power by for third. Now Jones is stuck on the outside, allowing Russo to move into fourth followed by Drew Dawson in fifth. But again, nobody could even sniff Nathan Crews as he puts in a dominant performance for the win. Davis grabs a well earned second followed by another great effort by Garus in third, Russo hangs on for a great fourth, and Drew Dawson survives for a top five.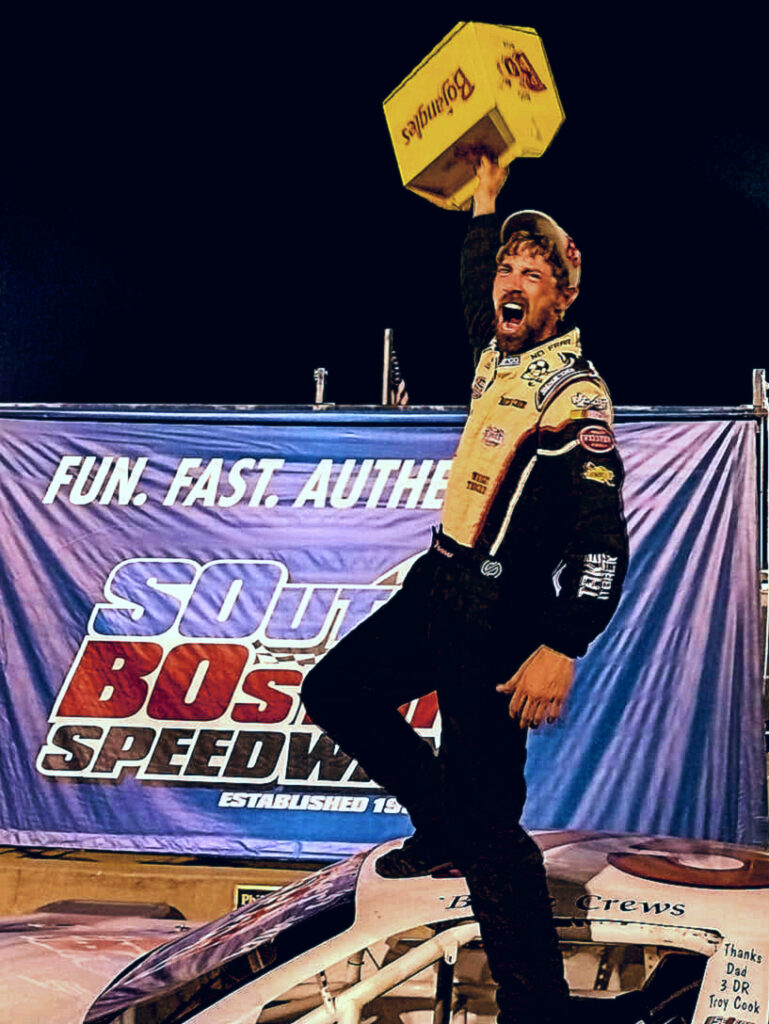 SENTARA HEALTHCARE LATE MODEL STOCK FEATURE ONE
Points leader Peyton Sellers in the # 26 puts in a fantastic lap of 15.084 seconds to grab the pole for the first of two Late Model Stock features. Starting right behind will be the # 77W of Trevor Ward, # 0 Landon Pembelton, # 5L Carter Langley, and the # 5S of Eddie Slagle. Hutson looks over the ultra competitive field, likes the lineup, and we're green for the Late Model Stocks! Sellers gets a masterful start as Trey Crews in the # 9 immediately pulls down to pit road with a problem. Ward is very loose, allowing Langley to now move up through the field by both Pembelton and Ward. Ward continues to drop as now Pembelton is by to break onto the podium. The # 87 of Mike Looney makes an appearance in fifth as Sellers looks to pace the field early. Looney starts to peek in on Ward, but Ward hangs on for now as back up front, Sellers and Langley have started to pull away from the rest of the field. Sellers is running a conservative pace, and so is Langley as Langley slowly dances in Sellers' mirror. Behind, Looney is now fully underneath Ward and finally takes the spot after a great battle.
As they reach past the halfway point, Sellers and Langley are running nearly identical times as Langley continues to slowly shuffle. But he's not looking to pass yet. He's scouting his next move, trying to out strategize one of the best minds in the business, Peyton Sellers. It's no easy task to pass Sellers at any track, but at South Boston, it's a whole different ball game. He drifts up high, then looks back down low, and then falls right back in line, all without losing any time. They both start to speed it up a bit as Sellers knows it's getting down to crunch time. And now Langley looks underneath, but lags back again as the two continue to duel without any contact made. They speed up even more as Sellers starts to get slightly loose and now Langley is fully committed to the outside. They're side by side and Langley clears! But Sellers isn't that easy to shake as Sellers is all over the back bumper of Langley as the crowd is on their feet! And a caution is out! Pembelton has a right front down and comes to a crawl in turns one and two. Lining up for the restart, there's a crucial decision to be made: which lane does Langley pick? And the answer is the outside as Sellers lines up second on the inside followed by Looney, Ward, and Thomas Scott in the # 8. Hutson nervously looks over the pack, approves the formation, and we're green for a SoBo shootout! Langley and Sellers are dead even as Langley sticks on the outside with Sellers sticking on the inside. It's anybody's game as Langley somehow barely clears! Sellers now has to deal with Looney who has come to life at the end of this race. But to the line, Langley scores the big win! Sellers takes a very close second after a phenomenal battle followed by Looney, Ward, and Scott. What a race!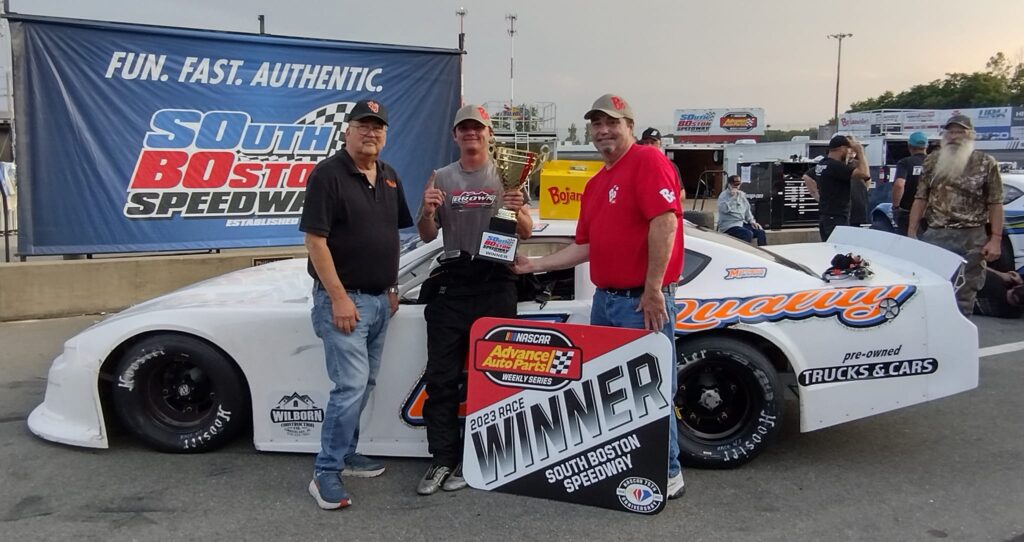 SENTARA HEALTHCARE LATE MODEL STOCK FEATURE TWO
As a result of the race one invert, the # 01 of G.R. Waldrop will start on point for race two followed by the # 31 of Aaron Donnelly, # 8 Thomas Scott, # 01 Camden Gullie, and the # 87 of Mike Looney. Hutson observes the field, likes the formation, and we're green! Waldrop and Donnelly are door to door for the top spot with Donnelly barely edging out ahead as the middle of the field is an absolute warzone. Also towards the back, Langley doesn't get going at all as something is wrong with that machine. It finally gets up to speed as Looney now works his way to third with Pembelton in toe. Also already in the top five is a hard charging Peyton Sellers, who doesn't seem to be holding anything back. Pembelton is now up to third with teammate Sellers moving to fourth by Looney. Sellers now looks to the inside of Pembelton, but the # 0 machine is strong on the outside as he holds his ground for the time being. Waldrop begins to look on Donnelly for the lead, but Donnelly hangs on with Waldrop now having to fight off the Sellers Racing tag team of Pembelton and Sellers. Pembelton is the first by followed by Sellers as they now try to track down Donnelly. Sellers takes advantage of the South Boston apron trying to get by Pembelton out of turn four, but he gets loose, allowing Pembelton to continue his charge towards first. Sellers won't stop nagging though as he continues to look under, looking for anyway by young Pembelton. Looney now muscles his way by Waldrop as Waldrop now looks to hang onto fifth. Meanwhile, back up front, Donnelly is starting to feel the heat from Pembelton, as both are looking to be the first Late Model Stock winner of the year without the last name Langley or Sellers. But Sellers has different plans as he's right back underneath Pembelton, allowing Donnelly to slightly stretch his lead back out. But Pembelton retains his spot, now bringing all three together.
Sellers now dives under Pembelton with intent, finally clearing his teammate and giving him a clear path to leader Donnelly as they reach ten laps to go. Pembelton and Looney engage in a fantastic battle for third with Looney getting by as Pembelton's tires are shot. But all eyes are on Donnelly and Sellers as Sellers is there! The fans are on their feet as it's a slugfest for the lead as they make contact, with neither one giving an inch. Sellers finally clears but Donnelly just won't give up! He crosses over on the inside, sending Sellers now up high. The contact begins to crank up as they both nearly wreck off of turn two! They somehow save it! Donnelly clears once more but Sellers is right back to the inside coming to the white flag! They stay that way to turns three and four as they bang doors coming to the line! Donnelly barely edges out Sellers as he then wrecks going into turn one! What a finish! Sellers collects another fantastic second place finish followed by a very close Looney with Pembelton and Waldrop rounding out the top five.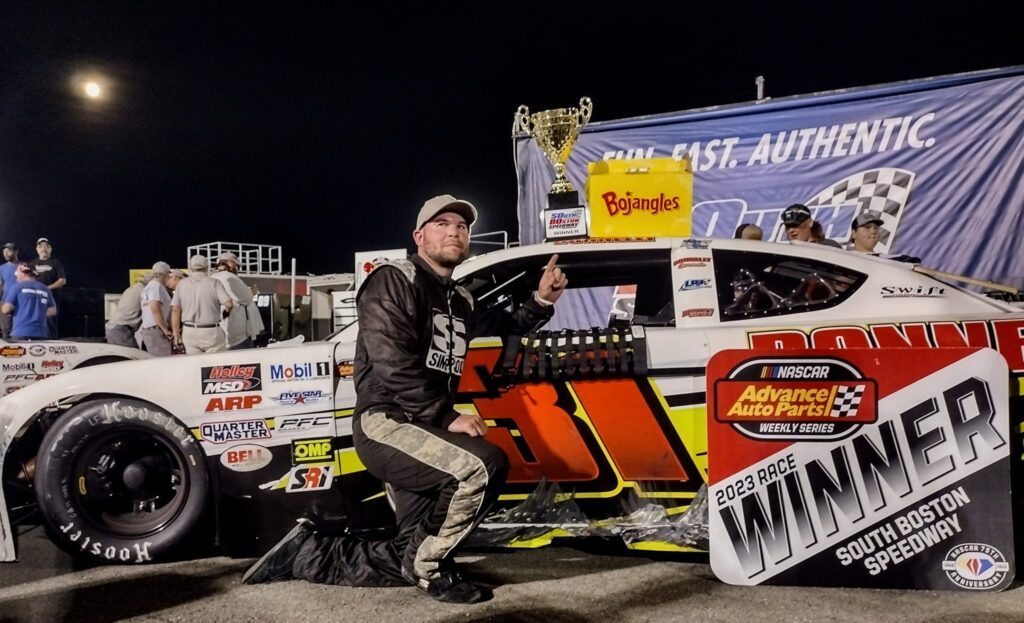 MY TAKE
We literally saw everything under the sun, or should I say moon, this Saturday night at South Boston Speedway, including heated battles on and off the track. We expected nothing less. But truth be told, even we were excited about how intense the action got. And it was in stark contrast to the atmosphere we observed before the show began. And I'm telling you, that was a show of epic proportions. But when we got to the track, it was eerily quiet in the pits. You could feel the seriousness of the teams as they prepared their machines for the racing that would set the tone for the rest of the year. Yes, it was quiet, but you could feel the intensity. And as it played out, I couldn't help but run a quite humorous quote through my head. It wasn't humorous as far as in context of the competitors or the competition they displayed, but for me just how aptly it fit the situation. "To be the man you gotta beat the man". Now Ric Flair was no philosopher that's for sure, but I couldn't think of a more fitting quote than that.
No matter what your feelings are about Peyton Sellers as a racer, the truth is that he is the man when it comes to Late Model Stocks at South Boston at this point in his career, and there aren't many drivers that are as good a strategist as he is. He didn't win track titles and National titles because he didn't know how to plan his races, quite the opposite. Even those who root against him know it, even if you'll never hear them say it. And South Boston has become his house. His playground if you will, and if you want to be the man at this track, you have to go through him first. There were two amazing wins in the Late Model Stocks on Saturday. Impressive wins to say the least. But in those exciting wins, what made them so special, was one common denominator. And they wouldn't have been quite so special without it. And that common denominator was Peyton Sellers. I mean we have to say it. What made Carter Langley and Aaron Donnelly's wins so exciting was that they came over one of the best to ever do it at South Boston Speedway. Both those drivers had to go to another level to achieve it. Carter Langley has become a student and that will only make him a better driver. He came into the season ready for it, but racing Peyton Sellers will take him to the level he's been preparing for. And Aaron Donnelly may have run the race of his life, even having to take home a wrecked race car to get the win, to note not of Sellers doing as it was just what it took to get the win, but it was worth it to him and his team because it was over Peyton Sellers. Let that sink in.
So yes, a lot happened at South Boston Saturday night. But in the end, at least when it comes to the Short Track Report Blue Collar Racer Of The Week, we could talk about Mike Looney coming home third in both Late Model Stock features in an impressive outing, or we could talk about Nathan Crews taking the Limited Sportsman division to the woodshed. And let's not forget Johnny Layne sweeping the Pure Stocks or the absolutely amazing wins by Carter Langley and Aaron Donnelly. But truly even after all that, the Blue Collar Racer Of The Week discussions came down to one name this week, and that was Peyton Sellers and his Sellers Racing team. He captured the pole for the first feature, also leading the most laps in the event, having to settle for second as Carter Langley pulled off the perfect pass in the closing laps. And then instead of sulking about it he congratulated Langley on his great win and then he and his team went to work improving the car for the second race. And in that race after the pill draw left them starting eighth, he battled with Landon Pembelton, eventually working his way past him and to leader Donnelly's machine where they both had another intense battle that left Aaron Donnelly with the win, albeit a wrecked race car to boot, as Peyton again settled for second, but with a race car intact and a points day that leaves him with the South Boston Late Model Stock lead by a slim five point margin. Congratulations guys on two outstanding performances that we couldn't deny for this week's Short Track Report Blue Collar Racer Of The Week nod, and in a fashion that leaves us in true excitement for the race for the championship going forward. We said it after the 2023 season opener that if Carter Langley decided to get in that race it was going to be an interesting year at South Boston Speedway and it's playing out just as we'd hoped, leaving the prestigious track in the eyes of the short track fan as one they have to keep an eye on for the rest of the year as this points chase may come down to the wire. We can't wait to see how it all plays out, and so until next time, See You At The Track!
(Race write up by Joshua Weatherman. Intro and My Take written by Billy Weatherman. 2023 Copyright SHORT TRACK REPORT)
Tags
Aaron Donnelly
,
Andrea Ruotolo
,
Andrew Turner
,
B.J. Reaves
,
Bob Davis
,
Bojangles' Night
,
Bruce Mayo
,
Budweiser Limited Sportsman
,
Caleb Sanford
,
Camden Gullie
,
Cameron Goble
,
Carter Langley
,
Carter Russo
,
Chris Donnelly
,
Chris Redman
,
D.J. Moser
,
Dillon Davis
,
Drew Dawson
,
Dusty Garus
,
Eddie Slagle
,
G.R. Waldrop
,
Hornets
,
Jared Dawson
,
Jared Milam
,
Jason DeCarlo
,
Jason Myers
,
Jeb Redman
,
Jimmy Wade
,
Johnny Layne
,
Jordaine Penick
,
Kendall Milam
,
Landon Pembelton
,
Late Model Stocks
,
Late Models
,
Limited Sportsman
,
Mike Looney
,
Nathan Crews
,
Peyton Sellers
,
Pure Stocks
,
Ronnie Jones
,
Scott Phillips
,
Sentara Healthcare Late Model Stocks
,
South Boston
,
South Boston Speedway
,
Southside Disposal Pure Stocks
,
Thomas Scott
,
Timmy Hutson
,
Trevor Ward
,
Trey Crews
,
Tyler Stanley
,
VSP Heat Hornets
,
Zach Reaves