TRI-COUNTY SPEEDWAY- June 5th, 2021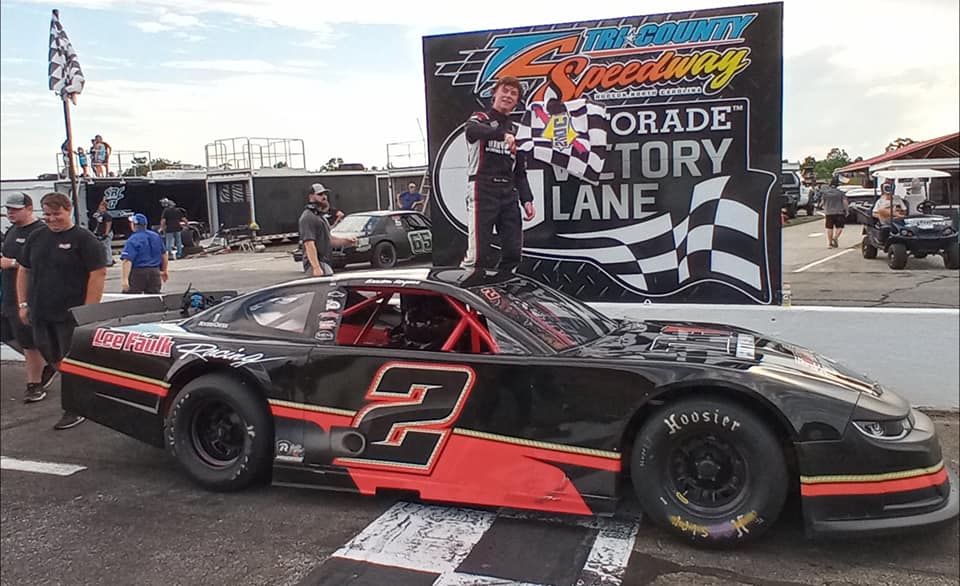 "All the stars lined up and it just fell in line…" – Davey Smart
When you make a crucial decision, you look immediately for signs that you made the right decision. And when you're playing with fate, often times, your answer comes shining down on you in ways you just can't deny. Such was the case on Saturday, June 5th, 2021.
Nestled on the edge of the North Carolina foothills, in Granite Falls, sits Tri-County Speedway. Built in 1985 as a dirt track, as many of the area speedways got their start, the speedway was paved in 1988 with 9 degree banking down the straights and 12 degree banking in the corners. And in April 1990, the track began making a name for itself by hosting touring series. It's how I came across the 4/10's mile track in the beginning, as the first tour it had a big relationship with was the original SMART Modified Tour. Jay Hedgecock won 3 races here, as well as Frank Fleming. Junior Miller got him a couple. Gary Myers scored him a victory, and son Burt Myers later got him one when the SMART Tour went under NASCAR sanction and became the Whelen Southern Modified Tour. Then other tours and series came calling. Greg Marlowe got him an ARA Late Model All Stars win here. Matt DiBenedetto got him a NASCAR Camping World East Series win in 2009. And current Cup contender Quin Houff won a CARS Tour race here in 2015, and Josh Berry got him 2 in 2016 and 2017. The CARS Tour and the Southeast Super Truck Tours still run here at Tri-County Speedway. But, it was all almost for nothing. You see, Tri-County Speedway and the Caldwell County government officials had a legal battle for nearly 10 years that almost ended the speedway for good. The spat was over a Caldwell County noise ordinance that limited the speedway to be able to function only 2 days a week from March to October. So when NASCAR attendance was falling off nationwide, the track also had this battle to contend with, and the combination left Tri-County at a cross roads. The Casola family after years of court battles, and watching the decline in attendance, was ready to sell. And at the time, Caldwell County officials debated whether there should be a race track there at all.
But, enter into the picture TriCo Entertainment LLC. Former racer Shane Higgins, his brother Shad and father Buddy, along with Chris Worley, were looking to own a race track where they could put on great racing events that were easy on the racing fans' pockets, as well as cost efficient for the racers themselves. And as they were looking for a venue that could satisfy their requirements, they kept coming back to Tri-County. And in late 2019, they took the leap of faith and purchased the track. And I am personally sure they had the same issue I had. Once you take a good look at the track itself, the more you look, the better it is. For one, first and foremost, the track reminds me a lot of another track I visited recently, and that's Florence Motor Speedway. Florence as well almost came to it's end. And although it's story is a bit different, and the tracks are different in many ways, what they have in common however, is that the tracks are for racers. These are places that though you have to have an exceptional car, the race falls into the hands of the driver. These are drivers tracks, where you have to have the skills needed by any great driver to find success. And as Florence has fallen into the good hands of people that recognize this first, so has Tri-County Motor Speedway. So that's number one, a racy track where the success or failure falls into the hands of the drivers themselves.
And to note, when we came to Tri-County earlier this year, this was not the Tri-County I visited in the 90's and early 2000's. TriCo Entertainment has been very busy upgrading, not only the look of the track itself, but it's infrastructure as well. The improvements are glaring. As a fan, when you visit the place, the first thing you notice is all the flags around, providing an excellent backdrop to the racing view. And back off into the distance you can see the mountains start to rise. It's a beautiful facility, with a great America feel that only this wonderful country can provide. Honestly, this track is one of the most beautiful tracks you can go to and enjoy great grassroots short track racing. That to me fulfills the main two requirements a fan must have to enjoy a day or night at the race track. Add to it the low admission price, and I don't know a better place to watch racing in the country. I mean that. If you don't believe me, come see for yourself. A beautiful facility, that won't hurt your pocket, where you will see side by side, and three wide racing. When we visited the track the first time this year, we were treated with one of the best races I have ever seen anywhere. Justin Johnson, Chandler Smith, and Jacob Heafner had a two and three wide battle for the ages, and in the middle of that entered Braden Rogers who went outside and inside until he was walking down Chandler Smith coming to the stripe, but just ran out of time and had to settle for second. It was an unbelievable race. But that's what this place provides.
Tri-County Speedway is under new management and it shows. And for the fist time since 2011 they are holding weekly racing events. TriCo Entertainment's goal is to bring the track back to prominence and to do so as an asset to the community in which it sits. They reopened in 2020 amid the attendance COVID restrictions placed on the state, and were not deterred. They applied for NASCAR sanctioning in order for the drivers to be able to compete for national points under the sanction, and when the timing of the application left them on the outside of that, they were undeterred. Because despite these things, they know what we know, as I mentioned above. Tri-County Speedway is one of the best places to see a race in the country. The Late Model Stocks are growing their ranks currently, and the track not having a NASCAR sanction has honestly been an obstacle here at first. But already it's being overcome just by the track being what it is. And the best in the business is coming here to race despite that. And many are choosing to race here throughout the schedule because of the track being what it is. For example, Lee Faulk Racing And Development has chosen to run here with Braden Rogers at the helm, and we watched him go head to head with CARS Tour winning driver Justin Johnson and Camping World Truck Series driver Chandler Smith, and so we've seen the talent of this young man, who currently sits as the Late Model Stock points leader at the track. And during this event, Ranier Racing Development driver Katie Hettinger will try and make her first full races in the Late Model Stock ranks in the twin Late Model events on schedule for tonight. And so as a fan, you should know, that the Late Model division will grow as the teams from around the country not only come to see this great facility, but get to race it as well. As we've already seen some of the best here already, we know moving forward, many of the country's best will call Tri-County home. Also to note, is that the Limited Late Models here provide some of the best racing competition in the country with a full field of amazing racers. The Renegade and Street Stock divisions are also stout and provide for excellent racing, as well as the FWD who are as competitive a class as you will find anywhere. Add to that the ever popular Legends cars and Mod Mini Stocks, and you have a great night of racing. The crowd is coming in, and the track,f earing a chance of rain, has the Legend cars lined up and ready to go. The green is about to drop, so let's go racin'!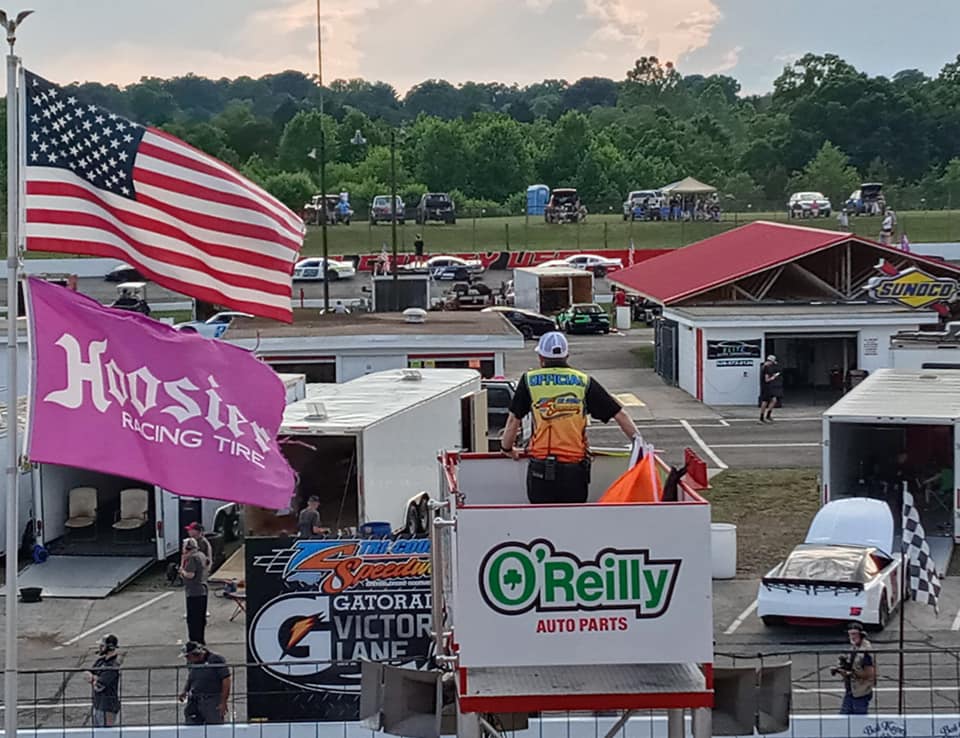 THE MESSER HEATING AND COOLING LEGENDS DIVISION-
The track fearing a chance of rain has the Legends lined up early and ready to race. Leading them to the start will be the #2 of Austin Thompson, followed by #2B Kyle Beattie, #21 Eric Courtney, #55 Mitchell Thompson and #4NH Thomas Everson. Austin Thompson gets a commanding start, while Thomas Everson puts pressure on Mitchell Thompson for 4th, as Everson comes under fire from #45 Luke Morey for 5th. Austin Thompson pulls away out front, but the rest of the field is nose to tail. Thomas Everson has a problem and brings his machine down pit lane and is done for the day as no one has an answer for Thompson as he pulls away for the victory in the 20 lap event.
TRI-COUNTY LATE MODEL STOCK DIVISION RACE 1-
#2 Braden Rogers qualifies P1 with a lap of 15.973, and will lead them to the green with #15 Mitch Walker, #71 Katie Hettinger, #12 Annabeth Barnes-Crum, and #7 Jeff Sparks rounding off your top 5 starters. Rogers brings them down, and Tri-County Speedway flagman Timmy Hutson likes what he sees, and the green is out. Rogers gets a good start, but he can't shake Walker as he stalks the leader. First time Late Model starter Katie Hettinger is under fire from the field, and after getting pushed around a bit, she decides to drop to the rear to learn what she can from the talent in this race to learn her way around this drivers track. She falls in 8th behind #11 Dillon Houser after #7 Jeff Sparks gets by him for 6th, and immediately starts working him trying to see if she can get back by. Up front, Walker is giving Rogers all he can handle, but he can't get by Rogers, as Rogers wins the quick 30 lap race with the field coming across in a blanket behind him. Rogers couldn't shake Walker, but still dominates the race, qualifying on point and leading every lap of the event. The racing was tight however, as the cars are pretty evenly matched throughout the entire field. So Rogers wins, with Walker 2nd, Annabeth Barnes-Crum 3rd, Thomas Beane 4th, and Austin McDaniel coming home 5th.
HERITAGE FINANCE LIMITED LATE MODEL DIVISION-
#59 Austin Harris is your top qualifier with a lap of 16.535 and he will lead them to the start, followed by #18 Casey Pierce, #65 Josh Goble, #5 Toby Hollifield, and #17 Skylar Chaney. Flagman Hutson throws the green and Harris gets a great start. Hollifield makes a move on Goble for 3rd and gets by him, but the #41 of Marvin Miller goes around fighting for position in turn 4, bringing out the first caution of not only the race but on the night. It's Harris, Pierce, Hollifield, Goble, and #1 Zack Franks who'd moved to 5th before the caution, bringing them back to green. Harris gets a good start, but Pierce is on his outside battling for the lead. It takes several laps, but Pierce finally gets by on the outside, as Harris has to fall in line behind him. Meanwhile, Hollifield comes under fire from Goble, as Goble gets by and sets his sights on 2nd running Harris, and Franks gets by Hollifield for 4th. Goble moves past Harris, and now starts looking for leader Pierce. Meanwhile, Hollifield and #97 Lance Gatlin are in a heated battle for 5th, but #70 Marion Thomas is around in the middle of 3 and 4. The cleanup crew gets another break as Thomas pulls away and joins the back of the field for the restart. Leading them back will be Pierce, Goble, Harris, Franks, and Hollifield as your top 5. The green is back out, and Pierce gets a good start, but he can't shake Goble on his outside. Again the leaders battle two wide for the lead, and this time it's Goble to the point, as on the restart, the track and the drivers prove how racy this place is again, with twice drivers taking the point from the outside after 2 wide battles up front for the lead. It's Goble on point now, but we are under caution again for the #41 of Marvin Miller as he is fighting as hard as he can to make up position. The choose cone is out, but as all night thus far, Goble takes the bottom, followed by Pierce to his outside, with Franks, Harris, and Gatlin rounding out the top five on this restart. Flagman Hutson throws the green and Goble gets a good start, but again the leader is challenged on the outside, as Pierce fights to get the lead, but Goble holds him off, and now Goble is under fire from Franks, but again the caution is out, this time for #91 Clint Watkins who pounded the outer wall coming off of turn 4, leaving #25 Ricky Parker spinning to avoid him. The track crew has work to do this time, but they get it all cleaned up quickly and the drivers again make their choices for the restart. Again Goble takes the bottom, but now it's Franks to his outside, followed by Pierce, Harris and now Chaney your top 5. Goble again gets a good start, and the battle is for second this time between Franks and Pierce. Franks holds him off as now Harris moves past Pierce for 3rd, and Chaney follows him through coming to 4th, dropping Pierce to 5th. Meanwhile Harris has found the bumper of Franks and lets him know he's there, but Franks holds his line and the position. Chaney has also found the bumper of Harris, and he moves him up a bit and gets by for 3rd. Harris didn't like the bump however, and he lays the wood on Chaney trying to regain the position, but Chaney holds on. Casey Pierce, trying to reassert himself and make up the ground he lost, goes around in the middle of 3 and 4, setting the field up for an exciting restart for the finish in this one. Goble again chooses the bottom, with Franks again to his outside, followed by Chaney, Harris, and Hollifield your top 5 for the final restart. Goble gets the best restart of the race, while #7 Jeff Allen gets by Hollifield for 5th, leaving Hollifield to battle with Gatlin for 6th, and Gatlin gets into Hollifield and turns him. Goble goes on to win, followed by Franks 2nd, Chaney 3rd, Harris 4th, and #7 Jeff Allen rounding out the top 5 finishers.
–
PATRIOT JERKY RENEGADE DIVISION-
#65 William Aldred starts on point for the 25 lap Renegade feature, with #1 Justin Austin in tow. Hutson waves the green and Austin immediately makes a brave move to get the lead from Aldred. Aldred is too strong though, as he takes the lead back mere seconds later. Meanwhile, in the middle of the field, #97 Danny Crump Jr. and #28 Stephen Shore are battling hard for position. On lap 4, Crump goes hard into the corner, but Shore is there, and Shore goes around, taking Crump up to the wall with him hard. Aldred holds on to the lead for the following restart, despite some challenge from Austin. The crowd however is focused on the #4 of Joseph Hodges as he dirt tracks his way around the track, amazing spectators as he hangs on to his car lap after lap. But at the end, it doesn't matter for Aldred, as we walks away to the victory. #1 Justin Austin takes second, Joseph Hodges 3rd, #73 Kyle Boice 4th, and #777 Tim Wilson 5th.
TRI-COUNTY FWD DIVISION RACE 1-
Defending FWD winner James Powell starts on pole for this one, with #26 John Ketron starting outside. As the green comes out, the #11B of Bradlee Jones stacks the field, and they go 4 wide to avoid. Through all of this chaos, the #44 of Chuck Sims comes outside of the top 5 to take 3rd. As lap 4 comes around, the #2 of Rayna Holland and #11B Bradlee Jones go up into the outside wall. The #00 of Alvin Plemmons spins to avoid the carnage. As the field goes back green, Powell has to hold off a charging Ketron, who clearly has a great machine under him. The caution would yet again come out on lap 11 for #11 Kevin Caraway stalling in turn 4. Hutson once again throws the green, and Ketron gives Powell yet another strong challenge. Four laps later, the #81 of Dewayne Smith and Chuck Sims both spin and that brings out the yellow. Powell knows he'll have another big challenge ahead of him. But the FWD veteran holds on and wins the race with Ketron holding on to 2nd, Chuck Sims with an outstanding 3rd, Donny Holland 4th, and #2 Rayna Holland recovering from a crash to finish 5th.
TRI-COUNTY LATE MODEL STOCK DIVISION RACE 2-
#7 Jeff Sparks starts on point for the second Late Model Stock race with Austin McDaniel starting 2nd, Thomas Beane in the #28 3rd, #12 Annabeth Barnes-Crum 4th, and #15 Mitch Walker 5th. On the start, a charging McDaniel takes the lead from Sparks, but Sparks stays close behind. Behind Sparks, Barnes-Crum snatches the 3rd position from Beane after a short battle. Beane is then challenged by first race winner Rogers, but Beane manages to hold on. Back up front, Sparks is still breathing down McDaniel's neck. Sparks starts to put the bumper to McDaniel, but to no avail. Finally, on lap 20, Sparks moves McDaniel out of the way to take the lead. McDaniel now has to take on the task of keeping 2nd from a hard charging Barnes-Crum. They battle door to door while Sparks runs away for his first career Late Model Stock victory. McDaniel manages to hang on for 2nd, Barnes-Crum finishes 3rd, Beane 4th, and Rogers 5th.
FWD DIVISION RACE 2 *(Bonus Race)-
Due to the rushed schedule because of threatening rain, Tri-County decided to put on a bonus race for the FWD division. Only people who have never won a FWD race, with $350 on the line. Brian Dodd starts on the point, but the whole field gets stacked up right at the green and the #26 of John Ketron spins on the front. Dodd takes off again, while the #54 of Gary Willard stacks up the field, causing cars to go all over the place. The #12 of Kayla Powell, wife of 1st FWD winner James Powell, makes a great move to take the lead from Dodd. While Powell is trying to pull away, Rayna Holland spins in turn 2, but no caution comes out. From spinning out on the first lap to 2nd place goes John Ketron in the #26. As noted in the first race, Ketron has a great car. Ketron finally catches up to Powell, who's tires are burnt due to her driving her heart out. But it's to no avail, as Ketron easily takes the lead and the win. Powell drops all the way to 4th as her car just continued to go away. The #44 of Chuck Sims comes home second.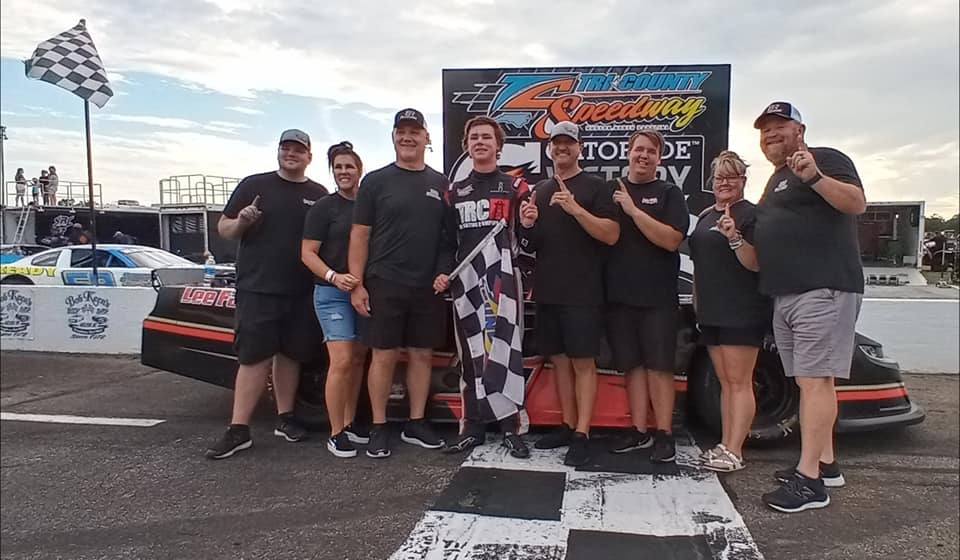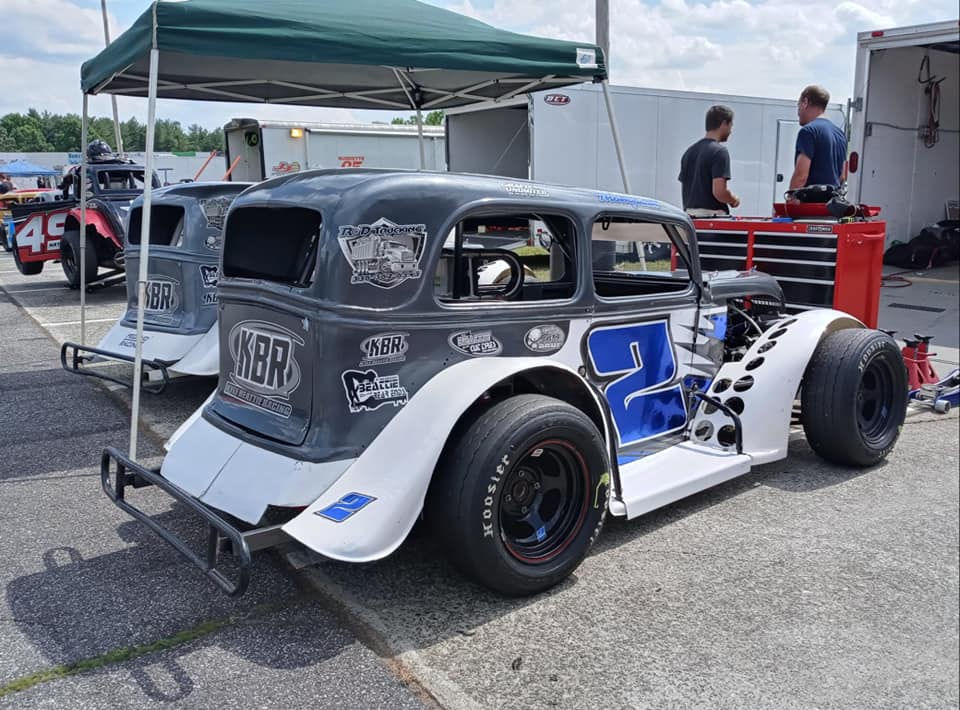 FOX PROPERTY MAINTENANCE STREET STOCK DIVISION-
There's a reason I put the rundown of this race last. As I stated to start off this article, when you make a decision, you immediately start looking for reasons to point to that let you know that you indeed made the right decision. And this race was one of the many signs for us that adding Tri-County Speedway to our focused coverage list was indeed a Smart Decision.
Tri-County had a full race schedule for the night, including a bonus race it threw in during the night's competition on the spot for the FWD competitors that hadn't won this year, pulling together during the program the $350 payday for that event. But even without that, there would have been 7 races on the card. That alone was worth the price of admission. Watching Braden Rogers work over the field in the first Late Model race was worth the price of admission. Watching one of the most competitive Limited Late Model Divisions in the country do battle was worth the price of admission. Watching Jeff Sparks get his first ever win in a Late Model was worth the price of admission. Watching James Powell win his 3rd race of the year in the FWD Division, and his wife Kayla doing her best to get her first one, although eventually falling to winner John Ketron who won his first one of the year in the bonus FWD race was worth the price of admission. Throw in the popular Legends cars and Austin Thompson's win in that division, plus the first full late model races for young upcoming driver Katie Hettinger in the Late Models, and you know you already got more than your money's worth. But this race, the Street Stock race, was epic. One of, if not the best Street Stock races we've ever seen.
#03 Kevin Eby starts on point, followed by #14 Davey Smart, #70 James Dolan, #18 Jonathan Philyaw, and #7 Dustin Atkins. Eby leads them down and flagman Hutson like what he sees, and he throws the green, but Smart gets the great start, overtaking Eby, as #94 Luke Fox moves to 5th over Philyaw. #55 Dillon Crouch gets by both of them, and has worked himself past 3rd running Dolan as well who's now dropped to 4th. Crouch then sets his sights on second place. Crouch has come from outside the top 5, and now moves past Eby for second, and immediately starts running down Smart who's already built a sizable lead. But Crouch is running him down lap by lap. And in no time, he's there. Crouch puts his front nose in to try and get to Smart's fender time and time again. Finally he's in there, but he makes contact with Smart, sending him around coming off of 2. The officials are looking at it, and decide to put the Crouch in the rear after the contact with leader Smart. So he'll have some work to do to get back to the front. On the restart. it'll be Eby back on point, and he chooses the bottom, with Atkins to his outside, followed by Dolan, Fox, and Smart who managed to hold on to 5th after being turned around. On the restart, Eby gets a great jump. Atkins tries to go in the corner hard to get back to him, but gets loose adding to Eby's leading margin. Meanwhile, the two fastest cars of Crouch and Smart are moving back through the field, and they're racing as hard as you can imagine to get back to the front. Crouch has again found the bumper of Smart as he moves his way back through the top 5 to get to the leader, and they both move past Fox and Dolan and are with Atkins as the three cars battle for 3rd. Smart gets into Atkins, and Atkins collects Crouch and they are all around in turn 1 on lap 26. They all pull away, but Crouch is being pointed to the pits this time, as he's got a right front fender peeled back on that machine, and they'll have to get that fixed to continue. Eby is still up front for the next restart, and gets a great jump yet again, but is interrupted by another caution when Atkins spins by himself in 3 and 4. Dolan finds himself second for this restart, and gives Eby the fight of his life as they are side by side for multiple laps. The caution again comes out on lap 29 when Dustin Atkins is stalled at the entrance of turn 1. It's Eby VS. Dolan yet again for the lead, but somehow, Smart has also made his way to the lead battle and they all have amazing race for the win. After spinning two times and making multiple smart decisions, Davey Smart takes the improbable win with Kevin Eby coming home second, James Dolan 3rd, Luke Fox 4th, and Mike Hatton 5th.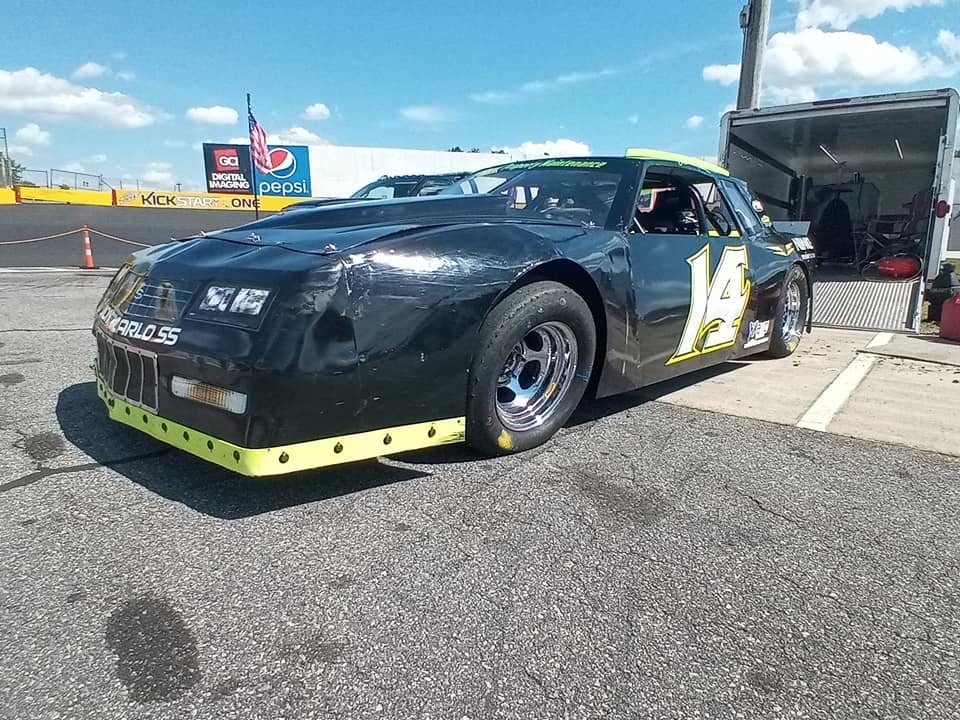 MY TAKE-
I've already told you why we love Tri-County Speedway. But on this day, we saw Lee Faulk Developmental driver Braden Rogers perfect his craft. We also saw Jeff Sparks get his first ever Late Model Stock win. We saw Ranier Racing Development driver Katie Hettinger make her first Late Model Stock starts. We also saw an amazingly competitive Limited Late Model race that saw Josh Goble come out on top. We even almost saw a husband and wife team win. But, we also got to see one of the greatest, craziest Street Stock races we've ever seen. So that also makes our Blue Collar Racer pick a lot easier this week. We can't help but pick Davey Smart for that honor. We also know that Tri-County has some big things in the works. It's almost like Tri-County is a new speedway. It looks amazing and the new owners have indeed brought it back to the prominence it had in 1988. And we can't wait to see what the future holds for this great speedway. So we leave Granite Falls looking forward to the day that we get to come back. And, as another sign that we're playing with fate this year, we thought it a good omen that before the races even began we used Jeff Sparks' picture as the background for our flyer…