CARS TOUR THROWBACK 276 AT HICKORY MOTOR SPEEDWAY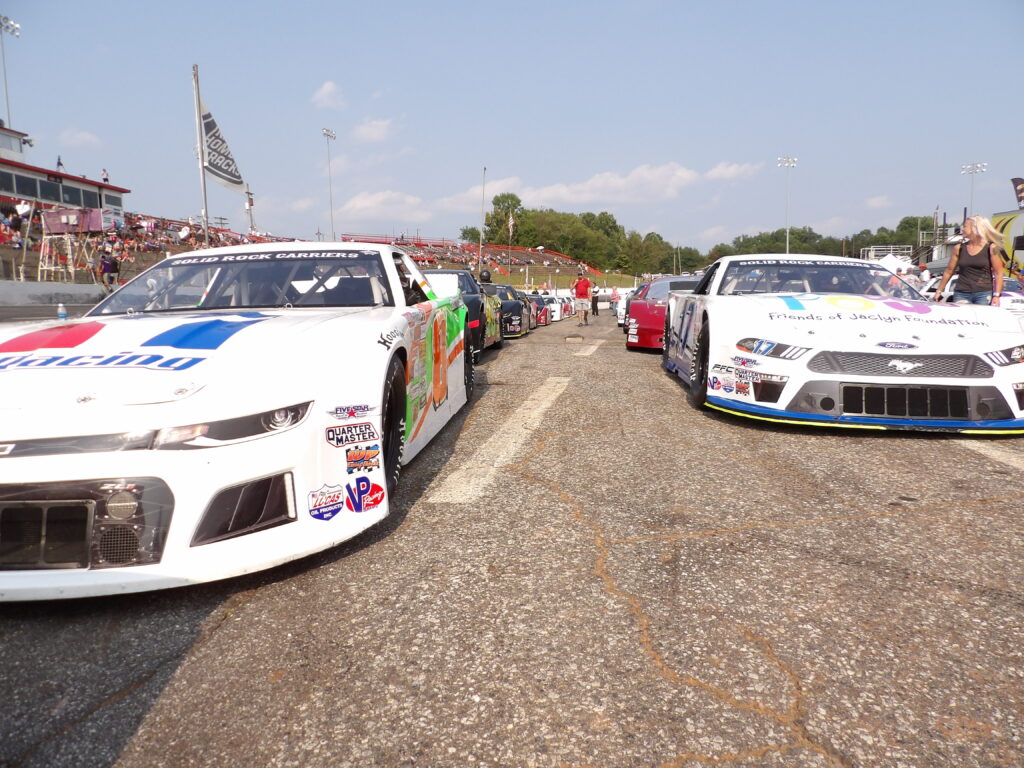 "Perfection is not attainable. But if we chase perfection, we will catch excellence." – Vince Lombardi
For a stock car driver, and their team, one of the first things they want to do for any particular race, is of course to put together a plan that will get them to victory lane. And any stock car driver, and their teams know, that most of the time, things aren't going to go to plan. But once and awhile, you get lucky enough to experience greatness. A day when everything does go according to plan, with even greater success then you may have expected. Such was a day on July 31, 2021, when the CARS Tour came over to historic Hickory Motor Speedway for their fourth annual Throwback 276. Hickory has always been known as a racers track, and the CARS Tour is full of racers. Guys that can go door handle to door handle time and time again, with significant contact at times, without wrecking, lap after lap. Not that they don't have wrecks, but with the way they race, it's hard to believe that it's not the norm. These guys battle, lap after lap, all race long. And Hickory gives them the perfect kind of place for that kind of racing. Always has been. And so on a night when the tour and the speedway chose to honor the legacy of that long history of great short track racing, you knew we had to come be there, to help honor the short track tradition as well.
29 of the best Late Model drivers in the world have come to compete in the name of short track racing itself. Joined by twelve experienced competitors in the Super Late Model class, this is a huge show to say the least. As we arrive, there is already a tailgating party tent set up in turn 3 for the fans, a definite increase in media, and of course a live production team on hand to stream the event. The CARS Tour has also scheduled an autograph session, and invited some great special racing guests which include Joe Nemechek, David Reutimann, Scott Riggs, Larry Pollard, Bosco Lowe, and Kerry Bodenheimer . So even before the fan gates open, there is already excitement in the air, and the place has that big event feel. And as we made our way down to the infield, the drivers and their teams were clearly affected by the atmosphere, and were already working hard on their machines, getting their cars ready for the practice runs, preparing for their round of qualifying. It's early, but here in the south in the summer, it wasn't long before there was nearly unbearable heat. But still they worked, and it was clear early, that this would be a survival of the fittest event. One that proves racers and their team members are indeed athletes, and ones that compete, in what no one can deny, is a harsh environment to say the least. And on a day like this, endurance is a survival skill. But that's what these teams do, race after race.
Since this is a throwback race, we can't help but mention how cool some of these paint schemes look. It's an awesome sight to see the cars honoring stock car racing's past in such a striking visual way any fan can get behind. And it shows. When the gates open and the fans start filing in, many have taken this cool event to heart, and shown up in retro outfits. And after they complete the autograph session, the pre-race ceremonies began. A heartfelt invocation is given. And the patriotic America The Beautiful is sung. The National Anthem is played, saxophone style, and the starting lineup given. Then via modern technology, Sterling Marlin from his home in Tennessee gives the command, and the engines roar to life. And so among the heat, and all the pomp and circumstance, it's time to get down to business. The Supers are on their parade lap, and the crowd is pumped. It's time for what we've all been waiting for, so…Let's go racin'!
CARS TOUR SOLID ROCK CARRIERS SUPER LATE MODELS
# 54 Matt Craig is your pole sitter with a lap of 14.622, followed by # 35 Carson Kvapil, # 7 Justin Crider, # 7C Tyler Church, and # 6 Brandon Setzer round out your top 5 starters. The parade laps are complete and race control doubles them up and gives them the 2 to go signal. The lights are off on the pace car…CARS Tour flagman Brandon Willard likes what he sees, and the green is out. Craig gets a good start, as Setzer gets by Church for fourth. Kvapil stalks Craig, trying to find a spot to make a move on the leader, and on lap 20, he gets by for the lead on the outside. The heat has the track slick, and at Hickory, when it gets loose, the outside groove becomes a great option, as you can pinch your competitor down in the corner, making it difficult to find grip coming off the corner. And Kvapil takes advantage and is now your leader, and looking good up front. # 24 Chandler Smith starts showing his might, and moves past Church for fifth, up from his seventh place starting position, and he moves in on Setzer, looking for fourth. But Setzer is not having it, and he gets up on the wheel and holds Smith off as the competition caution waves on lap 40. I should note here, that the CARS Tour has in it's rule book a 40 lap rule, that if there is no caution for 40 race laps, the series will employ a competition caution, as it has done after the first 40 laps here today.
Church, # 26 Bubba Pollard, # 27 Lee Tissot, # 8 Daniel Webster, and # 49 Jeff Batten all come in for adjustments to their machines, taking advantage of the caution to make their cars better for the end of the race. Everyone but Church had nothing to lose, so it was an easy choice to pit, but the crew on the # 7C machine seem to have noticed some issues, and move to try to correct it during this stop. Flagman Willard gives the field the double up signal, as Kvapil will lead them down, followed by Craig, Crider, Setzer, and Smith. Kvapil gets a good start up front and clears Craig, as Setzer gets past Crider for third. # 4 Kyle Plott makes his presence known as he gets past Smith for fifth. Smith battles back, and Plott does all he can to hold him back. But after a couple of laps, Smith gets back underneath and reclaims the spot. He immediately goes after Setzer as well, and moves up to the fourth position. Meanwhile up front, Kvapil has found his groove, and starts to pull away from the field. Craig seems content at this in second, as Bubba Pollard has found his way to the front of the field from his seventh place start, and gets by Crider for fifth on the outside. Meanwhile, Smith has caught Setzer and a battle for position ensues. But Smith uses the outside line as well to finally move past Setzer, and sets his sights on second running Craig. Tyler Church's problems get worse, and he brings his ailing machine to pit road, and the crew gets to work trying to rectify the situation. Pollard has found the rear of Setzer, and he goes up top and takes the fourth position from the outside, but on lap 80, with no cautions in play, the competition yellow is again employed. # 11 Michael Ritch will come down pit road, with # 8 Daniel Webster, # 49 Jeff Batten, and # 27 Lee Tissot all following suit.
The field is doubled back up, with Kvapil again leading them down, with Craig, Smith, Pollard, and Setzer restarting in the top 5. Kvapil gets a good start, but he can't shake Craig this time, and the two battle it out for the lead. Craig works Kvapil, refusing to let him clear, and it pays off as he gets a nose ahead, and finally clears past Kvapil for the point, and begins to pull away, as Kvapil's car begins getting loose off the corners. This allows Smith to move in, and he works on Kvapil as well, but Kvapil is not ready to give up another spot, and fights hard to hold what he's got. The car is too loose however, and Smith moves up one more spot to second. But on lap 109, Daniel Webster spins down the frontstretch, bringing out the last caution of the race, and leaving us with a 29 lap shootout for the finish. Kyle Plott comes down pit road, followed by # 11 Michael Ritch, Daniel Webster, and Jeff Batten, taking one last shot to improve their cars for the end of the race. For the restart, Craig chooses the outside lane to protect his high side, which we know here at Short Track Report to be an excellent tactic to hold the front on a track like this, with two distinct grooves and a slick bottom lane, as Smith, Kvapil, Pollard, and Setzer round out the top 5 on this final restart. Flagman Brandon Willard surveys the field, likes what he sees, and the green is back out for the final stage of the race. Craig gets the best start of the day, and he'll need that advantage as Smith clears by Kvapil, and sets his sights on the front. But Pollard has cleared Kvapil as well, and he moves in on Smith for second. Smith tries to hold him off, but Pollard makes the best laps he's made so far in the race, and he's up beside Smith, and takes the second spot away. Craig has to like what he's seeing in the mirror, as Smith isn't giving up that easy, and is back on Pollard looking to regain the position. And Smith, after several laps, finally gets back up beside Pollard, and regains the second spot, but it's too late, as Craig powers down the front stretch to win the Super Late Model portion of the CARS Tour Throwback 276.
CARS TOUR SOLID ROCK CARRIERS LATE MODEL STOCK
It should come as no surprise, but # 8 Josh Berry is your pole winner for the Late Model Stocks, with a lap of 14.894. But to note, # 40 Tyler Matthews ran the twenty ninth fastest qualifying lap with a 15.223. Look at that closely. That's right. Only .329 separates the front of the field from the back. That's even folks. That means the field is separated by a time faster than you can think about what little time separates them. If I were to post a ghost car representation of the entire field's qualifying time, it would just look like one big blurry car representing the whole field. Phenomenal. And it's a sight looking at the full 29 car field roll past with their throwback paint schemes. And looking at the crowd, with many in throwback clothing, I can't help but have a memory jump back in time to stock car racing's past, and one thought comes to mind…short track racing is still alive and well. We've seen it all year at Short Track Report, and I have to say, it's an awesome view here today. Berry and the field finish up their parade laps, and the two to go signal is given by flagman Brandon Willard. Berry lines up on the inside, with # 11D Mason Diaz starting second, # 25 Jonathan Shafer third, # 7 Mini Tyrrell fourth, and # 95 Sam Yarbrough rounding out your top 5. Berry brings the field around, Willard likes what he sees, the green is out, and we are underway.
Berry immediately clears Diaz for the point, as Tim Richmond and Ricky Hendrick battle behind them for third. Wait…what? I'm sorry, it's Shafer and Tyrell battling for third, as the field is 2 wide 10 rows deep behind them. Tyrell clears for third as Shafer runs fourth. # 14M Craig Moore has also gotten a good start as well, as he moves past Yarbrough on the outside, and powers up to Tyrrell. He slips past Tyrrell as well, as Diaz gets under Berry for the lead. Now Moore gets by Berry, and Tyrrell is to his inside as well, as he moves past. Behind them, # 14 Jared Fryar looks to make a move on Shafer, and the two make contact, and Fryar bounces off the outside wall going into three with sparks flying, but he gathers it up with no real damage, and continues to put pressure on Shafer for the spot. Give it to him as Fryar now moves in on Berry, but he fights to hold what he's got. It's a sign that he may have given up spots to save his car, content to ride in fourth, but unwilling to give any more ground. Behind all of this action, the field is still 2 wide several rows deep, and it may be early, but no one is giving an inch outside the top 5. Door handle to door handle, cars bouncing off of each other on every inch of the track as the battles are intense to say the least. Lap 4 and the competitors are already making a statement that they are here to race today. Shafer is looking to reclaim fifth from Fryar, and Fryar runs him high, obviously not happy with their earlier contact, and as they battle, Yarbrough looks underneath, thinking of making it three wide for the position. He thinks better of it, and instead waits for an opening and he finds it under Shafer, as Fryar clears himself past. They better get it sorted out, as the field of wolves closes in, looking for any prey they can devour. There's no way to call all of this action, so let me just say, that as the top 4 have finally decided to run in line for a bit, the rest of the field is still trying to gain what they can. Everyone is challenging everyone, is as best as I can describe it. Amazing racing already, and we haven't even gotten past the early stages.
And just as I think the top are content with just running in line, third place running Tyrrell gets into the back of Moore, and gets him sideways. Moore catches it however, and they continue in order. You won't be able to make a mistake here today without someone moving in to take advantage. Tyrrell gets under Moore, and Berry moves back in as well. Moore battles back on the outside of Tyrrell however to reclaim second spot, as Berry settles back in behind Tyrrell in fourth. There's a stack up in the back, but everyone saves it, as again the battle up front gets tight yet again. Yarbrough has moved back in to Berry's rear bumper, and he's tapping on it, trying to get the Berry to challenge the leaders in front, as he is still being pressured by the field who is still 2 wide behind him. Fryar moves on the outside of Berry, so Berry gets the hint, and moves in on Tyrrell and gets underneath. But Tyrrell also gets the point, and he holds Berry off and moves inside of second running Moore. But Moore holds him off, and as Tyrrell settles back into third, Fryar and Yarbrough have moved in to challenge Berry. Tyrrell goes back after Moore, and this time he moves past and in on leader Diaz. Behind him Fryar has gotten by Berry and is outside of Moore for third, as now Shafer moves outside of Berry, battling for the fifth spot. Meanwhile, Tyrrell is outside of leader Diaz, and he takes the lead. Behind him, just when you think it could be time for the racers to settle in their positions, now instead the whole field is again 2 wide racing like it's the end of the race. Moore is to the outside of Diaz, Fryar to the outside of Berry, and it's like that throughout, with still no one giving an inch. And this goes on until the competition yellow comes out on lap 40. Yes, we've only run 40 laps, and it's amazing to everyone except the CARS Tour regulars and their fans that we haven't seen a wreck during the intense battles that have taken shape. Cars have been into each other, some sideways, plenty of contact…but on the CARS Tour, that's just racin'.
# 07D Chase Dixon brings his Tow Mater themed car to pit road, and he's joined by # 40 Tyler Matthews, and # 21 Zane Smith, all in for adjustments. # 6 Mike Darne is in, # 75 Landon Huffman, and #11 Layne Riggs come in as well. Flagman Willard gives them the double up signal, and Tyrrell opts to start on the outside, protecting his flank on the restart. Moore, Berry, Diaz and Yarbrough line up behind him to round out the top five on the restart. Tyrrell brings them down, flagman Willard likes it, and the green is out again to restart the race. They get a good start, as Moore challenges Tyrrell for the lead, but Mini holds on and clears him in the outside lane. This time the leaders decide to get in line, and for the first time in the event, the front runners decide to save something for the end. But not so for the middle on back, not being content with where they are, and knowing that with less than 100 laps left, they don't have the option of settling in, as moving through a field with this kind of talent becomes a feat of epic proportions. But, # 92 Kaden Honeycutt, who started in the rear of the field after making adjustments to the car after qualifying, has figured it out, and he's coming through the field cautiously, but on a determined march, being careful not to wear his stuff out in the process. Chase Dixon brings Tow Mater down pit road, obviously having mechanical issues with his machine. # 01 Conner Jones is getting shuffled in the middle of the field as he loses a few spots and now # 49M of Deac McCaskill in the NWO paint scheme moves to his inside and runs Jones high to get past, and Jones don't like the move much and puts the bumper to McCaskill to voice his displeasure, and Deac almost crosses it up, but holds onto it and keeps the spot just as the competition yellow waves again on lap 80. Peters, Riggs, # 8J Justin Johnson, # 49 Brandon Pierce, Matthews, Huffman, and # 17 Joe Valento all come down pit road to make their adjustments, and playing pit strategy to get their cars handling and in the right positions for the rest of the event.
Tyrrell again chooses the outside lane, and Berry, Diaz, Moore, and Yarbrough line up behind him, rounding out the top 5 starters. Tyrrell gets a good start, but Berry challenges him on the inside. Mini almost has him cleared as Diaz and Moore battle for second, and Yarbrough and Fryar battle behind them. Tyrrell clears himself in front of Berry, but Berry continues to challenge him, but Timothy Peters has a flat tire and goes around in turn 2. It takes him a minute, but he limps the car to the pits, and he's done for the day. They had trouble finding speed all day in the car, and Peters has had enough after this trouble, and calls it a day. So again, it'll be Mini Tyrrell leading, Berry, Moore, Diaz, and Yarbrough to the line for the restart. And since it's worked thus far, Tyrrell will again trust his start to the outside lane. CARS Tour flagman Willard again surveys the field, and is happy with what he sees, and the green is out yet again in the Throwback 276.
Tyrrell gets another good start, but again he has to deal with Berry who's decided it's time to get back to the point, and this time he's got an even better run under the # 7 Ricky Hendrick themed Mini Tyrrell machine, and he powers past into the lead. Diaz now eyes Tyrrell for second as Yarbrough and Moore battle behind them for fourth position. Diaz is working hard for the second position, but Tyrrell is working just as hard to hold him off. But Mini's used his car up a bit running up front, and Diaz gets by and now Yarbrough moves in to challenge him for third. At the same time, a little farther back, # 15 Ryan Millington, who'd run in the back and then moved up to the middle of the field, has worked his way up to the eighth running spot to challenge Fryar who's fallen off a bit for seventh. Kaden Honeycutt is also working his way toward the front still as well, now running in twelfth, and continuing to move forward. Up front, Yarbrough has gotten past Tyrrell for third, and sets his sights on second running Diaz. But Berry is looking strong out front, and he starts to put on a clinic of how you move through lap traffic, as the groups he's catching are still running 2 wide trying to get every spot possible to fend off the fast running leader who's about to put them a lap down. He moves through the first group with no incident, as Diaz tries to get as close as possible to let Berry do all the work of moving through the determined racers as he just follows Berry through. But Josh Berry is making easy work of it, and Diaz suddenly finds it hard to keep up with him as he dices through the field. But as he approaches another large group, the field gets stacked up in a battle in the middle of the field, and when the smoke clears, # 6W Mitch Walker, and Ryan Millington are around in turns 3 and 4. # 87 Mike Looney is around as well, and it's tough luck for these guys, as they battled hard all day for everything they had gained up until that point. But now, with not many laps left to decide it, they will have to start at the tail end of this field of amazing racers, just to scramble for what they can get. Justin Johnson and Mike Darne are in the pits for some last minute adjustments. It'll be Berry, Diaz, Yarbrough, Tyrrell, and # 07 Bobby McCarty for the restart. The green flies once again and Berry gets a great start. The hungry field behind him however are filling any gaps that they can see. This causes a stack up on the backstretch that puts the # 4 of Bubba Pollard in the wall. Bad news for Berry, but great news for Diaz, as this gives him one more shot. Berry, Diaz, Yarbrough, Tyrrell, and Fryar make up the top 5 for the final restart. Berry gets another good jump, but Diaz isn't giving up without a fight. He looks inside numerous times and also gives Berry a couple of nudges, but it's not enough as Berry comes across the finish line to win the Late Model Stock portion of the Throwback 276.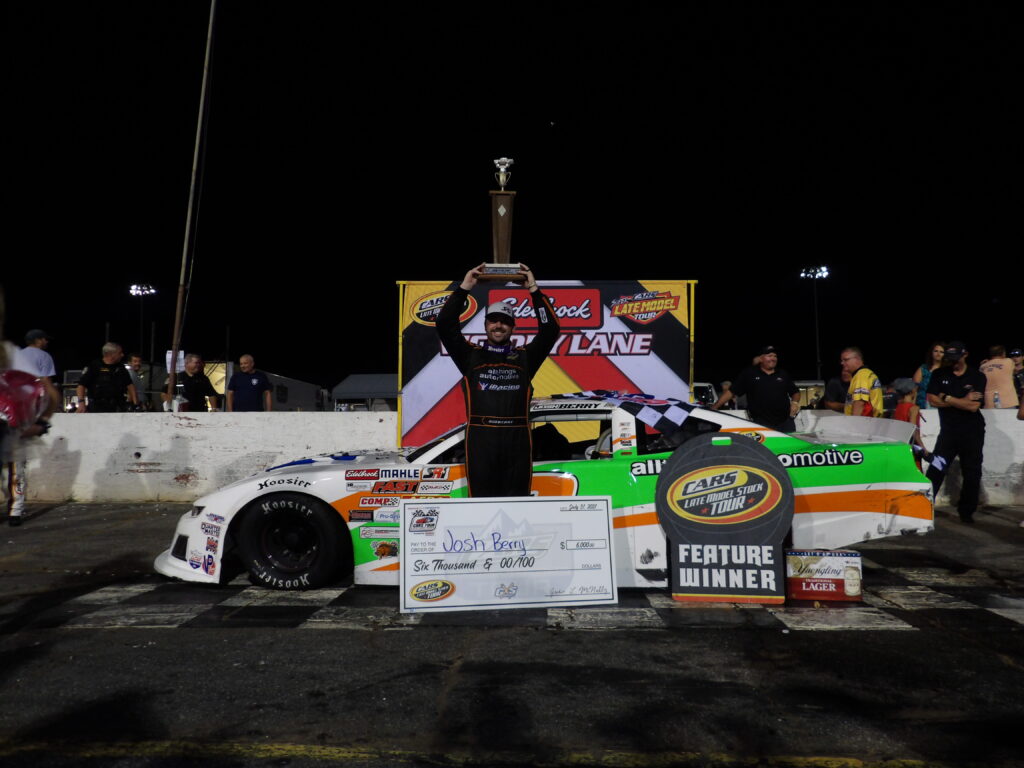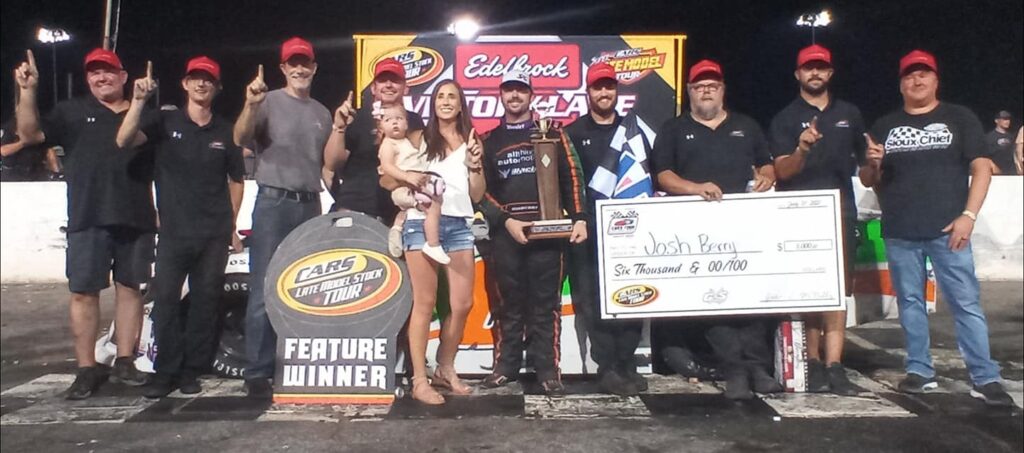 MY TAKE
Josh Berry is undoubtedly one of the hottest drivers in the country right now. When we covered the CARS Tour earlier in the year under a different organization at Orange County, things just fell into place and we got to see Josh Berry wax the field for $30,000. But tonight, Josh Berry and his team wrote out the perfect plan, and Berry followed it to a T and gave us another glimpse of his greatness. He may very well be, at this time, the best short track blue collar racer in the country. He's looked like it both times we've seen him. And this isn't just a normal tour. This tour is filled with some of the greatest Super Late Model and Late Model Stock drivers in the country. Drivers that can race side by side on a hot, slick track for upwards of 40+ laps without incident. Drivers that can bump and bang without causing a caution. The CARS Tour is real racers tour. And speaking of real racers, that brings us to our Blue Collar Racer Of The Week. Now, if you read our articles regularly, you know that last week was one of the toughest Blue Collar awards we've ever given out. But this week, it's the exact opposite. It goes to none other than the # 92 machine of Kaden Honeycutt. Honeycutt started shotgun on the 29 car field and meticulously made his way through the field all the way to 7th. In doing so, he had to avoid numerous stack ups and near wrecks, but the breakout star got it done without a scratch. We at Short Track Report would like to thank the CARS Tour for their amazing hospitality, as well as Hickory Motor Speedway. We also would like to make a statement. We know that there are struggles right now in everything trying to get back to normal from the pandemic. But if you've been following us this year, you'd know that every event we've been to has had great turnout. Even though from time to time things like getting parts and supplies are of course going to be an issue, but those that do it right are going to come out better than before. Don't listen to the people who say that short track racing is dead or is slowly dying. Just know one thing: short track racing is definitely alive and well. And it's only going to get better.
CARS Super Late Model Tour – Honeywell Home Throwback 276 Presented By Baker Distributing – July 31st, 2021
1. # 54 – Matt Craig
2. # 24 – Chandler Smith
3. # 26 – Bubba Pollard
4. # 35 – Carson Kvapil
5. # 4 – Kyle Plott
6. # 6 – Brandon Setzer
7. # 27 – Lee Tissot
8. # 11 – Michael Ritch
9. # 8 – Daniel Webster
10. # 49 – Jeff Batten
11. # 7 – Justin Crider
12. # 7C – Tyler Church
Solid Rock Carriers CARS Tour – Honeywell Home Throwback 276 Presented By Baker Distributing – July 31st, 2021
1. # 8 – Josh Berry
2. # 11D – Mason Diaz
3. # 95 – Sam Yarbrough
4. # 7 – Mini Tyrrell
5. # 14 – Jared Fryar
6. # 07 – Bobby McCarty
7. # 92 – Kaden Honeycutt
8. # 8B – Sam Butler
9. # 01 – Conner Jones
10. # 49M – Deac McCaskill
11. # 25 – Jonathan Shafer
12. # 14M – Craig Moore
13. # 8J – Justin Johnson
14. # 41 – Jonathan Findley
15. # 11 – Layne Riggs
16. # 87 – Mike Looney
17. # 49 – Brandon Pierce
18. # 5 – Connor Mosack
19. # 40 – Tyler Matthews
20. # 75 – Landon Huffman
21. # 17 – Joe Valento
22. # 6 – Mike Darne
23. # 6W – Mitch Walker
24. # 97 – Daniel Silvestri
25. # 4 – Bubba Pollard
26. # 15 – Ryan Millington
27. # 22P – Timothy Peters
28. # 07D – Chase Dixon
29. # 21 – Zane Smith