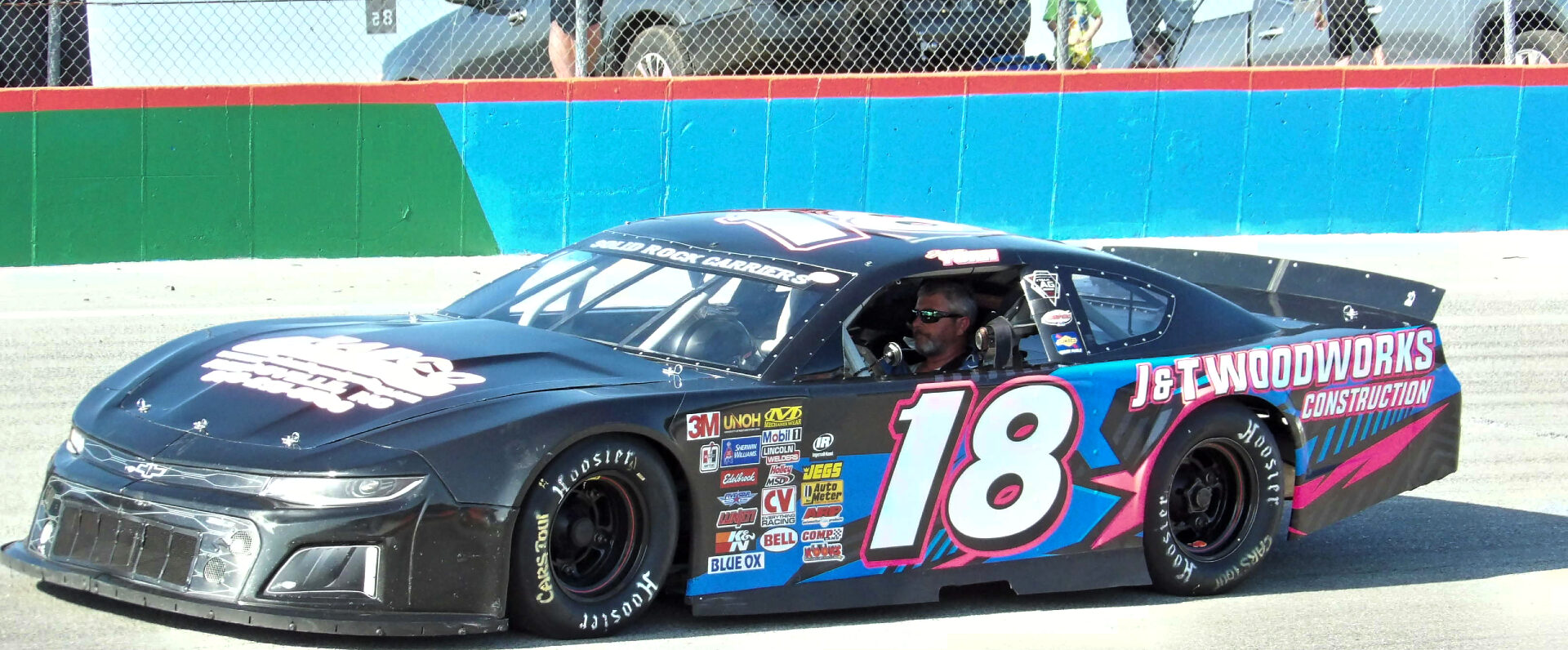 COMING INTO FOCUS – 2022 CARS Tour New River 125 Presented By United Rentals At Goodyear All-American Speedway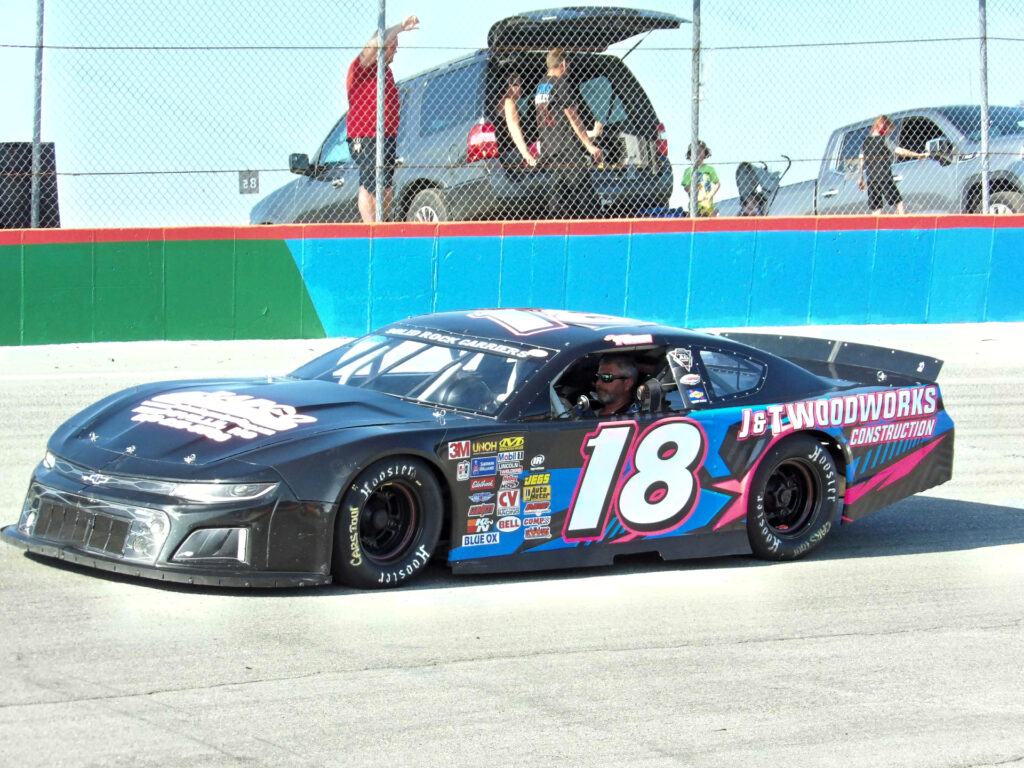 "There are two ways of spreading light: to be the candle or the mirror that reflects it."

Deb Dewit Marchant
This week, we decided to make out first trip out to Goodyear All American Speedway to catch up with the CARS Tour as they make their first visit to the track. The Hooters Pro Cup had visited the track in 2001 and 2002, and Jack McNelly's X-1R Pro Cup Series made the trip before it was rebranded and restructured as the CARS Tour. But truly this is the Tour's, in it's current successful structure, first ever visit to the Speedway. And we wanted to see it as they did, for the first time with fully opened eyes. We'd heard a lot about the place from a number of people, but what caught our eye really was what we'd heard from the track's media and marketing manager, who happens to also be an announcer there too, Andy Marquis. You see, we know that Andy has been around short track racing in our region for awhile now as a contributing media content provider as a writer, analyst, and photographer, but he also worked for a few tracks much as in his current role at Goodyear All American Speedway, and so he knows the ins and outs of the regions racing scene, but also, we know Andy as a lover of short track racing. And ever since he started working for the Goodyears in his current position, his posts about his love for short track racing had increased to the point that we had to come see what the fuss was all about.
It was perfect timing too as the Tour came to the track for it's fourth race of the season, a time on the schedule that drivers have had the chance to settle in for the year and move to make great gains in the points department. It's the stretch of the year to make gains to put yourself in contention for the title, and a stretch that you must do well in to consider the year a success. So we know the teams on the Tour were coming into the Speedway with performance on their minds, and during our research on the place, we knew that was going to be challenging as the very track itself is what we call a drivers track. A track with great speed, but a track that takes all the skill a driver has to have success. So we knew that coming to this track for the first time as the CARS Tour itself was perfect, so that we would get to see what kind of track Goodyear All American Speedway truly is. For the CARS Tour is a premier short track tour, and if your track isn't premier as well, it will show quickly and glaringly. So we'll get more into about the track as we go along and the trip comes into focus, but for now I can tell you that we arrived at a beautiful facility with a welcoming staff. Pre race activities commenced including a meet and greet for the fans and the stars of the CARS Tour and a rousing driver introduction, followed by a touching invocation, and a heartfelt performance of the National Anthem. It was the hottest day of the year so far as we shake off the cold season and move toward the Summer, and so as the sun sets and it starts to cool off just a bit, the drivers and teams are ready to go as is the ever growing crowd here at the facility, so without further delay, Let's Go Racin'!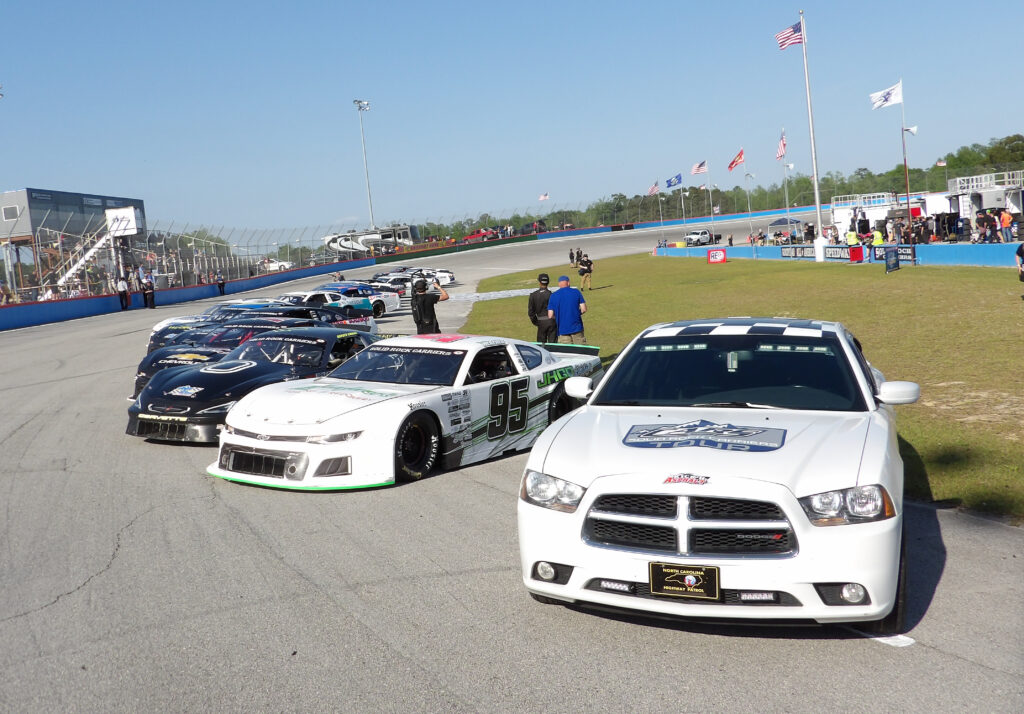 Bandolero Feature
The Bandoleros will hit the track first with multi time division winner # 88 Phoenyx Kimball starting up front with the # 24 of Bryson Brinkley alongside. Eight year old Miles Roberts has the privilege to wave the green flag as Kimball immediately clears for the lead. The field all gets into line to try to utilize the draft to find a way by Kimball. # 23 Joshua Lowe tries to look to the bottom of Brinkley, but Brinkley is able to hang on as Kimball continues to build her lead. Lowe tries to mount one last charge on the final lap, but Brinkley keeps second as Kimball continues her winning ways as she crosses the line first. Lowe would come home third, # 84 Delaney Gray finishes fourth, and # 5 Kaycey Black rounds out the top five.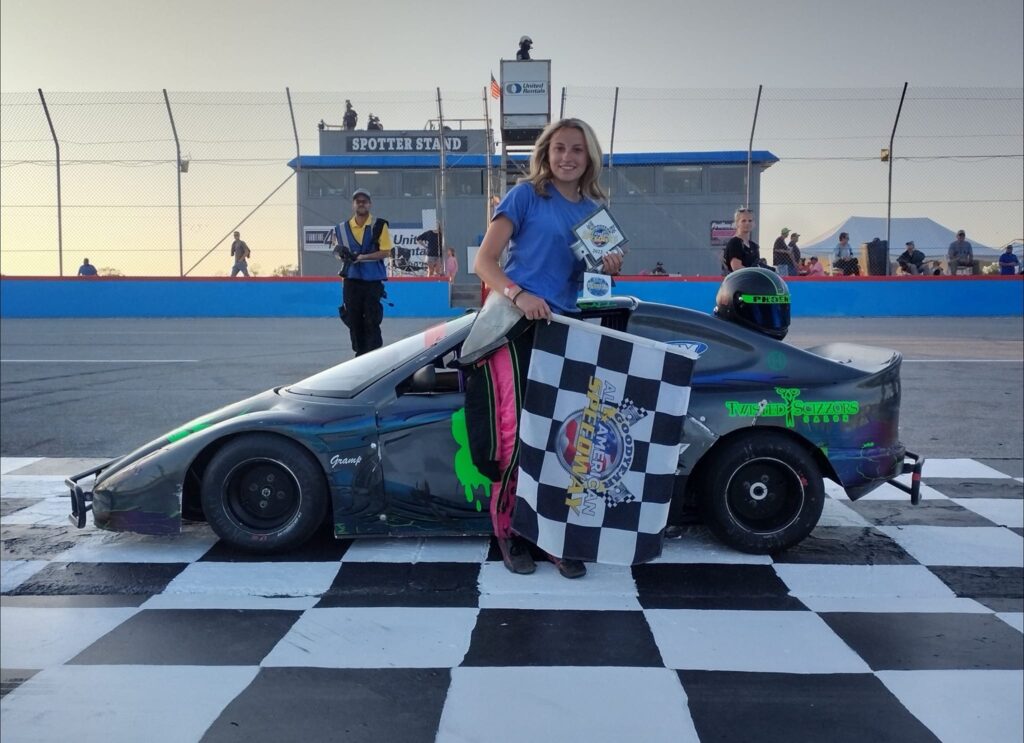 Champ Kart Feature
Starting on pole will be the # 70 of Matt Broughton with the # 1 of Dustin Phillips starting second. CARS Tour flagman Brandon Willard looks over the amazing field of Champ Karts, likes what he sees, and we're green! Phillips gains the early advantage and brings drafting partner # 118 Justin Tucker along with him to second. But there's early trouble as the # 42 of Jacob Tingen spins down the frontstretch. It'll be Phillips up front with Tucker linked in behind as the field will restart single file. Willard likes the formation and we're back green in no time. Phillips and Tucker try to break away as the field behind goes three and sometimes four wide. Back up front, the duo of # 14 Tommy Elliott and the # 10 of Trey Massengill spoil the Phillips-Tucker party and are able to take the top two spots. But we've got trouble again on the frontstretch as the # 22 of Sean Wales and polesitter Broughton both spin into the grass. Broughton is none too happy as he exchanges words with some fellow crewmen as it seems he's done for the day. But once again, the field is bunched back up quickly and we're back green.
Elliott is able to stay up front but his partner in Massengill is shuffled out of the pack as Phillips gains the second spot. Elliott and Phillips are able to heavily gap the rest of the pack as they continue to span out three and four wide. As the white flag flies, it's still Elliott and Phillips, but Phillips looks on the inside going down the back, clears Elliott, and is able to take the checkered flag first with a last lap pass. Elliott comes home second, Justin Tucker third, # 2 Joshua Eubanks fourth, and Massengill fifth in an amazing race.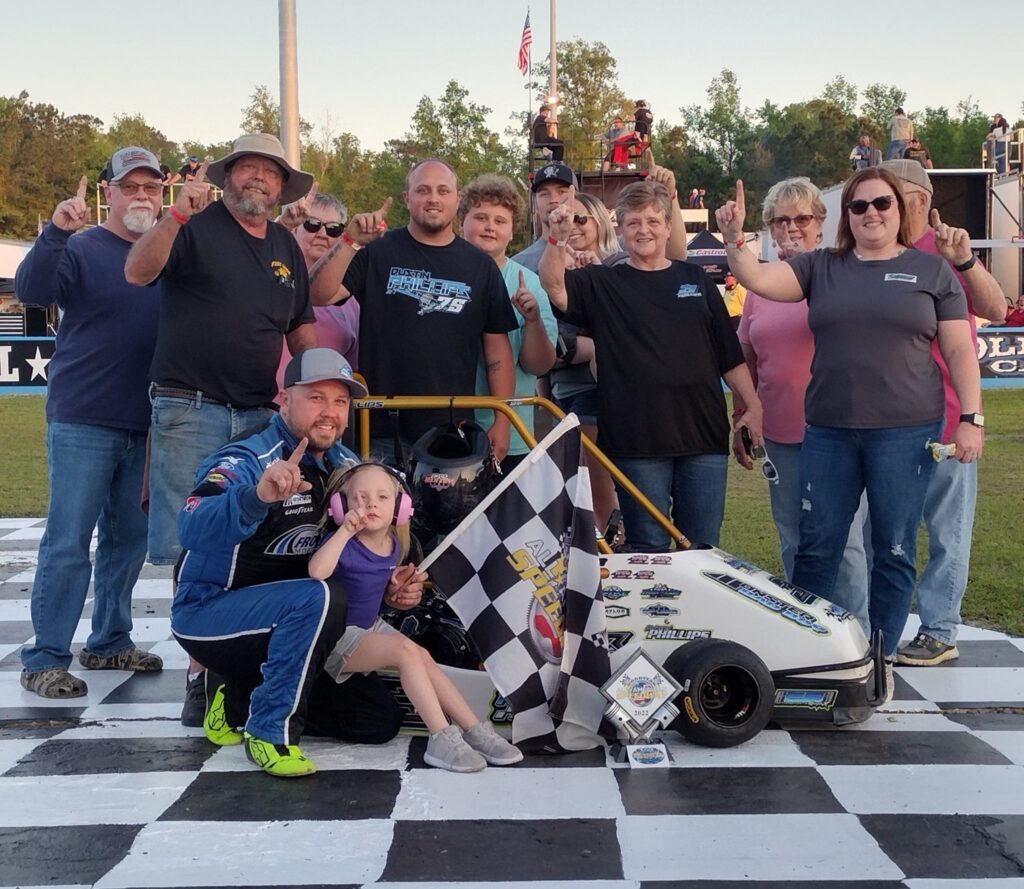 Legend Feature
Legend veteran # 75 Chase Singletary starts up front with the # 10 of Justin Mitchell starting second. Willard looks over the field, likes the formation, and we're green for the Legends! Singletary cuts to the inside for first as Mitchell holds steady in second. Trouble strikes early as third place runner # 13 D.J. Murphy spins coming out of turn 4 and will bring out the caution for the first time. Singletary holds the top spot with Mitchell holding onto second as the green flies for the restart. Singletary takes advantage of the single file restart and rockets off immediately to a one second lead over Mitchell. # 99 Carsyn Gillikin nearly spins in third, giving that spot back to Murphy as Singletary continues to build his lead. But that lead will be erased as the # 14 of Mike Ridenour spins coming out of turn 4. The lights are out immediately as it'll be Singletary and Mitchell once again as the green flies. Mitchell gets a great start this time around and tries to lay a bumper to Singletary going into one, but it's not enough as Singletary will pull away and gain yet another Goodyear All-American victory. Mitchell comes home second, Murphy third, Ridenour fourth, and Gillikin fifth.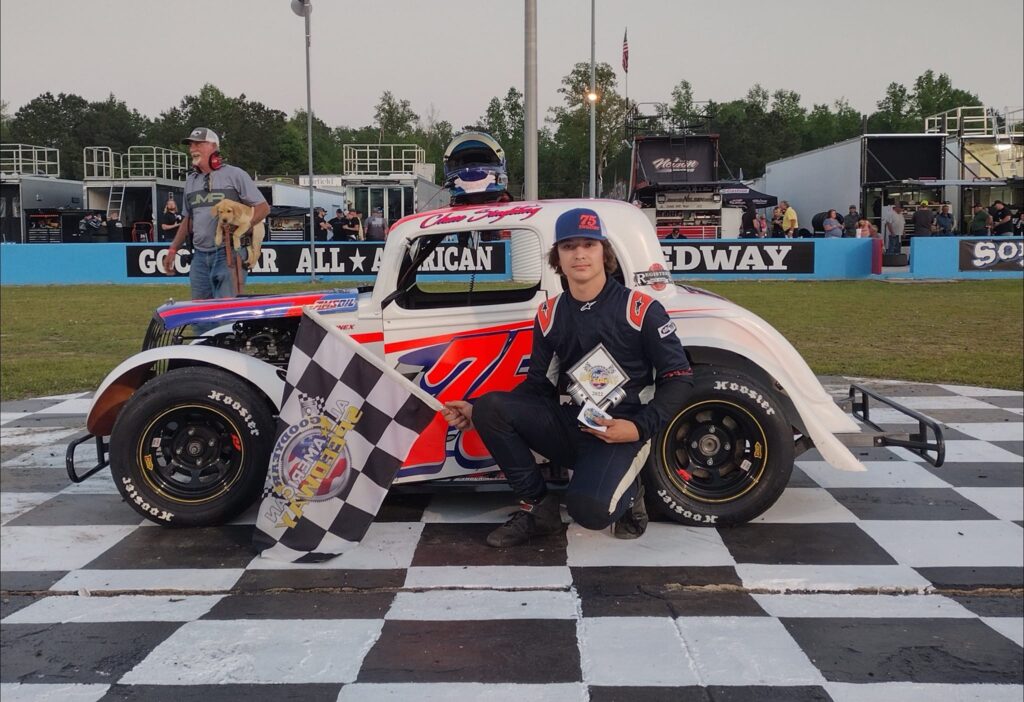 Bomber Feature
The # 03 of Cornell Williams will start on the pole for the Bombers with the # 7 of Tyler Stalls starting second. Willard looks over the field, likes what he sees, and we're green for the popular Bombers! Williams doesn't get a good start as Stalls takes advantage and clears for the lead. The # 66 of Ronnie Kropp goes up in smoke but we won't have a caution as Kropp is unfortunately done early. Williams' car is now up to speed and running almost equal to Stalls. But Stalls has the track position and continues to run up front. The # 14 of fourth place running Eddie Humphrey puts the chrome horn to the # 11 of Wayne Phillips and is able to get into podium position. Phillips tries to get back to Humphrey to return the favor, but Humphrey is just too good as back up front, Tyler Stalls is nearly perfect and takes the checkered flag first over the # 03 of Williams. Williams would unfortunately fail post race technical inspection which gives Humphrey second, Phillips third, # 17 Brian Gooden fourth, and # 13 Tom Bonner fifth.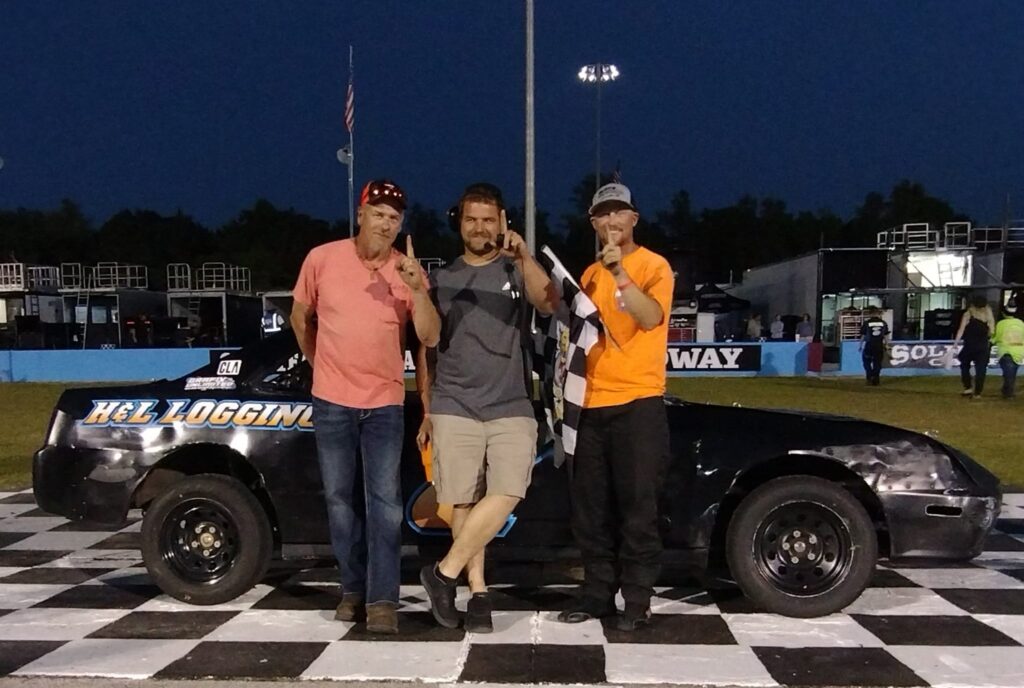 SOLID ROCK CARRIERS CARS TOUR NEW RIVER 125 PRESENTED BY UNITED RENTALS FEATURE EVENT
# 8 Carson Kvapil leads the points coming into the fourth race of the season, having a slight advantage over # 16 Chad McCumbee. It's still early in the year, but today's race will be crucial to the driver's chances on making a championship run later in the season. For today's race, it's # 77 Connor Hall qualifying on the pole with a lap of 15.816 seconds. A great lap for this tricky track here at Goodyear All-American Speedway, as just a handful of drivers qualified under the 15 second bracket, with # 08 Deac McCaskill rolling off second, Carson Kvapil third, # 2 Braden Rogers fourth, and # 4 Justin Johnson rounding out the top 5 starters, and the only drivers under the 16 second mark in qualifying.
The field has run their parade laps, and it's striking every time in a big event such as a CARS Tour race as these magnificent machines ride around, letting the cars warm up and cleaning their tires as all the fluids come up to temp. But it's quite the sight for the short track fan to see these gleaming hot rods pace the track as they prepare to go racing. Long time CARS Tour flagman Brandon Williard takes command of these awesome hot rods and signals the field to double up and get ready to go green. He looks over the field of talented racers, and gives the signal for one more parade lap, and Connor Hall brings them around under Williard's supervision. He's happy with what he sees, and as Hall drops the hammer in the restart zone, he throws the green flag to the field to get the New River 125 Presented By United Rentals underway!
Connor Hall takes the early lead, and Carson Kvapil snuggles in behind. # 24 Mason Diaz decides to gain some track position as most of the field settles into tire conservation mode, and it's going to be crucial to save as much tire as possible on this grippy but abrasive race track. Also on the move is # 1 Andrew Grady as he starts to power through the field. Mason Diaz only takes 10 laps to get to the point, and he moves past Hall for the lead. Shortly after, Grady makes it to second, and he's got # 44 Conner Jones following him to the front. The rest of the field has settled in single file, choosing to let the rabbits run for now. Up front, Conner Jones decides he wants to lead some laps in the early stages and he goes around Grady and sets his sights on Diaz up front, but as he gets to leader Diaz, the # 24 goes up in smoke and he's off the pace and heading to pit road. No oil is put down however so we continue under green, leaving the # 24 crew to work on what is determined to be power steering issues that will keep them busy here today.
Andrew Grady doesn't like the look of the # 44 machine out front, so he decides he wants to lead the field and get his points for leading, and he goes out to a huge over 5 car length lead. Conner Jones uses that as his signal to start saving tires, but behind him, a situation is forming that will define this race. And I should say here, it will define a lot more as well. That situation? Well, there is a group of cars, the bulk of this field, that have been saving tires from the beginning. But, they have also been testing each other here and there to see who has what. And it's at this point of the race that they will start that testing in earnest. It starts here, gradually as they increase their pace a bit, sensing the break that's coming. If you don't know, the Tour throws a caution if the field runs 40 green flag laps with no caution. And in this race, we are approaching one of those breaks. And as it approaches, the drivers wanting an easier time on the ensuing restart start to jockey for position. None of these drivers have really shown what they have in the race so far, but, that is about to change big time.
Behind Jones, Connor Hall, Carson Kvapil, Deac McCaskill, Braden Rogers, # 63 Tyler Matthews, # 41 Bradley McCaskill, and # 10 Janson Marchbanks have formed into a side by side train you see so many times during these CARS Tour races as the drivers try to save their equipment, but keep who they think will be strong competitors during the race in their sights. So at first, this group bunching up seems like what I've seen so many times before. Behind them, Johnson, # 12 Kaden Honeycutt, # 22 Bobby McCarty, and a number of other drivers are keeping that group in front of them in sight, ready to make a move later when their strategy allows. But for now, we meet our first caution after 40 laps of clean and green racing. This gives the drivers a chance to make some adjustments if needed, and it gives Mason Diaz and the # 24 machine a chance to try and work on their power steering issues. After the break, Andrew Grady again goes out to a big lead, but the group behind really starts to test each other. At an increased rate, but still running in save mode, but at the same time, they start to really lean on each other. At this point it's Hall in second, Kvapil third, Rogers fourth, and Conner Jones settled into fifth. Then it's Deac McCaskill, # 91 Jonathan Shafer, Bradley McCaskill, # 8B Chase Burrow, McCarty, and Marchbanks. A little farther back, Honeycutt, Johnson, # 18 Jason York, and # 32 Zack Miracle are lurking and slowly moving in on the lead pack.
These guys would challenge each other, increasingly becoming a tighter and tighter pack until the second caution, also thrown to the field after another clean and green 40 lap run that leaves the field with 45 laps left to go. And it's at this point the gloves come off. For the rest of this race, that group of cars will flat out go to war. The first sign that makes it obvious to those who hadn't noticed the increasingly tight racing from the group is the first caution after the second restart. As the group formed back into a side by side group and began challenging each other, McCarty and Deac McCaskill gave them some laps to sort out the restart, and then started walking them down, marking the point when all the drivers who'd run in the back to save equipment decided to start making their way through the field. At that point, the group quit testing and stated the real challenge and fight for supremacy. It was time. And as the drivers turned up the wick, Kvapil turned Tyler Matthews, sending the field scrambling, but as tight as they were running, a number of cars find themselves with nowhere to go. Carson tries to slips by underneath as Bobby McCarty passes by on the outside, and Deac McCaskill gets into the rear of Janson Marchbanks as he tried to miss the fray. But as they come to rest, Carson Kvapil rests just underneath Matthews, with Janson Marchbanks pinned against the wall with Deac McCaskill at his door, with Braden Rogers pinned up outside of him with nose damage, and Jonathan Shafer and # 2 Brandon Pierce sitting sideways behind them. It takes a minute for the track crew to clear them, but each and every car pulls away, with surprisingly no one with major significant damage.
Chalk that up as a pack racing incident as Matthews didn't anticipate Kvapil's run, and as he came down running his line, Kvapil had placed the nose of his car in underneath in an aggressive move to get past. On the ensuing restart, it's Connor Hall leading them down once again, with Grady, Bradley McCaskill, Chase Burrow, and Conner Jones your top five. # 18 Jason York, Kaden Honeycutt, Jonathan Shafer, Zack Miracle, and # 5 Carter Langley line up behind them and in front of the cars involved in the previous incident line up in the rear of the lead lap cars. Connor Hall gets a great restart, but behind him, the war continues, pretty much involving the rest of the field of star drivers. Intense doesn't really cover it as there is no ground given anymore, and the drivers have to fight for every inch gained. Chase Burrow and Bradley McCaskill lean hard on each other for position as Jason York tries unsuccessfully to find daylight between the two as they all three fight for the third position and that allows Honeycutt to catch up and get involved as these drivers are all over each other. Burrow clears with York following him to fourth, and Honeycutt clears McCaskill behind them and now Conner Jones wants in on the action. Honeycutt now moves in and leans on York who almost loses it, but as he saves it sets his sights on regaining that position, and he dives back in on Honeycutt for the spot and gives him a shot to let him know he's still there.
Meanwhile, up front, Grady is stalking Hall as he leads the field, but the two are content to ride and stay ahead of the fray that is going on behind them, hoping to decide it amongst themselves in the closing laps. But behind them, York has made it back past Honeycutt, but the 12 machine immediately moves back in and gives a shove to the 18 and in the next corner he looks to get into him again and as York tries to navigate it, Honeycutt sends him around. And I can't candy coat this one, as it appears that the 12 car in his frustration goes to give the 18 another shot and just turns him in turn 3. York isn't happy either as he sits facing in the wrong direction, but he's under fire, and it seems he's waiting on the # 12 to come back around, and sure enough, as he approaches, he moves toward him and revs his engine and aims his car at him, but he thinks better of it, with probably some loud voices in his earpiece helping him make the right decision, and he lets him pass but not without letting him know what he thought of his driving style.
On the restart, Hall again gets a great start, but Grady comes under fire from Chase Burrow and Chad McCumbee, and he falls to third behind them, but he fights back, roughing up Burrow a bit as he tries to retake the third position. Burrow holds on as now Chad McCumbee moves in on leader Hall and gives him a tap to try and get him out of his rhythm. But as they battle, Grady tries again to get by Burrow, but in his battle he tries to cut down low to get underneath him, but Conner Jones is there and Grady goes for a spin off of his nose, leaving Zack Miracle with nowhere to go and he gets into it, suffering front end damage in the process. The track crew has some cleanup to do, but gets it cleared in no time with about 20 laps to go. CARS Tour flagman Brandon Willard has them ready to restart as he gives the signal to double up, and again Connor Hall will lead them down, with McCumbee second, Burrow third, Jones fourth, and Deac McCaskill fifth. To note, Miracle never came down pit road and elects to restart with a crumpled front end, hoping to hold on to what he can get this late in the race. But as Willard drops the green on another great Connor Hall start, Miracle can't get up to speed, and as the field scrambles to miss him, Brandon Pierce gets bounced around and ends up in the outside wall. Pierce is not happy, and as he exits his car, he immediately goes to the race officials to let them know his feelings on that restart.
They'll line up and try again, but again Connor Hall gets a great restart, and the battle endues behind him. Deac McCaskill breaks free and commences to run him down, but as he appears in Hall's mirror, Hall finally shows what he has and turns it up for the finish, coming home with his first CARS Tour win in dominating fashion.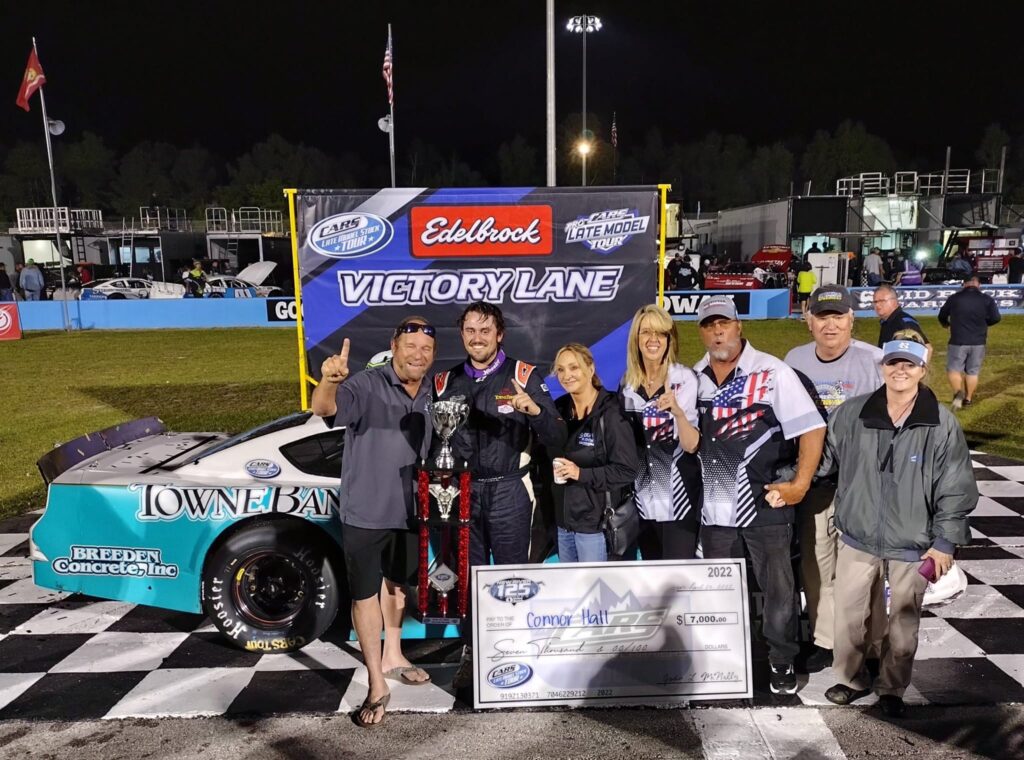 MY TAKE
Three things to take away from this one. First the track itself. I had heard great things about the former Coastal Plains Raceway, namely from Andy Marquis as I mentioned at the start of this article, so we were very excited to get a look at the track in person. So let me just tell you what a special place this track is. Even with what we'd heard however, we were still surprised about how awesome it truly is. It's laid out in a way that the fan's views are great from anywhere around the track. It's made for a fan to have an amazing visual experience and feel as though you are right on top of the action. It's near the coastline so that means it's sandy out there, but the track management and crew had the place as clear as you could imagine. That along with the soft pastel colors the track employs give the place a very appealing and clean look. It has 12 degrees of banking in the turns with just 5 degrees in the straights. But the width of the track give the turns a much steeper look. But most importantly the track races amazing. It's design leads to side by side, outstanding racing. So why were we surprised by all of this? Well, besides what we'd heard from people in the know, when we looked up the history of the track, there's almost nothing to find except for some promotional articles. There is nearly nothing about it, except…the info we found was about Coastal Plains Dragway, which has an amazing history. So immense is the history of the drag strip that it would take a whole other article to tell you about it. It was once an NHRA dragway, and then later IHRA. Owned by the Humphrey family since the 70's and with so much success they decided to build a 4/10 mile short track which they built in 1997 and 1998, holding it's first events in 1999, and opening to a full season in 2000.
But the Humphreys were drag racing promoters and that's where their hearts were. They were good at it. But they built an amazing short track that needed people that know how to promote it, with connections in the short track scene. And that's where the Goodyears come in. Anthony and Tonya Goodyear, two loyal short track racing fans, saw what the others saw, and that was one of the best short tracks in this region, deciding to give it the love it deserves. And just know, this wasn't for the money or the fame. This is was out of the love they have for short track racing. And whether they truly know it or not, they are sitting on a true masterpiece of a track. A diamond in the rough, per se. After a lengthy face lift, the track came back to life in July of 2021. Saturday was the first chance we've had to cover a race at the track, and that's when it all came into focus.
For the past two weeks, I've been having an internal struggle. How can we make Short Track Report bigger? What can we do to gain a bigger audience? What can we do to promote ourselves more? These thoughts are running through my head as I'm entering the track. I situate myself in the middle of the track, ready for whatever the night brings. And as the green flies, and as the drivers battle around the track, I realize something. All of those internal struggles are washed away. It comes to my attention that I'm in the exact right place in the exact right time. It's not about me, it's about these drivers. Just eight years ago, the X-1R Pro Cup Series raced around this very track, both Tour and track on their deathbeds. And here I am tonight. Full field, amazing crowd, a beautiful track, and one of the best races I've ever seen. A Tour that never stopped working to get where it is tonight. A track that never stopped working to get where it is tonight. And while both still may be underappreciated in its own ways, it just came into focus that this is where I was supposed to be.
As usual with the CARS Tour, the Blue Collar Racer Of The Week was a tough choice. At first, you can look at the obvious. Connor Hall put together an amazing race that saw him implement the perfect strategy to find victory lane. Or you could look right behind him at Deac McCaskill. Deac also played strategy, mounting an amazing charge through the field to finish second in the end. And then there's the drivers that were in the lion's den the whole night, like Janson Marchbanks. Anywhere a major battle was taking place on track, you could bet Janson was in the middle of it, fighting tooth and nail for every position. Even after getting caught up in a wreck late in the race, Janson was still able to hang on for a twelfth place finish. But in the end, we have to give it to Mason Diaz. Mason started the race out leading, only to have his power steering go out, forcing him into the pits. After a lengthy stay on pit road, the crew was able to get it fixed and Mason was left with the difficult task of getting back up front. After multiple close calls, Diaz put himself in prime position for a great finish. But with just 15 to go, the power steering went out again. Despite this, Mason was able to wheel his machine to an amazing fifth place finish. The true definition of a hard working, blue collar racer. So congratulations to Mason Diaz and his team for winning this week's Blue Collar Racer Of The Week!
Sometimes, it's a challenge trying to focus on greatness. We try to cover the greatest racing in our region. The challenge in that is that a lot of fans want to pick one track, one division, and one tour out of all of them. But what we know makes the central east coast region the greatest in the country is all of it. The Late Models, the Modifieds, the Limiteds, the Renegades, the Street Stocks, the Mini Stocks, the list goes on and on. And we have seen great tracks, great tours, and great divisions because of the great drivers that choose to drive here. And if you single yourself out to just one thing in the middle of it, you're losing out on a lot of other great and fantastic moments. And as I stood there, in the corner of Goodyear All- American Speedway watching those guys go at it, it all came back into focus. So, 'till next time, See You At The Track!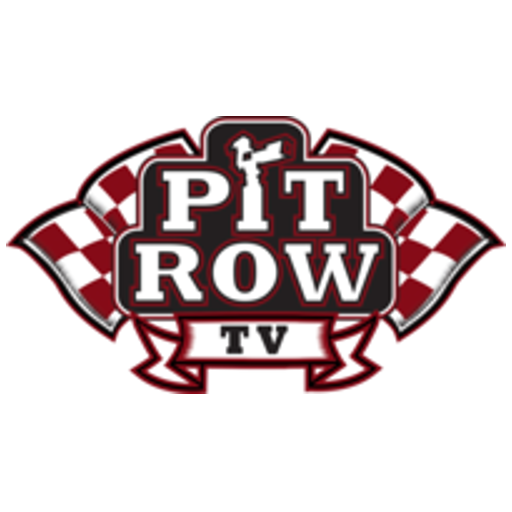 This extended coverage article is brought to you by Star Couriers. When you need reliable delivery services, Star Couriers is for you! Also a huge thanks to Pit Row TV, the official broadcast partner of the CARS Tour, for all they do for Short Track Report. Pit Row TV – Where Winners Watch Their Favorite Races!