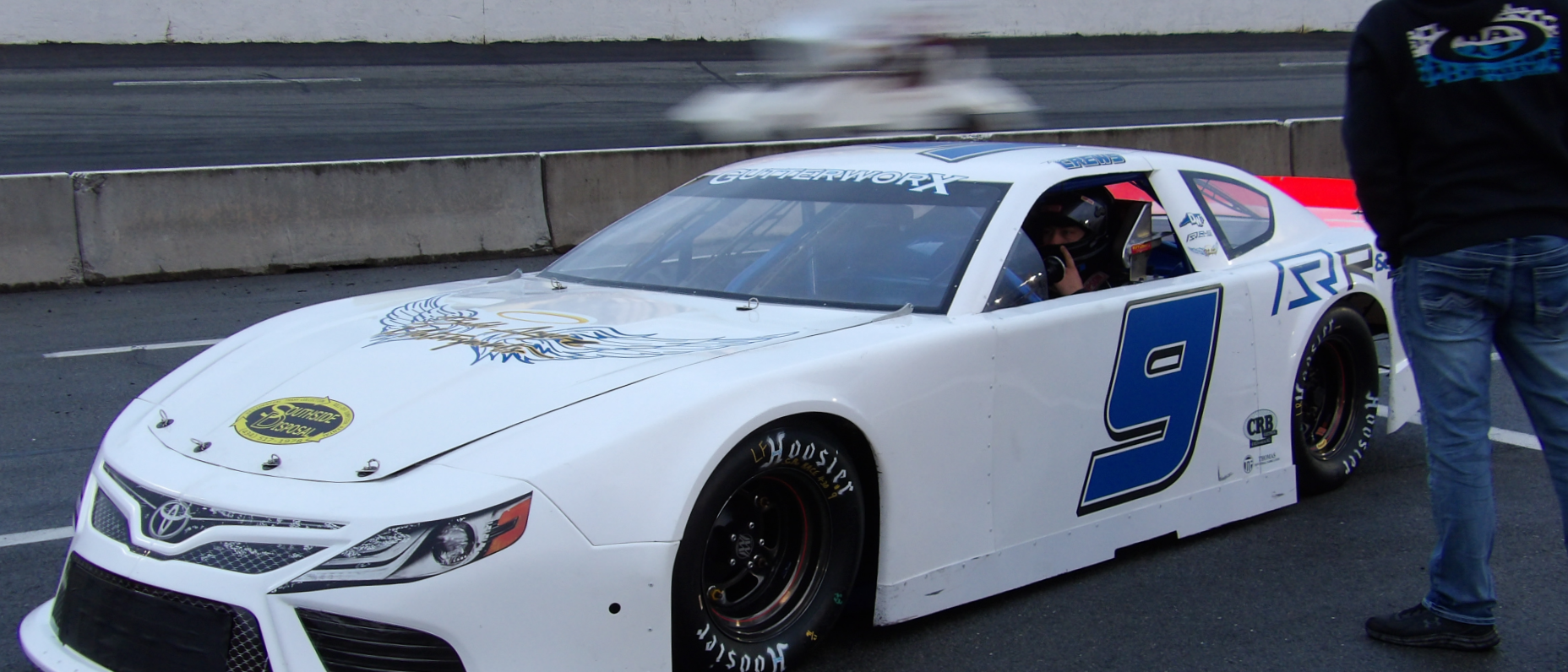 IN THE BLINK OF AN EYE – Sentara Healthcare American Sprint Car Weekend At South Boston Speedway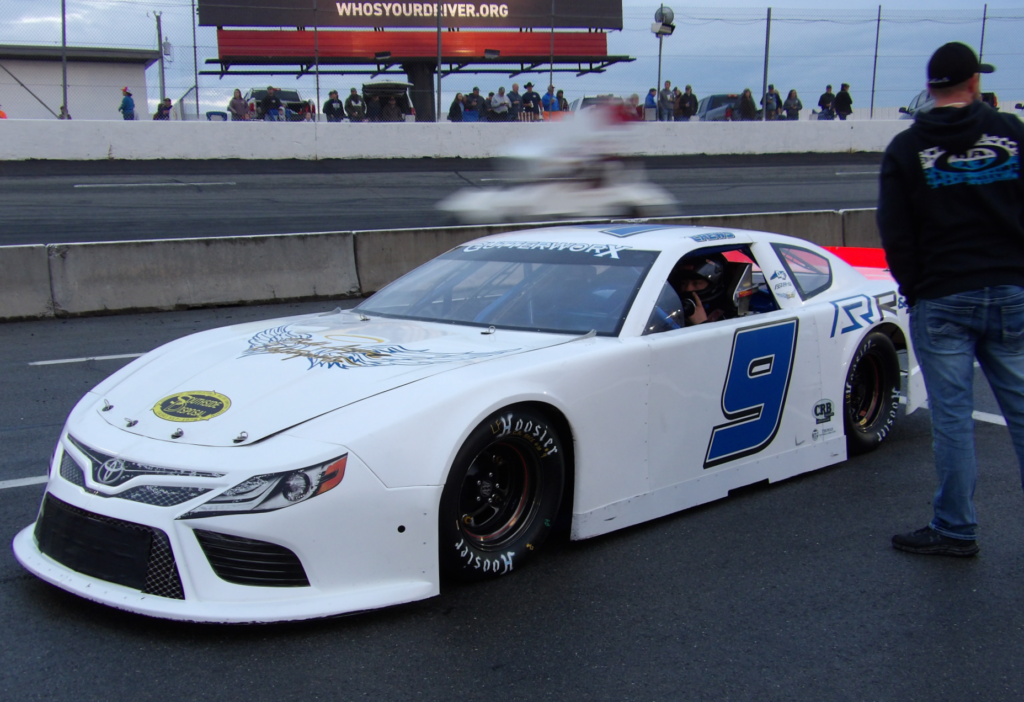 This week we were excited about heading back out to the Jewel Of The Commonwealth, South Boston Speedway for Sentara Healthcare American Sprint Car Weekend, highlighted by a visit from the USAC Eastern Midgets and the Must See 410 Winged Sprint Cars. We put this show on our schedule last year at a show at the Speedway where they did a short exhibition for the Sprints, and at that exhibition of speed, we knew we had to return to the date of the actual show. One thing was guaranteed, and that is the fact that the South Boston track record will be broken this weekend, and if speed is what does it for you, this will be a Must See event for sure. Also, the battle for the NASCAR Weekly National Championship runs through South Boston Speedway as the defending Champion also happens to be six time and defending track champion Peyton Sellers. He's been challenged this year by a maturing Layne Riggs who has four wins to start the year, and it's shaping up to be an epic battle between the two Late Model Stock heavyweights with National implications on the line. That makes South Boston the place to be this weekend, as any fan can tell you, things can change in any battle in stock car racing, to the point that even when things seem settled and obvious, things can change in the blink of an eye. But we won't be able to blink tonight, as with the Sprints here in the house, one blink could lead you to miss a ton of action!
The weather has tried to get the win today, but the track to it's credit has fought it as hard as possible, and though with a pretty significant delay, the Speedway is determined to get the racing in here tonight. The invocation has been given and the National Anthem passionately sung. The crowd has endured the delays with excitement about tonight's racing. The track crew has worked overtime to get us ready and the track is now clear and the competitors are ready to do battle here tonight, so without further delay, Let's Go Racin'!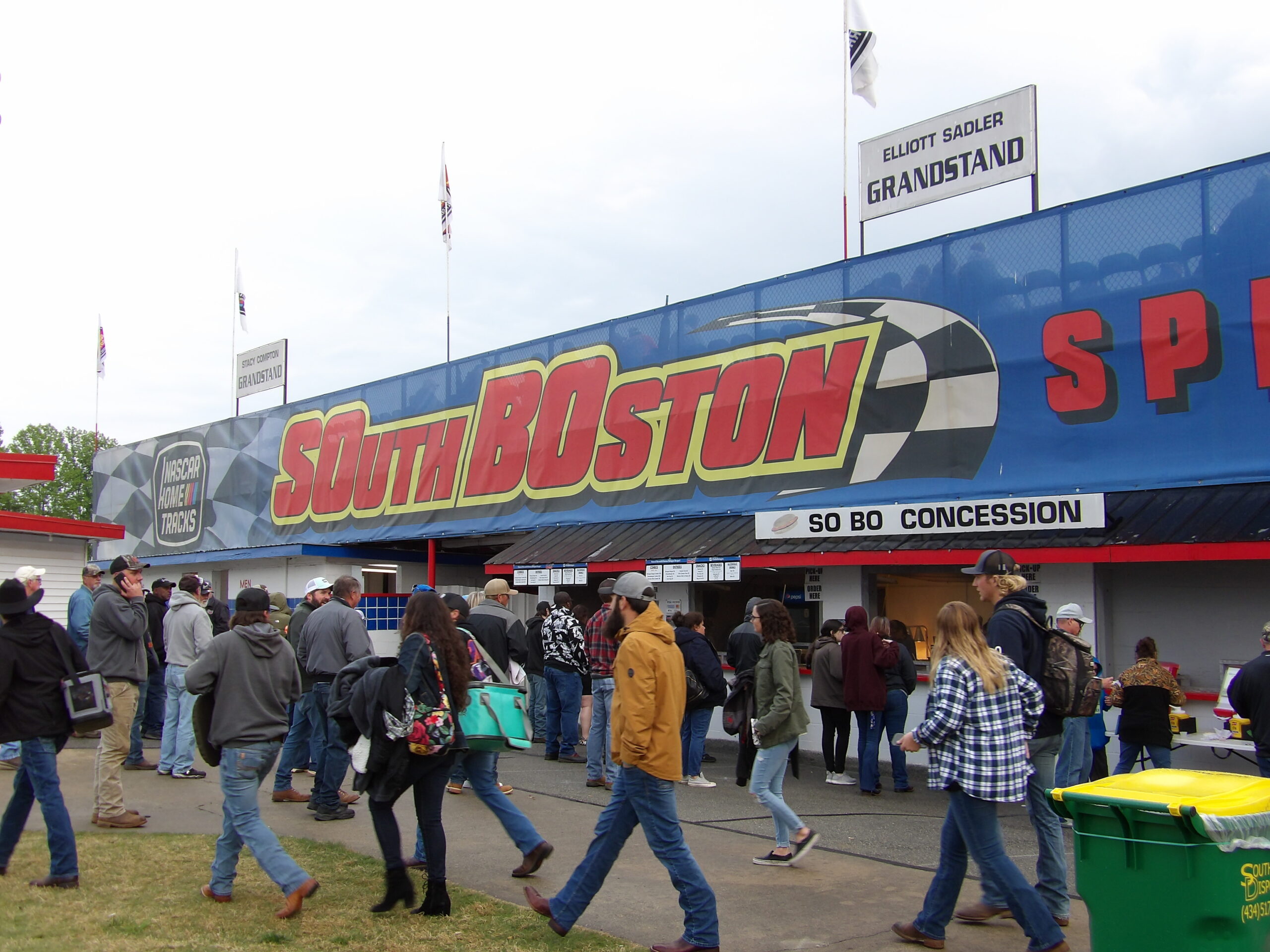 SOUTHERN GROUND POUNDERS VINTAGE RACING CLUB FEATURE
The first feature race to hit the track was that of the Southern Ground Pounders Vintage Racing Club. The fans were wowed as the historic and authentic hot rods roared around the track, taking life-long fans back to when they were little. In the end, it was the Flyin' # 11 of David Werner who took the checkered flag first after a dominating run.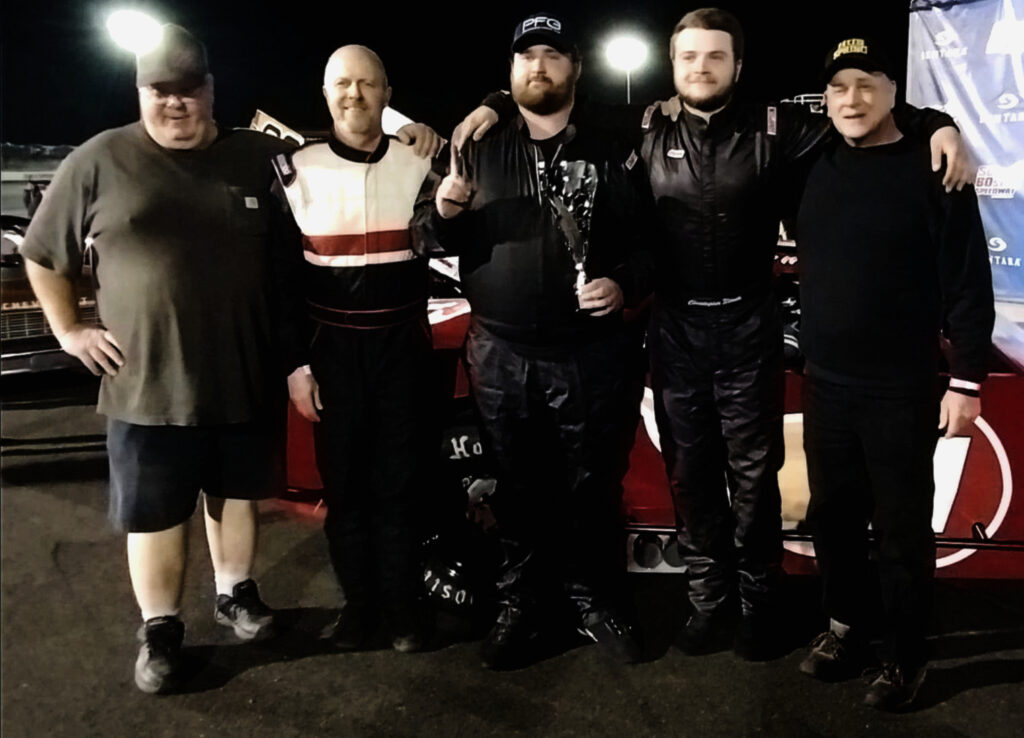 LATE MODEL STOCK FEATURE ONE
For the first Late Model Stock feature, # 99 Layne Riggs sits on the pole with a Euro qualifying best lap time of 15.040 seconds. Layne and his team are on fire winning four out of the first five races, but during their last meeting, 6 time and defending champion # 26 Peyton Sellers finally broke Riggs' streak, winning the second of two features. He will try and get the first one here tonight, lining up third on the start for the first feature. # 9 Trey Crews will roll off second, # 25 Jacob Borst fourth, and # 0 Landon Pembelton will start fifth.
South Boston Speedway flagman Brandon Willard surveys the field as the machines take their parade laps to bring the cars up to the desired temps and gives the signal to the drivers to double up and get ready to go racing. Riggs brings them down at a nice pace, and as Willard looks them over, Riggs hammers down in the starting zone and flagman Willard lets them go and we are under green for the first Late Model Stock feature! Riggs per usual gets a great start, but Crews is right there with Sellers challenging him. Behind them, Borst and Pembelton jockey for the fourth position with # 05 Mason Bailey lingering right behind them in sixth. Borst clears for fourth and the field goes single file albeit the tightest single file line you'll ever see. Up front, Crews is still challenging Riggs for the lead, getting his nose just inside as he still has Sellers pressuring from behind. Crews makes just the slightest mistake in his exit off of two and Sellers takes advantage immediately and dives in underneath, but Crews powers his machine in the outside groove and manages to hold him off as Borst uses the battle to tighten up on the front runners, as Riggs uses the same battle to slip away to a good three car length lead up front. But as they battle, # 12 Austin Thaxton goes around and # 82 Trey Dillard has nowhere to go and slams into him in turn two, and we have our first caution on the night.
The South Boston track crew gets to work and as both drivers are able to drive away, clean up is short and flagman Willard wastes no time in signaling the drivers for the restart. Riggs will bring them down with Crews to his outside in second, Sellers third, Borst fourth, and Pembelton rounding out the top five. Again Layne Riggs gets a great start and he clears Crews immediately, leaving him to deal with a charging Peyton Sellers who's looking to get past so he can get up there and put the pressure on leader Riggs, but Crews powers his machine up on the outside line and clears Sellers who'll have to settle in behind, with Borst looking at his rear bumper. Pembelton has cleared himself for fifth, but he's having to work hard to hold off # 8 Thomas Scott and Bailey who are both looking to break into the top 5. But the battle again ensues for second as Sellers looks to the inside of Crews and lays a fender on him, but Crews is battling hard to retain the runner up spot. Sellers is persistent however and he finally gets Crews out of position and clears the # 9 machine and sets his sights on Riggs who now enjoys a nice 7 car length lead up front. A little farther back, Jacob Borst is throwing sparks in fourth and it looks like he may have a tire going down, as again, Thomas Scott and Pembelton battle to see who will be able to take advantage as they battle two wide behind him, and they split Borst with Scott going to his inside and Pembelton goes around his outside, bringing Scott to fourth and Pembelton to fifth. At the same time, Crews wants the second position back from Sellers as he moves to his inside and tries to retake the spot, but now at least 10 car lengths back to leader Riggs. But as they battle, Jacob Borst is off the pace and we are under the second caution as Borst limps his machine onto pit road and to the care of his crew.
Again there's no real clean up for the South Boston track crew, and flagman Willard again signals the drivers to get ready to go back to green flag racing. Riggs is still in control, with Sellers now to his outside, Crews third, Scott fourth, and Pembelton rounds out the top 5. Riggs gets a clean restart, but this time Sellers is right there to his outside, with Crews getting a great start as well looking on his inside. Riggs is stellar in turn one however and Sellers has to settle in behind in second with Crews falling to third with Scott fourth as Pembelton and Bailey battle side by side for fifth, as the battle up front heats up again as Sellers works on Riggs for the lead. Meanwhile Borst is moving through the field to regain what he can as now Riggs separates himself from Sellers and again starts to pull away up front. Borst eventually moves himself into position to battle Pembelton for fifth, but as they jockey for position, the #31 of Aaron Donnelly is off the pace, and this sets us up for a nail biting 3 lap shootout for the finish. It'll be Riggs, Sellers, Crews, Pembelton, and Scott restarting as your top five. Flagman Willard again wastes no time signaling the field to get ready for the finish, and Riggs brings them down, dropping the hammer in the restart zone, and it's a replay of the previous start, with Sellers to Riggs' outside and Crews with a nose to his inside as they go for it with three to go. Crews slips back just a bit, and he gets into Sellers and almost loses it in front of Pembelton, but he holds onto it and settles in third as Sellers loses a couple car lengths to Riggs as he sets sail up front, but Sellers closes the gap and starts working on the leader, all over his back bumper but keeping it clean. He had the chance to clean Riggs out if he so chose, but he races him clean and Riggs powers off of turn 4 and takes the exciting win, his fifth on the year, with Sellers second, Pembelton third, Scott fourth, and Trey Crews holding off Jacob Borst for fifth.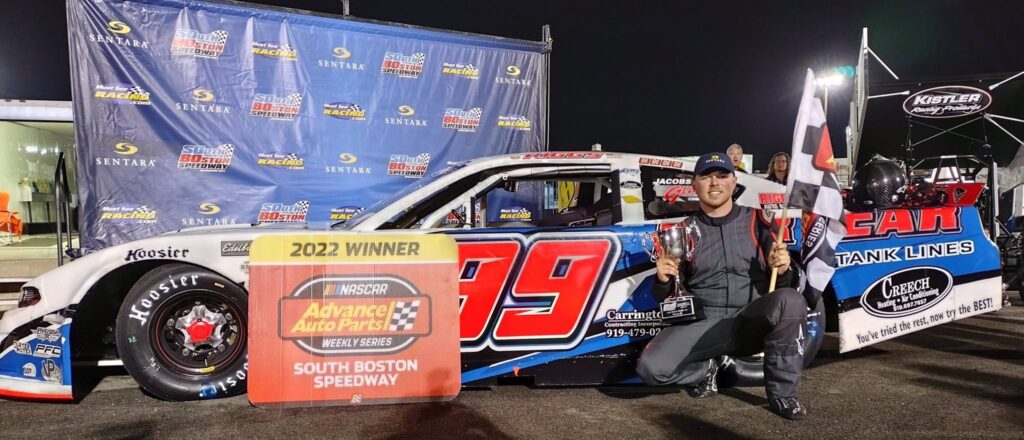 USAC EASTERN MIDGET FEATURE
Dillon Thomas in the # 4X Midget would roll off first with the # 20 of Avery Stoeher rolling off alongside. # 19 Logan Sulley would start third, # 1 Hunter Wise fourth, and # 87 Brady Allum would round out the top 5. South Boston flagman Brandon Willard looks over the field of blistering Midgets, likes what he sees, and we're green!
Stoeher gets an incredible jump as Thomas stumbles a bit and falls out of the top 5 early. This scrambles the field and allows Wise to jump up to second with # 10 Neal Allison in tow in third. Stoeher looks to run away early as Allison tries to challenge Wise for second. Wise is able to hang on as Stoeher catches lapped traffic up front. As Stoeher slices through the lapped cars, Wise is able to gain tremendous ground on the leader and is now breathing down Stoeher's neck with five laps to go. Allison sneaks his way in as well, as you can throw the top 3 under a blanket. Wise dives to the bottom of Stoeher, slides sideways and gets the lead from Stoeher. Allison follows him through to the white flag as he tries to power up to Wise but Wise is just too good and takes the checkered flag first in a thrilling finish. Allison would come home second, Stoeher third, Sulley fourth, and Allum fifth.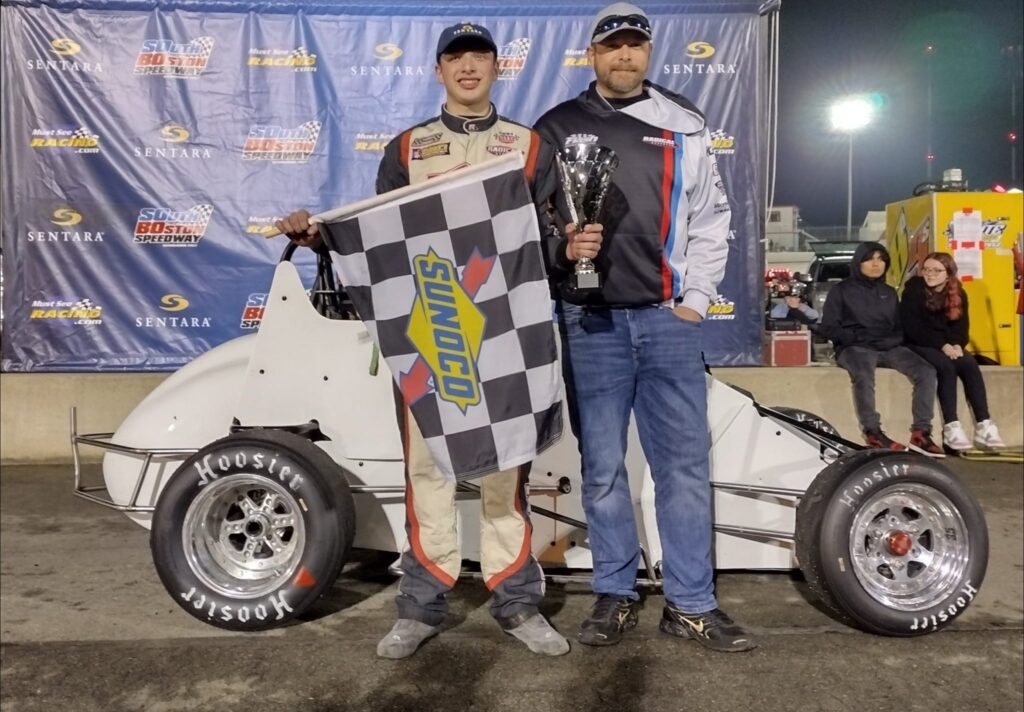 MUST SEE RACING WINGED 410 SPRINT CAR FEATURE
Starting on the pole would be the youngest driver in the field, the # 48 of Jacob Dolinar. Starting second would be the # 13 of Joe Liguori, # 9S Charlie Schultz third, # 22A Bobby Santos fourth, and # 36 Troy DeCaire would start fifth. Schultz would unfortunately spin before the feature during hot laps, and per Must See Racing's rules, would have to start at the rear of the field, putting the # 85 of Rick Holley in fifth. Willard looks over the amazing field of speed demons, likes the formation and we're green!
Liguori immediately shoots out in front of Dolinar to lead lap one but Friday night's winner in Santos gets a massive run on the outside and swoops by them both to take the lead. Liguori and Dolinar file in line as veteran Santos gaps himself a straightaway in the blink of an eye with ten laps already completed. As Santos puts together perfect laps, Dolinar is challenged by Schultz for third as Liguori tries to scoot away in second. But the caution flies for debris, eliminating Santos' massive lead and giving Liguori and Dolinar a chance at the checkered.
Santos chooses the outside for the restart, putting Liguori inside in second, Dolinar third, Schultz fourth, and DeCaire fifth. Willard gives the start a thumbs up and we're back green for a mad dash. Santos gets an amazing jump as Liguori and Dolinar bump tires for the second position. Liguori is able to hang on as Santos sets sail in first. As Santos cruises in first, the battle for second begins to heat back up as Dolinar is all over Liguori for the spot. Santos takes the dominating victory to win two in a row as Dolinar is to the outside of Liguori for second. Liguori and Dolinar are side by side coming off of turn 4 and they touch! Ligouri spins across the line and takes a massive hit to the inside wall as his car nearly flips over from the impact. Ligouri is thankfully okay as the crowd takes a collective sigh of relief. Dolinar was able to take second in the melee, a destroyed Liguori comes home third while backwards, Schultz fourth, and DeCaire rounds out the top five in a wild Must See Racing 410 Winged Sprint Car feature.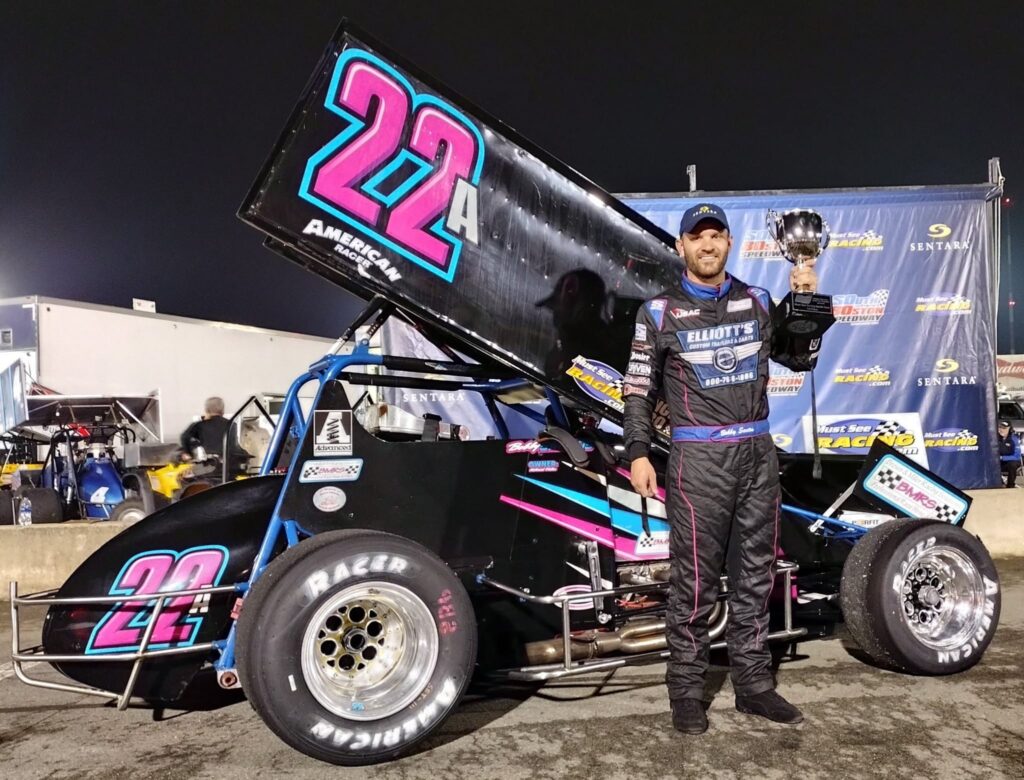 LATE MODEL STOCK FEATURE TWO
The Late Model Stocks are inverted for the second feature, so that will put # 05 Mason Bailey on the point, with # 2 Brandon Pierce lining up second, # 25 Jacob Borst third, # 9 Trey Crews fourth, and # 8 Thomas Scott rounding out the top 5. South Boston flagman Brandon Willard wastes no time signaling the drivers to double up and get ready for the start, and Bailey brings them around at a nice moderate pace, and powers up at the starting line and Willard approves, and we are back to racing in the South Boston Late Model Stocks to decide feature 2. Bailey gets a good start and he clears immediately out front as Pierce works to hold off Borst who puts his nose to his inside, and Crews who is pressuring his rear bumper with # 0 Landon Pembelton looking outside of Scott for fifth. They're three wide for second for a moment but they sort that out quickly as Borst slips past with Crews following suit. # 99 Layne Riggs and # 26 Peyton Sellers are working themselves through the field, but as Riggs gets to Thomas Scott, the two have minor contact as they touch door to door coming down the backstretch into three and four, and as they exit the corner Riggs powers to Scott's outside, but Scott comes across the track and runs Riggs up to the wall coming off of turn 4, allowing Sellers to slip past on the inside of both drivers. Riggs avoids contact with the wall and then dives under Scott going into turn one. They are door to door coming off of turn two and down the backstretch, but as they enter into turn three they make contact again, sending Riggs up in the air, riding the side panel of the # 8 machine, cutting the tire of the # 99, and sending both cars into the outside wall in the middle of turns three and four, where they sit for a moment before Scott takes off, ramming the # 99 as it sits in the corner, before trying to pull off and make it down pit road. Riggs backs his machine off the wall in what looked like an effort to make it over to the # 8 machine, or at the least to head down pit road himself, but both cars are too damaged to move any further as both of these machines are destroyed and will not be able to continue here today. Needless to say we are under our first caution of the race, as the track crew tends to the carnage, and Scott is escorted out of the track to a very vocal South Boston fan contingency.
For the restart, it will be Bailey up front, Borst second, Crews third, Pierce fourth, and Pembelton rounding out your top 5. Bailey again brings them down at a nice moderate pace and powers up in the restart zone to the approval of flagman Willard who drops the green for the restart, and we are almost three wide as Borst looks to the outside of Bailey with Crews sticking a nose to his inside. Crews wisely backs out for a moment, but then immediately dives back underneath as Bailey does his best to clear Borst on the outside. Bailey manages to finally clear out front, leaving Crews and Borst to battle for second, as Sellers is coming to the front, now underneath Pembelton for fourth, and immediately sets his sights on Borst for third, diving underneath for the position. He gets loose under Borst however, kicking out sideways but saves it and settles back in behind the # 25 machine. Now Crews again dives under leader Bailey, determined to put his # 9 machine up front, and now we are two wide for the lead and for second as Bailey works to hold off Crews and Borst likewise tries to handle a determined Sellers. Crews clears with a slide job for the lead as Bailey bounces off the wall and into the clutches of Borst and Sellers, as Borst makes contact with the # 05 machine, getting him loose and kicking sideways, but Bailey manages to collect himself off of the nose of Sellers' machine, and as Sellers tries to slide in behind the # 25 Jacob Borst machine, he can't quite catch his out of shape car and he goes around going into turn three.
And within 8 laps in the second feature, the points leaders have both found trouble, and the possibility that we have someone other than Riggs and Sellers in victory lane just grew substantially. Crews will now lead them down as Willard gives the signal and the drivers double up for the restart with Bailey second, Borst third, Pembelton fourth, and Pierce rounding out the top 5. Crews manages to clear up front as Borst and Bailey battle for second, with Pembelton and Pierce following behind. Borst runs Bailey a little wide to get the position for second as Pembelton dives in underneath before Bailey can clear for third, and the two make contact as smoke flies off of those machines, and Pembelton has his work cut out for him to gather back up his machine as he tries to settle into fourth, but now Pierce comes looking for ground as well. It's settled in up front with Crews leading Borst and Bailey, but an epic battle between Pembelton and Pierce ensues. Pierce dives in under Pembelton and takes the spot, but Pembelton's not ready to give it up and now he dives back under Pierce, and then Pierce dives back in underneath, and as I watch this battle unfold from my spot down in the corner of three and four, I almost get dizzy at the crossover clinic being displayed by these two talented competitors as they jockey for the fourth position. Pierce will eventually get the advantage and the drivers all settle in and try to put themselves in position to be up front at the end, but the calm is interrupted as Bailey blows a tire and has to limp his machine around to pit road and to the care of the # 05 crew.
Again, with virtually no clean up needed by the South Boston grounds crew, Willard again wastes no time giving the signal for the competitors to double up for the restart, with Crews on point, Borst second, Pierce third, Pembelton fourth, and # 01 Camden Gullie moving to fifth. Crews leads them down and powers up in the restart zone as Willard approves and shows them the green once again. Crews clears up front, but Borst is ready to battle for the lead, and battle he does as the two have a fierce battle for supremacy up front, but Borst's car is just too good, able to get lower than Crews, and he uses that advantage to finally work underneath a hard driving Crews to drive home to the hard fought win, with Crews just behind in second, with Pierce coming home in third, Pembelton taking a hard fought fourth, and Camden Gullie finishing a respectable fifth.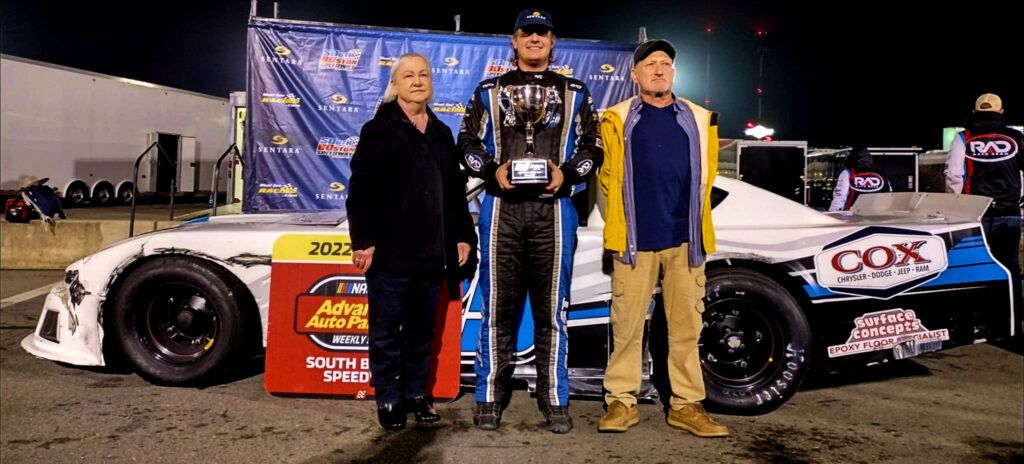 MY TAKE
What a show! A number of Vintage cars from the Southern Ground Pounders Racing Club came out to the speedway to show off their awesome hot rods from the previous era, and are always a crowd favorite wherever they go. The USAC Eastern Midgets again put on an amazing show as they do wherever they show up. And the Late Model Stocks flat out went to war here tonight. So of course we have to tackle the elephant in the room first, which is the Riggs – Scott incident in race two. We have heard from both drivers, Riggs at the track, and we obtained a comment from Thomas Scott that you can find on our Short Track Report Facebook page. First of all, we got hammered by a number of Riggs supporters for giving Scott a chance to comment, as both drivers were given that chance at the Speedway but initially declined. Riggs later gave a comment at the Speedway before the night ended, but Scott was escorted from the Speedway before he could be given another chance to comment himself. So we obtained the comment out of fairness, and we won't apologize for that, as there are always at least two sides of every story. Now that said, we let the drivers speak for themselves, and so we won't give an opinion on their comments as they stand on their own. But what we will do, when no one else will step on that limb, is give a rundown of what happened.
On only lap two of the second race, Riggs and Scott made minor contact as Riggs came up on Scott while battling with Sellers as they immediately made a run through the field. After the initial contact, Scott then went way up the track and the two made contact again as Riggs was powering to his outside, as Peyton took advantage and went by on the inside. It was a significant hit as smoke flew from the cars, and it almost sent Riggs into the outer wall but he corrected and went down into turn one trying to get to the inside of Scott. The two went down the backstretch side by side and Scott went in wide into three and got loose and started coming down. Riggs, already anticipating he would be crowded, maneuvered to counter any contact, and was going to squeeze Scott in the corner so he could come off clear leaving four. But, both cars were in a weird position coming into three because of those decisions. And so when Riggs went to lean on Scott, he wasn't where he expected him to be and the two made more contact than I think either one of them intended, sending Riggs up onto the side of Scott, cutting his tire, and sending both into the wall. Of course both were hot after the run ins and with having junked cars, and then Scott made the unfortunate decision of hitting Riggs as his car sat in the corner disabled. It was a poor choice and there's no other way to say it. But a decision Scott said he regrets.
That's no excuse to it however, as it was a bad decision. One that the fans let him hear about, ultimately leading to him being escorted from the Speedway. And the fans have been adamant, not only at the track, but on social media as well. Not unexpected. It's nothing new to us. Remember, me and Josh grew up watching racing at Bowman Gray Stadium, so it was just another Saturday night in that respect for us. We had to remind everyone that we will not tolerate driver, series, or track bashing on our page, but we were prepared. In the end however, everyone can say what they want. Fans get passionate and we encourage it. There is however a time and place for everything. And in the end, it doesn't matter what anyone thinks about this incident, as the drivers are the ones who will deal with it in the end. And we here at Short Track Report will remain unbiased as we can manage. We are sure however that both drivers probably wish they had that lap to do over. Mistakes were made that ended up with two torn up race cars. And in Layne's case, it's a bigger story than you know. It takes years sometimes to get a car just how you want it, and Layne had a car to challenge for the National Championship with. A dominant car that has shown it's dominance since the year began. But now, in the blink of an eye, that car will never be the same. And it's going to be interesting to see how Riggs deals with it as they work to get the car back to the hot rod it was. They have the tools. And thanks to another incident that left Peyton Sellers spinning around and ultimately with a finish worse than he would have wanted himself, Riggs didn't even lose much ground in the points. The battle will be going forward for Riggs Racing as they deal with the hand that's dealt them. But this puts a whole new spin on the National points chase heading forward. But none of this should take away from Borst's performance on the night as he finished 6th and 1st. He was in the thick of the battle during all of the first race, overcoming a flat tire and still working his way up just outside of the top 5 in sixth. In the second race, he would take place in an amazing battle with Trey Crews, a driver we know as immensely talented. Borst's performance cannot be overlooked and it won't by us, as we give Jacob Borst and his team our nod for this week's Blue Collar Racer Of The Week.
And now, just in time for the Summer heat, the National Championship battle will be smoking hot. And we're thrilled to be in the position to watch it all unfold and report it to all of you. So, 'till next time, See You At The Track!
Tags
American Sprint car Weekend
,
Bobby Santos
,
David Werner
,
Hunter Wise
,
Jacob Borst
,
Late Model Stocks
,
Layne Riggs
,
Must See Racing
,
Must See Racing 410 Winged Sprint Cars
,
South Boston
,
South Boston Speedway
,
Southern Ground Pounders
,
Southern Ground Pounders Vintage Racing Club
,
Sprint Cars
,
USAC
,
USAC Eastern Midgets
,
Winged Sprint Cars