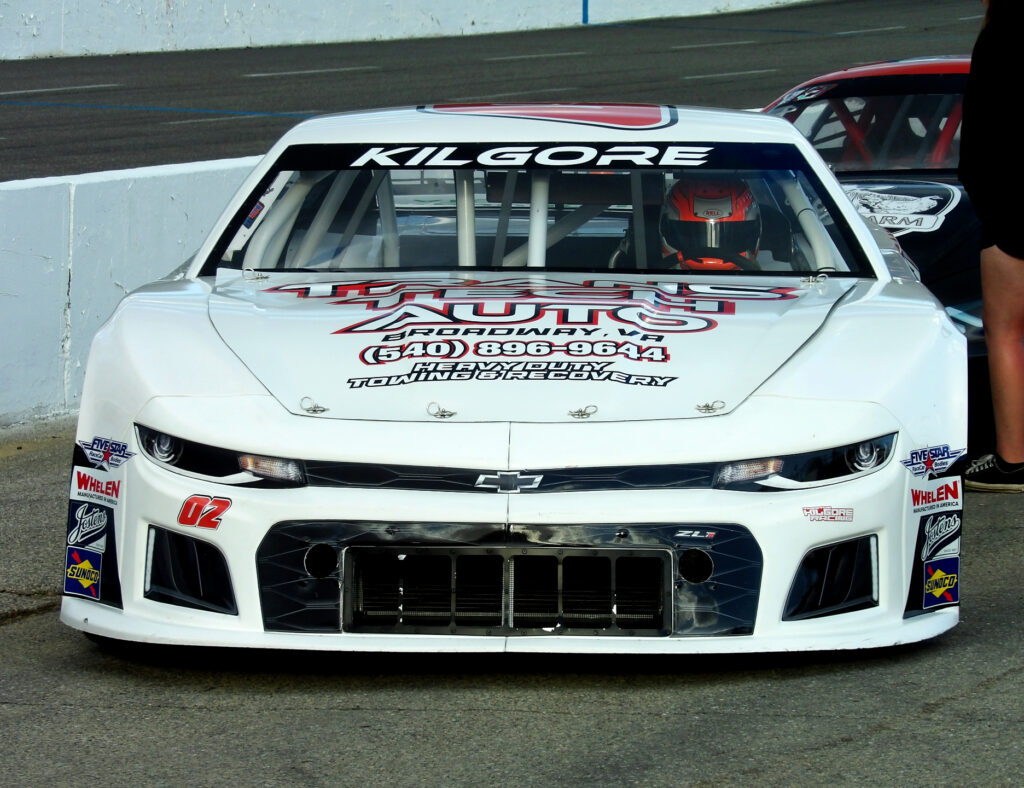 This past weekend, we headed to Motor Mile Speedway for the Ice Out season opener. We've put Motor Mile on our extended coverage list this year as we feel the track is indeed one of the most underrated tracks in the region. And so on the way up, besides just taking in the beautiful scenery of the Virginia mountainside, me and Josh talked a bit about why we feel that is. We always talk about what we're going to see and make some predictions on the racing, but this week we had a real in depth discussion about the history of Motor Mile. We wrote out some of that history on the article we did on our first visit there, so check out our article titled Above The Fray for that information if you get the time, as the history of the track is far more relevant than most people realize. The history of Motor Mile Speedway is long and deep, and forgetting some of that history is kind of how the track has become so underrated to begin with.
But in our pre race discussions this week, we realized that the history of the track has some very interesting similarities to NASCAR itself. For starters, like most short tracks in the region, the track began as a local dirt track. But like NASCAR, in the beginning, it was just a bunch of guys out there dirt racing to see who had the fastest car, and better yet, who was the fastest driver. As a matter of fact, the track was constructed in the 1940's, but it didn't open to the public until 1952. That's what racing was in the beginning…a group of guys with a running bet on who was best. But when they realized they could sell tickets to the competition, that's when guys like Bill France knew they had to get some sort of control of it, and in some ways it was like taming the wild west. And taming it was the only way it could step out of the carnival thrill show era. And Motor Mile Speedway, first Pulaski County Speedway, then New River Valley Speedway, ran until the mid 1960's before it was closed, in need of major renovations. When it was reopened in 1988 it was a fast four tenth of a mile oval that NASCAR itself approved of and gave sanctioning to, bringing the already popular speedway an even bigger crowd of spectators who came to see the big shows. But after the loss of Dale Earnhardt, NASCAR's biggest star, the short tracks slowly began to wane in popularity, as did the sport itself.
Then in 2004, the Shelor Automotive Group took over and gave it it's current name. It was named respectively Motor Mile Speedway in lieu of the fact that it was owned by a car dealership group, but fitting also because of the big motor building businesses in the area that made motors for all sorts of things. So in retrospect, Motor Mile Speedway's name is fitting for many reasons as the track is synonymous with this area. And the speedway, as NASCAR, and as the area itself, has entered a new era. And short track racing is enjoying a resurgence, despite what anyone has told you, and so it's time for Motor Mile to turn the page and return of sorts to the glory days of racing. The track hasn't lost it's personality or it's pension for great competitive racing, and we are eager to see it cement it's place going forward into the future. And so that brought us back to the speedway on Saturday, March 25, 2023 to the track's season opener, and we were ready for some great racing. The track is ready, the teams are ready, and so it was time to get the 2023 season started. Let's Go Racin'!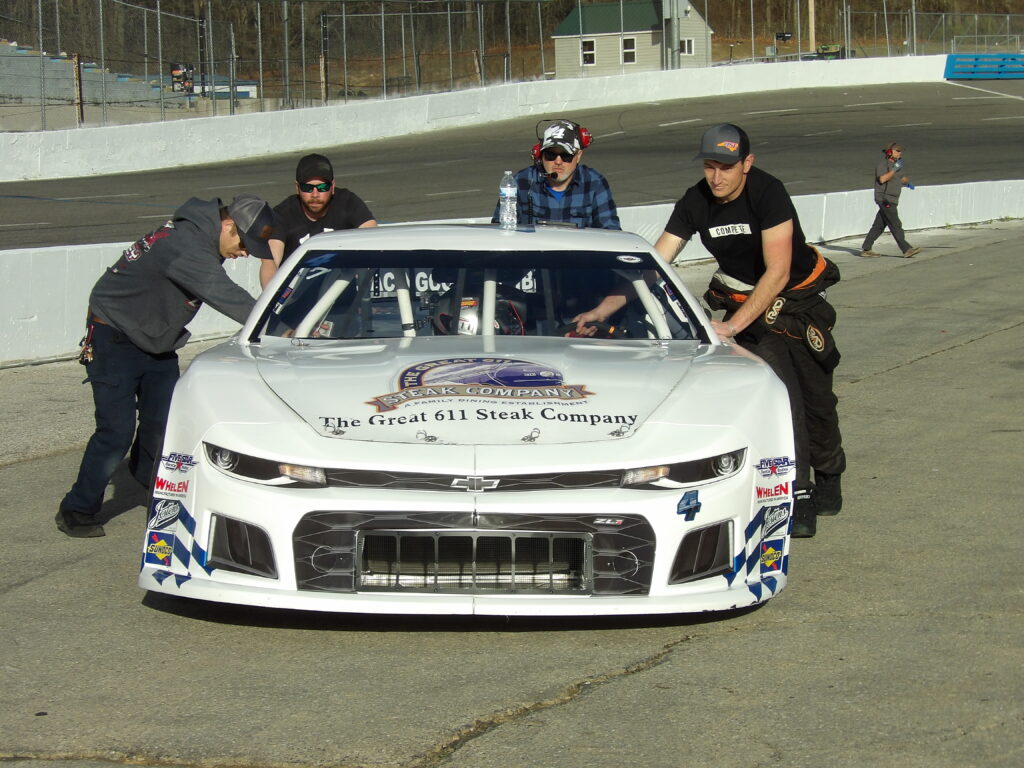 BLUE RIDGE CHURCH PURE 4 FEATURE
The # 93 of Caleb Sewell will start on pole for this one with the # 11 of Javon Parker starting alongside as the # 7K of Keyshaun Claytor starts third. The flagman looks over the field, likes the formation, and we're green in the Pure 4's! Sewell doesn't get going, allowing Parker and Claytor to power by. Sewell can't stop the bleeding there as the # 3 of Anthony Sheppard gets by as well. Also making his way through the field after starting shotgun is Kirby Shipman in the # 7 machine. Before you know it, he's all over Sheppard and gets by with ease. Claytor gives him a challenge but it's not enough as he rockets to second. Parker runs consistent lap times, but Shipman is just too fast as he takes the lead. Behind him, Sewell has his machine back going, getting by both Sheppard and Claytor. As Shipman continues to gap the field, Sewell is on a mission as he now looks under Parker and squeezes through to second. The gap starts getting smaller and smaller between Shipman and Sewell, but there just aren't enough laps as Shipman crosses the line first. However, Shipman is deemed illegal in post-race inspection, giving Sewell his first career Motor Mile Pure 4 win. Parker now comes home second with Claytor rounding out the top three.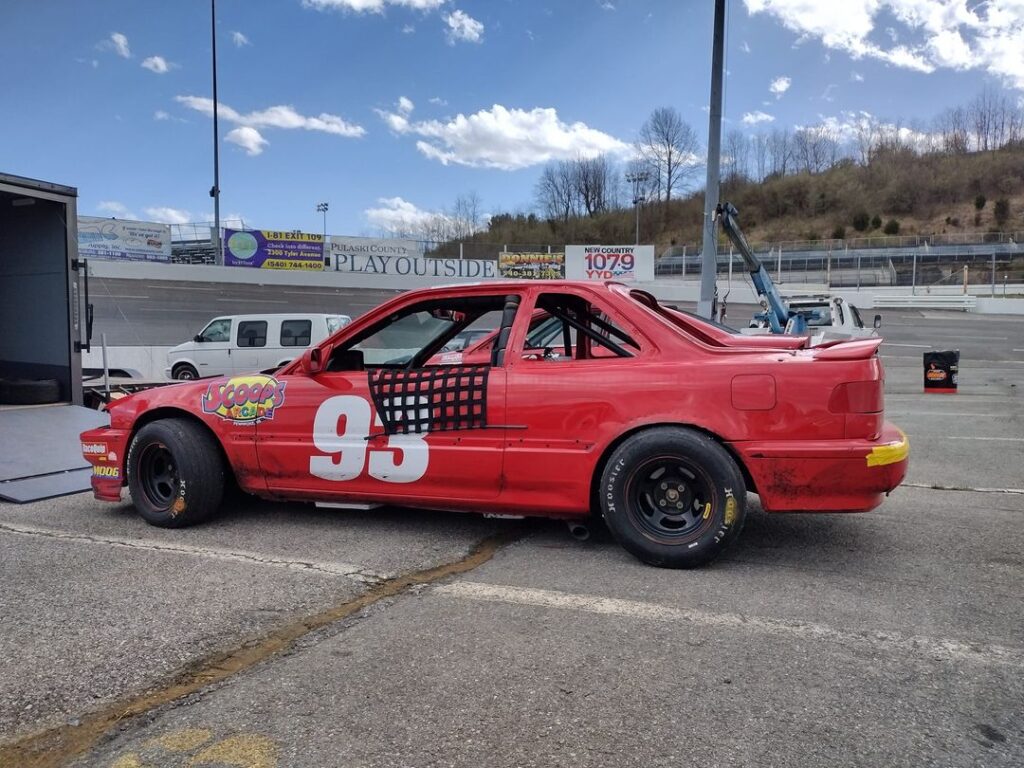 DCT TOWING SUPER STREET FEATURE
After a five car invert, Chuck Williams in the # 3 leads the field as the # 27 of Taylor Ransom will start second, # 15 Tristen Barnes third, # 51 Ray Sowers fourth, and fan favorite Jimmy Mullins in the # 12 rounds out the top five. The flagman likes the lineup and we're green for the Super Streets! Williams grabs the early lead as Barnes clears Ransom. Mullins is on the move early as well, moving by Sowers and then Ransom. His run is interrupted however as the # 88 of Michael Deskins has a problem in turn four, bringing the caution out. After the choose, Williams lines up first followed by Barnes, Mullins, Sowers, and Ransom. The green is out and Mullins takes the top two three wide! He somehow makes it work as Barnes slots in second followed by Williams. Ransom loses another spot, this time to the # 26 of Joe White. But the caution is back out as Deskins and the # 6 of Rickey Beaver have made contact in between one and two, sending Beaver around. It'll be Mullins, Barnes, Williams, Sowers, and White for the restart as Mullins gets a great jump at the line. Behind, White is under Sowers and makes it work for fourth. The # 16 of Scooter Hollandsworth follows through as well, kicking Sowers out of the top five. White has momentum now as he's all over Williams, getting by and bringing Hollandsworth along once again. Williams' car begins to fade as Sowers moves back into the top five while Williams drops back. Back up front, Barnes is slowly but surely closing in on Mullins as they're running dead even lap times. Barnes sends it in multiple times, but Mullins holds a pretty wheel and stays out front. Sowers is now back by Hollandsworth as Ransom moves in as well. While that battle rages on, it's all Jimmy Mullins as he takes the big victory followed by a determined Barnes, a strong Joe White, former track champion Sowers, and Ransom with a hard fought fifth.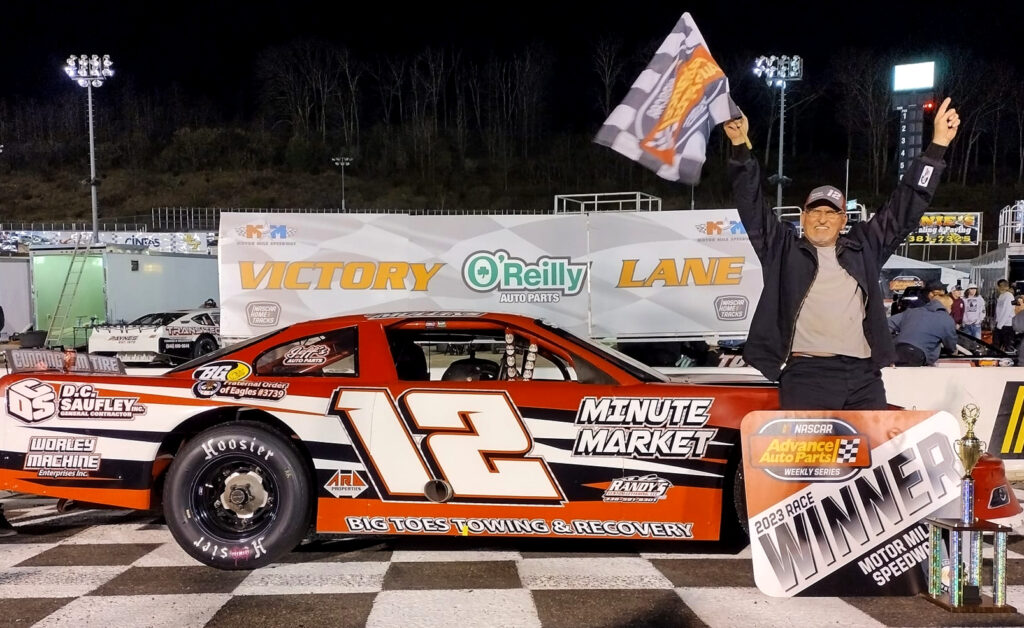 COLLISION PLUS LIMITED SPORTSMAN FEATURE 1
As a result of a five car invert, the # 12 of Kristen Wallace starts on point with the # 84 of Drew Bond starting second, # 7 Jason Merriman third, # 00 Kyle Barnes fourth, and # 1 Daryn Cockram fifth. The flagman looks over the great field, likes the view, and we're green! The field immediately gets to shuffling as Merriman goes from third to first on the start with Wallace falling early. Now it's Bond though who takes the lead ahead of Merriman and Barnes, with Cockram hanging in fourth followed by the # 14 of James Sweeney as Wallace falls to seventh. Throw a blanket now over the top three as Barnes looks on Merriman multiple times but just can't capitalize at the moment. All of the action dissipates as the caution flies as Cockram and Sweeney are around in two. After the choose cone, it'll be Bond, Merriman, Barnes, # 12Y Zach Peregoy and the # 4 of Charles Smith. It's a dead even restart as Merriman gets the run and takes the lead. Bond is then challenged by Barnes, losing that spot with Peregoy getting passed by Smith. Smith keeps the momentum going as he gets by Bond, but the caution comes out again with the # 54 of Matthew Lawrence and the # 25 of Jonathan Hall going around in four. Merriman interestingly takes the outside on the choose as Barnes with line up alongside followed by Smith, Peregoy, and Bond. It's a great restart for Barnes as he tries to now pull a gap. Smith is able to pass Merriman as well, with Peregoy following through. The 7 machine now goes up in smoke going into turn one! The red flag is displayed as oil is scattered all over the track surface. After the stoppage and choose, it'll be Barnes, Bond, Smith, Wallace, and Peregoy. Barnes rockets on the start as Smith powers by Bond, followed by Peregoy. Behind, Wallace seems to have a problem after taking advantage of the choose cone, falling off the pace and losing a spot to Williams. Wallace takes her machine to pit road with Cockram now back in the picture, moving by Williams. Peregoy is under fire from Bond as Bond gets by. Peregoy battles back though, moving Bond out of the way as Bond somehow hangs on without spinning, losing countless spots in the process. But up front, it's the Kyle Barnes show as he grabs his second consecutive win after picking up a victory last week at South Boston. Smith comes home second, Peregoy third, Cockram fourth, and Sweeney who gets fifth after moving by a sideways Bond.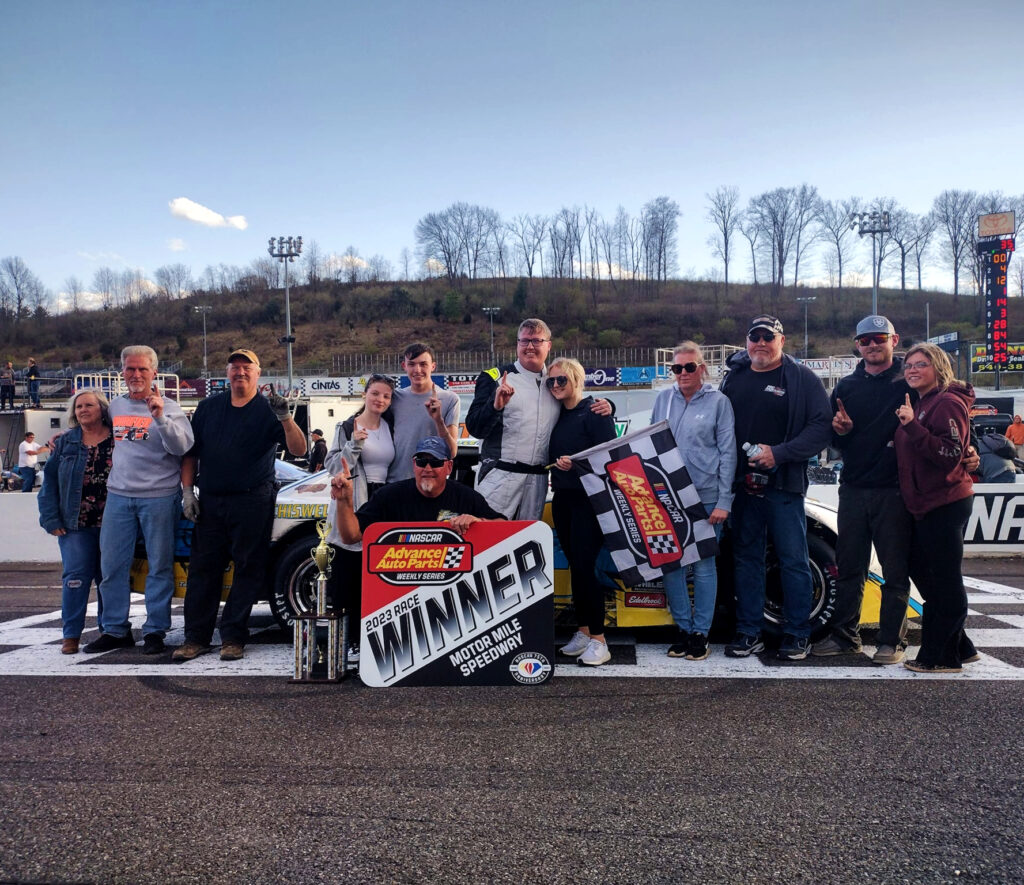 COLLISION PLUS LIMITED SPORTSMAN FEATURE 2
Bond starts on top for the second feature with the # 28 of Ryan Collins starting second, # 3 Jacob Porter third, Sweeney fourth, and Cockram fifth. The flagman anxiously looks them over, likes what he sees, and we're green! Bond gets a fantastic start as Porter and Cockram get by a falling Collins, who drops out of the top five. Behind Cockram is a charging Smith followed by Sweeney. It's fast and furious up front but the caution flies as debris from the Hall machine has fallen in two. After the choose, Bond lines up first followed by Cockram, Porter, Sweeney, and Smith. At the green, Bond and Cockram are side by side for the lead, with Bond eventually getting the advantage. Porter is now breathing down Cockram's neck as they battle for second. Cockram keeps it while the caution is out again, this time for Collins going around in two. Bond will line up first followed by Porter, Cockram, the # 13 of Richard Caldwell who takes advantage of the cone, and Smith. The green flies with Bond and Porter now duking it out. Bond finally clears as Cockram gets by Porter as well. Peregoy now spins in turn three with Hall spinning to avoid. Bond, Porter, Cockram, Caldwell, and Smith come back to the green as the field stays two by two throughout, creating a great race for the fans. But it eventually catches up to them as Smith goes around in four, bringing out yet another caution. Bond will once again start up front followed by Porter, Cockram, Caldwell, and a reemerging Sweeney. Bond gets a stellar launch as Cockram disposes of Porter for second. Caldwell loses position to Sweeney, setting up a hole for a fast Barnes, allowing him into the top five. Sweeney then flies by Porter, leaving Porter to deal with Barnes. But up front, Cockram is all over Bond. And coming out of turn two, Cockram gets into him and Bond goes around! Peregoy spins to avoid as Smith and Lawrence pile in with heavy damage. The fans make their feelings known as Cockram is sent to the rear of the field.
After a quick red flag, Sweeney inherits the lead followed by Barnes, Porter, Caldwell, and a tenacious Collins. Sweeney gets the launch over Barnes as Caldwell and Collins slam for fourth. Caldwell keeps it and then moves on Porter for third. Behind, Collins and Hall beat and bang, eventually getting to the point of nearly crashing. Caution flies for debris as a result of the battle. Under the yellow, Collins is none too happy with Hall and throttles into the back of him, pushing him all the way down the backstretch. The fans love it as officials try to calm the situation. Collins eventually parks his machine for the night as Sweeney lines up first followed by Barnes, Caldwell, Porter, and a wounded Hall. Sweeney barely clears as yet another caution is flown, this time for Peregoy spinning in turn three. It's the same top five as Barnes gives Sweeney a big challenge this time around, nearly getting around for the lead. But he just can't do it as Sweeney holds off one of the best in Barnes and gets the hard earned victory. Caldwell comes home third, followed by Porter and Hall.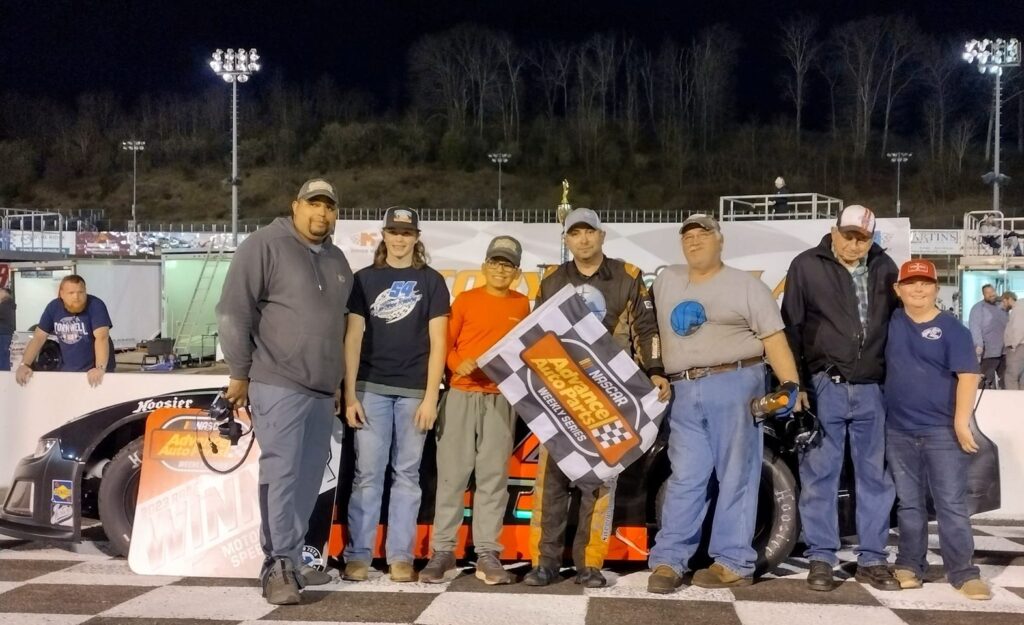 PRICE'S BODY SHOP LATE MODEL STOCK FEATURE 1
Another five car invert is in place for this feature as the # 25 of Derrick Lancaster will start on the point followed by the # 75 of Cory Dunn, # 87 Mike Looney, # 7 Karl Budzevski, and the # 4 of fast qualifier and defending Motor Mile Late Model Stock champion Kyle Dudley. The flagman looks over the field, likes what he sees, and we're green for the Late Model Stocks! Lancaster launches out to the early lead as Budzevski is immediately challenged by Dudley, who gets by after a short battle. That brings in the # 1 of Zeke Shell as he looks on Budzevski, but can't quite capitalize. In front of them, Looney makes an aggressive move on Dunn, putting the bumper to him going into one. Looney nearly spins trying to let off, but still gets by as Dudley follows through as well. Lancaster now has a visitor in the form of Looney as they battle side by side for the lead in a heated exchange. Lancaster won't give up without a fight as he takes advantage of Motor Mile's multiple grooves. Looney is too strong however and gets by, allowing Dudley to have a short duel with Lancaster before he moves into second. Looney starts to gap the field with Lancaster now getting challenged by Dunn. It's another spirited fight with Lancaster somehow hanging onto the spot. Dunn won't go away however as he gives Lancaster the bumper, but it's still not enough for the time being. Behind them, Budzevski is now under fire from the # 02 of Trenton Kilgore. Before you know it, it's a two by two pack style race between Lancaster, Dunn, Budzevski, and Kilgore as the fans are on their feet! The tight racing doesn't last long though as Budzevski falls victim, spinning in turn two to bring out a caution. It's a needed caution for the everyone in the field except for Budzevski and especially Looney, who had made a considerable gap between himself and Dudley. After the choose, it'll be Looney, Dudley, Lancaster, Kilgore, and Dunn.
Looney gets a terrific restart as Dunn makes his way by Kilgore for the fourth spot. Shell is now back in the mix as he's breathing down Kilgore's neck going into turn three. And out of four, the two make contact! Kilgore goes around as the rest of the field scatters to avoid. It's another quickie yellow as Looney, Dudley, Lancaster, the # 18 of Bobby Gillespie, and Dunn will be your top five after another round of the choose cone. Looney and Dudley are dead even this time at the line but it's a no start for the officials. On the second try, Dudley has a bit of a problem on the restart, stacking up the outside line in the process. He makes a last ditch effort for the lead though as he puts a big bumper to Looney going into one. It's not enough though as Dunn and a determined Kilgore both get by Gillespie. But up front, it's all Mike Looney as he takes feature one over Dudley, Lancaster, Dunn, and Kilgore.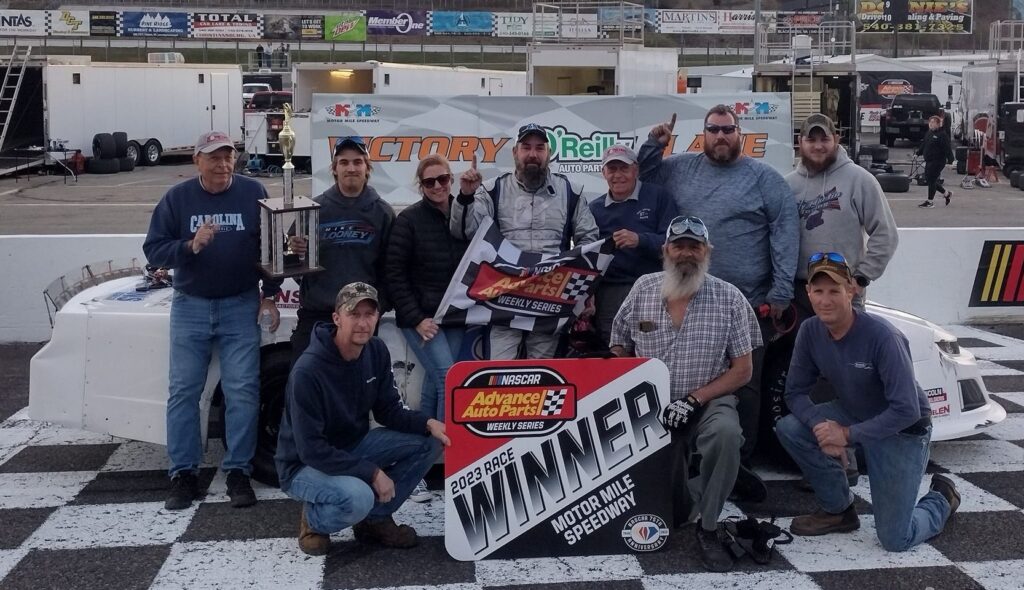 PRICE'S BODY SHOP LATE MODEL STOCK FEATURE 2
Bobby Gillespie benefits from the invert as he lines up first for feature 2 with Shell starting second, the # 7 of Blayne Harrison starting third, Kilgore fourth, and Dunn fifth. The flagman looks them over, gives the thumbs up, and we're green for the Ice Out Season Opener finale! It gets off to a rocky start as Shell overcooks it into turn one and spins in front of the pack, bringing out the early caution. Gillespie still lines up first, this time followed by Harrison, Kilgore, Dunn, and Lancaster. Gillespie easily clears as Harrison seems to have spun his tires. It's pure pack racing in the back once again as every one is on top of one another. Kilgore gets by Harrison now as behind, Dudley makes an insane save going into turn one, trailing smoke but somehow hanging on. Dunn starts to fall back as Harrison loses another spot to Lancaster with Dudley looming in fifth after his drifting exhibition. But Dudley's troubles don't stop there as a lightning fast Looney is now to the inside and doorslams Dudley for fifth. Back up front, Gillespie has company in the form of Kilgore. But Looney is coming through quick as we're already back in a pack as the fans are loving it. Somehow, Looney weaves through traffic without contact and gets to the lead with Kilgore behind followed by Lancaster, Dudley, and a dropping Gillespie. Dudley starts to regain some speed as well, getting by both Lancaster and Kilgore, setting his sights on Looney. Gillespie loses yet another position as Dunn makes his way into the top five. All of the beating and banging causes a caution as debris is found on the track. After the quick choose, it'll be Looney, Dudley, Kilgore, Lancaster, and Dunn. Looney fires off first and clears while Kilgore and Lancaster engage in an outstanding battle, racing door to door for laps on end. The battle is interrupted though as the yellow waves once more, this time for Harrison who is around in one. This will set up a quick shootout with Looney looking for the double in first, Dudley waiting to grab the beer funnel out in second, a very strong Lancaster in third, a reemerging Dunn in fourth, and a very consistent Kilgore in fifth. The green is out! Who gets it done?
Looney and Dudley both get great starts as Dudley gets a nose in and moves the Billy Martin Racing machine! Looney has been here before though as he crosses under Dudley and barely gets back by. Dudley puts one last haymaker on Looney, nearly spinning him from the lead, but a driven Looney hangs on and sweeps the night at Motor Mile. Dudley comes home second after an amazing last ditch effort, Lancaster gets third, Dunn gets a great fourth, and Kilgore rounds out the top five.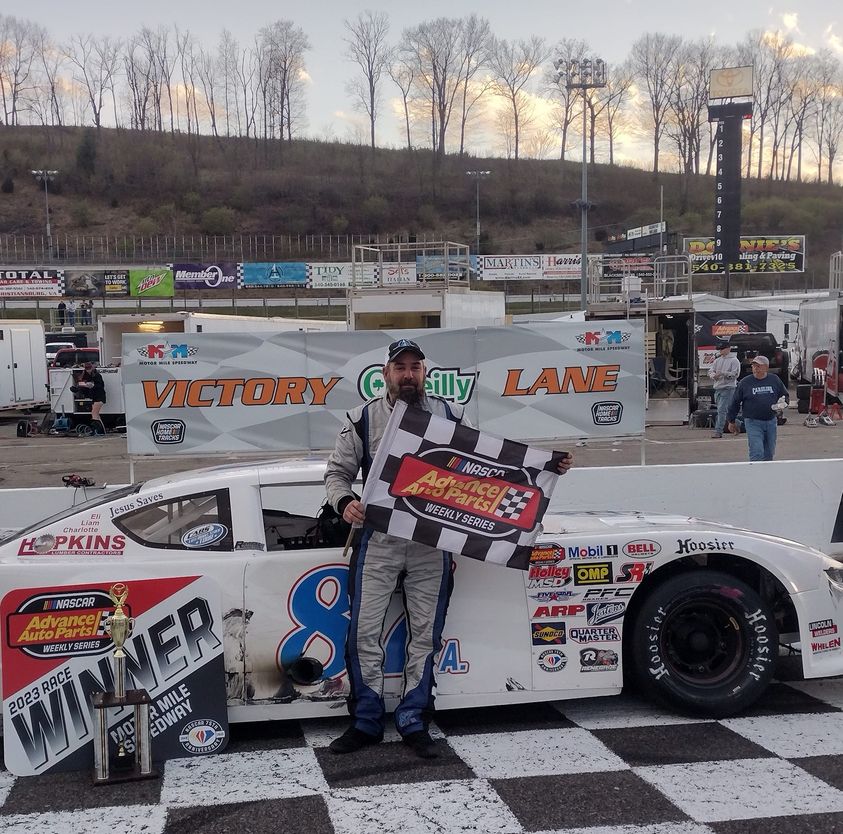 MY TAKE –
Well, we expected some great racing and that's what we got at the 2023 ICE OUT opener at Motor Mile Speedway. And if it was any indication of the racing at that we will see this year at this underrated track, it's going to be an epic year. And I have to say it…If you are going to make a road trip this year to see some exciting racing, you have to go see some racing at Motor Mile. And this year's schedule at the speedway gives you plenty of opportunities to see some premier short track racing there. This week, we saw Kyle Dudley make one of the most amazing saves ever. Epic. And we saw Kyle Barnes and James Sweeney come away with some very hard fought wins in the Limited Sportsman division. The Pure 4's teams raced with some serious respect, and the Super Streets quite frankly took each other to the limit, old school style.
And though we could toss several names in the hat on the Short Track Report Blue Collar Racer Of The Week, as the teams that race Motor Mile definitely are some of the toughest drivers in the region, so there was a lot of hard work being done on the track. But really, at the end of this event, one name stood clear. Mike Looney and the Billy Martin Racing team were the class of the field on this night, earning Mike Looney his first ever Short Track Report Blue Collar Racer Of The Week. Congratulations guys, you put on a show this week! 'Till next time, See You At The Track!
(Race writeup by Joshua Weatherman. Intro and My Take written by Billy Weatherman. 2023 Copyright SHORT TRACK REPORT)
Tags
Anthony Sheppard
,
Billy Martin Racing
,
Blayne Harrison
,
Blue Collar Racer
,
Blue Collar Racer Of The Week
,
Bobby Gillespie
,
Caleb Sewell
,
Charles Smith
,
Chuck Williams
,
Cory Dunn
,
Daryn Cockram
,
Derrick Lancaster
,
Drew Bond
,
Ice Out Season Opener
,
Jacob Porter
,
James Sweeney
,
Jason Merriman
,
Javon Parker
,
Jimmy Mullins
,
Joe White
,
Jonathan Hall
,
Karl Budzevski
,
Keyshaun Claytor
,
Kirby Shipman
,
Kristen Wallace
,
Kyle Barnes
,
Kyle Dudley
,
Late Model Stocks
,
Limited Sportsman
,
Matthew Lawrence
,
Michael Deskins
,
Mike Looney
,
Motor Mile
,
Motor Mile Speedway
,
New River Valley Speedway
,
Pulaski County Speedway
,
Pure 4s
,
Ray Sowers
,
Richard Caldwell
,
Rickey Beaver
,
Ryan Collins
,
Scooter Hollandsworth
,
Shelor Automotive Group
,
Super Streets
,
Taylor Ransom
,
Trenton Kilgore
,
Tristen Barnes
,
Zach Peregoy
,
Zeke Shell