CAROLINA PRO LATE MODEL SERIES AT HICKORY MOTOR SPEEDWAY AUGUST 7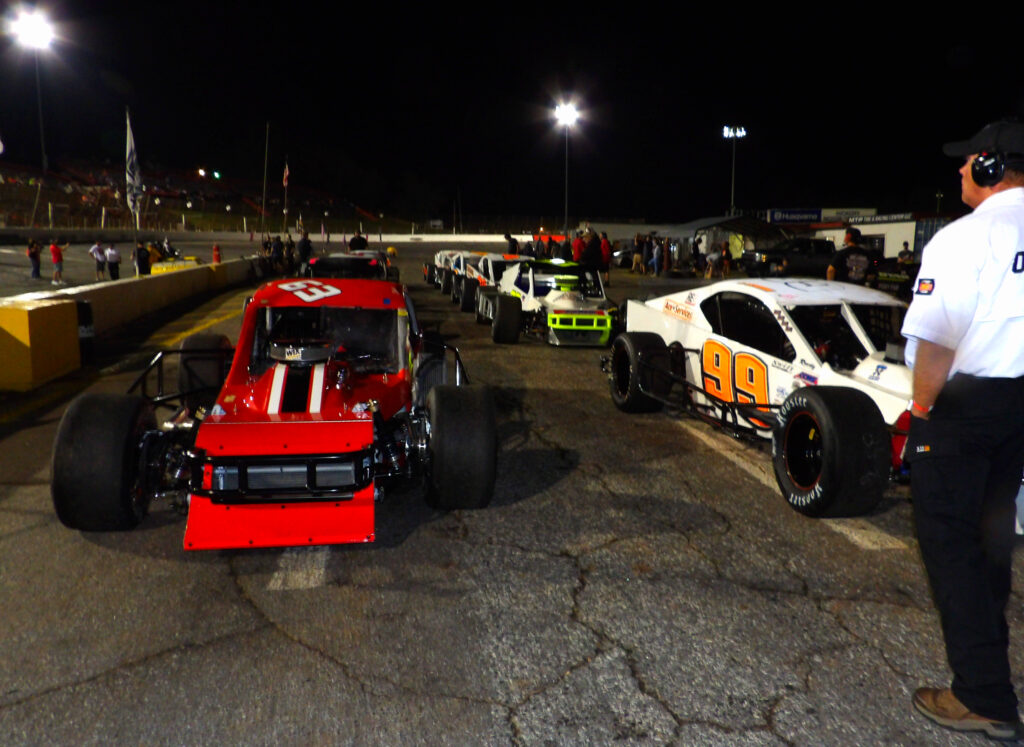 "I survived because the fire inside me burned brighter than the fire that burned around me."-

Joshua Graham
It's the time of the season where champions rise. And as the Carolina Pro Late Models and the Carolina Crate Modified teams rolled into historic Hickory Motor Speedway marking the final stretch of the 2021 racing season, the clouds followed them in, literally. Just another distraction for the drivers and their teams, as they prepared to get themselves ready for this race. A race that could set them up for a run at a championship, or leave them scrambling for all they can get, to salvage what they can out of a highly competitive season. And as me and my son Josh headed out to the Speedway, we only had a few questions going into this event. For one, we wondered if Dean Lowder could stop the bleeding in the Crate Modifieds. After a great start to the 2021 season, Lowder, who'd dedicated himself to run the full season in the newly formed Modified Division, had built himself a nice points lead. But over the last several weeks, Cody Norman, who's been steadily improving throughout the season, has tremendously chipped and eroded that once comfortable lead, as Lowder has sustained setback after setback. And in the Pro Late Models, will this be the race that Nick Loden, who started the year with three straight wins, returns to victory lane? Loden, who dominated early, hasn't seen victory lane since his third straight win to start the season. It's not like he really fell off any though however, as his worst finish this season is sixth which he achieved twice. At Hickory their last time here, and at Carteret County Speedway when the tour debuted there for the first time this year. And the last few weeks, he's again been right there challenging for the win. If he could win here today, it would be a statement to the rest of the field, that he and his team are still working as hard as they did in the beginning, and they aren't about to settle for what they have, and are indeed still looking to win on every trip to the track.
The strongest opponents these teams face however may be the rain. The clouds have settled above the Speedway, and they're not moving fast. And as we scramble to get the pre race pictures we need, and talk to the drivers about strengths and strategies, the Speedway is working hard to get all of practice and qualifying in before the rain begins, which is obviously imminent at this point. And as the Carolina Pro Late Model Series is down to 4 drivers left to qualify, Josh Lowder in his # 63 Pro Late Model goes to get his second lap, as the drizzle that just started falling gets heavier and heavier, and the yellow waves in the middle of Josh's qualifying attempt. And the track drying efforts by Hickory Speedway staff and crew begins in earnest. And everyone else? Well, all we can do is look to the sky, and hope for the best. We have a few breaks in between rains, and the track crew takes every advantage to keep a hold of the track. And during a period of light drizzle, as the track crew continues to work, the pre race ceremonies begin. Pole award ceremonies take place, the invocation is spoken, and the National Anthem sung. And then…we wait. The track crew has the track dry through most of it, but then it begins to rain in earnest. And I can't help but wonder when they are going to call it. Most tracks would have rescheduled, as the radar is questionable. It looks as though the rain may continue until a second wave of storms comes in behind it. But the Hickory track crew continues to work. But, they halt as it's obvious they are losing the battle for now, and the track is lost. But, Hickory staff has not given up, and instead of canceling, they move into a holding pattern. And after a few hours, again, when they could have called it and no one would have questioned it, the track crew instead gets back to work reclaiming the track. And finally, the battle pays off. And against the odds, the track dries and the command is given. And the drivers of the Hickory Motor Speedway Paramount Auto Group Limited Late Models are on the track running parade laps. And I am in a bit of awe as I can't even believe that I can say this, but, the crowd that waited it out with us is ready, the teams are ready, and the track crew has won the battle against the weather today, so, Let's Go Racin'!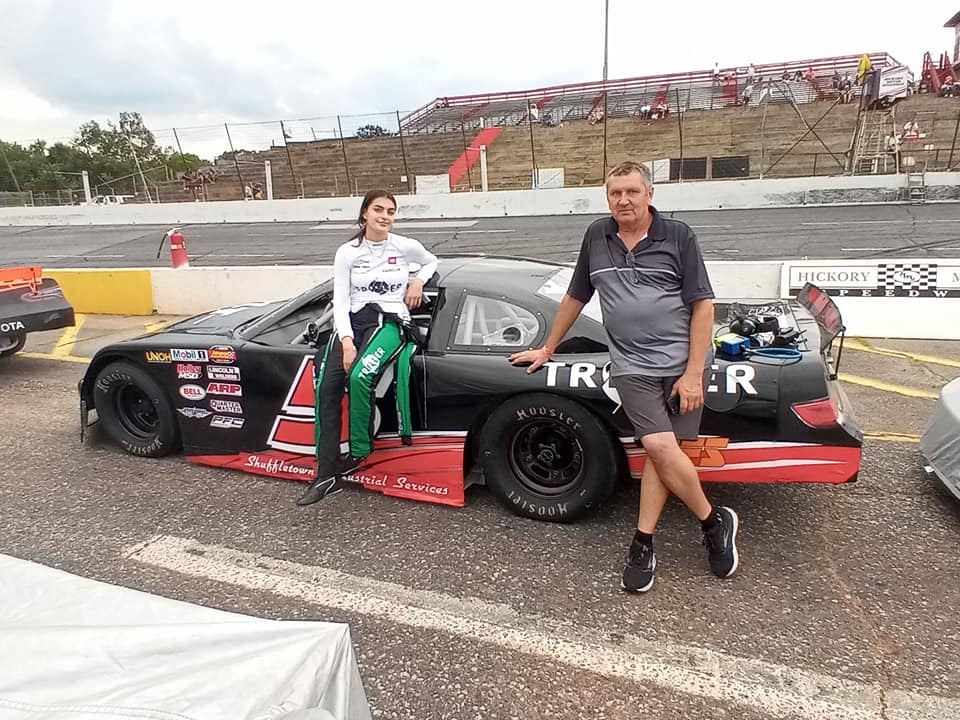 HERITAGE FINANCE STREET STOCKS
The event card includes racing from 3 of the Hickory Motor Speedway track divisions. For the Heritage Finance Street Stocks, # 5 Jesse Clark is your top qualifier and will start on the pole for this event, followed by # 64 Marshall Sutton, # 48 Gary Ledbetter, # 17 DJ Hamby, and # 31 Derek Fowler rounding out the top 5 starters. The Hickory Motor Speedway flagman gives the double up signal, and he surveys the field as they come around to the line. He likes what he sees, and the green is out, and we are underway. Clark gets a good start, but Sutton challenges him. Clark prevails however, and now Sutton is being challenged by Ledbetter who's got a good run as well, and Ledbetter clears for second, as Fowler moves past Hamby for fourth, bringing # 5X of John Clark with him to fifth, as the # 07 of Mike Cooper gets by as well for sixth, but on lap 16 the caution flies for debris. # 33 DJ Little takes advantage of this caution to pit and try to make adjustments to help the handling on his machine. But the track crew has the track clean quickly, and in no time we are lined up for the restart. Jesse Clark gets another great start, but Ledbetter is making a valiant challenge for the point. But he can't get clear of Sutton, who has not given up on his push to the front either, and he challenges Ledbetter, allowing Clark to settle in up front. Ledbetter finally gets a leg up on Sutton, and can now set his sights on leader Clark, as Fowler now looks under Sutton for the third position. Only 30 laps in this one though, and Jesse Clark holds off a charging Ledbetter, as Sutton holds off the rest of the field. And so, Clark adds to the already full winners sticker spot on his fast machine, and takes home another great victory on an already successful season.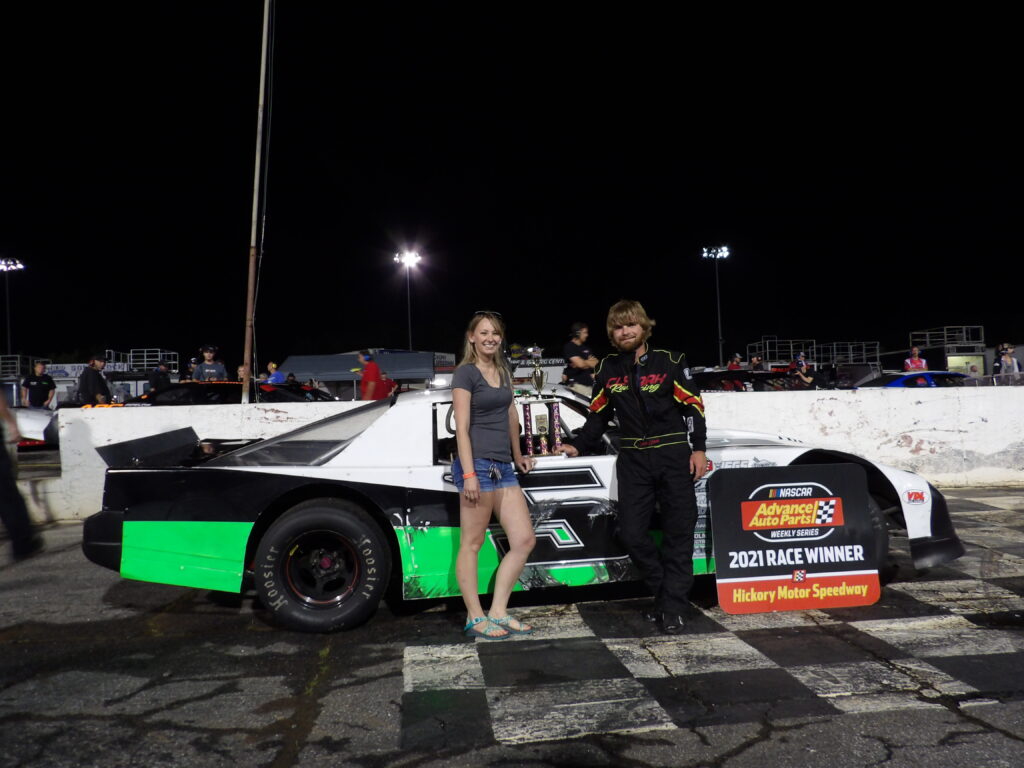 PARAMOUNT AUTO GROUP LIMITED LATE MODELS
In the Limited Late Models, # 24 Bryson Ruff is your top qualifier, which comes as no surprise as the points leader has been the one to watch, and strong all year, with # 22 Max Price, # 71 Katie Hettinger, # 14 Akinori Ogata, and # 12 Mason Maggio rounding out your top 5 starters. As they round turn 4 and head to the restart zone, the Hickory Motor Speedway flagman likes the view, and the green is out, and the Limiteds are underway. Ruff gets an amazing start, as Ogata moves past Hettinger for third, and Maggio follows him to fourth. # 5 Toni Breidinger is under fire from the field. Qualifying and starting sixth, she finds herself at the start being shuffled to the back of this stout field, as she struggles with the handling on that machine. Meanwhile, Hettinger is trying to get back one of the spots she lost in the opening laps, and she gets into Maggio a bit creating an opening, and she moves back past him for fourth. Meanwhile, Ruff has set sail up front and opened up a decent lead. But as he starts to lap the back runners in this event, the # 32 of Josh Stark refuses to concede being put down a lap, and he fights the leader to keep him from moving past. Ruff is starting to get a little impatient, and he moves down low to go around, but Stark blocks his move and Ruff gets into his door and has to lock it down to avoid wrecking them both. And in the process, Ruff's brakes lock and he's off the pace, and stops coming off of turn 4 at the beginning of the front stretch, as his left front brake rotor is on fire, and the safety crew has to come out and spray the fire extinguisher on it to put the small fire out. As it goes out, Ruff begins to pull off, and he manages to get the brakes to unstick, and he joins the pack at the end of the field. The crowd is getting vocal after this crazy turn of events, and they are letting the drivers know their feelings on it. The flagman gets the field doubled up for the restart, as Price will lead them down, with Ogata, Hettinger, # 17 Skylar Chaney, who'd taken advantage of the chaos to find his way to the fourth place spot, and Maggio as your first 5 on the restart. While they're lining up, Ruff drives up beside Stark and let's him know what he thinks about his actions, but they line up without contact. The Hickory flagman again surveys the field, and he turns them loose for the finishing laps. Price gets a great start this time, as in the back Ruff is like a driver unleashed. He moves past Stark with ease, and proceeds to work up to the leaders. He's a man on a mission. He gets by Maggio, then Chaney, and sets his sights on third running Hettinger. She puts up a bit of a fight, but he moves past her clean and moves in on Ogata for second. But there's not enough time as Ogata holds him off, as Price, with clean sailing up front, powers down the straight for the win.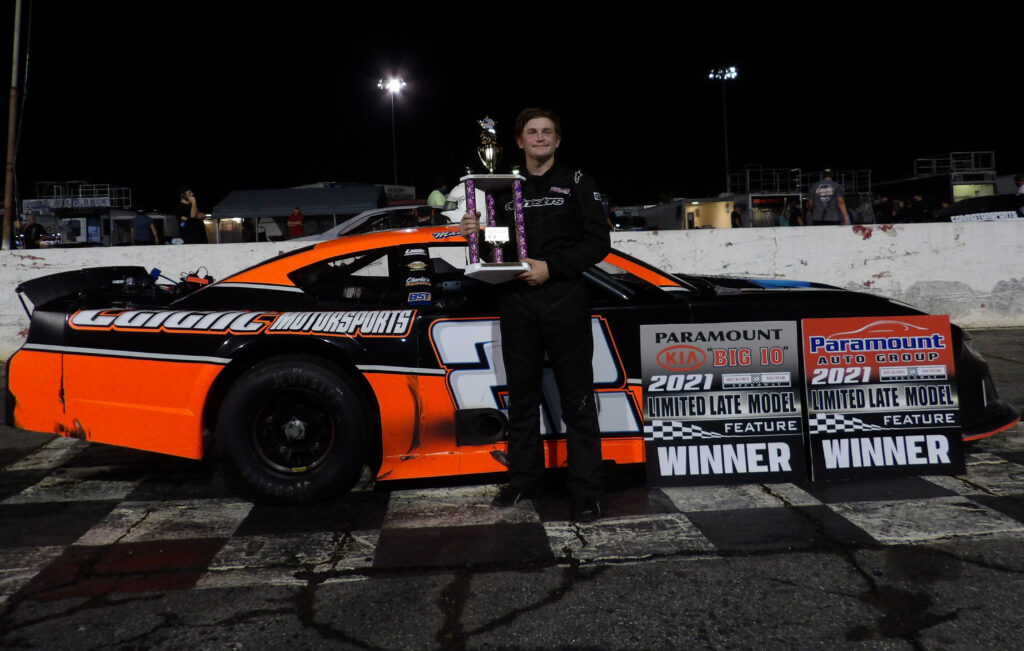 HERITAGE FINANCE LATE MODEL STOCKS
In the Late Model Stocks, 2018 Paramount Kia Big 10 Challenge Limited Late Model Champion, # 8 Gage Painter, comes to visit, with the advantage of driving the Triple R Racing Late Model Stock that was entered in the CARS Tour event, with Sam Butler at the wheel, just a week prior. This is going to be a huge advantage for Painter as the car has been tested and ran on the track in the past weeks, and should only need some set up tweaking to get it great for this evening's race. And so Painter, as should be no surprise to anyone who's paying attention, sets the car on the pole for tonight's race. He will be flanked by Hickory Motor Speedway Late Model points leader, # 44 Josh Kossek, # 40 Taylor Satterfield, # 1 Gracie Trotter, and # 19 Jessica Cann rounding out your first five starters. The flagman surveys the field, the Late Models are looking good, and the green is out and we are underway. The front row gets a great start, but equally good, and they are 2 wide for the lead. Trotter gets past Satterfield for third on a clean pass. Painter finally gets the advantage up front, and moves past Kossek for the lead. And for the rest of the race, professional clean driving wins the day. The field at first settles in to save tires. But at the end of the race, the field is equal, and when someone ups the pace, the whole field follows suit. And so in what may be the fastest run 75 lap race I've ever seen, the field remains even, clean, and ends up finishing pretty much where they started except for Trotter who upped her starting spot by one. Painter has to work hard to move past Kossek in the opening laps, but paced the field after that, coming home with the statement win.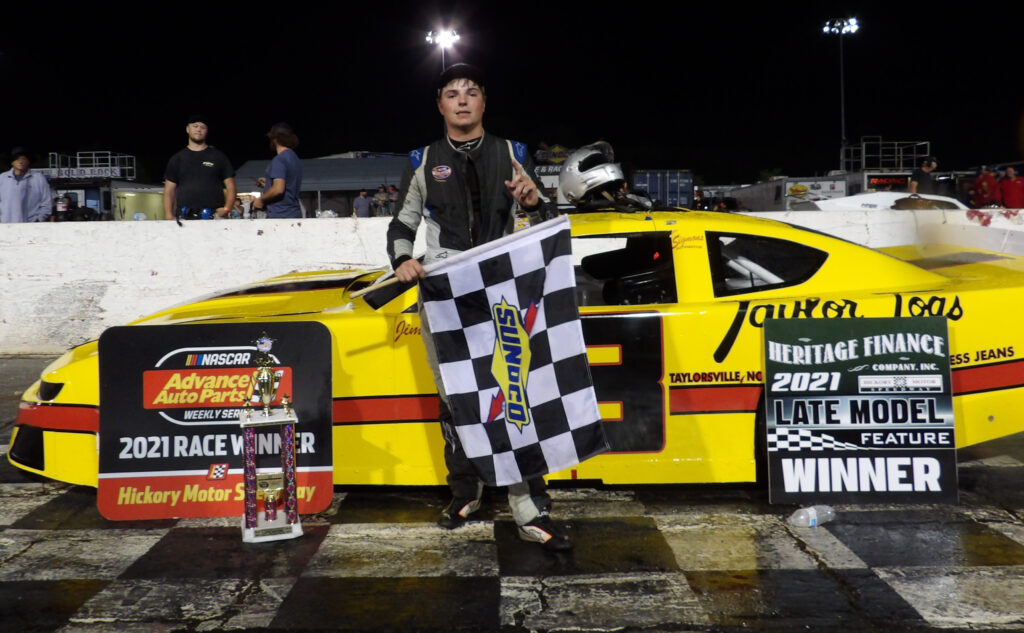 CAROLINA CRATE MODIFIED SERIES
The Carolina Crate Modified Series is up next at Hickory Motor Speedway, as it returns for the fourth time this year. # 63 Dean Lowder is your points leader, but he's got to find a way to stop the bleeding tonight at Hickory, suffering for one reason or another, significant points losses that puts # 12 Cody Norman within reach in the championship chase. # 51 Junior Snow is your fastest qualifier, with a lap of 15.490. The invert draw number is 4, so that puts fourth place qualifier # 99 Cayden Lapcevich on the pole, followed by # 63 Dean Lowder, # 33 Tanner Young, # 51 Junior Snow, and # 00 Kevin Orlando as your top 5 starters. The always popular Modifieds run their parade laps to get heat into the tires, and the flagman gives them the double up signal, and the drivers get lined up and ready to go. The Hickory Motor Speedway flagman likes the look, and he puts out the green flag and the field rockets down the front stretch, and we are underway. Lapcevich gets an amazing start, but # 74 Rich Klimarchuk goes into turn 3 hot and goes around, hitting no one or nothing, and is able to continue on with no issues other than bringing out the caution flag. So, the field lines back up, and we'll try this again. The field looks good as they approach the starting line, the flagman is pleased, and he throws the green once again. Cayden gets another amazing jump, but, it's not gonna hold, as the rest of the field is all jammed up, and immediately the caution comes back out, and we'll have to redo the start once again. The field instantly gets lined up again, and at the starting line, the green waves again, and once more Cayden Lapcevich gets a great start, and this time it holds. Orlando gets by Snow for fourth, but as the field comes out of turn 4, Young gets into Lowder, looking to roll some speed off the corner, and he succeeds, but he's got Lowder jacked up and he spins off the corner. Young goes to the outside to miss him, but it's a tight squeeze, and he barely makes it through, but he gets loose and gets into Orlando and Snow who'd taken the bottom to get through clean, only to be collected by Young as he tries to correct his machine. Orlando gets into the outer barrier hard after the contact, and Junior Snow sustains front suspension damage as his front wheels are pointing in opposite directions. Everyone's focus is on Kevin Orlando however, as he went into the wall hard, and he's not getting out of his machine as it sits, heavily damaged. The rescue team is on the scene, and the crowd is silent, hoping for the best. After several minutes, they have him out, and he's walking on his own power as you can sense the relief in the crowd. He's holding his shoulder however, but he's ok. Banged up for sure, but it's good to see him walking around after that hit.
The track crew has their work cut out cleaning up the track, but they're up to the task as they have been all day, and have the track cleared up and ready to go. Klimarchuk takes advantage and comes to the pits to make adjustments to his machine. And after a bit, the flagman gives the signal to double up, and we are ready to get back to racing. Lapcevich leads them down, followed by # 9 Dan Speeney, # 12 Cody Norman, # 01 Brian Weber, and # 63 Dean Lowder. The field comes around, the flagman again is pleased, and we are back under green. Again Lapcevich gets a great start, as Norman gets past Speeney for second. Young has again found Lowder, and he again makes the same mistake, and gets into Lowder trying to roll speed into the corner, this time trying to get underneath him, and again with the same result, as Lowder is once more around, this time in turn 2. No real cleanup this time though, so the field is quickly lined up and ready to go. Lapcevich leads them down, with Norman, Speeney, Lowder, and Klimarchuk restarting as your top 5. Tanner will restart in the back this time, as race control makes the call on this one. Lapcevich once again gets an amazing start, but Norman spins his tires, as Speeney and Lowder get by him, and he'll have to settle for fourth. Weber works on Klimarchuk, who fights for his position, but Weber's persistent, and claims the spot for 5th. Young gets by Klimarchuk as well, and sets his sights on Weber, and moves in and takes 5th away. Lapcevich is building a nice lead, but on lap 36, sparks fly off of the Lowder machine, and the car turns into the wall, making hard contact, as his wheel goes flying about 30 feet, and the crowd gasps at the impact. Something broke on the # 63 modified, and now we can only hope he's ok. But there he is, quickly out of his machine. His crew shouts to him from the fence asking if he's ok, but he tells them the car is toast, and then proceeds to explain his feelings on the # 33 car in this race. Let's just say he's not real happy with Young's driving style. Again, the track crew has their hands full, as the red is displayed.
After a bit of time however, the crew has us all cleaned up, and we're ready to head into the final stages of this wild modified outing here tonight. Under the caution laps getting ready to go back green, Brian Weber's car has some mechanical issues, and he pulls the car around, done for the day. Tough luck for Weber, who was looking to pull off his second top 5 in as many starts, but it's not to be tonight. Lapcevich brings them down for the last restart, with Norman, Speeney, Young, and Klimarchuk your top five. Lapcevich, as he has the whole race, gets another commanding start, as Norman follows his line, but unable to contest Lapcevich who's been the class of the field here tonight. Young battles Speeney for third, but the veteran is giving nothing and he holds the rookie off, as Lapcevich cruises to his second straight win.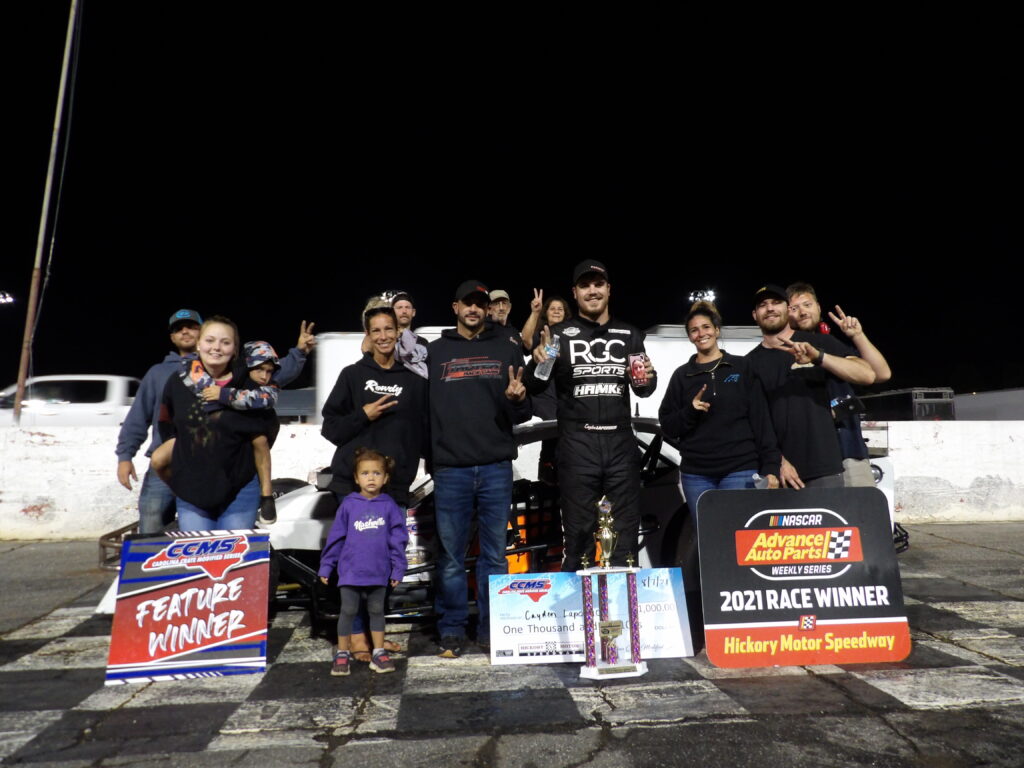 CAROLINA PRO LATE MODEL SERIES
The Carolina Pro Late Model Series comes to Hickory Motor Speedway with 4 points races left. This makes the implications of this race monumental. # 4 Leland Honeyman has to have a great night to keep himself in the hunt in points. # 43 Nick Loden's 3 straight wins to start the season has left everyone chasing him for the championship, and with his worst finish being sixth on the year, he hasn't given the field much of a chance to make up ground. A win here tonight could almost seal the deal for Loden. And the bad news for everyone, is that Loden, after just a few races outside the top 5, has been challenging the front runners, and has regained the momentum that led him to victory early in the season. Also running well all year and improving, is # 63 Josh Lowder, who finished second in a photo finish to Gus Dean in the last outing at Dillon Motor Speedway, and one can only wonder if this is the race he will break through for his first win in the series. He's making a statement here today as he sets the fastest qualifying time with a lap of 15.033. But with the 6th place invert, his task just became as hard as you can imagine, as it puts Nick Loden on the point for the start.
So Loden will bring them down, followed by # 43S William Sawalich, # 71 Katie Hettinger, # 9 Grayson Ward, and # 4 Leland Honeyman. The Hickory Motor Speedway flagman gives the double up signal, and Loden brings them down. The flagman likes the view, and the green is out. Loden gets a good start, but Sawalich is here to race today, and he fights hard for the point. # 18 Landon DeVaughn doesn't get going well and stacks up the field, leaving everyone behind him scrambling to get clear, and just as it seems everyone is in good shape, # 37 Mike Speeney goes around going into turn 1. He doesn't make contact with anyone however, and so the track crew gets a break, and it doesn't take long to get everyone lined back up and ready to go. So Loden again will bring them down, with Sawalich, Hettinger, Ward, and Honeyman still your top 5. The field is looking good to start, and the flagman again puts out the green, and Loden and Sawalich again battle for the point. Loden clears this time as Ward finds his way past Hettinger for third, and Lowder moves in on Honeyman, looking to get the fifth position. Honeyman holds him off however, and now the # 1X of Tyler Church gets to Lowder and gets past him for the sixth spot. Hettinger gets back past Ward, and it's become obvious this field of racers are out for all they can get today, as the racing is already intense in the early stages of this event. Hettinger's move past Ward has him in a bad position, and immediately, Honeyman, Church, and Lowder gets by. There will be no making mistakes here today. # 24 Penn Crim is off the pace, and brings his machine to pit road, and is done for the day. Tough luck for Crim and his team here today. Meanwhile, Hettinger is all over Sawalich, and he gets loose and Hettinger moves to second, and immediately starts making ground on leader Loden. She moves in a couple of car lengths off his bumper, but then she gets loose off of 4, and will have to start again walking Loden down. Lowder has made his way to Church's bumper, and moves to regain the fifth spot. Church leaves a small opening, but it's enough as Lowder takes back the position. Sawalich has found himself back on Hettinger's rear after she got loose, and now you can throw a blanket on the top 3.
And as the tires get hot on these fast race cars, Lowder's car starts to come in as he moves in on Honeyman and works him over for fourth. It doesn't take long and Lowder gets by and starts to move in on Sawalich. Behind him # 48 Tovia Grynewicz gets under Honeyman, and moves into the top 5 for the first time tonight. Hettinger now is right to Loden's back bumper, but again she gets a little eager, and gets extremely loose off of four, and now she will have to switch her focus from Loden, to holding off Sawalich who is looking to take any advantage he can get. Hettinger holds him off however, and again starts to walk down Loden, who now has to deal with lapped traffic, but is putting on a clinic up front moving through the traffic. He moves past the ever slowing # 9 Grayson Ward, who is obviously experiencing some mechanical issues with that machine, and as he gets by, Ward's motor blows, with smoke billowing from that machine. And Hettinger is right in his tracks as the engine lets go, and she spins in the oil left on the track. Terrible timing for Hettinger, as this is devastating to her chances on winning here today. It's a great break for Sawalich, however, as he will restart beside the leader, and will get his best chance at leading as we approach the final stages of the race. Hettinger gets no damage, as she spins clean to the center of the track, and everyone avoids her, but she will have to start on the tail end of the field. The track crew works to get the track clean, and race control has the daunting task of lining up this tight field for the late race restart, and a few drivers are arguing for a better starting spot, one of which is Hettinger who tries to maneuver her car up front, as the crew chief argues that his driver didn't bring out the caution. It's to no avail however, as she was part of the incident, and she falls back to the tail end of the lead lap runners. Gotta be a hard thing for the team and their driver to endure, but now they are left with trying to get all they can get for the end of this one. But in this field, they know the enormous task they face.
Hickory's flagman gives the double up signal, and Loden pulls a strategy that we know to be a tremendously smart move in his position. He chooses the outside lane to protect his high side. He'd been moving his line up on the track as he got challenged before this start. One of the marks of a good driver is the ability to change your line when the car's handling changes, and another is to protect your flank on a loose track. But Loden knows the drivers behind him are fast. Sawalich has been there all day, and now Lowder will get to start closer to the leader than he's been all night. Loden brings them down, with Sawalich to his inside, followed by Lowder, Grynewicz, and Church for the final restart. Loden gets another good start, but as in the opening laps, Sawalich battles hard in an effort to take the lead. They're side by side, with Lowder right there looking. Loden finally inches by to clear in the outside lane, and Lowder sees his chance with Sawalich and dives underneath to move to second. They're all racing as hard as I can describe, and Grynewicz goes for all he can get, getting sideways coming off of turn four, as Church gets by. The same scenario plays out on the next lap and Honeyman gets by. Grynewicz somehow saves the car and holds on from there, as up at the point, Lowder makes ground on Loden, but it's too late, as Loden powers down the front stretch for the outstanding late season win. Lowder comes by second, Sawalich third, Church fourth, and Honeyman fifth.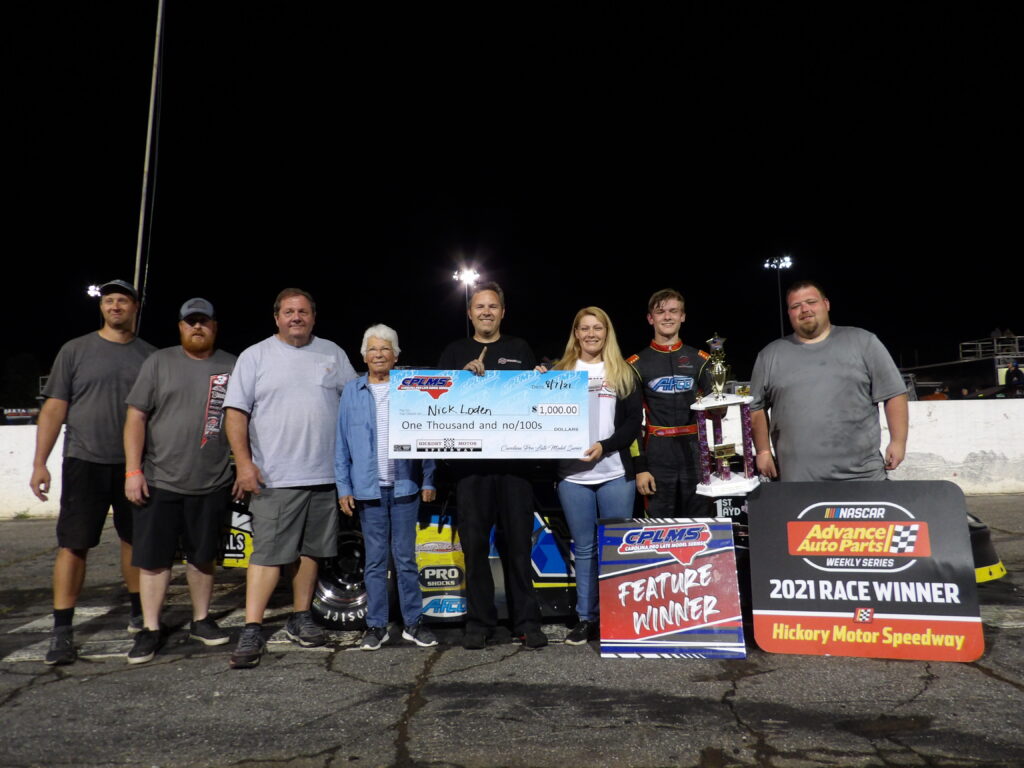 MY TAKE
Ok, if you have made it this far in this coverage article today, thank you! And I should tell you now, there is a reason we made this weeks extended coverage edition a special one for us. It's time for me to comment on something that's been on my mind for a few weeks. And now, this Friday the thirteenth, is the perfect time for me to address it. Some will not like what I have to say today, but it needs to be said, and again, I guess I'm the one that will say it. Again I will say, that this is why we went this first year sponsorless. It is a nod to everyone that we get paid by no one to cover what we cover, or to say what we say. We indeed do this for the love of racing, and to give back to the sport that has given to me my whole life. It's a bond me and my son share. And so we took to the challenge to highlight, what we feel, makes our racing region the best in the country. It's not lip service, it's what we know to be true. All around us, are some of the best tracks in the country, and truth be known, sometimes that can get a bit competitive. It's natural and expected. But for the most part, everyone tries to also work with one another, knowing it to be to the benefit for the entire region. We are in the heart of NASCAR country, and so everyone knows that it is healthy for the entire region for everyone to be as successful as possible. But of course, it's racing, and racing by definition is a competition, as everyone wants to be the best. So, from time to time, vision gets skewed. The perfect example of that is the southern Modifieds.
It's no secret that Bowman Gray Stadium is the base for Modifieds in the south. And the truth is plainly, that there would be no Modified racing in the south if The Stadium was not there. There is no denying it. But, there is a market and a fan base outside of The Stadium. A lot of racing fans want to see the Modifieds at bigger tracks where the cars can really show their reality as the fastest stock car in the world. And, in 2 wide fashion. For example, if you saw or heard about the SMART Modified Tour's race at Franklin County this year, or any track they've run really, you know how good those races were. Outstanding might be too small a word for it. But just when the Tour has built it's momentum, the Tour takes a break to cater to the season at Bowman Gray Stadium, where some of the Tour's stars run, of course. It's understandable because of what I mentioned about The Stadium above. But, it's a momentum killer for the Tour. No one wants to mention it, but I, being a huge Modified fan, have to. Why? For a couple of reasons. First, I have seen all this before. In 1989, the initial Southern Modified Auto Racing Teams Tour was born. And through the 90's, they went throughout the region running to huge crowds. Fans everywhere here embraced the Tour, and it was obvious then, as it is now, that the support for southern modified racing spreads well beyond Bowman Gray Stadium. Now of course I acknowledge that that support was due in part, if not all, to The Stadium's foresight to make Modifieds their premier division, and gave them the place to survive. But that said, again, the support goes well beyond the Stadium. And every year the Tour ran, the Bowman Gray Stadium break lost the momentum the tour had gained through the early season runs. And when the support fell off a bit, NASCAR and Whelen moved in and took over. Promising of course, to put the P back in Premier. But, they had the same problem. A good number of their stars ran the Stadium, and so they also took that break. And support fell off some more. Until, NASCAR and Whelen dissolved their support for the southern tour, to put all their assets up north where the Modified ranks grew to a point that it was, and is, the true premier Modified region. No amount of arguing or disagreement will change it. While the south took their breaks, the north expanded. And Crate Modifieds came into play. The north was smart enough to know they needed a developmental class to strengthen their foundations, as the south fell back to the Stadium. They knew it to be crucial to develop future talent. They were right. Now, there are a great number of young talented modified challengers, looking to fill any spot on the premier tour. And Mods run everywhere up there, to a huge fan base that supports them.
Now, there are some smart people that have put the emphasis on the name SMART, and restarted the Tour, again to great support. But again, they have chosen, understandably, to take the Bowman Gray Season break. And maybe they don't see it, but I do because of my viewpoint, that momentum is lost. Now they are betting on the fact that they have a great enough Tour to rebuild that momentum. And I am sure they do have a great enough Tour to gain it back. But, for how long can they do this? What is the plan to build drivers for the future to sustain growth? Right now, they have the Bowman Gray stars that excite the southern Modified fan base. But outside of the Stadium, that support doesn't have that element. In fact, I'll make this point as well- The Tour is drawing around 10 or so Bowman Gray Stadium drivers. Not enough to run a Tour on. But, they have benefited by a northern contingent that should be given a huge thank you from the southern Modified fans that know what they have meant for the newly revamped Tour. They have also benefited by having Hall Of Fame driver Bobby Labonte join the tour, and that does give the fan support element that Bowman Gray drivers lack at the tracks the Tour goes to. It gives the track's fans a face they know well. Now of course, the stars of the Stadium are well known, don't misunderstand. They are stars everywhere they go. But they don't have the same support outside The Stadium that they do inside of it. I make this point because it's my belief that they will not be able to build the future of The Tour on Bowman Gray Stadium racers alone. Where will the youth come from? When the Myers, the Flemings, and drivers like Civali are gone, where will the talent come from? The answer is right in front of them! But for whatever reason, they don't, or refuse to see it. But I'll say it right here, right now. The Carolina Crate Modified Tour is not a competition to the SMART Tour in the least. But, it can be a huge asset if they are seen not as competition, but an answer to strengthening the foundation. I've said this before, and I know that those who need to hear it know how I feel. But now I'm telling you, it's crucial to open your eyes to it. I have to mention it, because I will say another thing no one wants to talk about, but I've seen it, and I'm calling it out right now, right here. I, due to the nature of what I do, have to research social media on regional racing. And I've seen people try to trash the Carolina Crate Modified tour. Unsuccessfully however, because they failed to understand what they were talking about before they commented. Let me give you some insight. The Carolina Crate Tour, despite having low car counts in several races this year, is building great fan support. You have on that tour right now, a former Pinty's Series champ, a former Xfinity and Camping World Truck Series competitor. A Riverhead winner, a second generation mod driver, and several local mod veterans that have competed on this Tour in it's inaugural season. But most of all, they have put on some great racing, and racing fans everywhere can support that. So, everywhere they go they have gotten good marks from the fans, and grown support. So the social media warriors have been shot down at every turn. I also see a regional track who purposely gives a bonus to drivers who come to compete in crate mods at their track only on days that the Carolina Crate Modifieds are set to run. What results is a smaller count for that track, and the crate tour that has to watch itself lose cars to that track, leaving both of them with a smaller than needed field of modifieds. That needs to change if the goal is to grow the crate modifieds in our region. It's like shooting yourself in the foot. And it allows competition to win over sense. That's the truth.
The rest of the truth is this. The Carolina Crate Modified Series is the asset that the SMART Tour needs to develop talent for the future. The same can be said for Bowman Gray Stadium itself. Drivers like John Holleman IV are creating excitement and adding youth to The Stadium contingent. But would they not benefit from a strong young modified base as well? You know they would. A strong crate modified base will be built if there is another outlet for modified drivers to start. It will give a chance to Mini Stock drivers, Challenger drivers, etc., to move up into a modified without going broke in the process trying to learn at The Stadium or on the premier SMART Modified Tour. Insiders know that mods are a different beast than any other race car. And trying to teach a kid to drive one in the south before now, was like throwing a sheep to the wolves. But the crate mod is a great place for them to learn. I give for you the example of Cody Norman. Most Stadium fans know Mike Norman as he competed at The Stadium for years. Now his son wants to race mods. Now Mike has to exercise how to go about it. He knows how competitive and costly it is to run the Stadium, but, he has the support of Jerry Hunt Supercenter, who is a huge asset to racers in our area for the great support they give to local racing, and they would be all in to run The Stadium as they have and do sponsor many cars there already. So he also has to consider how he can give them the best bang for their buck as well. So he and Cody were smart about it. And they turned to the best alternative to The Stadium and the premier Tour, to develop Cody's driving style. And now they did that with the goal, that when Cody has perfected his mod skills to a certain point, he knows he can then go to the The Stadium and/or join the premier Tour, and be competitive, and confident in his modified driving abilities. It won't be long. Cody is sitting second in points on the Carolina Crate Modifed Series, and is getting to be remarkably consistent in his up front runs, learning to be a Modified winner. So, I'll wrap this up by speaking a truth that needs to be understood sooner than later. You are not going to build a crate division at a local track like Bowman Gray Stadium built their Modified division. Bowman Gray Stadium is the oldest weekly racing track in the country, founded by the founders of NASCAR itself. You're not going to repeat that. The SMART Tour is the premier Tour, and I applaud loudly the return of the SMART Tour. But they could shore up the loss of momentum for Modifieds at other regional tracks during the Bowman Gray Stadium season by supporting the Carolina Crate Modified Tour, who visits many of the same tracks during the season. And trust me, the fans at those tracks know the difference between a crate mod and a touring mod. It's night and day. There is no confusion. And in my educated opinion, if the SMART Tour wants to avoid the same fate the initial Tour experienced, it will move to counter that at every turn. And the turn they are at now, is to support the best option for finally getting a strong, sustainable, crate modified division that will not only develop new talent, but keep the momentum building throughout the year for modified racing in the south. The Carolina Crate Modified Series is the best option to bring it to fruition. The Tour management is fair, consistent, and have only good intentions. I've seen it first hand. And they offer a tour that is cost efficient. And is in fact one of the cheapest ways to race in our area period. Pay attention Mini Stock, Street Stock, and Challenger drivers. There is indeed a touring modified series that is as cheap to run as you are paying now. And I'll say it again, that if those who claim to love Modifieds here in the south really care about the future of Modifieds in the south, and want to finally grow the mods throughout the region in a way that will be sustainable for growth in the future, you will see the crates for what they are. An asset that deserves to be supported. Now so to all of you that can make this happen doubt all I say, talk to the drivers up north, who you can't deny did it right. In my perfect world in the south, I would like to see some events that include both tours, the crates and the premier Touring Mods, and I would like my grandchildren to be able to see a southern mod region that rivals the one in the north. But hey, maybe it's just me, and your content with just seeing Modifieds at Bowman Gray Stadium and nowhere else.
Sorry to all of you that understand what I just said and had to endure my book, but someone had to say it. Our Blue Collar Racer this week was a hard choice, but one name stands out. Josh Lowder. He had to work hard to get to the leader this week, navigating a highly competitive group of racers, but in the end, he was looking at leader Loden, but with not enough time to take advantage of the view. And he comes home with his second straight second place finish. We know a win is coming soon, but we can't deny Josh and his team's great efforts this week. And so there you have it. The track crew keeps their heads above water and defeats the rain to get in another great night of exciting racing. Cayden Lapcevich kept his head above water in his first starts in the Crates, and used his momentum in the Series to come home with his second straight Crate Mod win. And Nick Loden kept his head above water at a time in the season when some would fall away. And tonight makes a statement to the rest of the field by winning when it would have the greatest effect on his championship run. And the Carolina Pro Late Model Series and the Carolina Crate Modified Series has kept their heads above water all year, and are poised for future growth that will surprise no one paying attention. There are big things on the horizon, and we here at Short Track Report are super excited about having a front row seat.