CAROLINA PRO LATE MODEL SERIES AT HICKORY MOTOR SPEEDWAY- RACE 5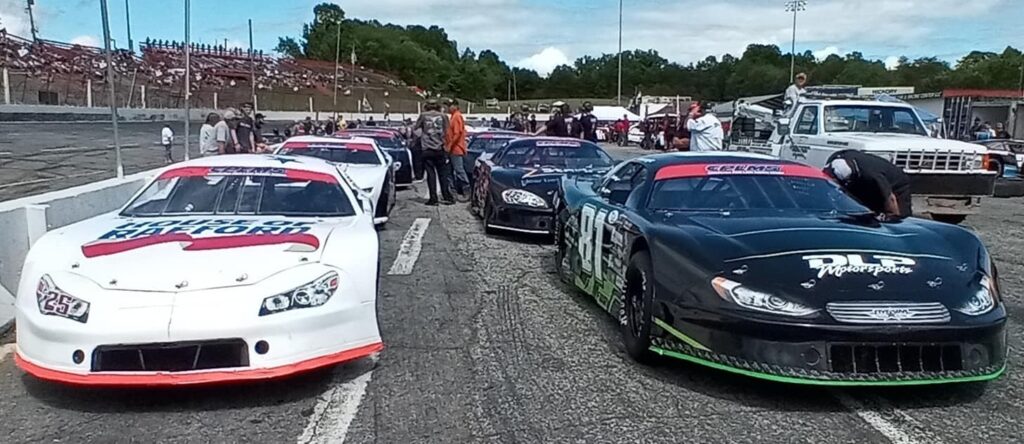 Saturday was a special day for us. A milestone really. And so we were already excited. After the way the year of racing had started for us, we knew that Saturday would be an epic day. And for us, it was the first race we covered for ourselves at Short Track report.
So, we weren't deterred that the day started overcast. No matter what happened, it was going to be a good day. First off, we were going to Hickory Motor Speedway. I mean, what more is there to say about Hickory. To say it's historic would be an understatement. On the inside of the infield wall coming off of turn #4, it reads "Birthplace Of The NASCAR Stars". Now, to be able to use that moniker legitimately should not be understated. The past champions list here to those who don't know, is astonishing. Junior Johnson and Ralph Earnhardt among them. But since I was first introduced to the place as a kid, when I hear the word Hickory, the first name that pops into my head is "Gentleman" Ned Jarrett. Yes, his nickname was "Gentleman", and he always lived up to it. But he was tougher than the name implies. Come and see a race at Hickory, and you'll understand what I mean. So for us, to start our new venture here, we see as an honor. And to do it covering the Carolina Pro Late Model Series? Well that's an icing on an already sweet cake. We looked long and hard at who we wanted to cover. The SMART Modified Tour was our obvious choice for a tour. And so we really had a long and arduous conversation about even adding another tour. But after looking at it at every angle, we knew. The Carolina Pro Late Model Series is first off run by professionals. The Grahams have it figured out. And the teams that recognized and joined the tour, are, and let me say this with the utmost sincerity, the future stars of NASCAR. Mark my words on it. And those of you who know, know that I won't steer you wrong. And as we move forward in our coverage of this tour, no one will be able to deny what I'm saying here. And this race at Hickory? Well, it goes a long way to prove my point, and this is just the first time we get to focus our attention fully on the Series.
As we got to Hickory, Joshua looked at me and said, "It's got a Franklin County kind of feel to it." Now some would look at that as a slight. But we are real fans of short track racing. And we've been in the trenches doing what we do. And so while others spend their time looking on how to change the sport for the future, we have grown a real affinity for those who adhere to the term, "If it ain't broke, don't fix it." Hickory is like a functional nostalgic auto racing museum of sorts, but, especially today, with shiny new exhibits to see. As we had just gotten to feel the place out from our new perspective on it, the rains came. No worries. We'd heard that instead of rain being a bad omen, it was really one of cleansing. So there we were, starting our new deal cleansed of the past, with a great head start on a new beginning, at one of the places that birthed the sport that we love so much.
When we returned on Sunday, it was like a weekend music festival in the pits. Like we had come across a festival of speed. And I for one was ready to see the show. The Carolina Pro Late Model Series and the Hickory Motor Speedway divisions were ready to race in honor of those Americans that had fallen in the name of freedom. And everyone I talked to this weekend, was aware of why they were here, able to race today. The crowd, a little smaller because of the rainout the day before, nonetheless came out to the show on Sunday in decent numbers, and the pre-race ceremony honored not only America, but those who protected her. And so, all the pomp and circumstance has been achieved among the clouds, and the cars lined up to do business. Let's go racin'!
The Paramount Auto Group Limited Late Models started the show. On point for the start was Mason Maggio. Maggio got a great start on Zack Wells, with the #22 of Max Price moving through the field early. The first caution flew for the #94 of Jeffery Wood, who after a great start, started to fade and went around coming off of turn 1. And he again brings out the second caution on lap 20 coming off of 4, as they obviously have the car setup for qualifying and short runs. On the restart, Maggio again looks good, but the #14 of Akinori Ogata makes a run to the front, and takes the point as Maggio is stuck on the outside, and the group of leaders gets by with Maggio having to get in line mid field. But on lap 22, Zack Wells tries to get too much and goes around off of turn 4 and into the infield wall. Everyone has to scramble to miss him but the #13 of Chase Murphy gets a piece of Well's rear going past, and he'll have to pit to check for damage. On the restart, #24 Bryson Ruff takes advantage of Ogata's late start and rolls past him for the lead, and leaves him to #71 Katie Hettinger who's moved up to challenge from starting mid pack, and like Ruff, she's saved her stuff for the run at the end, as her and Ruff look like the fastest cars on track at this point. But Ogata is fighting hard for second, doing all he can to keep Hettinger behind him. Ogata gets loose off of 4 and comes down trying to correct it into the front fender of Hettinger who's seen an opportunity, and going into 1, Ogata blows a left rear and Hettinger has nowhere to go and goes for a scary ride up to the wall in 2. On the last restart, Ruff gets a great start, and leaves Maggio and the #88 of Jeff Caldwell to battle for second. Caldwell puts up a spirited battle, but goes around and collects Max Price who was there looking for an opening. Ruff again gets a good start, but he'll have to do it one more time, as Wood is stalled on the backstretch. On the final restart, Maggio has nothing for Ruff, but manages to hold off Max Price as Ruff goes on to a great win to start the day.
Next up is the Heritage Finance Street Stocks with #12 Cody DeMarmels on point, followed by #5 Jesse Clark, #2 Ethan Johnson, #64 Marshall Sutton, and the #31 of Derek Fowler starting as your top 5. DeMarmels gets a good start, but in only 2 laps, Jesse Clark moves his way past for the lead. The field runs tight throughout the race with no issues except for the #56 machine of John Guker having to pit for mechanical problems, and Clark wins in a caution free event in the second race of the day.
Next up is the Heritage Finance Hickory Motor Speedway Late Model Stocks in the Speedway division's 75 lap feature. The #15 of Ryan Millington sits on the pole, with #95 Jacob Heafner, #47 Chase Janes, #44 Josh Kossek, and #54 Paul Owens III rounding out your top 5. The green is out, and Millington can't shake Heafner as they battle side by side for several laps, but Millington finally gets free as Kossek then starts to work on Heafner for second. Heafner holds him off as the field settles in single file, saving their cars for when it's time to go. #07 Chase Dixon moves into the top 5, but he's fighting a very loose race car as he comes under fire from Owens III, who is putting the bumper on an already loose Dixon, and gets the spot back after several laps of intense pressure. Millington has pulled away by 4 car lengths as the #81 of Zack Clifton loses a spot to #25 Kevin Leicht who's moved to 6th. Owens III gets another spot from Chase Janes, moving into 4th. And as an observer, I have to mention that even though cars are trying to save their stuff, the sun has made a glaring appearance, and several cars, having practiced in overcast conditions early Saturday morning, are having to deal with an ever loosening track. Dixon has had all he can stand and come into the pits to tighten up his machine, but he gets a break as the #7 of Holden German is around in turn 1. #22 Whitney Meggs takes this opportunity to try to correct her machine as well. On the start, as it has been for most of the year so far, nobody has an answer for Millington as he dominates this one and pulls away for the win.
The Carolina Crate Modified Series Home Essentials 62
The Carolina Crate Modified Series is in their first year of action. So far, Junior Snow has dominated the series. The only driver to win other than Snow this year is Kevin Orlando. But as a series begins it's first year, competitors come to feel out the tour to see what it's about. Growing pains are a reality when you put together a series, so I wanted to take this time, as we'll be seeing these guys a lot this year, to inform everyone that behind the scenes, there are teams preparing to get their teams ready to run the series. It's not for me to announce their plans as of yet, but just to note that this series will grow teams and competitors as the year unfolds and into it's second year. Knowing this, as some of you already know, I have issued a challenge of sorts to Crate Modified drivers throughout the country to come try their luck against Snow. One of the drivers that come to get his feet wet in the series this week is SMART Modified driver and Bowman Gray Stadium competitor ,"The Flying Floridian", Jeremy Gerstner. He's come to shake down a new car, and to take a look at the tour. Joining him is local racing competitor Amber Lynn, and decorated Canadian Motorsport Hall Of Famer Cayden Lapcevich. These are not the first, nor will they be the last. It's always interesting to watch a new division or series take shape, and it's going to be exciting watching the Carolina Crate Modifieds grow their ranks and, as racing is a sport of strategy, watching the drivers early in the tour play their game.
#51 Junior Snow qualifies P1, but draws the number 8, denoting an 8 car invert, leaving Snow to start in the 8th position. Starting on point today is 2016 Pinty's Series champion #99 Cayden Lapcevich, with #27 Amber Lynn, #00 Kevin Orlando, #163 Jeremy Gerstner, and #12 Cody Norman rounding out the top 5 starters. The green is out, and Lapcevich gets a great start, but Amber Lynn doesn't fare as well, and is overtaken by Orlando who then puts a bumper on teammate Lapcevich. But immediately #51 Junior Snow is around, collecting the #6X of Aaron Brown, but they both pull away. Snow in qualifying and in late practice has obviously found some mechanical issues on his machine, and he's out of this one, as he pulls his car to the trailer, and will not be a factor in this race. Jeremy Gerstner is also in as Gerstner also seems to be experiencing some mechanical issues of his own, and will also have to restart in the rear after attempting some repairs on that machine. On the restart, Lapcevich again gets a good start, but Orlando is pushing him, putting a bumper to his rear time and time again. It's looks as though Orlando wants to break away with Lapcevich from the rest of the field so they can settle this one among themselves. Meanwhile, Gerstner is working on #10 Rob Schultz, already looking for 5th. He puts a bumper to him, but after a few laps, again his issues show, and he comes to the pits done for the day. #63 Dean Lowder starts to make his move, and now he's on Schultz's rear battling for 4th. He finally works his way past and sets his sights on 3rd place runner Amber Lynn, and he's working her hard. He gets into her hard going into turn 1 and she goes around, unable to save it after the hard contact from Lowder. And Lynn goes to the pits and doesn't return, done for the day. Schultz is also in to take advantage of the caution to make adjustments. As they go back green, Lapcevich again holds off Orlando who now looks a little bit loose, and Lowder gets by for second, and sets his sights on the leader. Lowder puts a bumper to him but Lapcevich holds on as Orlando is now under fire from Schultz who has again caught the leaders and is running the fastest laps of the race. Orlando holds on though, as Lowder and Lapcevich continue to battle, and Lowder makes his way past, but Lapcevich turns him. I can't candy coat it, he just flat out turned him, and the officials agree, and send Lapcevich to the rear. It's Orlando now on the point for the restart, with Cody Norman starting second. Orlando gets a great start on Norman, as Schultz gets overtaken by Lapcevich, who now is working on Norman, as Lowder charges back looking to make a move on Schultz. They make contact and Schultz is around, and now it's Lowder who is being sent to the back by the officials. On the final restart, Orlando gets the jump on Norman, as he comes under fire from Lapcevich for second. Lapcevich gets by as Norman is now under fire from Schultz who also gets past followed by Lowder, as Orlando pulls away to win, with Lapcevich second, Schultz 3rd, Lowder 4th, and Norman coming home where he started the race in 5th. After the race we caught up with Lapcevich and Lowder on what transpired between the 2, and you can see the interviews on our Short Track Report Facebook page.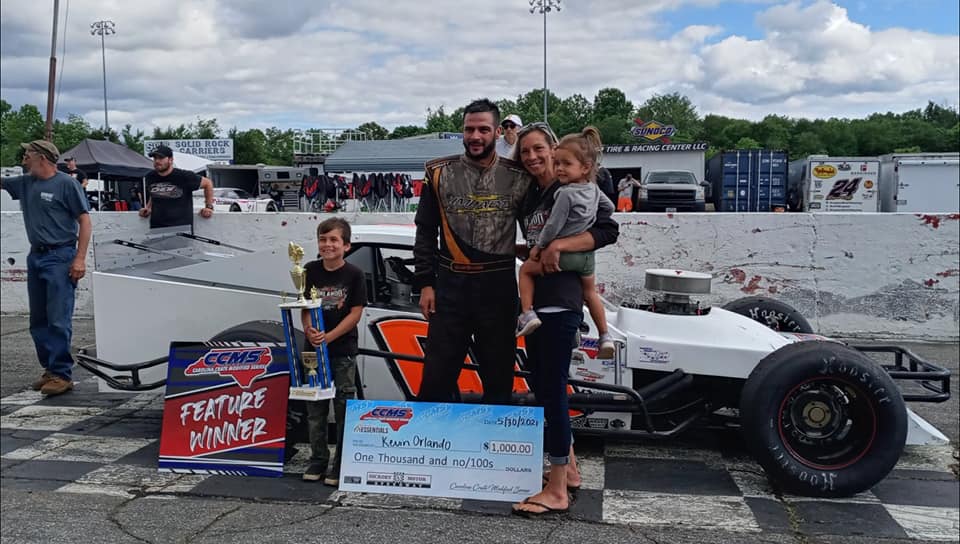 The CAROLINA PRO LATE MODEL SERIES HOME ESSENTIALS 75
#12 Jake Crum proves he's still got it, as he is your fastest qualifier for the Home Essentials 75. He pulls the number 8 chip however, denoting an 8 car invert. That puts #81 of Kris Wright starting P1, with #25 Sarah Cornett-Ching, #43 William Sawalich, #63 Josh Lowder, and #4 Leland Honeyman rounding out your top 5 starters. The beautiful guest feature event Camaro of New York's Birch Run Speedway has paced the field during parade laps here at Hickory Motor Speedway, but it pulls away, the green is out, and we are underway in the Home Essentials 75.
Kris Wright gets a good start, but immediately Sarah Cornett-Ching makes her way past and into the lead. Sawalich and Lowder battle for 3rd with Sawalich getting the advantage after a bit of door to door contact, and leaves Lowder battling with Honeyman, as he also gets by Lowder for 4th. Honeyman then sets his sights on Sawalich and he moves past, dropping Sawalich to 4th, and then Honeyman dives in on Wright, but Sawalich takes them three wide, and he's back to 3rd, with Honeyman 4th, and Wright will have to settle for 5th. But then the caution is out for the #48 of Toby Grynewicz who went around coming off of turn number 4. And we will resort back to the previous lap for scoring. So on the restart, it will be Cornett-Ching on point, with Wright 2nd, Sawalich 3rd, Honeyman 4th, and Lowder 5th. Cornett-Ching gets a good start as the green waves again, but she's under fire from Sawalich who powers by on the outside bringing Honeyman with him to 2nd, and Cornett-Ching is under fire from seemingly the whole field as she's dropping back. You can throw a blanket over the field now except for Sawalich, who takes advantage of all the hard racing early to pull out to a good 4 to 5 car length lead. #71 Katie Hettinger is making some ground as she moves to 5th under Cornett-Ching. Meanwhile, also making up some ground is #35 Caden Kvapil as he moves past the #12 of Jake Crum who had made his way up to the 3rd spot after the 8 car invert. This field is not worried about saving tires today, as they are racing side by side battling to get every inch. Honestly it's hard to keep up with it all, but Sawalich looks good up front, Kvapil has methodically and steadily moved his way up, dancing cleanly through the chaos, and Katie Hettinger also has been fast making her way up through the field. Caution waves again, this time believe it or not, for a funeral nearby. The race was slated for Saturday, but was rained out, and Hickory Motor Speedway, to their credit, pauses the field for a nearby funeral home for any procession, and so here today, they pull the cars down pit road and silence the field.
The tour bunches up the field at the end of pit road in order to keep an eye on the field, but allows them to make minor changes and adjustments during this break. I gotta say, this is a tough break for Sawalich, as he had built a sizable lead. But now as the cars sit silent, everyone's tires are cooling down, and so are the drivers, so it's going to be interesting to see if it's a disadvantage for the #43 team when we go back green. All the fans get a concession break, and talk over the amazing racing in this one so far. But then the field fires back up, and pulls back out onto the speedway, ready to get back to business. Sawalich leads them, with Honeyman 2nd, Jake Crum 3rd, Kvapil 4th, and Hettinger 5th. They take a few extra pace laps to be sure the cars are warmed back up and to insure everything is back in order, and the honorary Birch Run Speedway Camaro is off and we go back racing.
Sawalich gets a good start again, but he's under fire from Honeyman as they are side by side for the lead. Honeyman works his way past, and Crum takes advantage moving to 2nd and dropping Sawalich to 3rd. Cornett-Ching, after a great start in the race, has pulled into the pits, and looks to be done for the day. Meanwhile, points leader Loden has been following Hettinger in 5th, as both of these cars have seemed to have leveled out, burning their stuff up a bit getting to the front of the field as they've settled in nose to tail, but are no longer making ground on the 4 cars in front of them. But up front, the battle has intensified, as we are nearing the end of this one, and the front 4 are in a literal dogfight for the front. Kvapil after working on him for several laps gets by Sawalich for 3rd, and he then methodically works on Crum for second. He gets by clean and sets his sights on Honeyman, and he reels him in lap by lap. He gets into him a bit to move him up the track and gets under him, but Honeyman tries the cross over move and gets back under Kvapil, but Kvapil holds on. What a battle between these two. Honeyman does everything he can to get back by, but Kvapil will not be denied and powers down the front stretch to take an impressive win here today.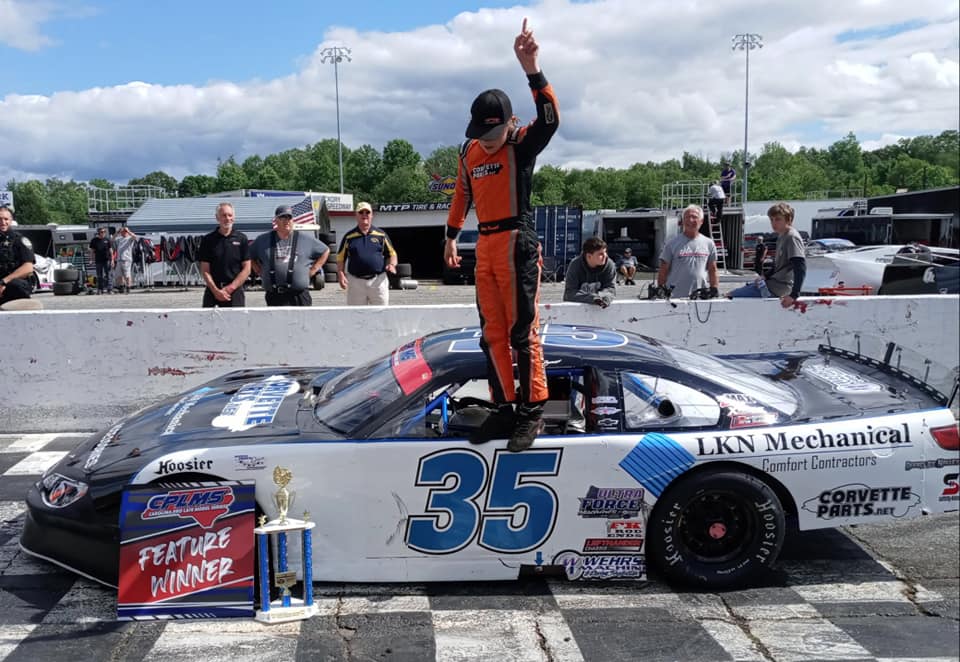 MY TAKE-
First off, this was our first race of the year being able to focus solely on the Carolina Pro Late Model and the Carolina Crate Modified Series. Again, we knew we had to add them to our focused coverage as we were genuinely impressed with the series when we were introduced to them at the CARS Tour race at Orange County Speedway. They were set to be the headliner that Saturday, but like this week, they were rained out to Sunday. So I got to watch the Carolina Pro Late Model Series and the CARS Tour on the same day, and I could see the series in that light. Me and my son Josh both looked at each other, knowing we needed to find out more on this amazing series. Now, we know our impressions were right. The Grahams are running a very tight show. From the moment these cars unloaded to the tech shed after the race, their professionalism shined through. With weather playing a factor, and the competition being what it was, the tour kept order through all the chaos. From the pits to the track. In the Carolina Crate Modified Series, the race was such that the officials had to make several judgement calls. And they stepped up every time. But what we found most impressive was the tight ship ran to make sure these cars in both series were evenly matched as a tour management group can muster. This is a top notch tour, with amazing talent in both series. Such that a Canadian Hall Of Famer and Pinty's Series champion would want to come race a Crate Mod in a brand new series. And such that even Jake Crum had to come be a part of the action in the Carolina Pro Late Models. I do not exaggerate when I say that the future of NASCAR runs in this Series, as was shown by Caden Kvapil, who ran an amazingly disciplined race. The best way I can describe it is dancing through the chaos, to come away in perfect order. Both races were intense, and had the crowd on their feet. And as usual, it was a hard choice for us for Blue Collar Racer of the race. A nod given by us to the driver who worked the hardest for the best outcome. Katie Hettinger worked hard all day. She did double duty on the weekend, and shook off a scary looking wreck in the Hickory Motor Speedway Paramount Auto Group Limited Late Model race after a heated battle with Akinori Ogata, but she shook it off and went to work in the Carolina Pro Late Model race, coming home 5th. But we couldn't deny the clinic put on by Caden Kvapil, who started 6th and let the leaders battle it out until it was time for him to go. And when he got to the leader, he raced him. He didn't dump him, he didn't run over him, he moved him up just enough to get under him. To Honeyman's credit, he also ran Kvapil clean, doing all he could to win the race without sending them both out in a fiery crash. They raced hard. But they raced with respect, and put on a great battle for the lead. But in the end, it was Kvapil who worked over the field, and takes the win, and our Blue Collar Racer nod today.