TRI-COUNTY SPEEDWAY CALDWELL COUNTY EMPLOYEES NIGHT AUG. 21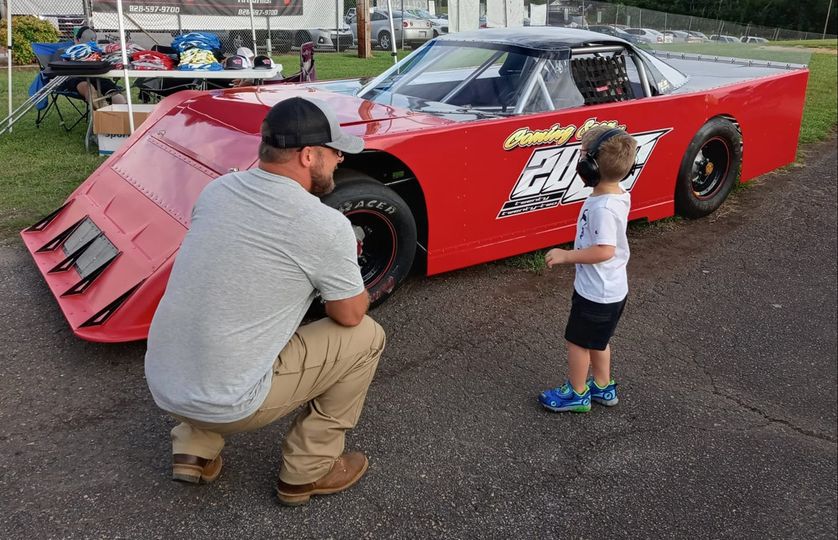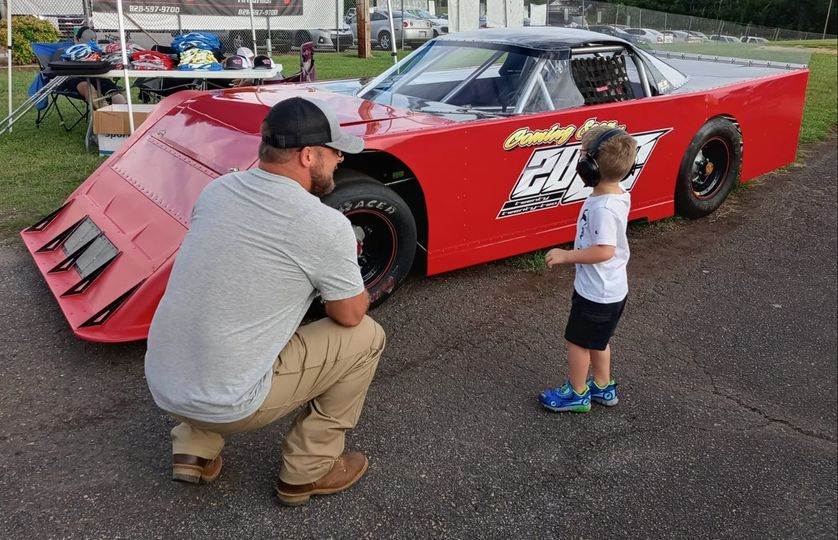 THE LOCATION-
As the event this week got closer, I had a bit of a hard time containing my excitement. I have been really looking forward to returning to our home track. So, let's address that first. It seems some are surprised that as a racing coverage entity, we would name any track our home track. I get it. Especially here in the central east coast region, as we have stated numerous times, we feel is the best racing region in the country. So, several of our area tracks are, for a better word, amazing. Let's not let that get lost. We could have named several tracks as our home with that being a consideration. And we have stated, to anyone that has paid attention to us, that one of the reasons we can say this is the greatest short track racing region in the country is because of the wealth of amazing tracks here. They are all different and unique. And the ones we have chosen to focus on, as there literally are so many you can't even reach them all. It's a conundrum that we don't mind having for sure. And, the fans at the great tracks we are fortunate enough to cover, know how we feel about them. They truly are all amazing. Tracks like Orange County Speedway, South Boston Speedway, Florence Motor Speedway, Franklin County Speedway…I mean the list is as stellar as you can get. The best statement I can give you is that we, Short Track Report love every track we have chosen to cover. We don't give that as just lip service, we mean that as a truthful a statement that we stand behind 100%. We would not spend our time and effort there if it were not the case. So know, our choice for Tri-County as our home track, is a multi faceted one. So deep that it's personal. So now, at this event, I have chosen to explain it further so everyone understands our choice. First of all, to even make that choice- We don't do what we do following some code about racing coverage. We do what we do because of our love for short track racing. And we use that love and our experience in the entertainment industry to achieve our goal of highlighting the greatest racing region in the country. We won't, nor do we intend to be like anyone else. We made that decision early, and we made that decision here at Tri-County, where we decided during one night of amazing racing, that we would form Short Track Report. And at that moment, because of everything that led us to that point, that Tri-County would be our home track. It was the very definition of why we chose to start Short Track Report to begin with.
I was writing and reporting for someone else. A "national" oval track news racing coverage organization. Long story short, we didn't agree with the rules and limitations we had covering races in our area for them. We wanted to do more. Not to disparage them in any way, but just to say, we wanted more flexibility. We also wanted, for better or worse, to answer to no one but the love we had for short track racing. The year had already started, and we would be, on purpose, starting from scratch. So, we knew the challenge of building what we knew we needed to, in the middle of the racing season. But, we weren't really worried about it, because first, we believe in our vision, but also because, writing here about short track racing in the heart of NASCAR country, in our region, is probably less daunting than most. We just had to report what we see here. And what we see is greatness. We don't have to make up great racing stories, we just watch them unfold and tell you about it. Now of course, there's more to it than that. More than you would imagine, but, the task is a lot easier when you are surrounded by greatness already, and your job is to just present it. So for us, because of how our beginnings played out, Tri-County has a personal connection with us. And just to help you understand, we may not be doing what we do, and going to as many tracks as we've chosen, if it weren't for one amazing night at Tri-County Speedway. Now also, one of the reasons we do what we do, is because we want to help our family. Let me explain that as well. The racing community, as a whole, is family. Period. And that family includes everything you would expect from a family. And so despite the disagreements on this and that, in the end, the love a family shares is the tool that binds it. When we saw Concord Speedway go down, that was a red flag for us. Concord was a great Speedway. It had everything a fan could want, and it was located a hop, skip, and a jump to where NASCAR celebrities live in Mooresville, NC, as it was located in Midland down the road from Concord, where Charlotte Motor Speedway was located. So, it was at first a shock that the track, located where it was, would ever be in jeopardy of closing down. Yet it did. And so when others were shocked and dismayed about Myrtle Beach being torn down, I wondered where all of these people were when Concord was lost. And so yeah, we didn't want to see this to happen again, because to us, we feel that if Concord could be lost, any short track can be lost. So, it was then I knew that I had to do what I could to prevent that from happening again. So, I committed myself to reaching out to the sport I loved. And reaching out, I come to know the struggle promoters have reaching fans and bringing them to the track in the modern day. Tri-County itself had been hampered for over 10 years developing it's fan base due to a noise ordinance. It spent 10 years in court over it, to the point that the owner sold it off. But Tri-County got lucky and received a buyer that cares. And they are doing what is needed to finally see the track reach it's full potential. What many don't understand, is how close this track came to being another Concord. And it would've been a shame. Nestled in the foothills, just at the base of the North Carolina mountains, this track produces amazing short track racing. While some tracks are glad to have two grooves to race on, Tri-County has three. We've seen it every time out. It's also a high speed 4/10ths short track that also produces great speed. It's family oriented and patriotic. But most of all, for the fans delight, one of the raciest tracks in the entire country. A track like this is what a fan like me lives for. A track so good, that we knew we had to follow our heart, and strike out on our own. Many things led us to the point, and a couple tours led us to consider it fully, but Tri-County sealed the deal for me to change my life and follow through on what we knew we needed to do. That tie to this track, and the many other reasons I just explained, led us to call Tri-County home. And so as we venture out, and cover what we believe in to be the best, we will always, as long as we are able, come home to Tri-County. And as I expected, this show alone is a great example of what this track is all about. We knew it would be, even before we were notified by the track just two days before this event about some exciting breaking news they were to announce. (More on that at the end of this article, as it is indeed some huge news that needs it's own focus)
As we arrived at the track, there was already a buzz in the air surrounding the announcement of the breaking news. And in the infield next to the concession stand, a car lay under a covering, waiting to be revealed. Sitting there ominously, but under cover, it still loomed large in the infield, drawing quite the bit of interest. And as the pre race festivities begin, they rolled it to the front stretch, still managing to keep it covered from peering eyes. And after they brought the proper people to reveal the news, they unveiled what was hidden. And…OH MY. That's a first here. That's awesome! Now we were given a little information, but we chose to see the unveiling as the fans would, at that moment. We were given the option of seeing a photo, but we chose to see it like you would, on the spot. We wanted to experience the excitement like everyone else. We were given a class name of the car only, but the news was so new, that it really was more of a name to help us identify with the car. So, that said, again, we'll focus on all that at the end of this article, as this unveiling warrants this type of attention. What I can say here though, and many of you know already, but for those that don't, what I can say here is beyond exciting. It is the kind of thing we knew Tri-County was capable of. We've said that in this time of regrowth for short track racing, those in our area that managed that growth and change, would emerge stronger, while everyone else scrambled to understand the times we live in. And to everyone that is looking, Tri-County did something instead of join everyone else on the conversation of what to do. After the reveal, Tri-County started it's pre race ceremonies in earnest. The invocation was given, the national anthem played, and so for the crowd that rolled in for the nights events on Caldwell County Employees Night, the cars for the first race are all lined up, and we are ready to begin, so, let's go racin'!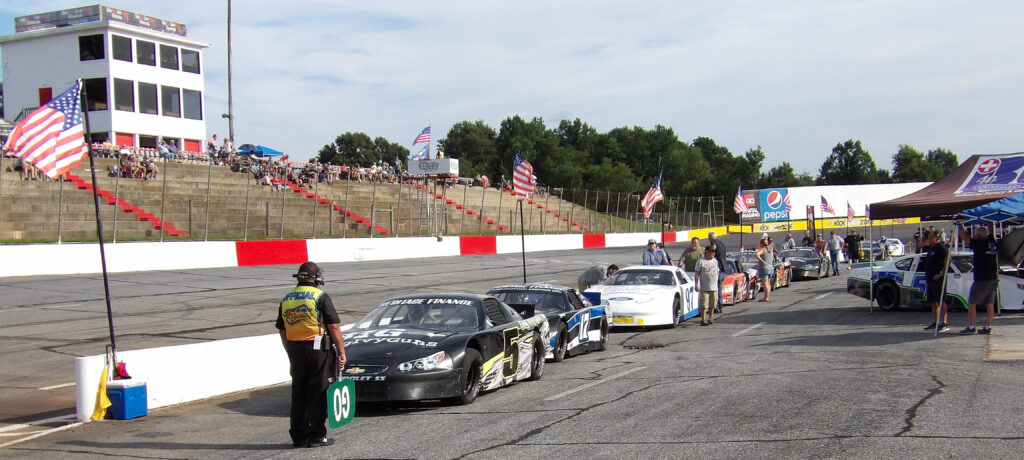 THE SHOWDOWN-
MESSER HEATING AND COOLING LEGENDS DIVISION:
Qualifying for the Legends division here at Tri-County, is set by a hot lap qualifying and practice session. And the field starting order is then determined by an invert draw. Fastest lap time in trials is # 90 Daniel Wilk with a lap of 17.971, but after the draw Wilk will start third. On point for the start will be # 49 Luke Morey, with # 45 Bryce Applegate, # 90 Daniel Wilk,# 19 Alex Urbina Jr., and # 07 Jesse Hilger rounding out the first starters. The parade laps have been run, and Tri-County flagman Timmy Hutson gives the double up signal and the lights go out on the pace car. Morey brings them around, and he gets a great start, but it's too good, and Hutson waves them off. The flagman is the starter here, and so race control reminds the drivers, and again Morey brings them down. Flagman Hutson surveys the field, he likes it this time, and the green is out and we are underway. Morey gets a good start, but fastest qualifier Daniel Wilk moves past Applegate, and puts Morey in his sights. When he gets to him, Wilk moves past Morey and sits P1 in just a couple laps, as Morey then loses the second spot to Applegate who's trying to keep his machine in Wilk's tracks. But on lap 4, Alex Urbina Jr. is around in turn 1, as he tried to get a little too much early here in the event. Urbina gets the car righted and pulls away, but not before some unexpected rain comes in, and we are under a rain delay. (I should mention here for our new readers, that we write the racing rundown in an order of horsepower, and so our articles do not reflect the tracks event running order. The Legend race here was actually run as the fifth race, and not the first.)
So, the track crew gets on it, with no real prior warning as the weather forecast was excellent here for tonight, but the rain is winning the race, and the track crew has no choice but to wait for the rain to end before it continues. Announcer Phil Combs assures the crowd that the Speedway will do all it can to get in the full nights events, so we all just take a break and wait it out. ( As a point of humor though, the track should dry quickly, as in the race prior, Limited Late Model drivers # 1 Zack Franks and # 17 Skyler Chaney heated the track up pretty good as they raced side by side for what seemed like a third of their race. Me and Josh are still jesting each other in a running joke about- they are probably still side by side down there right now.) The track has a curfew here in Caldwell County, and it's stated before that they will not, out of respect for the community, break that curfew. And with that in mind, the track crew, as soon as the rains stop, work extra hard to get the track dry with a goal of getting in all the races for the fans. And just when you wonder if they'll get done in time to achieve it, they call the drivers back to the cars, and we are ready to get back underway. After the break, Wilk will bring them down, followed by Applegate, Morey, Hilger, and # 84 Dustin McNeill who'd moved to fifth. Wilk brings them down, flagman Hutson likes the view, and the green is back out. Wilk gets a great start, as McNeill and Hilger battle for fourth, with McNeill taking the position. # 7 Brandon Johnson moves into the fight, and he moves in on Hilger and wrestles away the fifth position. He's not done there however as he eyes McNeill for fourth, and passes him on the outside. McNeill tries to get the spot back, but Johnson holds on. Up front however, Wilk, who'd built a multi car length lead at the end, cruises away to victory without much of a challenge today.
FWD DIVISION:
Blake Walker in the # 9 machine is the fastest in qualifying with a lap of 19.009. But due to the invert, Blake will start fifth with the # 4 of Brian Dodd starting on the pole. The green flies and, like every FWD race at Tri-County, they're already fanned out 3 wide, this time for third. Through all of the chaos, # 27 James Powell is up to the bumper of Dodd, and he clears him with ease. Dodd is then taken over by a fast and determined Walker, already taking second. Walker is walking Powell down every single second, but the experienced Powell is surely going to give Walker a challenge. But Powell slows! Powell is off the pace and that brings out the caution on lap 5. The fast Walker gets an early Christmas present and will lead the field back to green with Dodd behind. Timmy Hutson likes what he sees and throws the green. Walker is able to clear himself right away, but the caution is back out as the # 53 of Ben Burch has stalled on the backstretch. The field narrowly avoids the stopped car, but everyone gets away with no damage. Walker will again have to hold off the hungry pack as the green flies yet again. Hutson is displeased with the start and immediately waves it off. Second time's the charm as the green flies successfully this time, but Dodd is into Walker, and Walker nearly spins! Dodd gets the lead, but Walker is very unhappy and catches right back up and nails the back end of Dodd to take the lead back. Walker starts to pull away, but here comes Powell! Powell has come out of nowhere! Dodd is left to battle the # 81 of Dewayne Smith for second, but Powell is underneath them and makes it three wide for second! It doesn't work however, as they all make contact and the 4 and 81 go straight into the wall out of 2. The caution waves yet again. Dodd and Smith get out of their cars and have a discussion about what happened. Push comes to shove however, and security quickly breaks them up before any chaos ensues. Hutson throws the checkered as Walker crosses the line as the field has reached it's time limit. Walker is found too light in post-race inspection however, and this gives the # 27 machine of James Powell the trophy. A roller coaster race for sure for Powell.
FOX PROPERTY MAINTENANCE STREET STOCK DIVISION:
The white knuckled Street Stocks are out on the track for their feature with the # 55 of Johnny Reynolds starting on point after fastest qualifier # 08 Marlin Yoder is inverted to fifth. Fourth place starter # 14 Davey Smart is already having problems before the green as he brings his machine down pit road. He comes back out, but will start in the back. The green flies and Reynolds is already dropping like a rock. This enables fan favorite # 00 Boo Carlisle to swiftly take the lead. Boo tries to settle into a rhythm, but is soon taken over by multi-time winner # 21 Drew Cox. The Marlin Yoder machine is able to follow Cox through, dropping Carlisle to 3rd. Behind them, Smart is already taking spots left and right. Yet up front, Yoder's power plant expires! The caution quickly flies, erasing Cox's lead. This will allow # 03 Kevin Eby to make use of the choose cone and move up to second. The green is out and Cox is just too strong. But here comes Smart. He gets by the Carlisle and Eby machine, and sets his sights on the leader. # 7 Dustin Atkins also looks strong, as gets by the # 56 of John Guker and then Carlisle. But Carlisle has none of it and passes Atkins back on the outside. Up front, Smart is slowly but surely catching Cox. But just when it looks like Cox's lead is shrinking, Drew turns up the wick and puts more car lengths between him and Smart. Carlisle's car is now coming to life as he passes Eby for third. But it's too late as Drew Cox crosses the line first with a big gap over Smart. Carlisle comes home third, Eby fourth, and Atkins fifth.
PATRIOT JERKY RENEGADE DIVISION:
The Renegades also qualify by hot lap qualifying, and after the session and the invert, when all was said and done, # 1 Justin Austin will start on the pole, followed by # 65 William Aldred, # 4 Joseph Hodges, # 9 Kenneth Townsend, and # 28 Stephen Shore rounding out your top 5 starters. Austin brings them down, flagman Hutson looks over the field, and Austin takes the jump, but Hutson waves them off, not liking the start, and they'll have to double up and try it again. Austin again brings them down, the field looks much better this time, Hutson likes it, and the green is out, and we are underway in the Renegade feature. Austin gets away clean, as Hodges gets under Aldred for second, as Townsend follows him through to third. Hodges looks on leader Austin, and he sends it, all over the leader, but he's dirt tracking it and can't get by. But, he dives it in going into the corners, working the leader for all he's worth. Meanwhile, Aldred gets back by Townsend for third. Hodges again sends it up front, sideways inside leader Austin, almost losing it, but he moves past, coming out in the lead down the front stretch. Townsend, not at all content on letting Aldred get back past for third, dives back in on Aldred, and the two get together and go around in turn 3. So on lap 17, the caution waves, and the crowd is getting vocal out here in Caldwell County. For the restart, it's Hodges up front, followed by Austin, Shore, # 73 Kyle Boice, who's crept into the mix as the leaders battled, and # 69 Jeff Campbell as your top 5. Hodges brings them down, Hutson takes a good look, and we are back to green. Hodges gets a great restart, as Aldred and Townsend get back by Campbell and Boice, and Hodges then moves past Shore, as Townsend gets into Shore, and spins him around in the middle of turns 3 and 4, getting checked up himself in the fray and losing all he gained on the restart. And now the crowd is more vocal than before, as these gladiators are going at it here tonight. So, after a quick cleanup, the field is again lined up, and Hodges brings them down once again, with Austin, Aldred, Boice, and Campbell your top 5 on the restart. Again Hodges brings them down, Hutson throws the green, and Hodges again gets yet another great start. Aldred dives under Austin for second, barely getting clear, but then sets his sights for leader Hodges. He gets to him coming into 3 on the last lap, and he dives under in the middle of 3 and 4, and slips up into Hodges' door and Hodges goes around! Austin takes full advantage and powers by the spinning leader and Aldred to win in a wild, heavily contested Renegade feature. And the crowd is on their feet, vocal about the last lap battle, as Austin celebrates the win here tonight.
HERITAGE FINANCE LIMITED LATE MODEL DIVISION:
The Limited Late Models also do single car qualifying for this event, and # 65 Josh Goble is your fastest qualifier with a lap of 16.748. He will be followed by # 21 Monty Cox, # 17 Skyler Chaney, # 1 Zack Franks, and # 5 Toby Hollifield as your top 5 starters. They are given the double up signal, and the field lines up, Goble brings them down, flagman Hutson surveys the field, he likes the view and puts out the green, and the field gets a good start, as Cox powers into the lead in front of Goble. Franks pushes past Chaney, and # 97 Jacob York gets past Hollifield and Chaney, and moves in on Franks. He gets underneath, running Franks wide, and takes the position. This makes room for Chaney, and he's under Franks as well after a little bump from behind that keeps Franks from being able to move back down, but the caution comes out for # 27 Eugene Norton, who's around in turn 4. He pulls away, and the field lines back up for the restart, with Cox, Goble, York, Franks, and Chaney your top 5 at the restart. Cox brings them back down, Hutson gives the nod, and we are back under green. Cox gets another great start, but Goble's right there in his tracks. Franks gets past York, as Hollifield gets past Chaney for fifth and moves in on York as well for fourth. They're battling it out as York holds him off, but the caution flies again for # 84 Don Carlton who's got a rear tire going down and almost loses it, but saves his machine and heads down pit road. Monty Cox also heads down pit road, as it seems he's having some issues as well. Tough luck for Cox as he was looking good up front, but he has to bring it to the team to see if they can work out their issues that has them pitting from the P1 position. So, that leaves Goble back up front on the restart, with Franks, York, Hollifield, and Chaney your top 5 at the restart. Goble brings them down, Hutson likes the view, and we are again back under green. Goble gets a good start and gets clear, as York and Hollifield battle hard for third. York holds on to the spot, as Chaney moves in on Hollifield, and takes the fourth position. York looks under Franks after getting clear of Hollifield, but Chaney moves in after also clearing Hollifield, and takes York on the outside in a power move, and now he's all over the rear of Franks, and he moves to his inside. What ensues is a classic battle of side by side action that this track is known for. Lap after lap they battle. It's hard to watch anything else as these two aren't giving an inch. Up front, Goble has to like what he sees in the rear view mirror, as Chaney has charged up to the leaders, but he can't get clear of Franks, who is doing all he can to hold on the second spot. Goble can't pull away however, so he has a good view of the battle behind him, still, side by side. It's enough for Goble to keep clear, and he goes on to the exciting win, as Chaney and Franks are door to door. They're bouncing off of each other coming to the line with smoke coming off the machines from the contact, as Franks holds on to second, with Chaney, by mere inches, settling for third.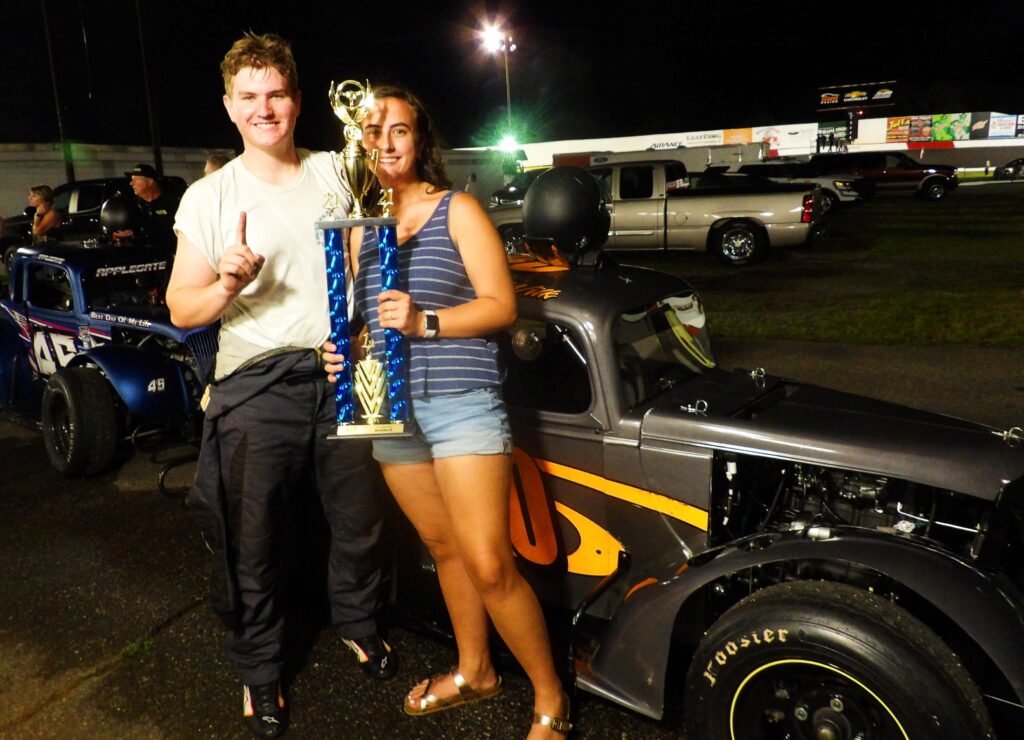 LATE MODEL STOCK DIVISION RACE #1:
Braden Rogers in the # 2 machine is your fastest qualifier with a lap of 16.062 after single car qualifying. So it's Rogers on point, with the # 27 of Isaac Bevin, # 57 Justin Carroll # 1G Andrew Grady, and # 31 Thomas Beane rounding out your first five starters. Rogers brings them down, flagman Hutson likes what he sees, and we're underway here in the first Late Model feature race. Rogers gets a great start, and immediately tries to gap himself from the strong field behind. Blake Lothian in the # 59 finds himself under fire as he gets passed by both Andrew Grady in the # 1G, and Thomas Beane in the # 31. He finally settles in line and tries to find his rhythm. As lap 12 comes around, Rogers is still pacing the field, but the caution flies as the # 5 of Dexter Canipe Jr. has a flat right front, and comes to a stop in turn 4. The track makes quick work of the Canipe machine and we're back underway in no time. Rogers, restarting on the outside, gets another great jump, as behind him, Bevin gets taken over by the Justin Carroll machine, and Thomas Beane is working hard and making his way through the field, passing Grady to take over the 4th spot behind Bevin. He's not satisfied however, and soon he gets beside Bevin looking for more, but Bevin hangs on. Now Bevin has the momentum, and uses it to take back the 2nd spot from Carroll, and leaves him to the hungry Beane who gets underneath, but Carroll hangs on to the spot. They play this game for multiple laps. Beane looks low and Carroll holds his ground. Beane looks high, but again Carroll holds him off. Carroll finally shakes off Beane, as Thomas has worn his tires fighting up to fourth. But up front, Rogers is long gone, and dominates the first Late Model feature, winning the pole and leading every lap to the checkered flag. Bevin comes home second, Carroll third, Beane fourth, and Grady fifth.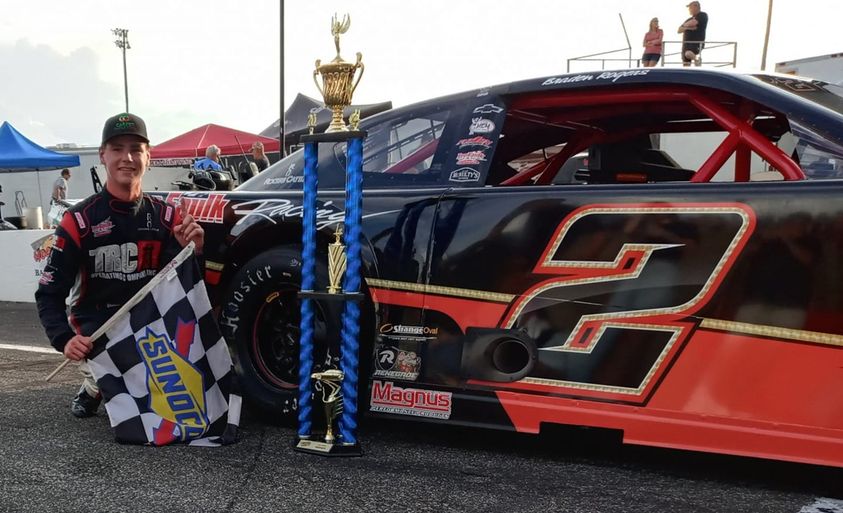 LATE MODEL STOCK DIVISION RACE #2:
After race one, the field is subject to a field invert for race two. The magic number for this event is five, so that puts # 1G Andrew Grady on the pole for the second race, with # 31 Thomas Beane, # 57 Justin Carroll, # 27 Isaac Bevin, and # 2 Braden Rogers starting as your top 5. The parade laps are complete, and the double up sign given, and Grady brings them down as flagman Hutson looks over the field. They're looking good, and Hutson likes it, and puts out the green flag for the last race of the night. Beane gets an amazing start and pulls past Grady, as Bevin overtakes Carroll and then Grady to move to second. He then looks under Beane, but he holds Bevin off as Rogers looks under Carroll for fourth. Carroll isn't giving up this spot easily however, as they run side by side for several laps. Rogers gets an advantage as Carroll slips a bit, as Bevin again looks on Beane for the lead. Beane again holds him off, but Bevin is going nowhere, giving Beane all he can handle up front. Meanwhile, # 1 Kaylee Bryson looks under Carroll for fifth, and moves past as Carroll brings the car out of the groove and onto pit road, as there seems to be an issue with that machine. So Bryson moves to fifth, but she then comes under fire from # 59 Blake Lothian, and he takes the spot away. Up front, Beane finally starts to distance himself a bit from Bevin, as Rogers moves to third past Grady, and looks to move in on the Bevin and Beane show up front. He makes up ground, but he doesn't have the laps to challenge them as Beane powers down the front stretch for the outstanding win.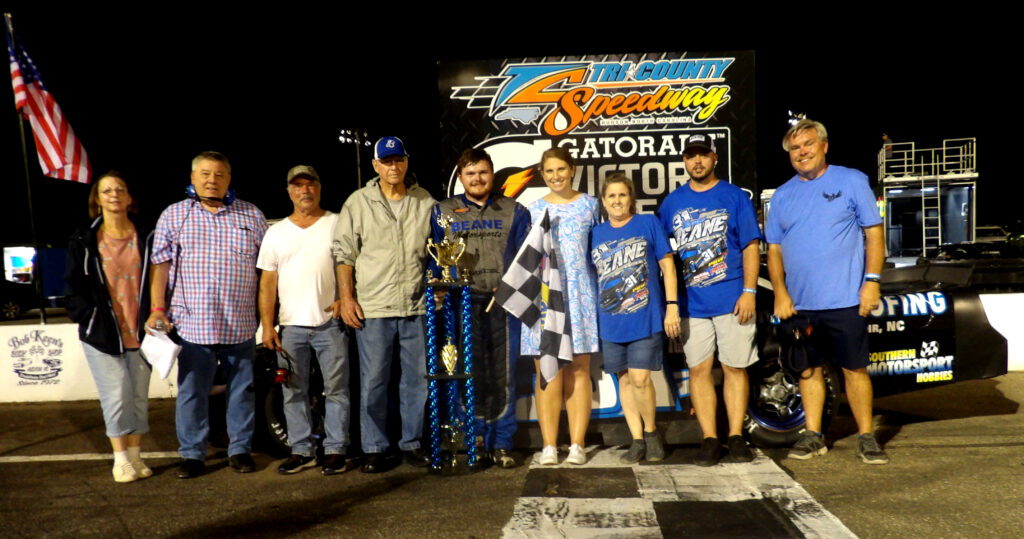 THE WRAP UP (MY TAKE):
What a night at Tri-County Speedway! You gotta love a track where you can go two and three wide and not lose an inch. And time and time again, this track has proven that it provides some truly great and exciting racing action. But, first off, I need to address the huge announcement the track made regarding the new "Outlaw" division for next year. And to start, I need to personally address our breaking news post about that news. It was bound to happen eventually. We from time to time, have made some very slight, and I mean very slight reporting inaccuracies. So minimal, I haven't had to make any actions except a small edit. But, as I'm not perfect, I knew eventually I would have a true error in my reporting. So, I have to make a bit of an apology. In the breaking news on the new "Outlaw" division, the post read that the division was going to be a "Super Outlaw" Late Model division. But that was wrong, and that's all on me. If I would have left the Super out of the title, there wouldn't have been an issue. Now, it wasn't really an issue for most, as when the car was unveiled, most could see it wasn't a Super Late Model. So, what happened. Well, we got the news a couple of days before the reveal. And, in the excitement of it, I wrote down the term Outlaw Super Late Model. The reason was that the car itself, like all asphalt "Outlaw" cars today, were, or are inspired by the popular Outlaw Super Late Models of the Midwest. Those guys did it first. And so it was a misstatement really on my part to add the Super to the title. So to those that chimed in on the post pointing that out, some in stinging fashion, I have to say to you…thank you. For pointing out the mistake, and for instigating an awesome discussion about the "Outlaw" car, and Late Models in general. And, I have to give a bit of serious credit. You Super fans are vocal and passionate about those cars. And I can understand that. As you know, we do what we do for the love of short track racing, and so how can we not admire folks that have that same passion. So, that said, to everyone else I have to point out that they are correct, the car is not a Super Late Model. Supers have, for the most part, an unlimited engine rule. And so the Outlaw Super late Model is kind of a run what you brung class for the Outlaw divisions as far as motors go. And for you Late Model guys, there isn't much difference between an Outlaw Super Late Model, and a template Super Late Model. The major difference of course, is the body. The Outlaw body is a non template, and as some call it, "wedge" shaped body. It has two distinctions. First, the unique look of the Outlaw body. And second, the cost reduction the body provides. I reached out to a few guys to make sure I was on track after the online hammering I received by a few Super fans, and they confirmed what we already knew. First I reached out to Daniel Leeck fresh off of his top 5 finish at Whittemore Speedway competing in a Super Late Model there, and he confirmed the similarities in the cars, citing the difference being the bodies. And after seeing the "Outlaw" at Tri-County, as it was the first I had seen in person, I have to agree with his assessment, that "the cars look fast standing still". And so, that alone is appealing to the majority of short track racing fans. And he also confirmed the cost reduction in the "Outlaw" body style versus the template body. With a template Late Model, if you crunch up a body panel, you're pretty much left with replacing that body panel, as to where on an "Outlaw", depending on what you want in look, you can just pull the panel off and beat it back straight. But also, you're given a lot more freedom in the body in general, as it is a non template body.
So with that confirmation, I also reached out to Tim Curry, owner at FLF Racecars/ Finish Line Fabricating. FLF is a leading manufacturer and fabricator in Late Model bodies, including the "Outlaws". They are in fact who the track turned to for the roof package and front clip of the car revealed at Tri-County Speedway. It was important for us to reach out to them because Daniel Leeck pointed out the huge new innovation in the "Outlaw" body front clips, that he says is an important factor in even further cost reduction on the body, as it revolutionizes the front body clip, cutting cost at a time when it's needed most. And so lastly, we contacted Michael Faulk of Lee Faulk Racing and Development to help us to understand what this car will mostly be like, and to get an insight to what they thought the benefits of starting an "Outlaw" division at Tri-County would be in our region of the country. And they confirmed to us what we knew all along. And it's another indicator of the track itself and it's intentions for the short track scene here. Again, Michael spoke on the cost benefits to the "Outlaw" body. And building on that, the track wants to add other cost efficient features as well. For instance, it's crucial to address the wheel size, and handling package, that will make the cars affordable for racers in our area, and ease the demand on the tires as well in this trying production time. So, after talking with these guys, we can indeed give a little more info on what the car will be like. But, I must state here out of caution, that we will not know fully what the car will be until the track releases the spec and rules for the division expected by the end of this week. But, what we can say now, is that instead of a Super Late Model, you could say it will be more like a Limited or a Sportsman division, with crate motors, smaller wheels, and a cost efficient as possible handling package. What will make them distinct, is the "Outlaw" body, making it different than any other series or division in our region. And I can tell you firsthand, that the cars look will make it a super popular series in our area. People have told us in huge numbers, that they want something different, and they are indeed looking forward to the new division with great excitement. As in anything, you always have a few detractors. Throw in some who are dedicated to their track or division, and of course it will be safe to say that some will of course insert their degree of negativity. But it will be mute here, as we have been overwhelmed with comments of great support and excitement for this car. And so in total transparency, I have to say, that before I saw the car in person, I was a little on the fence. But when they unveiled it, it was just as Daniel Leeck said- It looks fast standing still. And all night I watched as person after person came and got a good look at the car, and I heard them saying the same thing. The lead picture to this article says it all, and we are totally convinced by the reactions we've seen and heard, that this car will indeed be super popular. So much so, it makes one wonder why no one has done it before now. And it's one of the things that prove our points on Tri-County Speedway. While many ask, "What can we do to stem the downturn in fan support short track racing has experienced in recent times? How can we bring the excitement back that brings people out to the tracks? And what can we do to help cost in a time when blue collar racers are being priced out of the sport? And what will make the race car driver that has kept his car up on jack stands during these trying times, come back to the track with the excitement they had in the beginning to go racing?" While these questions have been swirling around those who are ingrained in the sport, Tri-County looks for answers. And while some pondered, Tri-County went to work, and unveiled a new "Outlaw" class to our area. And knowing what we know now, I'd like to chime in on a name I feel will best suit it, the Outlaw Sportsman division. And while there are Limiteds and Sportsman already here, none will be, or look like these, "Fast standing still."
Our Blue Collar Racer this week was hotly contested, as the racing at Tri-County is always intense, but after evaluating everything, one name stood out among many, Thomas Beane. After starting seventh in race one for the Late Models, he worked his way to a fourth place finish, moving up through a very racy field of talent with hardly a scratch. And in race two, he took the lead from his second place starting spot, and worked hard holding off a charging Issac Bevin for the exciting win. Our hats are off to you and your team Thomas Beane, for an excellent performance that earns you our Blue Collar Racer of the Week. So, there you have it. Another week of amazing racing and an exciting new division to look forward to next year. And so again, we are reminded, that while others want to mire in negativity due to the nature of the times, we see these days as an exciting new era for short track racing. Where the fan like myself combines with the new generation of race fan, and joins the new generation of drivers and teams in a love for our great sport. Yes, times are changing. But I've learned in my life, that sometimes change is good. What's important to know, and what some have come to forget, is that the short track racing fan overall doesn't care about car specs, dimensions, weight, or much else, except for one very important thing…seeing great racing. If you provide that, they will come. And we haven't even gotten out of the 2021 season, and this visit to Tri-County has me looking forward to 2022. By the way, I swear those two Limited guys are still side by side. I'll tell you when we come back in a couple weeks. See you at the track!
(Special thanks to Daniel Leeck, Tim Curry of FLF Racecars/Finish Line Fabricating, and Michael Faulk of Lee Faulk Racing And Development)
Tags
Alex Urbina Jr.
,
Andrew Grady
,
Ben Burch
,
Blake Lothian
,
Blake Walker
,
Blue Collar Racer
,
Boo Carlisle
,
Braden Rogers
,
Brandon Johnson
,
Brian Dodd
,
Bryce Applegate
,
Caldwell County Employees Night
,
Daniel Leeck
,
Daniel Wilk
,
Davey Smart
,
Dewayne Smith
,
Dexter Canipe Jr.
,
Don Carlton
,
Drew Cox
,
Dustin Atkins
,
Dustin McNeill
,
Eugene Norton
,
Finish Line Fabricating
,
FLF Racecars
,
FWD
,
Isaac Bevin
,
Jacob York
,
James Powell
,
Jeff Campbell
,
Jesse Hilger
,
John Guker
,
Johnny Reynolds
,
Joseph Hodges
,
Josh Goble
,
Justin Austin
,
Justin Carroll
,
Kayla Powell
,
Kaylee Bryson
,
Kenneth Townsend
,
Kevin Eby
,
Kyle Boice
,
Late Model
,
Late Model Stocks
,
Lee Faulk
,
Lee Faulk Racing And Development
,
Legends
,
Limited Late Models
,
Luke Morey
,
Marlin Yoder
,
Michael Faulk
,
Monty Cox
,
Outlaw Late Model
,
Phil Combs
,
Renegades
,
Skyler Chaney
,
Stephen Shore
,
Street Stocks
,
Thomas Beane
,
Tim Curry
,
Timmy Hutson
,
Toby Hollifield
,
Tri-County
,
Tri-County Speedway
,
William Aldred
,
Zack Franks