CAROLINA PRO LATE MODEL SERIES AT ORANGE COUNTY AUGUST 28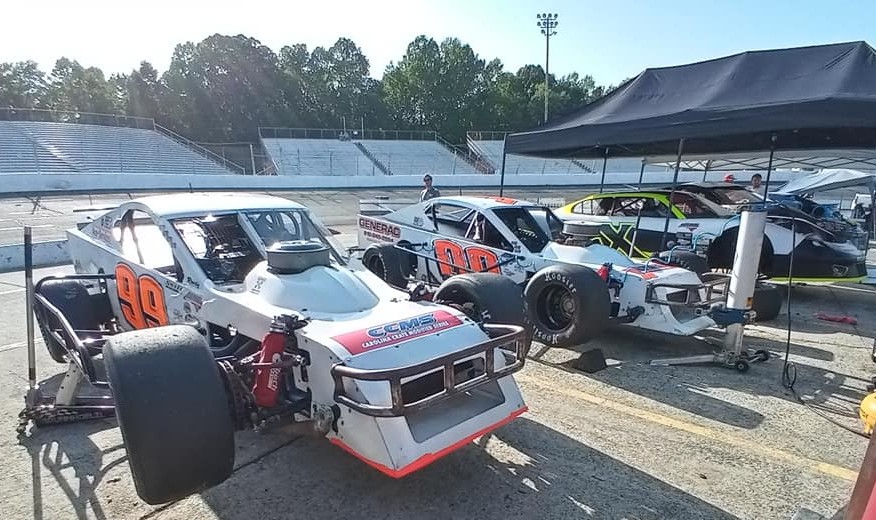 THE CLASSROOM
You know, sometimes you wonder why you do certain things. And this morning, I was thinking about that. You wonder if it's worth it sometimes. Racing? Are you kidding? I'm not talking about racing. I never wonder why I do that. No, I was just pondering on why you make certain choices. And if sometimes, focusing on doing the right things, leads us to lose focus on the little things. And it just hit me. Of course it did. It took me back to thinking about tonight, and the things we'll see as the gladiators go for victory. But it also makes me wonder about all some will miss right in their sight, missed only in the choices of perception. Everyone that shows up tonight, from the fans to the racers themselves, will all see the races, but for each and every one of us, it will be a different view. Some will see what they perceive as poor to average racing. Some will be thrilled and awed. And many of us will get lost in it, taking it all in for the grand event that it will be. Watching the struggles and the triumphs and the trials and errors. For some it will be just another day in their life, but for me…it's one of the things in life that I look forward to the most. Where I can see life at the top of it's game. Because today is race day. And I as always can't wait to get to the track.
Today the rains won't be an issue. It's hot. The sun is a deadly laser hot. But the racers, as always, endure the almost unbearable conditions, borderline torture if you will, just for the chance to be able to compete. And among the asphalt and steel, today is no different as the drivers and their teams get to work. For us, this is where the love begins. For me, it's watching everybody get to it. The families and the associates. Brothers and sisters fixing to shed blood, sweat, and tears for the love of the challenge. Watching them tend to their machines and themselves, with cause and effect. Life in full action, and the day is just beginning. Class is in session, and the tests are about to begin. The invocation that heavily honored the members of the military in these unusual times, and God Bless America is sung in their honor. And the National Anthem has been sung in the most patriotic way. The ceremonies have been completed, and the cars are lined up on the track. The command has been given, and now it's time, so, Let's Go racin'!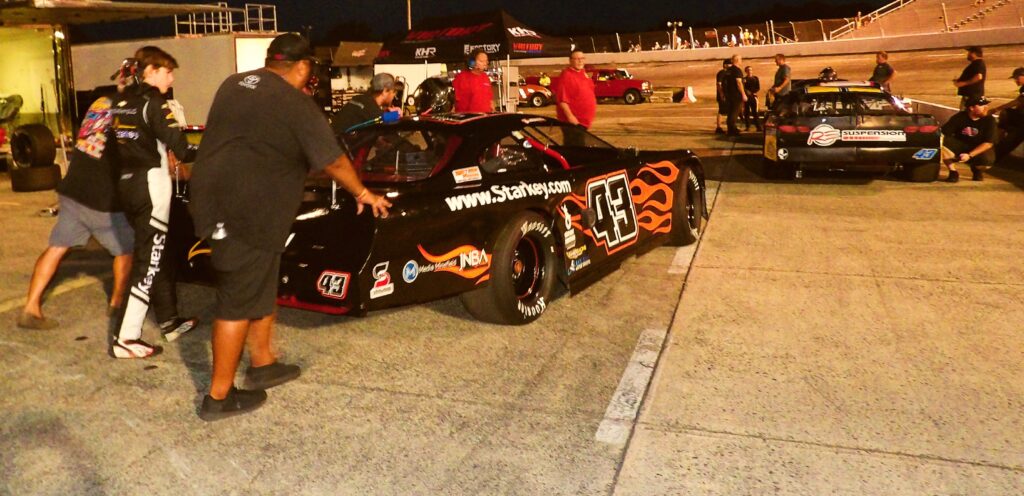 THE TEST
SOUTHERN OUTLAW FWDs:
Jimmy Crigger in the # 98 machine starts on the point for this one. Points leader # 83 Tommy Raino starts in the back as always to keep the fans entertained. The flagman likes what he sees, and the green is out. Crigger gets a good start, but Raino has already been shot out of a cannon. Crigger is putting together great laps to hold off Raino, but to no avail as Raino does what he does best and takes the lead. Crigger is still putting great laps together behind Raino, getting better and better as the laps wind down. But Raino is just too strong and takes another FWD victory here at Orange County.
WINSTEAD FARMS MINI STOCKS:
The # 56 Mini Stock of Isaac Chandler is out front for this one, with the # 12 of Jesse Yopp to his outside. They tip toe to the line, the flagman likes the formation, and we're green for the Mini Stocks. Yopp gets an incredible start and immediately takes the lead from Chandler. Behind them, the # 7 of Kevin Brown powers by the # 13 of Ken Broadwell. Second place running Chandler gets underneath Yopp, but Yopp isn't going to give it up that easy. Being a multi-groove track, no one really has the preferred lane here. Chandler gets his front end ahead, and finally clears Yopp. Yopp is now challenged by the # 66 of Scott Phillips, but Phillips can't gain the advantage. Kevin Brown in the # 7 is caught by the leaders in a hurry, and Yopp can't get by. Phillips takes advantage and finally takes the second spot away. But not for long, because here comes Yopp back like a kidney stone. Yopp powers back by and tries to make a last minute charge for Chandler, but he can't get there as Chandler takes the checkered flag first, followed by Yopp second and Phillips third.
SMOKEY DAVE'S BBQ MOD 4s:
The Mod 4s take the track with Harold Sumney Jr. starting up front with Jesse Yopp pulling double duty starting second. Sumney picks the outside for the initial start and the flagman is ready and throws the green for the Mod 4 feature. The # 35 of Cory Purnell takes the second spot away from Yopp in a hurry, as it seems Purnell has his car set up just right for tonight. The # 2 of Chris Peat, who's making his first ever start here at Orange County, is already having trouble and takes his car into the pits. But up front, Purnell is red hot and takes the lead easily from defending winner Sumney. Just like Jimmy Crigger in the FWD race, Sumney is putting together great laps behind Purnell, but Purnell is long gone. As Purnell continues to gap, Sumney has a problem with his machine, and brings it down pit road. This gives Yopp the second spot. But Purnell is a country mile out and takes the checkered flag with Yopp finishing second.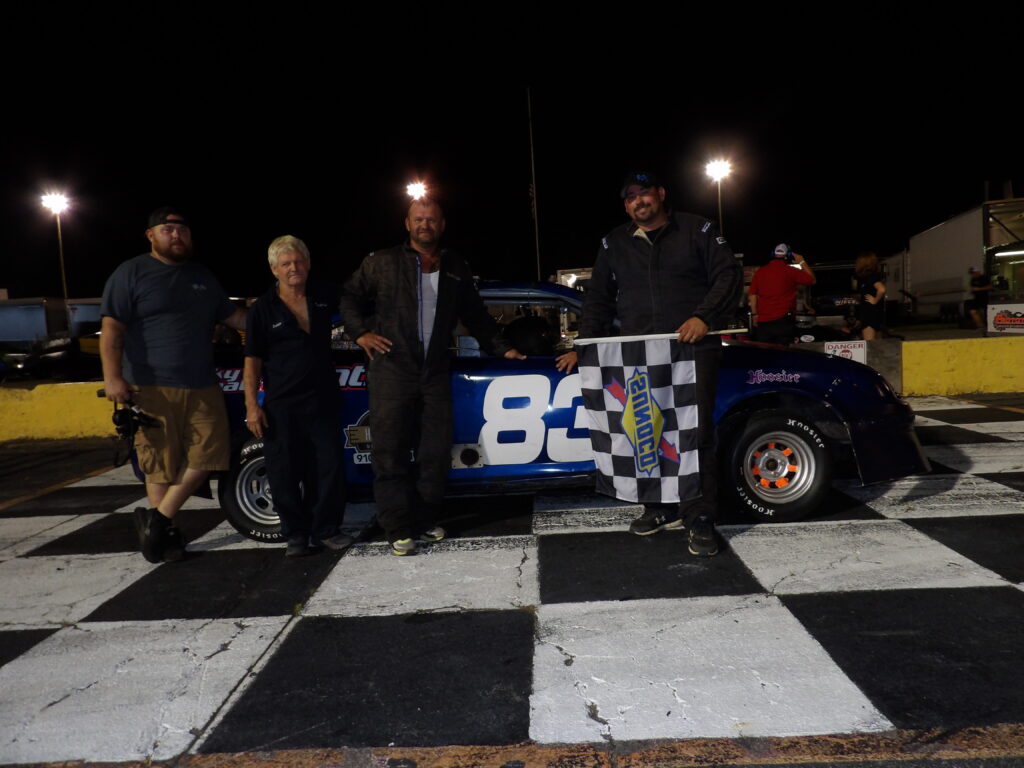 CHOICE AUTOMOTIVE CHARGERS RACE ONE:
The Chargers start off the night with the # 60 of Chance Carpenter starting on the pole with the # 21 of Carter Russo starting second. The flagman likes what he sees and the Chargers are underway. Carter is fast off of the get go but Carpenter looks good out in the lead and clears Russo for the top spot. In the middle of the field, defending Charger winner Austin Purnell is clicking off competitors like wildfire. He soon gets by the # 27 of Rusty Denny for third. Denny is then set up by the # 41 of Austin Ferrell, but Denny keeps the spot. Meanwhile, Russo has caught back up to Carpenter. Purnell is also there, ready to pounce if anything happens. Carpenter gets loose! This allows both Russo and Purnell to get by. But now Russo is around with a flat tire and hard into the wall out of turn two! After the cleanup is over, Purnell finds himself in the lead with Carpenter in second. The flagman likes the formation, and the field is back green. Carpenter immediately takes the lead back as it seems Purnell has burnt his stuff up coming through the field. But maybe not as he looks under Carpenter again! But Carpenter pinches him off and keeps the lead. But Purnell is not giving up as the white flag flies! They come off of turn four side by side and Carpenter gets him by just a few feet! What a finish! Denny grabs third and Ferrell grabs fourth.
CHOICE AUTOMOTIVE CHARGERS RACE TWO:
Rusty Denny is the first starter in this one as Purnell starts second. Purnell is looking for redemption as he was oh so close to a victory in the first race. The flagman likes what he sees and the green flag waves. The # 27 of Denny gets an amazing start and they're three wide for second! Out of all of the chaos, the # 41 of Austin Ferrell gets by earlier winner # 60 Chance Carpenter for third. Purnell holds onto second, but is now challenged by the Ferrell machine. They bang doors as none of them gives an inch! The top 4 are racing Talladega style, nose to tail and side by side, and it's only the beginning of the race. Purnell finally gets clear of Ferrell, and now Ferrell is under fire from Carpenter. Carpenter gives him a tap and Ferrell almost spins, but holds on to it. Carpenter fades a bit as Ferrell is now breathing down the neck of the Purnell machine. As they come to the white, all three are again under a blanket. Purnell and Ferrell have one last chance coming to the line, but Denny gets it! Purnell finishes second once again and Ferrell gets third. What a race!
BOJANGLES OCS LATE MODELS
# 27 Matt Gould is your fastest qualifier and sits on the pole for the Late Model feature. # 7 Bradley McCaskill will start to his outside, with # 31 Richard Hayden starting third, # 58 Daniel Moss fourth, and # 77 Tracey Chambers rounding out the top five. The Orange County flagman gives the double up sign, and Gould leads them down. The flagman looks them over, and the green is out. Gould gets a good start, but he's got a good side view of McCaskill, as they run side by side for the lead. Moss is looking on Hayden, and he makes the move for third. He gets clear, as McCaskill and Gould still try to sort it out. # 32 Daniel Schadt is rolling down pit road to the hauler, as McCaskill finally gets clear up front. Moss has set his sights on Gould now, and he moves in on him to his bumper, and then Gould is suddenly turned into the wall coming onto the front stretch, as he hits hard, sending sparks and debris flying around everywhere. Man, that one had to hurt as he slowly exits the torn up machine. What looked at first as contact from Moss, turns out to be a flat right front, as he came off of turn four and gassed it for the straight. The track crew has their hands full with this one, and we have a break as they get to work. Chambers uses this opportunity to pit and tend to her machine. The track crew has the track ready sooner than expected, and the cars bunch up, warming and cleaning their tires, as they get the double up signal, as we get ready to go back to the green.
McCaskill starts on point, with Moss, Hayden, and the #12J Wesley Johnson your top four. Chambers gets out of the pits and hustles to catch the field, as McCaskill brings them down, and the flagman likes it, and we are back underway. McCaskill gets a great start this time, and he gets clear from Moss, as he's under fire from Hayden. He's dogging Moss lap after lap but Moss continues to hold him off. The field settles in and starts to save their tires with McCaskill continuing to pace them up front. But then the caution waves, whether for debris or competition, as the field gets another shot to try and make some position. It's still McCaskill, Moss and Hayden up front, as we are ready to go back quick this time, lined up with McCaskill guiding them in, and again he gets a great start, and clears himself from Moss as he's again under fire from Hayden. It's like deja vu as McCaskill puts a little distance from the field every lap as he runs away with a win 14 years in the making. What the McCaskill family calls the Orange County curse goes to myth and is finally defeated as tonight Bradley McCaskill refused to be denied.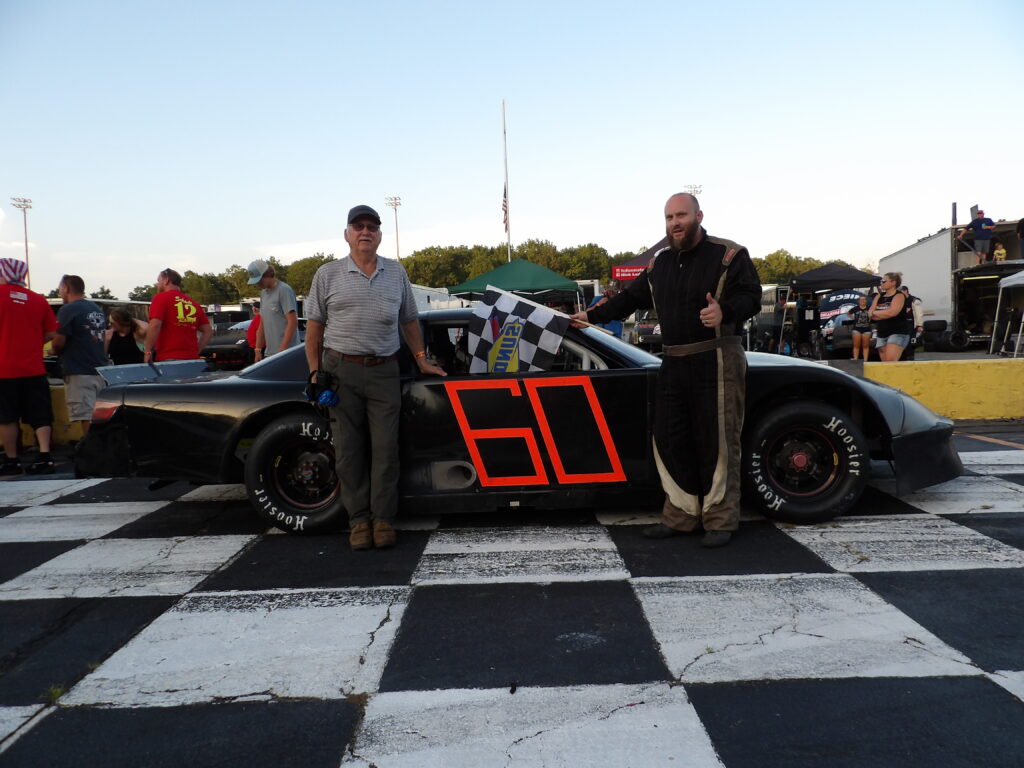 CAROLINA CRATE MODIFIED SERIES
# 51 Junior Snow is your fastest qualifier with a lap of 14.598. The field is inverted in the tour events, and that will put sixth qualifying # 9 Dan Speeney on point for the start, with # 12 Cody Norman second, # 00 Kevin Orlando third, # 63 Dean Lowder fourth, and # 99 Cayden Lapcevich starting fifth. In an outstanding gesture, an anonymous fan has come forward to add $100 to the purse. That's a first for me. And I gotta say, I'd like to see more of that. Outstanding! I know to some that might not seem like much, but most of us know that's a lot, and I mean not only in dollars but deed. And so, the field has a little extra to race for tonight. Not just some extra cash, but as a nod to an amazingly cool gesture. The field is on the track doing parade laps when the signal is given and the field moves to double up. The lights are out on the pace car, and Speeney brings them down. The flagman contently nods to the field, and the green is out and we are underway in the Carolina Crate Mod feature. Speeney gets a good start, but Norman doesn't as he is quickly dropped to fifth. The field is scrambling for position to take advantage of the situation, and Orlando gets up beside Speeney and slips up into him, leaving Speeney getting bouncing off the wall a bit, but holding on, only dropping to third behind Lapcevich who'd moved past Lowder and now drops in, in front of the recovering Speeney. Snow is also making up ground, as he now moves in on Speeney, and looks to already break into the top three. The cautions out however, momentarily halting their advance, as the track crewman reaches out for the piece of sheet metal that's made it's way to the surface.
In no time, the field is doubled up, and the lights are off on the pace car. Orlando leads Lapcevich and Snow to the starting line, as the flagman surveys the field, and we are back underway with Orlando having a handful from Lapcevich as he powers his way on the outside. Norman moves in under Speeney for fourth, as Lapcevich motors by Orlando from the high side for the lead, as Orlando looks to hold off the fast running Snow who's all over his rear bumper. Snow knows he's got to get it done as Lapcevich starts to pull away up front, and he makes the power move and moves past Orlando who settles for third. Lowder moves in on Speeney for fifth, and gets by. Snow then moves in on Lapcevich, and he works his way to his rear and starts to look inside. He works the leader over, but then heats his tires a bit and drops back off of his bumper for a few laps. But just a few laps later, he again starts to move back in when suddenly, he slams into the outer wall exiting turn four, and his car careens off the corner down toward the inner wall, his car smoking and heavily damaged. He seems dazed a bit, but at the least he's got to be disgusted with this outcome. His car was fast, as he took the pole award and indeed ran the fastest lap of the race, but it ends with a damaged race car. Anything can happen in racing, and often does. Moving forward though in reality they can say they showed a lot of speed, looking to race for the win, only to be beaten by a radiator hose that came loose, spewing water into the front tires, and sending his machine hard into the wall. A freak accident. From the highest high, to the lowest low in an instant, probably because of a $2 hose bracket.
We're in for a bit of cleanup here, but Snow's ok, and the track crew gets back to work again. These guys show how professional they are as regardless of the incident, they are on it, getting the track back to running with great precision and care. So, as they do their business, we will have Lapcevich up front, with teammate Orlando second, and Lowder rounding out the top three. Most of the field has pit for adjustments except for Lapcevich and Orlando who don't want to give up their top running spots. The field doubles up, the flagman gives the nod, and we are under green for the final laps to decide the winner here tonight. Lapcevich uses his experience to get a another great start, as Speeney moves around Lowder for third. Speeney then starts dirt tracking it trying to run down the leaders, as they've broken away and now have the task of battling each other for the win. Orlando has saved enough and he starts to pressure Lapcevich for the top position. He moves in and the two make contact, but Lapcevich is making the rear of his car look really wide, holding him off. Again Orlando runs him back down and moves in on him, and again they make contact, but with the same result as Lapcevich holds him off. White flag, and Orlando dives down off of four, but Lapcevich hooks up from the corner off and gets the jump to power down the front stretch for his third win in a row, followed by Orlando, and Speeney with a hard fought third place finish.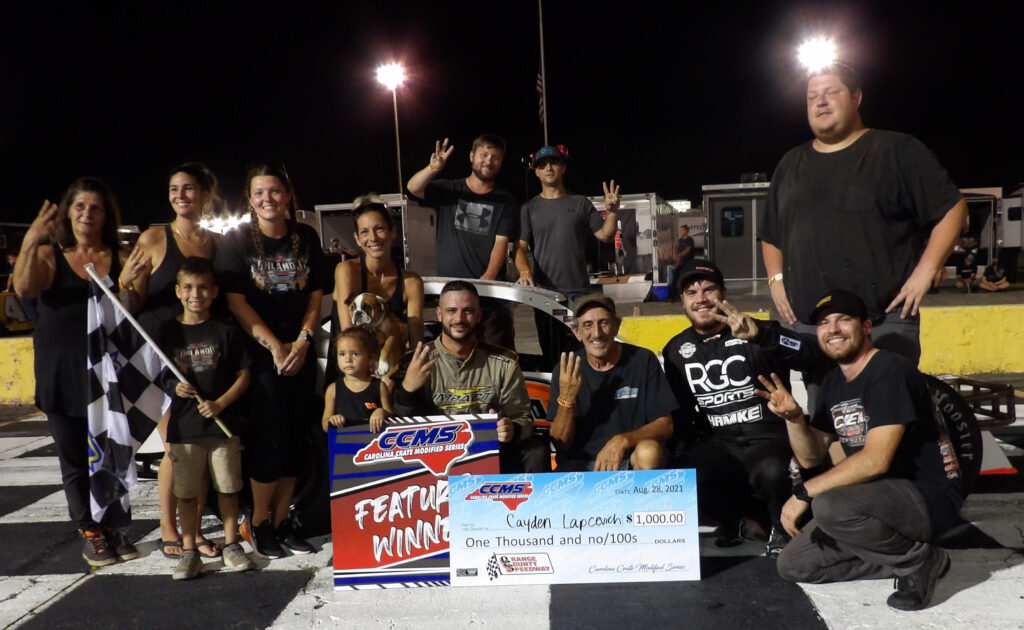 CAROLINA PRO LATE MODEL SERIES
# 4 Leland Honeyman is fastest in qualifying with a lap of 14.173, but the magic number is six, and so that puts sixth place qualifier # 48 Tovia Grynewicz on point for the start, with # 57 Gus Dean starting second, # 71 Katie Hettinger third, # 43 Nick Loden fourth, and # 43S William Sawalich rounding out the top 5. The Carolina Pro Late Model Management has offered Dean a $500 bonus in a drop to the back challenge, and he accepts and will start from the rear tonight, putting # 4 Leland Honeyman in the top 5 for the start. The parade laps have been run, and the OCS flagman doubles up the field, and Grynewicz leads them down. The flagman looks happy, and the green comes out and we are racing in the feature event.
Grynewicz gets a good start and clears Hettinger, and Loden follows. Honeyman makes an early charge, and he moves past Sawalich and Hettinger. But nobody is making more moves than Dean as he already starts making his way through the field. # 18 Landon DeVaughn is getting really loose in the middle of the pack, but he makes it work, and holds his ground. But Dean is coming. He moves in on # 63 Josh Lowder, and then moves past Sawalich for fifth. He's in the top five and he's not content with that as he starts walking down the leaders. # 37 Mike Speeney comes down pit road having issues with that machine, as Dean has moved in on Hettinger, and he wastes no time. She tries to hold him off, but Dean's on a roll and powers past. That leaves the door open for Sawalich and he moves under Hettinger as well, as Dean has moved in on Honeyman. He dives under, but Honeyman's not having it, and he battles back. The first real challenge for Dean through the whole race. He's powered his way up to Honeyman, but Honeyman looks to halt the advance. But Dean's relentless, and he chips and gnaws his way past and onto Loden up ahead. That signals Loden and he starts to put pressure on Grynewicz, in a bid to feed him to Dean who's closing behind them. And Grynewicz feels the pressure, and starts looking at different lines to try and pick up the pace. Loden can't get to Grynewicz fast enough, and Dean's on him, as Loden moves to cover the bottom. No matter for Dean though as he powers on past on the outside, and looks on the leader. When he gets there though, he shows why he is one of the best, and he settles in behind Grynewicz and cools his stuff down. He's done most of the heavy work, and he's content to sit in the leaders mirror and watch for any mistake. And after 30 laps, his patience pays off, and Grynewicz makes the slightest of slips, and Dean takes advantage, coming from last to first, and looking unbeatable at this point in the race. Loden then gets past Grynewicz as well, and he moves into within reach of Dean, setting himself up in his tracks and following his every move. # 63 Josh Lowder comes down pit road, and it's tough luck for his guys. They've been on a roll lately chalking up two second place finishes, and was expected to contend for the win here today, but it's not to be. # 1X Tyler Church is also in, and you just have to feel for both of these highly competitive teams. Meanwhile up front, Sawalich gets by Honeyman, and then Grynewicz, as Grynewicz has found himself with a loose car, wearing his tires up front trying to hold off the hard charging Dean, and now he's in a battle for fifth with Katie Hettinger who's looking to make up some early lost ground. But, then the field catches a break in the guise of a debris caution, as indeed the track crew picks up an average sized piece of debris off the entrance to the back stretch.
So, we're getting late in this one, but the field has another shot on Dean. He will lead down Loden, Sawalich, Honeyman, and Hettinger as the first five starters on the restart. Dean brings them around, the OCS flagman gives them the nod, and Dean gets a good start, but Loden knows he's gotta try and make it happen, and he battles Dean for the lead. He dives in off of turn three, and gets into him as the smoke flies signaling the impact. They both hold on however, and continue up front. Dean finally gets clear and he takes the nod to turn up the wick, and he starts to pull away. Sawalich then challenges Loden for second, but Loden holds him off. This happens over and over for several laps with Sawalich diving his nose in on Loden, but Loden powering back down the straights. And then Grynewicz, still getting looser and looser, finally looses the rear of the machine and goes around on the last lap. So, it comes down to this. Loden and Sawalich get one more shot on Dean for the lead, as everyone will be scrambling for what they can get. The OCS flagman gives them a good hard look, and he likes the view, and the green is out for the green, white, checkered overtime finish. Dean gets an amazing start, leaving Loden and Sawalich to grapple for second. And Dean, clear up front, motors down the back stretch for his fourth straight in his last four starts, again taking the field to school, with Loden padding his championship lead finishing second, Sawalich battles home third, Honeyman holds his ground for fourth, and Hettinger gains yet another top five in her few starts this year.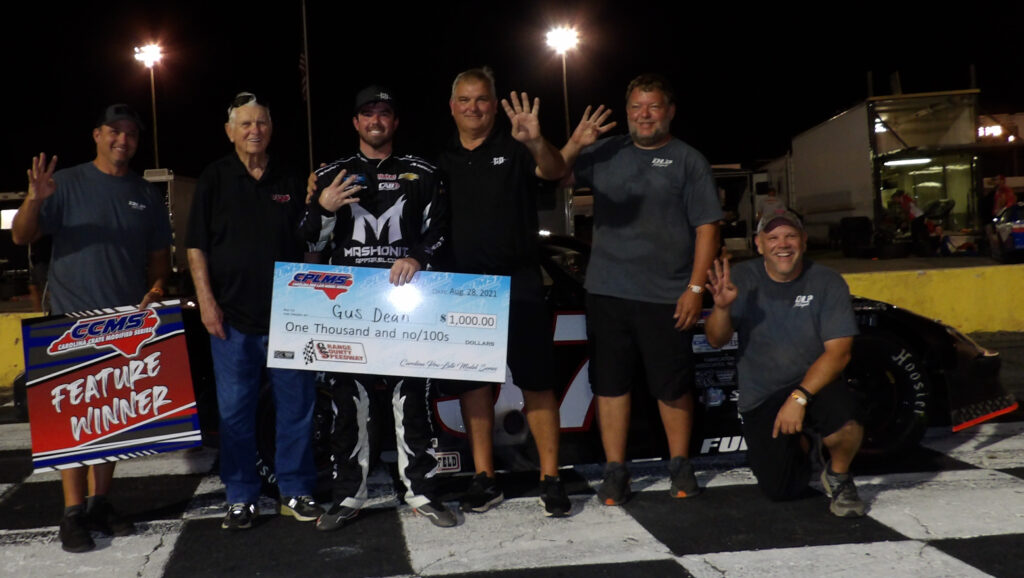 THE REPORT CARD (MY TAKE)
What did we learn class? Well, we learned that a curse can be beaten by the persistent, and that win momentum is indeed a reality in the racing world. We learned that you can give back when it's most needed, and the appreciation will be felt. And we learned that if you don't take everything into the proper perspective, you won't see the greatness before you. So, while some would say it was another good night, I will remember the greatness. The greatness of a fan who put his wallet where his mouth was. Rare today. The greatness of a machine that finished first in a race honoring it's builder. The greatness of winning after 14 years of trying to make it happen. The greatness of a driver that wins at Talladega in an ARCA race, the same year another wins the Pinty's Championship as the youngest ever driver in that Series to this date, only to find themselves here at Orange County in 2021, on Saturday night, celebrating at the end of the night in the same victory lane respectively. And because of the one thing I share with the both of them, and that's the love of short track, grassroots, stock car auto racing. Both of them on amazing winning streaks. And one showing his class of the field, coming from the very rear of the field, only to find himself again up front at the end.
Rusty Denny's car, built by Billy Purnell, in a sign of fate, comes home to victory lane in a race honoring him, in a statement from above that your life, and the results of it, live beyond you. Life continues, and if your lucky, something you built will continue in success in your aftermath. And if you try and try, never giving up, you can be like Bradley McCaskill and finally defeat what has alluded you. What a night. And because of the test taken, I come away with more knowledge. And verified once again why I love this great sport. A sport so grand, that the competitors risk their lives in the thrill and glory of it. And because of that, they live their lives to the fullest. And fans like me get lost in it, pondering why men do what they do. But racing? The only thing to ponder really after a night like this, is when I can get back to the track. Our Blue Collar Racer is easy this week, as we have to give the nod to Gus Dean. From the back to the front in commanding style. And that bonus he received from the Carolina Pro Late Model Series for a challenge met? Well, he vows to donate that to a military charity of his choice, in a time when they could most use the gesture. Because that's the kind of thing the racing family does, and that's the class of Gus Dean, who took the Pros to school, and sets an example of the grade to achieve. 'Till next time, See You At The Track!