TRI-COUNTY SPEEDWAY WEEKLY EVENT SEPTEMBER 4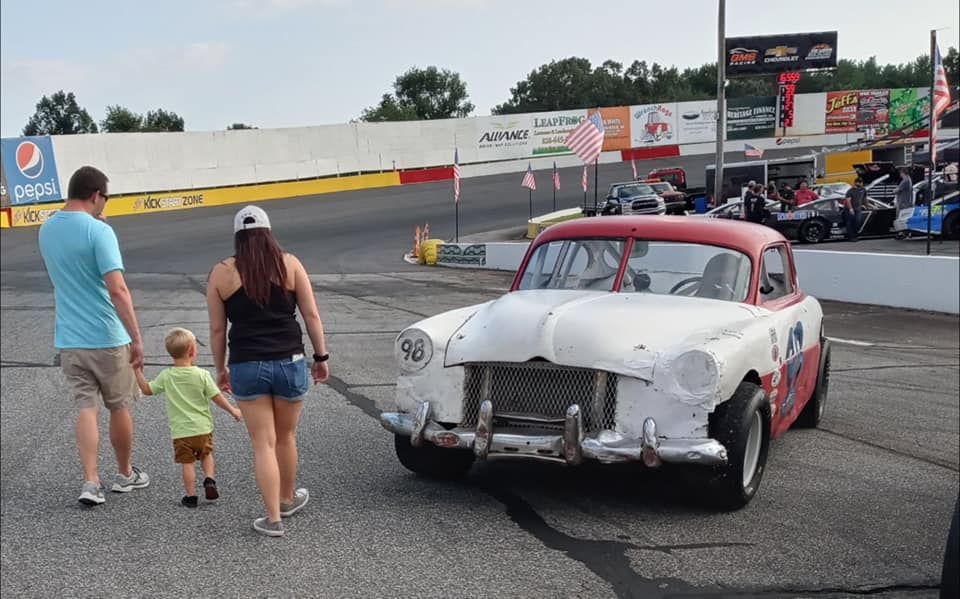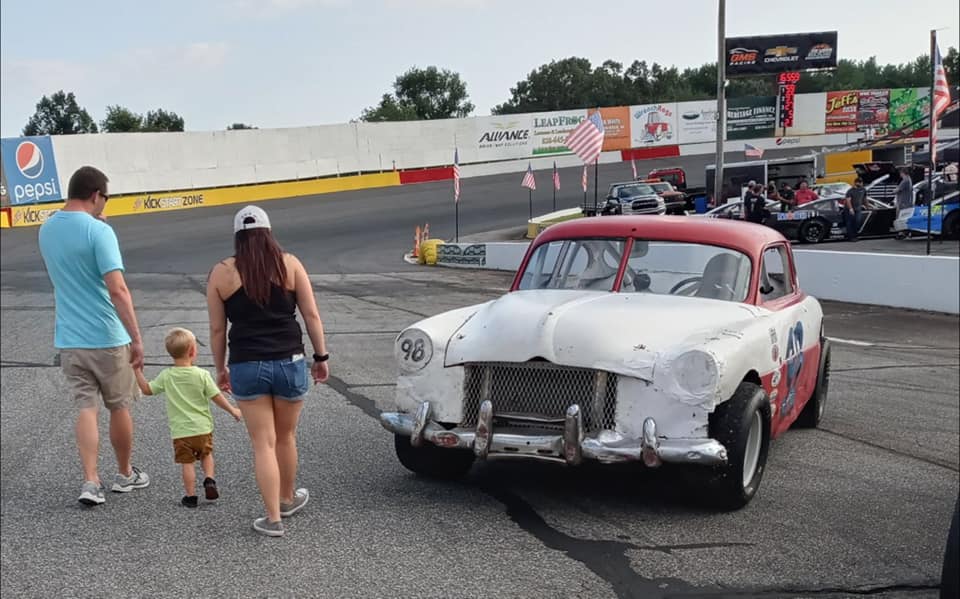 THE COURT
There's more to good or bad than what's written in the rulebook.

Jasper Fforde
Rulebooks are written in black and white. But any good racing mechanic knows that there is an advantage to be gained by working in the gray area. And truth be told, how the rulebook is enforced is a gray area as well. Always has been. The first rulebooks were pretty small. But due to men who believe in true innovation, the rulebooks have swollen over the years in an effort to keep control of the competition for the obvious reason of providing great racing. So, in the stock car racing world, there was a riff brewing immediately between racers and the track inspectors who's job it was to enforce track and series rules. Remember, at one time the stock car had to actually live up to it's name, Stock Car. The stock cars of today are not so stock by any means. And hence as to why the NASCAR group took to war against the Modifieds as a sidenote. But just like the stock car of today itself, the Modified is a testament that the innovative mechanic is winning the war. As eventually the Modifieds were given their own class, however little they were to be supported, and have lived on as a class in spite of the suppression. And truly we can honestly say, that all stock cars of today however, are all truly Modifieds at heart, except for the lower truly stock classes, that dance in the gray area of the rulebook all across the country, looking for any gray area advantages they can find. And in a nod of defeat to the innovative mechanics, a track of today can be graded by the competitors that show up to race their events, by the rulebook that determines the levels of modification.
We here at Short Track Report decided to go into this new venture with open eyes, to learn all that we can about every aspect of what goes into putting on a great racing event, beyond what most see, as we feel it is a necessity if we are to give an honest account of the event itself. And we have to tell you that we've already come to a much better understanding of what tracks, series, and promoters encounter in that quest. We could choose to put our attention on just the drivers, owners, and their teams, but to fully understand the sport as a whole, you have to see it all, and how it comes together. We as family, want to know the whole family, not just the Hatfields and McCoys of it. There is no Mason/Dixon line of understanding for us. Now that said, we've learned that every promoter, series and track, has it's own set of rules set in black and white. Although, some mirror or model others. And we've learned that every series, track, and promoter has it's own level or method of enforcement. Because, despite similarities between some, every series, track, and promotion is different, and it's as simple as that. The judgement comes in the racing itself really. So, we could have a really long discussion about the differences, and how everyone views those differences. But, in the end, it all comes down to the show. It's only when the competition directors, and the competitors themselves get on the same page that racing magic happens.
If a track wants to attract the best competitors, they have to provide a fair playing field on which to compete. But at the same time, if a team wants to keep it's respect, it has to come ready to compete fairly. Now I mentioned the gray area as a nod to where a team can be innovative, and where you can operate to legally gain an advantage. But there's a large color spectrum in our world, and so some seem to be willing to find themselves in the red. Whether it's because they can do so at some venues, or they don't know the level of radar when they venture out to a new track, there are some willing to take a chance, and throw the rulebook out of the window. But they learn quickly at some tracks, where they enforce fairness as a part of their way of doing business, that a step into the red, is a quick fade into black.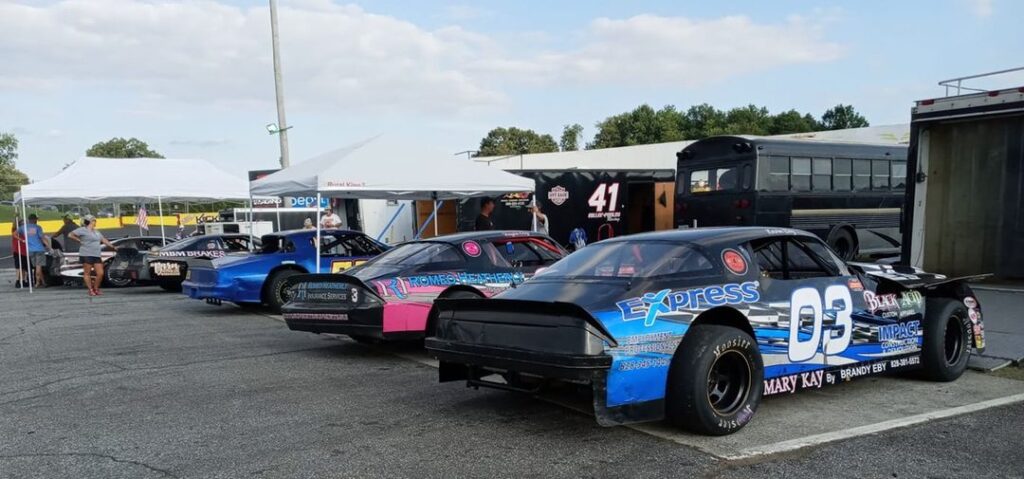 THE TRIAL
It's a beautiful day here in Granite Falls, North Carolina, and there's excitement in the air here at Tri-County Speedway. The crowd is still filing in, but it's time, and the invocation is given, and Limited Late Model driver Jeff Allen sings a wonderful version of the National Anthem. The patriotic pre-ceremonies paying tribute to the American worker here on Labor Day weekend are complete, and the awesome group of Vintage racers are lined up and ready for their parade laps. This brings the fans to their feet again, and so the fans are ready, the racers are ready, and race control is ready to get things underway…Let's Go Racin'!
CAROLINA VINTAGE RACERS
Starting the night off will be the stunning Carolina Vintage Racers. The # 95 machine of Tim Gilbert will start on the pole after setting a blistering lap of 17.083 seconds in qualifying. The # 72 of Don Fenn will start alongside Gilbert. Flagman Timmy Hutson looks over the gorgeous field, likes what he sees, and throws the green to start the night. Gilbert gets an astonishing jump on the start. The # 35 of Bob Wallace gets by the # 22 of Don Krietemeyer to take the fifth spot in the middle of the field. The # 49 of Jerry Bryant takes his machine to the pits and is done after just one lap. A little after that, the # 98 of Howard Scruggs and the # 61 of Marty Reid take their hot rods to the pits. It seems today is a race of attrition. Gilbert is putting down amazing laps up front, but his dominance is interrupted on lap 14 when third place runner # 16 Carroll McKinney loops his machine in turns 1 and 2. This will give Fenn another chance to challenge Gilbert. Flagman Timmy Hutson looks at the formation, likes what he sees, and the green is back out. Fenn gets a good start, but Gilbert once again dusts the field at the line. As Gilbert again walks away, the McKinney machine is making an amazing comeback as he passes the Krietemeyer machine for fifth. He's then by the # 35 of Bob Wallace for fourth. Seeing McKinney's machine catches Wallace off guard as he gets super loose, and allows Krietemeyer by for the fifth position. But none of this matters to Tim Gilbert, as he crosses the finish line in another zip code to take the victory here today. Don Fenn gets second, # 4 Dennis Hinkle third, Carroll McKinney fourth, and Don Krietemeyer fifth.
FWD
Blake Walker in the # 9 is your fastest qualifier for the FWD division today with a lap of 18.966 seconds. But the invert is fifth, which puts the # 2 of Rayna Holland first and the # 54 of Gary Willard second. Hutson looks over the field, likes what he sees, and we're green for the FWDs. Holland doesn't get a good start and automatically falls to fifth. This allows the # 27 of points leader James Powell to overtake Willard and take possession of the lead. The # 12 of Kayla Powell however, James' wife, is not so fortunate, as she heads to pit road and is done for the night. Just when it seems that Powell is starting to gap the field, here comes fastest qualifier Walker, as he passes the # 4 of Brian Dodd and now sets his sights on second running Willard. He powers by Willard easily and is now breathing down the neck of Powell. They go side by side, as Powell is determined to get the trophy tonight. Walker takes it but Powell tries to pull a daring crossover, but can't make it stick. This allows the Walker machine to take advantage of the clean air and pull away from the field. The # 00 of Mitch West is in the pits and is done for the night, but this is no hindrance to Blake Walker as he takes the victory in his # 9 machine. James Powell comes home second, Danny Willard third, Brian Dodd fourth, and Rayna Holland fifth.
MOD MINIS
Your fastest qualifier for the Mod Mini division is the # 68 of Tyler Bush with a lap of 18.258 seconds, but is inverted fifth, which puts the # 12 of young Levi Holt up front. The # 59 of Isaac Harris starts on the outside pole. Hutson looks intently over the field and gives it the green light as he waves the green flag to get the Mod Mini feature underway. Holt gets a bad start, which allows Harris to quickly get out front. The # 81 of Chuck Wall is flying through the field and is already to the back bumper of Harris on the backstraight. Wall looks on the outside, but they make contact and the whole field is collected behind! Nobody is out of the race, but every car on track certainly has damage after this accident. We'll revert back to the original lineup since the first lap wasn't completed. Hutson is hesitant, but gives the field a second chance and we're back under green. Holt gets another bad start and drops to shotgun on the field. This again allows Harris to take the lead. But here comes Wall again. Wall gets by this time with no contact and looks to run away from the field. Harris' car is feeling the effect of the previous crash as he drops to fourth. While Wall tries to walk away, Tyler Bush and the # 80 of Luke Smith are having an absolute dogfight for the second position. They trade paint, and in the end, Smith comes out with the advantage. But just when Smith thinks it's over, Bush comes knocking at the door once again. They go at it again, and Bush takes the spot this time. The Levi Holt machine goes down pit road and calls it a day as Smith is again looking on Bush. Smith pushes his car just a little too much this time though and gets extremely loose on the backstretch. Bush puts together some fantastic laps, but it's not enough to catch Chuck Wall as the 81 machine takes first place. Tyler Bush places second and Luke Smith places third.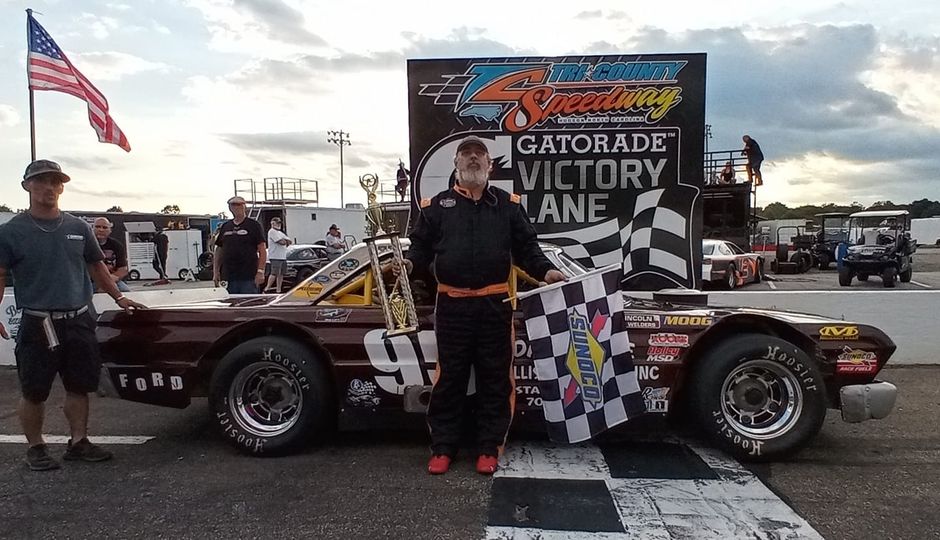 LEGENDS
The Legends take the track with the # 26 of Charles Parker starting on the pole with the # 43 of Joshua Horniman starting second. Hutson looks over the field, likes what he sees, and we're underway for the Legends feature. Parker doesn't get the best start and Horniman takes advantage to take the immediate lead. Series dominator # 90 Daniel Wilk also gets by Parker and sets his sights on the Horniman Legend. Horniman puts together some good corners, but here comes Wilk. They're side by side and Horniman is giving Wilk his absolute best, but Wilk eventually gets by. Horniman stays in his tracks, but this just makes Wilk turn up the wick and Daniel Wilk takes the eventual victory with Joshua Horniman coming home second.
STREET STOCK
The # 21 of defending winner Drew Cox is on pole for this one as the # 14 of Davey Smart starts second. Fourth place starter and fastest qualifier with a time of 17.422 seconds, # 10 Kevin Townsend takes a worst to first challenge from Tri-County management for an extra 100 bucks. Hutson looks over the big Street Stock field, likes what he sees, and we're underway in the Street Stock feature. Cox and Smart are dead even at the start and battle hard until Cox eventually prevails on the bottom. The # 55 of Johnny Reynolds is not having a good start as the eventual fourth place starter has dropped back to ninth. The # 12 of Cody DeMarmels and # 03 of Kevin Eby battle hard for 3rd as DeMarmels prevails on the outside. Davey Smart is starting to fall off as he gets passed by both DeMarmels and Eby to drop to fourth. Behind Smart is a determined Townsend. On lap 13, the first caution flies as debris is found on the racetrack. For the Street Stocks, we get to see the choose cone. Cox uses it to his advantage as he picks the high line for the restart with DeMarmels starting second. Hutson looks over the field, and we're back green. Cox gets a great jump as Townsend pounces on Smart to take the fourth position. Smart seems to be getting slower and slower and eventually stops on the track to bring out another caution. Just before the caution, Townsend got by the Eby machine to take third. Just two spots away from 100 extra dollars. The cone is out and Eby takes full advantage and goes to the inside of Cox, thus gaining a spot. Cox likes the outside however as he gets another great start. As Cox tries to pull away, here comes the determined Townsend. He sends it with no remorse and gets by Eby once again, this time for second. And to Cox's chagrin, debris is found in turn 1, bringing out a late race caution.
Cox once again takes the outside, as Townsend takes the low lane. Hutson looks over the field, likes the formation and we're back underway. But the caution flies immediately as Hutson catches the top two's restart games. We'll try it again as the green flies and Cox gets the jump. But here comes Townsend on the inside! They bump and bang and Townsend clears for the lead! But the caution is out again as James Dolan in the # 70, the # 82 of Gene Griffey, and the # 99 of Jeff Morse find themselves crashed in turn 2. This will give Cox one more shot at Townsend. This time however, Townsend takes the outside and Cox takes the inside. Hutson looks the field over, likes what he sees, and the green flies. The outside prevails as Townsend will get a great start and eventually crosses the line first. But in post-race technical inspection however, Townsend doesn't pass, which gives Drew Cox his second victory in a row. Cody DeMarmels will come home second, Kevin Eby third, an outstanding comeback for Davey Smart in fourth, and # 7 Dustin Atkins in fifth.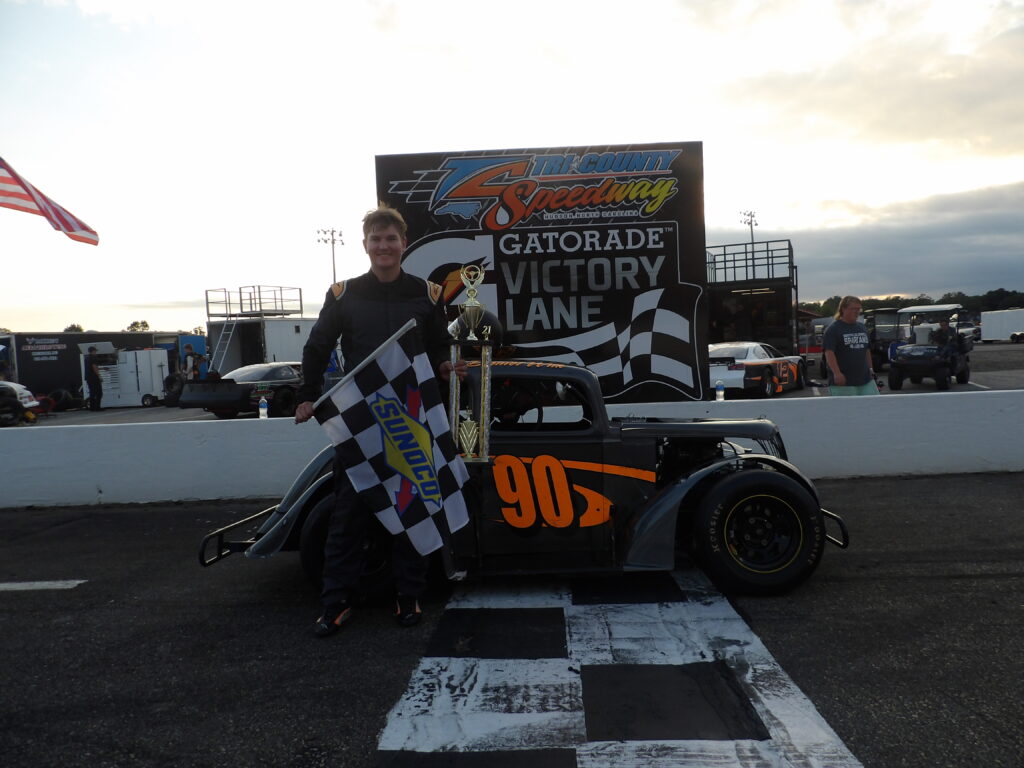 LIMITED LATE MODELS
For the Limited Late Models, # 59 Austin Harris is your fastest qualifier with a lap of 16.559 seconds, but the number 4 is the magic number on the invert, and that will put # 5 Toby Hollifield on point for the start, followed by # 27 Eugene Norton, # 97 Jacob York, Austin Harris, and # 21 Monty Cox as your first five starters. The parade laps are done, and flagman Timmy Hutson gives the double up signal, and Hollifield brings them down. Flagman Hutson likes the view, and the green is out. Hollifield gets a good start, with Norton looking, but Cox looks to make it three wide for the lead, drifts up into Norton, and there's contact, and literally the whole field gets collected, and are in a pile drifting up to the wall, with smoke rolling and debris flying. Most every car in the field ends up parked in the middle of one and two, with only a few able to immediately pull away. The track crew has their hands full with this one, but they get to work separating the cars and cleaning up the track from all the fluid and sheet metal. Remarkably, only two cars end up out of the race at this point. And after all the repairs are done, and the field looks to line back up, the whole line up has been scrambled. In front it will be # 18 Casey Pierce, # 12 Eric Wallace, # 7 Jeff Allen, # 27 Eugene Norton, and # 65 Josh Goble as your new top five starters. # 70 Marion Thomas and # 97 Jacob York are unable to get their machines back on track, but the track crew does a great job getting the Speedway ready quickly, and once again Flagman Hutson gives the double up signal, and now Pierce brings the field back down, looking to get this race officially underway. Flagman Hutson likes the view, and we are back to green. Pierce gets a good start, but Wallace is right there with him, side by side for the lead. Pierce holds him off, as Norton and Goble get past Allen, as Hollifield moves up past Allen as well for the fifth position. Monty Cox has to pit for more repairs, as Goble looks on Norton for third. They have an awesome side by side battle, but Norton finally clears Goble, and now Goble comes under fire from Hollifield as he tries to find his way back to the front. Hollifield gets by for a moment, but Goble comes charging back on the outside, and he moves back in on Norton. Meanwhile, # 00 Ronnie Buckner succumbs to damage to his machine and brings his machine down pit road as well. The battle is heating up again for second to fifth, but up front, Casey Pierce is long gone, and he takes the win going away in this one. Wallace comes home second, Norton third, Goble fourth, and Hollifield fifth.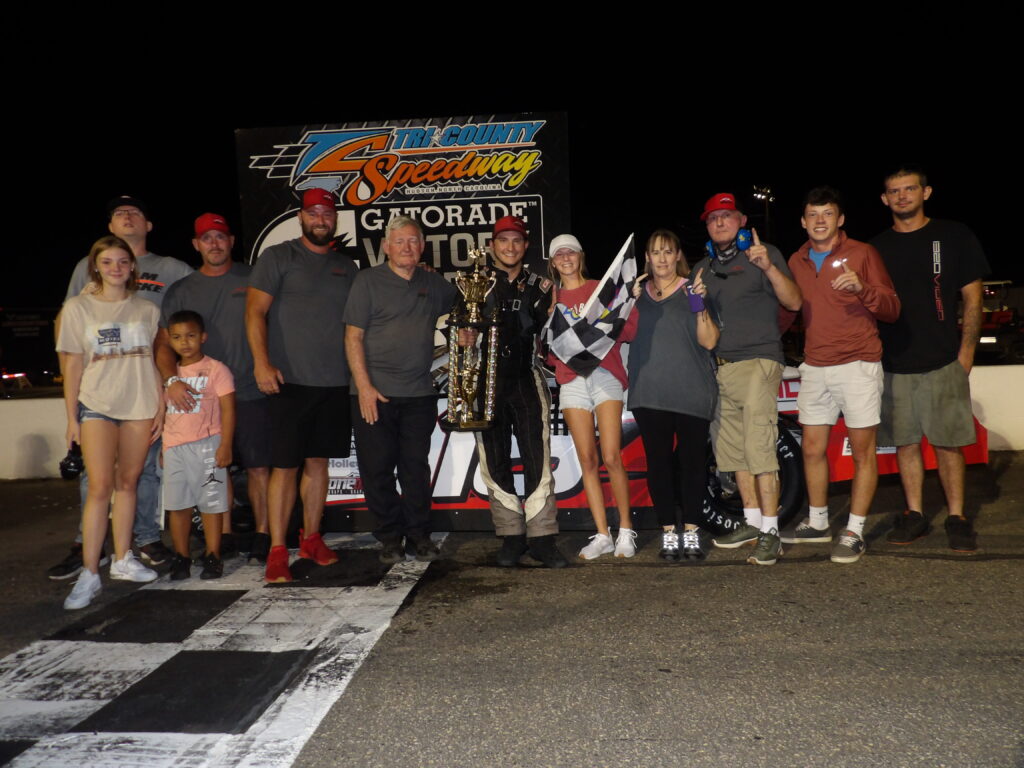 LATE MODEL RACE 1
Justin Carroll starts on pole for the first Late Model Stock race with a time of 16.106 seconds. Starting alongside will be the # 27 of Isaac Bevin, who was oh so close to a victory last time out. Carroll picks the outside lane, which puts Bevin on the inside. Hutson looks the field over, likes what he sees, and we're green for the first Late Model race. Carroll gets a great jump, but Bevin is already looking for the lead early in this one. They battle side by side for a number of laps, but Carroll's strength prevails in the end as he clears Bevin to keep the lead. # 2 Braden Rogers now looks under the Bevin machine, but Bevin is able to hang on to second position. The # 16 machine of Tyler Worley takes his overheating hot rod to the pits and it seems that he's out of race 1. As Worley enters the pits, # 88 Conner Jones and # 31 Thomas Beane are having going to war for the sixth position. Jones keeps looking under, but Beane is strong up high. They make contact and Jones prevails. But not so fast as Beane find a way back by Jones, but Jones has none of it and crosses Beane back over! Back up front, Bevin is back on Carroll, but Carroll, being the veteran he is, is pulling out every trick in the book to keep Bevin at bay. Bevin looks under, but Carroll again powers away on the outside. The white flag flies as Bevin has one more chance to get by Carroll. He sends it into 3 and 4 hard, but Carroll hangs on and takes the checkered flag first. Bevin comes home second, Rogers third, # 95 Jacob Heafner fourth, and the # 1T of Gracie Trotter takes home fifth.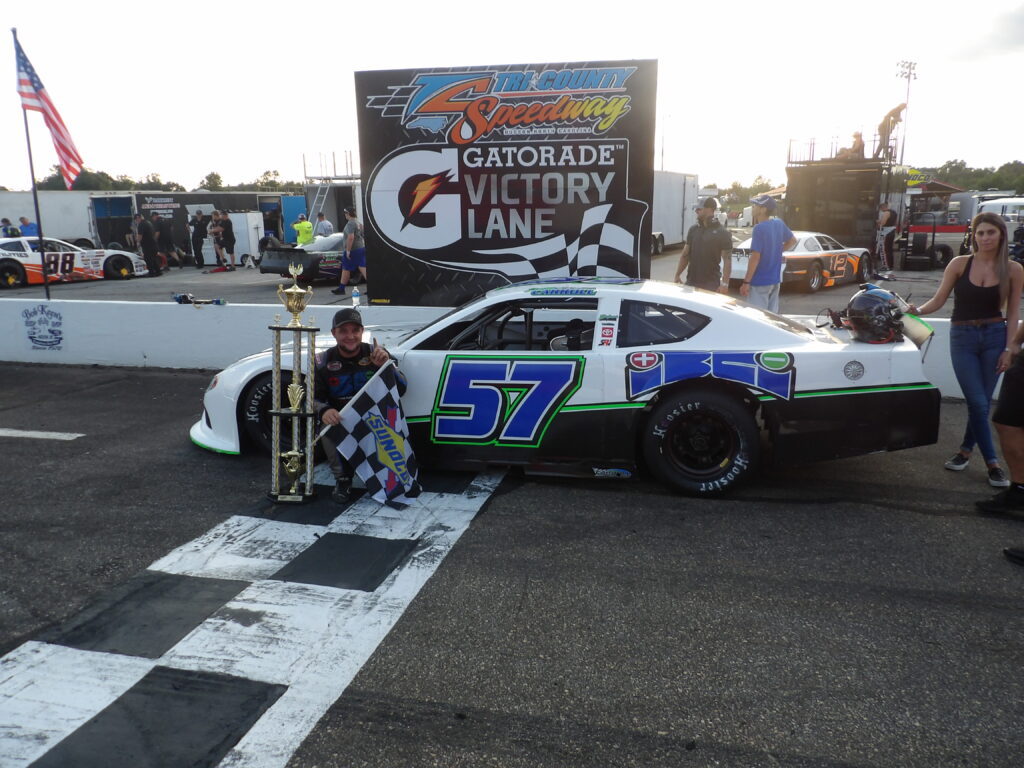 LATE MODEL RACE 2
The invert for the second Late Model Stock race is fourth, which puts # 95 Jacob Heafner on the pole with # 2 Braden Rogers starting alongside. Heafner picks the outside, Hutson looks the field over, he likes what he sees, and the green is out. But Heafner gets a bad start and the field nearly wrecks behind him! Hutson immediately throws the caution and we'll try this one again. Hutson makes sure everyone is ready and throws the green once again, this time successfully. Heafner gets a great start and tries to gap the field right away. Earlier winner # 57 Justin Carroll powers by the # 27 of Isaac Bevin to take the third spot away. Conner Jones in the # 88 sets his sights on fifth place running # 1T Gracie Trotter and takes the spot easily. He's now all over the Bevin machine, who gives him a fight, but not enough as Jones takes the fourth spot. The # 16 of Tyler Worley, who had problems in first race, has even more problems and takes his Late Model into the pits. Just when you think Conner Jones may have burnt his tires up, here he comes to challenge the Justin Carroll machine. He looks under Carroll, they swap paint, and Jones takes over third. Trotter takes advantage of Carroll's lost momentum and gets under him for fourth. And out of nowhere, here comes the # 31 of Thomas Beane, who looks to make it three wide for fourth. Beane thinks better of it, and Carroll eventually shakes the # 1T machine of Trotter off. But up front, it's smooth sailing for Heafner as he takes the second Late Model Stock checkered flag of the night to take the sweep for Carroll Speedshop. Rogers gets second, Jones third, Carroll fourth, and Trotter fifth.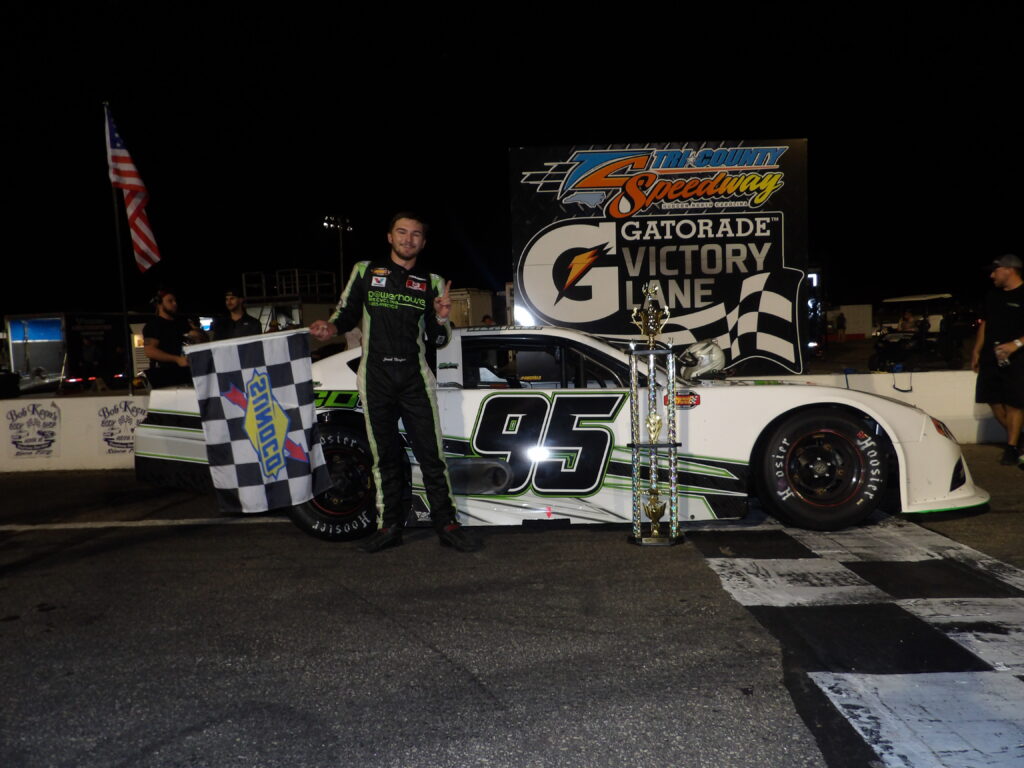 THE VERDICT (MY TAKE)
Tri-County Speedway is a track that wears it's emotions on it's sleeves. The first thing you see is it's many American flags. The second thing you'll notice is the awesome family atmosphere the track cultivates. It's a place where it recognizes that it's competitors are heroes to some. And many of the eyes on these role models are small ones. And it's those the track knows pays the most attention. So, knowing this, the track has worked hard to be one of fairness. Where, when you win, the fans know you earned it. And you earned it among the best competition our region has to offer. You can prepare to do this in the gray area, but know Tri-County's rules are written in black and white, and they are rules that are going to be enforced. I have come to know this by more than just a fleeting observation. I have learned this with experience that leaves me to say it with a certainty. Why, because Tri-County Speedway is the first to alter an aspect of how we do our coverage. You see, like everybody else, when the races are done, we check to see if we have everything, we say our goodbyes and we get down the road to home as soon as possible. Not only do we want to get settled back in our home as soon as possible, but for us, that's when the real reporting begins. But Tri-County has taught us, that we have to end our night at the track at the tech shed. If not, we end up contacting drivers to get permissions to use their personal photos for our articles. In other words, Tri-County doesn't play when it comes to post race tech. They don't pack it up early because they're tired. They don't assume everything is as it seems. Tri-County is a track that's owned by those who know racing, and they have filled their official staff with racing professionals who know the sport well. From the announcer to the flagman, Tri-County is filled with experience that's seen a thing or two. But most of all, they all love racing. And they love those who love racing. They're dedicated to a fair playing field. So, the tech staff as well, knows their job, and they know their rulebook. And if you come to play in their playground, you better stop first to read the rules.
Now for us, all this is said as just an observation, and who are we to make judgments on the way competitors prepare for their competition. We could point out that there are those who feel rulebooks are for the weak. One name above all others we can point to is Smokey Yunick, who had many quotes of his own on the matter. One of which was, "There are two kinds of racers- Cheaters and Losers." And Smokey was indeed a genius mechanic who could work magic with a machine. And being so, he saw no reason for a rulebook that would hamper his innovation. And, out of respect for the talented mechanic, and the many that thought and still think like him, the argument has to be contemplated, especially in the world of technology we have today. But in the end, the ones that control the playing fields will more than likely set the rules of competition, for it is their right. It's their playing field after all. And while men like Smokey put all their thoughts on how to be first across the finish line, the promoters have to think about the game itself for the fan that puts down the money to see it. They have to think first about the game.
So, again, it's confirmed for us, and we will adjust. But we'd come to know. This week, before the races, me and my son Josh talked about it. To know to look for it. And when a competitor put together what I thought was the race of his career, winning how he did, against who he did, I had it already added in my mind how it would fit greatly into the coverage of this event. But Josh? Well, his red flag was up, and he pointed it out to me. We've seen some great wins. But, he was observant enough to know this may have been too good. And he was proven right. Once again someone here stepped out of the gray and into the red, and in the end, faded to black. Said because after consideration for our Blue Collar Racer Of The Week, once everything became clear on this night of highly competitive racing action, we found ourselves once again in new territory. And I find that racing, in it's silent complexity, offers an amazing range of outcomes. And so after all was contemplated, though unexpected, it was an easy choice for us this week, as instead of giving it to one driver or team that stood out, we have to give it to the Race Shop that made it happen. This week our Blue Collar Racer Of The Week, is Carroll Speed Shop for both it's team's performances in their winning sweep of twin Late Model races. Our hats are off to all the guys at the shop, Justin Carroll and Jacob Heafner for their winning runs, and to everyone on their teams that put it all together at the track, bringing home the gold and the glory from the Late Model ranks on August 28 at Tri-County Speedway, back home under one roof.
They say to truly know something or someone, or why they do what they do, you have to walk a mile in their shoes. Well, Tri-County Speedway found some pretty awesome shoes to wear, and they've laced them up pretty tight, as they prepared for one fun and awesome walk. And so, once again, we got to experience another great event at Tri-County Speedway that leaves us looking forward to more as we hit our end of the season stretch at our hometrack, and leaves us excited about the upcoming weeks. See you at the track!