SMART MODIFIED TOUR- RUSTY HARPE MEMORIAL- SMART CHEVROLET 99 JULY 3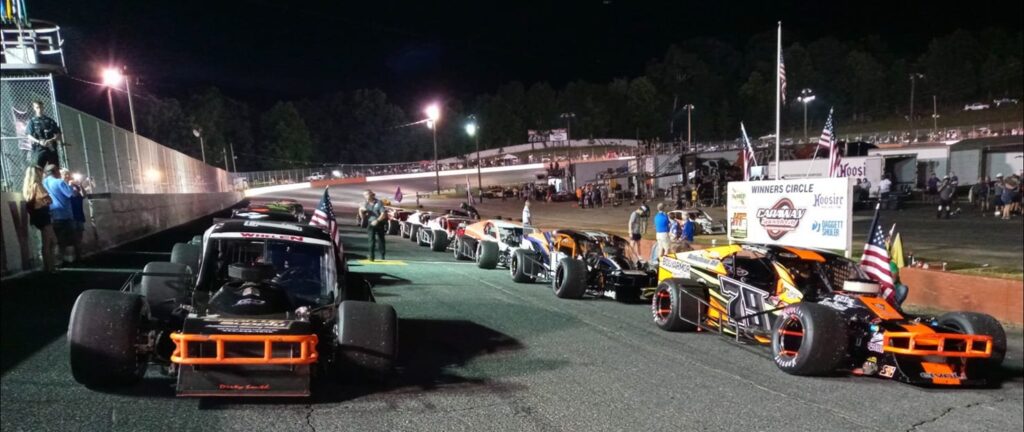 It goes without saying, that we were super excited about this event. First off, it was Short Track Report's first visit with the SMART Modified Tour, at historic Caraway Speedway, kicking off July Fourth weekend, and in the honor of late Caraway and regional driver Rusty Harpe. To those that know, we have covered the SMART Modified Tour all year, but this was our first visit as Short Track Report. And in all transparency, this is the tour, and these are the drivers, that led to us becoming Short Track Report in the first place. It's a bit of a long story, but just to say, we knew that a tour of this magnitude deserved extended coverage, and not just a 3 minute spiel. Of course it led us to realize we needed to be able to have the freedom to give better coverage to our racing region in general, but this tour truly is the starting point that led to our new amazing journey. Up until this point of the season, the tour had seen 4 different winners in 4 highly competitive races. So the first question me and my son Josh had was would that trend continue, or would someone break the streak and be the first to repeat as a winner this year. Second, we wondered if this was the race that one of the points leaders would break through and get their first win of the season. And third, if we did indeed have a new winner as the trend would indicate, who would be the next to break through. That was a tough one. The tour is so competitive, loaded with so much talent at every outing, literally every driver that has shown up for a race could win on any given event. The season opened here at Caraway on March 14 with "Big Money" Matt Hirschman taking the win. Then on March 20, modified series rookie Caleb Heady went to work and showed the tour he wasn't here to just make his presence known, he was showing up to win. When the tour went to South Boston on April 3, NASCAR Cup regular Ryan Preece took the win. And in the last outing, John Smith made an exciting sideways pass off of turn 4 to get the win on the high banks of Franklin County Speedway. So as you see, the tour has seen amazing action thus far, and we expect that will continue all year, as we knew it would from the beginning. You don't put some of the best drivers in the country, in the fastest stock cars in the world, and get boring races. You get the best racing you can imagine from this magnitude, on this level. And so all that said, we knew this would be an amazing show. But honestly, even we were surprised at the outcome. Virtually everyone on the tour has shown speed, and honestly no one would be a surprise to win. But I have to tell you, this was another lesson to me in my life, that sometimes outcomes happen when you least expect it.
We arrived at the track and as always, were greeted by a welcoming Caraway Speedway staff. But right away, we could feel the energy in the air. It was of course before the grandstands were scheduled to open, but already, cars were streaming down Race Track Rd. And who could blame them? They knew what we knew. That despite all the big racing events in the central east coast region, this was indeed one of the biggest events of them all. And like us, people were ready to get out and celebrate our country's freedoms, while enjoying a great night of top racing action. To note, some of the biggest racing events in the country were scheduled in our region. And in a day when some complain about car counts, or whatever negativity they can conjure up, there was a worry there would not be enough Late Models to feed the fields at these events. But like we've been saying all year, from what we've seen personally, we knew this wouldn't be an issue in our amazing racing region. And again we were proved right, as if you take the time to research it yourself, car counts at the big events were not even close to being an issue, proving once again what we say about our racing area being the best in the country. And here at Caraway, in honor of Rusty Harpe, the Late Model contingent represented with a strong field. So, I'm gonna step on a few toes here, but, if you come complaining to us about the state of racing in our area, we'll know you as not being a very educated race fan. And if you're looking for a weakness in the region and you find yourself here, you'll be very disappointed. I only even mention this because…well…two words: social media. And if you listen to the uneducated on local racing, you may find yourself missing out on what we've found this year, to be the greatest racing we've seen in years. It's time to debunk the myths. And if you've paid attention to our reports, you'll know the truth of it. But for those who haven't paid attention, let me repeat myself in saying, true grassroots, short track racing is in a rebirth. And if you love racing like we do, and you haven't been out to see for yourself, you are missing out. And tonight, July 3, the flags are out, the cars are here, and the crowd has filed in. The pre race autograph session has been completed and the pre race ceremonies have commenced with the pre race invocation given by modified champion driver Burt Myers, and a very nice rendition of the National Anthem sung by a patriotic Caraway Speedway track crew staff member, and an emotional tribute paid to the family of the late champion Rusty Harpe, featuring his father, Mr. Harpe himself. The command has been given, and the Mini Stocks are making their parade laps. Ladies and gentlemen, it's time, so, let's go racin'!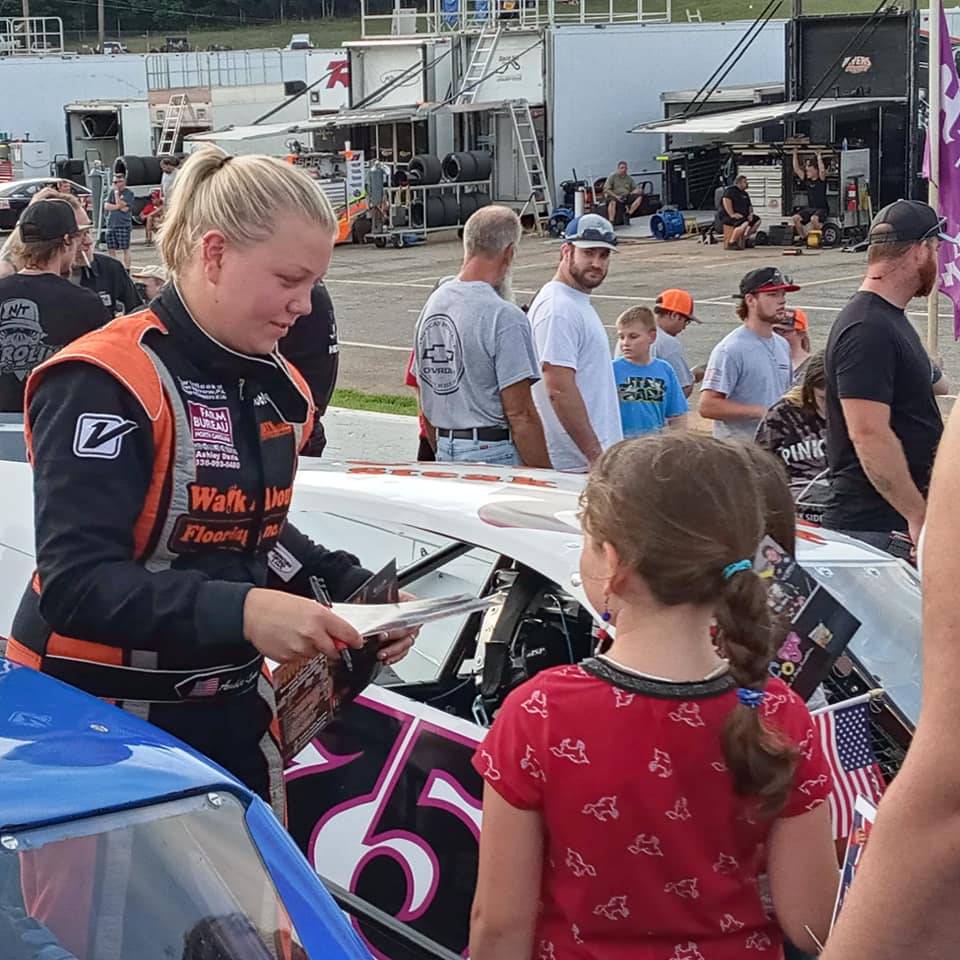 MINI STOCKS-
The Mini Stocks drew for their starting positions and Johnny Baker # 35 starts P1 for this event, with # 94 Brandon Collins to his outside. It's a quick 20 lap event, so it's crucial to get a good start and Baker does just that and jumps out to a nice lead early. # 47 Tyler McDonald overtakes Collins for second, but the # 82 of Alex Whaley goes around in 3 and 4 bringing out the first caution of the evening. But on the restart, Baker does it again and jumps out to a good lead. But after a few laps, McDonald starts to walk him down, and in no time he's there. But it's only 20 laps and so he tries desperately to get by, knowing he doesn't have much time to get it done, looking high and low, but he doesn't have the time, as Baker holds him off, and goes on to win the Mini Stock sprint to start the Rusty Harpe Memorial event.
602 MODS-
The 602 Modified class ended the night with a 40 lap race, with # 75 Lee Jeffreys setting fastest time with a lap of 17.491. They redrew for their positions however, and that puts # 27 Amber Lynn on point for the start, with # 9 James Civali second, and # 8 Rich Hunter rounding out the top 3. Civali gets the jump on the start, as # 99 Cayden Lapcevich brushes the wall back in fifth, but escapes any real damage, as # 51 Junior Snow gets by Hunter for third. Caution is out almost immediately however, as Jefferys is around on the backstretch. Civali chooses the inside with Lynn on his outside, and Snow restarting third. Civali again pulls away on the start, but Lynn doesn't get going and stacks up the field behind her. Hunter gets back by Snow for the third spot, as Snow, obviously having problems with his machine, is dropping like a rock to the back of the field, and has to eventually retire from the race. Hunter meanwhile gets by Lynn for second, and Lapcevich gets by her as well for third, and starts to run down Hunter to challenge for the second position. Lee Jeffreys has also found his groove, and gets by Lynn as well to claim fourth position. Meanwhile, Civali now has a sizable lead, and as the cars behind him battle for their positions, he goes on to win, for the most part unchallenged for the entirety of the race. Hunter comes home second, Lapcevich third, Jeffreys fourth, and Amber Lynn rounding out the top 5.
RUSTY HARPE MEMORIAL 99 LAP LATE MODEL FEATURE-
# 27 Coy Beard is your fastest qualifier with a lap of 17.176, but the field will start under a number 6 invert putting Beard as your sixth place starter. Your sixth place qualifier # 21 Jimmy Wallace will start on the pole, with # 16 Rusty Daniels starting second, # 59 Heath Causey starting third, # 7 Dylan Ward starting fourth, and # 27 Matt Gould rounding out the top 5 starters. Beard brings them around, and the Caraway flagman looks over the field, the green is out, and we are underway in the Rusty Harpe Memorial. Wallace gets a big jump as Ward moves past Causey for third, and then takes second from Daniels as well. He immediately sets his sights on leader Wallace, but Wallace runs some good laps and Ward settles in and starts saving his tires. And back in fifth, a race pattern emerges early that will last for the entire event. No matter what drivers get involved, from fifth on back, the cars are so evenly matched, that whoever is running fifth is literally under fire from the rest of the whole field. I mention it here, because the battles for fifth position started at this point, and will not relent for the entire race. At this point, it's Gould trying to hold off Beard, and the rest of the field behind them is under a blanket, with a lot of them playing bumper tag through this group. Beard gets by Gould for the spot, and now it's Gould fighting off the wolves as the battle is as intense as I can possibly describe. # 61 Justin Hicks gets by Gould for sixth, and now it's # 50 Boo Boo Dalton getting by Gould for seventh, as he starts to make a move to catch the leaders. But up front, Wallace still maintains his gap over Ward, as Dalton has caught Hicks for sixth. Up front, Wallace's machine's brake rotors are glowing red, and one can only wonder if he's set too fast a pace in the early stages, and if it will come back against him now, as he has definitely ran the car as hard as it would go, while Ward has set a steady pace behind him, saving his car and his tires for a later run. My attention is then drawn back to Dalton, who after knocking on the door of Hicks for sixth for several laps, gets by him, and moves up on the bumper of Beard who is still running fifth. But all of the sudden, Hicks is back by Dalton, who looks to be losing momentum, and I can't help but wonder if he's also run his car too hard early, and is now also paying the price. But the answer comes quick, as it seems Dalton is instead encountering mechanical trouble, and soon he's off the pace and on pit road, done for the day. Tough luck for that team, as it was clear they were one of, if not the fastest car in the race, but they're out early in this one here tonight. Up front, now it's Ward's brakes glowing a bright red, as leader Wallace set a blistering pace early. And even though Ward saved his car somewhat, as soon as he started to make a move to shorten the gap, he's had to punish his brakes as well. And it becomes clear to me at this point, that whoever wins this one is going to have to work hard for it, and will still probably need a bit of luck to get an advantage, because no one is going to give an inch in this race tonight. Ward has caught Wallace at this point, as he has indeed stepped it up a bit, because Causey, who had gotten by Daniels for third, has slowly reeled in the leaders and moved in on second place Ward. Both are now with Wallace and putting pressure, as he drops to the inside and let's them by, managing to pull back up behind them, and cool down his tires if possible. Causey starts working Ward for the lead, and on lap 53 he gets by him and starts to pull away bit by bit. But on lap 75, # 10 Janson Marchbanks goes around in turn 4 after contact from # 11 Blaise Brinkley, and being this late in the race, you can just feel that business is about to pick up, as we'll have just 24 laps left to decide it. Again, cleanup is swift, and the choose cone is out. Causey will start them from the inside, with Ward, Wallace, Gould, who's car has come back to life, and Hicks rounding out your top 5 for the restart. The field looks good for the start, the green is back out, and Causey gets a great start, but Ward doesn't get going. Hicks gets by, Gould gets by, and before he can get back to speed, Wallace is by as well. But the field is jammed up behind them, and as they scramble for spots in the mayhem, Daniels and # 15 Blake Bledsoe get caught up in the chaos, as Daniels is dragging his front bumper clip, and Bledsole has damage as well, and they limp to the pits for repairs, and the caution waves for debris on the backstretch. Again, lane choice will be crucial, as the drivers know this may be the last chance to get what they can on the restart, and up front, the chess game is being played, as Causey will again take the inside, and Wallace will be on his outside, followed by Hicks, Ward, and Gould respectively. Again the field comes to the green, and again Causey gets a great start, as Hicks gets by Wallace, and Ward follows him, and Wallace is stuck on the outside, losing spot after spot, giving Causey a chance to separate himself from the field. But Ward also gets a good start this time, as he gets by Hicks, and sets his sights on the leader, determined to make up for his earlier mistake. And as him and Hicks walk Causey down, the rest of the field is battling for everything they're worth, beating and banging throughout the field, trying to get all they can for the finish. As Causey looks to pull away, the caution is out yet again for Wallace who is spun in turn 4. It'll be down to Ward and Causey for this one. Causey gets a great jump on the restart, but Ward is right with him. And as they come down to the final lap, Causey leads them into turn 3, but Ward's there, and he dives in the corner, maneuvering alongside, with Hicks tucked in still behind him, rooting Causey out of position, and Ward powers off the corner with Hicks in tow, as Causey falls in behind them. Ward then powers down the front stretch for the exciting win, with Hicks second, Causey third, Brinkley fourth, and Daniels a hard fought fifth.
SMART MODIFIED TOUR SMART CHEVROLET 99 LAP FEATURE-
Gary Putnam is your fastest qualifier for the SMART Modified tour here at Caraway tonight, with a lap of 16.155. We will have a 6 car invert however which will put the # 79 of James Civali on the pole for the start, with # 24 Danny Bohn starting second, # 17 John Smith starting third, # 4 Jason Myers starting fourth, and # 2 Joey Coulter starting fifth. And as they prepare for the parade laps for tonight's race, they will continue a tradition that goes back to the origins of the SMART tour at Caraway Speedway for the week of the Fourth Of July. The first 10 starters will run their parade laps with Old Glory flying outside of the driver side windows. It's a heart warming sight that gets you in the feels, reminiscent of a modern day Calvary as these powerful machines parade by the appreciative crowd. An awesome gesture for the start of this race, and a nod that the SMART Modified tour is indeed the rebirth of the original southern modified tour here in the south. But now it's time to get down to business. The parade laps are complete, and Civali leads them down to the stripe. The field is in order, and SMART flagman JB Cole likes it, and he throws the green, and we are underway. Civali gets a great start with Bohn with him, as Jason Myers gets by Smith for third. Putnam also gets by Coulter for fifth, and Loftin gets by for sixth. # 1 Burt Myers, who had to start in the back due to track bar repairs before the race is making moves up through the field, as Loftin makes a move on Putnam for fifth. Jason Myers is working on Bohn for second, as they watch Civali pulling away up front. Bohn seems content to let him get away a bit but he holds off Jason for the second spot for now. The field feels each other out as they race clean and green to the stage caution that flies on lap 30.
The pits come alive, and strategy is played early in this one, as Bohn, # 99 Jamie Tomaino, # 12 Mike Norman, # 7NY Caleb Heady, Burt and Jason Myers, # 55 Jeremy Gerstner, and # 18 Daniel Yates, all come in for tires and/or adjustments, to get their cars better for the next stage. As they come back to the green, Civali chooses the inside, followed by Smith, Loftin, Putnam, and Coulter your top 5 for the restart. Cole throws the green, and again Civali gets a great start, but Burt Myers, who left the pits late and was hustling around to try and catch the field, has a problem and is around in turn 2. He limps his machine around, sparks flying to the pits, as the field gets lined back up for another restart. It's still early for Burt Myers though, and he takes this opportunity to make even more adjustments during the tire change, as he will have a long way to come to be a factor in this one, having again to start in the rear of the field. As they line up, Civali elects to protect the high side this time and chooses the outside for the restart, with Smith on his inside, followed by Loftin, Putnam, and Coulter. Again flagman Cole likes the view as they come to the stripe, and he waves the green, and again Civali jumps to a couple car lengths lead. Putnam works around Loftin for third, and in the middle of the pack, Mike Norman gets shuffled out after contact with someone, and he's looking for an opening to get back in line, but with a field of talented racers like this, as expected, he will have to settle in at the back as numerous cars take advantage. Up front, Smith has caught Civali, and he moves past for the lead. Putnam follows him to second, and in the middle now, # 8 Darin Redmon is under fire from everyone behind him, as he is suddenly fighting a loose race car, and all the talent looking to get by him. Meanwhile, Caleb Heady is pressuring Jason Myers for the sixth spot, and works his way past after a few laps, and Putnam is all over leader Smith for the lead. # 76 Brian Weber is having problems, and he brings his ailing machine to pit road. Heady has now caught Coulter for fifth, and he dances around in his mirror until he moves past. Up front, as leader Smith comes by, I can hear his engine is not right, and sure enough, after a few laps of this, Putnam is there and takes the lead, as it's obvious now that the # 17 machine is indeed in trouble. It's not long before he is slow and trying to get to pit road. Meanwhile, Heady is on a roll. He moves past Civali, and he sets his sights on leader Putnam and starts walking him down. But on lap 70, we are under caution once again for what appears to be a competition caution, as the field was issue free. And so with 29 laps to determine it, again pit strategy comes into play and literally the whole field pits now for tires and adjustments. The Tommy Baldwin team gets Heady out first, and he'll have lane choice over Burt Myers, as his team does amazing work and puts Burt number 2 off pit road. And after fighting mid pack all day trying to make ground to get to the front, it's his pit crew to the rescue. It's big for this team as this field of competitors is so stout, that it takes every bit of talent you have to make ground under green on these guys. But now Burt will be able to work up front to take a shot at the leaders here toward the end of the race. Heady chooses the inside for lane choice, with Burt Myers, Gary Putnam, Danny Bohn, and Brian Loftin following. The crowd is on their feet for the end of this one, as flagman Cole surveys the field, again he's satisfied, and the green waves, leaving this talented field of drivers to decide it. Heady gets a good start, but he's got a handful with Burt Myers as they're side by side for the lead. Burt's giving the rookie all he's got, but Heady fights him off, and sets sail up front, leaving Myers to deal with the rest of the field. Bohn moves past Putnam for third, as Loftin and Coulter battle for fifth. Coulter gets it, as Putnam is not done battling Bohn for third, and he moves back past Bohn for the position. He then moves in on Burt Myers, and he dives in and takes the second spot. And he's been saving something, as Heady has pulled out to a pretty sizable lead, but Putnam begins to run him down. And in no time, he's there. Heady has been running excellent laps up front, but Putnam now shows what he's really got as he's decided it's time to go, and he gets to Heady and immediately begins to work on his bumper. Heady holds him off for a few laps, but Putnam's too strong, and on lap 88 he gets a nose underneath, and powers alongside, moving past off of turn 4. Meanwhile, Bohn is losing spot after spot, and the field here at the end is like all year: a pack of wolves seeking to devour anyone who shows weakness. They're in an intense battle for position, but it's to get what they can as Putnam is the class of the field, and he pulls away from Heady to take one of the biggest wins of his storied career. And as they cross the line, Burt Myers is left spinning off of 4 from the beating and banging from the jockeying of positions from the front portion of the field. So Putnam powers to the win, with Heady second, Coulter third, Loftin fourth, and Jimmy Wallace fifth.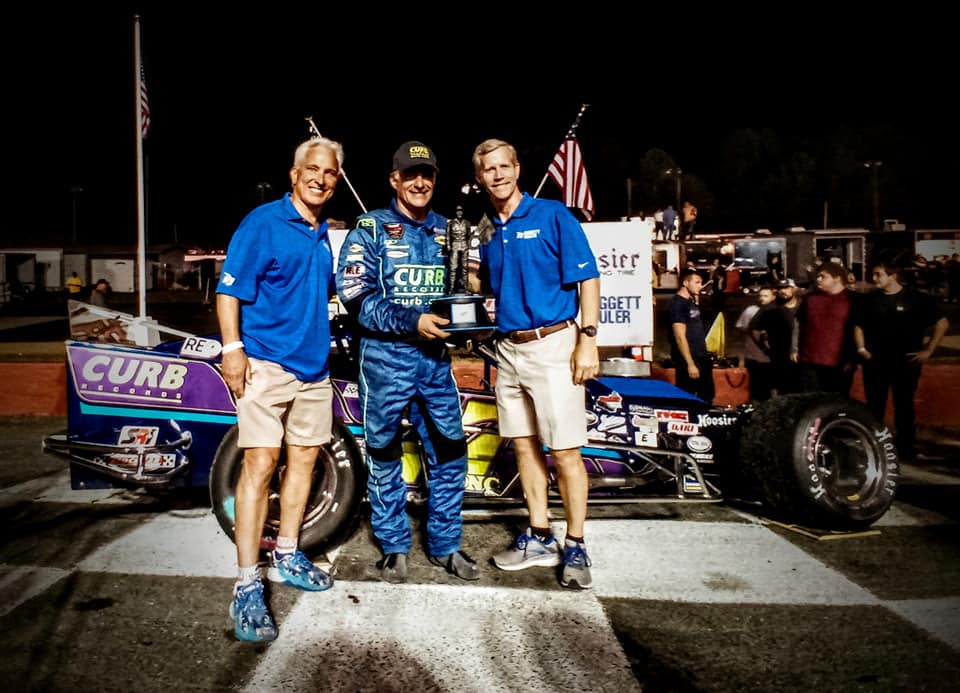 MY TAKE-
All my life I've learned to expect the unexpected. But, I continue to be taught the lesson, and The Rusty Harpe Memorial was no exception. It wasn't unexpected that Dylan Ward won the Late Model race, but, after he made his mistake on a restart at the end of the race, he looked to be toast on going for the win. But when everyone least expected it, he was there with another shot at the leader, taking full advantage to power on to an amazing last lap pass win. And Gary Putnam is not a surprise to win any SMART Modified race, as he's shown the speed all year. But honestly, he hasn't been in contention for a win this year due to one factor or another. It's not that it's a surprise that he was in contention in the least, but, to come out here on Independence Day weekend, with the tour's new signature trophy (The SMARTY) on the line…to come out and basically dominate this event, came at least to me, when I least expected it. Let's not sugar coat it. He dominated this race. He had the fastest qualifying time, and he saved his stuff. But when Danny Bohn passed him toward the end for third, I thought he was going to have to settle for a top 5 finish. But when it was time to go, when I least expected it, he moved past Camping World Truck Series regular Danny Bohn, and walked down the talented rookie Caleb Heady, who appeared destined for the win, and powered by for the outstanding win. And coming into the race, if you would have told me that Burt would have the issues he had, at this point of the season, and in this race, well…it came when I least expected it. But I've got to say, in racing, you should always be prepared for the least expected. Anything can happen at any time. And so now, the points are as tight as you can imagine. And with 5 different winners in 5 races, it's anybodies game for the championship at the top.
The fans could not have asked for a better show. And I know, as well as everyone in attendance, that Rusty Harpe would be proud of how great the racing was in his honor, as it's what he lived for outside of his family. It was heart warming to see the track honor him and his family in the manner they did, as they have for the last 14 years. To see his father at the track during pre race ceremonies, well, you had to be there. And to see the SMART Modified Tour parade Old Glory around 5 rows deep before the start of this race, returning to a tradition that I loved and cherished since my youth was priceless. In short, this was an amazing show through and through. It showcased all the things that make us here at Short Track Report do what we do. Great racing and good times. It showcased what racing is all about.
Our Blue Collar Racer for this event was as hard as any. Dylan Ward worked hard to keep himself in position for the Rusty Harpe Memorial, as well as Causey who led most of the race. In the SMART Mods, it would be easy to give the nod to winner Putnam, who worked hard all day, putting down the fastest qualifying lap and taking the win. And Caleb Heady who worked his way to the front, and led at a time when it seemed he would be the winner. But, we can't deny Jimmy Wallace. You should know, Wallace is the late Rusty Harpe's brother in law. And he worked as hard as he could, racing in the honor of him. Firstly to note, he drove double duty in the two main events against some of the best drivers in the country. He found himself, after the invert, on the pole for the start of the Rusty Harpe Memorial Late Model feature, and he went off to a huge lead, racing with emotion. He burnt his stuff up in the run, but he was racing for all he was worth. And in the SMART Modified race, he came from deep in the field to his best finish of the year for his team, finishing with a strong fifth, and after the events that played out before the finish, I can say, when everyone probably least expected it. So there you have it. A show with emotion, and outstanding racing action. We can't wait for the SMART Modified Tour to return from summer break for the next event on August 28 at Dillon Motor Speedway, but this event has us pumped up for our next outing, which is the Battle Of The Commonwealth for the Carolina Pro Late Model Series at the high banks of Franklin County Speedway next Saturday, July 10. See you at the track!
SMART Modified Tour at Caraway Speedway – July 3rd results
1. # 77 – Gary Putnam
2. # 7NY – Caleb Heady
3. # 2 – Joey Coulter
4. # 15 – Brian Loftin
5. # 22 – Jimmy Wallace
6. # 79 – James Civali
7. # 24 – Danny Bohn
8. # 55 – Jeremy Gerstner
9. # 07 – Dennis Holdren
10. # 4 – Jason Myers
11. # 1 – Burt Myers
12. # 18 – Daniel Yates
13. # 12 – Mike Norman
14. # 8 – Darin Redmon
15. # 99 – Jamie Tomaino
16. # 17 – John Smith
17. # 76 – Brian Weber