CAROLINA PRO LATE MODEL SERIES/CAROLINA CRATE MODIFIED SERIES AT FRANKLIN COUNTY SPEEDWAY- BATTLE OF THE COMMONWEALTH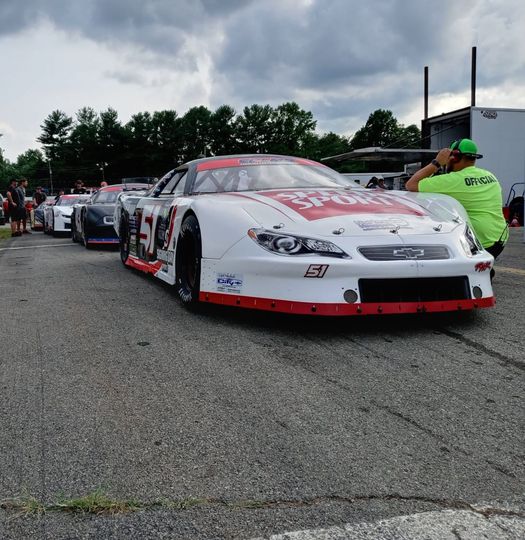 We'd been looking forward to this for quite awhile. The youth of the Carolina Pro Late Model Series at exciting Franklin County Speedway. We know what the place does to drivers, and we couldn't wait for the talent of the tour to be introduced to the track. It filled our conversation on the long ride from Virginia Beach where we spent our short vacation, celebrating our country's independence. But we had been talking about this one all week. I told my son Josh that I thought Nick Loden, who had dominated the series early in the year but had worked through a few weeks average finishes as the competition has tightened on the tour, would reassert himself up front at this race. It's a fast track that will make you get up on the wheel, and I felt that would reawaken Loden, who's driving style, I thought, matched this place perfectly. But he argued for Tovia Grynewicz, who he thought was due after his hardworking performance working through the field at Carteret County. But we knew each of our picks had one big problem finding victory lane at Franklin, and his name is Gus Dean. The experienced veteran of ARCA and Camping World Truck Series fame was listed on the entry list, and we knew that would pose a serious obstacle for anyone wanting the win here tonight. He already had one win on the series in his 2 outings, and his experience would be a hard thing for anyone to overcome here. And in the Crate Modifieds, we both wondered if anyone could keep Kevin Orlando from victory lane in this race. He's won his last 2 outings, and with his teammate Cayden Lapcevich entered in this one as well, we knew that they would be the favorites going into this one as well.
As we entered into the track, and got down to the infield, we could feel the excitement among the teams. We knew they would come to love these high banks as we do, and every driver we talked to said the same thing, and told us how fun it was running around this place. Again, it was no surprise to us, but as I settled in and started taking pictures, I did have one thing happen that I wasn't expecting. I mean, I knew they would be super fast here, but to experience it…it was quite revealing of the truth about this place. I would take a track photo of a car running, and they would get back to me so quick, I thought at first they were qualifying two cars at once. I knew they would be fast…but it did come as a bit of a shock at how fast they could run a lap here. It was quite impressive. And I knew right then, that the fans who came here were going to be in for quite a show. And as I looked around and saw them filing in, I knew that this tour belonged here, and I couldn't wait for the races to begin. The crowd is here, and the pre race ceremonies have commenced. The prayer spoken, and the anthem played. The cars are on the track for the Battle Of The Commonwealth, so, let's go racin'!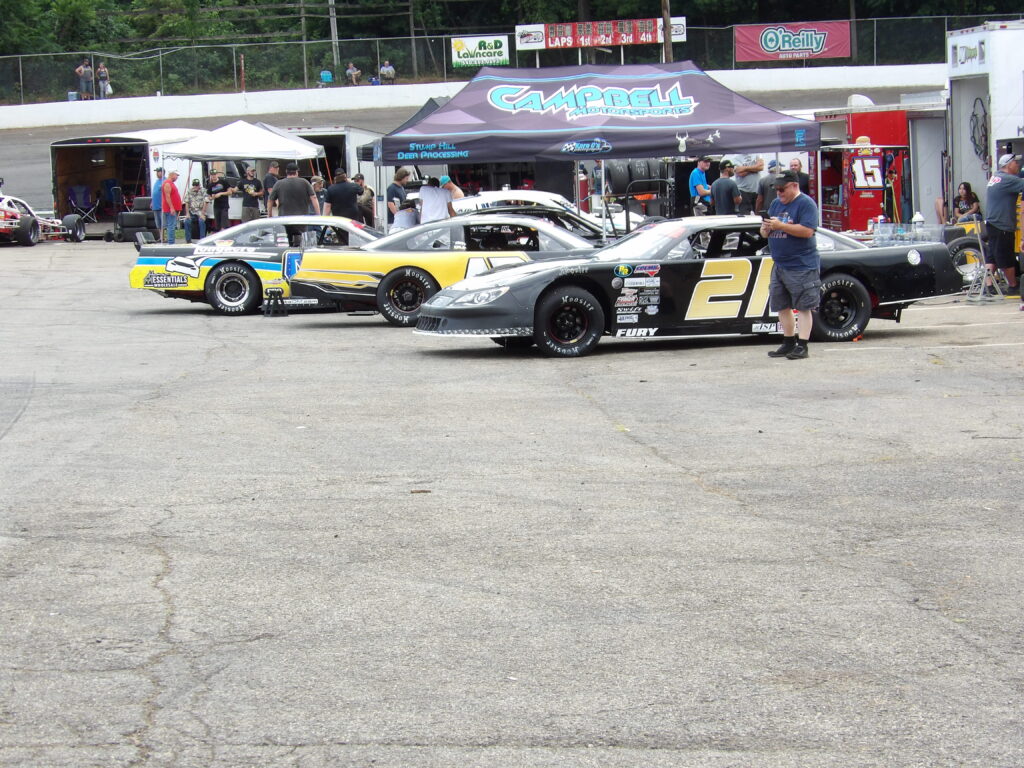 STOCK 4-
RACE 1:
# 66 Darrell Chrisley is your fastest qualifier, and he will lead them to the green followed by # 71 Donald Clay, # 9 Joshua Dawson, # 3 John Coe, and # 21 Michael Altice rounding out your top 5 starters. Chrisley brings them around, the starter likes what he sees, and the green is out, and the Battle Of The Commonwealth has begun. Clay puts up a battle for the lead, but Chrisley holds him off and asserts himself up front. # 79 Trey Cooper gets by Michael Altice for fifth, and then works on Coe for fourth. He moves by Coe, and Altice follows him through to reclaim the fifth position. Up front, Dawson has moved past Clay for second, and Cooper follows him to get by Clay for third, but then we get our first caution of the night as the # 28 of Will Stevens pounds the wall hard in turn 2 . It's a hard hit, but Stevens is ok, and we are under the red flag for cleanup. The track crew has their hands full, but gets the track cleaned up, and we are back under caution. Chrisley will lead them back, with Dawson and Copper in tow. The green is back out, and Chrisley gets a great restart, leaving Dawson and Cooper to battle it out for second. It's a great battle for position, and Cooper finally gets past Dawson, but it's a short race and he won't have time to catch Chrisley as he goes on to win the first of 2 Stock 4 events.
RACE 2-
For the second Stock 4 race, the top of the field is inverted, putting # 3 John Coe on the point, followed by # 21 Michael Altice, # 9 Joshua Dawson, #71 Donald Clay, and # 79 Trey Cooper starting as your top 5. Coe leads them down, the field is looking good, and the green is out. Immediately Altice goes by Coe for the lead as Clay gets by Dawson for third and sets his sights on Coe for second. He moves past Coe for the position and as Coe gets shuffled up and out of the groove, Dawson gets by, but as Cooper looks to get past as well, he goes around in turn 4, and Coe gets collected as well, but both continue on, saving their machines. No matter though, as the caution waves to prevent impending chaos, and everyone gets in line with no cleanup for the track crew. As they come back to green, Altice leads Clay and Dawson to the stripe. The green is back out, and Clay and Altice are in an intense battle for the lead. Clay eventually gets by Altice, as Cooper gets by Dawson for third. He then walks down Altice and moves past him for second, as he sets his sights on front running Donald Clay. After a few laps he's caught Clay, and he moves past him for the lead. But the caution is out again for # 7 James Hodges, as he's slow on the backstretch. He limps his ailing machine to pit road, so again the track crew gets a break, as the field lines back up for the restart. Cooper leads them down followed by Clay and Altice. Cooper gets a great restart, as Dawson makes a move on Clay and Altice, moving up to second on the restart. And Clay is dropping back, obviously experiencing problems with the # 71 machine, as Cooper pulls away to win.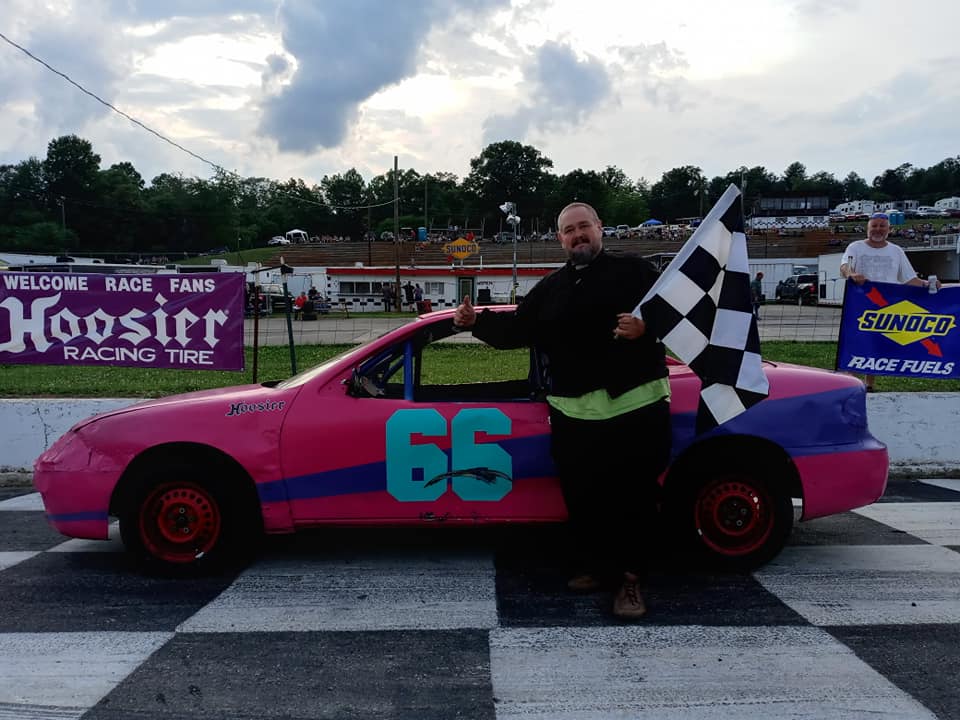 ANY CAR RACE & HAYBALE RACE EXHIBITION-
There is a lot of cool things added to Franklin County Speedway premier events that you won't see added at most other tracks you go to. One of them is the Any Car division, and added to that was a Haybale Race exhibition. I can tell you first hand that these events are crowd pleasers. The Any Car division is a weekly racing division at Franklin County, and the fans love them here. And if you get to see one of the high money paying races for this division with a full field of Any Cars, you'll love them too. It's an amazing show to watch, and tonight Franklin County has put together a handful of these racers to put on a show for the fans at this event. Even Carolina Pro Late Model Series director Keith Graham, after the track offers him a car to race in the event, gets in and tries his luck. The crowd loves it. And when the Haybale Race is run, even though only a few cars are here for the exhibition, the crowd enjoys every bit of it. And in the infield, the touring series crew members gather around as I'm recording parts of the event, and the comments are entertaining to say the least. They love it too, amazed at what they are seeing, as the drivers put on a great show for the fans. Chad McDowell does what he has been doing lately, and wins both events. Everyone from the fans to the teams and crews of the Carolina Pros come to understand why these events have such a big draw here at Franklin County Speedway, and for good reason.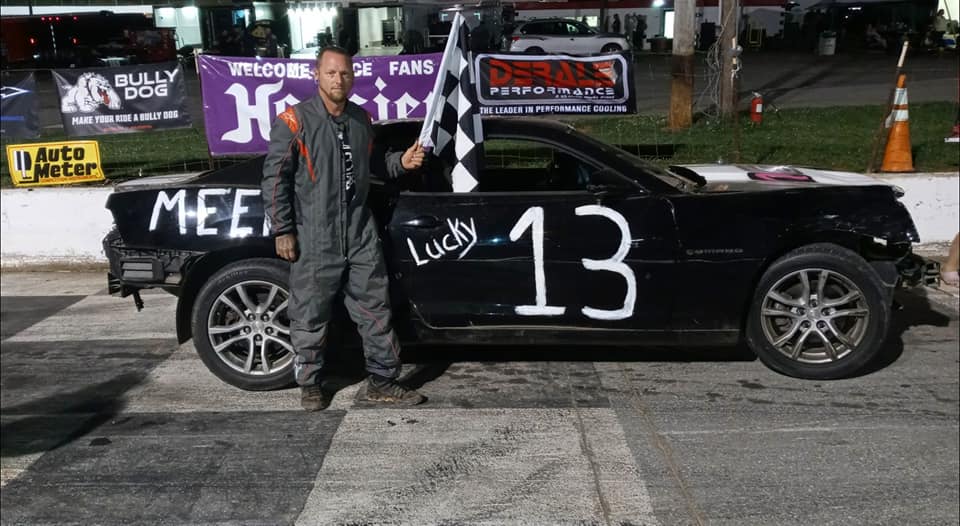 EAST COAST FLATHEAD FORD RACING ASSOCIATION-
Franklin County has also added to this event a race for the East Coast Flathead Ford Racing Association. The cars this group runs are flathead engine Ford original 1932 – 1948 model racing machines that ran in the 1950's. The cars are stunning, and take you back to the beginnings of organized stock car racing. You can't help but admire the drivers and the teams that have saved, and are still racing these historic race cars. The association draws for starting spots, and tonight, # 7 Jeremy Cox starts on the pole, followed by # 14 Richard Wikle, # 18 Kerri Wikle, # 99 Johnny Johnson, and # 6 Donovan Freeman. Cox brings them down, the Franklin County flagman likes what he sees, and the green is out. Cox has a great start, and as Kerri Wikle drops to the back, Johnny Johnson moves past her and Richard Wikle to second. Freeman also gets by Wikle for third, but he's under fire from # 45 Wayne Lawson. Johnson walks down Cox, and moves past him for the lead, as Lawson moves past Cox for second. Cox's machine is suddenly slow down the frontstretch and throwing sparks, as it appears his right front suspension has suffered a failure, and the first caution for the Flathead Fords waves to slow the field. Johnson will lead Lawson back to green, and the two would battle hard for the lead, but Johnson is just too strong, and in the end pulls away to win the event. Lawson is the top running Sportsman, so Johnson wins the overall, but Lawson is crowned as the Sportsman Division winner.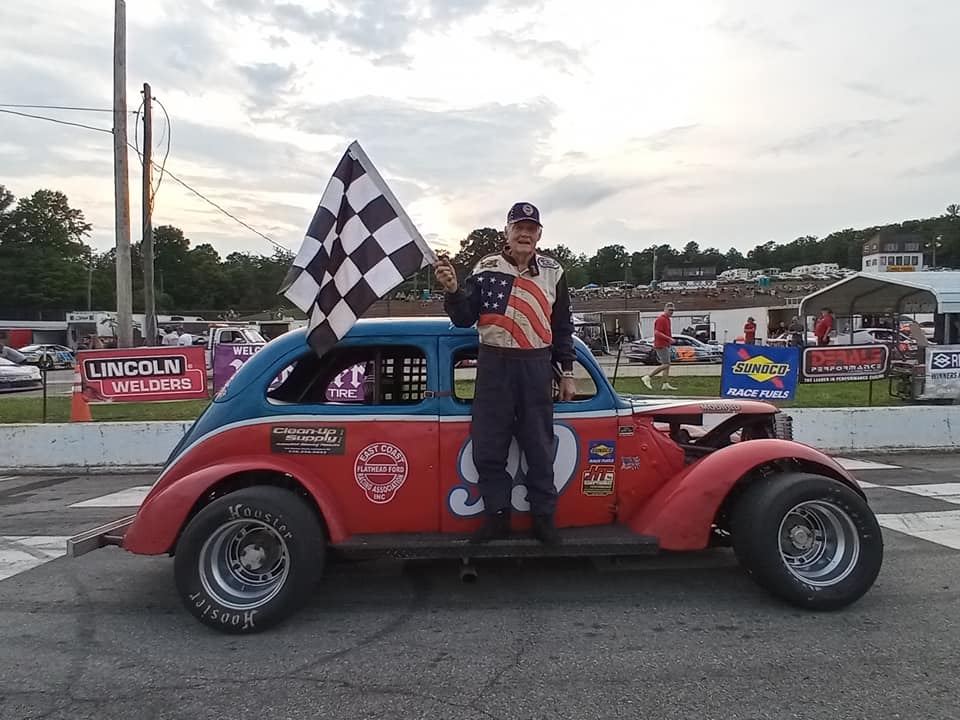 CAROLINA CRATE MODIFIED SERIES-
For the Carolina Crate Modifieds, Cody Norman, after all is said and done, is your fastest qualifier with a lap of 14.176. # 9 Dan Speeney ends up on the point after the invert however with first time Modified starter # 33 Tanner Young starting second. The field lines up nicely, the flagman is delighted with this sight and throws the green. Young gets a great start on the field and tries to pull away but his plans are thwarted as coming out of 4 on the first lap, Speeney and the # 99 of Cayden Lapcevich make contact and this sends Lapcevich around. Due to no laps being completed, the field goes back to the initial lineup. This is a great break for Speeney as he has another chance to stay with Young on the start. This is also great for Lapcevich who doesn't have to go to the rear of the field for the start. The green comes back out and yet again, Young gets a nice start. Behind him though, the # 00 of Kevin Orlando is already on a roll as he passes Lapcevich for third and then gets by Speeney for second. Speeney is then under fire from Lapcevich who takes the third spot from the # 9 machine. Fastest qualifier Cody Norman is noticeably off the pace as he's barely holding on to the field. You have to wonder what's going on with that machine. A few moments later on lap 8, Orlando does the inevitable and takes the lead from rookie Young. Orlando brings teammate Lapcevich along with him, but Young puts up a fight with the Canadian Hall Of Famer. As they battle hard for silver position, this has allowed Orlando to sail from the field. The battle eventually boils over as they make contact and Young is around out of 4. This is certainly what Orlando didn't want to see.
Orlando will lead them back with Lapcevich second, and # 63 Dean Lowder third. Lowder has been quietly making his way through the field today. The green comes back out, and we have a fantastic battle for the lead. Although Orlando and Lapcevich are teammates, they each have the will to win. As they battle, Speeney takes back third from Lowder, who's car seems to be falling off a bit. Orlando finally shows enough muscle to get by Lapcevich and tries to set sail yet again. Speeney now looks under Lapcevich for second, but Lapcevich is just too strong for Speeney right now. He then settles in behind the 99 machine, giving him bump after bump. This allows Speeney to get back underneath Lapcevich, and he eventually takes the second spot. This leaves Lapcevich to battle hard with Lowder. If you've been keeping up with the Crate Modified Series, Lowder and Lapcevich had a bit of a disagreement at Hickory Motor Speedway earlier in the year. You have to wonder if those hurt feelings are still lingering. Going into 1, Lowder heads up the track and makes contact with Lapcevich. Lapcevich saves it however, and you have wonder if Lowder may have hurt his car trying to take the position. Again, Orlando is a rocketship, but to his horror, another caution flies. This time it's for the # 12 machine of Norman who is leaking fluid on the track. Orlando just can't get a break here today. Speeney has another chance to capitalize on this restart. As the green flies, Orlando again shows his muscle and easily clears to keep the lead. Lowder is having a hard time in the middle of the field, and drops all the way to fifth. Again, you have to wonder if that contact with Lapcevich hurt Lowder's hot rod. Back to the front, Speeney is starting to gain, inch by inch. But the race is only 62 laps, and it's not enough time for the hard working Speeney as Orlando takes the checkered for the third time in a row and the fourth time this season.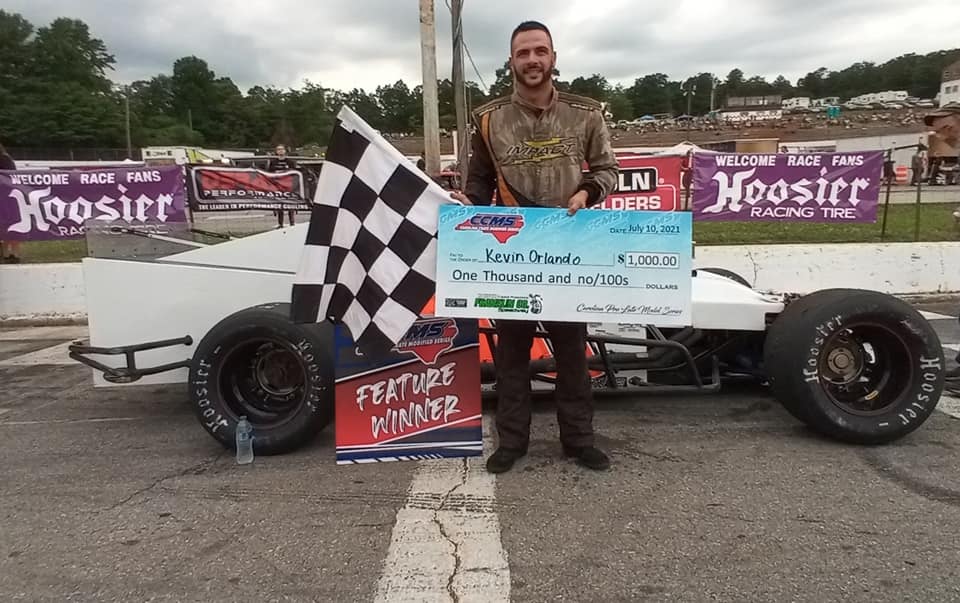 CAROLINA PRO LATE MODEL SERIES-
# 48 Tovia Grynewicz turns your fastest lap in qualifying with a lap of 13.815. Yes, 13 second laps for this series at this track, and the field qualifies tight all throughout the field. The redraw number is 8 however, and so that puts ninth place qualifier # 51 Nathan Byrd on point for the start of the race as fourth place qualifier # 35 Caden Kvapil makes pre-race adjustments and drops to the back. This moves everyone up one spot. Byrd is followed by # 18 Bill Catania, # 43 Nick Loden, # 43S William Sawalich, and # 21D Gus Dean rounding out your top 5 starters for the Carolina Pro Late Model 100 lap feature event. Byrd brings them down, the field is all lined up and looking good, and the green waves starting the race. Byrd gets a great start, but Catania doesn't and he drops from his second place starting spot to fifth. # 1X Tyler Church gets by him, and Dean gets by him as well, and Church then moves past Sawalich for fourth, and again Dean follows him through. Catania then gathers himself and moves back past Sawalich for sixth. But on lap 7, the # 98 machine of Matt Henley goes around and is into the wall hard in turn 3, and # 24 Penn Crim has nowhere to go, and locks it down to miss Henley, but he hits him just enough to get some front end damage. Henley's machine is toast however, and he's going to have to be towed away. Luckily he's okay, as that was a hard enough hit that you could hear it over the cars and the crowd. Crim goes to the pits as the track crew cleans up the mess, and the team goes to work trying to repair what they can on the front of his machine.
Byrd will lead them back to the restart, followed by Loden, Church, Dean, and Catania who'd worked back into the top 5. On the restart, Byrd gets a challenge from Loden, but he holds him off as Catania goes around in turn 2 trying to hold off the stout field behind him. So we'll have to redo the start, and it comes quickly as Catania is able to pull away and line up at the rear of the field. Again Byrd leads them down, followed by Loden, Church, Dean, and Sawalich. On the restart, Byrd is again under fire from Loden, but this time Loden gets by on the outside with a strong move to the lead, as Dean gets by Church for third and eyes Byrd for second. Dean gets by Byrd as well and settles in behind Loden. Church is able to work his way past Byrd as well as Byrd's car seems to be going away. Dean is working Loden's mirror trying to make him make a mistake. In the middle of the field, the # 63 of Josh Lowder gets noticeably loose off of turn 4 after # 71 Katie Hettinger gets into him, but he saves it, and holds her off, as they are in a tightly contested battle for seventh. I have to note here, that it's hard to keep up with all the battles through the field. They're running amazingly fast laps, and the competition is fierce in this race. It's hard to catch all the action. Just how we like it. An amazing race here today.
# 35 Caden Kvapil has moved through all these intense battles, and you can't help but notice how those pre race adjustments are paying off now, as he has moved all the way to the bumper of Grynewicz for fifth. Up front, Dean has finally found an opening on Loden, and he slips by for the lead after the two have a bit of door contact going into turn 1. Catania goes to the pits, and is done for the day. He'd been fighting an ill handling car, but unfortunately it seems as though it was more than just a setup issue. Meanwhile, Kvapil is past Grynewicz for fifth, and is looking for fourth on Byrd. He puts a bumper on him and moves him up, and slips past as Grynewicz follows him through as well. If you get out of position in this race, the pack will pounce as everyone looks for every spot they can maneuver for. Up front, Church is all over Loden, but Loden works hard to keep his second running spot. It's another great battle, as Church looks under Loden lap after lap, but Loden keeps his composure and holds him off. But Church keeps up the pressure, and finally, Loden slips up just a bit going into 1, and Church takes advantage, moving into the second position. Meanwhile, Hettinger is still working Lowder. It's a battle that's lasted many laps. But Hettinger finally makes the move to sixth over Lowder, but then he's off the pace, and he goes to pit road done for the day as well. He had kept his spot in the top 10 for the whole race, but he will have to settle for a heartbreaking DNF in this one, settling only on the fact that he had a strong car here today for most of the race. The battles were intense, but during all the skirmishes for position in this race, Gus Dean has pulled away, just a little bit at a time, lap after lap, and at the end he was all alone crossing the finishing line in an impressive win, in a highly competitive event.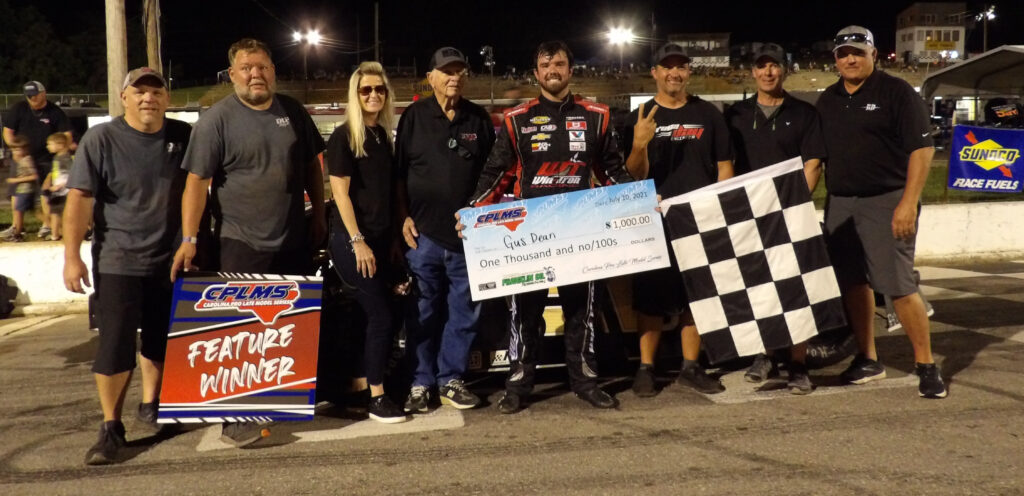 MY TAKE-
What an amazing event. Gus Dean took the Carolina Pro Late Model field to school as he was indeed on this day, the head of the class. Orlando does it again and wins his third straight, and fourth on the year in the Carolina Crate Modified Series, and proves that at least right now, the head of the class of the mods. Johnny Johnson brings his old school mod to Franklin County Speedway, and does what he's done since the 1970's, and that's beat his competition in a modified. Chad McDowell put on a show for the fans doing what he's done all year, and that's to win most every event he's entered in, and the Stock 4's of Franklin County shuffled for dominance at the top of their division as points leader Chris Amos sits this week out. We saw some amazing racing in all these races, but the Carolina Pro Late Model Series and the Crate Modified Series put on a couple of amazing races.
The Crate Modifieds, though low in number this week, had the crowd talking. Now we know and have told you the deal on why sometimes they have low numbers. We know also however that that will change. The series is new, so it's expected. But their numbers will grow because of what happened here tonight, and that was these guys put on an amazing show. We've seen the social media buzz on this series, and we've heard from fans wherever they go. And they proved here tonight, that no matter what you've been told by the naysayers that haven't experienced it, that the numbers don't matter when the racing is good. And the racing is so good in this division, that once the Crate Mod drivers in this region understand the greatness happening here, they will want to be a part of it too. But no matter, as they are exciting just as they are now, and so it can only go up from here. And this takes me to our Blue Collar Racer Of The Night Award. Now, I'll admit, this was a hard one. Me and Josh argued back and forth on who should be the recipient. One name that came to mind was Katie Hettinger. She battled hard all race long in the middle of the field, and gave the crowd a show with her battle with Josh Lowder. Another name that came to mind was Tyler Church. Tyler came all the way from 7th to finish a hard fought 2nd to Dean. Just to know how hard he worked, immediately after exiting his car, he sat down next to the wall, extremely wore out and faint. So he of course was a top candidate. But after much consideration, there was no question to who it would go to and his name is Caden Kvapil. Caden started dead last and made his way up all the way to 4th. If another caution would've been thrown, there's no doubt that Kvapil could have been a menace to the top three. As we leave Franklin County for the final time this year, we just want to thank Langley Austin and all of Franklin County's staff for their fantastic hospitality and welcoming attitudes. Franklin County is an amazing track, and Short Track Report hopes to visit multiple times in 2022. The speed, the racing product, the atmosphere, nothing beats it. And we of course look forward to our next CPLMS/CCMS race at Dillon Motor Speedway on July 24th. It should be an amazing show and we look forward to seeing everyone there!
Carolina Crate Modified Series at Franklin County Speedway – July 10th results
1. # 00 – Kevin Orlando
2. # 9 – Dan Speeney
3. # 99 – Cayden Lapcevich
4. # 33 – Tanner Young
5. # 12 – Cody Norman
6. # 63 – Dean Lowder
Carolina Pro Late Model Series at Franklin County Speedway – July 10th results
1. # 21D – Gus Dean
2. # 1X – Tyler Church
3. # 43 – Nick Loden
4. # 35 – Caden Kvapil
5. # 48 – Tovia Grynewicz
6. # 71 – Katie Hettinger
7. # 51 – Nathan Byrd
8. # 4 – Leland Honeyman
9. # 43S – William Sawalich
10 . # 37 – Mike Speeney
11. # 03 – Kyle Campbell
12. # 63 – Josh Lowder
13. # 18 – Bill Catania
14. # 24 – Penn Crim
15. # 98 – Matt Henley