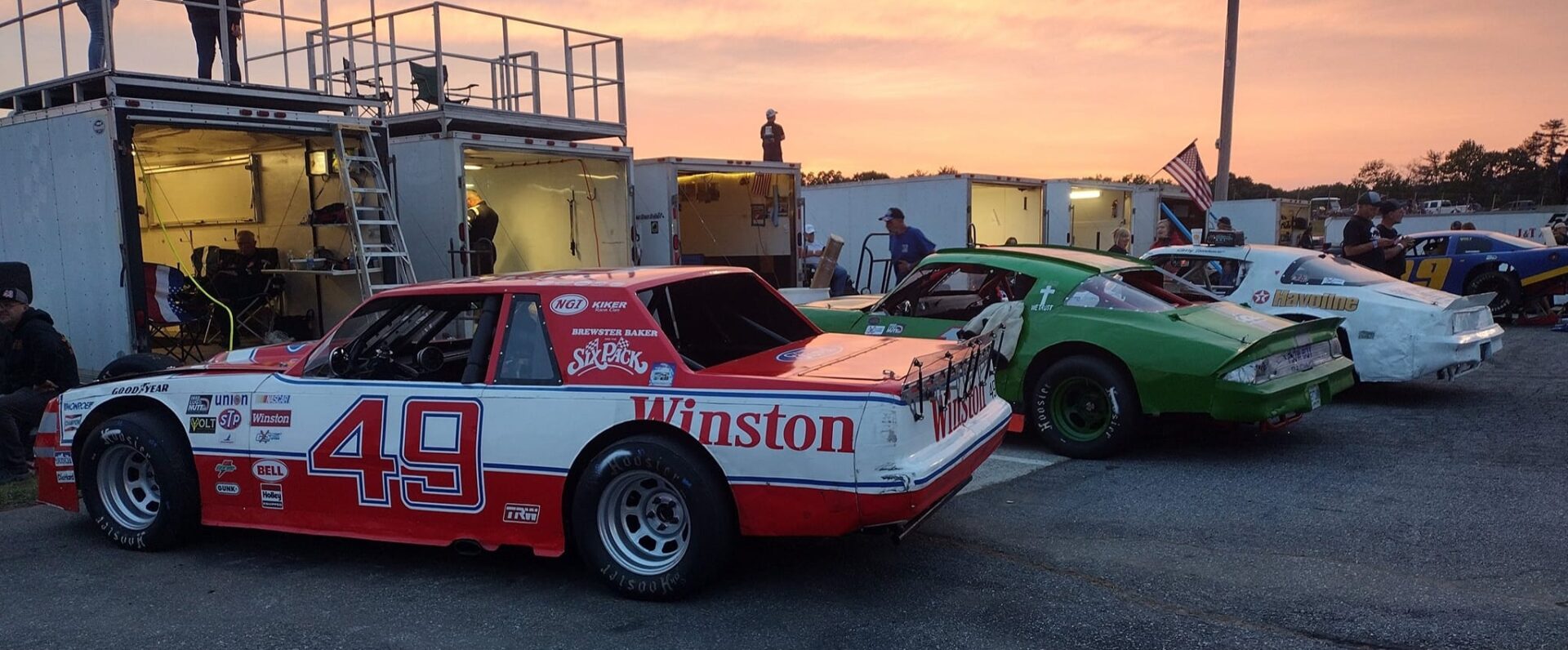 BUILDING A LEGACY – 2023 CARS Tour Pro Late Models/GXS Street Stock Series Leapfrog Landscaping 75 At Tri-County Speedway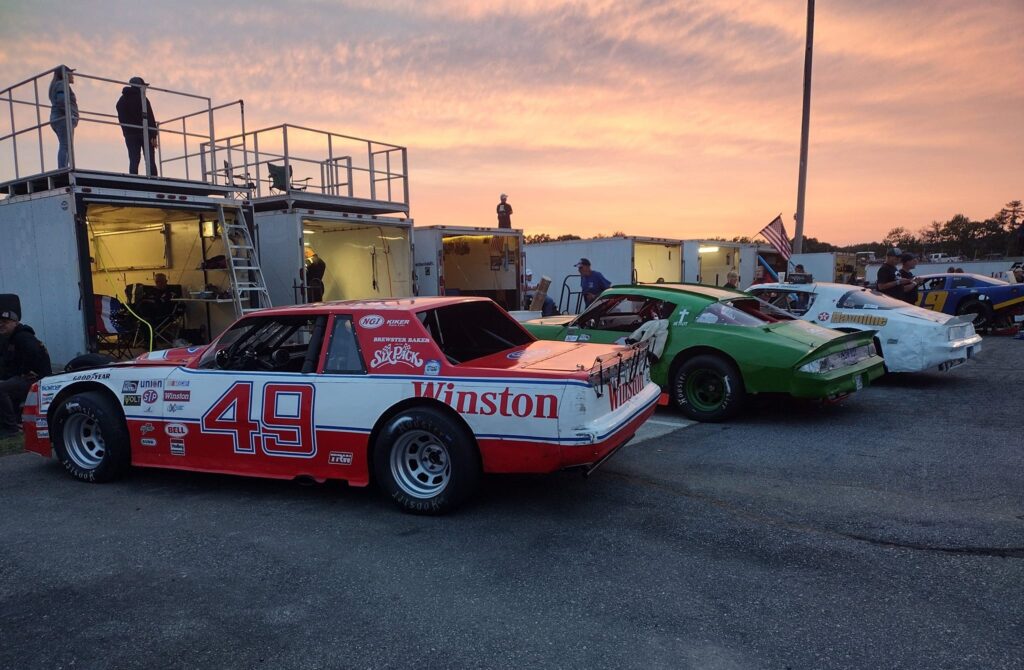 Tradition is not the worship of ashes, but the preservation of fire.

Gustav Mahler
Mother nature changed the plans for the CARS Tour Old North State Nationals at Tri-County Speedway this past weekend, leaving the thirty thousand to win Late Model Stock portion of the event rescheduled for August 19. The Pro Late Model feature however was moved up a day to Friday creating a double header event for the Pros and the inaugural running and debut of the new GXS Street Stock Series, and a great way to start the 2023 Memorial Day weekend. And what better way for us to start the weekend honoring the nation's fallen heroes than at Tri-County Speedway, a track that prides itself on being a family destination. And so we headed out to the speedway truly this week as a celebration of life given to us in huge part by the men and women of our great nation that sacrificed their lives so that we could live free, and to enjoy a sport that has thrived because of it.
What we witnessed was more than two great competitive races, but a day of awesome storylines, some clearly obvious, and some not as much so, both equally compelling. It was a day that symbolized the very sport itself, highlighting it's tremendous work ethic and the victories made in plain view coupled with those in near obscurity. It was a day that we feel represented what we've come to know about short track racing after the last couple of years observing it behind the scenes with more scrutiny than anyone truly knows. We here at Short Track Report are observers as well as reporters and what we've seen of the sport has only made us love and respect it more, and what we saw this weekend only added to our great respect. But before we get into the not so obvious, let's get to the action from Friday's racing on the track. The fans in attendance were vocal and the drivers and teams were ready to compete. The invocation was sincerely spoken and the National Anthem was sung (as honorably as I could muster), so, Let's Go Racin'!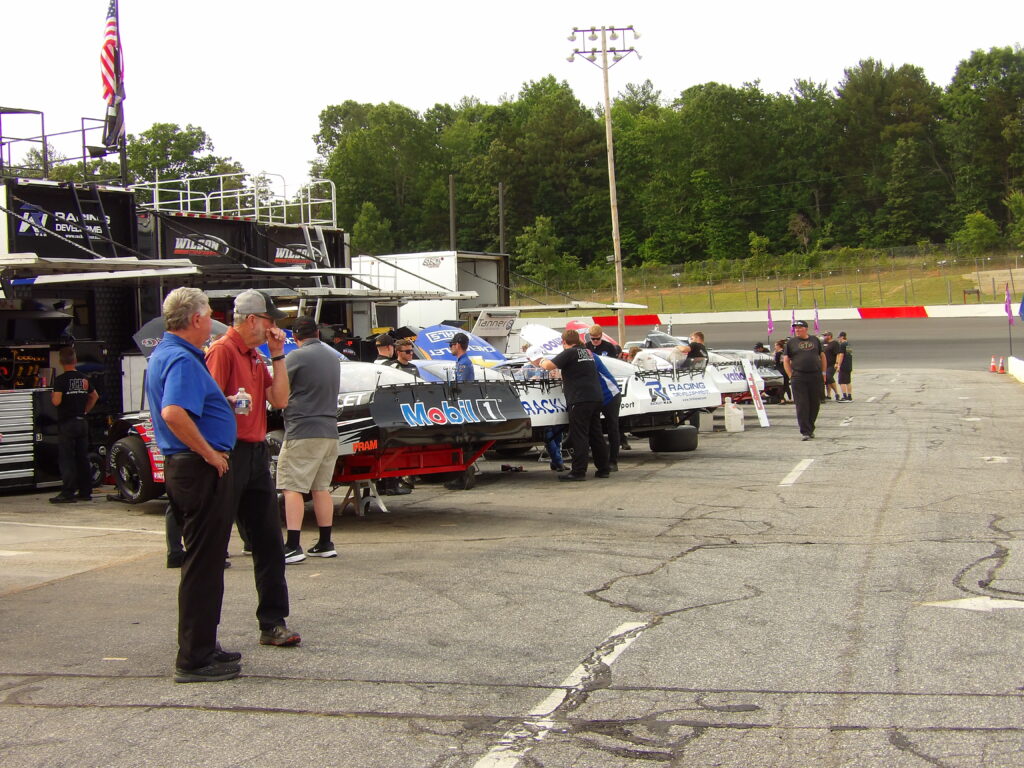 GXS STREET STOCK SERIES LEAPFROG LANDSCAPING 75
The # 08 of Tri-County regular Marlin Yoder wins the inaugural GXS Street Stock pole with a lightning fast time of 16.677 seconds. Starting alongside will be defending Tri-County Street Stock champion # 14 Davey Smart followed by # 12 Cody DeMarmels, # 7 Ricky Locklair Jr, and the # 9 of Austin Somero. Veteran flagman Brandon Willard looks over the great field, approves what he sees, and we're green for the first time in the GXS Street Stock Series! Yoder gets the advantage early as Smart and DeMarmels battle hard for second with DeMarmels eventually ripping the spot away. Now breaking into the top five by Somero is veteran # 32 Gary Ledbetter, as he looks to add another big Street Stock victory to his resume. Charging through the field early is 2021 New Year's BASH winner # 16 Kyle Lynch, already battling to emerge in the top five after starting tenth. Ledbetter now looks to the inside of Locklair Jr, and inches by with little trouble. Ledbetter now lurks behind Smart but can't do anything at the moment. He stays in his tire tracks and starts to gain a little more now heading into turn three, but it's a little too much momentum as he gets into Smart! Smart nearly spins but somehow saves it as Gene Griffey in the # 82 spins in the aftermath, bringing the caution out. Lining up for the restart will be Yoder, DeMarmels, Smart, Ledbetter, and Lynch, who moves up a spot thanks to the choose rule. Yoder initially gets the jump but now he's got a problem! He stacks up the field, allowing Tyler Woodring in the # 4W to jump all the way to third followed by Somero and Smart. Meanwhile, up front is DeMarmels and Ledbetter, but there's trouble behind as the # 34 of Eric Zeh slows, bringing out the caution. It's a quick yellow as DeMarmels will now line up first with Ledbetter second, Somero third, Woodring fourth, and Smart fifth after the choose.
DeMarmels and Ledbetter battle tooth and nail for the point as now Steve Worthington in the # 13 spins on the frontstraight, warranting another yellow. It's the same top five as before with the exception of Lynch restarting fifth. It's another duel before DeMarmels finally clears. Woodring is under fire from Lynch as Lynch will now secure the fourth position, leaving Woodring to deal with Locklair Jr in the 7. Woodring defends for now, but Locklair Jr uses the inside lane to his benefit, reemerging into the top five. Back up front, DeMarmels and Ledbetter play cat and mouse as Ledbetter just rides in his tracks, waiting for DeMarmels to make any mistake. But DeMarmels is another Street Stock virtuoso, so the chances of him making a mistake are little to none at the moment. But there's major problems behind as Somero goes up in smoke, scattering oil all over the race track! The # 00 of Boo Carlisle spins along with the # 49 of Jeff Melton, Woodring, and Griffey who's car is destroyed in between three and four. The red flag is displayed as the track crews have their work cut out with both oil and the battered machine of Griffey. Melton drives away with no damage, but Carlisle and Woodring aren't as lucky with Woodring eventually dropping out due to the contact. Carlisle gets back out thanks to his hard working crew as all of the drivers head down pit road for adjustments, a much needed break for many teams. After all is said and done, DeMarmels picks the outside for the ensuing restart followed by Ledbetter, Lynch, Smart, and Locklair. Ledbetter turns up the wick on this restart as he flies out in clean air, trying to pull away from DeMarmels. Smart moves up to third by Lynch and tries to make a move on DeMarmels, but DeMarmels is too strong. Lynch gets his car where he likes it as he now gets back by Smart, also clearing DeMarmels as Lynch's hot rod has come to life. On the other end of the spectrum, DeMarmels has fallen off as he loses spots to both Locklair Jr and Smart. But up front, Gary Ledbetter cements his place in Street Stock history as he takes the inaugural GXS victory. Lynch gets a very hard earned second followed by Locklair Jr who put on a show all race long, Smart who overcame many obstacles, and DeMarmels who put in a valiant effort despite falling a few spots short in the end.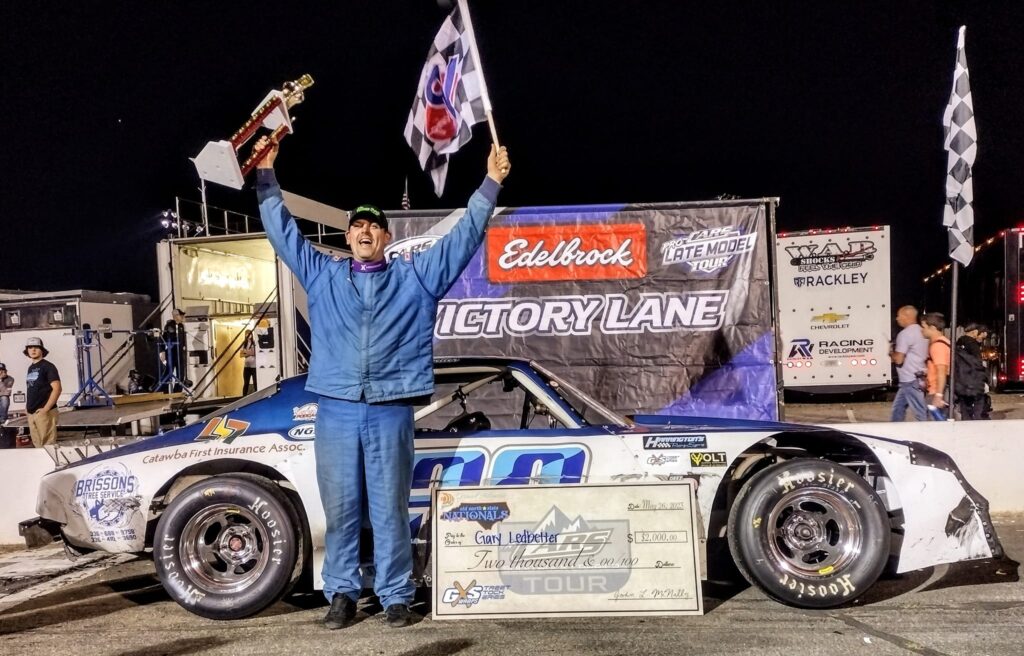 CARS TOUR PRO LATE MODEL FEATURE
In a surprising turn of events, Late Model Stock racer Carson Kvapil and his JR Motorsports crew pulled an all nighter transforming his brother's Super Late Model into a Pro, showing that a true racer will always find a way to race. And the hard work pays off as Carson will start on pole with an amazing lap of 14.942 seconds, the only driver to break into the fourteen second bracket. Starting alongside will be Hickory ASA STARS Super Late Model winner Gio Ruggiero in the # 24 followed by Caden Kvapil in the # 96, # 28 William Sawalich who fills in for Isabella Robusto, and the # 53 of Late Model veteran Cole Butcher. CARS Tour flagman Brandon Willard observes the competitive field, likes the view, and we're green for the Pro Late Models! It's a dead even start as Ruggiero clears for the top spot early with Sawalich falling back, allowing the # 25 of Gavan Boschele to enter the top five. The caution flies quickly though as Hudson Canipe in the # 2 loops around in turn two. It's a quick stoppage though as Ruggiero will now line up first with Carson Kvapil second, Caden Kvapil third, Butcher fourth, and Boschele fifth. Carson Kvapil rockets out to the gold spot now but George Phillips in the # 6 has found the wall in between turns three and four. We'll resort back to the previous restart lineup but the outcome stays the same as Carson Kvapil puts himself out front in clean air. The younger Kvapil in Caden loses third to Butcher as Tristan McKee in the # 7 makes his presence known in fifth. But Boschele won't go down without a fight as he dances in McKee's mirror. Behind, Luke Morey in the # 49M makes hard contact with the turns one and two outside wall, littering debris everywhere in the process. Thankfully Morey is okay, but the same can't be said for his car. They get it towed back to the pits, joining Canipe and Phillips. After the cleanup, it'll be Carson Kvapil restarting out front on the outside followed by Ruggiero, Butcher, Caden Kvapil, and McKee.
Carson executes a near perfect restart as Ruggiero seems to spin his tires a bit, losing spots to Butcher and Caden Kvapil. Caden now gets by Butcher, making it a Kvapil brothers one and two. Ruggiero slots into line fourth with Boschele locking in fifth. Butcher is now to the inside of Caden, but Caden has the preferred lane and Butcher now has to drop back in line. Behind them, the # 9 of Ashton Higgins gets up into the marbles and slams the turn four wall, bringing out the yellow once more. Higgins is able to continue as Carson Kvapil lines up first on the outside followed by brother Caden, Butcher, Boschele, and Ruggiero. Carson flawlessly fires off with Butcher now moving into second. Boschele and Ruggiero brawl side by side for fourth with neither driver giving an inch. Ruggiero eventually powers his Wilson Motorsports machine by as Butcher looks to formulate a plan to make a move on Carson Kvapil. Boschele now is right back on Ruggiero and gets by without much issue. In front of him, Caden Kvapil is breathing down Butcher's neck, making the occasional contact here and there. And here comes Boschele! Boschele sneaks by both of them as Butcher and Caden continue to fight. Caden looks underneath and gets by but Butcher puts the bumper to him! Kvapil somehow hangs on to the spot as brother Carson captures his first career CARS Tour Pro Late Model checkered flag, becoming the first driver in the history of the CARS Tour to win in the Super Late Model division, Pro Late Model division, and Late Model Stock division. Boschele sneaks away with a great runner up finish followed by Caden Kvapil, Butcher, and Ruggiero.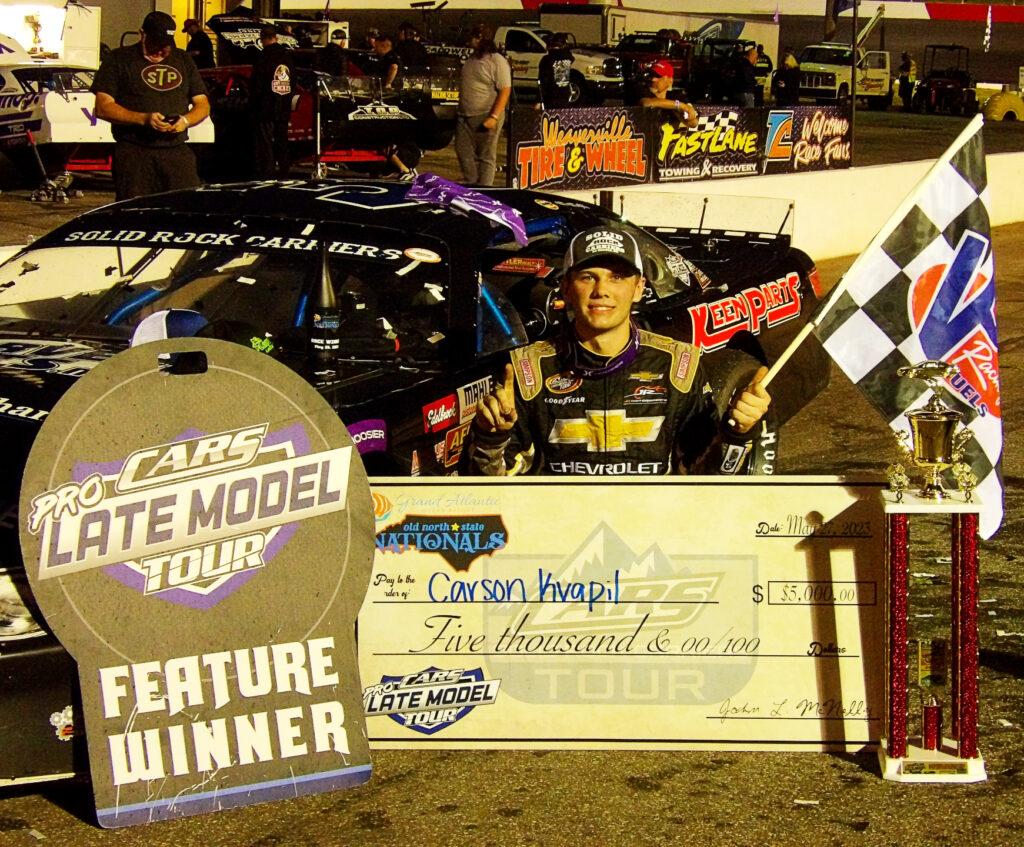 MY TAKE~
To the casual observer, this was just two races dominated by two dominating drivers. But it was so much more than that. A lot of people today could care less about tradition and they don't have the time to consider what goes on behind the scenes. They're too busy doing keyboard warrior duties and worshiping themselves, oblivious to all that's around them. That may sound harsh but it's as true as I describe as today is indeed a new age, not just for our nation but the world itself. But then there are people like you who would take the time to enjoy life and all that it entails. You wouldn't be this far into this article if you didn't. And I know that if you are this far into this article, you as I, love short track racing. And if so, I have to tell you that this event truly represented all we have come to love about the sport. Yes, Carson Kvapil came in and dominated the CARS Tour Pro Late Model race. And by now you probably know that he did so after working through the night to get his family's team car ready to compete. And on the surface that may seem to be the end of that story. But for us, we have to dig into the reasons he did so. Was it to come and dominate in a type of car he's graduated from? Or was it to be the first ever to win in the CARS Tour Super, Pro, and Late Model Stock divisions? Or was it just to get some laps on the track to prepare for the thirty thousand dollar event that was postponed for later in the year? Maybe in part his reasoning may lay a little bit in all three of those points, but none of those three would be truly enough to get him to put that much effort into it. He did it because he loves racing, and if we've learned anything the past couple of years it's that a true racer will go to great extremes to be able to strap himself into a car to compete. And so it's now more obvious than ever how much Carson Kvapil loves stock car racing. And as a fan, my respect has grown for the Kvapil family who are building a legacy in the sport passed down from father to sons, out of the love for the sport itself.
And as I contemplated that I glanced to the right of me to glance at the Pro Late Model teams on the tour they compete against, and out of the corner of my eye I caught another observer glancing over the same scene in front of me. His name is Jack McNelly. And my mind went to all that Jack has done over the years to make this series what it is today. One could write a book about it, but the word perseverance came to my mind. Against all the odds that came against him in his quest, he stood in the storms and prevailed. Jack took what was a dying horse and revived it, sustained it, and grew it into the most competitive Late Model Stock tour in the nation. One that Dale Earnhardt Jr, Kevin Harvick, Jeff Burton, and Justin Marks saw so much value in that they put their own names on the deed to it. A Hall Of Famer and future Hall Of Famers who have been to the top of the stock car racing world. And Jack could have let it go years ago and saved himself a ton of struggle. But the love of the sport wouldn't let him. And the all star group of new owners are all endowed with enough success that they didn't have to take on the task of elevating the tours legacy, but their love for short track racing and an acknowledgement of the value of what Jack built wouldn't let it get away. None of these men had to be a part of what we know as the Championship Auto Racing Series. But the love of this sport for some becomes overwhelming.
I saw that same kind of love on the other side of the infield from a new series that is as Blue Collar as it gets as the GXS Street Stock Series competitors prepared for their first ever event as I watched Boo Carlisle and Stephen Dunn working to make sure their inaugural event went off to a good start. And it came into clear focus as I saw Dillon Crouch pull up late into hauler parking by himself and unloaded his machine with a technique that clearly was born out of doing it on his own more times than I know. And when Frank Curtis in his # 134 machine pounded the wall in practice hard enough to make some competitors want to load up and go home as he clearly hit the wall hard enough to severely effect it's performance, only to see that team grind away on repairs as going home for them at that point was not an option. We saw the same kind of determination from Hudson Canipe and his Pro Late Model team as they worked to overcome a practice spin that damaged his car so much I never thought they could get it on the track for the start but they did. And to that casual observer, they would have never known the car had even been wrecked, although the car wasn't able to finish the race. But most would never know why, or the love they have for the sport that led them to try against the odds. Most professed fans will never truly know the work that goes into competing in stock car racing, and many will still resort to social media bashing of a sport that they could never fully understand. But despite it, the people I mentioned here, and the many like them, and those that were before them, have and are building a legacy on which the sport is now thriving, leaving us to profess as we have from the very beginning of Short Track Report that short track racing is in a renaissance that some refuse to notice. Short track racing is far from dead or dying, in fact the complete opposite is true, due to the blue collar racer and the work they continually do out of the love they have for the sport.
And so to the casual observer, Carson Kvapil and Gary Ledbetter dominated their races. What they may have missed however that should have been obvious was the competition going on behind them. The Pro Late Model field from second on back was a dogfight throughout the race with little to no quarter given. And the same can be said for the Street Stocks with drivers like Ricky Locklair Jr battling for all he was worth to come home 3rd, and even Boo Carlisle himself locked in a heated battle with Jeff Melton toward the later stages of the race, all leaving our Blue Collar Racer Of The Week choice harder than you might have imagined for this event. But as we sorted through everyone's performances and the work it took to get the finishes they achieved, it came down to two drivers as it often does. First we have to come back to the achievement of Frank Curtis and his # 134 team. It's a true story of determination really. Not many people even noticed how hard he hit the wall in practice, and the damage showed during the race. But Curtis and his team never gave up. And because of that he came away with a top 10 finish with a car that at the end of the race he could hardly even keep on the track. The night was filled with overcoming odds, but no one did it better that Frank Curtis as he rolled under the checkered flag in the tenth position overall. But in a race that saw extreme battles throughout, we couldn't deny the performance of one Kyle Lynch. As Gary Ledbetter paced his machine until it was time to go, Kyle Lynch tried to do the same in the # 16 machine only to be confronted by three of the best Street Stock drivers in the region in Ricky Locklair Jr, Cody DeMarmels, and Davey Smart, who were all entrenched in who would compete for the win as the laps ticked off to the finish. Kyle would gain positions only to lose them back time and time again. A battle of wills ensued, and for the true short track racing fan, it was all you could hope for in the inaugural event for the GXS Street Stock Series, showing the talent that came to race in the series opener. But when the checkers flew at the end, Kyle Lynch had broken free and was gaining on the leader, running out of time and having to settle for second. But, it was a second place finish in a performance we couldn't deny for this week's Short Track Report Blue Collar Racer Of The Week. Congratulations Kyle Lynch and team, you definitely earned this one! That said, we have to give it to all the racers that turned out for this event, an event highlighted by hard work and determination. And one that truly represented the spirit of the short track racer and their blue collar ethic. Thank you for another great event! And, thank you to the short track racers all across this great nation of ours for all that you do out of the love of a sport that's captured our hearts from our youth. We could never even begin to repay you! Until next time, See You At The Track!
(Race write up by Joshua Weatherman. Intro and My Take written by Billy Weatherman. 2023 Copyright SHORT TRACK REPORT)
Tags
Ashton Higgins
,
Austin Somero
,
Blue Collar Racer Of The Week
,
Boo Carlisle
,
Brandon Willard
,
Caden Kvapil
,
CARS Tour
,
Carson Kvapil
,
Cody DeMarmels
,
Cole Butcher
,
Dale Earnhardt Jr.
,
Davey Smart
,
Dillon Crouch
,
Eric Zeh
,
Frank Curtis
,
Gary Ledbetter
,
Gavan Boschele
,
Gene Griffey
,
George Phillips
,
Gio Ruggiero
,
GXS Street Stock Series
,
Hudson Canipe
,
Isabella Robusto
,
Jack McNelly
,
Jeff Burton
,
Jeff Melton
,
JR Motorsports
,
Justin Marks
,
Kevin Harvick
,
Kyle Lynch
,
Leapfrog Landscaping 75
,
Luke Morey
,
Marlin Yoder
,
Old North State Nationals
,
Pro Late Models
,
Ricky Locklair Jr.
,
Stephen Dunn
,
Steve Worthington
,
Street Stocks
,
Tri-County Speedway
,
Tyler Woodring
,
William Sawalich