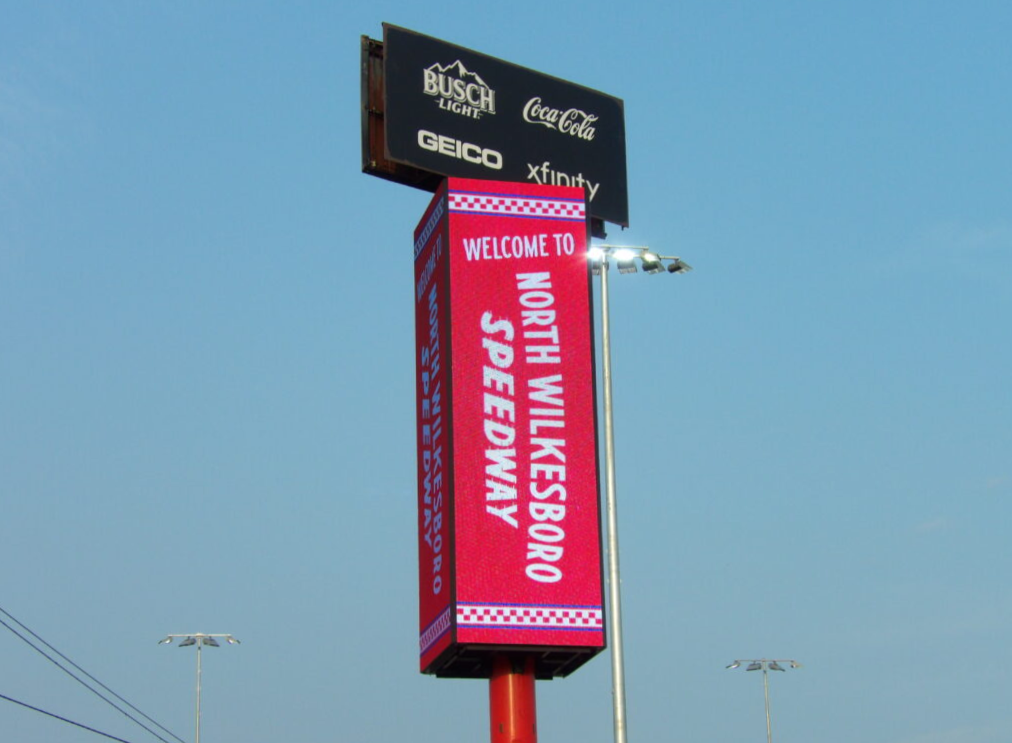 This week we went to cover an event that I'm still amazed actually happened. You see, I'm from a generation that saw North Wilkesboro Speedway as one of NASCAR's premier short tracks, only to watch in pure disdain as it became filled with weeds. And I saw it that way for more than some short track racing fans have been alive. And to be honest, it took me until this week to get over it. And to be honest, I would have been at last year's events at the speedway had it not been for watching one of my favorite short tracks left to rot for years, and for reasons that I couldn't get behind. Yes, I know business is business, but I knew in my heart that it was a huge mistake. Some would say that I let my heart and my emotions get in the way, but those that would say that didn't grow up watching races at the historic track. But as I watched the speedway rise from the ashes like a phoenix over the short track nation, slowly but surely I started to buy into the vision of the track's future as it started to become clear that it was being done with not only integrity, but with honest intentions of devotion as well. And truly, when the speedway announced that it was hosting the NASCAR Cup Series All Star Race in 2023, the healing really started to begin. And what it took to get here was like straight out of a storybook. It took NASCAR's all time most popular driver and his love of the sport of stock car racing to bring the dream to life, finally convincing next generation track owner Marcus Smith, who's father Bruton Smith and then partner Bob Bahre took over the track in 1995 only to close the track to competition the very next year in 1996, to reopen for competition last year in 2022.
But that's just a compressed version of all as it took a number of people working for years to make it happen, most notably a group of individuals that formed an organization titled Save The Speedway. They tried a couple of times, even leasing the speedway itself with Terri Parsons for a couple of years in 2010 and 2011, running a number of tours and divisions only to see their efforts not fully come to fruition. But not because of a lack of effort or a love for what they were doing. Dale Earnhardt Jr would not like to be singled out as the sole person that finally made it all happen, but it took his kind of clout and access to people and resources to finally see it all to fruition. But all in all, it took a short track loving army over many, many years to get us to where we are today. The feat is not insignificant by any stretch of the imagination as one would be hard pressed to find any event venue in the country that was left for the weeds, only to return to host one of NASCAR Cup Series' most prestigious signature events, the Series' All Star Event highlighting the Series' greatest drivers. And it was all done out of love and determination by a group that never gave up on their dream. And so in short, we were more than honored to be able to cover short track racing at the historic venue in the new era of stock car racing and in the perfect scenario for us, watching the country's most competitive Late Model Stock Tour, and the ASA Stars National Super Late Model Tour, the most prestigious Super Late Model Tour in the nation, compete in one night at the famous short track. It was honestly a dream come true, especially since returning to the speedway seemed like just a dream for so many years. And I can say, it met all of my expectations. So, let's get out to the track and revisit this special day. The invocation has been given, and the National Anthem played. The crowd was on their feet as the CARS Tour Pro Late Models took to the track to begin the show, and so without further ado, Let's Go Racin'!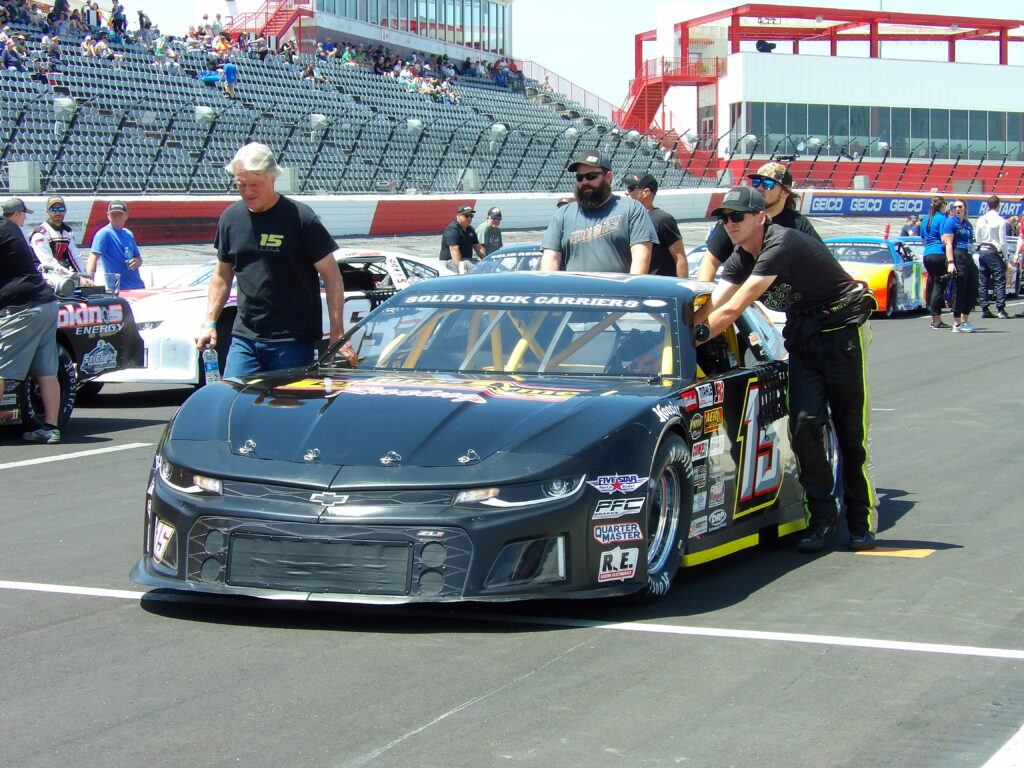 CARS TOUR PRO LATE MODEL FEATURE
The # 43G of Late Model veteran Augie Grill lays down the pole lap of 19.248 seconds, securing the coveted top spot ahead of the # 81 of Katie Hettinger, # 9 Ashton Higgins, # 28H Corey Heim, and the # 26 of Dawson Sutton. CARS Tour flagman Brandon Willard looks over the stacked field, likes the formation, and we're green at the historic North Wilkesboro Speedway! Grill gets a great launch, but it's a little too good as the start is called off. The field is late to realize however as they get stacked up into turn three, sending Sutton around in front of the pack, collecting the # 27 of Lee Tissot and the # 19 of Bryan Kruczek. Tissot comes out with minimal damage but the day is done early for both Sutton and Kruczek. It's a quick cleanup as it's the same lineup before with the exception of Tristan McKee restarting fifth in the # 7. It's a much cleaner start this time around as Grill rockets out ahead as Higgins gets by Hettinger for second. Hettinger is now stuck on the outside, allowing Heim to speed by as well. Heim doesn't stop there either as he pounces on Higgins for second. McKee moves up into fourth while the # 25 of Connor Zilisch moves into fifth, dropping Hettinger to sixth. Heim now looks under Grill and takes the lead early as Grill looks to pace himself. But there's major trouble on the frontstretch as the # 63 of Josh Lowder and the # 77 of Logan Jones get together. Lowder slides down to the inside wall and the # 43 of Nick Loden has nowhere to go and collides with Lowder's car hard, nearly sending Loden over the pit wall. Thankfully, everyone is okay as the red flag is displayed for cleanup.
After the choose for the upcoming restart, Heim lines up first followed by Grill, Higgins, Zilisch, and McKee. Heim clears after a brief duel as McKee barely holds off # 54 Matt Craig to keep the fifth position. Zilisch now looks under Higgins and takes that spot with ease, bringing McKee along as well while Higgins resettles in fifth. Back up front, Heim has caught lap traffic, allowing Grill to get right in the footsteps of the Truck Series winner. Heim holds on for now but the caution is out as the # 15 of Brett Suggs has come to a stop in turn two. After the choose, Heim restarts the leader followed by Grill, Zilisch, the # 15H of Mike Hopkins, and McKee. Grill and Heim are side by side with Grill this time reclaiming the top spot. McKee gets by Hopkins for fourth as the top three begin to gap the field. Hettinger takes advantage of the lost momentum and gets by Hopkins as well, dropping the points leader to sixth. Heim is still right there, mirroring Grill's line, but Grill is strong and holds the field at bay, fighting off numerous challenges to be the first driver to ride the lift in 2023. Heim comes home second for Wilson Motorsports, Zilisch grabs third, McKee gets a strong fourth, and Hettinger recovers from early struggles to round out the top five.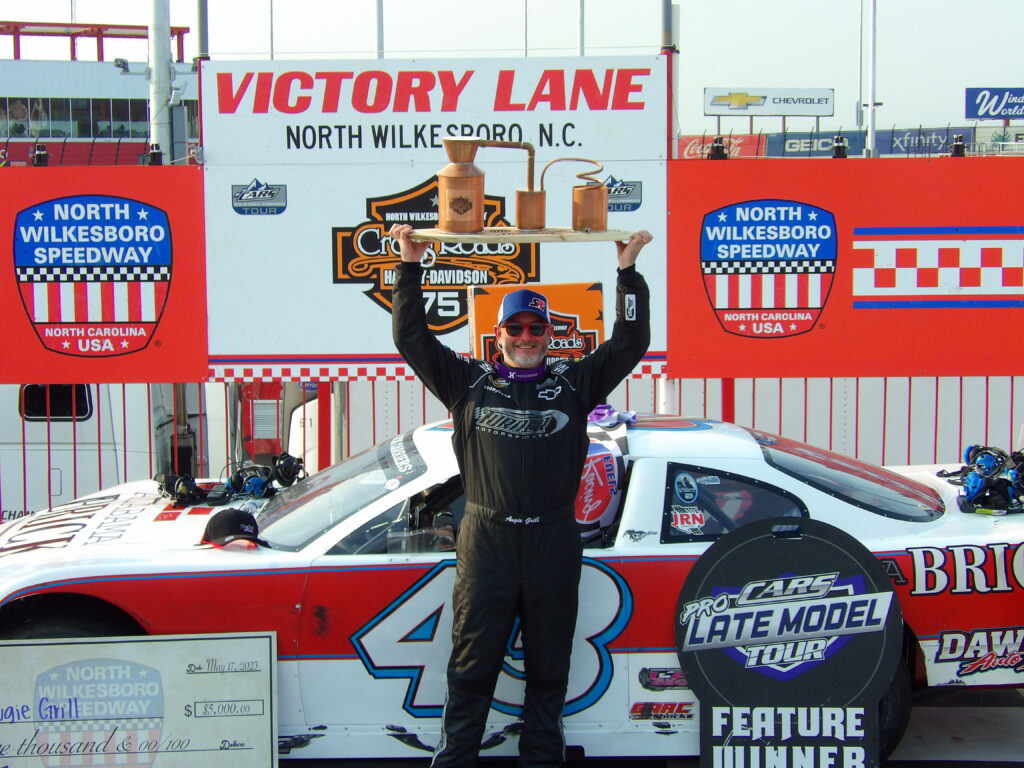 CARS TOUR LATE MODEL STOCK FEATURE
Brenden "Butterbean" Queen in the Lee Pulliam Performance # 03 puts down the lap of a lifetime, coming in at 19.125 seconds to grab the pole position. # 14 Jared Fryar turns in a great lap to start second followed by the # 8 of points leader Carson Kvapil, # 81 Mini Tyrrell, and the # 44 of Conner Jones. Willard looks over the amazing field, the fans are on their feet for history, and the green is out! Queen launches out ahead as the top five single files out quickly to pace themselves while the field behind scatters into their preferred line. There's early trouble behind though as Tate Fogleman's # 87 machine makes contact with the # 04 of Ronnie Bassett Jr, causing Fogleman's hood to fly completely off, bringing the caution out. Fan favorite # 4 Dylon Wilson brings his machine down pit road as he seems to be fighting fuel pump issues, hindering his race off the bat. Lining up for the first restart of the race will be Queen, Fryar, Kvapil, Tyrrell, and Jones. Queen once again clears for the top spot as Kvapil muscles his way by Fryar. Behind, Jones gets by Tyrrell as the battle up front begins to heat up with Kvapil diving underneath Queen. He takes the spot as Fryar follows through, kicking Queen to third. Tyrrell is now stuck on the outside as he loses another position to the # 6 of Bobby McCarty. But McCarty is now under fire from the # 77 of Connor Hall. McCarty puts up a great battle on the outside, but Hall completes the pass for fifth. The first competition caution flies now as teams get a chance to come down pit road to make adjustments, add fuel, or even change a couple of tires. A number of drivers decide to stay out as the # 99 of Layne Riggs restarts first followed by Bassett Jr, the # 5 of Chase Briscoe, # 2 Brandon Pierce, and the # 20 of Josh Dickens. It's a messy restart as the field stacks up with numerous cars shuffling around. Everyone tries to sort it out but it all comes unglued coming back onto the frontstretch as a huge pileup takes out the # 1 of Andrew Grady, # 57 Connor Zilisch, # 08 Deac McCaskill, # 0 Landon Pembelton, # 8B Chase Burrow, Tyrrell, and the # 43 of William Sawalich. Damage is also sustained on the # 3 hot rod of Dale Earnhardt Jr, the # 99S of Daniel Suarez, the # 6K of Brad Keselowski, and the # 15 of Ryan Millington among others. To no surprise, the red flag is quickly displayed. Thankfully, everyone is okay.
After a lengthy cleanup, Riggs lines up first followed by Bassett Jr, Briscoe, # 95 Jacob Heafner, and Dickens. Bassett Jr doesn't get the best of restarts as Riggs flies out in front as Bassett Jr moves back to third while Dickens moves into fourth followed by a hard charging Kvapil in fifth as Heafner gets stuck on the outside. The caution flies once more, this time for leftover debris from the previous wreck. After the choose, Riggs will still start up front followed by Bassett Jr, Briscoe, Fryar, and Dickens. Riggs gets a phenomenal restart while Queen slides through to fifth by Dickens. Fryar is next in his sights as Queen makes up another spot. Behind them, Jones is a victim of the congo line as he tries to find any way to get to the bottom. He makes contact with Pierce and now makes hard contact with Earnhardt Jr as they door each other down the backstretch! He finally settles in line behind the # 62 of Kevin Harvick, but Millington gets back underneath as Jones just can't catch a break as he now bangs doors with Keselowski. In front of them, Queen is by Briscoe for third as Heafner muscles past Fryar for fifth. Briscoe now takes advantage of lap traffic to get by Queen for third as he hounds Bassett Jr for second. He doesn't hound for long as he moves Bassett Jr out of the way, allowing Queen into third. The second competition caution now flies as the field quickly catches their breath. After another quick choose, Riggs remains in front while Queen now restarts second followed by Briscoe, Heafner, and Bassett Jr in a sixty lap sprint to the finish. Riggs gets yet another fabulous start while Kaden Honeycutt in the # 10 moves up into fourth followed by Heafner. Queen is now under Riggs as the fans are going crazy, with Butterbean claiming the first position with Briscoe moving into second. Riggs can't stop the bleeding there as he loses one more place to Honeycutt. The third and final competition caution is thrown, allowing some drivers to play the track position strategy and stay out for the final run. After the choose, the # 98 of Tyler Ankrum will fire off first followed by Millington, Fryar, Kvapil, and McCarty. Willard looks over the hungry field, approves the formation, and we're green to see who rides the lift in Wilkesboro!
It's a very racey restart as the entire field is side by side with no one giving an inch. Millington clears as they go three wide for second as Ankrum starts to fall back. Fryar moves into second followed by Kvapil, Queen, and Honeycutt. Queen is a man on a mission as he now dives under Kvapil and takes that spot. Fryar is next in line as Queen races by, but there's trouble behind with Mason Diaz in the # 24 gets into Heafner and spins him around into the outside turn one wall. Heafner is furious as he throws his heat shields at Diaz's machine as the fans make their feelings known as well. Diaz is sent to the rear of the field as this sets up another crunch time restart with the battered Millington machine lining up first, looking to pull off the upset on old tires. Lining up second is the lightning fast Queen, followed by a sneaky Fryar, Kvapil who's looking to go four in a row along with two in a row at Wilkesboro and Honeycutt who's managed his race perfectly. Millington puts up a fight, but it's just not enough as Queen speeds by with fresh tires. Honeycutt gets by Kvapil for fourth as Riggs fights hard to get around Kvapil for fifth. It doesn't last long though as Hall has moved his way through the field and breaks into the top five ahead of Riggs, then getting around Honeycutt for fourth. But out front is Queen as he crosses the line first for the biggest victory of his young career! Millington comes home a very impressive second followed by Fryar in third, Hall fourth, and Honeycutt with another great run rounding out the top five.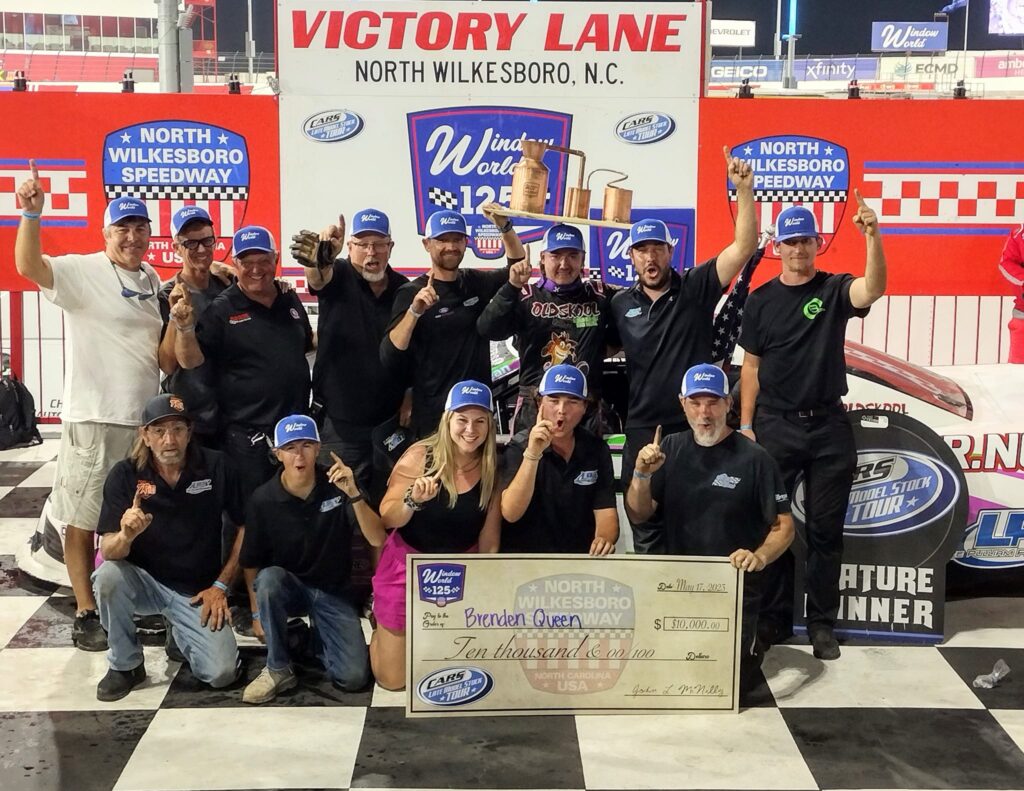 ASA STARS NATIONAL SERIES SUPER LATE MODEL FEATURE
To cap off the night is another throwback of sorts as the ASA STARS Super Late Models hit the track. The # 54 of Matt Craig starts up front after the redraw followed by Noah Gragson in the # 30, # 9E Chase Elliott, # 44J Conner Jones, and the # 26P of Bubba Pollard. The ASA STARS flagman looks over the star studded field, gives the thumbs up, and we're green for 150 laps! Craig immediately jumps out to the early lead as Pollard gets by Jones for fourth. The # 99 of Daniel Suarez moves under as well with him and Jones having a fantastic battle for fifth. Jones hangs tough on the outside as he's the first to really maintain up front on the high side. Suarez finally clears as Jones has to slot in behind the # 24B of William Byron. Pollard now looks under Elliott and grabs that spot as Craig continues to pace the field. Suarez gets by as well, bringing Byron along and dropping Elliott to sixth. The first caution flies shortly after as the # 69 of Michael Hinde loops his Super out of turn four. After the choose, Craig will start on point with Pollard second, Gragson third, Byron fourth, and Suarez fifth. It's a dead heat for the lead as Craig and Pollard battle door handle to door handle. The battle is thwarted however as the # 14H of Carson Hocevar is slow on the track. It's the same top five as before with Pollard executing a masterful restart and clearing for the lead. Byron slots by both Gragson and Craig but there's more trouble as the # 2J of John Bolen and Billy VanMeter in the # 23 spin on the backstretch. With the choose once again coming into effect, Pollard starts first followed by Byron, Craig, Gragson, and Suarez. Pollard and Byron battle fiercely with Pollard retaining the advantage. Behind, Casey Roderick in the # 18C gets by Suarez for fifth. Pollard wins stage one as the caution flies, allowing teams to come down pit road just like in the CARS Tour. The restart lineup will play out with Pollard launching on point ahead of Byron, Gragson, Craig, and Roderick. The flagman looks them over, approves the formation, and we're green for stage two!
Pollard survives another challenge from Byron to clear once again as Craig races ahead of Gragson for third. Roderick is now under fire from a reemerging Elliott, who will get that spot. He takes his run to Gragson now as Gragson falls to fifth behind Elliott. Byron now looks under Pollard and Pollard falls to second. They both run a balanced pace as Elliott now moves by Craig for third. Before you know it, he's all over Pollard as he muscles his way by the 26 machine. The caution flies as the # 22R of Gio Ruggiero comes to a halt on the track. Coming to the five lap shootout to the end of the second stage will be Byron, Elliott, Pollard, Craig, and Gragson. Byron and Elliott battle hard for the lead as Elliott will clear this time around. Gragson powers ahead of Craig as Craig then loses another spot to Suarez. But behind, there's a big pileup in turn three involving the # 9K of Derek Kraus, Jones, VanMeter, # 12G Derek Griffith, Hinde, and # 7C Justin Crider among others. Most cars are able to drive away as this halts the race under a red flag but once everything is cleaned up, Elliott restarts first followed by Byron, Pollard, Gragson, and Craig. Elliott clears as Gragson now starts to drop back with an issue, allowing Suarez to once again break into the top five, eventually taking fourth from Craig. Craig now starts to fall as his tires fade away, bringing the # 91 of Ty Majeski into the top five. But up front, Elliott wins stage two ahead of Byron. Lining up for the final fifty laps will be Hendrick Motorsports teammates Elliott and Byron followed by Pollard, Suarez, and Majeski. Elliott and Byron are dead even with Elliott gaining the advantage after a few laps. Pollard now follows through with Byron falling to third. Majeski is around Suarez for fourth with Pollard now pressuring Elliott for the top spot. Elliott tries his best to hold off the strong Pollard, but Bubba is just too much as he gets by for the top spot, also bringing Byron along with him. Behind, the # 22S of Sammy Smith makes his presence known as he gets by both Suarez and Majeski, moving him into fourth. In the middle of the pack, the # 9H of Hudson Halder is racing like a man possessed, coming up from dead last to 21st, barely hanging onto his car in the process. Back up front, Pollard has caught up to lap traffic, and they aren't giving an inch as Bubba has a very hard time getting around them. This allows Byron to get right up to his back bumper, but through it all, Pollard comes home the victor for one of the biggest wins of his career. Byron comes home second followed by Elliott, Smith, and Suarez.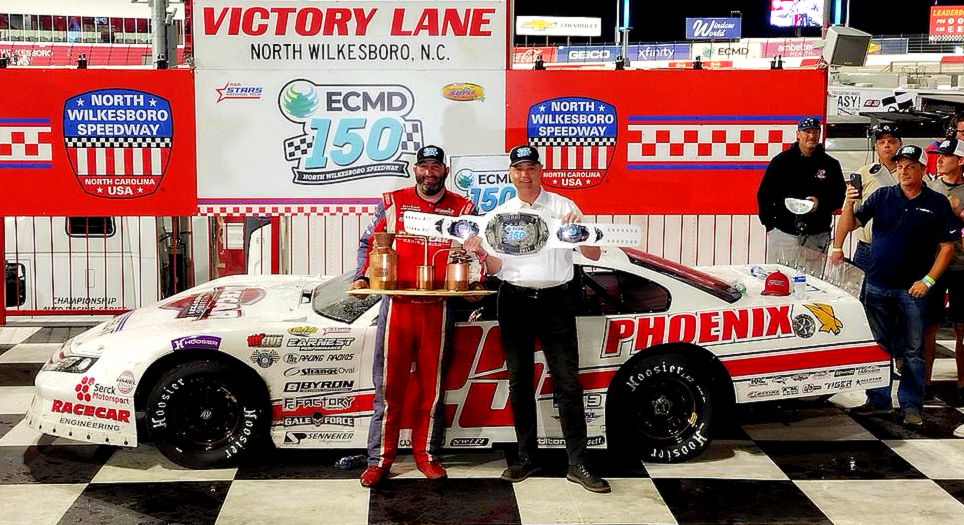 MY TAKE
Being at North Wilkesboro Speedway with my son covering races was everything I thought it'd be and more. What they have done with the track is highly commendable. And I'd recommend to any short track racing fan in the nation to try and visit the speedway at least once. That said, I have to also thank the track and it's staff for their amazing hospitality. I can't understate it and professionalism doesn't quite cover it. Everyone we met from their team went out of their way to accommodate us, not only because it was what they were there to do, but because they cared and it was obvious from the moment we got to the gate. The same can be said for the tours we covered as well. Of course we have history with the CARS Tour who always run their show as a top notch organization, but the ASA STARS National Tour staff was amazing as well, and after being in contact with their media representative earlier this year, we were honored to be able to meet their staff at such an historic venue. All of this needs to be said as at such a huge event for these tours and with everything they had to do to make it go so smoothly, they still took the time to make sure we had everything we needed to have a successful and productive day ourselves.
All that said, let's turn our focus to the racing on the track. Truly the best Late Model drivers in the country came out to North Wilkesboro and with one thing in mind…to win one of, if the most historic races of the season. And it was clear as soon as cars hit the track for qualifying that they meant business. They were turning lap times faster than any Late Model has ever been at this place and were from the front of the field to the back extremely tight in lap times. The racing was great too, with plenty of strategy and drivers challenging each other throughout. But in the end, it all came down to 3 drivers who were silky smooth. I heard a comment that fit it the best while I was up on the rooftop victory lane as Brenden "Butterbean" Queen took the checkered flag, and it was as apt any comment I've heard all year. The comment was simply, "Smooth as butter". But it didn't represent just the driving style of Queen on this day, as Augie Grill and Bubba Pollard were truly just as smooth, using their extensive racing experience to manage their way to the front as the rest of the field battled for what was left. I left the track more excited than I went in and mostly for the short track world in general. It's notable that with all the Cup contingent racing in the short track portion of the week that not one of them made it to victory lane, but honestly it's not surprising. As we've stated since our conception, short track racing is far from dead and, as a matter of fact it's in a resurgence. We've stated it all along and that was not just for hype. The competition is amazing throughout the region and beyond, and that's good not just for the short track world, but for NASCAR itself as the future is bright as far as it's future competitors coming up through the short track ranks, and all I can say is that if you're not going out to your local short track to see it for yourself, you are missing out on a historic moment in the short track racing world. So until next time, as always, See You At The Track!
(Race write up by Joshua Weatherman. Intro and My Take written by Billy Weatherman. 2023 Copyright SHORT TRACK REPORT)
Tags
Andrew Grady
,
ASA STARS National Tour
,
Ashton Higgins
,
Augie Grill
,
Billy VanMeter
,
Bobby McCarty
,
Brad Keselowski
,
Brandon Pierce
,
Brandon Willard
,
Brenden Queen
,
Brett Suggs
,
Bryan Kruczek
,
Bubba Pollard
,
CARS Tour
,
Carson Hocevar
,
Carson Kvapil
,
Casey Roderick
,
Chase Briscoe
,
Chase Burrow
,
Chase Elliott
,
Conner Jones
,
Connor Hall
,
Connor Zilisch
,
Corey Heim
,
Dale Earnhardt Jr.
,
Daniel Suarez
,
Dawson Sutton
,
Deac McCaskill
,
Derek Griffith
,
Derek Kraus
,
Dylon Wilson
,
Gio Ruggiero
,
Hudson Halder
,
Jacob Heafner
,
Jared Fryar
,
John Bolen
,
Josh Dickens
,
Josh Lowder
,
Justin Crider
,
Kaden Honeycutt
,
Katie Hettinger
,
Kevin Harvick
,
Landon Pembelton
,
Late Model Stocks
,
Layne Riggs
,
Lee Pulliam
,
Lee Pulliam Performance
,
Lee Tissot
,
Logan Jones
,
Mason Diaz
,
Matt Craig
,
Michael Hinde
,
Mike Hopkins
,
Mini Tyrrell
,
Nick Loden
,
Noah Gragson
,
North Wilkesboro
,
North Wilkesboro Speedway
,
Pro Late Models
,
Ronnie Bassett Jr.
,
Ryan Millington
,
Sammy Smith
,
Super late Models
,
Tate Fogleman
,
Tristan McKee
,
Ty Majeski
,
Tyler Ankrum
,
William Byron
,
William Sawalich