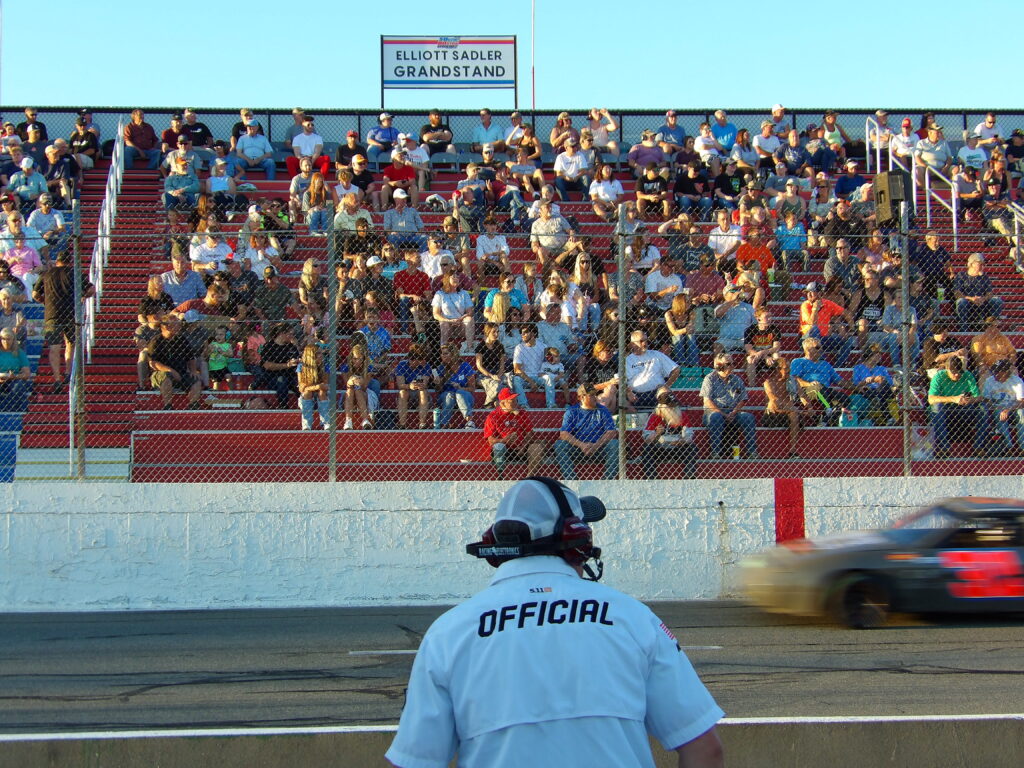 "The battlefield is a scene of constant chaos. The winner will be the one who controls that chaos, both his own and those who come against him."

Napoleon
Chances are you've heard the story of David and Goliath. But if not, it's a story about a young soldier coming into his own, and a seasoned warrior who was a giant among men, and the day they went head to head in battle. That's in essence what you had going into the 2023 Season Finale at South Boston Speedway. David is young Carter Langley who's come into his own this year, scoring seven wins heading into this year's final race to decide the champion. And Goliath is of course seasoned veteran and six time South Boston Speedway Late Model Stock Champion Peyton Sellers, who has also amassed seven wins on the season, and sits just three points behind division leader Carter Langley. It's Championship Night, and one of these two drivers will make history. Carter is looking for his very first Late Model Stock championship at one of the hardest tracks in the country to do it, and Peyton is looking for his seventh, which would tie for the all time championship lead at the storied speedway with David Blankenship who currently holds that prestigious honor.
It's guaranteed to be another great night of racing with so much on the line as all South Boston Speedway divisions will crown this year's champs. And with the prestige that comes with a title here, anything can happen. Year long rivalries will be settled and messages will be sent. The pre-race ceremonies begin with a passing of the torch for the General Manager of the speedway from Chase Brashears to Brandon Brown and so we also have to take a moment to thank Mr. Breshears for the great work of keeping the speedway's traditions intact and the track thriving through his reign as we also look forward and wish Mr. Brown all the success he needs to carry South Boston into the future. And with that, the Labor Day Weekend pre-race included a touching invocation and a passionate rendition of the National Anthem followed by the most famous command in motorsports to fire the engines for the last local event of the year. Let's take a closer look at all the night's great racing action as the drivers have worked hard for this moment throughout the season. And with the great crowd on their feet, Let's Go Racin'!
VIRGINIA STATE POLICE HEAT HORNET FEATURE
The Hornets boast one of their biggest fields of the year tonight as Jared Dawson in the # 01 starts up front followed by the # 54 of Jason DeCarlo, # 12 Andrea Ruotolo, # 83 Landon Milam, and the # 63 of Dillon Davis. South Boston flagman Brandon Willard looks over the field, likes the formation, and we're green! Dawson gets an outstanding launch as Ruotolo immediately gets by DeCarlo for second. Davis now gets by Landon Milam, but Landon fights right back and retakes the position as Dawson looks to pull away early. DeCarlo now starts to mirror Ruotolo's line and gets by, leaving Ruotolo to deal with Landon Milam. Landon finds some momentum and now gets by Ruotolo, bringing Davis along with him as Ruotolo finally slots into fifth. But up front it's a phenomenal performance from Dawson as he leads every lap and takes the victory ahead of DeCarlo, Landon Milam, Davis, and Ruotolo. And by virtue of finishing in the ninth position, Kendall Milam in the # 28 brings home the 2023 Virginia State Police HEAT Hornet championship.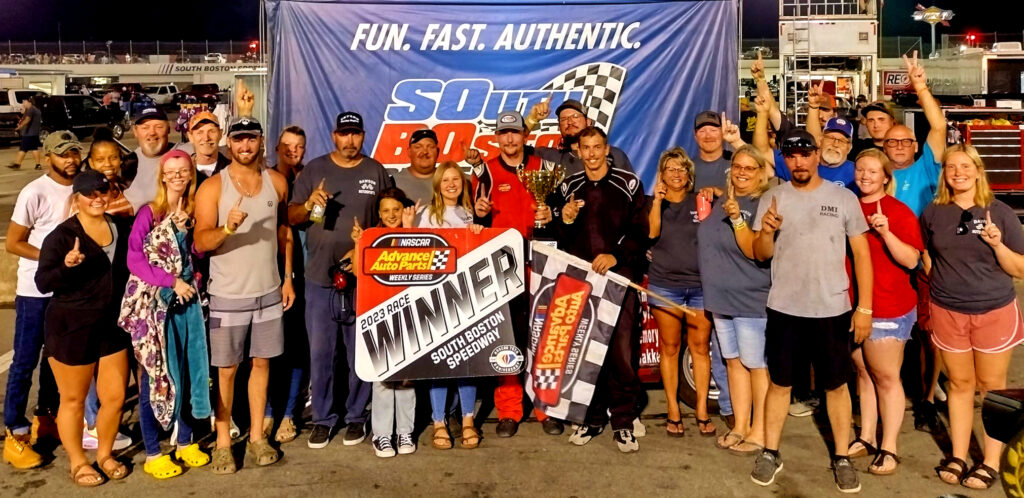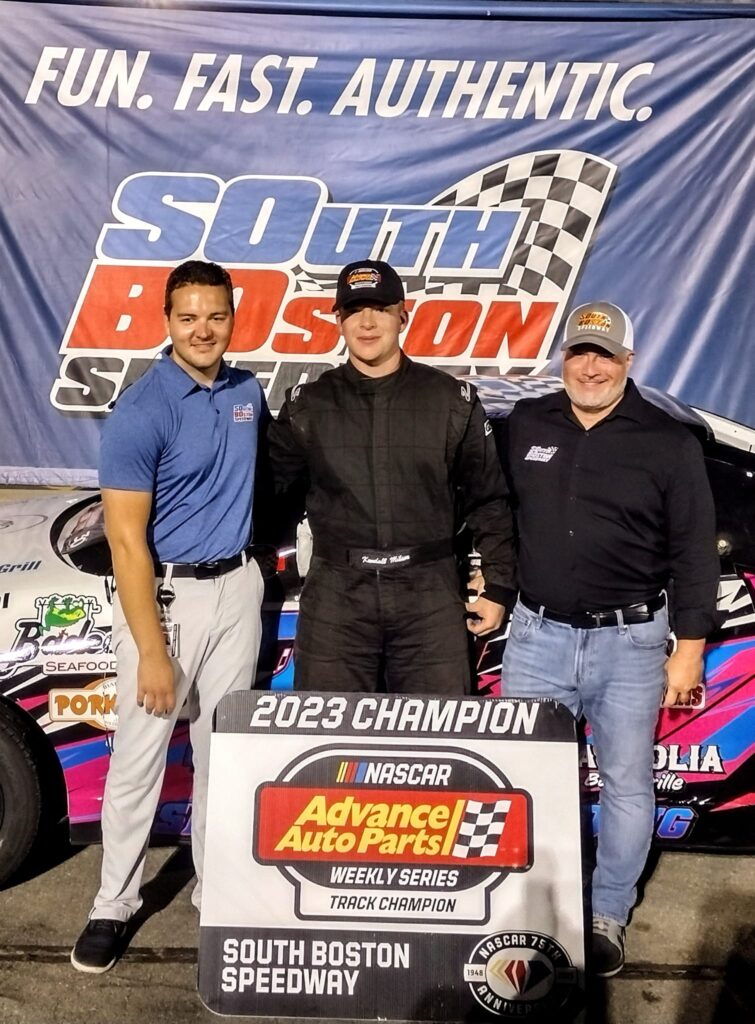 SOUTHSIDE DISPOSAL PURE STOCK FEATURE
Championship leader Johnny Layne in the # 9 will lead the field to green for the year's final Pure Stock feature with defending champion Scott Phillips in the # 66 starting second, B.J. Reaves in the # 11 starting third, Caleb Sanford in the # 31 starting fourth, and Zach Reaves in the # 77 will round out the top five. Willard glances over the pack, gives the thumbs up, and throws the green! Layne and Phillips are side by side on the start, but it doesn't take long for Layne to clear as Harrison Walker in the # 3 is able to pass Zach Reaves. Now Walker looks underneath Sanford in turn four but he gets loose and spins, collecting the # 76 of Andrew Turner in the process! The caution flies quickly has both machines have heavy damage and will unfortunately be done for the night. After the cleanup, it's Layne who still remains the leader followed by Phillips, B.J. Reaves, Sanford, and Zach Reaves. Layne fires off first and quickly clears as Sanford looks underneath the B.J. Reaves machine and is successful in the pass after a short battle. Sanford will set his sights on Phillips as now Phillips spins out of two, barely clipping the pit barrels. Not much damage is done though as after the choose, Layne is still your leader followed by Sanford, B.J. Reaves, the # 24 of Colby Pool, and Zach Reaves. Sanford gives Layne a run for his money this time around as he hangs tough on the outside of the leader. Layne finally clears after a good battle with Pool now falling behind both Zach Reaves and Phillips, who has reemerged into the top five. Sanford tries to mount another charge at Layne, but it's too little too late as Layne crosses the line with another win as well as the 2023 Southside Disposal Pure Stock championship. Sanford bags second followed by B.J. Reaves in third, Zach Reaves in fourth, and Phillips in fifth.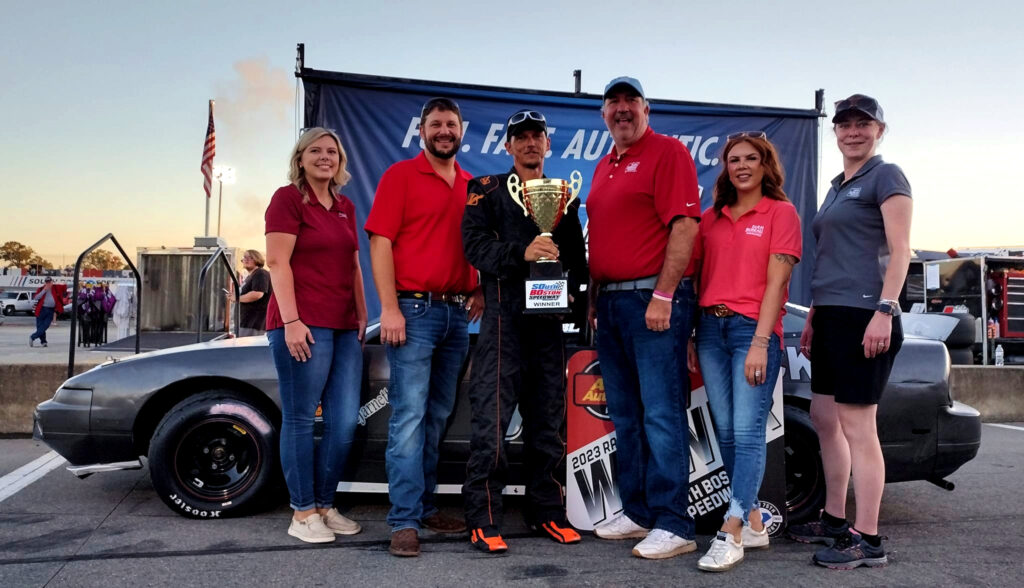 BUDWEISER LIMITED SPORTSMAN FEATURE
It's a father son duo on the front row as Jason Myers in the # 17 will start on pole alongside dad Billy Myers in the # 05. Rounding out the field will be the # 75 of Nathan Crews, # 21 Carter Russo, and the # 88 of Justin Dawson. Willard watches over the competitive field, likes the formation, and we're green! Jason Myers gets a near perfect start with Russo already moving up to second as Billy Myers falls through the field. After the field scrambles a bit, Drew Dawson in the # 8 moves up to third along with Zach Peregoy in the # 12, who moves up to fourth with Crews in fifth. Now Crews moves to the inside of Peregoy as they battle side by side for a handful of laps. Crews gets very sideways, somehow saving his machine which allows Kenny Forbes in the # 07 to take the fifth spot. Behind him, the # 58 of Daniel Moss blows up on the backstretch and the # 19 of Bob Davis has nowhere to go, slamming into Moss' car hard! Thankfully both are okay as the red flag is thrown for the extensive cleanup. After all is said and done, Jason Myers will once again fire off first followed by Russo, Drew Dawson, Peregoy, and Justin Dawson while Forbes takes his machine down pit road with minor mechanical issues. Jason Myers gets a great start, but Russo is right there, with Russo trying to find the grip on the outside. Jason uses the bottom lane to his advantage to clear, but behind, the elder Myers is in major trouble as he collides with Forbes on the frontstretch, sending Myers nearly on top of the barrier as he scraps the wall violently all the way to turn two. That'll end both Forbes' and Billy Myers' night as the field once again paces under caution. Another round of the choose is underway as Jason Myers still lines up first on the outside followed by Russo, Drew Dawson, Peregoy, and Justin Dawson. Russo gets an amazing start and clears the points leader, but Myers now looks to the inside as the fans rise to their feet. It's a fantastic battle as Peregoy moves into third by Drew Dawson as brother Justin loses fifth to Chris Donnelly in the # 31. After what seemed like an eternity to points leader Myers, he finally clears Russo and takes advantage of the clean air for the time being. Behind, the battle for third starts to heat up with Drew Dawson slowly but surely inching in on Peregoy. He finally looks to the inside going into turn one and they make contact, sending both cars spinning! That brings out a late race caution, giving Russo another shot at the win. He'll line up second behind Jason Myers with Donnelly now restarting in third followed by # 01 Jared Dawson in fourth and # 62 Ross Mountcasel in fifth.
Jason Myers gets a fantastic jump but Russo is tenacious and dives to the inside again. Myers clears though as Peregoy is already back into fifth. Jared Dawson slides by Donnelly, leaving the # 31 to deal with the hard charging Peregoy. Coming out of turn four, Peregoy gets into Donnelly and Donnelly spins into the inside wall hard! He's okay but understandably frustrated as the field chooses for the final time in 2023. Myers chooses the outside like he has all night followed by Russo on the inside, Jared Dawson, Mountcasel, and Peregoy. Jason Myers and Russo are dead even as now they make contact! Russo is trying all he can, but Jason Myers is just too strong as he clears and takes the win along with the 2023 Budweiser Limited Sportsman championship. Russo gets a very hard fought second, Jared Dawson claws back for a third, Crews comes all the way back to fourth, and capturing a phenomenal fifth is Mountcasel.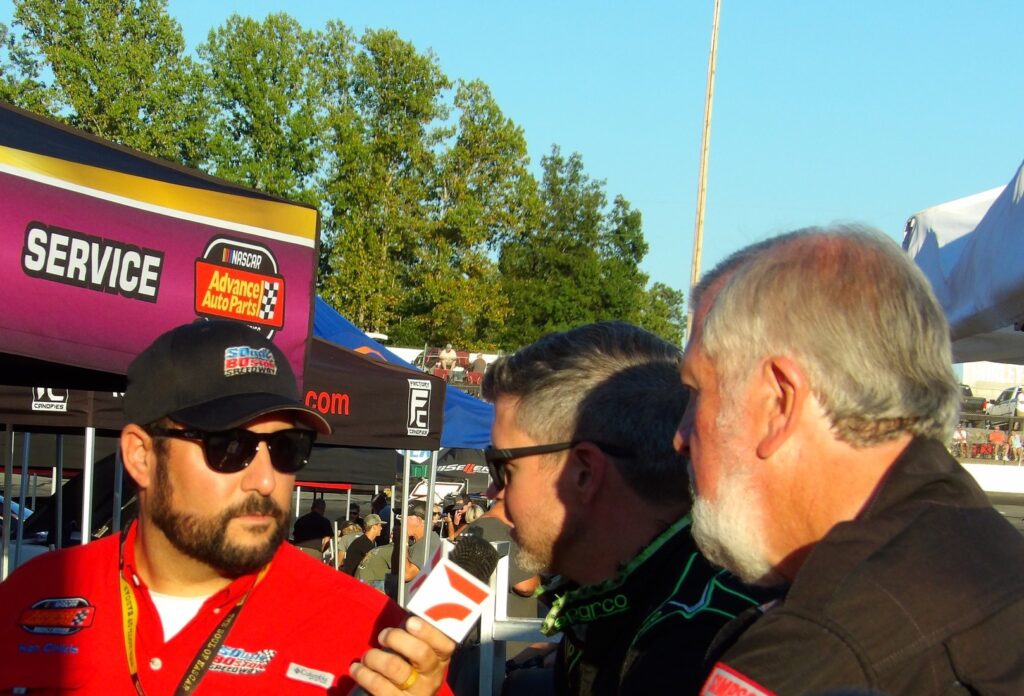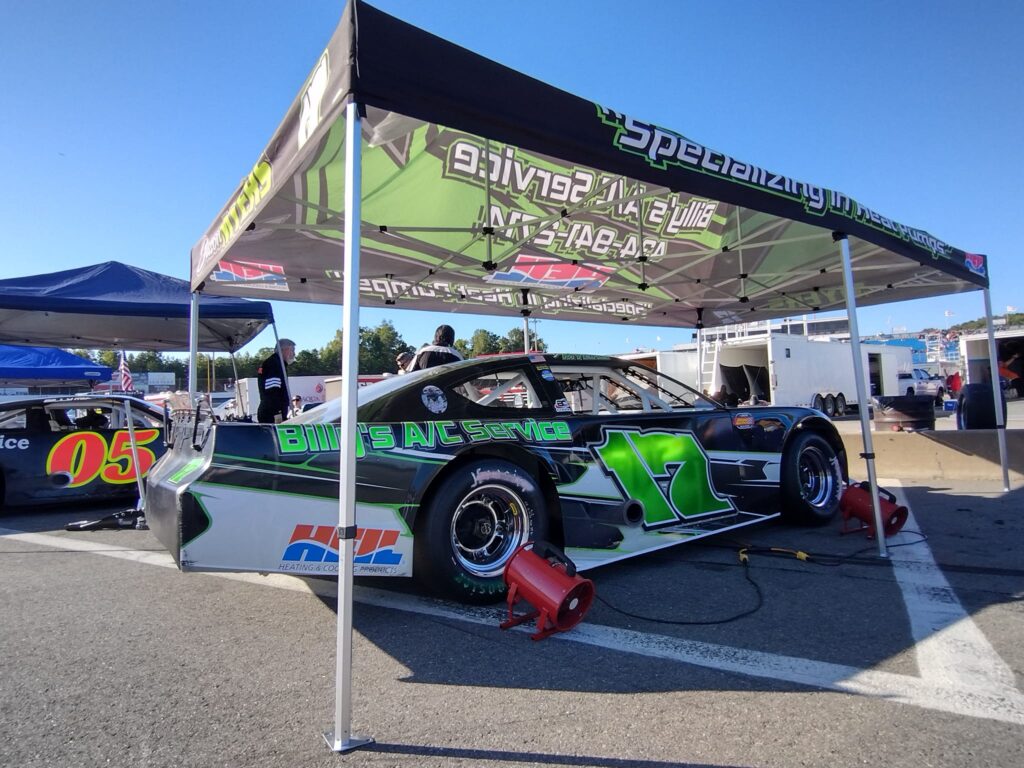 SENTARA HEALTHCARE LATE MODEL STOCK FEATURE
The # 5 of Carter Langley starts off his championship hunt strong with the pole award for tonight's 150 lap Season Finale. Second place points runner Peyton Sellers in the # 26 qualifies third, but in an effort to get maximum points, the six-time champion elects to start in the rear. Starting second in the field will be Thunder Road Harley-Davidson 200 winner Bobby McCarty in the # 6 followed by Aaron Donnelly in the # 31D, Justin Hicks in the # 61, and Andrew Patterson in the # 31P. Willard looks over the talent stacked lineup of cars, approves the formation, and we're green to settle the 2023 championship! Langley quickly clears for the top spot as Hicks and Patterson battle it out for fourth. Hicks takes that position as now Patterson is under fire from the # 4 of Kyle Dudley. Dudley sends it in deep, but Patterson hangs tough on the outside. After a handful of laps, Dudley finally gets by as Sellers has already begun his charge near the back of the pack. Dudley now moves by the Donnelly car, bringing Patterson through with him. Dudley gives Hicks a little shove up the track in order to get by but Patterson is still right there as well as Dudley nearly crashes coming off of four after contact with Hicks, somehow saving it. That gives Patterson third while Dudley remains in fourth followed by Hicks. Up front, McCarty has started to breathe down Langley's neck, causing Langley to concede back to second. And now, to no one's surprise, Sellers has made his way into the top five, moving around Hicks without issue in an amazing charge. The first competition caution flies after forty laps, giving teams a chance to make adjustments to their machines on pit road. After all adjustments are made, McCarty will restart in command followed in toe by Langley, Patterson, Dudley, and Sellers. McCarty barely clears coming out of turn two as Sellers dives underneath Dudley and takes fourth. He doesn't stop there either as he now gets by Patterson, moving onto the podium. Dudley takes advantage of Patterson's lost momentum and he now moves up to fourth. And now we've got trouble on the backstretch as Hicks goes around with the # 09 of Michael Rogers spinning to avoid. It'll unfortunately be the end of the night for Hicks as Rogers gets his machine back rolling. It's a quick caution as McCarty remains your leader followed by Langley, Sellers, Dudley, and Patterson. McCarty rockets out front but Langley gets a big run on the outside and retakes the top spot. Behind, Donnelly finds his way by Patterson as McCarty now deals with a hungry Sellers. Meanwhile, Langley is starting to pull away ever so slightly as the field single files out behind him. As the laps run on, Patterson's car seems to be getting better as he starts to look on Donnelly. Donnelly tries to hold on, but Patterson's long run speed is great as he gets by for fifth.
Back up front, McCarty's car is starting to get bigger in Langley's mirror as Langley's brakes are starting to glow candy red. Behind in third, Sellers is running the smoothest line possible, keeping all of his equipment under him as they take the second competition caution, a big break for the # 5 car as he has an opportunity to cool his brakes down. As for Sellers, it gives him a period to use his veteran experience to think of a game plan heading into the final forty laps for his record tying seventh title. After the caution period, Langley will remain out front followed by McCarty, Sellers, Dudley, and Davey Callihan in the # 41. Willard looks over the field, likes what he sees, and we're green to settle a championship! Langley and McCarty are neck and neck going into the corner as McCarty now gets loose underneath! That allows Langley to clear as Dudley now dives underneath McCarty with Sellers in toe. Dudley takes McCarty high and allows Sellers to look three wide out of turn four! Sellers makes a little contact with Dudley, losing momentum in fourth. Dudley and McCarty are still side by side in an amazing battle as Sellers has caught back up. Dudley finally clears, not without some battle scars though as Langley has started to pull away once again. Sellers starts to get aggressive, sliding underneath McCarty's # 6 and grabbing the position. Sellers now gets loose, trying all he can to get up to Dudley. It's now Callihan who nearly loses it behind, almost colliding with the outside wall with Donnelly getting by. Callihan pulls off an amazing save as out front, it's still Carter Langley. Sellers puts down some amazing lap times, but the sand runs out of the hourglass as Langley takes home the win and the 2023 Sentara Healthcare Late Model Stock championship. Dudley gets a great second, Sellers ends his exceptional charge in third, McCarty finishes fourth, and Donnelly rounds out the top five.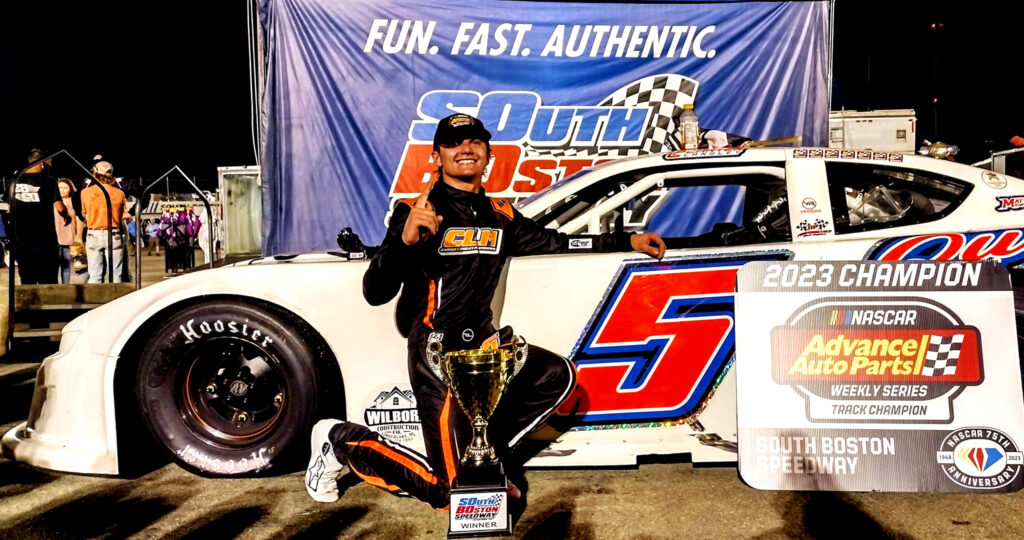 MY TAKE
David was young but he was honing his skills as a fighter for many years. So when he came to the battlefield, he was confident in his skills and never wavered. The difference here though is that Goliath was only defeated in this one battle. An epic battle indeed but Goliath in this case has lived to fight another day, and we suspect that his motivation was only increased. Stopped two years in a row from getting to an historic seventh championship known for great Late Model Stock racing, Peyton Sellers was visibly disappointed. But I could see in his eyes that it only made him want it more. For Carter Langley, it was the cap off of an improbable season that defines his growth as a Late Model Stock driver and competitor. He beat one of the very best in the business, and ironically in a car once owned by Philip Morris. But although the car itself proved it's worth, it was the performance by the driver that shined all year long. Carter Langley became the student that beat the master and the respect that both of these two drivers earned for each other was clearly evident to us. Both of them fought this battle with a class rarely seen in today's extremely competitive era, making it reach beyond just another rivalry, and into the epic battle it truly was. It will probably take Carter Langley a little while to even realize just what he has achieved, but it will live with him for the rest of his career and his life.
2023 Championship Night at South Boston Speedway was fitting in that it was defined by the year itself. Three crowned champions won their races in a declaration that they truly were the class of their fields all year, but only one of the four was a repeating champion. Johnny Layne wins another Pure Stock Championship while Hornet driver Kendall Milam, Limited Sportsman driver Jason Myers, and Late Model Stock drive Carter Langley get their first. Proving once again that South Boston Speedway has not only retained it's grandness over the years, but it's unpredictability as well. We don't call it 'The Jewel Of The Commonwealth' for no good reason as the one thing that is always predictable at this place is the dedication of it's fans and the determination of it's competitors. Every show is a big show here and it proves each and every year why it's one of the most prestigious short tracks in the nation.
It's only fitting then really that this week's Short Track Report Blue Collar Racer Of The Week was again one of the toughest choices we had to make. We truly didn't see eye to eye during our conversations on this one, and we debated it right up to the publishing of this article. It came down truly to two drivers locked in a battle of David versus Goliath. Youth versus experience. And both drivers performed as well as you could imagine in a high pressure, high stakes battle for the ages. The fight for this year's Late Model Stock Championship was fittingly one of the closest in the track's history and went down to the closing laps of the season. Peyton Sellers chose to go to the rear of the field after qualifying third to get the most points that he could achieve. It may have seemed like a risky choice, but with Langley qualifying on the pole, it was the best option available. But it was also contingent on Sellers making it to the front. But that he achieved in a determined style. He indeed worked his way to within reach of the # 5 machine, only to become locked in a battle with the # 4 of Kyle Dudley who was determined to put himself in a position to win the race himself. It was Sellers' march through the field that made our conversation for the award a memorable one. In the end though we had to remind ourselves that this award is not a hard charger award. It's an award given to the driver that works the hardest for the most gain, and one driver above all others did that on this night.
Carter Langley did everything he needed to do. He put his machine on the pole and he held off the field all night. But it wasn't as easy as it might seem. He had to be flawless on his pole run, and he had to know how much to save as it came down to the wire. And heading into the final stage, you could clearly see how hard he was being worked by first Bobby McCarty, and then Kyle Dudley and a charging Peyton Sellers down the stretch. Heading into the closing laps, Langley's rotors were glowing red. And although Sellers and Dudley found themselves in a heated battle that aided Langley in his run, he was all out as they closed in on him with the ultimate stakes on the line. And we don't think we need to express how difficult it is to keep yourself ahead of the fray in that situation. Carter Langley worked hard all year to put himself in contention for the championship, and he worked hard all night to see it through in an amazing performance that gets him the most gain you can imagine. He and his team are this week's Blue Collar Racer Of The Week, and the 2023 South Boston Speedway Late Model Stock Champions. Congratulations team on a epic night, and an even more tremendous season! You earned it each and every lap of the way. Until next time, See You At The Track!
(Race write up by Joshua Weatherman. Intro and My Take written by Billy Weatherman. 2023 Copyright SHORT TRACK REPORT)
Tags
Aaron Donnelly
,
Andrea Ruotolo
,
Andrew Patterson
,
Andrew Turner
,
B.J. Reaves
,
Billy Myers
,
Blue Collar Racer Of The Week
,
Bob Davis
,
Bobby McCarty
,
Brandon Brown
,
Brandon Willard
,
Caleb Sanford
,
Carter Langley
,
Carter Russo
,
Chase Brashears
,
Chris Donnelly
,
Colby Pool
,
Daniel Moss
,
Davey Callihan
,
Dillon Davis
,
Drew Dawson
,
Harrison Walker
,
Hornets
,
Jared Dawson
,
Jason DeCarlo
,
Jason Myers
,
Johnny Layne
,
Justin Dawson
,
Justin Hicks
,
Kendall Milam
,
Kenny Forbes
,
Kyle Dudley
,
Landon Milam
,
Late Model Stocks
,
Limited Sportsman
,
Michael Rogers
,
Nathan Crews
,
Peyton Sellers
,
Pure Stocks
,
Ross Mountcasel
,
Scott Phillips
,
South Boston
,
South Boston Speedway
,
Zach Peregoy
,
Zach Reaves