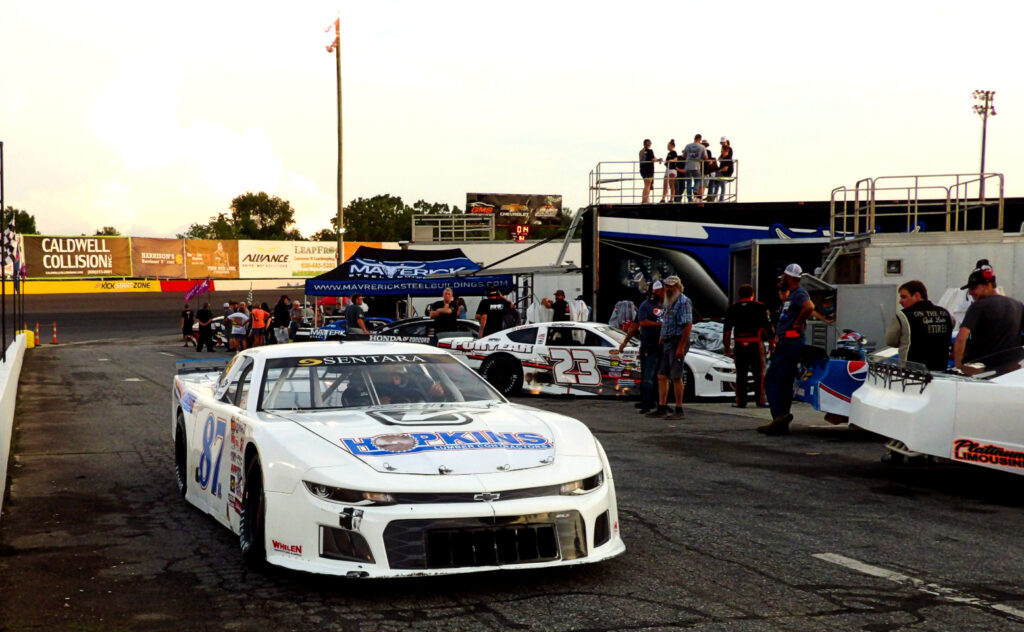 They say that homecomings are special and of course we know that to be true. Especially if the homecoming is delayed for whatever reason. And so this past Saturday night we were truly excited to make it back to our home track, Tri-County Speedway, for the first time this season. The weather forecast was threatening, but we weren't going to be deterred this weekend as we knew it was time. There are a lot of reasons we call Tri-County home, but one of those is that the track is made for exciting side by side racing action, and here, that's not some fake hype or an over exaggeration. We've seen some amazing races at this speedway, and we couldn't wait to see what this weekend had in store. So we crossed our fingers on the rain chances and headed out to the foothills of North Carolina. The rains came but the track officials and personnel were ready and put their inclement weather plan into effect. The schedule was altered a bit, but the skies opened up just when it was needed, and due to the work of the track crew, the sounds of race cars staging was the blessing we were hoping for. The patient crowd was ready and the teams got ready to go to work. The invocation was given, the Anthem was played, and the excitement started to build. What happened next was another in the list of reasons we are proud to call Tri-County Speedway home for Short Track Report. Let's take a close look back at this past Saturday night in Granite Falls, North Carolina and Let's Go Racin'!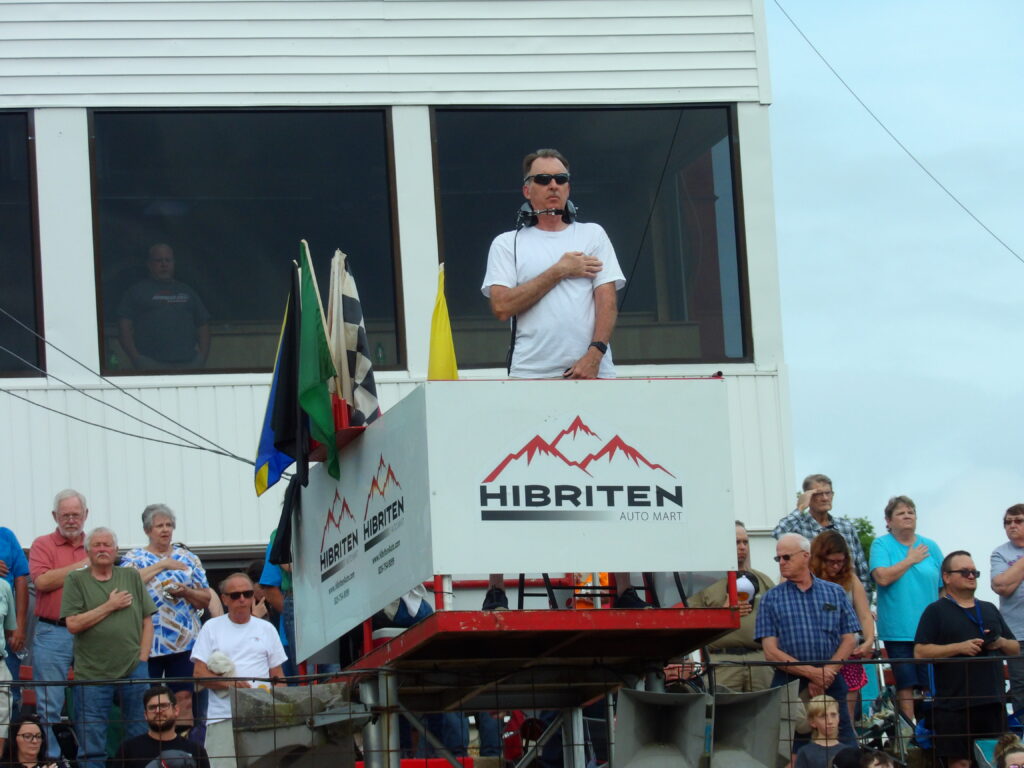 VINTAGE FEATURE
The beautiful # 95 machine of Eddie Gilbert lines up first for the Vintage event followed by the # 39 of Mark Whitten and the # 4 Orange Blossom Special of Dennis Hinkle. The flagman looks over the gorgeous field, likes the lineup, and we're green! The # 35 of Bob Wallace flies by Hinkle as Gilbert looks to build a gap early. But coming up through the field is the duo of the # 11 of David Werner and the # 19 of Chris Werner, passing cars left and right. However, due to both of these Vintage replicas not meeting Tri-County rules, they are not being scored and are just running for the love of racing. Behind them, Hinkle looks underneath Wallace and gets the silver position back. But up front, Gilbert continues his winning ways as he comes home the victor followed by Hinkle and Wallace.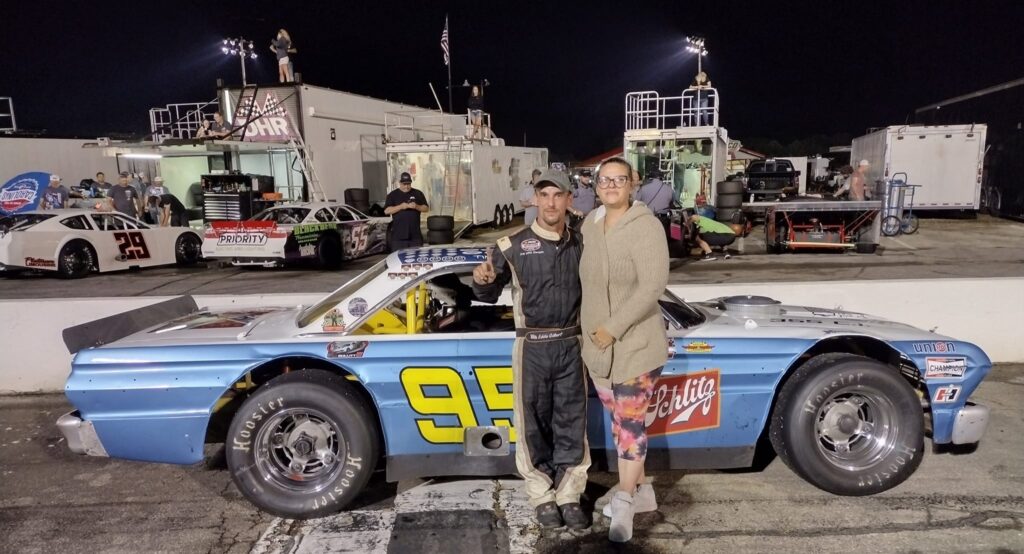 FRONT WHEEL DRIVE FEATURE
Donny Holland in the # 10 will start up front for this one as he's followed by the # 47 of Mickey Roberts and the # 54H of Randy Hupp who rounds out the top three. The green flies and James Powell in the # 27 is immediately on attack mode as he cruises by Hupp and Roberts, eventually getting by Holland in the process. Hupp takes advantage of Holland's lost momentum and takes away second. But Holland won't give up that easily as he still mirrors Hupp's racing line, looking for any mistake to be made. But behind him, the # 44 of Chuck Sims has come to life, getting by Holland. The caution comes out though shortly after as the # 24 of Scotty Gosnell has gone up in smoke. Powell will restart first followed by Hupp and the fast Sims. Hupp takes the lead on the restart as Powell has a slight hiccup, but going into turn two, Powell looks back under and retakes the top spot. Meanwhile, Sims seems to be slowing ever so slightly as Holland reenters the top three. Sims eventually goes up in smoke as well, ending his great night but this doesn't draw a caution as James Powell takes yet another Tri-County first place trophy. He'll be followed by Hupp and Holland.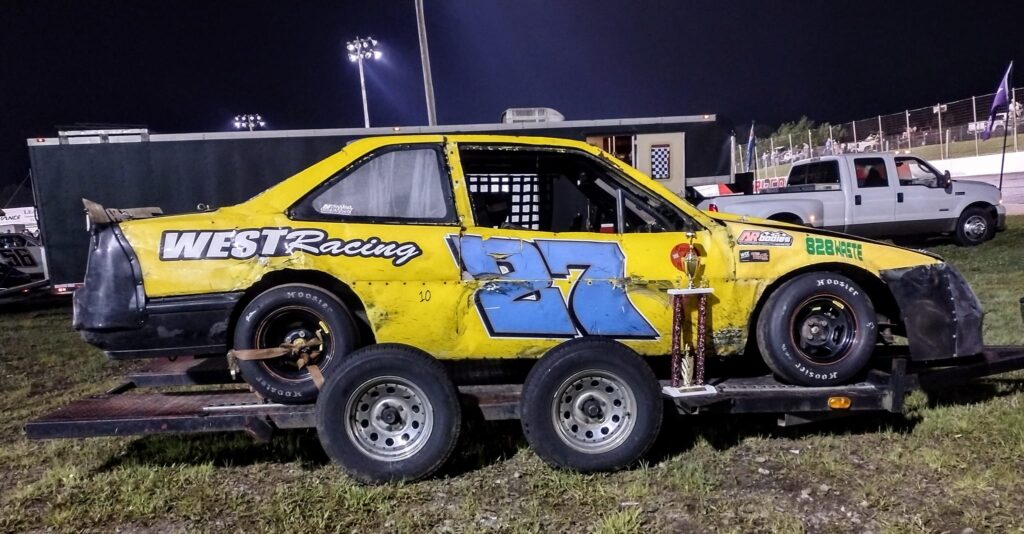 RENEGADE FEATURE
The ever popular Renegade division rolls out onto the track with the # 34 of Gary Aldrich leading the charge followed by the # 16 of Steve Smart and Dalton Ledbetter in the #32. The green flies as Aldrich doesn't get going, allowing Smart to jump out ahead early. The field shuffles behind trying to avoid the stuttering Aldrich hot rod, now putting the # 9 of Klint Townsend in second followed by the # 1 of Justin Austin. Before you know it, defending champion Townsend is side by side with Smart as the two put on an amazing battle for the lead. Behind them, Ledbetter's fast Monster Energy # 32 is all over Austin, eventually getting by as Smart and Townsend are still side by side. After what seems like an eternity, Townsend clears as Ledbetter now looks on Smart, getting by after a brief duel. Now Ledbetter has his sights set on Townsend, as the pair run near identical lap times. Just when it seems that Ledbetter is about to make his move, the duo run into some lap traffic, preventing Ledbetter from getting the run that he needs, allowing Townsend to take the checkered flag first. Ledbetter holds onto second while Smart comes home third.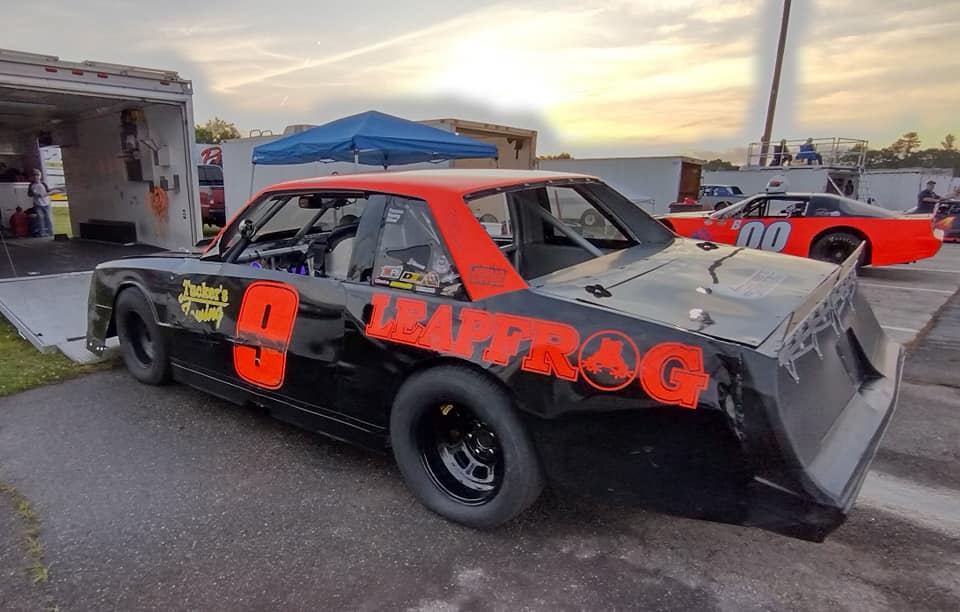 STREET STOCK FEATURE
A highly competitive field of Street Stocks have invaded Tri-County as the # 4 of Tyler Woodring starts first followed by the # 49 Brewster Baker throwback of Jeff Melton and the # 55 of Johnny Reynolds. The Tri-County flagman looks over the fantastic field, likes what he sees, and we're green! Melton takes off into the lead early as the field behind looks like a race out of Daytona. As drivers trade spots left and right, the # 03 of Kevin Eby emerges into second. Eby looks to mount a charge on Melton as the # 32 of veteran Gary Ledbetter starts to move through the pack. He gets into the rear view of Reynolds as they battle quickly before Reynolds concedes the spot, allowing Ledbetter to get a run on Eby, taking that spot as well. Reynolds takes advantage of Eby's lost momentum and gets by for third as Ledbetter starts to look on Melton. Melton holds the high line like a pro though, getting the preferred run out of the corner each time. Ledbetter doesn't stop there though as he hangs tough on the inside, drag racing with Melton lap after lap. The fans are on their feet as nobody has the clear edge. They're still side by side as they come to the white flag, with Melton barely powering out ahead going into turn one and out of two. Ledbetter tries to dive under one more time going into three, but Melton grips the outside and crosses the line first, followed by Ledbetter and Reynolds. What a race!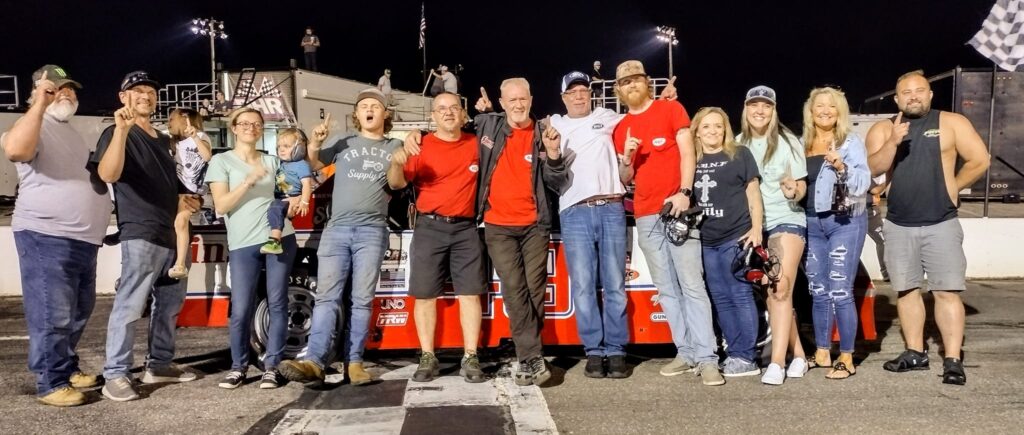 OUTLAW FEATURE
Sheflon Clay in the # 15 starts in pole position as he's followed by the # 5 of Tim Dale and the # 92 of defending champion Martin Nesbitt. Clay launches like a rocket on the initial start as Tyler Church in the # 1X makes his move on Nesbitt, claiming third. Dale is next in Church's sights as Clay holds a pretty wheel up front. Church is able to pass Dale, with only one more driver in his way of going two in a row. He breathes down Clay's neck, trying to pressure Clay into a misjudgement. Church eventually looks underneath, gets the run, and gets by for the lead. But behind, there's trouble as the # 7 of Austin Simmons crashes hard on the backstretch. It's a quick cleanup as Church, Clay, and Nesbitt make up the top three. Church gets a near perfect restart, but Clay is still there. It isn't enough however as Church races his way to his second Outlaw win in a row, followed by Clay and Nesbitt.
LIMITED LATE MODEL FEATURE
The # 9 of Tri-County veteran William Aldred starts in front of the biggest Limited Late Model field that the Granite Falls track has seen in a while as the # 98 of Chase Pollard, the grandson of the famed Harry Gant, starts second followed by the # 14 of Don Carlton, donning a throwback scheme to the Mopar Missile his father helped make famous. The flagman looks over the great field, gives the thumbs up, and we're green! Aldred gets a great jump as the field stacks up behind two and three wide. Reminiscent of the Street Stock race, the field looks like something out of a superspeedway race, but it doesn't last for long as Carlton spins into the outside turn three wall, bringing the caution out. Aldred lines up first followed now by the # 65 of Josh Goble and the # 25 of Graham Hollar. The green waves with Aldred and Goble battling in a dead heat for the lead. Aldred barely clears as Hollar now gets by Goble, also bringing along Ryan Joyner in the # 15, dropping Goble to fourth. Now Joyner looks on Hollar, but Hollar gives him a fight on the outside. Joyner has the speed though as he clears Hollar and looks to catch up to Aldred who has built a decent gap. Behind them, fast qualifier Darren Krantz Jr in the # 1 Lee Faulk Racing And Development machine is moving through the field after the invert, eventually moving up to fourth. The # 59 of defending champion Austin Harris also starts to move through the field, finding himself finally breaking into the top five. But back up front, it's Joyner who is eating into Aldred's lead. But the laps are ticking down with Joyner slowly running out of time. As the white flag flies, Joyner is still gaining, making a last ditch effort into turn three and almost getting into the back bumper of Aldred. But it's not enough as Aldred takes the dominant victory followed by a determined Joyner and Hollar.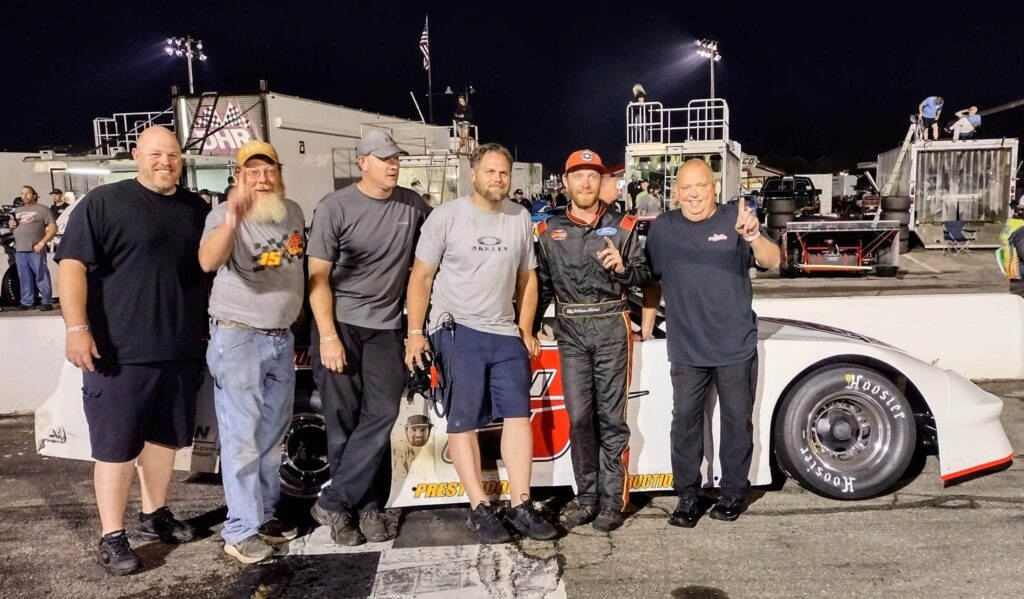 LATE MODEL STOCK FEATURE ONE
A star studded field of Late Model Stocks have descended onto Tri-County Speedway as they prepare for the upcoming CARS Tour Old North State Nationals thirty grand to win event. Hickory weekly competitor # 23 Kade Brown grabs the pole with a blistering time of 15.692 seconds. The # 15 of Mitch Walker starts second followed by fan favorite Mike Looney in the # 87L. The flagman looks over the remarkable field of Late Model Stocks, likes what he sees, and we're green for the first of two feature races! Brown clears early as the field already looks three wide behind him. Looney gets shuffled out of the pack as the # 12 of Austin McDaniel moves into second while Walker falls to third. But there's early trouble as Looney has a tire down on his machine! The caution flies as the Virginia native comes down pit road to fix the issue. After the choose rule comes into effect, Brown lines up first for the restart followed by the # 4 of Jaiden Reyna and the # 40 of Taylor Satterfield. It's a great restart for Brown as the field puts on an amazing show behind. Satterfield starts to fall behind now as Walker and McDaniel are side by side for third with McDaniel getting the spot. Meanwhile, Looney is already making up spots in the middle, taking advantage of Tri-County's multiple lanes. But back up front, McDaniel starts to heat up the rear bumper of Reyna, jamming up the field in the process. The jam up soon turns into a wreck as McDaniel gets spun by Walker, with Satterfield ramping off of the side of Walker, scattering debris everywhere out of four. Satterfield and McDaniel come away with minimal damage while Walker gets the worst of it. After the choose, Brown lines up first followed by Satterfield and Reyna. The flagman anxiously looks over the field, likes the formation, and we're green once again.
Brown once again jumps ahead as Reyna gets by Satterfield. It's now a pure dogfight for third as Satterfield, the # 28 of Thomas Beane, and the # 55 of Justin Carroll are three wide for the spot. Carroll comes out the winner of that battle with Looney now closely following as Satterfield comes to pit road with problems stemming from the earlier wreck. Carroll now looks under Reyna, but to no avail as now Looney is right there with Carroll, gaining that spot. Now Reyna has to deal with the determined Looney, as Looney is under and by for the second position. Carroll takes advantage of the lost momentum and slides past Reyna for third. In front of him, Looney looks to have the fastest car, but the gap that Brown has built is just too big as Brown's Matt Piercy Racing machine grabs the win followed by an amazing comeback from Looney in second and Carroll in third.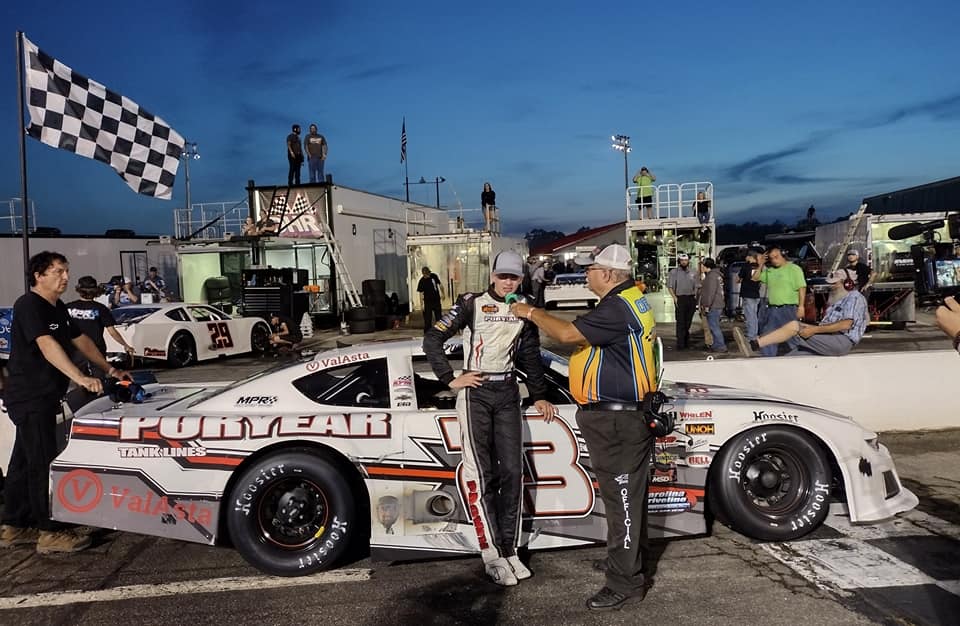 LATE MODEL STOCK FEATURE TWO
The # 5 of Michael Faulk is the beneficiary of the first race invert as he'll lead the field to the start followed by Reyna and Beane. The flagman looks over the field, is pleased with the lineup, and we're green for the nightcap! Faulk and Reyna are dead even for the lead with Reyna edging out the veteran Faulk, who's now under fire from Carroll as Beane falls back. Carroll grabs second as now here comes Looney! All of a sudden, Reyna, Carroll, and Looney are three wide for the lead, with no driver giving an inch. This continues lap after lap as the fans are going crazy. Reyna maintains the position, but Carroll and Looney are still there, with Faulk and Brown in tow. As they're still battling three wide, the caution flies as the # 27 of Eugene Norton loops his machine in turn four. The field and fans finally get a chance to catch their breath after what was one of the greatest battles we've ever seen for the lead. After the choose, it'll be Reyna, Carroll, and Looney the top three. The green is out once more and here we go again as the top three are under a blanket with no clear favorite. Looney finds some extra muscle though, as he now powers by Carroll and Reyna, racing out to the lead to a standing ovation! Now the battle is for second as Reyna and Carroll are door handle to door handle. Carroll now clears as Faulk is back in the fight, getting by Reyna as Reyna's tires start to fade. Back up front, Carroll has clean race track, looking to close the gap between him and Looney. Just like in the Limited Late Model race, he's slowly but surely gaining, but the laps are ticking off fast. The field still fights hard behind, but the top three is settled as Looney comes home the popular winner followed by a fantastic run by Carroll in second and Faulk in third. Tri-County never disappoints!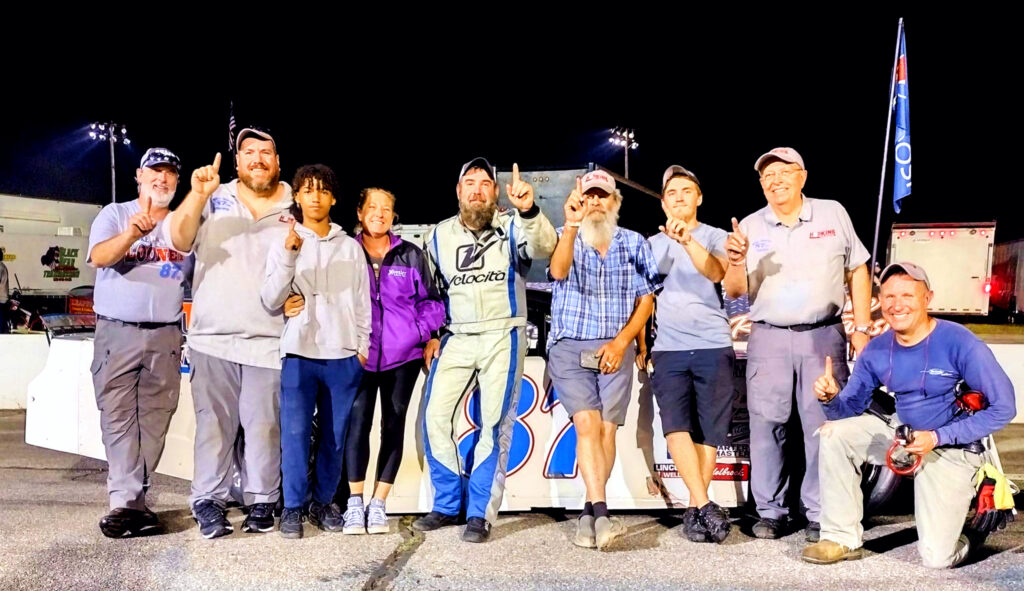 MY TAKE
I was a little shocked when I heard the statement, and it was confirmed by Mike Looney's crew who'd heard it too, that many said that after the repave in turns 1 and 2 that you couldn't go 3 wide here at Tri-County Speedway, which had been it's trademark to anyone in the know about the track. But as we suspected, and proved by Mike Looney himself, that statement was absolutely incorrect. And so let's set the story straight here and now. That statement is absolutely false. Not to say anyone can do it, but just as before, it takes a bit of moxy to pull it off. But then again it always has. It takes a certain kind of mindset, and a strong will to win to make it work. In a couple of weeks, the CARS Tour is coming to town and so to anyone on the tour that's listening, and to the fans that will be in attendance, the bottom lane is indeed open for business. It is another strong reason we are proud to call the speedway home. The CARS Tour race this year at the track will be the $30,000 to win signature event for the tour, and it will be on the heels of the big event at North Wilkesboro coming up on Wednesday of this week. Both events are going to be epic, I promise you. But when they come to Tri-County with that huge payday on the line, side by side by side racing is what you can expect. A payday like that can make a driver and team's season, and you can bet that they will do whatever it takes to get it. Mike Looney set the example this past Saturday night as he went down low and diggin' and came away with the gold.
But it's not like we haven't seen this before. At Tri-County Speedway it's the recipe for success and you can even ask Xfinity driver Chandler Smith about it. We saw him put on a clinic down there as well as he battled with team owner Justin Johnson and Jacob Heafner in 2021 in one of the most epic battles we have ever seen at any track, and we've been fortunate enough to have visited a few. In that race when Smith had nowhere else to go, he went downstairs and made it happen, but not after spending a great deal of laps at the end of that race three wide with the two other drivers I mentioned. And now that the repave has seasoned, I can tell you for certain that the upcoming CARS Tour race will be another epic event at the track. It will be proceeded by a huge race the night before by a Street Stock contingent that will also be looking for honor and glory at this place, and they couldn't have picked a better place to hold that event. It will be a weekend highlighted by some of the best short track racers around, as the speedway will indeed be full of stars looking to shine. But the simple truth of it is that the track itself will be the one that shines above the rest. It's true that it takes great racing talent to put on an epic stock car contest. But that all falls short without the facility that can accommodate it. And no matter what else Tri-County is, it is a place where you can run two and three wide lap after lap. We've seen it more than once. A track that brings out the best in driver and machine and allows you to take the competition to the limit. And this past Saturday night, we got to watch Mike Looney remind everyone of that potential.
There was great racing all night on Saturday with a number of great performances, such as Kade Brown who's proving he's a threat to win anywhere he goes, taking his first win at Tri-County with a top five to boot in the second of two races to help his competition understand that fact. Jeff Melton and Gary Ledbetter had an amazing battle in the Street Stock ranks that had the crowd on their feet as they went down to the wire. But when it comes to the Short Track Blue Collar Racer Of The Week this week, it had to be the easiest choice we've made all year. Mike Looney and the Billy Martin Racing team came down from Virginia and literally stole the show, giving Looney his first ever win in North Carolina. But he also finished second in the first Late Model Stock feature, even after suffering a flat tire early in the race and having to restart in the rear of the field. And so we congratulate Mike and his team for not only two amazing performances that we couldn't ignore for this week's Blue Collar racer Of The Week award, but for also reminding us once again why this place is so special. Congratulations team! You definitely earned this one. And as always, until next time, See You At The Track!
(Race write up by Joshua Weatherman. Intro and My Take written by Billy Weatherman. 2023 Copyright SHORT TRACK REPORT)
Tags
Austin Harris
,
Austin McDaniel
,
Austin Simmons
,
Billy Martin
,
Billy Martin Racing
,
Blue Collar Racer
,
Blue Collar Racer Of The Week
,
Bob Wallace
,
Brewster Baker
,
CARS Tour
,
Chase Pollard
,
Chris Werner
,
Chuck Sims
,
Dalton Ledbetter
,
Darren Krantz Jr.
,
David Werner
,
Dennis Hinkle
,
Don Carlton
,
Donny Holland
,
Eddie Gilbert
,
Eugene Norton
,
Front Wheel Drives
,
Gary Aldrich
,
Gary Ledbetter
,
Graham Hollar
,
Harry Gant
,
Jacob Heafner
,
Jaiden Reyna
,
James Powell
,
Jeff Melton
,
Johnny Reynolds
,
Josh Goble
,
Justin Carroll
,
Justin Johnson
,
Kade Brown
,
Kevin Eby
,
Klint Townsend
,
Late Model Stocks
,
Lee Faulk
,
Lee Faulk Racing And Development
,
Limited Late Models
,
Mark Whitten
,
Martin Nesbitt
,
Matt Piercy
,
Matt Piercy Racing
,
Michael Faulk
,
Mickey Roberts
,
Mike Looney
,
Mitch Walker
,
Mopar Missile
,
Old North State Nationals
,
Orange Blossom Special
,
Outlaws
,
Randy Hupp
,
Renegades
,
Scotty Gosnell
,
Sheflon Clay
,
Steve Smart
,
Street Stocks
,
Taylor Satterfield
,
Thomas Beane
,
Tim Dale
,
Tri-County
,
Tri-County Speedway
,
Tyler Church
,
Tyler Woodring
,
Vintage Race Cars
,
William Aldred