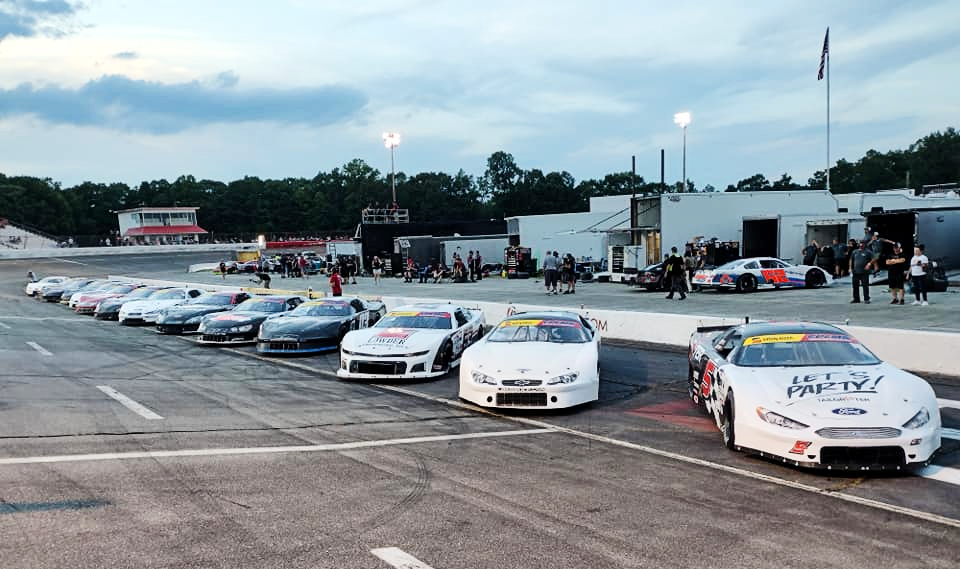 FIRST COME, FIRST SERVE – 2022 Carolina Pro Late Model Series/Carolina Crate Modified Series At Orange County Speedway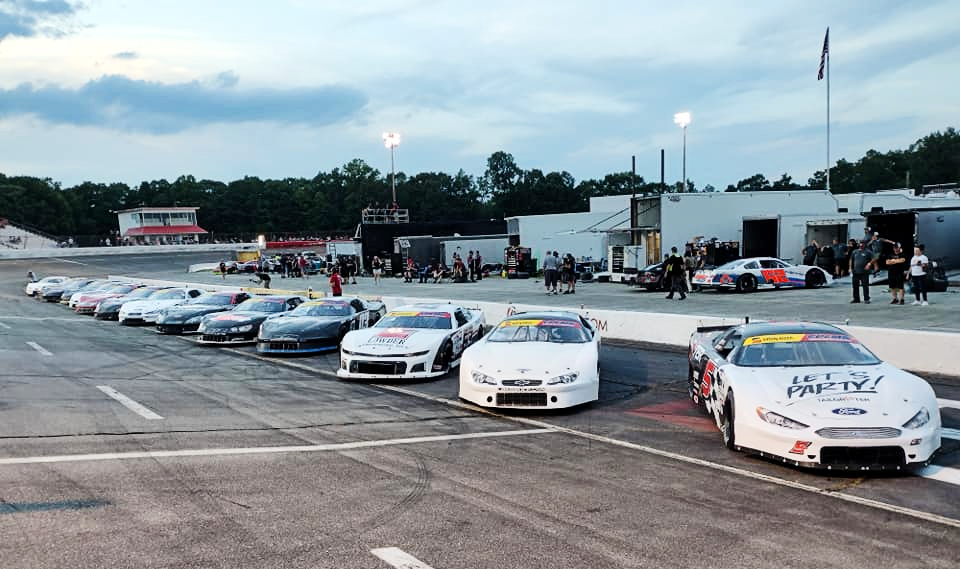 In today's world, it seems you have to take it when you can get it, and in the world of short track auto racing, that means tires and supplies. Hoosier's statements on the tire shortage means it's first come, first serve in the supply chain, and unfortunately, that doesn't work out so well for those at the end of the line. After the tours and series, and then NASCAR affiliated tracks like Bowman Gray Stadium, the unaffiliated, or for a better term, the independents, have to get innovative if they want to race. And so while many tracks with few options on supplies have canceled entire seasons, Orange County Speedway decided afte everything considered that canceling the entire 2022 season wasn't much of an option at all. So, they've decided to run a partial season this year, and in the process, address some track improvement issues as well. And for the race fan, that should be seriously considered. The downside of running a partial season of course is that revenue is also going to be partial. And so it doesn't take a genius to see that a track that decides to do as much racing as it can get away with, with the limited supply it's given, and also use the extra time to start with upgrades, is a track that has to love racing. If not, the easy way is to say, "See you next year.", and no one would question it greatly as it's obvious that running a track in 2022 is a labor of love.
So it's a little later than most, but on Saturday, June eleventh, Orange County is finally able to have it's season opener. And man what a schedule they have on tap. Not only is every Orange County division in action, but the Carolina Pro Late Model Series is in town, and they've brought the future stars of NASCAR with them. The Carolina Pro Late Model Series as we've said all along, are proving to be one of the best developmental series in the country. So, we had this on our schedule as soon as it was announced, and we've really been excited about the chance to get back to Orange County Speedway. The House of Speed. And despite the chances of rain, there's not a drop in sight. The qualifying has been completed. The 2021 Championship nods have been given. The invocation has been gracefully spoken, and a beautiful rendition of our National Anthem has been sung. The track and the drivers are ready, and the growing crowd has waited long enough, so, Let's Go Racin'!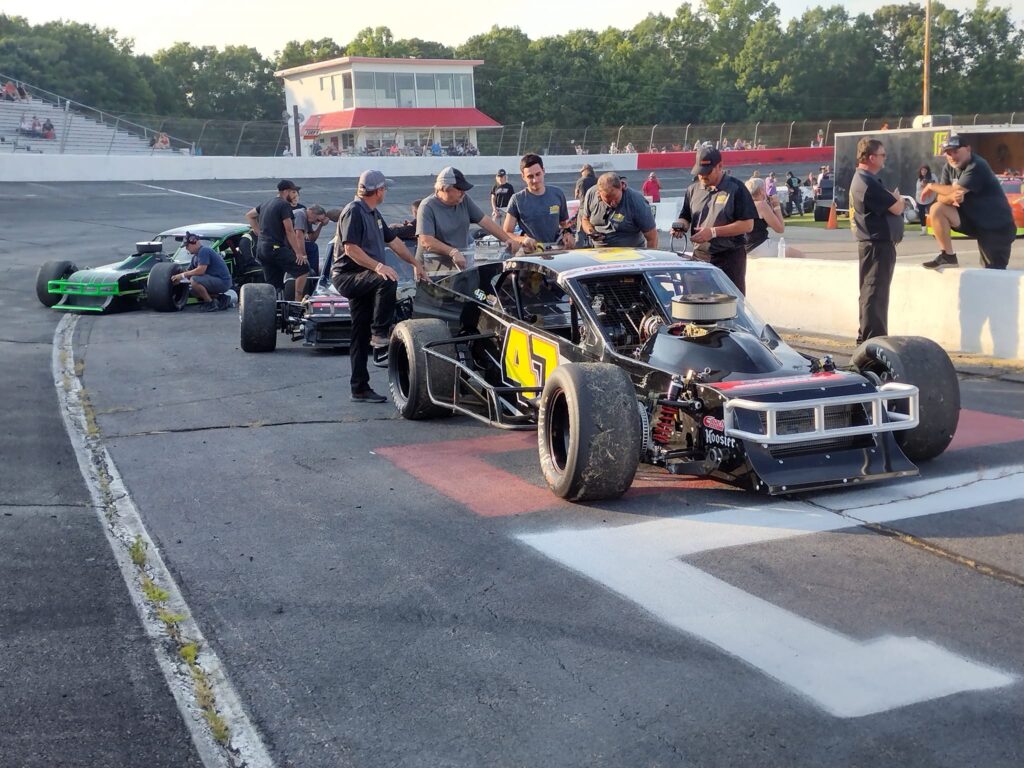 VINTAGE SPORTSMAN FEATURE
The # 6 of defending champion Gary Lloyd starts on the pole with the # 11 of Chris Mincey starting alongside. The Orange County flagman looks them over, likes what he sees, and we're green at The House Of Speed! Mincey immediately gets the jump as Lloyd files right in behind. Lloyd won't give up without a fight though and looks to the outside of Mincey. But Mincey gets loose, causing Lloyd to check up and almost hit the turn two wall. Mincey is then able to gap Lloyd, but it's not for long as Lloyd is right back on Mincey's bumper. They play this cat and mouse game all the way up to the white flag. Lloyd makes a last ditch effort in turns three and four, but it's not enough as Chris Mincey starts the year off with a checkered flag.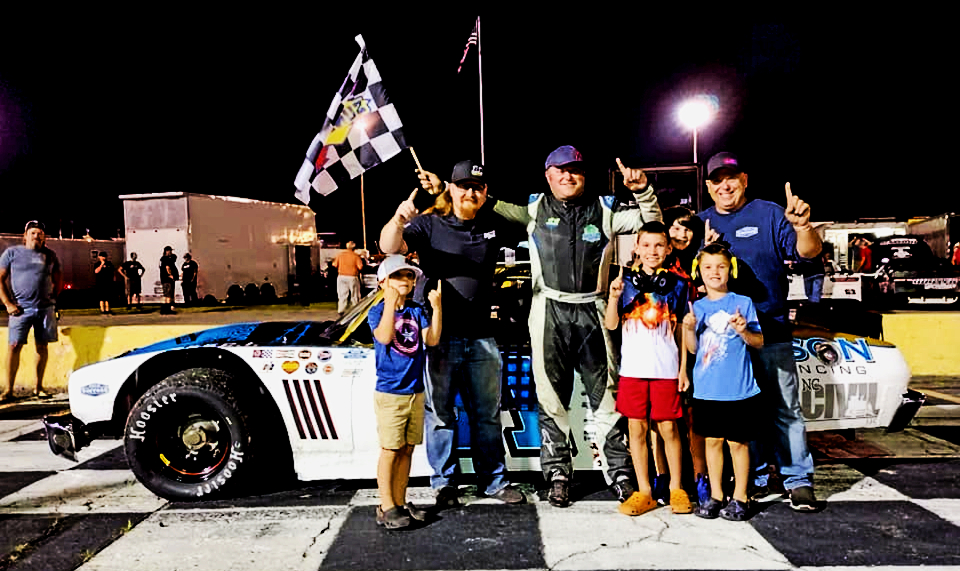 SOUTHERN OUTLAW FRONT WHEEL DRIVE FEATURE
Defending champion # 83 Tommy Raino secures the pole with a time of 16.986 seconds around fast Orange County. The # 45 of Josh Williams will start alongside with the # 15 of Chris Redman rounding out the top three. The flagman looks over the field, likes the formation, and we're green! Raino gets a big jump while Williams fends off Redman to keep the second spot. As Raino puts down nearly perfect laps, Williams is right there in his shadow, ready to pounce when the moment is right. But as Williams seems to be moving in on Raino, Raino turns the wick up and starts to gap the black 45 machine, cruising to yet another Southern Outlaw Front Wheel Drive win. Williams is able to hang onto second as Redman stays put in third.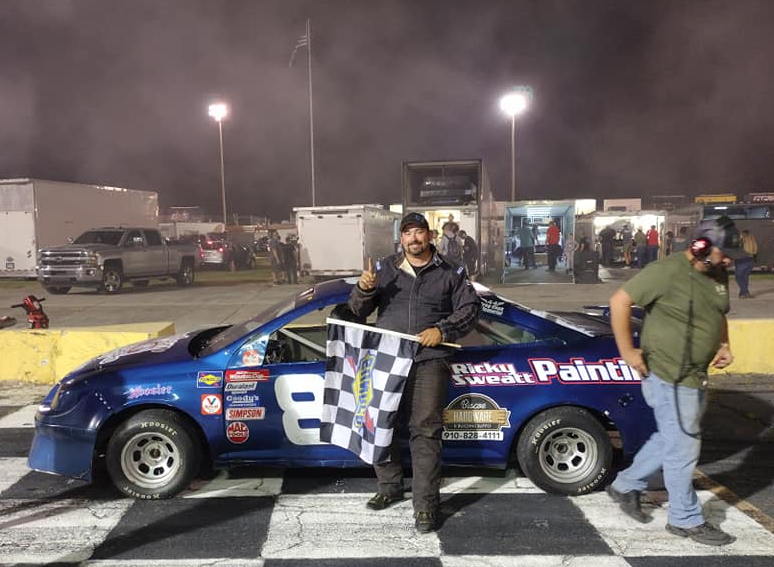 MINI STOCK FEATURE
Jason Richardson in his fast # 42 machine takes the pole with a time of 17.368 seconds, with the # 75 of Hunter Durham starting on the outside pole. The flagman looks over the field, likes the view, and we're green for the Mini Stocks! Richardson gets a great start, but Durham is right there with him going into one. Richardson's hot rod grips better however, and he clears Durham out of two. Richardson takes advantage of the clean air and starts to run away from Durham, but Durham's car starts to come to life with two to go and slowly but surely eats into Richardson's gap. But too little, too late as Richardson claims the victory with Durham right behind.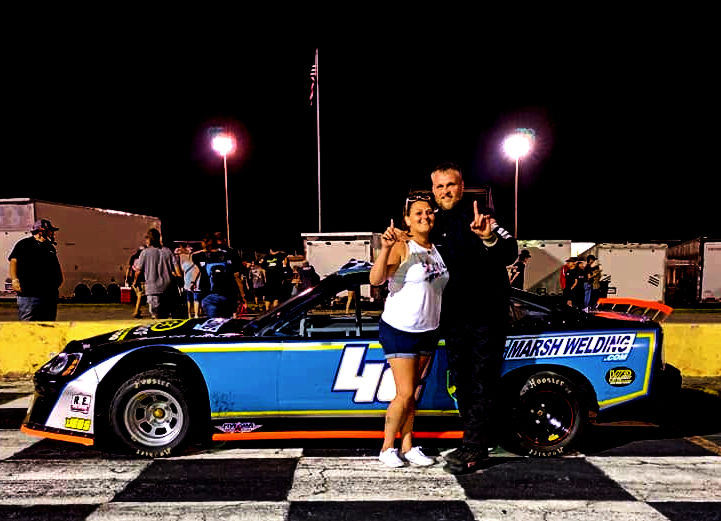 MOD 4 FEATURE
Sticking with the trend of defending champions taking the pole, # 35 Cory Purnell takes the Mod 4 pole with the # 69 of Jon Fish starting alongside followed by # 12 Joseph Kiger and the # 72 of Ashley Adcock. The flagman likes the formation and we're green! Purnell gets a blistering start as the three cars behind fall in a line. As Purnell starts to create a considerable gap between him and the field, both Kiger and Adcock have problems and unfortunately have to park it for the night. This mixes up the field, giving the # 2 of Chris Peat third and the # 87 of Harold Sumney Jr fourth. And as it seems that Purnell has the win locked up, the caution flies as there's debris on the race track. It'll be a mad dash to the finish as Purnell lines up first, followed by Fish, Peat, and Sumney Jr. The flagman looks them over, he likes the formation, and we're back green. Purnell and Fish are dead even going into one, but Purnell is able to keep the advantage out of turn two. Behind them, Sumney Jr powers by Peat and quickly looks on Fish. Fish is strong though, and Sumney Jr has a hard time getting around. Purnell gets the victory, while Sumney Jr is finally able to get by Fish for second on the last lap, giving Sumney Jr the second spot. Fish comes home third and Peat rounds out the top four.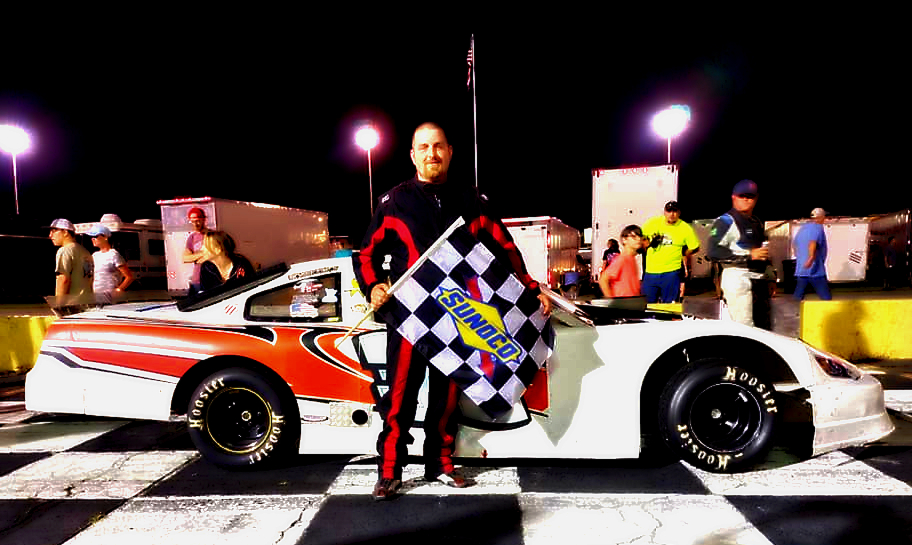 CHARGER FEATURE
Rookie Daniel Dean Jr of Tech Racing in the # 57 machine takes the Charger pole with a time of 15.052 seconds with the # 60 of Chance Carpenter starting second, # 32 Austin Purnell third, # 8 Tripp Evans fourth, and # 27 Rusty Denny will round out the top five. It's a bit of a messy start as the top five separate themselves from the rest of the field, leaving the rest of the field starting on the backstretch. But up front, it's a dead even start between Dean Jr and Carpenter with Denny getting by Evans for fourth early. Carpenter is able to power to the lead on the outside of Dean Jr, clearing as they complete lap one. Purnell takes advantage of Dean Jr's lost momentum and gets by for second, setting his sights on Carpenter. Purnell is there in no time as he looks to the inside of Carpenter, but Carpenter hangs tough on the outside. What ensues is a classic Orange County battle, proving why it's one of the best short tracks in the region. Purnell eventually clears as Carpenter is now under attack from Dean Jr. As Dean Jr gets there, Carpenter slows! This stacks up the field as everybody gets by without incident. Carpenter gets back up to speed on the backstretch, apparently ridding himself of any mechanical gremlins. Through the mad scramble, the # 15 of Evan Ingram finds himself in second while Denny takes third, leaving Dean Jr in fourth. But right as everything settles down, Denny slams the turns three and four outside wall, bringing out the caution. It's a chaotic start to the Charger feature with multiple front runners having problems in the early stages.
Under caution, Ingram finds issues with his car, bringing it onto pit road. Luckily for Ingram, it's a long cleanup, allowing him to come back out before the ensuing restart. Purnell picks the outside for the restart with Dean Jr lining up second, Evans third, # 41 Austin Ferrell making his first appearance in the top five in fourth, and Carpenter fifth. The flagman likes the view, and we're back green! Purnell and Dean Jr are once again dead even as Carpenter easily gets by Ferrell for fourth. Carpenter then looks under Evans, but gets loose and backs out. Back up front, Purnell and Dean Jr are still side by side as the fans are on their feet. Behind them, Carpenter engages in another battle with Evans, and they stay side by side for a handful of laps. Evans finally gives up third to Carpenter as Dean Jr eventually clears Purnell for the top spot. But Purnell is all over the leader's back bumper. Purnell looks underneath, but Dean Jr shuts the door, almost making contact. As the white flag waves, Purnell is breathing down Dean Jr's neck. Down the backstretch, Purnell gets under and they make contact! They nearly wreck as Purnell sends it into three and four, nearly wrecking again coming to the line. But it's not enough as Daniel Dean Jr wins an amazing Charger race over Purnell, Carpenter, Evans, and Ferrell. Not a bad way to win your first career race.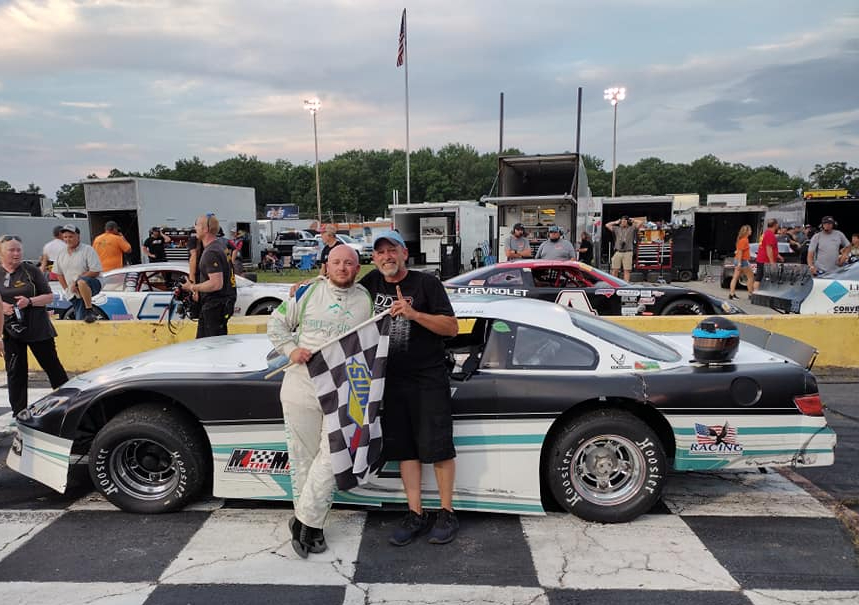 LATE MODEL STOCK FEATURE
The # 33 of Ace Speedway regular Dillon Harville qualifies quickest with a time of 14.417 seconds. # 12 Daniel Schadt starts second, 11 year old # 7 Tristan McKee third, short track legend # 82 Barry Beggarly Jr fourth, and # 8 A.J. Waller rounds out the top five. The flagman looks over the great field, likes what he sees, and we're green! Schadt gets a massive jump and takes over the lead quickly as the # 77 of Tracey Chambers gets by Waller for fifth. But there's early trouble as the # 87 of Harold Sumney Jr spins coming out of turn two. Schadt chooses the outside for the restart as Harville lines up second followed by McKee, Beggarly Jr, and Chambers. Schadt gets another rocket jump as Waller challenges Chambers for fifth on the outside. They're side by side for countless laps with Waller getting the advantage. Meanwhile, Schadt has built a great gap between himself and Harville in second. Beggarly Jr starts to look on McKee for third, but McKee holds the high line like a veteran and keeps the bronze spot. Behind them, the Waller machine has smoke billowing out and, after holding out for a handful of laps, unfortunately has to park his machine, giving Chambers fifth. The smoke in question brings out another caution as track officials check the track for fluid. After a quick cleanup, Schadt picks the outside for the restart followed by Harville, McKee, Beggarly Jr, and Chambers. Schadt gets another flawless start as the field gets aggressive behind. One of those aggressive drivers, the # 62 of Peanut Waller, is able to get around Chambers for fifth. Back up front, Harville's mirror is full of McKee as McKee looks under and gets around Harville. McKee's car has come to life as you have to wonder if he was saving tires this entire time. As soon as Schadt seems to be pulling away, McKee is reeling him in quickly. As the white flag waves, McKee is right there. He looks under going into three and four, but Schadt is able to barely hang on for the victory. Finishing in third is Harville, Beggarly Jr fourth, and Chambers takes fifth as Peanut Waller spins on the final lap.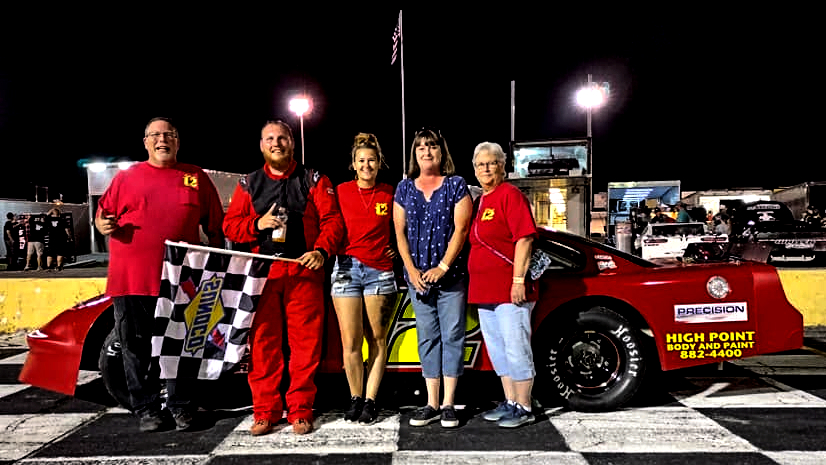 CAROLINA CRATE MODIFIED SERIES FEATURE
The # 33 of Tanner Young takes the pole with a fast time of 14.855 seconds. But the invert is 5, putting the # 4 of John Barilka on the pole followed by the # 47 of Jaxson Casper, # 01 Brian Weber, # 12 Cody Norman, and Young. Weber will start in the rear however, putting the # 13 of Wes Sammon in fifth. The flagman looks the field over, likes the view, and we're green! Barilka gets a great start, but Casper is right there as the two battle side by side. Casper eventually clears as Young follows him through to second, putting Barilka in third. Norman rides the momentum and gets by Barilka, entering him into the top three. Behind them, Weber is already on the move, getting by Sammon for fifth. But there's trouble! Norman spins into the outside wall in three and four, collecting Barilka and the # 14 of Joe Fleenor, who spins to avoid it. It's a quick cleanup though as Casper lines up first, Young second, Weber third, Sammon fourth, and Fleenor, who escaped the previous crash with no damage, lines up fifth. The field is set and we're back green. Young gets a fantastic restart and clears Casper for the lead. Behind them, Barilka is somehow able to take his battered machine to the top five, getting fifth from Fleenor. Back up front, Casper is right there with Young, but just can't seem to do anything with him at the moment. Meanwhile, both Sammon and Barilka are able to get by Weber, who seems to be saving tires at the moment. Barilka then looks underneath Sammon and takes third away with ease. Sammon, stuck on the outside, then gets loose and spins, barely avoiding an oncoming Weber, bringing out another caution to the ire of Young. For the restart, it'll be Young followed by Casper, Barilka, Fleenor, and Weber. The flagman nervously looks over the field, likes the formation, and we're back green.
Young clears immediately as Weber blows by Fleenor for fourth. Sammon follows through, moving Fleenor to sixth. Weber then looks under Barilka, and the two make contact, nearly sending Barilka spinning. He saves it however as Weber gets by for third. Back up front, Casper looks underneath Young and barely gets by. Young then tries to crossover, but it's not enough as Casper hangs on. Now with clean air, Casper begins to gap the field. With Casper is just a few laps away from bagging his first career win, the caution flies for Barilka spinning on the backstretch. This sets up a mad dash as Casper will line up first, Young second, Weber third, Sammon fourth, and Fleenor fifth. The field is set and we're green with only a handful of laps left! Casper gets a great start, but Young has the better bite and clears for the lead as Barilka clears Fleenor for fifth. Casper won't give up without a fight though as he barely gets back underneath Young, and the two nearly make contact. Casper is finally able to clear as the white flag waves. But his efforts will once again be thwarted as the caution flies for Wes Sammon spinning in between three and four. For the final restart, it'll be a determined Casper followed by another determined driver in Young, as they both look for their first career win. The flagman likes the formation and we're back green for a green, white, checkered. They're dead even going into turn one as Young barely clears out of two. Casper is right there however as the white flag flies. Young executes a great one and two, but Casper musters some momentum going into three and four. He divebombs the corner, trying to sniff Young's bumper as Young nearly spins out of four. Casper looks underneath as they're side by side at the line, nearly wrecking as Young is able to pick up his first career Carolina Crate Modified Series win! Casper takes a hard earned second, Weber finishes third, Barilka gets fourth, and Sammon rounds out the top five.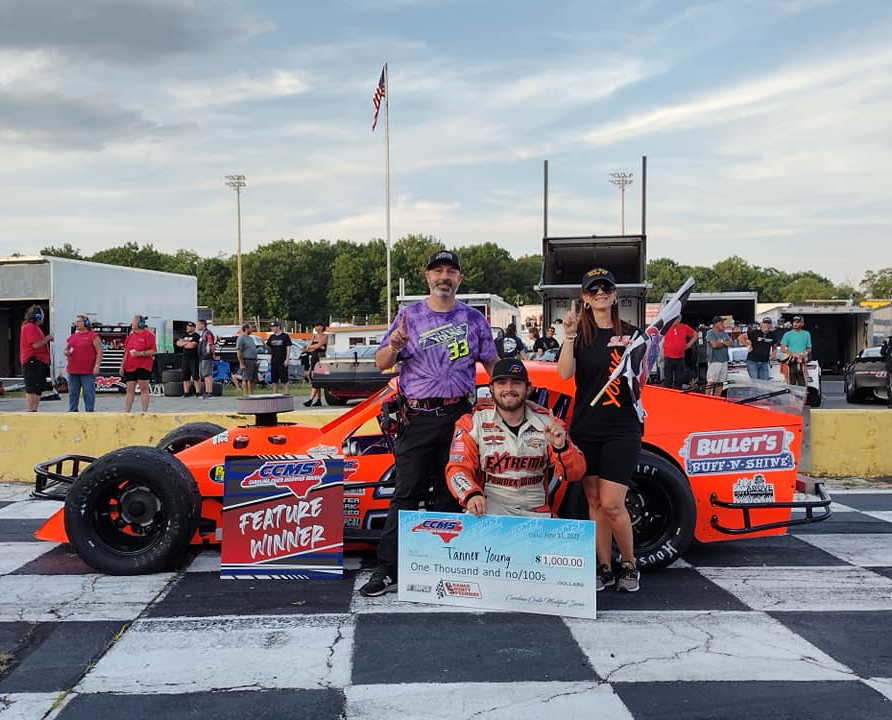 CAROLINA PRO LATE MODEL SERIES FEATURE
The # 4 of Setzer Racing And Development prospect Connor Zilisch qualifies fastest with a blistering time of 14.067 seconds. However, the invert is 6, putting the # 5 of Jasec Holladay on the pole followed by the # 88 of T.J. DeCaire, # 63 Josh Lowder, # 03 Kyle Campbell, and the # 35 of Caden Kvapil rounding out the top five. The flagman looks over the great field, likes what he sees, and we're green for the Pros at Orange County! Holladay gets a bad start and immediately drops to fifth, giving DeCaire the lead. Campbell is then able to get by Lowder, and challenges DeCaire for the lead. Behind them, Holladay scrapes the wall, resulting in more spots lost. That'll give Kvapil fourth and Zilisch fifth, as Campbell is able to finally power by DeCaire for the top spot with Lowder following through. As Lowder starts to close in on Campbell, DeCaire continues to drop, losing spots to both Zilisch and Kvapil. But back up front, Lowder is able to sneak underneath Campbell. Campbell tries to keep the momentum going on the high side, but Lowder's 63 is too much to handle as he gets by for the lead. Zilisch is right there and pounces on Campbell as well, taking away second. Kvapil tries to follow through but gets dirt track loose going into one, nearly spinning but hanging on as Campbell keeps the third spot. But back up front, Zilisch is all over Lowder, getting underneath him and eventually by as Lowder slots in right behind. Lowder tries to mimic Zilisch's exact line as the field spreads out, looking to create a solid rhythm. And right as Zilisch starts to gap Lowder, the competition caution flies, giving Lowder his first chance at regaining the lead. As the field readies for the restart, it'll be Zilisch picking the outside, Lowder, Kvapil, Campbell, and DeCaire the top five. The flagman looks over the field, likes the view, and we're back green.
Zilisch gets a blinding restart as the # 51 of Mason Maggio gets by DeCaire for fifth. Kvapil then looks under Lowder, and the two engage in yet another classic Orange County battle that sees Lowder prevail in second. Behind them, DeCaire's car has come back to life and gets by Maggio for fifth. Right as DeCaire starts to walk away from Maggio, Maggio comes to a stop in turn four and brings out the caution for the second time of the night. For the restart, it'll be Zilisch on the outside, Lowder second, Kvapil third, Campbell fourth, and the # 24 of Carter Langley who gained fifth right before the caution. The flagman looks over the field, likes what he sees, and we're green with only a handful of laps left. Lowder gets a great restart on the inside, but Zilisch shows his muscle once again, clearing Lowder for the lead with ease. Behind, DeCaire is able to power back by Langley for fifth. Kvapil is now underneath Lowder for second, but once again just can't find the speed that Lowder has. But up front, it's all Connor Zilisch as he not only wins, but dominates in his first career start. Lowder comes home second for a good points day, Kvapil gets third, Campbell comes homes fourth, and DeCaire gets a respectable fifth.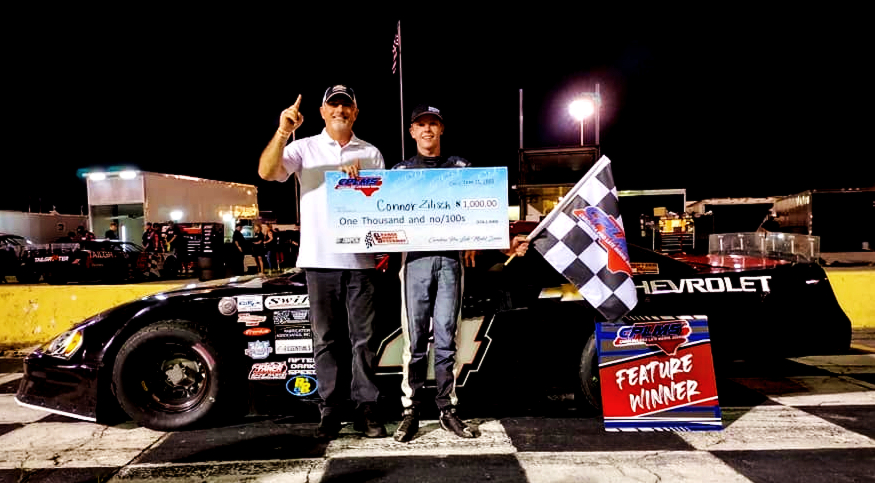 MY TAKE
The theme of this race was that you seize every opportunity, and you take what you can get when you can get it. Even if it's your first time. Connor Zilisch proved that as he took his first Pro Late Model win in his first ever appearance. And Charger winner Daniel Dean Jr took his first ever Charger win in his first Orange County Charger division start in proven Tech Racing equipment. They took what was given, and Saturday night they took the spoils of a winner. Tanner Young lost the lead in the closing stages of the Carolina Crate feature, but given another opportunity with a late race caution, Young took what he could and emerged with his first Carolina Crate Modified win. A win so big and hard fought, that it earns Tanner Young and his crew our Blue Collar Racer Of The Week award for his awesome performance. He ran a great race throughout, but those closing laps sealed the deal for Young as he ran even harder than we'd seen him run before, and that's saying something. Yeah, if you missed this race at Orange County this week, you missed a lot of firsts, and a lot of great exciting racing on a track known for amazing speed.
And the hometown fans here in Orange County got to see a sight they've been hoping for for a long time, and that's local favorite Ray Knight at the track and helping present a championship trophy no less. Knight's story is inspiring to say the least, but it made our night just to see him there. And it's one thing we take away from this great show that we won't forget. Talking about refusing to lose? Ray Knight is the epitome of it. So, in the end it was all worth the wait. Great performances and inspiring tales leaves this night one for us to remember for a long time. Until next time, as always, See You At The Track!
Tags
A.J. Waller
,
Ashley Adcock
,
Austin Purnell
,
Barry Beggarly Jr
,
Brian Weber
,
Caden Kvapil
,
Carolina Crate Modified Series
,
Carolina Pro Late Model Series
,
Carter Langley
,
CCMS
,
Chance Carpenter
,
Charger
,
Chargers
,
Chris Mincey
,
Chris Peat
,
Chris Redman
,
Cody Norman
,
Connor Zilisch
,
Cory Purnell
,
CPLMS
,
Crate Modified
,
Crate Modifieds
,
Daniel Dean Jr
,
Daniel Schadt
,
Dillon Harville
,
Evan Ingram
,
FWD
,
Gary Lloyd
,
Harold Sumney Jr
,
Hunter Durham
,
Jasec Holladay
,
Jason Richardson
,
Jaxson Casper
,
Joe Fleenor
,
John Barilka
,
Jon Fish
,
Joseph Kiger
,
Josh Lowder
,
Josh Williams
,
Kyle Campbell
,
Late Model
,
Late Model Stock
,
Late Model Stocks
,
Late Models
,
Mason Maggio
,
Mini Stock
,
Mini Stocks
,
Mod 4
,
OCS
,
Orange County Speedway
,
Pro Late Model
,
Pro Late Models
,
Ray Knight
,
Rusty Denny
,
Setzer Racing And Development
,
Southern Outlaw Front Wheel Drives
,
T.J. DeCaire
,
Tanner Young
,
Tech Racing
,
Tommy Raino
,
Tracey Chambers
,
Tripp Evans
,
Tristan McKee
,
Vintage Sportsman
,
Wes Sammon