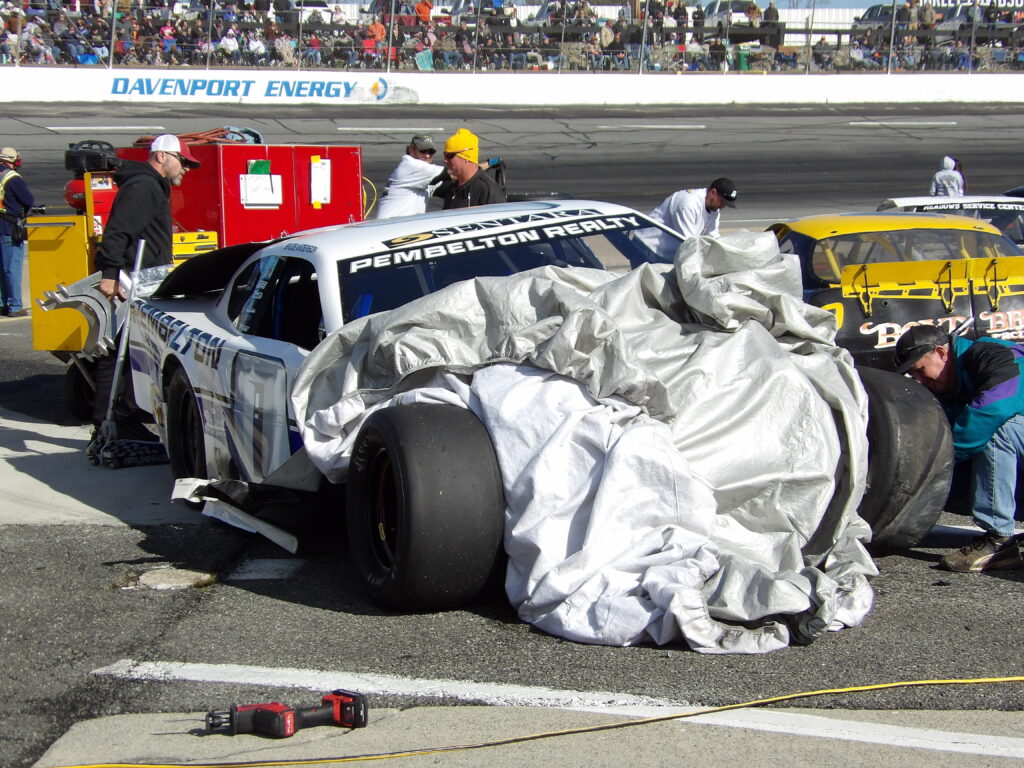 It's true! When the local short tracks in the central east coast region begins their local points seasons, there's an excitement in the air that is different than any other. For short track racers, it's time for a renewal of sorts. The points board begins on an even slate as aspirations begin anew. Those who had great seasons the previous year know that for the most part, that's all forgotten, as when it comes to chasing a championship, last year's points do you no good now. And for those who didn't have the year they may have wanted, the start of a new year is another chance at chasing the dream. And so everyone wants to get off on a great new start, and they've prepared in the offseason to put it all back out on the line. For champions like Peyton Sellers, it means a new start on going for an historic seventh title. But he will have to deal all year with young new talents ready to take the reins with their first, such as Jacob Borst. And both of them, along with their South Boston Speedway competitors, will have to watch for the unknown, such as another competitor who may show up to throw their hats in the ring of fire.
The talent is already stacked at the Jewel Of The Commonwealth, but with National Title aspirations starting at the prestigious short track, every new year brings hungry competitors into the fray of the already amazingly competitive ranks. Either way, when the new year begins at a track with the stature of South Boston, the drivers know they better buckle in tight, and put their fears behind them. This track asks for nothing less than your full attention, and your competitors will try everything in their arsenal to help you forget that fact. We will begin the celebration of 40 years of Late Model Stock competition with 23 drivers and teams set to go for wins and points, as well as the ever competitive Limited Sportsman and the always exciting Pure Stocks and Hornets. Don't be looking for a lot of give and take, as when the green flag drops on the 2023 season at the areas short tracks, there will be no room given as the high speed chess matches truly begin as the local short track racers vie for points and trophies, all in the guise of chasing wins and championships. Only the strong will survive in a quest to enter the track's prestigious history books.
And so it begins here in South Boston Speedway in South Boston, Virginia. It's a cool day to start the year, but the fire is already being lit. The invocation is spoken, and the National Anthem sung as the crowd responds to the greatest command in all of sports. The crowd is on their feet and the drivers are ready, so Let's Go Racin'!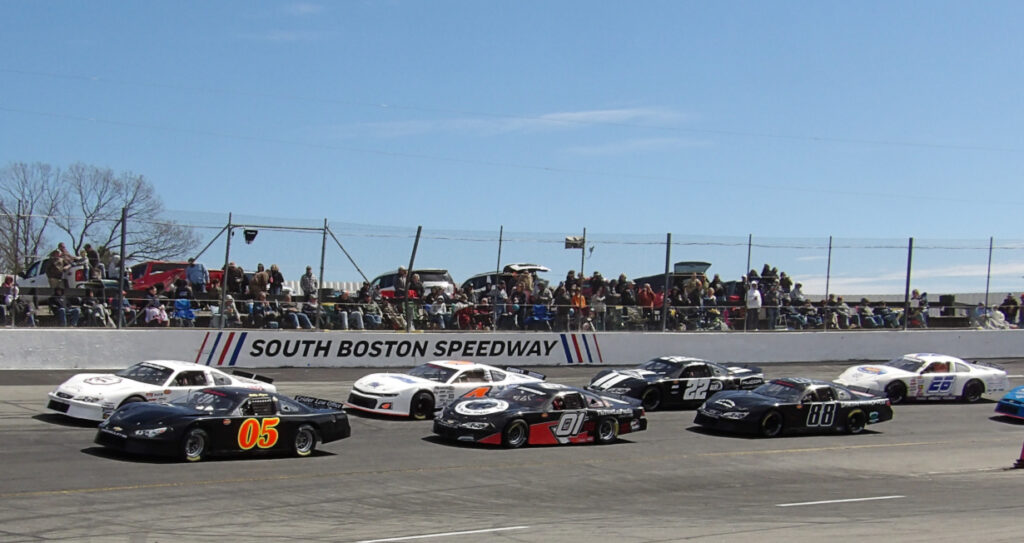 VSP HEAT HORNET FEATURE
Defending champion Jason DeCarlo in the # 54 sets fast time with a 19.781 second lap. He'll be joined on the front row by the # 18 of Cameron Goble followed by # 63 Dillon Davis, # 3 Steven Layne, and the # 12 of Andrea Ruotolo. South Boston flagman Brandon Willard looks over the field, likes what he sees, and we're green for the Hornets! Goble gets the jump and grabs the early lead as DeCarlo slots into second. As Goble runs a consistent pace, Davis starts to breathe down DeCarlo's neck. DeCarlo holds steady for a while, but it's not enough as Davis works his way past. Behind them, Ruotolo tries to hang on to his machine as he fights an evil loose condition. But in front, it's a straight up performance from Goble as he cruises to his first career South Boston Hornet victory. Coming in second is Davis followed by DeCarlo, Layne, and Ruotolo, who somehow hangs onto his machine for twenty laps.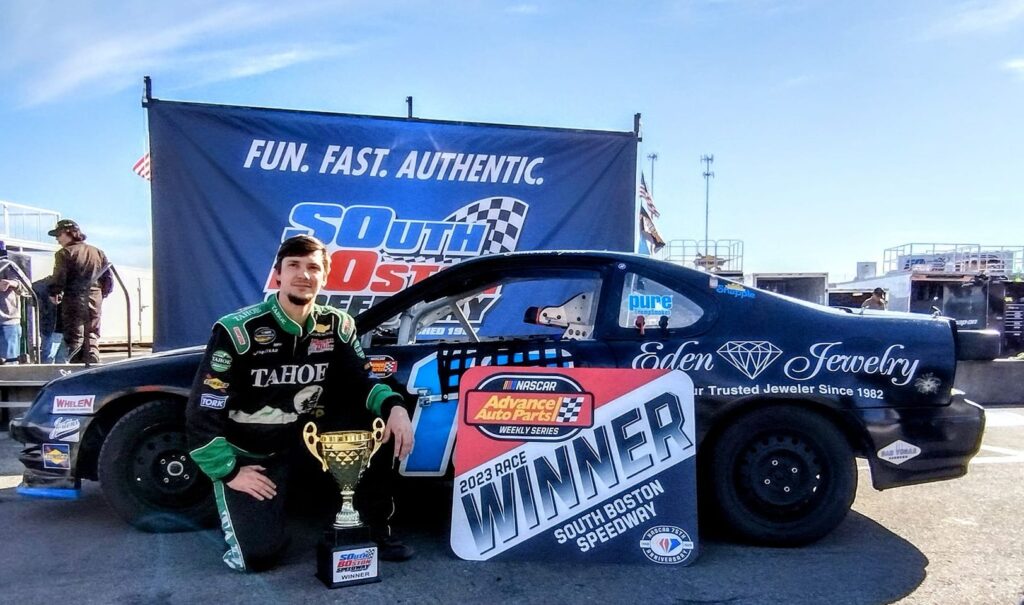 SOUTHSIDE DISPOSAL PURE STOCK FEATURE
Starting up front will be the # 77 of Zach Reaves as he lays down a fast lap of 18.077 seconds. Alongside will be the defending champion of # 66 Scott Phillips followed by long time South Boston racer # 00 Bruce Mayo. Willard likes the formation and we're green for the Pure Stocks! Zach Reaves gets the jump but Phillips is right there. Reaves eventually clears but gets loose and goes around in between turns three and four! The # 16 of Jeb Redman has nowhere to go in the melee and hits the outside wall hard. It's a quick cleanup though as through the chaos brings Phillips up front followed by Mayo and the # 11 of B.J. Reaves. It's an even start, but Phillips gets the best of Mayo and rockets in front as the # 9 of Johnny Layne has moved himself all the way to third after starting shotgun on the field! He now looks on Mayo as Phillips has pulled a sizeable gap from the pack. The caution is out though as the # 76 of Andrew Turner has looped his machine around. Lining up for the restart will be Phillips followed by Mayo and Layne. Phillips gets a great launch as Mayo has trouble at the line, allowing Layne to take second. Now it's B.J. Reaves who gets by Mayo for third but the caution flies once more, this time for Turner spinning in turn four. It'll be Phillips, Layne, and B.J. Reaves the top three as Phillips gets the jump again. But Layne is right there as he looks to the inside. Phillips hangs tough on the outside, but Layne gets by, leaving Phillips to deal with both B.J. Reaves and Mayo. Turner once again spins out of turn four though, giving Phillips another shot at Layne. But at the choose, B.J. Reaves takes the outside of the front row, relegating Phillips to third. Layne gets a monstrous restart while Phillips gets back by Reaves. It's a little too monstrous however as the start is called back, giving Reaves one more chance. It's a much more even start as Layne once again prevails on the inside. Phillips squeezes by Reaves as he looks to mount a charge. But he's off the pace! B.J. Reaves checks up which allows Zach Reaves to pass both of them! B.J. settles into third as Phillips drops to fifth behind Mayo. But up front, it's all Layne as he gets the win followed by Zach and B.J. Reaves.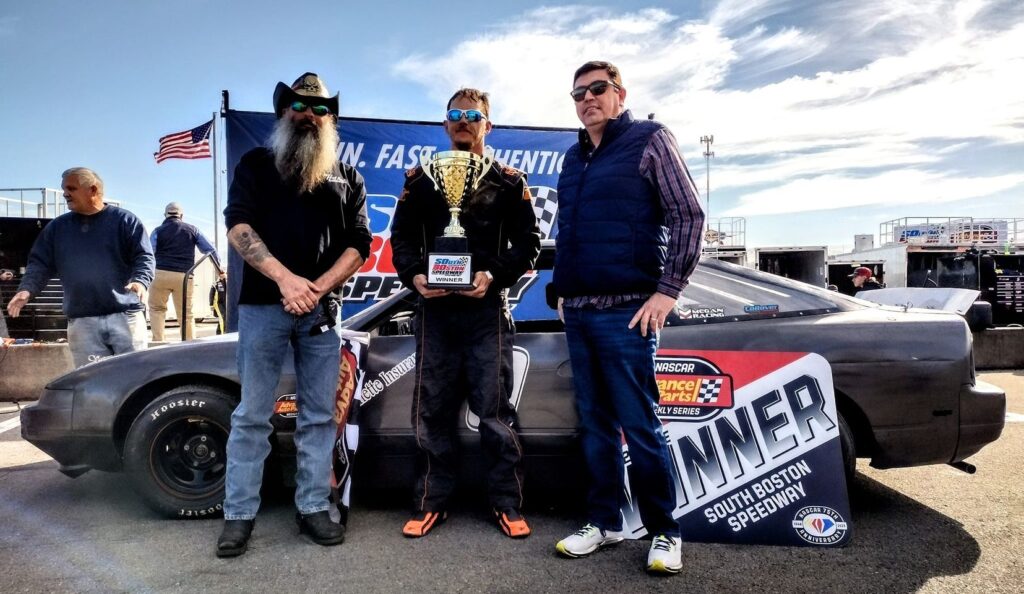 BUDWEISER LIMITED SPORTSMAN FEATURE 1
The # 81 of Adam Murray takes the pole position with a scathing lap of 15.322 seconds. He'll be followed by the # 17 of Jason Myers, # 21 Carter Russo, # 98 J.D. Eversole, and the # 07 of Ronald Renfrow. Willard likes the sight and we're green for the Limited Sportsman class! Murray gets a great launch with Eversole killing two birds with one stone, passing both Myers and Russo. The Tech Racing machine of Russo will situate himself ahead of Myers as they single file out for the time being. There's huge trouble however as someone has appeared to leak oil all over turns three and four, causing Eversole, Renfrow, the # 00 of Kyle Barnes, and the # 16 of Kyle Lynch to all spin! Everyone, with the exception of Renfrow who comes to pit road for quick repairs, thankfully drives away with minimal damage as the red flag comes out for a lengthy cleanup. After the dust settles and the choose rule takes effect, Murray remains out front followed by Russo, Eversole who gets to keep his spot due to the nature of the previous incident, Myers, and the # 12 of Zach Peregoy. Murray clears for the lead as Russo and Eversole engage in a fierce battle for second. Russo takes it with Barnes now moving up to fifth. Eversole is back underneath Russo again as Russo is loose, allowing Eversole to drive ahead. He'll bring Myers with him as Russo now tries to fend off Barnes, which is no easy task at South Boston. That's not on his mind though as he powers back by Myers. Behind them, the # 4 of Ronnie Jones goes around with a little help from the # 8 Drew Dawson machine in turn two. Murray will line up first followed by Eversole, Russo, Myers, and Barnes. Murray and Eversole get mirror restarts as they're side by side for a whole lap. Murray has the grip though and surges ahead. Behind them, Barnes gets by Myers and now looks to the outside of Russo. What ensues is a near ten lap, side by side battle between two of the best in the business. Barnes nearly loses it countless times, but he somehow saves it. Myers tries to take advantage but can't as Russo looks to have the edge. Russo muscles by but Barnes is right back underneath as the fans are on their feet. Russo somehow holds on as Murray takes his Mike Darne Racing prepared machine to victory lane. Eversole grabs second, Russo and Barnes end their war third and fourth, and Myers hangs onto fifth.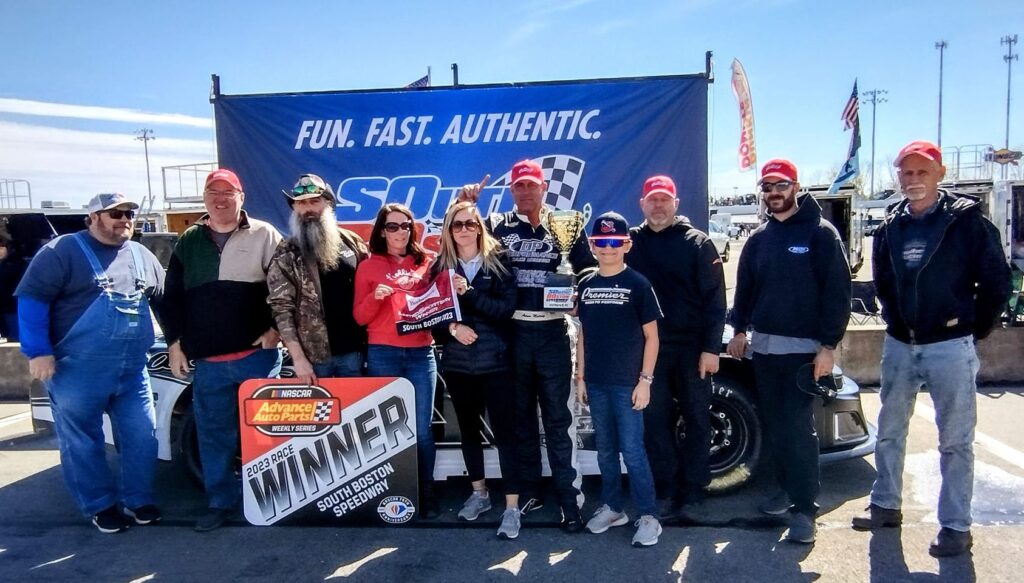 BUDWEISER LIMITED SPORTSMAN FEATURE 2
After the invert, Renfrow starts up front for the second race with Peregoy in second, the # 05 of Billy Myers in third, # 19 Bob Davis fourth, and Jason Myers in fifth. Renfrow gets the launch as the whole field battles side by side behind. Peregoy works his way by for the lead as they start to settle down a tick as Jason Myers moves up to fourth. But Davis looks to the outside again, gets by, and now starts to battle Billy Myers. Davis clears for third and uses that momentum to rocket by Renfrow in second. Barnes now moves up to third as the field continues to scatter. All of that scattering finally leads to carnage as Billy Myers and Renfrow touch in three, setting off a chain reaction collecting the # 26 of Tony Housman and the # 22 of Dusty Garus. Garus and Renfrow have major damage as Billy Myers and Housman drive away. It's another red flag as the track crew works diligently to clean the track. After all is said and done, Peregoy, Davis, Barnes, Russo, and Ronnie Jones line up as the top five. Peregoy gets the jump as Davis now has a problem near the front, collecting Russo and knicking Eversole in the process! Debris is scattered in turn four as the caution waves. Davis is done for the day with Russo somehow hanging on, all while having major damage to his hood. Peregoy still hangs onto the lead with Barnes in second, Russo third, Jones fourth, and Eversole fifth. Barnes gets an amazing jump and clears for the point ahead of Peregoy. Russo and Jones take advantage of Peregoy's lost momentum and get by for second and third. Now Russo and Eversole start to drop back as their damage gets the best of them. This puts Jones in second followed by Peregoy, the # 8 of Drew Dawson, and the # 88 of Justin Dawson. Peregoy starts to drop back now, allowing the Dawson brothers and Jason Myers by. Myers' car starts to come to life as he now charges by both Drew and Justin Dawson. Coming to the line first though is a familiar sight as we all know that you never let Kyle Barnes see the front. He takes the checkered flag first followed by Jones with a great run, Jason Myers, Drew Dawson, and Justin Dawson.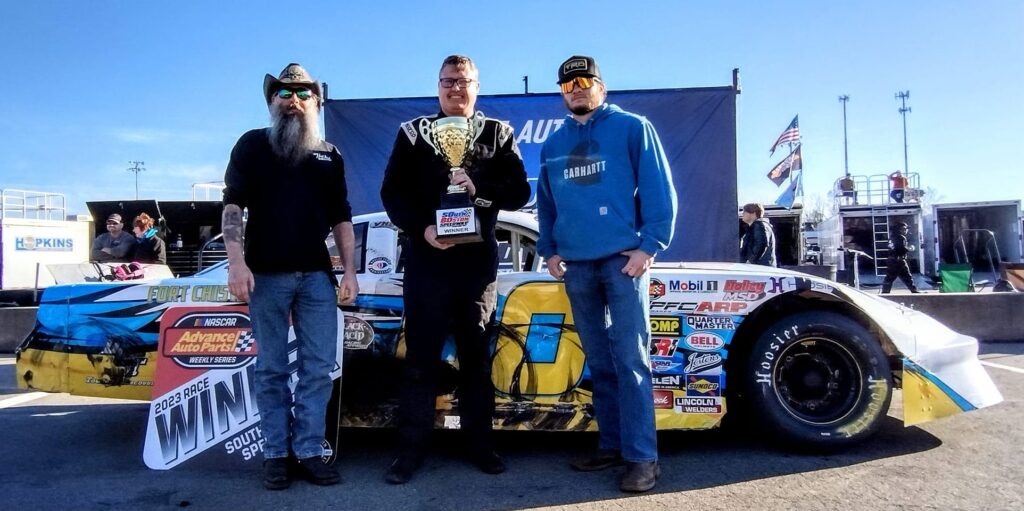 SENTARA HEALTHCARE LATE MODEL STOCK FEATURE 1
Bruce Anderson, driving the Sellers Racing # 0 starts the year right with a pole lap of 14.847 seconds. Starting behind will be fan favorite # 87 Mike Looney, # 26 Peyton Sellers, # 5C Carter Langley, and the # 5E of Eddie Slagle. Willard looks over the stacked field of Late Model Stock talent, likes the formation, and we're green! Anderson clears for the top spot early as Sellers and Langley battle side by side for third, with Sellers getting the edge. The # 25 of Jacob Borst rockets by Slagle as Sellers now looks underneath Looney, sets him up for the pass, and gets it. Behind, Borst is wasting no time as he rockets by Langley and starts to look on Looney. Borst dances in his mirror a bit before looking under, but Looney shuts the door. Looney holds the spot for now as Anderson sets the pace up front. Borst won't let up though as he continues to sniff the third spot. After countless laps, Borst finally gets a nose in and gets by, moving Looney to fourth. As that happens, there's a huge pileup in turn three involving the # 8HR of Hunter Rose, Slagle, # 57 Eddie Johnson, # 19 Jessica Cann, # 28 Jason Barnes, and the # 90 of John Goin. Rose, Cann, and Barnes are all done for the day as thankfully everyone is okay. Lining back up for the restart will be Anderson, Sellers, Borst, Looney, and Langley. Anderson and Sellers doorslam on the start with Sellers getting the jump. Looney gets by Borst but Borst won't give up without a fight as he battles back on the outside. That allows Langley to enter the picture, as he now moves by Looney. Langley loses it right away though as Looney looks back under and grabs the spot back. In the middle of the field, the # 01 of Camden Gullie and # 44 Conner Jones are having a classic short track duel as Gullie moves Jones out of the groove, winning that battle. Caution is back out though as the # 9 of Rodney Boyd has gone around out of four. He'll be done for the day as Sellers lines up first followed by teammate Anderson, Looney, Borst, and Langley. Sellers gets a nose ahead but Anderson is right there as they're side by side for a lap. They're still battling as they head onto the backstretch heading into turn three. Neither of them gives an inch as Anderson sends it into three hard and they get together! They both collide, spinning Sellers around and sending Anderson into the outside wall head on! Borst, Goin, and the # 06 of Terry Dease are collected as well as the fans let their emotions known!
It's a lengthy cleanup as Anderson's car is destroyed and Borst needs major repairs. Coming to the restart after the calamity and choose will be Looney, # 15 Logan Clark, Langley, # 1 Craig Moore, and Gullie. Clark doesn't get the start he wants and Looney rockets out to the lead. Langley gets by with Moore falling back to fifth behind Gullie. Already moving through the field is a determined Sellers and Borst, who's front end is covered in tape. Before you know it, Sellers breaks into the top five, moving by Moore and working on Gullie. Ahead, Langley is all over Looney as he looks under. They're dead even with no one giving an inch, but the caution is out, this time for Johnson who has spun in two. After another round of the choose, Looney lines up first followed by Clark, Langley, Gullie, and Sellers. Looney has the edge as here comes Langley! Langley gives him a shot as now Sellers looks to take it three wide as the fans are on their feet! Throw a blanket over the top three as Clark falls back to fourth. Langley finally clears Looney as Sellers comes along. Gullie is around Clark but Slagle is around in turn four, setting up another restart. To settle the race with three laps to go will be Langley, Looney who takes the outside, Sellers, Gullie, and Clark. Looney jumps to a massive lead, but it's a no go as they line back up for another try at the restart. It's good this time as Langley and Looney are dead even as Langley eventually clears. Looney is right in Langley's tracks but it's not enough as Langley captures his first career Late Model Stock victory in memorable fashion ahead of Looney, Sellers, Gullie, and Clark.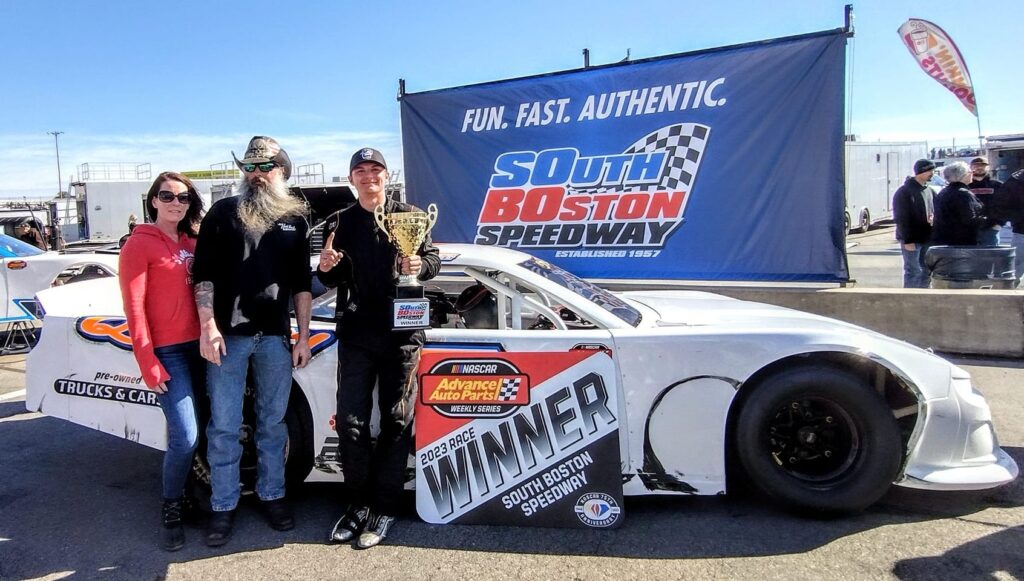 SENTARA HEALTHCARE LATE MODEL STOCK FEATURE 2
As a result of the invert of the first feature, the # 8TC of Thomas Scott will start on pole followed by Moore, Borst, # 55 Mark Wertz, and Clark. Willard looks over the battered field of Late Model Stocks, likes what he sees, and we're green for another South Boston classic! Scott and Moore are dead even as Moore clears right at the line for lap one. Gullie muscles his way by Clark as Scott and Borst battle for second. Borst barely gets it with Wertz in tow. Scott hangs like a kidney stone on the outside though, giving Wertz a run for his money. Wertz finally clears as Gullie gets by as well. Scott continues to fall back as Sellers now works up to fifth. Charging behind him is the lightning fast Langley, driving like a man possessed. There's big trouble on the backstretch though as Dease, the # 50 of Raymond Pittman, and the # 31 of Andrew Patterson have all wadded up. Patterson and Dease are done with Pittman continuing on with what's left of his machine. After another red flag, Moore will bring them to the restart as the leader with Borst, Wertz, Gullie, and Sellers in tow. Borst fires off better than Moore and takes the lead while Sellers disposes of both Gullie and Wertz. Langley continues to move up as well, getting by Gullie as Sellers powers by Moore. Meanwhile, Borst has jumped out to a huge lead while the field engages in a fierce battle behind. Wertz looks on Moore now, but Moore is strong, holding his ground up high. Langley doesn't have time to waste however as he finds a way past Wertz. Back up front, Sellers has slowly but surely ate his way into Borst's lead, waiting for the right time to pounce. He may want to do it sooner than later though as Langley now gets by Moore, setting his sights on Sellers. Sellers turns the wick up, searching all over the racetrack for a way by Borst. Sellers has the better car going in, but Borst turns perfectly up off as it's anyone's game.
Borst starts to open the gap once again, as the Sellers machine starts to fade a bit. Much to Peyton's delight, a caution flies as Blake Stallings in the # 77 gets loose out of two and spins on the backstretch, smacking the inside wall. Setting up for the thirty lap shootout will be Borst, Sellers, Langley, Moore, and Wertz. Sellers has the slight edge but Borst battles back as they touch! Borst uses that aforementioned exit speed to retain the lead off of four as Langley lurks in the background. Sellers tries to set up another run, but Langley won't be denied and gets into Sellers, moving him out of the way for second in a perfectly executed bump n' run to the roar of the crowd. But Borst has opened up another gap as Wertz finally gets by Moore for fourth as they battle hard. Back up front, Langley's car just seems to get faster as he is all over Borst. But passing Borst is no easy task as he makes nearly perfect laps in clean air. Out of turn four though, Langley uses another bump n' run, getting by Borst as the crowd loves it! Langley then opens up a gap of his own as Langley sweeps the Season Opener, besting some of the best in the business. A determined Borst comes home second, Sellers hangs on for a third in a great performance, Wertz grabs a hard earned fourth and Moore rounds out the top five in a solid performance.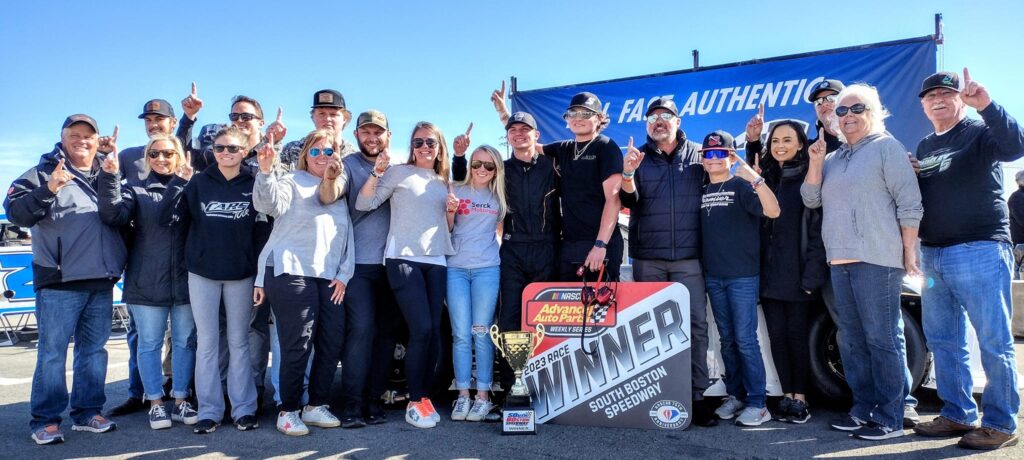 MY TAKE~
The 2023 South Boston Speedway Season Opener was a great night of racing action that had a little bit for everybody. The racing was as competitive as we had hoped, and the storylines were deep. A man named Bennett Amyotte, going by the name 'Larry Enticer', coined the phrase, "Just gonna send it", in reference to sending, or in many cases, crashing his old Yamaha Enticer snowmobile off impossibly large gaps to entertain the masses. And it's a phrase that off course the short track racing world has picked up to describe a driving move that throws caution to the wind as a driver/or group of drivers sends his or her machine into a corner with little to no worry about the consequences. Any experienced short track fan has seen it in all it's glory and many times it works out well. But of course in other cases, the result can be quite catastrophic, leaving some of the other competitors wondering exactly what just happened there. But, truth is, when done with skill, greatness can occur. Either way you look at it, for the fan, it can both be as entertaining as it was watching 'Larry' do his thing, or as frustrating as one can imagine. It's a move that can run the gamut of outcomes, and this past Saturday night, I think we saw most every outcome that could be achieved at your local short track, and all with different levels of outcomes. depending on the skill, and the luck involved in each and every instance.
First there was the send by Bruce Anderson on teammate Peyton Sellers. Anderson thought he would be clear and deep enough to make the move, but Peyton was already coming down to block, leaving Anderson a bit late to be able to avoid contact, sending Sellers around, and Anderson into the outside fence full steam. The result was one car and team starting in the very back for the restart, and the other without a car to start race two. After review, it didn't seem intentional at all, but the outcome was much less than satisfactory. In the first Limited Sportsman race, as leader Adam Murray started to lap the end of the field, he got his car way too easily sideways and without little effort as there was an apparent trail of oil in the preferred line, but not so apparent that Murray's competitors had any clue as the rest of the field sends it into three with very few coming through unscathed. Fortunately however, through their skills and a bit of luck, most everyone came away without any real damage, leaving the track crew with a lengthy oil spill cleanup that kept them quite busy for a bit. The next notable send on our meter was Zach Reaves who started the Pure Stock race on the pole, and to keep it there, he went full send into turn three, spinning in front of the field. Fortunately, most everyone scattered to miss him, all succeeding except # 16 Jeb Redman who with nowhere to go as the field cleared, trying to clear the still spinning Reaves as well, instead caught a bit of the wall, ending Redman's day, but leaving Reaves to come back and finish second, getting it all back but one position.
But finally, we have to address the most obvious sends, first because of the outcomes they garnered, not only in reality at the track, but in the minds of those that saw them. As our readers know, we, by the nature of what we do, keep our eyes open on social media for the chatter after any given race. And in this case, we expected a few comments, and sure enough…some keyboard warriors went full send. And in all honesty, we understood it. Who likes to see their favorite drivers come up short in any given event, much less in a way they felt was undesirable. Rose colored glasses never see the full spectrum of light. But, let's take a closer look nonetheless. Carter Langley used his fast race car in the first Late Model Stock event to let the race play out, and he caught the leaders as they were in full battle mode, and slipped past on the outside of more than one of those battles, finding himself in the lead down the stretch after a little contact with Looney in his very emotional, first ever Late Model Stock win. But in the second race, he wasn't as fortunate, and it was clear that he wasn't going to just be able to slip past again, as the competition now had him sighted in their mirrors, and he would have a bigger fight on his hands. And as he marched his way forward, clearly showing the win wasn't a fluke, it wasn't long before he had the leaders back in his sights. And when he caught Peyton Sellers and Jacob Borst, he employed the perfect "Just gonna send it' move. He employed what many have come to know as the bump n' run. And despite what many may say or think about this maneuver, it is most definitely a highly skilled one. Done wrong, it can lead to both cars being destroyed. If done dirty, the car in the front will not come out of the turn. But done right, you end up in victory lane with some very frustrated competitors behind you. But, and pay close attention, those competitors finish RIGHT BEHIND you. Not on a roll back. The rollback is for when you don't do it correctly, and that should be called out every time. But when done right, as in this case on at least two different occasions, you find yourself in the place the move was meant to send you to, and that's victory lane.
And that point brings me to our Blue Collar Racer Of The Week choice from this past weekend. Much like our first winner this year after the Battle Of The Stars race at New River All American Speedway, this week's nod was one of the most clear cut decisions we've ever had to make. And although it wasn't without an honest deliberation, with Jacob Borst overcoming getting caught in the Bruce Anderson and Peyton Sellers incident early in Late Model Stock race # 1, coming home to finish seventh in that race, and second in race 2 for a great points night to start the season. Peyton Sellers was able to just top that with 2 third place finishes on the night as he starts his bid for a history making seventh title run. Both of those drivers and teams worked extremely hard for what they got, even if it wasn't what they were hoping for, coming away in good position moving forward on the year. Johnny Layne started last only to finish first in the Pure Stocks, and so we had to also put his name in the mix on a race about as well executed as a driver and team can manage. But in the end, we couldn't deny the race performances and the work it took to achieve them from Carter Langley and his crew. Qualifying fourth in race 1, he was already looking on how to get around the leaders when Anderson and Sellers collided, leaving Langley restarting second behind a competitive Mike Looney. On the restart, Carter looked high and low on Looney, but Mike fought for all he was worth. Langley didn't give in however, and was finally able to muscle his way inside the # 87 machine and then worked himself to a slightly comfortable lead and the first race win, leaving him and his crew very emotional in victory lane after his first ever Late Model Stock win.
In race number 2, Langley started ninth after the invert. But as Borst and Sellers battle themselves for the front, Carter Langley was able to use that battle to close in. Moving past the front half of the field, Langley caught Sellers with an ever tightening machine, and used that to his advantage by employing the aforementioned bump n' run, allowing Langley to work underneath and take the spot. Then Langley proceeded to walk down leader Jacob Borst. The two then had a short battle before Langley used the same move on Borst he put on Sellers, pulling out the broom in the process and taking the Late Model Stock sweep at one of the hardest places to win in a Late Model Stock car, winning both Late Model Stock races in dramatic fashion. And so we used how hard Carter Langley worked to secure a very precious moment in his racing career, only to be told that "him working past the leaders" was not the best way to describe it. One person even said, and I quote, "Putting the front bumper in the back seat isn't working." To that we say, you couldn't be more wrong! To get his car to the rear of 6 time Champion Peyton Sellers is work. To then pull a skilled move like the bump n' run on Sellers, takes work and skill. Ask anyone who's tried it. To then work your car up from that to Jacob Borst's rear bumper, takes work. To then pull off a second perfectly executed Bump n' Run on a driver with the skill set as Borst, takes not only work, but a tremendous bit of skill. Think I'm wrong? Then consider the fact that Borst and Sellers finished second and third. If Langley would have "Put his bumper in the back seat", as was said, that wouldn't have been the case. There is a tremendous amount of skill implemented in a bump n' run that's not needed so much in what's called a dump and run, as that's entirely a different thing altogether. In this case however, it took work and skill, and to a degree that we acknowledge the work put in by Carter Langley on not one, but two hard working wins, and the work it took from his team to have the car in which to do it in, earning Carter Langley and his crew his third Short Track Report Blue Collar Racer Of The Week Award. And after checking our notes, Langley is the second winningest Blue Collar Racer Of The Week with three nods overall. And if anyone truly knew the effort and evaluation we put into deciding our Blue Collar driver choices, you would understand what a huge achievement that really is. Congratulations team, and no matter what's said, you definitely earned it this week, on and off the track! 'Till next time, as always, See You At The Track!
(Race writeup by Joshua Weatherman. Intro and My Take written by Billy Weatherman. 2023 Copyright SHORT TRACK REPORT)
Tags
Adam Murray
,
Andrea Ruotolo
,
Andrew Patterson
,
Andrew Turner
,
B.J. Reaves
,
Billy Myers
,
Blake Stallings
,
Blue Collar Racer Of The Week
,
Bob Davis
,
Brandon Willard
,
Bruce Anderson
,
Bruce Mayo
,
Budweiser Limited Sportsman
,
Camden Gullie
,
Cameron Goble
,
Carter Langley
,
Carter Russo
,
Conner Jones
,
Craig Moore
,
Danville Toyota Season Opener
,
Dillon Davis
,
Drew Dawson
,
Dusty Garus
,
Eddie Johnson
,
Eddie Slagle
,
Hornets
,
Hunter Rose
,
J.D. Eversole
,
Jacob Borst
,
Jason Barnes
,
Jason DeCarlo
,
Jason Myers
,
Jeb Redman
,
Jessica Cann
,
John Goin
,
Johnny Layne
,
Justin Dawson
,
Kyle Barnes
,
Kyle Lynch
,
Late Model Stocks
,
Limited Sportsman
,
Logan Clark
,
Mark Wertz
,
Mike Looney
,
Peyton Sellers
,
Pure Stocks
,
Raymond Pittman
,
Rodney Boyd
,
Ronald Renfrow
,
Ronnie Jones
,
Scott Phillips
,
Sellers Racing
,
Sentara Healthcare Late Model Stocks
,
South Boston
,
South Boston Speedway
,
Southside Disposal Pure Stocks
,
Steven Layne
,
Terry Dease
,
Thomas Scott
,
Tony Housman
,
VSP Heat Hornets
,
Zach Peregoy
,
Zach Reaves