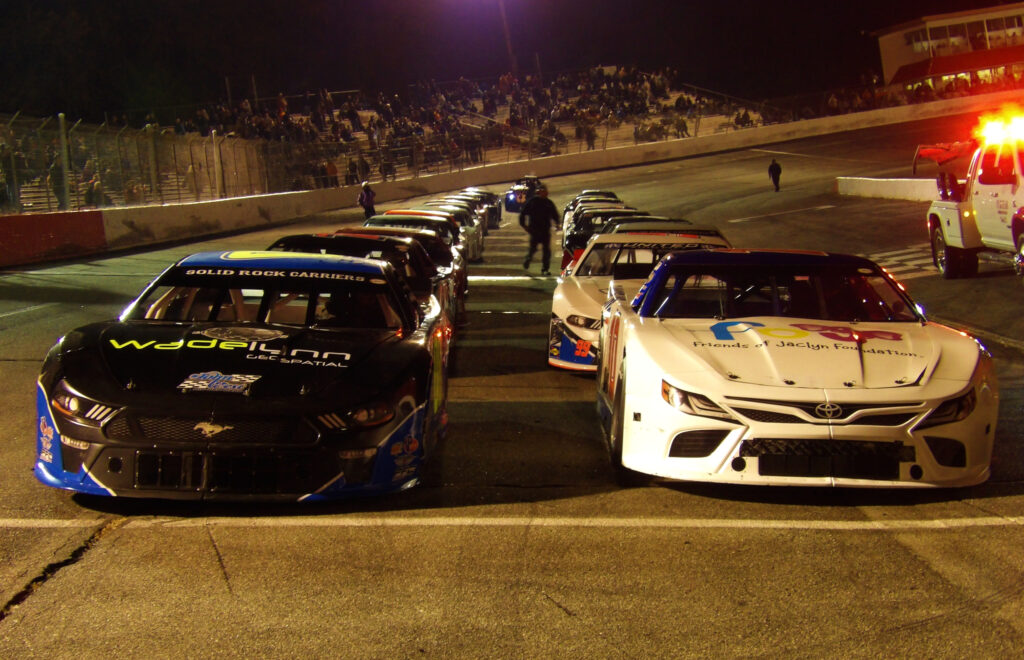 There's no secret that we've been heavily anticipating this event. Orange County Speedway is an important piece of the central east coast short track racing region, and it deserves a signature event like the Orange Blossom Shootout. But truth is, it was in doubt that this event would even happen at the beginning of the year. You see, ever since the pandemic that struck the world, the short track racing world has suffered a great deal with a looming supply shortage, and it couldn't be worse timing as short track racing was and is in the middle of a regrowth period. And that regrowth's biggest challenge as of late is that looming parts shortage that I just spoke of. And one of the hardest hit speedways in that challenge is none other than Orange County Speedway. In fact, in our region it has been one of the tracks that has taken the brunt of it, having to reduce it's season this year due to that shortage and the addition of weather cancellations to just a mere 6 races.
But fortunately, we at Short Track Report are not the only ones that understand the importance of this historic speedway and what it means to the region. Puryear Tank Lines and GXS Wraps came on board to make sure that Orange County Speedway made sure that the sixth and final race of the season was the signature race the speedway needed to close out it's 2022 season. And some of the biggest names in Late Model racing came to support it, including the newly crowned 2022 NASCAR Advance Auto Parts National Champion. Combine that with the Speedway's own Championship Night, and you have one of the biggest events in the region. Such was the Orange Blossom Shootout. Full of storylines and great racing action, this was indeed an event to remember.
Pre-race ceremonies included two awesome presentations. First, a section of grandstands were dedicated to the one and only Barry Beggarly, multi-time winner and champion at The House Of Speed that is Orange County to roaring acknowledgment from the approving crowd on hand, and then secondly, Gene Mincey presented to the crowd a freshly completed vintage Nova in honor of Wallace Smith who raced successfully at the speedway in the 1960's and 70's. The invocation was then given and the National Anthem sung as darkness and cool haze enveloped the track, so let's take a look at all the night's action on the track. The drivers are ready as the engines are fired, and the crowd is on it's feet. Let's Go Racin'!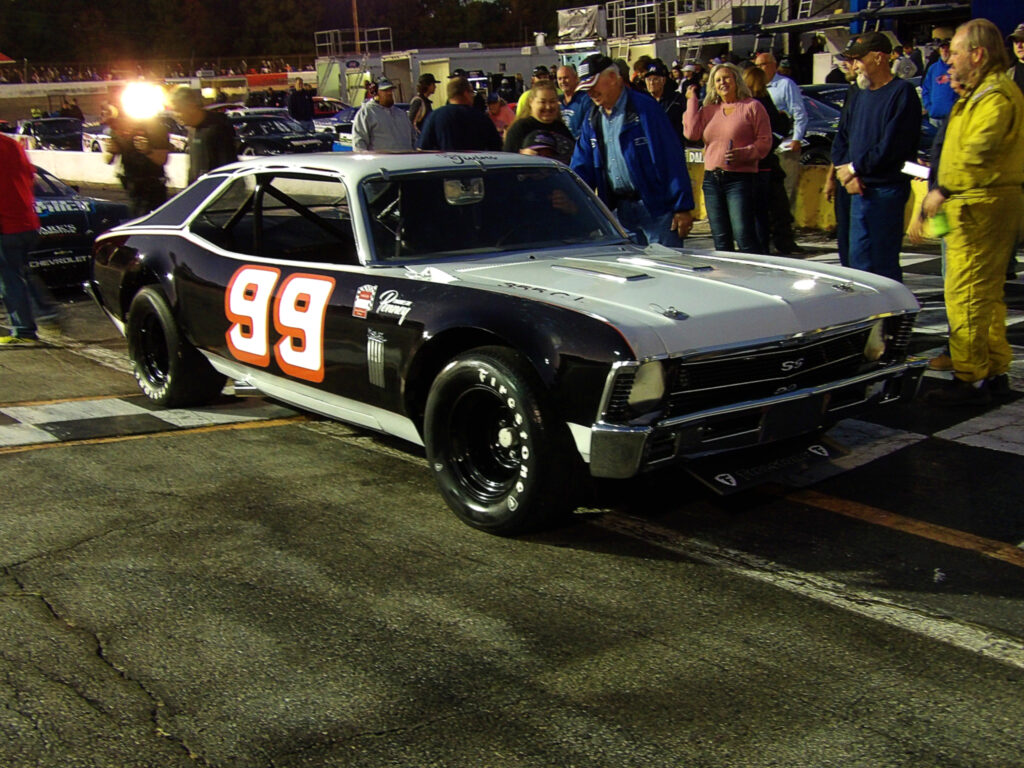 WALKER AUCTIONS VINTAGE SPORTSMAN FEATURE
Kevin Floars in the gorgeous # 1 will start on pole alongside points leader Chris Mincey in the # 11 machine. The unique # 6 truck driven by Eric Morris will round out the top three as Orange County flagman Andrew Tyree looks the beautiful field over, likes what he sees, and we're green for the Vintage Sportsman! Floars immediately jumps out to the lead as Morris is under attack from the # 25 of Michael Smith. Morris tries to hold his ground, but it's not enough as Smith gets by for third. Back up front, it's all Floars and Mincey as they've gapped the rest of the field. Mincey is putting down great lap times in second, but Floars is just too strong as he'll lead every lap en route to victory in the Vintage Sportsman. Mincey will come home second followed by Michael Smith in third. Mincey also locks up the 2022 Vintage Sportsman championship.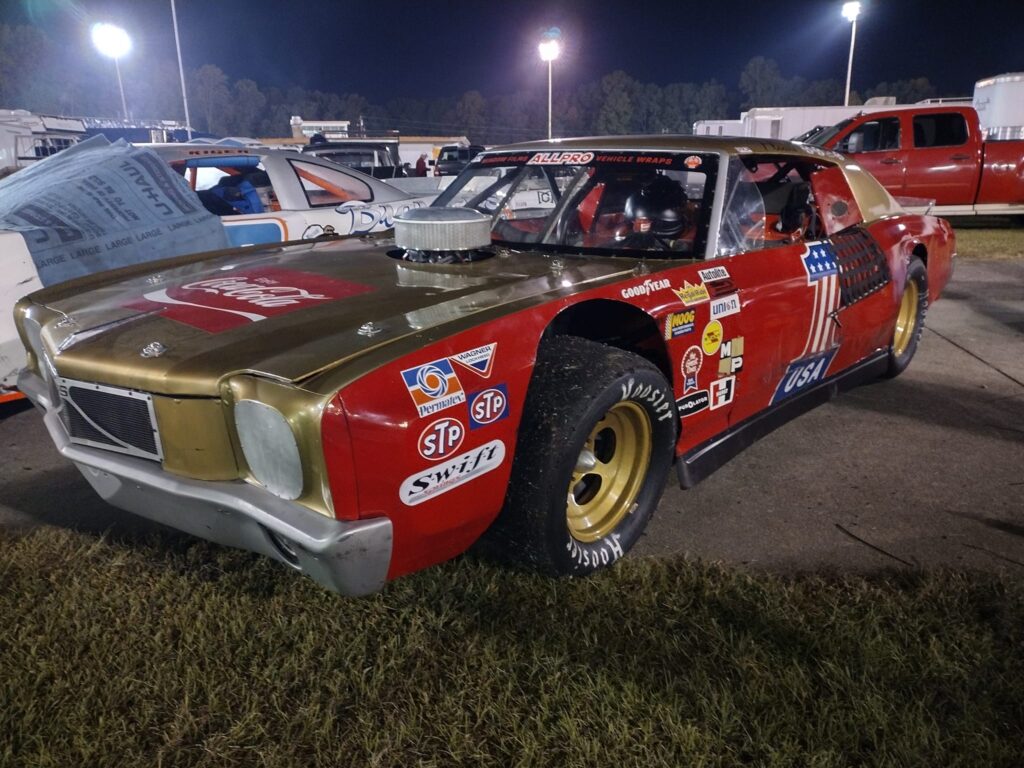 SOUTHERN OUTLAW FRONT WHEEL DRIVES/WINSTEAD FARMS MINI STOCKS DUAL FEATURE
In order to put on a bigger and better show for the fans on Finale night, the track has decided to combine the Southern Outlaw Front Wheel Drive and Mini Stock classes for tonight. Jimmy Crigger's # 98 machine will lead the field followed by 2022 South Boston Pure Stock champion # 66 Scott Phillips, # 75 Hunter Durham, # 77 Zach Reaves, and the # 61 of Jeb Redman. Tyree glances over the lineup, gives the thumbs up, and we're green! Crigger gets a massive launch as Durham doesn't get going, stacking the field up in the process. Out of the shakeup, Zach Reaves takes third while the # 11 of B.J. Reaves takes fourth. As Wade falls back, it's a three wide battle between Durham, the # 06 of Brandon Watson, and the # 44 of Jon Morton. Durham eventually wins out the battle as Crigger continues to lead. Durham then looks under both B.J. and Zach Reaves, bringing the # 45 of Tommy Raino along with him. Raino then looks under Durham, and grabs the third spot away from him. Behind them, B.J. Reaves takes possession of the fifth spot as Raino inches closer to Phillips. But there's trouble on the frontstraight as leader Crigger has slowed significantly! He pulls his car down on the track, getting out of the way of traffic as no caution is thrown. Crigger tries to tough it out on the bottom as Phillips will inherit the lead. And now there's major trouble as Morton has gone aflame on the frontstretch, littering oil all over the track. Thankfully Morton is okay as after a lengthy red flag for cleanup, the top five will be Phillips, Raino, B.J. Reaves, Durham, and the # 42 of Jason Richardson. The green flies as Phillips gets a great jump on Raino. Durham gets by Reaves for third as now Raino is right on top of Phillips, looking under and getting by for the lead. Phillips tries to look back under, but Raino blocks his run. Now Durham slows, barely getting out of the way of the pack. Still no caution is thrown as the # 15 of Thomas Penny moves under Richardson for fourth, then doubles down as he gets by B.J. Reaves. But it's all Tommy Raino up front as he takes the Front Wheel Drive and overall victory with Scott Phillips finishing second overall and grabbing the Mini Stock class win followed by Penny, B.J. Reaves, and Richardson. The # 16 of Chris Redman wraps up the Southern Outlaw Front Wheel Drive title while Hunter Durham takes the Mini Stock title.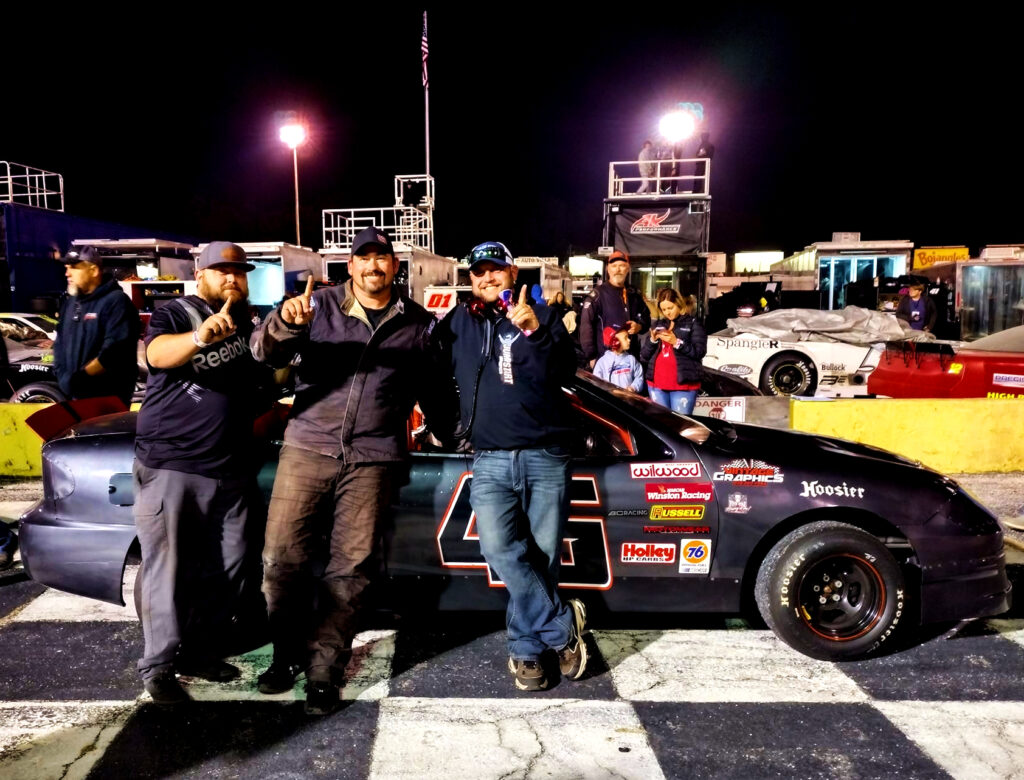 SMOKEY DAVE'S BBQ MOD 4 FEATURE
Starting on the pole for the Mod 4 race will be the # 69 of Jon Fish followed by the # 12 of Joseph Kiger and the # 15 of Ricky Brown, who rounds out the top 3. Tyree looks them over, likes the view, and we're green! Fish gets an amazing start as Kiger can't seem to quite get up to speed early. He tries to get into a steady rhythm as now Brown is under fire from the fast # 63 of Darrell Haynie. Haynie makes easy work of Brown as he now looks for the silver spot. Kiger has now gotten his machine to come to life as he's all over Fish. He dives down below and takes the lead as Fish tries to fight off Haynie to hold onto second. Fish gives Haynie a valiant fight, but Haynie gets by with mere laps left to get to Kiger. But Haynie is there! Kiger and Haynie are nose to tail coming to the white flag as Kiger starts to play defense. Kiger has the power down the backstretch, but Haynie is better in the corner as he throws it into 3 and 4, getting alongside Kiger's quarter panel coming to the line. They split a lap car three wide under the checkered as Kiger barely holds on for the victory with Haynie finishing a close second followed by Fish in third. Points are still being calculated as to who has won the Mod 4 championship.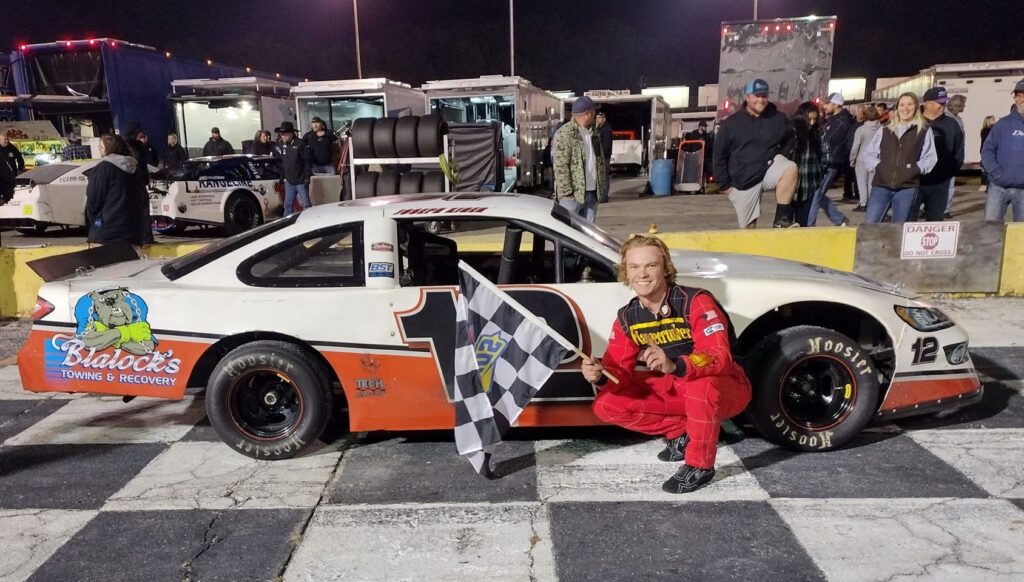 CHOICE AUTOMOTIVE CHARGERS FEATURE
The # 60 Charger of Chance Carpenter will start on pole for the feature with the # 11 of Lee Godbold starting alongside. Rounding out the top five will be the # 41 of Austin Ferrell, the # 27 of Rusty Denny, and the # 8 of Tripp Evans. Tyree looks the field over, likes the formation, and we're green for the Chargers! Carpenter gets the launch as Denny immediately finds his way past Ferrell and is on the attack for second. Godbold hangs on as the # 32 of point leader Austin Purnell sneaks past his Championship rival Evans to break into the top five. Ferrell somehow gets back by Denny as now Evans is falling through the pack with issues, effectively ending his Championship pursuit. But up front, it's all Carpenter as he has managed to build a massive gap between he and Ferrell. But much to his disapproval, the caution flies as the # 83 of Tommy Raino has spun on the frontstretch. Under caution, second place Ferrell has trouble, as now he slows and brings his machine down pit lane. Carpenter still lines up first followed by Denny, Godbold, Purnell, and Daniel Dean Jr in the # 57. The green waves as Carpenter and Denny are dead even, with Carpenter eventually gaining the advantage the next lap. Behind them, Purnell challenges Godbold, but Godbold hangs on as now Carpenter starts to gap the field yet again. Purnell is then under attack from Dean Jr as Purnell will lose that spot, falling to fifth. But it's still all Chance Carpenter as he picks up the victory followed by Denny, Godbold, Dean Jr, and Purnell who locks up the 2022 Charger championship.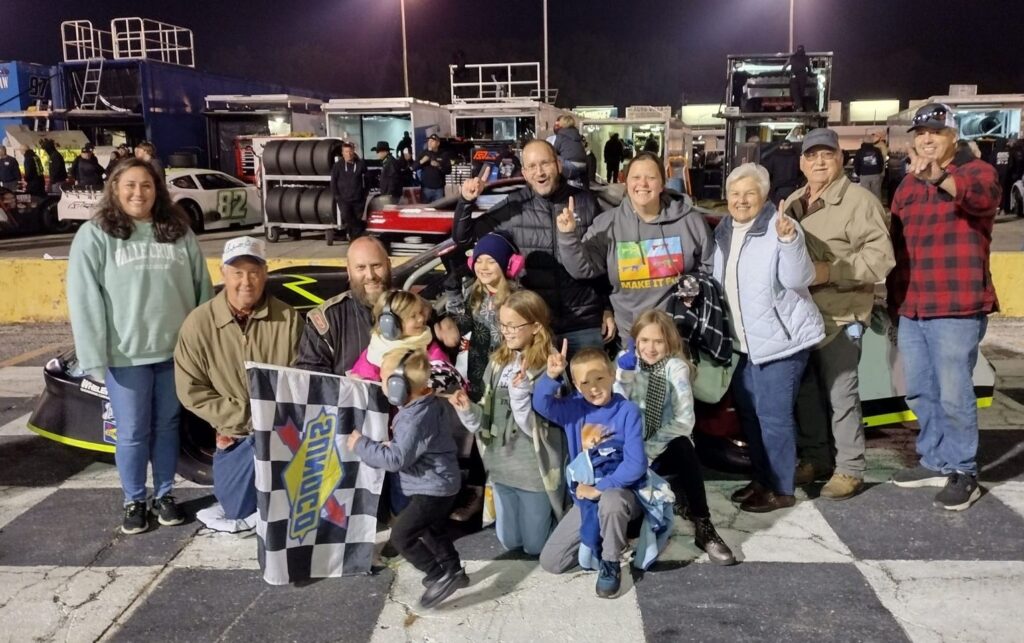 BOJANGLES' LATE MODEL STOCK FEATURE
Trey Dillard in the # 82 D starts on the pole for the Late Model Stocks as he'll start alongside points leader # 7 Tristan McKee. Rounding out the top five will be the # 82 B of Barry Beggarly Jr, # 21 Carter Russo, and # 50 Ross "Boo Boo" Dalton. Second place in points # 12 Daniel Schadt will elect to go to the rear in order to gain Hard Charger points towards the Championship. Tyree looks over the field, likes the view, and we're green! McKee takes charge of first as he gets by Dillard quickly. Russo moves his way past Beggarly Jr for third as now Dalton takes advantage of Beggarly Jr's lost momentum and loses another spot to Boo Boo. The bleeding doesn't stop however as now the # 58 of John Aramendia moves into the top five, dropping Beggarly Jr to sixth. Dalton continues his charge as he now passes Russo, moving onto the podium. Aramendia is now beside Russo as the two make contact, sending both sideways! They keep it together as Aramendia wrestles fourth away. Dalton is now like a bullet as he slides by Dillard for second, setting his sights on young McKee in the lead. It's a frantic picture up front with Russo getting back by Aramendia and Dalton sticking it on the outside of McKee, taking possession of first. Behind them, Schadt is trying his best to weave his way through traffic, but we know how strong Orange County's competition is, so it's no easy task. As Dalton starts to gap, the caution flies as Beggarly Jr and the # 7 of Louis White get together coming out of turn two, sending White spinning. It's a quick yellow as it'll be Dalton, McKee, Dillard, Russo, and Aramendia the top five.
The green flies and Dalton quickly clears. Russo somehow finds himself past McKee as Beggarly Jr moves into the top five, getting by Aramendia. And now Dillard moves McKee out of the way, dropping him out of the top five. This moves Aramendia into the top five and also allows Schadt to get by his point rival, moving into sixth. He follows that up by passing Aramendia for fifth. Up front though, it's Dalton who invades Orange County and picks up the victory. Russo gets a hard fought second, Dillard finishes third, Beggarly Jr gets fourth, and Schadt rounds out the top five. After the checkered flag, Beggarly Jr waits on and spins Schadt out on the backstraight, citing contact earlier in the race as the reason. We personally didn't see any contact whatsoever after watching the video, so we're honestly baffled. On the championship side of things, McKee and Schadt end up tied in points, with the tiebreaker being wins on the season. With two wins, twelve year old Tristan McKee makes history and is declared the youngest Orange County champion in history.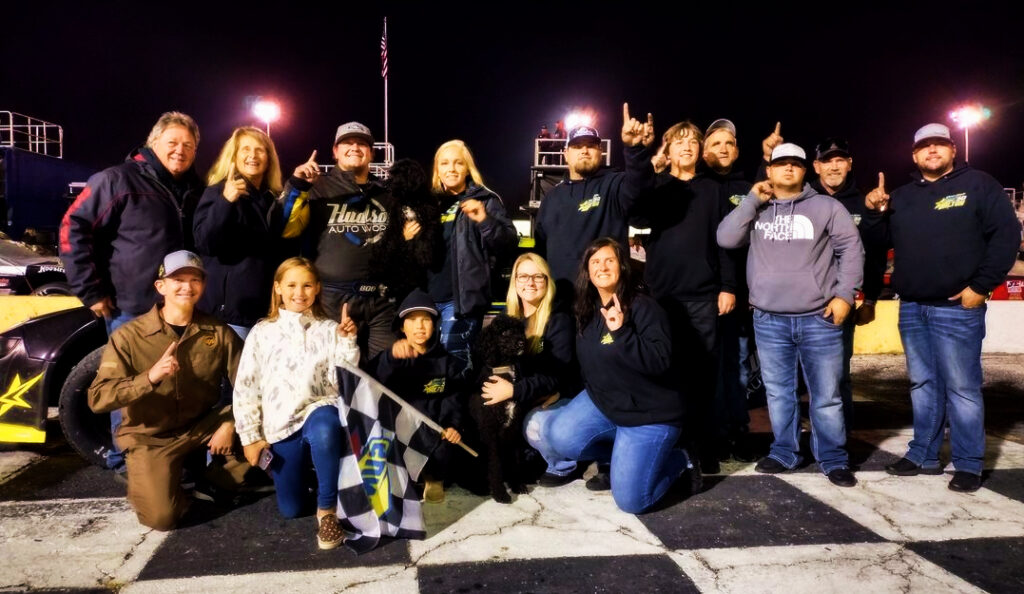 CAROLINA MINI-STOCK CHALLENGE FEATURE
The Carolina Mini-Stock Challenge rolls into Rougemont as the # 90 of veteran Robert Strmiska starts on pole. The # 1 of Shane Canipe starts second, # 10 Tim Canipe third, # 18 Chuck Wall fourth, and the # 16 of 2022 Ace Speedway Mini Stock champion Michael Tucker fifth. Tyree gives the field a good look, likes the view, and we're green! Strmiska and Shane Canipe are dead even to begin as Canipe barely leaps ahead. But Strmiska has none of it as he now takes the lead back, putting on a great race early. As Strmiska tries to pull away, Luke Smith, filling in for an injured A.J. Sanders in the # 24 machine, moves his way past Tucker into fifth. And now Tim Canipe has problems! He brings his ailing vehicle to the pits, unfortunately done for the night. This moves Tucker back into fifth as Strmiska's car gets better with each lap, gaining time every time he crosses the stripe. Smith continues to impress, getting by Wall for third. The race goes clean and green as Robert Strmiska picks up another Carolina Mini-Stock challenge win. Shane Canipe comes home second, Smith an impressive third, Wall fourth, and Tucker fifth.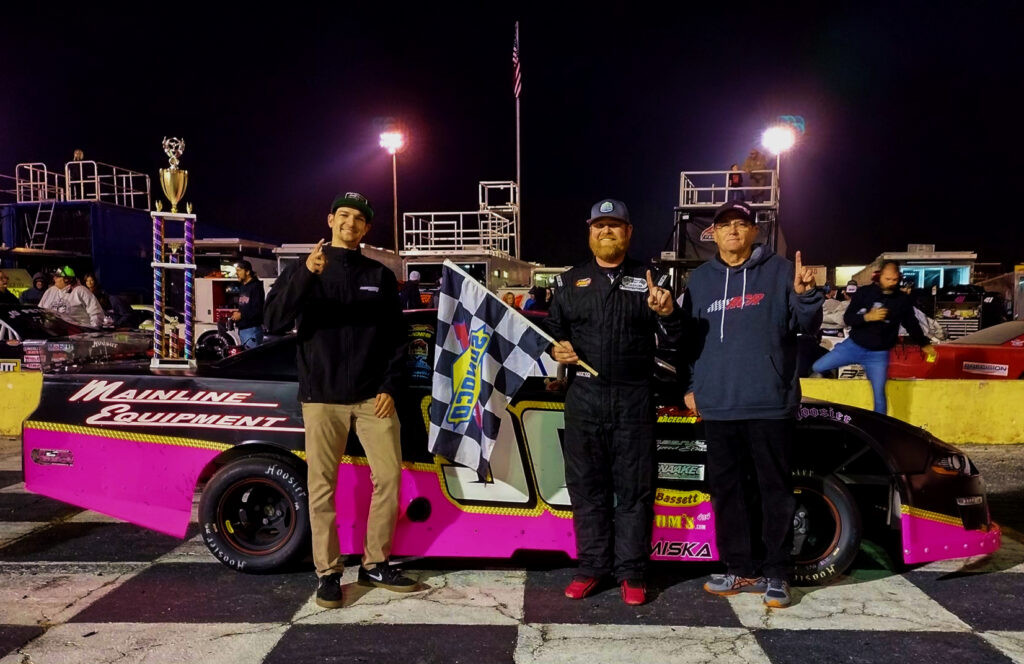 LATE MODEL STOCK PURYEAR TANK LINES ORANGE BLOSSOM SHOOTOUT FEATURE
Following a CARS Tour win at Ace Speedway the previous night, Kaden Honeycutt takes the # 10 R&S machine to the pole at Orange County. Starting alongside will be the # 08 of Deac McCaskill, followed by # 99 Layne Riggs, # 14 Jared Fryar, and the # 5 of Carter Langley. Flagman Brandon Willard looks over the field, gives the thumbs up, and we're green! McCaskill puts up a good fight, but Honeycutt surges ahead as the # 8 F of Tate Fogleman powers by Langley for fifth. Everyone gets into a single file line as Orange County is known for severe tire wear, so tire conservation is the name of the game at the moment. Right as I say that, McCaskill looks underneath Honeycutt, but to no avail. It's still single file near the front, but in the middle of the field, the # 33 of Kenny Forbes and the # 2 of Brandon Pierce are slowly moving their way through, gaining spots slowly but surely. Back up front, the leaders have encountered lapped traffic, but get through it gracefully as Honeycutt still leads. After 35 green flag laps are completed, the competition caution is displayed, setting up an early restart. Under caution, there's major implications as one of the race's favorites, Layne Riggs, has pulled onto pit road with mechanical trouble! The crew tries all they can to fix it, but it's unfortunately reparable as Riggs is done for the night. Also heading down pit road is Fogleman, as they work on his car. He gets back out on the tail end. For the restart, it'll be Honeycutt, McCaskill, Fryar, Langley, and the # 01 of Camden Gullie. Willard looks over the field, likes the formation, and we're green!
Honeycutt gets an outstanding restart as Langley finds some grip on Fryar and gets by for third. It's a mess in the middle to the back as everybody is fighting for what they can get. One of those drivers is Fogleman, who has gained multiple positions on the restart. Also continuing their charges are Pierce and Forbes, as back up front, it's the Kaden Honeycutt show. Fryar sets Langley up for third as Langley continues to fight. But Fryar has the run and is now back in third. But as Honeycutt is putting on a clinic up front, the crowd is being treated to a show as Pierce, Forbes, and Fogleman continue to move up. And now up front, Gullie has a problem! Sparks fly out from under his machine as he heads to pit lane, and now his night is done early. That moves the # 15 of Logan Clark up to fifth, just behind Langley. Honeycutt continues to lead, but it's no joyride as McCaskill still has him in sight, waiting for any mistake to be made. And to McCaskill's delight, the competition caution is once again thrown, as 35 more green flag laps have been completed. Fogleman once again heads to the pits as more repairs take place, putting him in the rear yet again. Lining up for the restart will be Honeycutt, McCaskill, Fryar, Langley, and Clark. Willard looks them over, likes the formation, and we're green. Honeycutt once again gets the jump as Clark doesn't get the best of starts, allowing the # 16 of 2022 Florence Motor Speedway Late Model Stock champion Kade Brown to break into the top 5. Fryar and Langley are dead even as they engage in an epic battle for third. Fryar eventually hangs on as Honeycutt once again starts to pull away. Behind him, Pierce and Forbes continue to scratch and crawl, along with Fogleman. Everyone starts to get into a rhythm once again as McCaskill starts to slip a little each and every lap, allowing Honeycutt to gap. But behind, Brown is now under attack from none other than 13th place starter Pierce. Neither one of them give an inch as they battle side by side for almost 30 laps. As they fight, Forbes continues his battle, along with Fogleman who has somehow made his way into tenth. Yes, tenth. After going to the back two times. But up front, it's Kaden Honeycutt who wins his second race in a row and his second ten grand in a row. McCaskill stays in second, Fryar maintains third, Langley gets fourth, and coming down to the white flag, Pierce finishes fifth. Forbes ends his battle in seventh while Fogleman moves up to eighth in one of the best drives we've seen this year.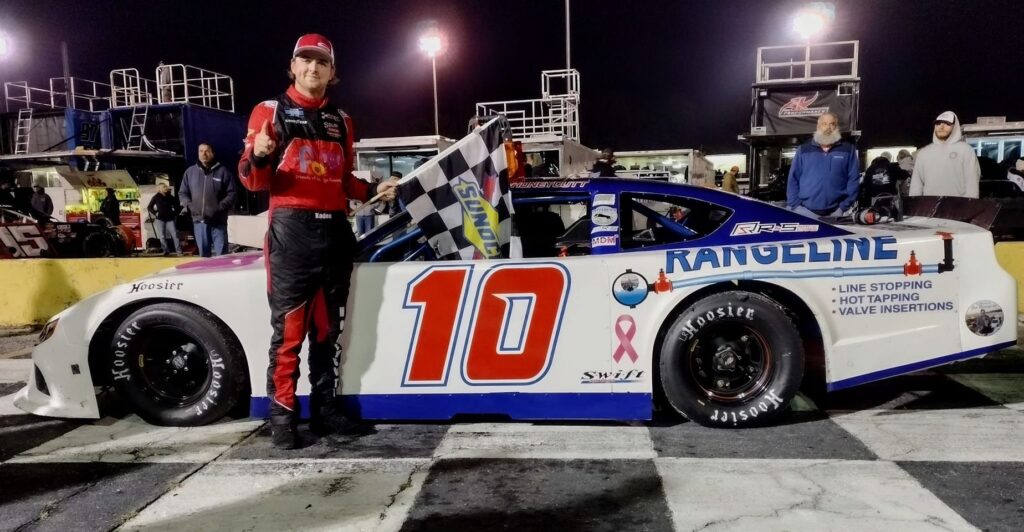 MY TAKE
To win at Orange County Speedway takes skill and patience and an event like this will try any drivers mettle. The track is challenging and I've never seen it as challenging as it was Saturday night. As soon as the drivers went to qualify, it was clear that everyone was going to have to be on their A-game if they were to have any success. Every driver that took a lap made it clearer and clearer to us that the grip level was almost non existent. Cars were sliding all over the track no matter what groove they ran. But to me and many fans that know what it takes to compete on the highest levels of short track racing love these kind of events. Why? Because no matter how good a piece each team brought, in an event like this, it all comes down to the driver behind the wheel. It brings out the best of the best, and it's amazing to watch these wheel men test each other under these conditions. Challenging would be an understatement. But when it's all said and done, you know the visitors to victory lane earned each and every win. But even in the best case finishing scenarios, it can be frustrating for some drivers.
Such must've been the case for one driver as he spins out one of the top drivers in his division after the race. Thing is however, despite his explanation of being run over by said driver during the race, we took a really, and I mean really hard look at it to see what happened, and we couldn't find one instance of the said driver he accused of even touching his car. And truth is, said driver went out of his way on at least 3 occasions to not touch the accusing driver while he was loose and sideways on the track, only to get back for his patience by being spun after the checkered flag had already waved. Confusing. Even more so was the aggressive attitude shown to those trying to get a decent explanation. You see, that explanation is important. After a race is over, most know there is the rule that you wait for the drivers in the race to come to a complete stop before you move around in the pits or on to victory lane for the winning celebration, but there are not just professionals in the infield during races. Not to mention that drivers are unbuckling seatbelts and loosening safety equipment. There are families and sponsor personnel present as well, and they rely on the professionalism of drivers that compete for their safety as well. And so, in my youth, I learned early from the best how drivers used to handle situations with each other when there is a conflict, and that's face to face, competitor to competitor. But without standing on a soap box, most competitors know what's expected. Sure, sometimes frustration boils over. It's a tough sport for any driver, and so instances will happen. But truth is, in this case, the accusing driver is either mistaken about what happened in the race, or they were being purposely egregious. Either way it was uncalled for in this case and frankly unacceptable. Especially on a night where his father was being honored and you would think that the respect of that honor would be shown in the highest degree.
But enough about that as this race was epic to say the least. We saw the youngest ever Orange County Speedway Late Model Stock Champion crowned, and we saw epic performances by some of the very best in the business all night long on a very challenging speedway known for speed and excitement. All of this made our Short Track Report Blue Collar Racer Of The Week winner one of the toughest of the year. As a matter of fact, it delayed the release of this article as it took us days to finally decide it. It was that great of a show, with drivers performing at the top of their abilities. First to mention of course is last year's Blue Collar Racer Of The Year Kaden Honeycutt putting on a clinic, taking the pole and the win in the Puryear Tank Lines main event. But that win didn't come as easy as it sounds as Deac McCaskill was in his mirror during the whole event. We also watched as Brandon Pierce and Kenny Forbes handled adversity at the highest levels, starting toward the rear of the field and working their way to remarkable top 10 finishes. And then we watched Boo Boo Dalton take his eighth win on his eighth track on the season in an amazing performance in the Orange County local Late Model Stock feature. But after we took the closest look that we had to take all year at each drivers individual performances, we centered in on Tate Fogleman and his remarkable run. Starting just outside the top 5, he had to come to the care of his crew during the two competition cautions, and being one of the few to pit during the whole race for adjustments, had to restart in the rear of the field both times he came down, working his way after the first visit to pit road to mid way through the pack, only to come back and have to do it all over again, ultimately coming home with the most unlikely top 10 finishes we've ever seen, coming home eighth overall. Considering the talent level, the non grip of the track, and the overall competitiveness of this awesome race, we just couldn't ignore that type of performance, earning Tate Fogleman and his team this week's Short Track Report Blue Collar Racer Of The Week. Congratulations guys, what an amazing feat!
It was an amazing night in Rougemont as multiple champions were crowned and one of the best in the business, Kaden Honeycutt, added to his already impressive resume. And we already look forward to the 2023 Orange County Speedway season as it's shaping up to be bigger and better than ever before. But, there are still multiple big races to go in 2022, and we can't wait to announce our involvement in those. And we hope to see all of you there in attendance. So, until then, See You At The Track!
(Race writeup by Joshua Weatherman. Intro and My Take written by Billy Weatherman. 2022 Copyright SHORT TRACK REPORT)
Tags
Andrew Tyree
,
Austin Ferrell
,
Austin Purnell
,
B.J. Reaves
,
Barry Beggarly
,
Barry Beggarly Jr
,
Blue Collar Racer Of The Week
,
Boo Boo Dalton
,
Brandon Pierce
,
Brandon Watson
,
Brandon Willard
,
Camden Gullie
,
Carolina Mini Stock Challenge
,
Carolina Mini-Stock Challenge
,
Carter Langley
,
Carter Russo
,
Chance Carpenter
,
Chargers
,
Chris Mincey
,
Chris Redman
,
Chuck Wall
,
Daniel Dean Jr
,
Daniel Schadt
,
Darrell Haynie
,
Deac McCaskill
,
Eric Morris
,
Front Wheel Drives
,
FWD
,
Gene Mincey
,
Hunter Durham
,
Jared Fryar
,
Jason Richardson
,
Jeb Redman
,
Jimmy Crigger
,
John Aramendia
,
Jon Fish
,
Jon Morton
,
Joseph Kiger
,
Kade Brown
,
Kaden Honeycutt
,
Kenny Forbes
,
Kevin Floars
,
Late Model Stocks
,
Late Models
,
Layne Riggs
,
Lee Godbold
,
Logan Clark
,
Luke Smith
,
Michael Smith
,
Michael Tucker
,
Mini Stocks
,
Mod 4
,
Orange Blossom Shootout
,
Orange County Speedway
,
R&S Race Cars
,
Ricky Brown
,
Robert Strmiska
,
Ross Dalton
,
Rusty Denny
,
Scott Phillips
,
Shane Canipe
,
Short Track Report
,
Southern Outlaw Front Wheel Drives
,
Tate Fogleman
,
Thomas Penny
,
Tim Canipe
,
Tommy Raino
,
Trey Dillard
,
Trey Dillard III
,
Tripp Evans
,
Tristan McKee
,
Vintage Sportsman
,
Wallace Smith
,
Zach Reaves