Orange County used to be much bigger, also encompassing much of what is now Alamance County. And just like today, the folks that live in this region are not a group that takes things lightly or remain uninvolved. They are not a group that just settles for the narrative, and can often be very vocal in opposition to anything they feel is detrimental to their security or the well being of their fellow citizens. They were quick from the beginning to bear arms when they felt threatened or felt the need to protect themselves. Such was the case in 1771 when the folks there gathered to challenge the ruling structure who ruled on behest of the King of England. The western part of the state of North Carolina was becoming rebellious and in 1771, Royal Governor William Tryon left his quarters in New Bern to quell the upheaval spurned by his corrupt legislators and local officials, and went to meet the Regulators who had gathered against it. They met in a section of Orange County, and although the Regulators suffered great losses, many feel that in many ways, this was the beginning salvo of the American Revolution.
This past Saturday, a group met just east of that confrontation in today's Orange County, not far from the current ruling faction and the Governor of North Carolina in Raleigh, North Carolina. But this time, the folks gathered in a much calmer manner to share in the challenge of competition of man and machine competing against one another and to challenge each other's skill and determination. But whether it was the heat of the day or just a refusal to concede, a battle erupted for supremacy, and no one gave an inch in the face of it. And the wins for most on one of the hottest days of the year didn't come easy by any means. In fact, the competition turned into a war of attrition where only the strong could thrive.
The ceremonies began innocently enough with a passionate and endearing invocation followed by the singing of the country's National Anthem. With that complete, the command was given to fire the engines, and the crowd that had gathered to see some great short track racing had no idea they were about to see a series of skirmishes that broke out into a nearly full-fledged war.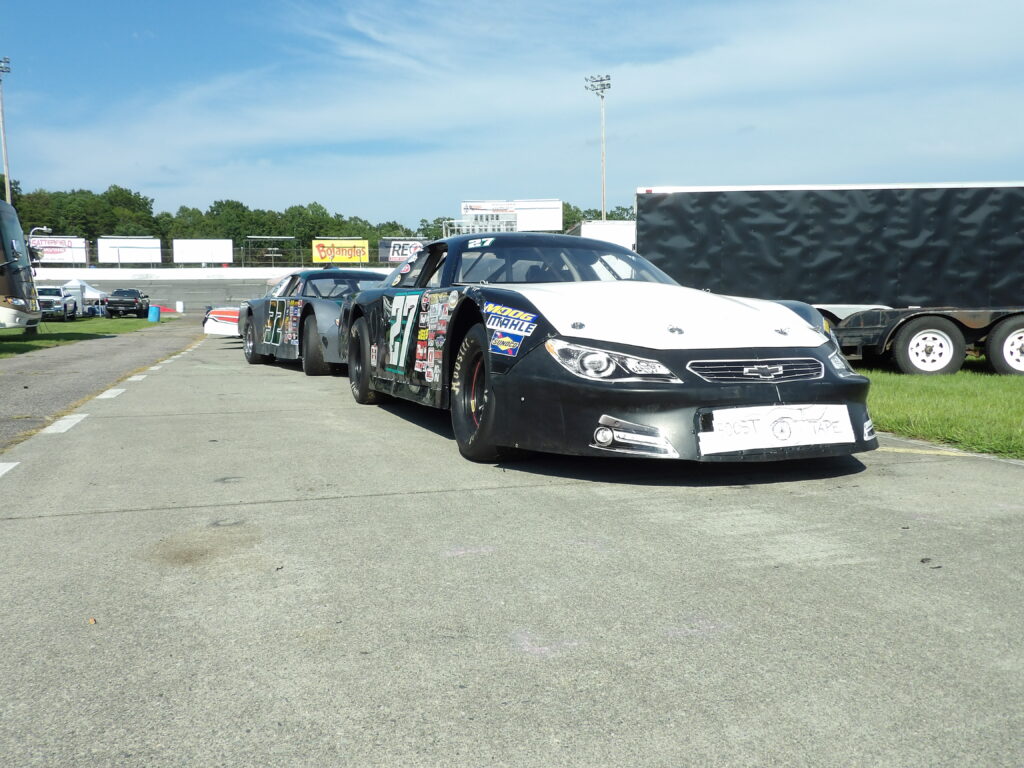 PHILLIPWALKERAUCTIONS.COM VINTAGE SPORTSMAN FEATURE
The top two heaviest hitters in the Vintage Sportsman division, defending champion # 6 Gary Lloyd and multi time winner # 11 Chris Mincey are unfortunately the only two to show up tonight. But, with Orange County being suited for amazing racing, and two guys that are almost identical in speed, the fans are still in for an amazing show. Orange County flagman Andrew Tyree waves the green, and the two veterans go to battle. Lloyd holds the hold spot, but Mincey is all over him, almost spinning his car trying to get around. They play this cat and mouse game the entire race, with no one giving an inch in these glorious machines. Mincey gives it one last go, but Lloyd is just too strong and takes the hard earned victory tonight ahead of Mincey.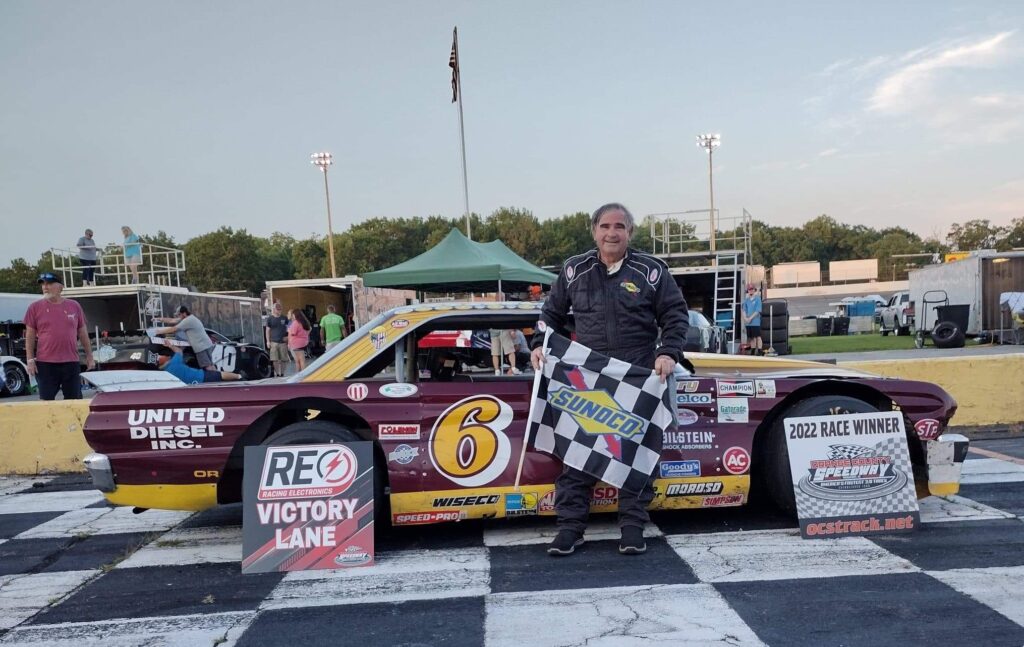 SOUTHERN OUTLAW FRONT WHEEL DRIVE FEATURE
The # 15 of Darrell Haynie starts up front with teammate # 15R Chris Redman starting alongside. The # 74 of James Seagroves-Decourcy rounds out the top three as Tyree looks over the field, likes the formation, and we're green! Seagroves-Decourcy tries to hang with Redman and Haynie, but the Thomas Penny prepared machines are just too good as they break away from third. Redman, being no stranger to Orange County, puts down some amazing lap times, but Darrell Haynie is a rocket ship in clean air. Much like the Vintage race, the teammates play cat and mouse. Haynie starts to slip however towards the end, allowing Redman to inch closer and closer. As they come to the white flag, they're nose to tail. They both execute turns one and two to perfection, with neither gaining an advantage. Going into three, Redman sails his machine, trying all he can to get the trophy. But it's not enough as Haynie grabs the victory ahead of Redman for a Team Penny 1-2 finish.
WINSTEAD FARMS MINI STOCK FEATURE
Tyler Bush in the # 68 grabs the pole for the Mini Stocks with # 12 Jessie Yopp starting second, # 75 Hunter Durham starting third, and # 35 Johnny Baker starting fourth. Tyree looks the field over, likes the lineup, and we're green! Bush gets a great jump as Yopp immediately gets in line in second. Behind them, Durham and Baker have a great battle for fourth. Durham tries to hold his ground, but the veteran in Baker prevails as he grabs the podium spot. Back up front, Yopp is still within striking distance of Bush. A caution nearly flies behind as the # 06 of Tony Edward and # 13 of Ken Broadwell make contact, almost sending Broadwell around. They're both somehow able to save it as Bush eventually gets caught up in some lap traffic, narrowly avoiding disaster multiple times. It's no problem though as Bush crosses the finish line first with Yopp in second, Baker third, and Durham hanging onto fourth.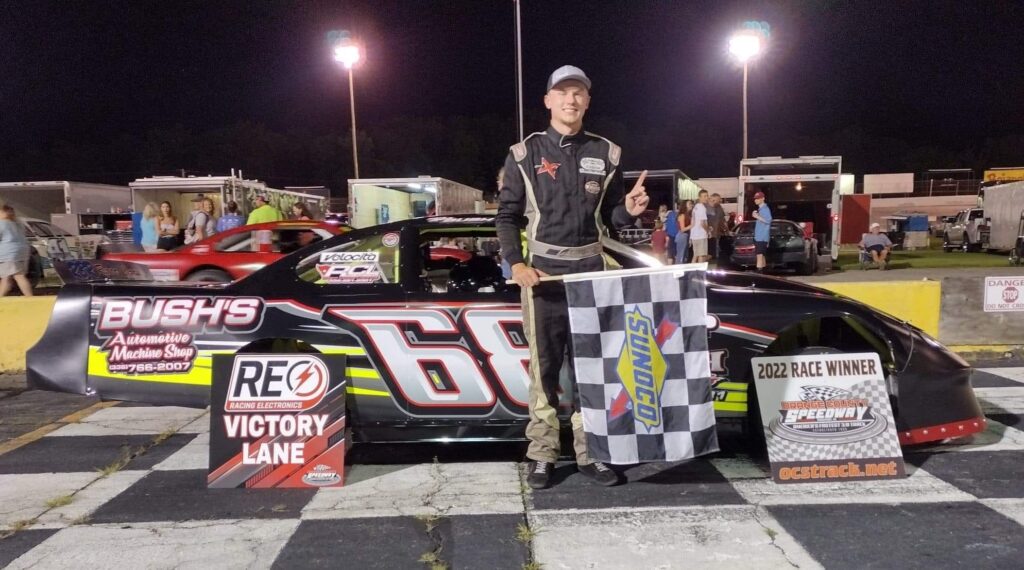 MOD 4 FEATURE
The # 69 Mod 4 of Jon Fish will start up front with the # 12 of Joseph Kiger starting alongside. The # 2 of Chris Peat starts third with # 22 Andrew Weaver starting fourth. Tyree looks over the field, likes the view, and we're green! Fish gets an amazing start as Durham pounces on Peat, gaining third within a lap. Peat can't seem to get a hold of his machine as the # 87 of Harold Sumney Jr now gets ahead of Peat. Back up front, Kiger is breathing down Fish's neck. Fish tries to hold on, but Kiger makes his presence known, taking the lead away from Fish with ease. Peat unfortunately has to bring his car down pit road as he's done for the night. Back on track, Kiger starts to pull away from the field. As Kiger sets his car on cruise control, the battle is on for second as Weaver is looking on Fish. Weaver narrowly gets by and now sets his sights on Kiger. But it's just way too late as Kiger picks up the win ahead of Weaver, Fish, and Sumney Jr.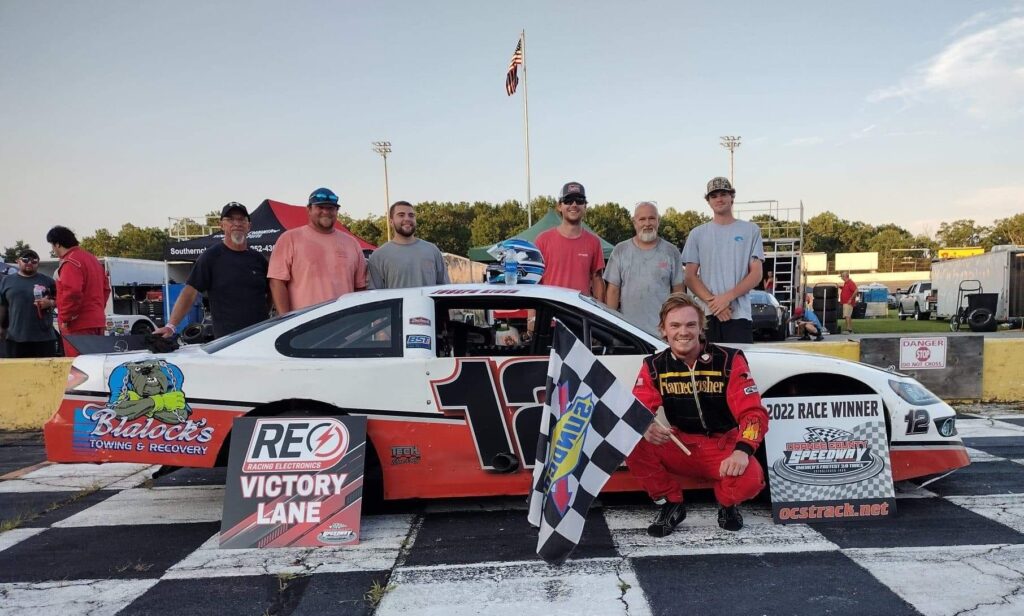 CHOICE AUTOMOTIVE CHARGER FEATURE
The Chargers are set for a knock down, drag out race tonight as defending champion # 32 Austin Purnell starts on the pole with the # 60 of Chance Carpenter starting alongside, followed by # 27 Rusty Denny, and the # 15 of Evan Ingram. Tyree looks over the stout field of Chargers, likes the view, and we're green! Purnell gets a good start and eventually clears Carpenter, but there's early trouble behind as the # 41 of Austin Ferrell and Ingram make contact, triggering a pileup that also collects the # 8 of Tripp Evans. Ferrell and Ingram are able to limp away, but Evans' night will unfortunately end early. For the restart, it'll be Purnell, Carpenter, Denny, and the # 51 of Tyler Chapman. Tyree looks over the field, likes the formation, and we're back green. Purnell and Carpenter get an almost even restart as they duke it out side by side for multiple laps. Purnell eventually clears him on the outside as the fans are on their feet. But there's more trouble behind as the Denny machine spins in turn 3 and backs into the wall. He's able to get back going as Purnell will once again line up first, followed by Carpenter, Chapman, and the # 57 of Daniel Dean Jr. Tyree looks over the field, gives the thumbs up, and we're green. Purnell and Carpenter are once again dead even on the restart, but it's a little easier this time for Purnell as he clears and tries to pull away. Behind him, Dean Jr's Charger has seemed to come to life as he gets by Chapman for fourth. It seems like the field has finally settled in, but right as the 21st lap is completed, there's a horrible crash on the backstraightaway! Ingram goes for a spin coming out of two, and stops dead in the middle of the track. Denny and the # 11 of Leo Godbold have nowhere to go and slam into Ingram head on. Thankfully everyone is okay as the track crew goes to work on the melee. After a lengthy cleanup, the track is once again ready for racing as Purnell will lineup first followed by Carpenter, Dean Jr., and Chapman. Tyree looks over the field, likes what he sees, and we're green for a shootout!
Purnell gets the advantage as Carpenter slots in line in second. Behind him, Chapman is able to get by Dean Jr as Purnell starts to pull away from the pack. As Dean Jr tries to settle in fourth, the # 41 of Austin Ferrell has something to say about it as they start to battle side by side for that spot. In front of them, Chapman gets alongside Carpenter, as they now battle side by side. It's now two by two behind Purnell, reminiscent of Daytona. Dean Jr eventually stays ahead of Ferrell and Chapman somehow gets by Carpenter for second. But none of that matters to Austin Purnell as he takes another Charger victory at Orange County followed by Chapman, Carpenter, and Dean Jr.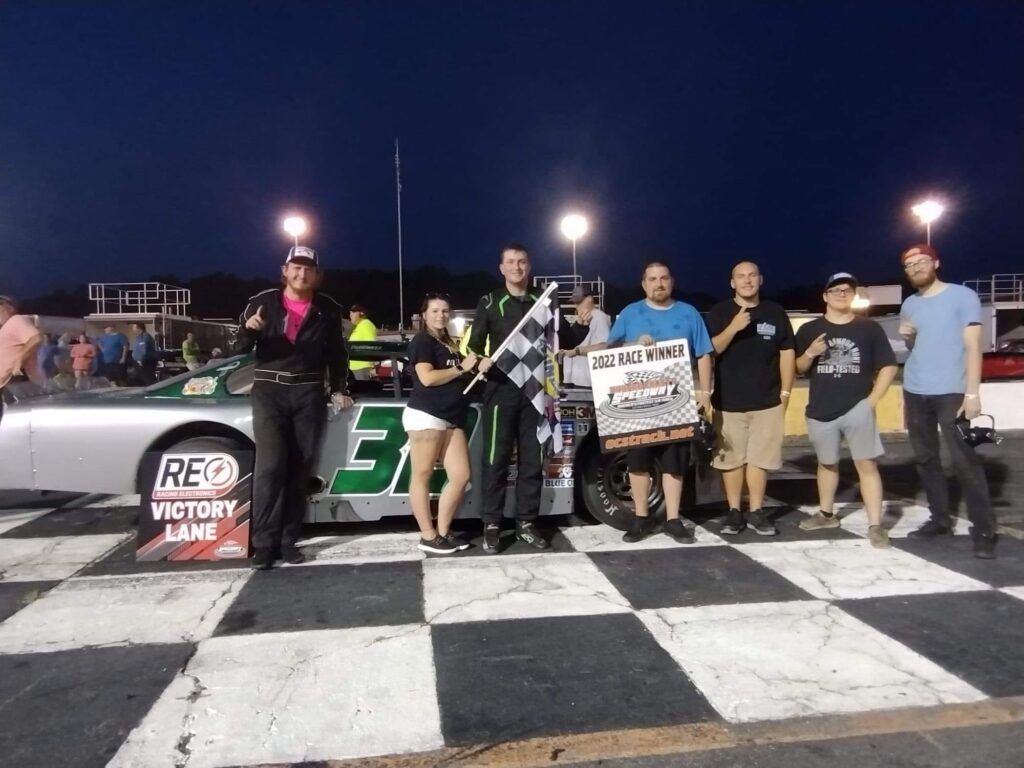 BOJANGLES' LATE MODEL STOCK FEATURE ONE
The # 28 Craig Moore prepared machine of Jason Barnes claims the pole for this one with a time of 14.482 seconds. Defending winner # 12 Daniel Schadt starts second, # 7 Tristan McKee third, # 82 Barry Beggarly Jr. fourth, and # J12 Wesley Johnson rounds out the top five. Tyree looks over the great field of Late Model Stocks, gives the thumbs up, and we're green! Barnes gets a great start as Beggarly Jr. is able to get by McKee early for third. Behind them, the # 77 of Tracey Chambers powers by Johnson as Schadt gets a nose under Barnes and completes the pass for the lead. As Schadt tries to gap early, Beggarly Jr. makes contact with Barnes, sending Barnes around in turn three. McKee, Chambers, and Johnson all spin to avoid as everyone except for McKee is able to pull away with minimal damage. For the restart, it'll be Schadt, Beggarly Jr., # 40 Brian Thomas, Johnson, and Barnes. Tyree likes the lineup and we're back green as Schadt gets the advantage heading into turn one. But Beggarly Jr. gets into him! Schadt backs his machine into the wall as Beggarly Jr. also sustains damage, breaking something in his steering. Both of those machines will be done for race one as Schadt is none too happy as he heads down pit road to chat with Beggarly Jr. Everything gets broken up in time as the fans are cheering and jeering, waiting in anticipation of what might happen next. After cleanup, it'll be Thomas, Barnes, Chambers, Johnson, and the # 57 of Daniel Dean Jr. who is pulling double duty tonight. Tyree looks over the field, likes the view, and we're back green. Thomas gets a good launch as Johnson is able to get back by Chambers for third. Back up front, Barnes sneaks by Thomas for the lead, but Thomas is all over him, waiting for any mistake to be made. The rest of the field starts to settle down as Barnes begins to pull ever so slightly away. Coming to the white, all Barnes sees is clean racetrack as he is able to pick up his first career Late Model Stock victory ahead of Thomas, Johnson, Chambers, and Dean Jr. with an amazing effort in fifth.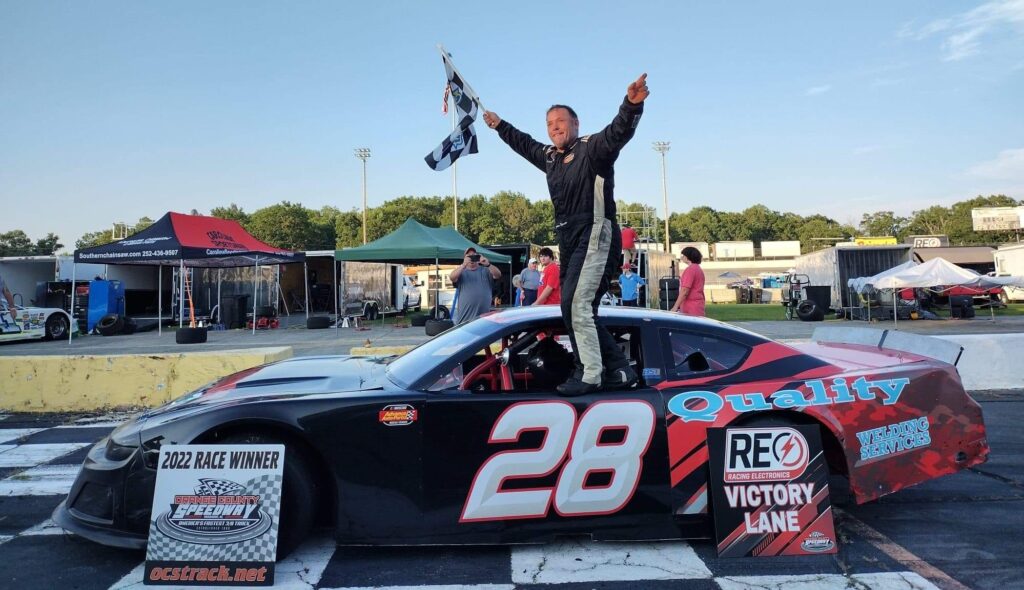 BOJANGLES' LATE MODEL STOCK FEATURE TWO
As a result of the invert, the damaged # 7 of Tristan McKee will lineup first with # J12 Wesley Johnson lining up in second, # 77 Tracey Chambers third, # 28 Jason Barnes fourth, and # 40 Brian Thomas fifth. Tyree looks over the field, likes what he sees, and we're green! But there's major trouble! Almost everybody in the field wrecks as Johnson gets out of shape on the front row, collecting multiple cars. # 57 Daniel Dean Jr., Barnes, and Johnson all have irreparable damage and are done for the night. Multiple other cars have damage, but are able to continue. Lining back up for the restart will be McKee, Chambers who has major damage, and # 12 Daniel Schadt the top three. Tyree nervously looks over the field, likes the lineup, and we're green. McKee is able to clear as Schadt rockets by Chambers for second. Chambers can't seem to get a hold of her highly damaged machine as now Thomas gets by her for third. Back up front, Schadt is all over McKee, looking inside and outside of the 7 machine. He eventually gets alongside as they battle side by side. Schadt is finally able to get by as McKee scoots in line right behind. As Schadt starts to slightly pull away, the caution flies, this time for another double duty driver in the # 41 of Austin Ferrell slowing out of four. The top three for the ensuing restart will be Schadt, a determined McKee, and Thomas. Tyree gives the thumbs up and we're back green. Schadt gets an outstanding restart and clears on McKee. McKee hangs tough though, trying to mimic Schadt's line. Thomas tries to look on McKee, but just can't do it as Schadt starts to gap. But within ten laps to go, McKee turns the wick up. He cuts the gap tremendously as Schadt still holds the top spot. As the white flag waves, McKee is there. Schadt holds his ground, and McKee keeps looking. McKee puts in one last ditch effort, but Schadt is just too good and powers off of four to cross the line first. But, after post-race technical inspection, a problem is found with Schadt's car, and the victory is given to eleven year old Tristan McKee in the damaged # 7 machine. Thomas would end up second, and Chambers would round out the top three.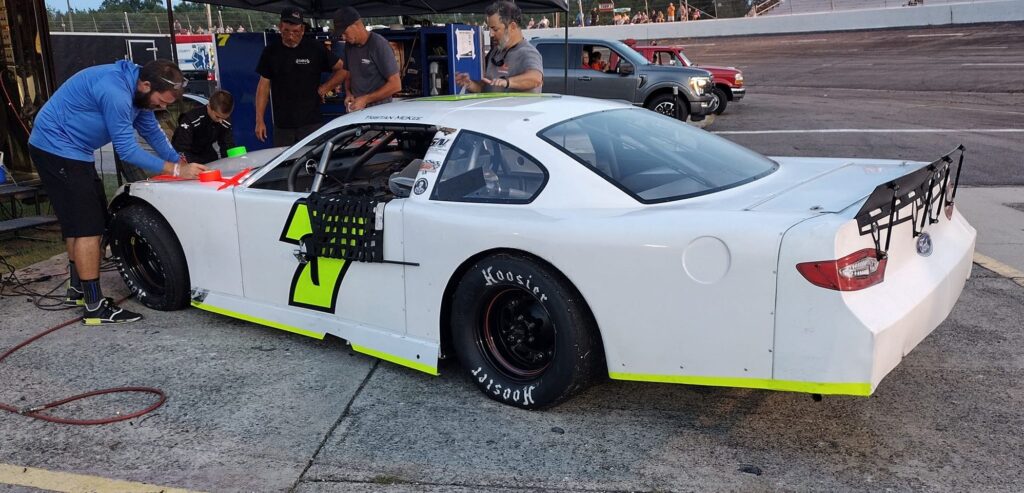 MY TAKE
Right from the initial green flag, it became apparent that every race would be a hard-fought battle of will and skill. These teams came to Orange County this week to win, and most didn't want to settle for anything less. Go big or go home was the mantra I kept hearing in my head over and over, and it played out time and time again. So first off, we have to congratulate the winners on the night as indeed nothing came easy at this event. But, it kind of goes with the year that the track itself has had this year, if not the last few. For Orange County Speedway, this was only their second event of the year due to the current racing tire shortage. It's a battle the track has fought for the last couple of years since the COVID pandemic hit which has seen this track scrambling to catch up on the tire wars. But instead of trying to go toe to toe with the other regional tracks, Orange County has decided to bite the bullet for the good of the region, and instead decided to use this time wisely to make some improvements and a new game plan for the track. You should know there is a lot going on here behind the scenes that the Speedway hasn't been largely vocal on. The reasoning is that they want to take this time and do it right, and when things are in place, they will start to reveal what will later become obvious.
But as astute observers fortunate enough to be able to peak behind the curtain, we think it's time to tell the people what we know without fully letting the cat out of the bag, for it's not our bag to open. But what we can tell you is that the track is working hard behind the scenes for the future. And so when the supply chain is fully functional and back to pre pandemic proportions, the track will be ready to get back to full time racing, and looking forward to many years into the future. Knowing all this, we also found it quite ironic that Jason Barnes, in the midst of this, gets his first Late Model win here at Orange County at a time when they are running a limited schedule and preparing for many years into the future. One could almost see it as a sign from above, not only for the track, but for the driver that accomplished it. You see, Jason Barnes began his racing career at Southside Speedway, a now defunct track in Midlothian, Virginia near Richmond. The track was closed so developers could take over and institute the will of the legislators there and expand their sports complex that already isn't fully utilized. In today's governance it's called progress, but it's caused many in that area to take a step back. There are many that moved to save the track, but it's all come to not as the color green has blinded those in power there to what the place meant to many. One of those is Jason Barnes, who's had to search the region for a place to find victory.
And finally, Barnes finds that victory in Orange County. And like Southside, Orange County Speedway is at a crossroads of sorts. Fighting it's own battle for survival. But Orange County Speedway has the ability to lean on its illustrious past as it makes a turn to it's bright future. And like those Regulators that lost their initial battle in Orange County against corrupt forces that came to impose their will on the land, they're willing to take an apparent loss or two in order to win the overall war. Those Regulators were soundly defeated. But they didn't give up the fight. They expanded their goals and came up with a victory plan that would later build a new nation. A nation that became the greatest the world has ever seen.
Our Blue Collar Racer Of The Week is just starting his battles. But Tristan McKee is already a winner. We watched the internet light up when we reported his win at Orange County when it became apparent to those looking that Tristn is only 11 years old. And we watched the debate unfold about his age, and if he should even be competing at such a high level. Winning in a Late Model is no easy feat. And we feel the debate should be put to rest as in the middle of the questioning, it seems lost on some that he not only competes, he wins. Now if this is your first time hearing about his kid, we can kind of understand your questioning. Yes, he won this race on a technicality. But you should know that this is not his first Late Model win. He is also a winner at Shenandoah in a Late Model and has wins in Super Trucks as well. This is our second time seeing Tristan, and he's been in the top two both times with a win and a second place finish in the Late Models at Orange County. And he does it by being as smooth a driver as you can imagine. Smooth, fast, consistent laps are the keys to success for any driver, but it's harder to teach than you might imagine. And, this is the second time we've seen an eleven year old win this year. We were fortunate enough to see young Paulie Hartwig lll win in a Crate Modified at Franklin County Speedway in Virginia, and he's since went on to visit victory lane multiple times as well. If we had any reservations about kids at that age racing in the higher levels of short track racing, we are not skeptics any longer.
True, it may not be right for most to be competing in a Late Model or a Modified at such young ages, but some are just natural drivers with maturity enough to understand what it takes to win. Drivers across the board are getting younger and younger, but we don't see this as a bad thing at all in discretion. It ensures a bright future for the sport. Tristan McKee qualified third for the first race but was caught up in an early wreck, opting to come in when he fully assessed the damage to the car and get it ready for the second race. They spent the rest of the night until the second feature working on the car, but they caught a break as the invert saw them starting on the pole for the second feature. Daniel Schadt used his experience as a fierce Late Model competitor at Orange County Speedway to snag the lead and to build on it during the opening laps. But as the laps started to wind down, and the tires heated up, Tristan started to close the gap, inching up to the bumper of Schadt as they crossed the line, later being declared the winner because of an oversight on the Schadt crew. Daniel Schadt was also involved in an on track incident with Barry Beggarly that sent Schadt up into the outside wall and sustaining heavy damage to his machine. The Schadt team then proceeded to work diligently to prepare the car but to no avail. Fortunately they had also hauled their backup to the track and quickly unloaded it for the second feature just in time to start the race. And in the confusion, they forgot to change the tires on the car, as rules for this race stated that teams must run both races on the same set of tires.
But while an oversight takes Schadt out of the victory, Tristan McKee's performance should not be discounted when given the overall picture. Tristan McKee qualified third, and him and his team went to work after his car was bent in race one. And in race two, after he lost the lead early, he never gave in or went to driving over his head. He just raced harder. And he worked in that race to find speed in the damaged machine until he started to walk back down the leader on older tires. His work in those final laps secured it for us, and although Jason Barnes also had a great case for the honor, a case so good we had to debate it until just before the article was written, in the end it was Tristan McKee's closing laps that secured it, given all we know about how he got there. He indeed earned this win in a performance so good, we couldn't deny him and his team this week's Short Track Report Blue Collar Racer Of The Week.
So we leave Orange County Speedway waiting excitingly for the time we are scheduled to return and looking forward to the rest of the short track season in the region. It's already been a very interesting year this season in 2022, and we can't wait to see what lies in store. And as always, 'till next time, See You At The Track!
(Race writeup by Joshua Weatherman. Intro and My Take written by Billy Weatherman. 2022 Copyright SHORT TRACK REPORT)
Tags
Andrew Tyree
,
Andrew Weaver
,
Austin Ferrell
,
Austin Purnell
,
Barry Beggarly Jr.
,
Blue Collar Racer
,
Brian Thomas
,
Chance Carpenter
,
Charger
,
Chris Mincey
,
Chris Peat
,
Chris Redman
,
Craig Moore
,
Daniel Dean Jr.
,
Daniel Schadt
,
Darrell Haynie
,
Evan Ingram
,
Front Wheel Drive
,
Gary Lloyd
,
Harold Sumney Jr.
,
Hunter Durham
,
James Seagroves-Decourcy
,
Jason Barnes
,
Jessie Yopp
,
Johnny Baker
,
Jon Fish
,
Joseph Kiger
,
Ken Broadwell
,
Late Model Stock
,
Leo Godbold
,
Mini Stock
,
Mod 4
,
Orange County Speedway
,
Rusty Denny
,
Southern Outlaw Front Wheel Drive
,
Summer Sizzler
,
Thomas Penny
,
Tony Edward
,
Tracey Chambers
,
Tripp Evans
,
Tristan McKee
,
Tyler Bush
,
Tyler Chapman
,
Vintage Sportsman
,
Wesley Johnson