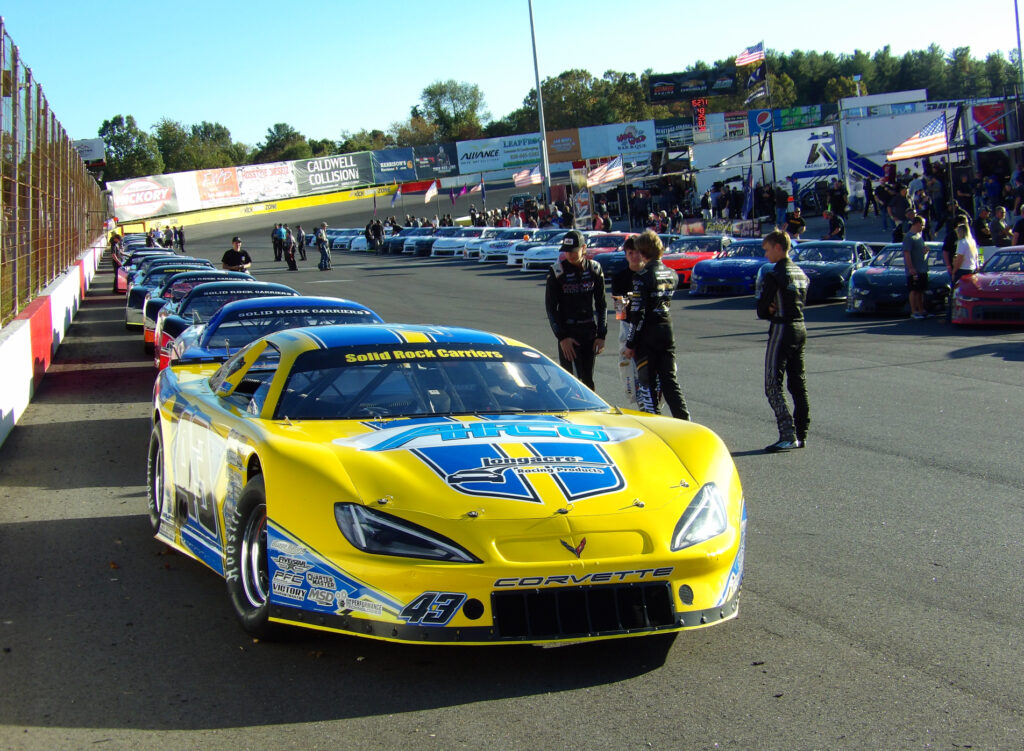 With only a handful of weeks left on our live coverage schedule for 2023, we wanted to make it a point to be sure we are set to end the season with a bang. And so it was crucial for us to make sure the final events we cover this year were going to be memorable ones. We feel the short track nation deserves nothing less than that. It's been a great and exciting year already, as a matter of fact one of the best on record, but the season is not finished quite yet. So with that in mind, we headed out this past weekend to our home track, Tri-County Speedway, for the CARS Tour Blue Ridge 250. We had been here earlier in the year for a CARS Tour Pro Late Model event and the premier $30,000 to win Old North State Nationals for the Late Model Stocks so we knew the tour was going to be exciting on the new pavement, especially as it's seasoning just as the track projected it would, and to top it all off the GXS Street Stock Series was also added to this show for their season ending Championship Finale. But being our home track, we were also excited to see our first show at Tri-County Speedway under the newly installed Musco LED lights. The track has done some truly remarkable work bringing this great short track speedway back to life over the past few years, and true to their word to us, it is becoming the showcase track they have intended it to be.
After all, first and foremost, we are short track fans. And after seeing the sport in decline for a period of years prior to the new era reemergence, we'd been heartbroken to see how many tracks were lost. And for us it's tremendously important to see some of the tracks that were on the brink come back to life. That said, it'd be hard to understate the work put into Tri-County, and we couldn't wait to see it all lit up with the new lighting system. Especially to highlight a tour that's been phenomenal all year. And with only two events left before the end of the CARS Tour season, and the GXS Street Stock Series crowning their first ever champion, we knew the night would be exciting. How exciting? Let's take a closer look at all the night's racing action.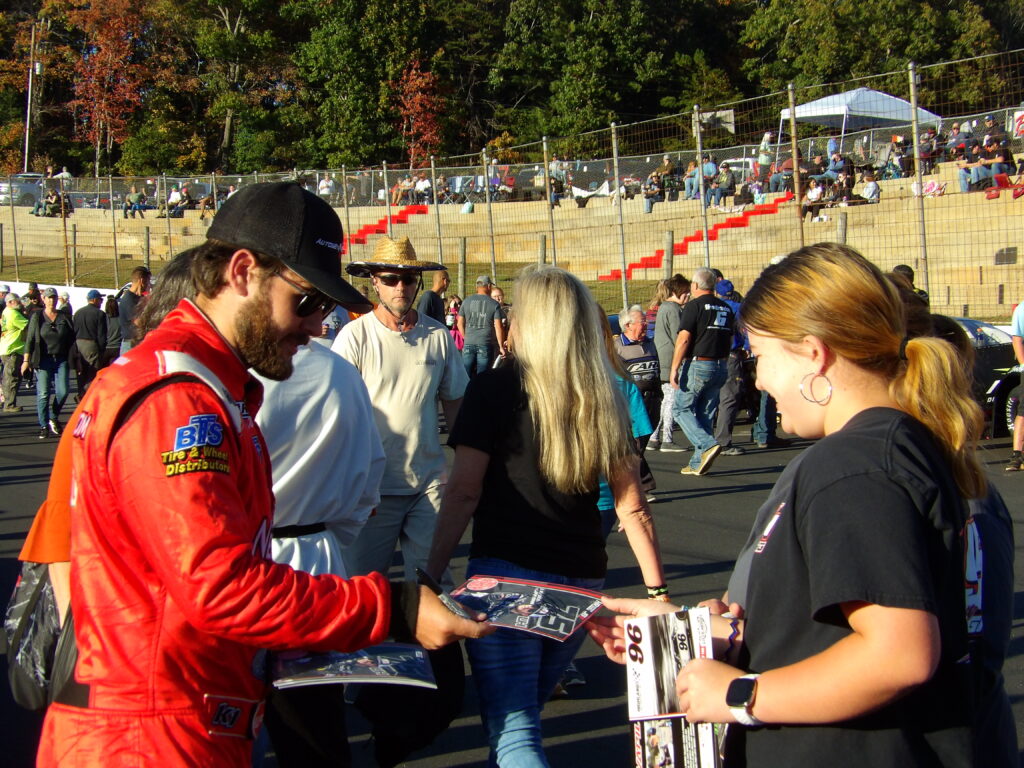 GXS STREET STOCK SERIES M51 DESIGNS 51
Marlin Yoder in the # 08 continues his pole streak and takes another with a scorching lap of 16.672 seconds. Bobbie Tumbleston III in the # 00 will start second followed by the # 12H of Mark Goin, the # 4VT of Chris Riendeau, and the # 03 of Alan Rich. Brandon Willard looks over the field, likes the formation, and gives the thumbs up for internet sensation Travis "Moonhead" Brown to wave the green flag over the great Street Stock field! Yoder gets a monster start as Tumbleston III loses two spots off the get go from both Riendeau and Goin. Behind him, Ronnie Bassett Jr in the # 48 finds his way by Rich and follows that up by pressuring Tumbleston III, but can't get that spot right now. But now Tumbleston III slides up high and nearly spins, allowing both Bassett Jr and Rich by. And now here comes the # 4 of Gary Ledbetter Jr, as he and Tumbleston III go to battle, with Tumbleston III hanging on and sliding back around Rich for fifth. Back up front, Riendeau tries to set up the pass on Yoder, but lap traffic combined with Yoder's near perfect setup sends the # 08 to GXS Street Stock victory lane once again. Riendeau crosses the line second, but is disqualified after the race, giving Goin second followed by Tumbleston III, Rich, and the Ledbetter Jr # 4 machine who comes home with the inaugural GXS Street Stock Series championship.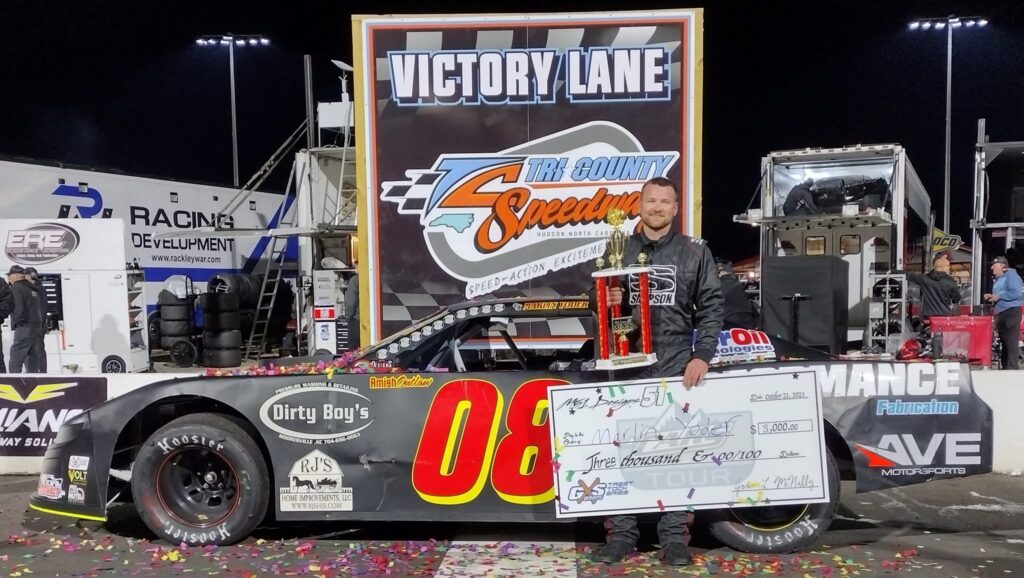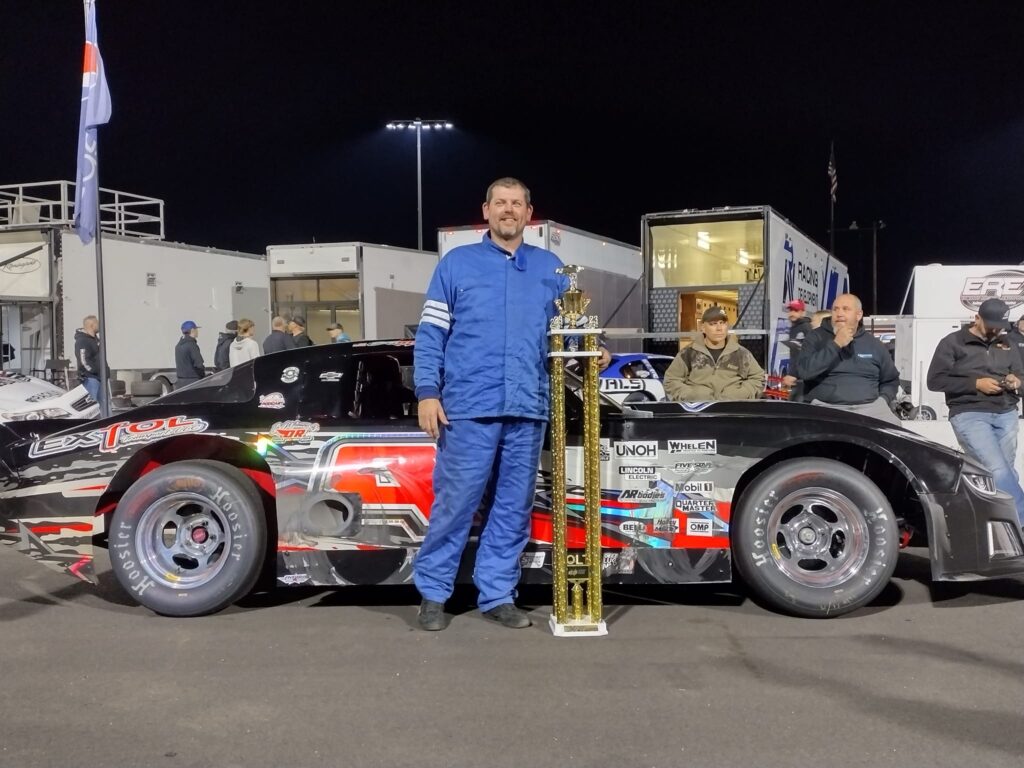 2023 GXS STREET STOCK CHAMPION
GARY LEDBETTER JR
CARS TOUR PRO LATE MODEL FEATURE
Keeping his momentum up from South Boston, Nick Loden in the # 43 grabs his second consecutive pole award with a lap of 15.132 seconds. Starting second will be the # 25 of Gavan Boschele, with the # 81 of Katie Hettinger, the # 28 of Brent Crews, and the # 9 of Ashton Higgins rounding out the top five. In a huge championship development, the # 96 of Caden Kvapil will be required to go to the rear of the field for an unapproved adjustment. CARS Tour flagman Brandon Willard looks over the stout field, likes what he sees, and we're green for the Pro Late Model portion of the Blue Ridge 250! Loden clears for the lead off of turn two as Crews makes a big gain early, getting by both Hettinger and Boschele. Boschele continues to lose spots as now Hettinger moves into third. There's trouble early on the frontstretch as the # 8 of Rusty Skewes wrecks hard on the frontstretch, unfortunately ending his night prematurely. After the choose, Loden will continue to lead with Hettinger moving up to second followed by Crews, Higgins, and Boschele. Loden gets a great start, but so does Hettinger as she clears Loden for the top spot. Higgins looks to make a run behind as he's underneath Crews, but can't make it work for the time being. As Hettinger starts to pull away from the pack, none other than Kvapil is starting to pressure Boschele for the fifth position, eventually grabbing it away diving into turn three. Kvapil keeps up his momentum and gets around Higgins as Crews makes a little contact with Loden to grab second away, leaving Loden right in the clutches of Kvapil. Loden puts up a great fight, but it's not enough as Kvapil continues his charge. Behind, Boschele gets around Higgins for fifth, but nobody has anything at the moment for Hettinger, who continues to run away. As they continue to log laps, the competition caution flies, setting up a 32 lap shootout for the victory. Hettinger keeps the lead, with Crews second followed by Loden who moves up a spot on the choose, Kvapil, and Boschele.
Kvapil almost makes it three wide for the lead but thinks better of it on the restart as Hettinger clears. Kvapil gets by Loden as Higgins and Boschele do battle for fifth, with Boschele hanging on. Kvapil dives under Crews, and Crews slides up in the wall out of two, allowing Kvapil to get by! And now the # 43H of Joshua Horniman spins on the frontstretch, bringing the caution out for the third time tonight. Hettinger chooses the outside once more on the restart, with Kvapil taking the risk and picking the bottom. Loden lines up third followed by Crews and Higgins. Hettinger and Kvapil are dead even on the start, as they now make contact coming out of turn two! Kvapil nearly clears, but Hettinger won't give up and stays to the outside. They're still side by side as now Kvapil slides up a bit coming off of two into Hettinger and they make more contact as Hettinger spins in front of the entire field! Multiple drivers are involved, with the # 26 of Dawson Sutton and Loden having to retire early from the event. Both Hettinger and Crews are heavily damaged, but they head down pit road in hopes of finishing the race. Up front, race control has made the decision to put Kvapil in the rear of the field as he's deemed the cause of the crash. Both Crews and Hettinger get their battered machines back out as up front, it'll now be Higgins in the lead followed by Boschele, the # 18 of Chase Burda, the # 6 of Brandon Setzer, and the # 77 of Logan Jones. The green flies and now Hettinger turns into Kvapil's right rear on the restart in retaliation, spinning both machines out as the crowd roars! Hettinger contacts the inside wall while Kvapil grazes the outside. Hettinger takes her machine back down pit road with heavy damage. Kvapil also sustains damage, but it's not enough to end his night as he'll line back up in the rear. In the front, it'll be the same top five as before with the race now being turned on it's head.
Hometown hero Higgins gets a great launch over Boschele as the # 27W of Kris Wright takes fifth from Jones. Hettinger once again limps onto the track, but debris from her machine makes its way onto the surface, causing the caution to fly and Hettinger to be parked. Higgins will once again line up the leader followed by Boschele, Burda, Wright, and Setzer. Higgins gets another great launch, but it's too good as it'll be called back by race control. The second time around is better for Higgins, but Wright will be black flagged for going three wide before crossing the finish line. Wright takes his machine to pit road as Kvapil has somehow broke into the top five, looking to make a move on Setzer. He'll get by as up front, Boschele continues to peek his nose to the inside of Higgins, but Higgins holds the high ground as they race under the white flag. Boschele makes a dive going into three and he wrecks Higgins! Boschele will cross the line first but will be stripped of the victory because of the crash. As he comes onto pit road, both teams engage in a huge altercation with multiple punches thrown. But on track, it's Caden Kvapil who gets by Burda on the last lap for third and takes the victory as the crowd goes wild! Burda will finish second by inches followed by Setzer, Jones, and Crews with a fantastic comeback. WOW!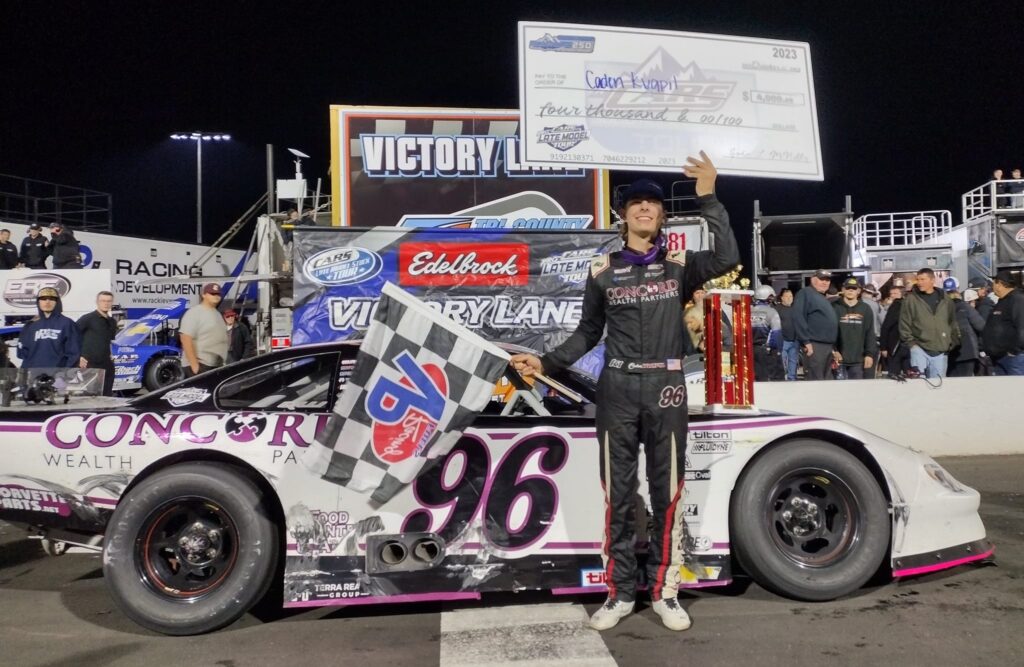 CARS TOUR LATE MODEL STOCK FEATURE
Brenden "Butterbean" Queen in the # 03 locks in yet another 2023 CARS Tour pole award with a lap of 15.301 seconds to grab another two bonus points in the championship chase. The # 43 of 2023 ARCA Menards Series East champion William Sawalich will start alongside Queen followed by the # 23 of Kade Brown, # 77 Connor Hall, and the # 08 of Deac McCaskill. Willard looks over the fantastic 29 car field, approves what he sees, and the green waves! Queen clears early as Hall will take away third from Brown. Now Stephen Nasse in the # 51N gets by McCaskill for fifth and challenges Brown, but the caution will wave as the # 09 of Riley Gentry has slowed coming out of turn two. He's able to bring it down pit road as after the choose, Queen will continue to lead followed by Sawalich, Hall, Brown, and Nasse. Queen and Sawalich stay side by side for a lap, but now there's more trouble as Cameron Bolin in the # 67 spins in turn four, but luckily gets it back going without issue. The lineup stays the same as Queen gets a much better launch this time around. The field stays side by side behind him as Hall and Brown fight hard for third. Just when it seems that Hall has Brown cleared, Brown comes right back on Hall's inside. Neither one will give up as it's an amazing battle that rages for nearly fifteen laps before Hall finally clears. Now Brown is challenged by Nasse, but Nasse himself is under fire from defending winner McCaskill as Tri-County is producing amazing racing early in this one. McCaskill gets around by inches as Queen pulls away. In the middle of the pack, Mason Diaz in the # 24 is making his way through the hornet's nest, passing cars on the inside and outside, sometimes three wide as he makes a run through the field. The caution flies on the field for competition purposes, giving the field a much needed breath to break up the wild racing so far. Queen will lead them off on the restart followed by Sawalich, Hall, Brown, and McCaskill. Willard gazes over the field, likes the lineup, and we're green!
Queen gets another perfect restart as Hall now takes second away from Sawalich. Brown looks to the inside of Sawalich, but Sawalich hangs on as Landon Huffman in the # 22 breaks into the top five by McCaskill, who brings Diaz with him in an amazing performance through the field. Brown looks back underneath Sawalich as they stay side by side for multiple laps on end, just as Brown did with Hall earlier. Sawalich clears with Queen continuing to dominate up front. Diaz powers to the inside of Huffman as those two nearly make contact, but Huffman keeps it. Not for long though as Diaz gives him a bit of a shove the second time around and gets by, making his presence known in the top five for the first time all race. The final competition caution flies with forty laps to go, setting up a pivotal restart for the race victory. Queen lines up first followed by Sawalich, Hall, Brown, and Huffman. Sawalich slides up into Queen, but Queen hangs onto the spot as they race furiously behind. But now there's a huge pileup on the frontstretch! The # 2 of Brandon Pierce, # 15C Logan Clark, # 45A Bryce Applegate, # 1 Andrew Grady, # 04 Ronnie Bassett Jr, and Bolin all sustain heavy damage as they all just stacked up and had nowhere to go. The red flag comes out immediately for the extended cleanup, but thankfully everyone is okay. Under the red flag, Hall comes onto pit road and is done for the night due to overheating issues. After everything is said and done, Queen remains your leader followed by Sawalich, Brown, Diaz, and the # 6 of Bobby McCarty.
Sawalich doesn't get a good start and stacks the field up slightly, causing Brown to nearly spin in the melee, but he somehow saves it! Diaz moves all the way up to second now followed by Huffman, McCaskill, and Sawalich. It's a warzone in the middle of the field as drivers such as Lanie Buice in the # 21 and Connor Zilisch in the # 57 are trying to make their way through. Nasse gets by Sawalich for fifth as Diaz tries to catch up to Queen. McCarty looks under Nasse, and those two will now do battle for a handful of laps in a great display of why Tri-County is great. But up front, it's all Queen as he leads all 125 laps and takes the victory. Diaz makes a fantastic charge through the field to finish second followed by Huffman, McCaskill, and Nasse.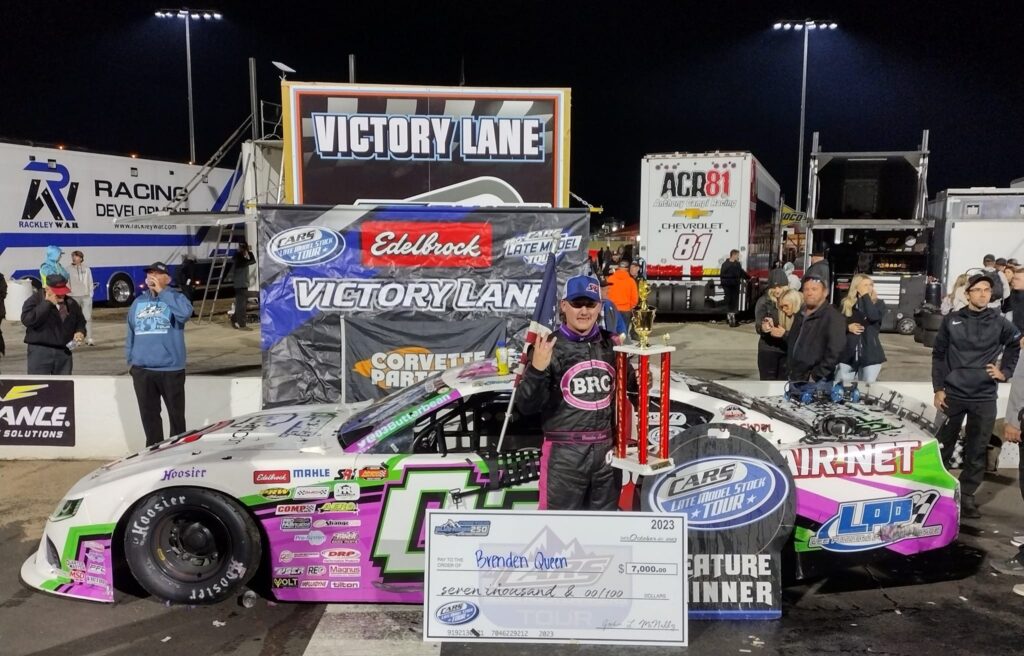 MY TAKE
"Keep a little fire burning, no matter how small, no matter how hidden."

Cormac McCarthy
Cormac McCarthy was an American writer who clearly understood passion as he used it to fuel his career. His quote above is spot on about how you go about finding and keeping success. You have to build a fire and keep it burning. At the same time however, it's got to be a controlled burn. If not, the fire can and will consume you. Every driver that drives themselves to be the best that they can be has to have that fire. But for a better way to put it, if the fire is not completely controlled, you'll end up all lit up.
Tri-County Speedway is a fire stoker. Certain tracks seem to have that ability. Growing up at Bowman Gray Stadium leaves us knowing this all too well. At BGS, it's the tight confines and competitive talent that can over stoke a driver, but at Tri-County it's a multi grooved surface that gives great talent all kinds of options to use the talents they possess. The track challenges a driver with it's speed which puts any driver on the edge. But then in any great and competitive race, it's puts other drivers on your door, or doors in many cases, as no matter how your car is handling, there is a groove on this track that will accommodate it. All of that can and will become elevated on restarts and late race challenges on a track where we've seen three and even four wide racing. And so this past weekend, with only a couple of races left to get a win on the most competitive Late Model tour in the region, the track was lit up by more than just the new Musco Lighting system.
It all began with a mistake really as Caden Kvapil tried to get too much and wheel banged with Katie Hettinger who to that point had dominated the Pro Late Model race. As me and Josh went to break it down, we had our own passionate discussion about it. Passionate may be an understatement here, but what's true is that we saw it differently to say the least. What's also true is that we actually love to have these conversations as we also share our own extreme passions for this sport. In the end however we did come to a single conclusion on this one instance, and that was that it was a racing deal. We know there are those who will see it differently as all fans and participants of this great sport of ours will see things through different lenses. But we saw no intent here. What came after however was clearly intentional. And while it may or may not have been warranted depending on how you see it, Katie Hettinger and her team took the wrong action in how they showed their displeasure as there were many viable options available. Not to say we didn't understand it, in fact I texted Joshua that it was coming. The fire was consuming. Katie was fighting for points as she hadn't conceded the championship fight, but she up to that point had done everything right to achieve her goal that day, and that was to win on a tour that is so hard to get a win on. All of that boiled over and she let her emotions get the best of her.
No matter how you saw it however, emotions were already at a fever pitch when the next fire was lit. Tri-County fan favorite Ashton Higgins took the point with a few laps remaining with Gavan Boschele on his heels. And on the last lap, coming off the last corner, Boschele made contact with Ashton Higgins, sending him into the frontstretch wall and left him with a smoking and heavily damaged machine. The crowd erupted and so did an altercation in the pits between the two teams. The only excuse that Gavan Boschele gave was that he was fighting a tight car during the entire race and that it was unintentional. But when we went to break this one down we were in full agreement. We hadn't seen Gavan Boscele be overly aggressive so we took a good hard look at it. If Boschele was fighting a tight car, he wasn't working to correct it. In fact, on the contact off of the last corner, he hardly turned the wheel at all. In the end, the win was taken away and we know that in this case it was the right call. What happened after the race however was nothing short of unfortunate and should have never happened. That said however, again, we understood it. And so while social media lit up with every opinion you can imagine, after the smoke cleared, we saw it for what it was.
We can't understate the will to win, especially when a lot is on the line. And anytime you compete on the CARS Tour, there's a lot on the line. But if you want to be the best, you have to keep that fire under control. None of what transpired in the Pro race should overshadow what emerged in the Late Model Stock race where Brenden Queen got a bit of redemption at the track where he and the team felt they should have won the Old North State Nationals earlier in the year. They didn't let the loss in that race consume them and instead used the sting of that loss stoke the fire to get the win here they felt they deserved. It drove them to a dominating performance on Saturday night. It was a performance so good we had to start our Short Track Report Blue Collar Racer Of The Week there as Brenden Queen took the pole and the win in dominating style. But as we took a look at every drivers performance, some other names emerged as well. Marlin Yoder achieved a similar goal in the GXS Street Stock feature by also taking the pole and the dominating win, while Caden Kvapil in the Pros came from the rear twice before ending up the surprise victor. Lanie Buice showed some extreme fire as she was in the thick of it all night battling as hard as anyone to achieve a fourteenth place finish in a performance you had to see in order to fully believe.
Staying true to our core intentions for this award however of awarding the driver who worked the hardest at managing adversity while achieving the most gain, we couldn't ignore the performance this week of Mason Diaz and the Chad Bryant Racing team. They didn't get the qualifying effort they might have wanted for sure, but they leaned on the fire and desire from their driver to fight their way forward to cross the line second in a very passionate runner up finish. If you know anything about the competition on the CARS Tour, you have to know how impressive that was, but it's defined the performance from that team and driver all year. Congratulations team! What an impressive run! We can't help but leave Tri-County Speedway looking forward to the tour's season finale in the North South Shootout at Caraway Speedway, and so until next time, keep the fire burning, and we'll See You At The Track!
(Race write up by Joshua Weatherman. Intro and My Take written by Billy Weatherman. 2023 Copyright SHORT TRACK REPORT)
Tags
Alan Rich
,
Andrew Grady
,
Ashton Higgins
,
Blue Collar Racer Of The Week
,
Blue Ridge 250
,
Bobbie Tumbleston III
,
Bobby McCarty
,
Brandon Pierce
,
Brandon Setzer
,
Brandon Willard
,
Brenden Queen
,
Brent Crews
,
Bryce Applegate
,
Caden Kvapil
,
Cameron Bolin
,
CARS Tour
,
Chase Burda
,
Chris Riendeau
,
Connor Hall
,
Connor Zilisch
,
Dawson Sutton
,
Deac McCaskill
,
Gary Ledbetter Jr.
,
Gavan Boschele
,
GXS Street Stock Series
,
Joshua Horniman
,
Kade Brown
,
Katie Hettinger
,
Kris Wright
,
Landon Huffman
,
Lanie Buice
,
Late Model Stocks
,
Logan Clark
,
Logan Jones
,
M51 Designs 51
,
Mark Goin
,
Marlin Yoder
,
Mason Diaz
,
Moonhead
,
Nick Loden
,
Pro Late Models
,
Riley Gentry
,
Ronnie Bassett Jr.
,
Rusty Skewes
,
Stephen Nasse
,
Street Stocks
,
Travis Brown
,
Tri-County Speedway
,
William Sawalich