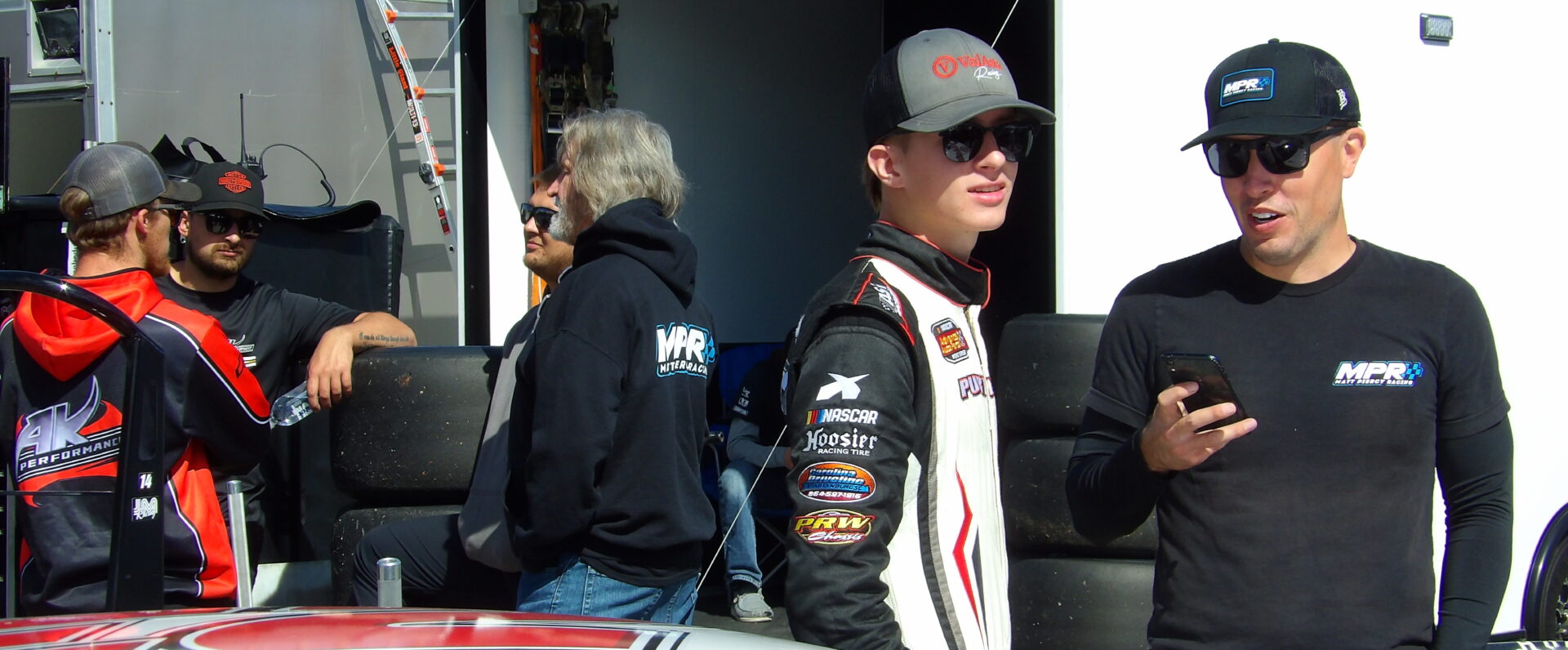 IN A SINGLE MOMENT – 2023 Puryear Tank Lines Orange Blossom Shootout At Orange County Speedway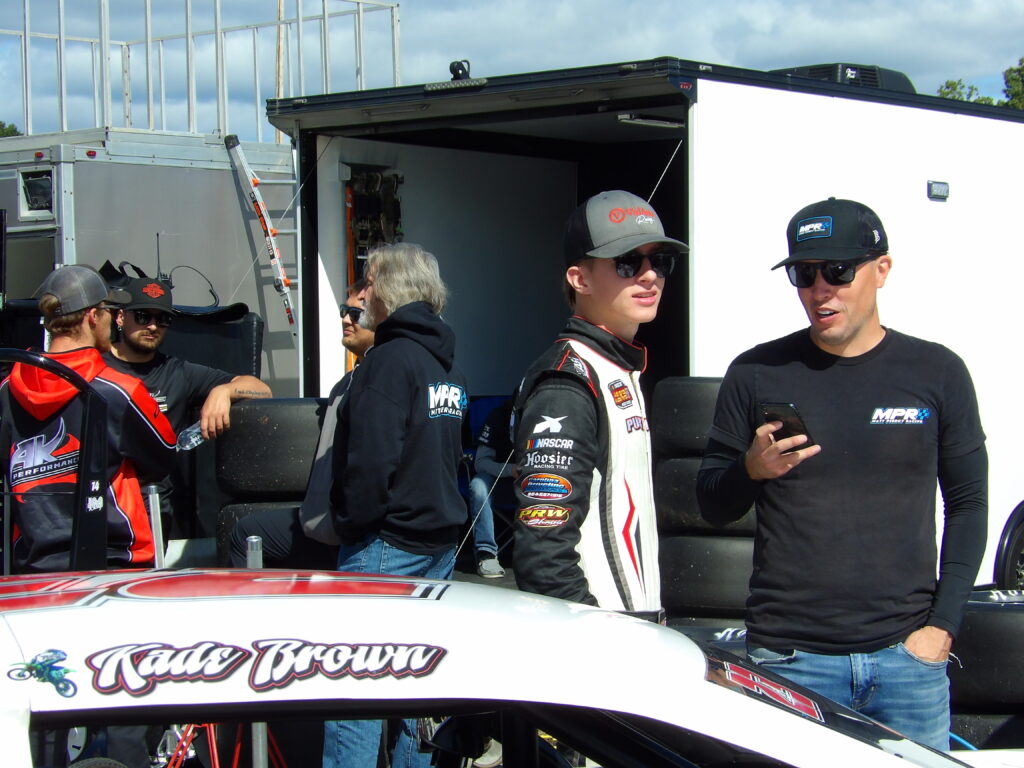 "Life is not measured by the number of breaths we take, but by the moments that take our breath away."

Maya Angelou
Orange County Speedway is a place that's seen it's fair share of great moments. In fact, the award winning track was made for it. Even as far back as the 1960's, some of the very best in stock car racing came to compete here. In the 1980's when it was reconfigured to the 3/8 mile oval you see today, it came to be one of the very first tracks in the region to host live broadcasted NASCAR Busch Series races, and for good reason. Today, it's a track that hosts some of the best side by side Late Model Stock racing in the region, helping to mold the sports future stars, challenging them not only with the speed of the track, due in great part to the nineteen degree turn banking that will literally take a competitor's breath away, but also by the ability to allow multiple grove racing that'll put a competing racer right on your hip for lap after lap until the battle is decided. Truth is that we've seen some epic racing here.
So much so that we marked our calendar early this year to attend the Orange County Speedway Puryear Tank Lines Orange Blossom Shootout to be witness to some of the region's best Late Model Stock drivers and teams go to battle in a game of high speed chess for the $17,500 winners purse, and a chance to add their names to the speedway's coveted winners list. To win this race will take a driver's understanding that every inch of track position matters, and every lap is important. That said, let's take a closer look at this premier short track racing event.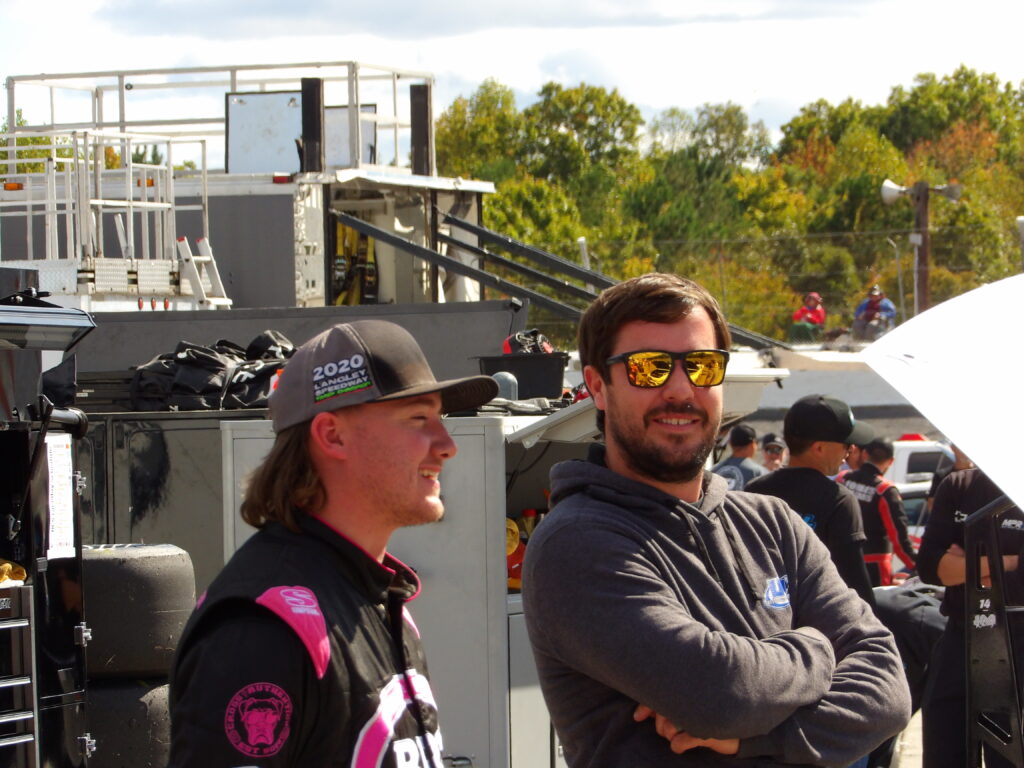 WINSTEAD FARMS PURE STOCK FEATURE
The # 31 of Caleb Sanford starts up front in his R&S Race Cars Pure Stock followed by the # 15 of Thomas Penny, # 77 Zach Reaves, # 9 Steven Layne, and the # 75 of Hunter Durham. Flagman Brandon Willard looks over the competitive field, likes what he sees, and we're green in the Pure Stocks! Sanford jumps out to the lead but the field goes wild behind, fanning out three wide in the process. It doesn't last long though as Durham spins wildly down the backstretch to bring the first caution out. After all is said and done, Sanford lines up first now followed by Penny, Zach Reaves, # 76 Andrew Turner, and Layne. Sanford once again gets a fantastic launch as Scott Phillips in the # 66 gets by Layne. Turner now makes a move on Zach Reaves and Penny, passing both in the process. Phillips moves up to third by Penny as Turner takes hold of the lead. Now it's Layne who's making a late charge as he slides by Phillips for third. Back up front, Sanford gets a run on Turner but gets very loose out of turn four and nearly spins, allowing Turner to pull away slightly. Sanford doesn't stop there though and generates another run, but he isn't as lucky this time as he spins right behind Turner! That brings the caution out, setting up a late race shootout for the victory. Turner starts first ahead of Layne, the # 11 of B.J. Reaves, Zach Reaves, and Penny. Turner stumbles a bit at the line, allowing Layne to get by for the lead! Turner recovers but it's just not enough as Layne, brother of 2023 South Boston Speedway Pure Stock champion Johnny Layne, gets the victory. Turner comes home second in a breakout performance followed by B.J. Reaves, Sanford with a great comeback, and Zach Reaves.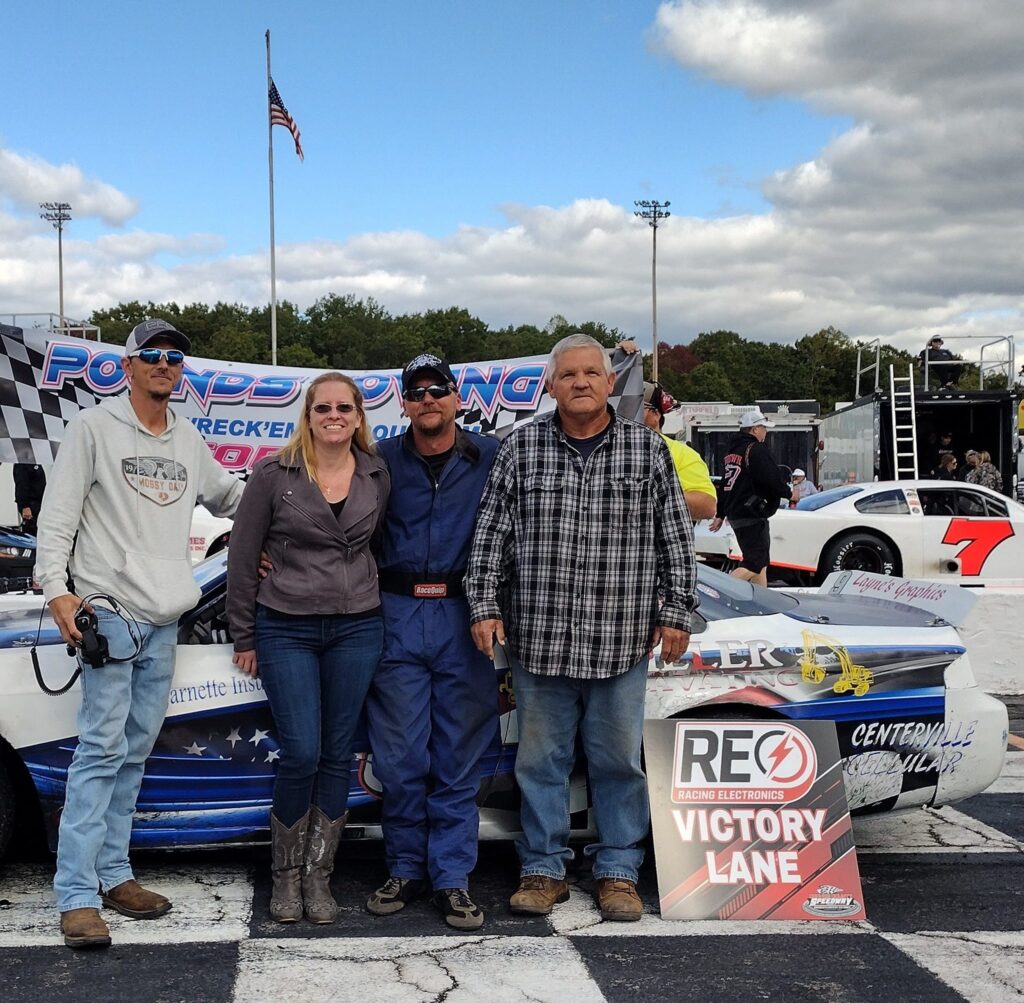 MOD 4 FEATURE
The # 53 of Darrell Haynie notches the pole in the Mod 4's ahead of Harold Sumney Jr in the # 87 and Joseph Kiger in the # 12. Haynie and Sumney Jr sit in a dead heat but Haynie eeks out in front, but now he has a mechanical issue! He comes to a crawl, and now Ashley Adcock in the # 72 along with Kiger and the # 92 of Lane Woods are involved in an absolutely horrifying collision between turns one and two. It's a very lengthy red flag as Adcock is cut out of the car and airlifted to a local hospital. Once we do get lined up for the restart, Sumney Jr retains the spot out front followed by Kevin Jefferys in the # 21 and Aaron Brown in the # 0. Sumney Jr retains the gold spot off of the restart as Jefferys and Brown slot into line. Sumney Jr dominates the race, but is put to the test near the end as here comes Jefferys with a lightning fast race car. He nearly gets to the bumper, but it wasn't meant to be as Harold Sumney Jr adds yet another Orange County Mod 4 victory to his resume. Jefferys comes home second followed by a great run from Aaron Brown in third.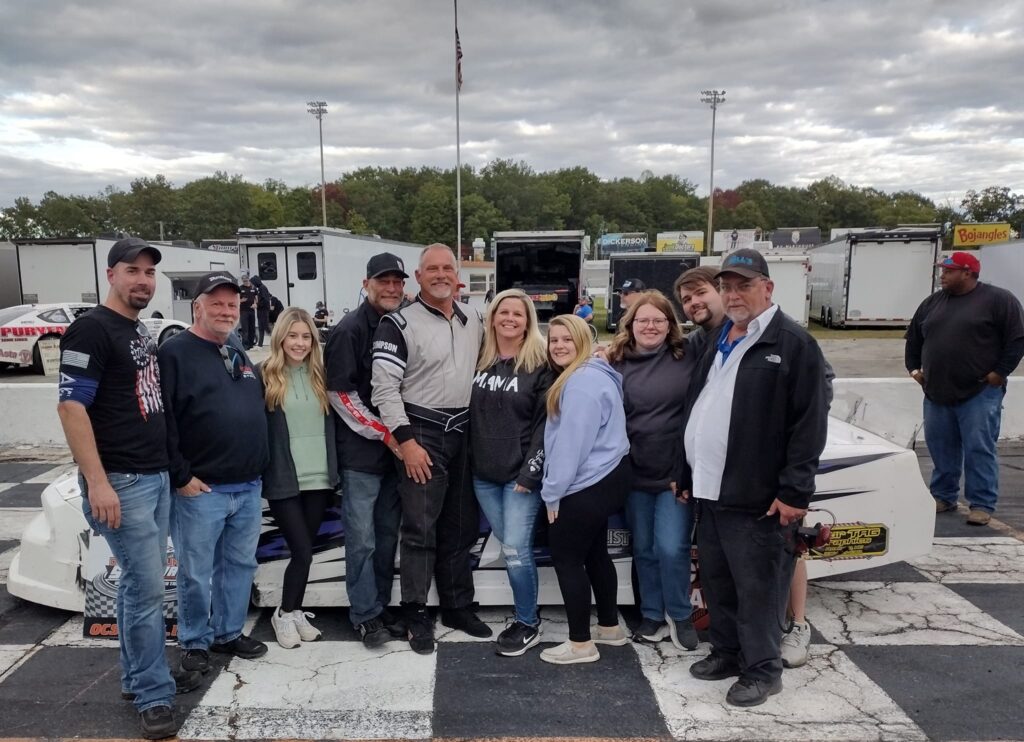 CHOICE AUTOMOTIVE CHARGER FEATURE 1
Leading off the first of twin Charger features will be the # 32 of Austin Purnell. He'll be followed in toe by the # 8 of Tripp Evans and the # 60 of Chance Carpenter. Willard looks them over, approves the formation, and we're green for the always exciting Chargers! Purnell pulls out with ease early as Tyler Kiger in the # 12 muscles past Carpenter for third. The caution flies for the first time early for some big pieces of debris on the backstretch. It's a quick caution though as Purnell continues to lead ahead of Evans and Kiger. Kiger has an issue with his car on the start, slowing tremendously and eventually taking his machine to the pits. That allows Carpenter to retake third as Purnell holds off a short challenge from Evans. It's smooth sailing from there on out for Purnell as the defending division champion takes the win ahead of Evans and Carpenter.
CHOICE AUTOMOTIVE CHARGER FEATURE 2
After the invert, the front row will consist of Joe Lunsford in the # 22 starting alongside the # 5 of Chris Gray. Carpenter will start third as the green waves but there's immediate trouble! Lunsford gets together with Evans, sending Lunsford into the wall hard! That brings another red flag out on the night, but thankfully everyone is okay. Gray now takes over the top spot followed by Purnell and Kiger. Purnell gets the better launch and steals the lead away. Behind, Carpenter retakes third as Kiger falls back a bit. Now Carpenter looks under Gray with the # 27 of Rusty Denny right there as well as all three are under a blanket. It's Denny who eventually takes the second position ahead of Gray and Carpenter after a great battle. But up front, it's Austin Purnell who sweeps the Charger features. Denny bags a second followed by a great run from Gray in third.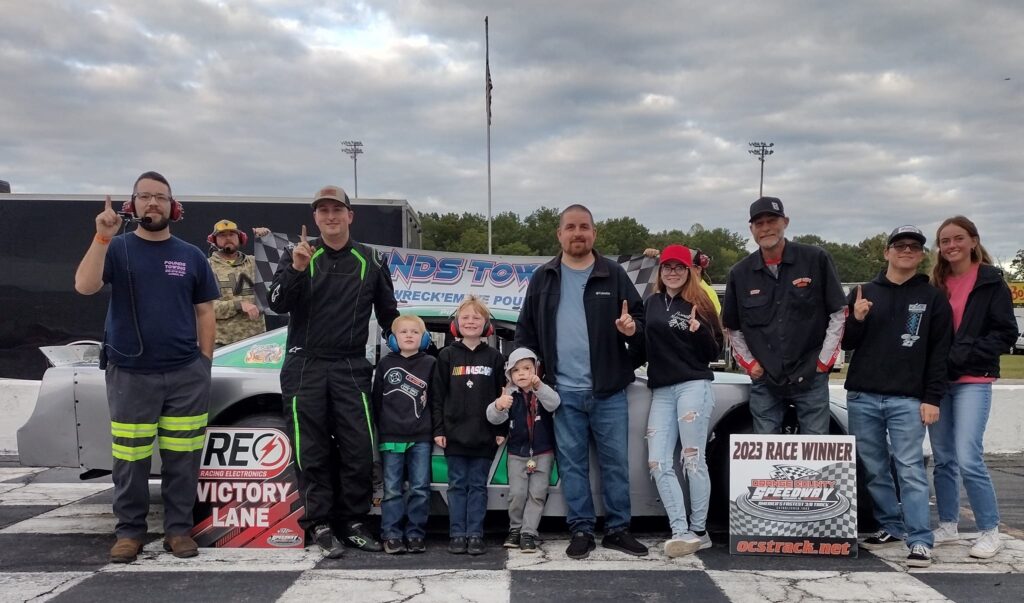 LATE MODEL STOCK ORANGE BLOSSOM SHOOTOUT
Fresh off of a big CARS Tour Late Model Stock victory at South Boston Speedway, Deac McCaskill in the # 08 qualifies on the pole with a lap of 14.145 seconds, a blink and you'll miss it kind of lap. Starting second will be 2023 Hickory Motor Speedway Late Model Stock champion # 23 Kade Brown followed by the # 03 Brenden Queen, # 14 Jared Fryar, and the # 151 of Orange County Speedway regular Grant Davidson. Flagman Brandon Willard gazes over the great field, gives the thumbs up, and we're green for the $17,500 to win Orange Blossom Shootout! McCaskill and Brown are locked in a dead heat but it's McCaskill on the outside who takes control of the race early. Fryar finds his way by Queen as Buddy Isles Jr in the # 11 breaks into the top five by Davidson. They're in a wild pack behind as Queen comes right back on Fryar's back bumper, gets the run, and retakes third as the action is hot and heavy early here in Rougemont. Brown stays right in the tire tracks of McCaskill as the top two encounter lap traffic. The first competition caution flies as no one in the top five decides to pit, putting McCaskill and Brown on the front row. Rounding out the top five will be Queen, Fryar, and Isles Jr in the # 11. McCaskill gets a massive restart as Brown and Queen go at it for second. Brown holds his ground on the inside, but Queen has the preferred line outside and takes away second.
Queen peeks to the inside of McCaskill but can't make anything happen at the moment. Now it's Brown who's breathing down the back of Queen's neck, all while McCaskill makes his lead gap bigger and bigger. Behind, Ronnie Bassett Jr in the # 04 makes his presence known for the first time in the race as he gets by Isles Jr. for fifth. Brown is no longer on the back bumper of Queen as he moves his nose to the # 03's door, makng slight contact, but he can't make it work as Brown gets slightly sideways. The caution flies shortly after as the # 1 of Lee Faulk Racing And Development driver Darren Krantz Jr. goes up in smoke, ending his day early. It's thankfully a quick caution as McCaskill continues to lead followed by Queen, Brown, Fryar, and Bassett Jr in the # 04. McCaskill once again clears with ease as Queen and Brown engage in a fantastic battle for second. Despite Brown's best efforts, Queen hangs on. Bassett Jr moves up to fourth by Fryar as McCaskill nears lap traffic. But the final competition caution breaks that up on lap eighty. Everybody comes into pit road with the exception of the # 7M of Tristan McKee who will restart in first followed by McCaskill, Queen, Bassett Jr, and Brown. Willard eyes the field, likes the lineup, and we're green to settle the Orange Blossom Shootout!
McKee gives McCaskill all he has, but McCaskill is just too good and retakes the top spot. Bassett Jr makes his way by Queen and brings Brown and Fryar with him, sending Queen to sixth. It doesn't take long for Queen to find his rhythm though as he disposes of Fryar for fifth. Brown now muscles his way by Bassett Jr and sets his sights on McKee. Before you know it, he's by McKee in pursuit of Brown. And Bassett Jr's in trouble! He slows on the backstretch, bringing the caution out. McCaskill still leads followed by Brown, Queen, McKee, and Fryar. McCaskill gets a monster restart as he looks to walk away from the field. Brown's car begins to come to him though as he looks to the inside of McCaskill multiple times, but he still can't make it happen when McCaskill is on the outside. Brown searches everywhere on the bottom, and now he's there! Brown and McCaskill are dead even as the crowd comes up on their feet! McCaskill breaks away for a split second, but Brown fights right back as the two begin to battle through lap traffic. It's the same song and dance as they reach the white flag! They get even closer, almost to the point of banging doors. They're dead even heading out of turn four as they cross the line side by side with McCaskill nearly riding the wall, losing by inches to Brown! What a finish! Queen takes third followed by a great strategy call that puts McKee in fourth followed by Fryar in fifth.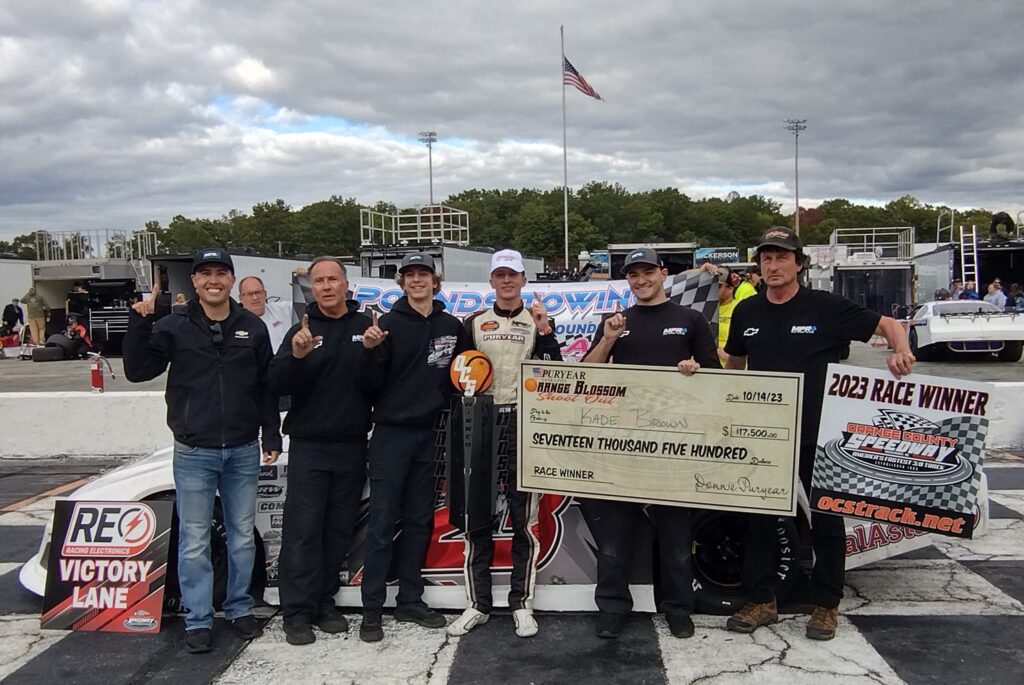 MY TAKE
The 2023 Orange County Speedway Puryear Tank Lines Orange Blossom Shootout had some big moments that will be remembered for a good while to come. Steven Layne winning the Pure Stock feature, Harold Sumney Jr. taking the Mod 4 win, and Austin Purnell sweeping the twin Charger events were outstanding moments for sure. But this year's Shootout had two moments that truly took my breath. They were both emotional rollercoasters for a lack of a better term, but both for entirely different reasons. Proving that life is a series of events that all come down to a single moment where everything changes.
If you follow our social media, you may have seen a post about a horrific crash involving Joseph Kiger, Lane Woods, and Ashley Adcock. Kiger and Woods both sustained damage that ended their night, but it was much worse for Ashley. She was trapped in her car prompting the track's rescue crew to use the Jaws Of Life to free her from the car, where then she was worked on while being taken outside the track by paramedics, and then airlifted to a regional hospital to deal with her injuries. She was awake and alert throughout however, and the update we've received from her family states she is now stable and recovering from her injuries. That's the great news we were hoping for, but at the moment, at the track, hearing the rescuers having to employ the Jaws Of Life to free her will stick with me and many other fans for some time to come. We had no way to know the extent of her injuries but we were all fully engulfed in our wishes and hopes for her well being. It was a reminder too. A reminder of the risk every driver takes when they step into a race car. A reminder of how far the sport has come in safety, but how quick that can all be tested. It was a reminder that it pays to have the best safety equipment you can manage and then hone the skills on how to use it all to it's fullest extent. And, it was a reminder that anything can happen at any time. Moments are precious and you have to make the most of every one given. Fortunately Ashley will recover but she will still need your prayers and well wishes as she starts on the long road of recovery.
On a much better note however, the event was also defined by a moment of breathtaking racing involving one of our favorite scenarios. The seasoned veteran versus the young talented up and comer. It's a moment that can and will go a long way to define a driver working his way up the ladder. How you handle that moment will define you as a driver. Deac McCaskill as I recently pointed out deserves a great deal of respect for how races his competition. But in a world of rising talent, truth be told, you never quite know if respect is what you're going to get. Deac took the pole and led most every lap of this event. That's not so surprising, especially coming off of his CARS Tour win at South Boston Speedway, holding off one of the very best in Layne Riggs. But behind him was a driver fighting for the space behind McCaskill for a chance to challenge him down the stretch. I watched him battle for that position during the entire race against Jared Fryar and Brenden Queen most notably. One thing was very clear watching those battles. The # 23 was going to get to the bumper of the # 08 machine. Nothing was set in stone after that.
The 2022 Florence Motor Speedway Late Model Stock Champion and the 2023 Hickory Motor Speedway Late Model Stock Champion is just that, a proven champion in his own right. Needless to say he is also a proven winner. He's been in big races. But besides those championships, he's also been running races on the CARS Tour where the best in the business come to do battle. And for those paying attention, he's proved that he belongs there, racing against the best Late Model Stock drivers in the country. But catching Deac McCaskill at his best is one thing, but passing him? Well, that's another story. But Kade Brown has spent the last couple of years writing a pretty significant chapter in his own story, and this past weekend, he added quite the punctuation mark. He battled all day to get there and he spent the closing laps trying to get under one of the best Late Model Stock drivers in the country. On the last corner he was there and managed to drag race Deac McCaskill down the frontstretch to nose ahead for the last lap win. AND, he never put a fender on McCaskill to do it. It helped that McCaskill found himself in the wall coming down to the line, but it wasn't from contact from Brown, it was because as he said, "I had to send it." Kade Brown will remember this win through the years because he knows who he beat and how he did it. And it's a moment that we will remember as well as a performance so good it gets Kade Brown and his Matt Piercy Racing team their first Short Track Report Blue Collar Racer Of The Week nod. Congratulations guys on a tremendously hard fought and exciting win, and until next time, See You At The Track!
(Race write up by Joshua Weatherman. Intro and My Take written by Billy Weatherman. 2023 Copyright SHORT TRACK REPORT)
Tags
Aaron Brown
,
Andrew Turner
,
Ashley Adcock
,
Austin Purnell
,
B.J. Reaves
,
Blue Collar Racer Of The Week
,
Brandon Willard
,
Brenden Queen
,
Buddy Isles Jr.
,
Caleb Sanford
,
Chance Carpenter
,
Chargers
,
Chris Gray
,
Darrell Haynie
,
Deac McCaskill
,
Grant Davidson
,
Harold Sumney Jr.
,
Hunter Durham
,
Jared Fryar
,
Joe Lunsford
,
Johnny Layne
,
Joseph Kiger
,
Kade Brown
,
Kevin Jefferys
,
Lane Woods
,
Late Model Stocks
,
Mod 4s
,
Orange Blossom Shootout
,
Orange County Speedway
,
Pure Stocks
,
R&S Race Cars
,
Ronnie Bassett Jr.
,
Rusty Denny
,
Scott Phillips
,
Steven Layne
,
Thomas Penny
,
Tripp Evans
,
Tristan McKee
,
Tyler Kiger
,
Zach Reaves