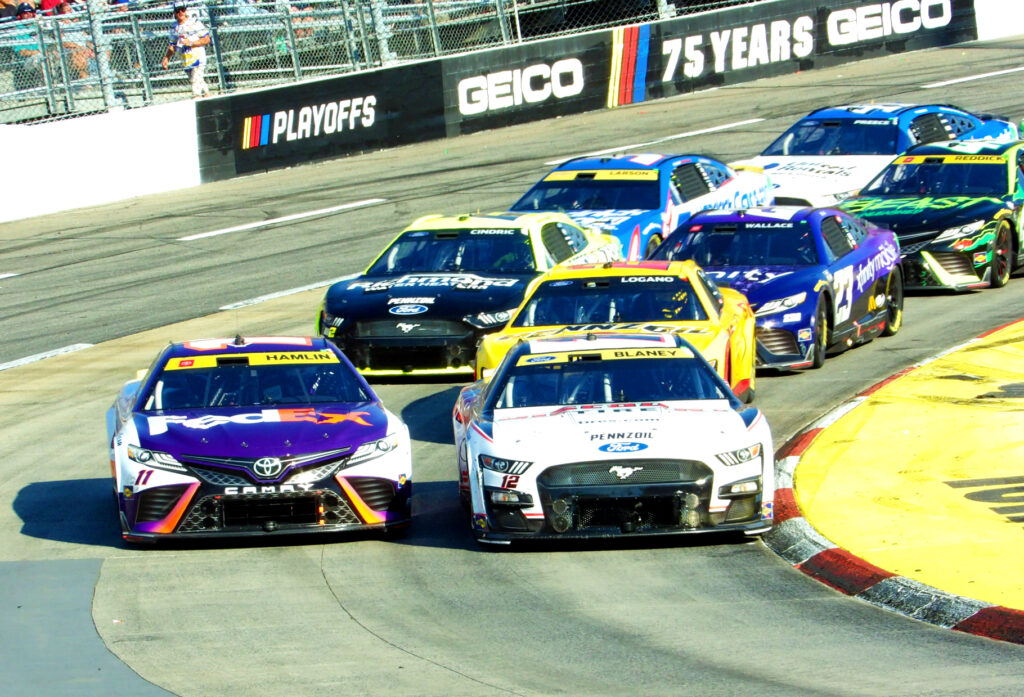 The importance of this weekend's racing at Martinsville Speedway shouldn't be understated. First and foremost, it's the last short track race of the 75th Anniversary year for NASCAR. And how fitting is it that on the weekend of the 150th Cup race at the short track that was there from the very beginning of NASCAR itself, that NASCAR's oldest track was also the setting for the 2023 Playoff cutoff race that sets the four contenders for both the Xfinity and Cup Series as well as the Whelen Modified Tour season finale that decided that tour's 2023 champion. In more ways than one, stock car history was going to be made off of the history that has already been written. In short, a lot of people didn't even realize the significance of this weekend, not only for Martinsville Speedway, but for NASCAR itself. But for true short track racing fans, this weekend's NASCAR event was truly a big deal. It's important that as the sport of stock car racing sets into the new era, that it remembers it's past. Foundations are important as without them, everything you built can come crumbling down amidst the first big storm. NASCAR hasn't made 75 years by being built on a weak foundational base, and that base was laid on short track racing. And today, even as the 'big' show has moved to the superspeedways, the majorities of the heroes and superstars of the sport still come from the same place they always have. They are molded from their youth on the short tracks of America. And so without further delay, let's take a closer look at all the action from this weekend at 'The Short Track', Martinsville Speedway.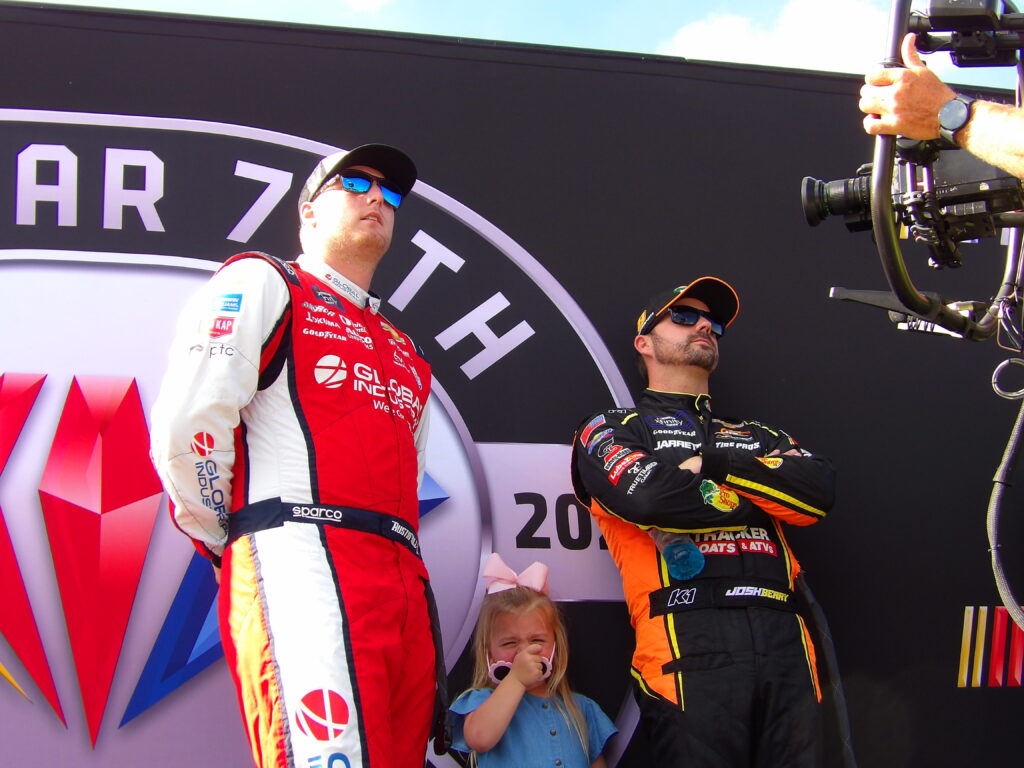 NASCAR WHELEN MODIFIED TOUR VIRGINIA IS FOR RACING LOVERS 200
Tyler Rypkema in the # 32 picks up his second career pole with a time of 18.653 seconds, with NASCAR Cup driver Ryan Preece in the # 40 starting second followed by # 07 Patrick Emerling, # 58 Eric Goodale, and the # 60 of Matt Hirschman. The race gets off to a tumultuous start as multiple cars pile up on the frontstraight before a lap is completed. Preece soon takes the lead and paces the field for 49 laps while second place points runner Justin Bonsignore in the # 51 makes his way through the field while points leader Ron Silk in the # 16 tries to remain steady, needing to finish just eighth or better to clinch the title. He soon runs into trouble though as the # 3 of Bryan Narducci and the # 22 of Kyle Bonsignore crash hard on the backstretch, clipping Silk in the process. Silk drives away with minimal damage as a new leader has emerged in Patrick Emerling. Emerling fights hard up front, but just can't hold off Preece with Preece grabbing his second Martinsville Grandfather Clock. Bonsignore comes home in second followed by Emerling, Hirschman, and Rypkema. And by virtue of finishing sixth, Ron Silk captures his second NASCAR Whelen Modified Tour championship.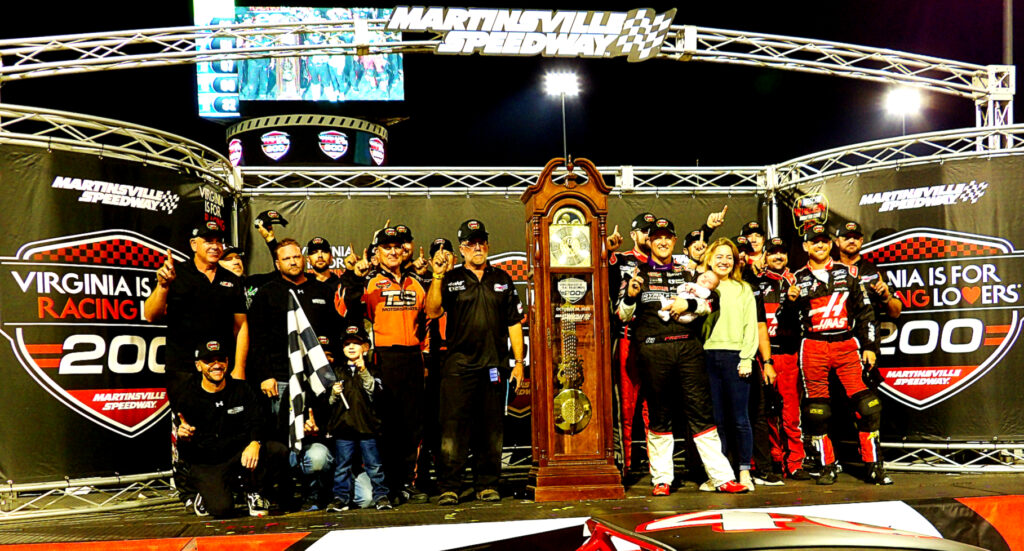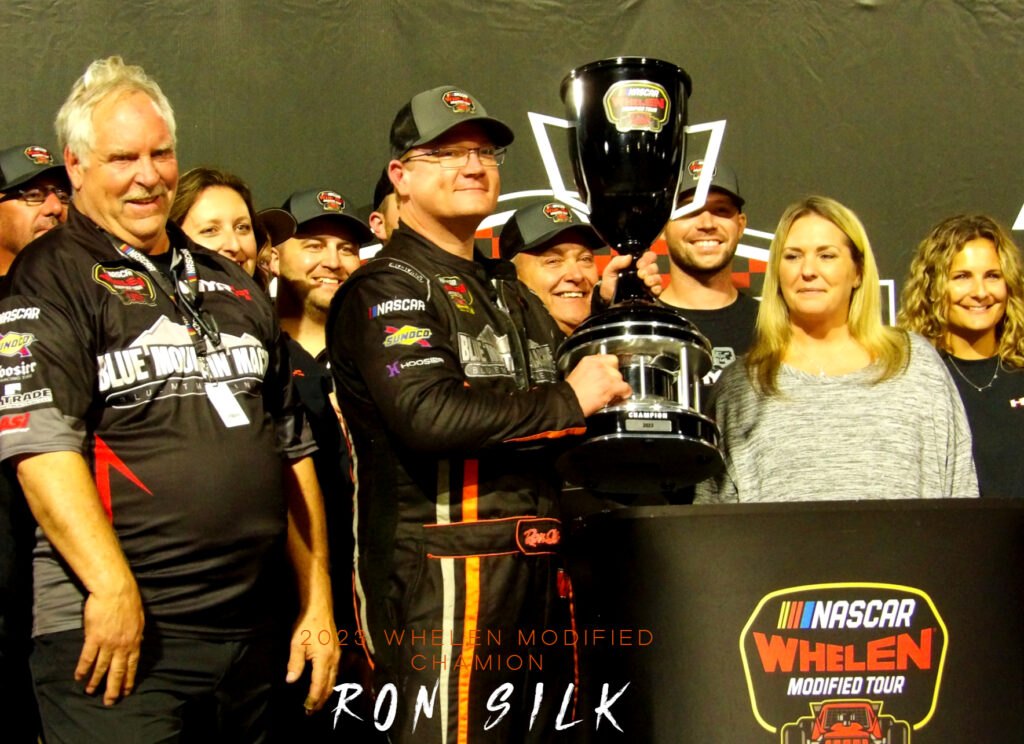 NASCAR XFINITY SERIES DEAD ON TOOLS 250
Laying down a lap of 20.035 seconds, former Super Late Model contender Sammy Smith in the # 18 grabs his first career Xfinity Series pole. Rolling off in second will be Justin Allgaier in the # 7, followed by # 00 Cole Custer, # 98 Riley Herbst, and the # 20 of John Hunter Nemechek. Smith breaks away with a huge lead to start, but the Stage One victory is secured by Allgaier, racking up valuable points for the title chase. Stage Two is highlighted by an incident with Cole Custer and Layne Riggs in the # 11, but the real superstar is Sammy Smith, who takes the Stage victory in his bid for a championship. In Stage Three, chaos would break loose as numerous cautions slowed the action, with Playoff contender Chandler Smith in the # 16 retiring due to crash damage. The top two would see Richard Childress Racing teammates Austin Hill in the # 21 and Sheldon Creed in the # 2. After a pileup on the backstretch brings out a red flag, the Playoff fates of both would be settled in Overtime. Both teammates make contact, with Creed gaining the upper hand going into turn three. But a major stackup occurs, causing a huge pileup to take place behind and an eager Allgaier to sneak underneath Creed and grab the win in a photo finish, with Sammy Smith third, Herbst fourth, and the # 8 of Josh Berry fifth. Allgaier, along with JR Motorsports teammate Sam Mayer in the # 1 make the Final Four along with Nemechek and Custer, who came across the line ablaze under the checkered. As for Creed, Hill, Chandler Smith, and Sammy Smith, their Playoffs are done. Honestly one of, if the not the craziest Martinsville race we've ever seen.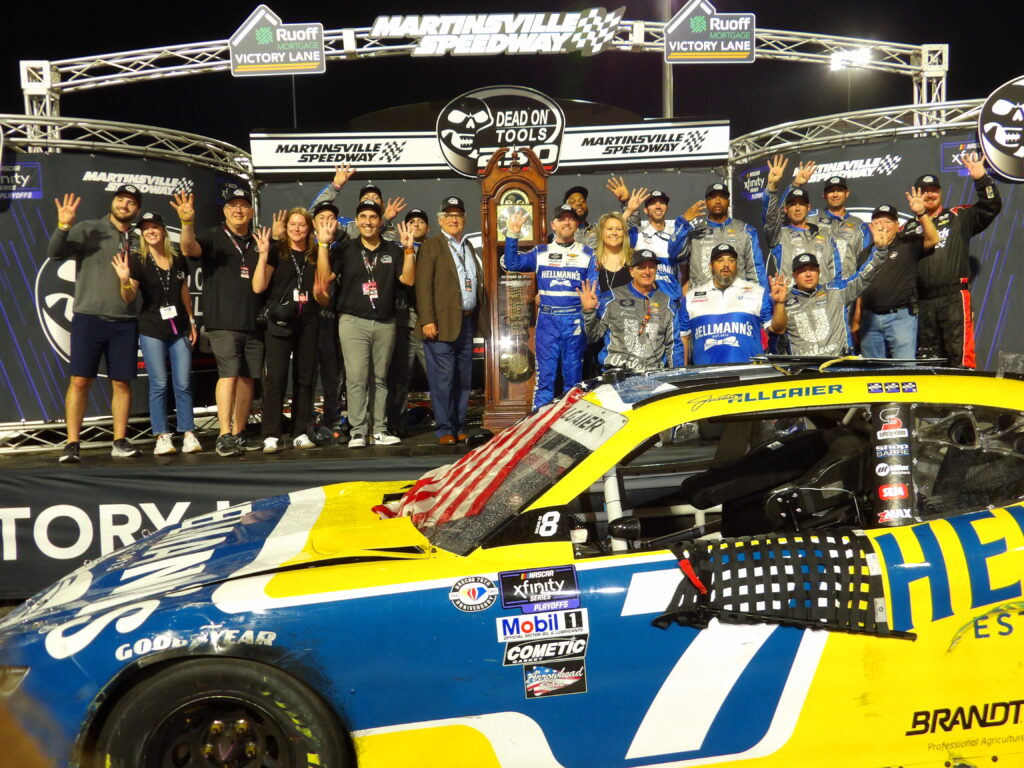 NASCAR CUP SERIES XFINITY 500
Looking for his second Cup Series title, Martin Truex Jr in the # 19 captures the pole with a time of 20.112 seconds. Starting in second will be Joe Gibbs Racing teammate Ty Gibbs in the # 54 followed by # 14 Chase Briscoe, # 11 Denny Hamlin, and the # 5 of Kyle Larson. Showing his strength early is Hamlin in the # 11, but on his heels is fellow Playoff driver Ryan Blaney in the # 12. The two narrowly avoid disaster early as the # 21 of Harrison Burton gets together with the # 48 of Alex Bowman, setting off a multi-car pileup out of turn two. Hamlin takes Stage One, but Blaney's car keeps getting better, giving him the lead early in Stage Two. Christopher Bell in the # 20 and Ryan Newman in the # 51 get together, sending Newman around. That sets up a hot and heavy battle between Blaney and Hamlin for the Stage victory, with Blaney taking it in the end. The beginning of Stage Three begins to mirror the Xfinity race, with a cavalcade of yellows slowing the race. Two of the aforementioned cautions involve Gibbs, with him being on the receiving end of two spins, one from the # 22 of Joey Logano and the other from the # 42 of Carson Hocevar. Up front, Hamlin is giving Blaney all he can handle, nearly spinning him at one point. Playing strategy, the final green flag run of 168 laps sees Chase Elliott in the # 9 and Aric Almirola in the # 10 leading laps, with Almirola closing in on a Grandfather Clock late. But the Team Penske # 12 of Ryan Blaney is just too strong as he punches his ticket to the championship race at Phoenix along with Larson, Bell, and the # 24 of William Byron, who barely makes it in after an uncharacteristic run, barely beating out both Hamlin and Truex Jr, along with # 45 Tyler Reddick and the # 17 of Chris Buescher. Almirola comes home second followed by Hamlin, Briscoe, and Logano.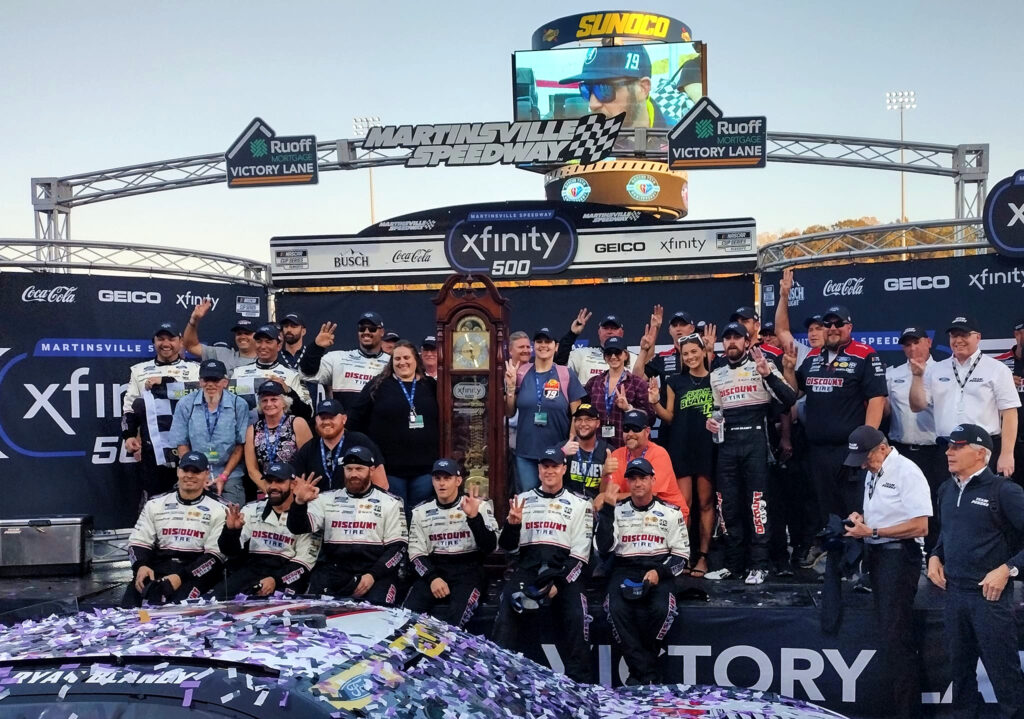 MY TAKE
As expected, there's a lot to unpack here. So let's tackle it head on with an incident that lit the social media world up on Saturday night. We heard the question all week heading into Martinsville. What would you do to secure a Championship Four berth giving you a shot at the 2023 title. Well, for Sheldon Creed, it was whatever it took, including roughing up a teammate. Seeing his chance just within reach, he made contact with leader Austin Hill that ultimately saw them both eliminated as Justin Allgaier took advantage and dove underneath Creed for the win that put him in the Championship Four. As it happens, every fan will see this differently and with biased lenses. Austin Hill fans will see it as egregious and Sheldon Creed fans will see it as doing what you need to do. The Richard Childress Racing team saw it through red eyes and you can't blame them for being upset with any shot at this year's Xfinity Series championship thrown right out the window. In actuality, this was foretold by Darrell Waltrip at the very beginning of teammate racing back in the 1980's when he protested teammate Neil Bonnett's win at Nashville Fairgrounds, or even closer to home when Dale Earnhardt complained to crew chief Larry McReynolds about even riding on the plane with Mike Skinner. Truth is, when it comes down to it, there are teammates and friends going into a race, but when the helmet straps on, there are no friends on the track. That's just a fact in this sport.
Talking about just within reach, that's just what Ron Silk managed to do with Justin Bonsignore to take this year's 2023 Whelen Modified Tour Championship, but he had to battle every step of the way to do it. We can't understate that as several times it looked like Silk was going to meet his end in the race, but somehow he was able finally finish sixth and seal the deal as Bonsignore fought to secure the win only to fall short of an emotionally driven Ryan Preece who was determined to find his way to victory in the formerly owned by Eddie Partridge # 40 machine. Denny Hamlin and Martin Truex Jr saw themselves just within reach of the Championship Four, only to see it all slip away as Ryan Blaney locked into his first championship shot with a win, and William Byron taking himself to the limit physically to finish 1thirteenth, just enough to go to Phoenix with a chance for the Cup title. To note, Ryan Blaney's win also makes this the youngest Cup Championship Four with Christopher Bell, William Byron, and Kyle Larson all just within reach of the 2023 championship. On the Xfinity Series side, Justin Allgaier, Sam Mayer, John Hunter Nemechek, and Cole Custer are just within reach of what will be their first championship in the series to whoever can finish ahead of the others.
Yeah, a lot happened this weekend at 'The Short Track' for NASCAR just as we expected. Martinsville has earned that moniker as the oldest track on the circuit. And even though it's the shortest points-paying track for NASCAR's premier series at just .526 miles, it's still one of the toughest and a true example of why we love short track racing. That's also why it was important for us to be here this weekend. You see we are still keeping our eyes on the performance of the Next Gen on tracks that represent the core of the sport. And though this week it still didn't quite perform as well as we know it needs to, we see NASCAR working on it diligently. And truth be told, we saw progress. It's important that this car runs well on the series' short tracks, and let's not hide it and say it hasn't been a struggle. We asked Ryan Blaney after the race if the new tire change made a difference, and to sum it up he said he doesn't really know. He chalked the better racing this weekend up to the heat and he may be right. But most importantly, again, we saw that it was important to NASCAR that the short track racing improves, and we'll take that.
On a week like this, our Short Track Report Blue Collar Racer Of The Week choice was amazingly tough. It was a weekend of hard driving by drivers that have made a name of doing just that. We could talk about Bonsignore and Silk's battle for the championship, and either one of them had a case for it. We could talk about Justin Allgaier fighting to put himself in position for the win and then executing his plan for the last restart that earned him the win. We could talk about Ryan Blaney's race that also gave him a win that earned his way to a championship shot along with William Byron who fought so hard he nearly collapsed from exhaustion as he exited his car after a bid that locked him in as well. But in the end, we find it both fitting and ironic that the nod goes to a short track competitor and former two time winner of the award, Layne Riggs. And despite what we know some would like to believe, there was absolutely no bias in this choice. And after this summery, you'll know why and how he won this week's award.
Starting just nineteenth in the Xfinity Series field, the race got off to a rocky start as he was given a penalty for driving through too many pit boxes. He soon found himself in the rear on a later restart after being contacted by Cole Custer who was battling for a playoff spot, and garnering another pit road penalty, this time for speeding. But after some pit strategy, Riggs found himself in the lead for a restart after a stage ending. On old tires however, he held bay up front for a number of laps before his car fell off and he was again spun around, this time by Sam Mayer, bringing out another caution. Starting to make up some ground however, he then got caught up in yet another caution during a late race melee, making contact with Myatt Snider and suffering considerable damage. Under caution, he would rack up another penalty, this time for pitting before pit road was open. But during the final few laps, through all of that adversity, Layne Riggs was once again charging through the pack. Coming down to the line on the last lap, Riggs was caught in the huge ending pileup, but improbably, Riggs would cross the line in eleventh, earning him his third Blue Collar Racer Of The Week award. Congratulations team! No one can say you didn't earn this one! And there you have it. What an amazing week of short track racing! And as always, until next time, See You At The Track!
(Race write up by Joshua Weatherman. Intro and My Take written by Billy Weatherman. 2023 Copyright SHORT TRACK REPORT)
Tags
Alex Bowman
,
Aric Almirola
,
Austin Hill
,
Blue Collar Racer Of The Week
,
Bryan Narducci
,
Carson Hocevar
,
Chandler Smith
,
Chase Briscoe
,
Chase Elliott
,
Chris Buescher
,
Christopher Bell
,
Cole Custer
,
Dead On Tools 250
,
Denny Hamlin
,
Eric Goodale
,
Grandfather Clock
,
Harrison Burton
,
Joe Gibbs Racing
,
Joey Logano
,
John Hunter Nemechek
,
Josh Berry
,
JR Motorsports
,
Justin Allgaier
,
Justin Bonsignore
,
Kyle Bonsignore
,
Kyle Larson
,
Layne Riggs
,
Martin Truex Jr.
,
Martinsville Speedway
,
Matt Hirschman
,
NASCAR
,
NASCAR Cup Series
,
NASCAR Whelen Modified Tour
,
NASCAR Xfinity Series
,
Patrick Emerling
,
Richard Childress Racing
,
Riley Herbst
,
Ron Silk
,
Ryan Blaney
,
Ryan Newman
,
Ryan Preece
,
Sam Mayer
,
Sammy Smith
,
Sheldon Creed
,
Team Penske
,
Ty Gibbs
,
Tyler Reddick
,
Tyler Rypkema
,
Virginia Is For Racing Lovers 200
,
William Byron
,
Xfinity 500