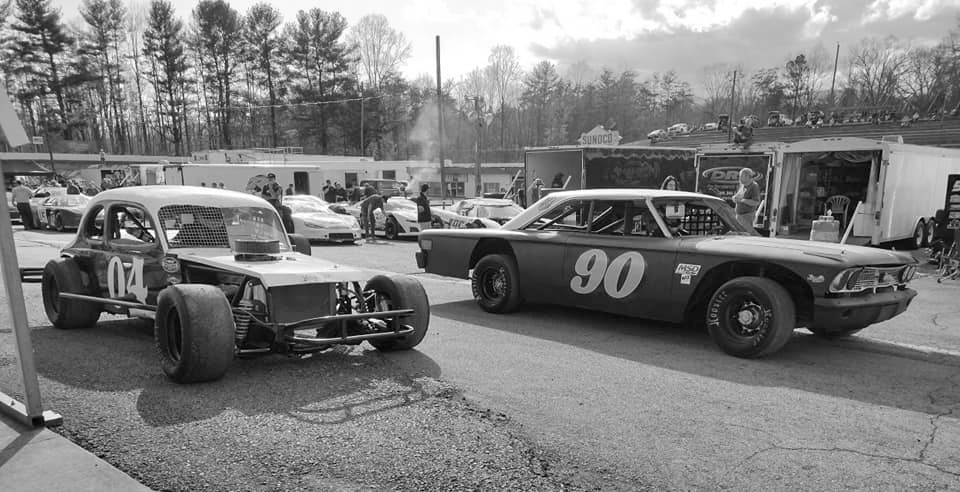 HISTORY RESTS ON THE BRIDGE OF TRADITION – CAROLINA PRO LATE MODEL SERIES AT FRANKLIN COUNTY SPEEDWAY 2022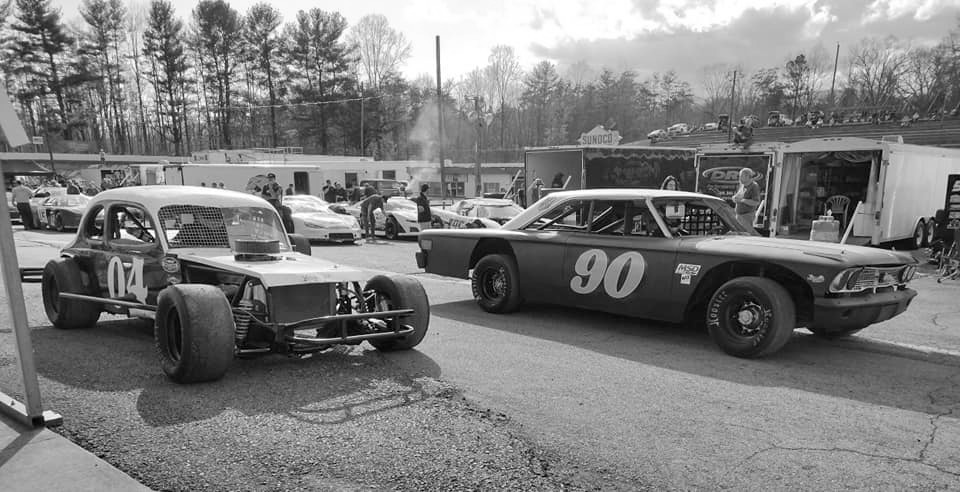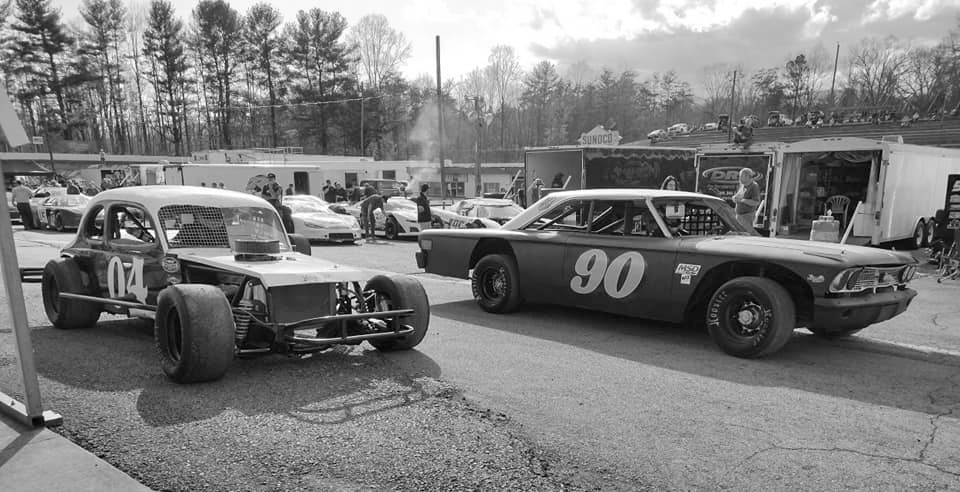 It takes an endless amount of history to make even a little tradition

Henry James
This week, we headed out to Callaway, Virginia for round two of the Carolina Pro Late Model Series and opening night for one of our favorite tracks, Franklin County Speedway. A trip to this track is always an adventure, and one that never disappoints or one that you can ever fully predict. One thing you can be sure of though is that as a race fan, Franklin County Speedway is always entertaining, and is a track that always provides for great racing action. It's a track steeped in history and tradition, and this Saturday was no different, so let's get down to the speedway for a rundown of all the days action.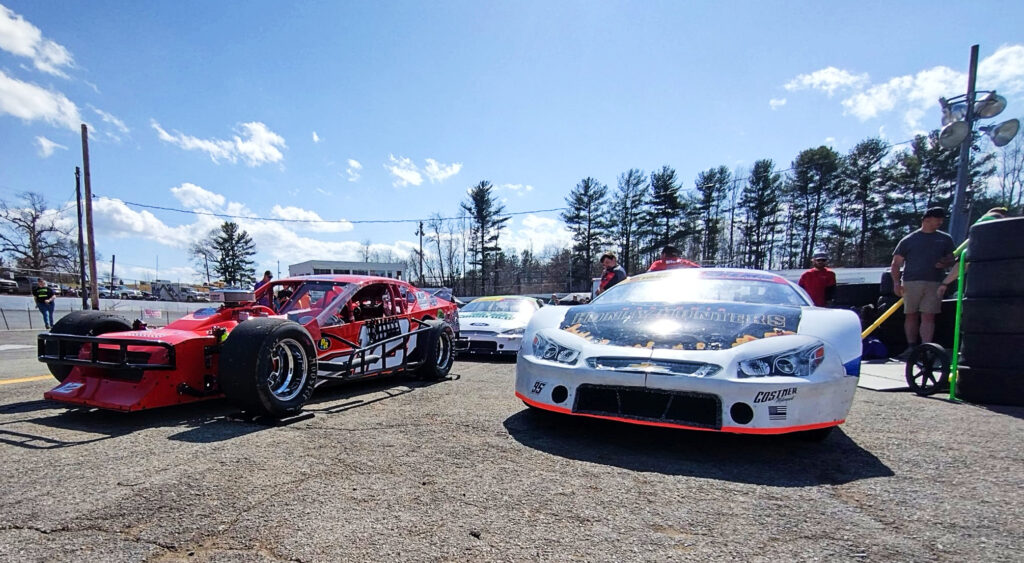 Stock 6/Bootlegger Feature
Due to a number of competitors still getting their rides ready, the car counts for the inaugural Franklin County Stock 6 and Bootleggers events are sadly inadequate. So owner/promoter Langley Austin has decided to combine the two divisions today. The # 469 of Stock 6 competitor Joey Scott has a hard time keeping the lead against the # 4 of Jeff Inman, but ultimately gets it done today for the Stock 6 win, as the # 1 Bootlegger of Lowe Smith makes it look easy and takes the Bootlegger victory.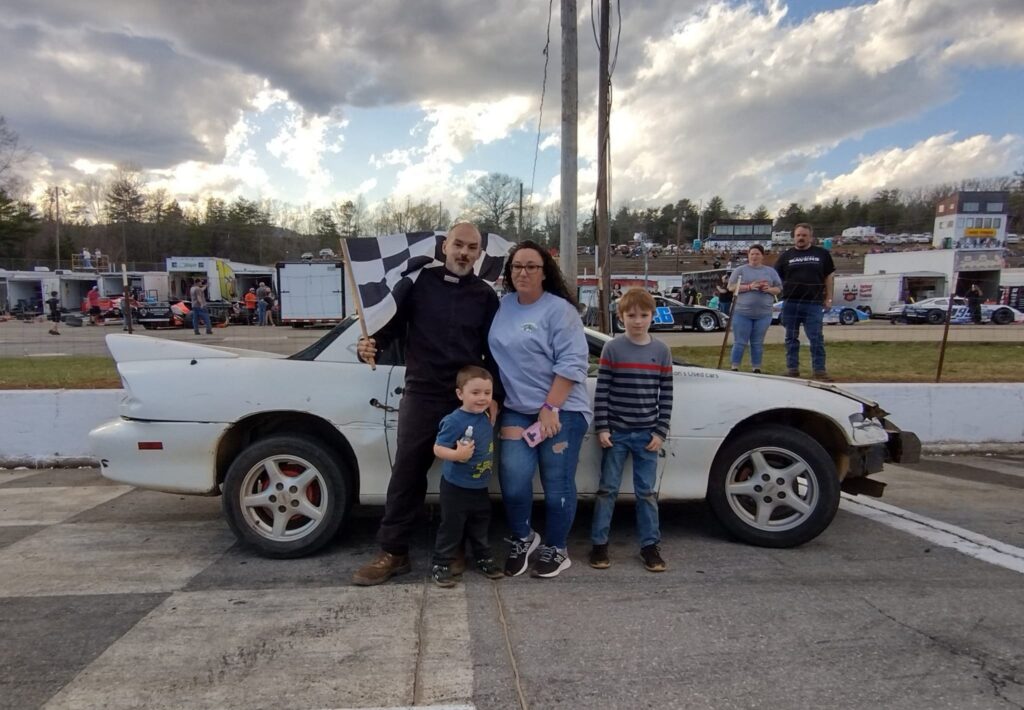 Stock 4 Feature
The # 33 of Austin Guilliams starts on pole for this one with the # 13 of Christopher Meeks starting second. Flagman Dennis Hall looks over the great field of racers, likes what he sees, and we're green. Meeks immediately is in attack mode and takes the lead from Guilliams on the outside. But the caution is out quickly as the # 47 of Rob Hitt spins on the backstraight and kisses the inside wall. For the restart, it will be Meeks and Guilliams on the front row. The green is back out and Guilliams seems to have a problem and can't get going. This causes mayhem for the rest of the field as Meeks starts to pull away. Defending division champion # 66 Darrell Chrisley now finds himself in second as the field starts to calm.
Behind the leaders, it's the # 28 of Will Stevens that finds himself in third, also closing in. But his progress will be stopped as the caution comes out yet again as the # 421 of Lizzy Aqualina spins in turn 2 and gets nailed by Guilliams. This'll give Chrisley and Stevens the chance they needed to get by Meeks. But Chrisley has a problem under caution and will have to drop to the rear for the restart. This gives Stevens second as the green is back out again. Meeks gets an incredible start as Stevens is now under attack from the # 7 of Keyshaun Claytor. Claytor gets by as the field goes crazy behind. Meeks is able to get to the finish line first as Stevens crashes on the backstraight. Claytor comes home second, Chrisley with an amazing charge back up to third, Hitt out of nowhere in fourth, and the # 12 of Cameron Fisher in fifth.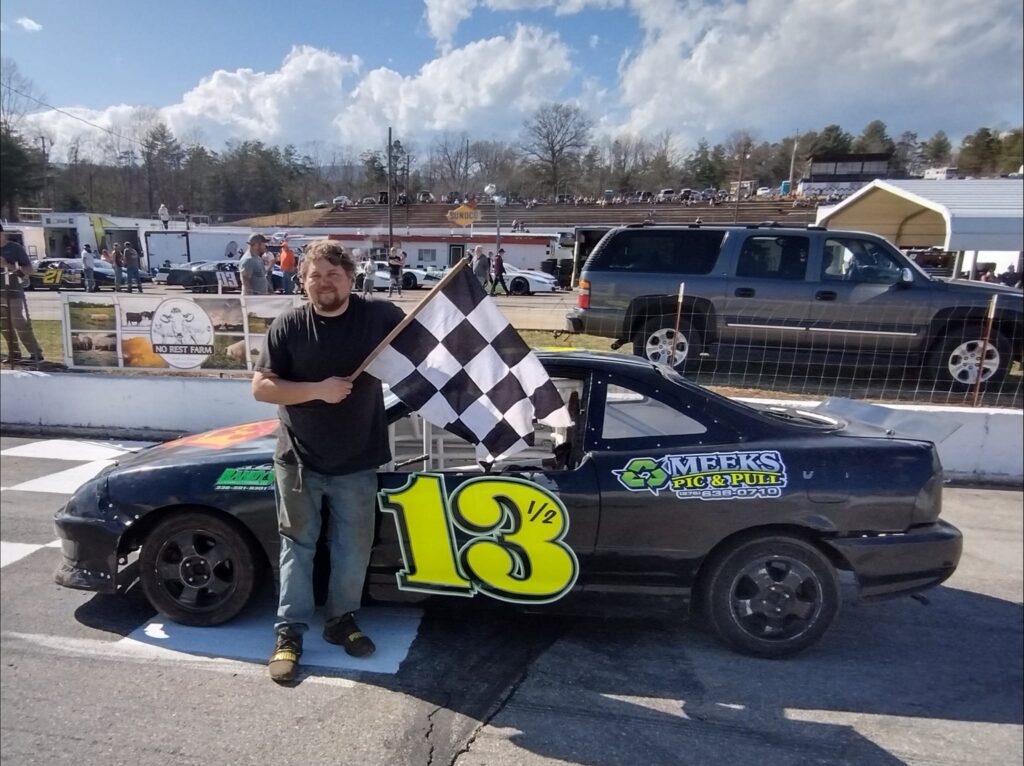 Mini Stock Feature
Next up are the Mini Stocks as the # 4 of Daniel Hutson starts first with the # 95 of Thomas Parmelee starting alongside. Hall looks over the field, and we're green for the Mini Stocks. Hutson gets a great jump, but it's too good as the yellow flies early. The field gets a way better start the next time around as Hutson jumps out to the early lead. But it doesn't last long as it seems that Hutson has a problem and stops on the track which facilitates a caution. It'll be Parmelee and the # 46 of Joshua Phillips on the front row for the restart as the green flies. Parmelee gets a great start as the # 00 of Gary Fitzgerald is able to power by the # 97 of Scott Foley for third. But Fitzgerald's good fortune ends up in smoke as he spins in between turns 1 and 2 and brings out another caution. Once again, it'll be Parmelee and Phillips up front for the restart.
Parmelee gets another massive start as he starts to gap the field. But Fitzgerald's day just continues to get worse as he spins again in turn 2, bringing out another caution. It'll be the same song and dance for the restart as Parmelee leaves Phillips in the dust at the line. As Parmelee travels into another zip code, in the back of the field, the # 32 of Wes Goff seems to have a problem with the # 5H of Tyler Hopkins and puts Hopkins in the wall out of 2. Hopkins won't have any of it and goes into turn 3 wide open and spins Goff around in turns 3 and 4. The caution doesn't come out in time and Parmelee absolutely massacres the Goff machine as the fans all jump up from their seats. Phillips also spins to avoid the carnage as the red flag is displayed immediately and tempers are beginning to boil on the track. Franklin County officials call for a security escort to safely usher Hopkins out of the track. Everybody is thankfully okay as Parmelee's dominant performance is halted due to actions out of his control.
For the restart, it'll be the # 00 of Fitzgerald, who's spun two times today but has played the game of survival to a tee, with Phillips starting alongside. The green is back out after a lengthy cleanup and Phillips is able to make easy work of Fitzgerald and is able to take the checkered flag first in a chaotic Mini Stock feature here in Callaway.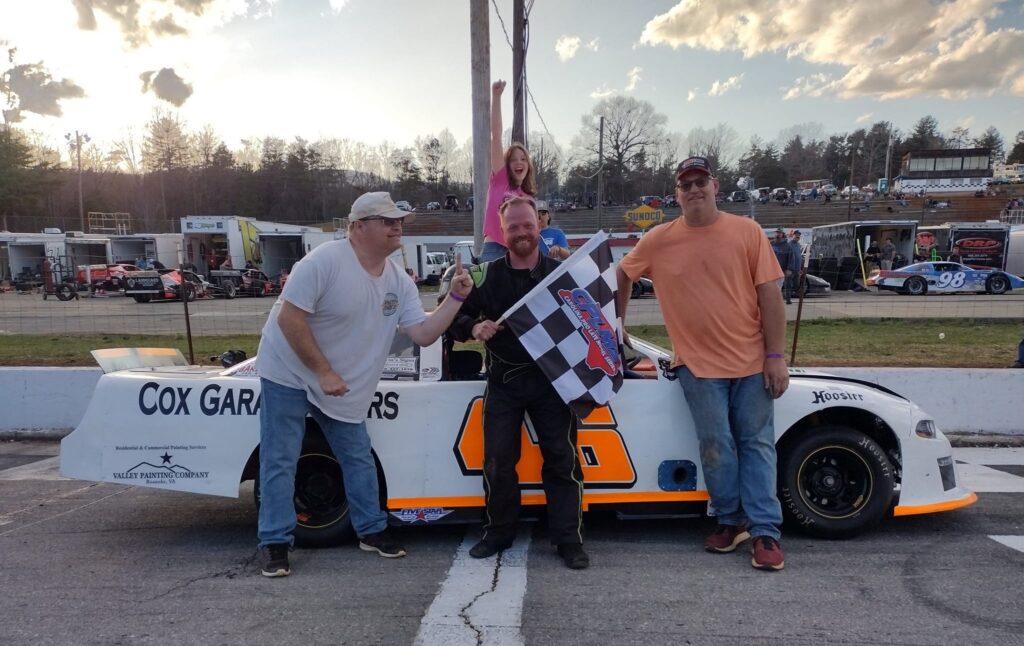 Super Street Feature
Super Street fan favorite # 26 Daniel Eakin starts on pole for this one alongside the # 21 of proven winner Wayne Corprew. Hall looks over the field, likes the formation, and we're under green for the Super Streets. Corprew is able to make hay on the outside and clears Eakin for the lead early. # 12 Jimmy Mullins is able to take advantage of Eakin's lost momentum and surges ahead for second. Eakin finally slips third in line and stops the bleeding as Corprew and Mullins have pulled away from the rest of the field. Corprew and Mullins are putting together perfect laps as Eakin is now under pressure from the # 71 of Dewey Smith. Eakin's putting fantastic lap times down, but Smith's # 71 is starting to show long run speed and takes third away from Eakin. But up front, no one can stop Corprew and Mullins. Eakin loses yet another spot as # 00 Gennaro Palumbo gets by for fourth. Mullins tries all he can to get underneath Corprew, but he runs out of time as Corprew adds another Franklin County trophy to his collection. Mullins finishes second, Smith third, defending Charger champion Gennaro Palumbo fourth, and Eakin is able to hang onto fifth.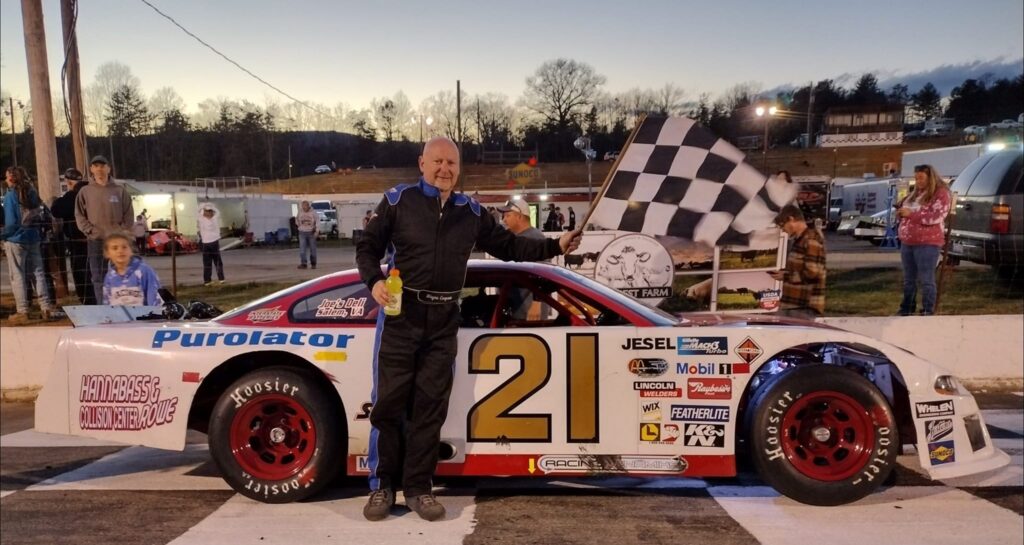 Virginia Vintage Racers Feature
Jimmy Mullins in the # 57 Gremlin Modified starts first for this one as the # 12 Sportsman of Bobby Griffin starts second. Hall looks over the gorgeous field of hot rods and we're green for a blast from the past here at Franklin County. Mullins gets a fantastic start as Clifton settles in behind. The # 1 Sportsman of Kevin Floars starts picking off cars left and right as he gets by the # 53 Modified of Chad Conner followed by the # 05 of Barry Dalton. The first caution would fly early as both the # 90 Modified of Preston Clark and the # 04 Modified of Doug Brown find themselves stopped in turns 3 and 4. It'll be Mullins and Clifton up front again as the green waves. Mullins finds himself in a land of his own as the caution flies yet again as the # 90 Sportsman of David Liles has gone up in smoke. Mullins and Clifton start up front yet again as Mullins flies away at the start. But the Gremlin can't get a break as the caution is once again out as second place running Clifton has a problem in turn 2.
Mullins will now be joined by Floars as the green is out for the final time. Floars doesn't allow Mullins to rocket away like previous restarts, and is breathing down Mullins' neck for the overall lead. But it still isn't enough as Mullins takes the overall win and Modified win with Floars finishing second overall and winning in the Sportsman class.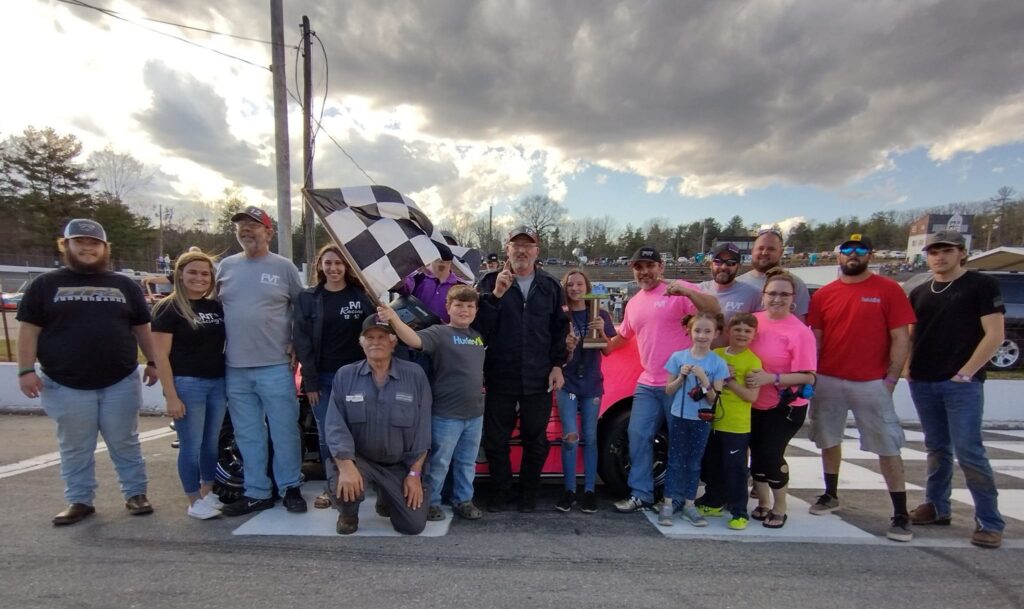 CAROLINA CRATE MODIFIED FEATURE
Eleven year old sensation # 73H Paulie Hartwig III qualifies on pole with a time of 14.288 seconds. But the 8 car invert will place him shotgun on the field. This places the # 77 of Billy Keyes on top with the # 92 of Doug Patton starting alongside. Hall looks over the mighty field of Modifieds, likes what he sees, and we're green. Keyes doesn't get going as well as he'd like to, which allows Patton to take the early lead. Keyes realizes he has a problem and takes his machine down to the pits right away, which automatically derails the # 77's debut. As the field scrambles after the messy start, Hartwig III is already flying through the field methodically, passing cars left and right. Back up front, Patton starts to feel pressure from second place # 33 Tanner Young. And now it's Patton with problems as he pits early. It seems that being in the lead is not the best place to be today as our two leaders have already had significant problems.
Young now looks to get away from the field, but 2021 points runner-up # 12 Cody Norman is breathing down his neck for the top spot. Norman is able to take advantage of a minor slip up from Young and powers by to lead his first laps of the day. Young can't recover quickly enough and loses yet another spot to a blazing fast Hartwig III. Hartwig III's father, # 73 Paul Hartwig Jr. follows his son through as Young's day just keeps getting worse. Young finally slips into fourth, but quickly receives a love tap from the # 47 of Jaxson Casper. Young hangs on as Norman is putting together perfect laps up front. But here comes Hartwig III, just pacing himself and trying to time his lead move perfectly. He applies a little pressure to Norman, but the championship favorite doesn't flinch. But Hartwig III is like a kidney stone, and is pushing Norman's machine to the limit. Finally, Norman has to yield and Hartwig III makes his move and takes the lead with authority. But he doesn't get to enjoy it long as the first caution is out for Casper spinning out of turn 2.
For the restart, it'll be Hartwig III, Norman, and Hartwig Jr. the top 3. Hall looks them over, likes the formation, and we're back green. They're dead even for the lead as Hartwig III barely sneaks out ahead. Now Norman is in the clutches of Hartwig Jr., who would love to make it a father and son 1 and 2 finish. Norman gives it all he has, but the handling on the # 12 machine is starting to fade away as Hartwig Jr. gets second. But Hartwig Jr. slips and spins as Norman barely avoids his # 73 machine. Casper can't however and makes contact with Hartwig Jr.'s car. As the calamity clears, the field lines right back up for the restart. It'll be Hartwig III, Norman, and Young the top 3. Hall looks them over, and we're green again. Hartwig III gets an incredible start, and powers out to a great advantage. Young is now all over Norman for second, but can't make anything work. This allows Hartwig Jr. to climb back into the top 3 as he charges by Young for the bronze spot. He's now all over Norman, but Norman will hang on as Hartwig III puts on an amazing performance and takes his first Carolina Crate Modified Series win in a worst to first scenario. Norman finishes second, Hartwig Jr. third, Young fourth, and Casper rallies back for fifth.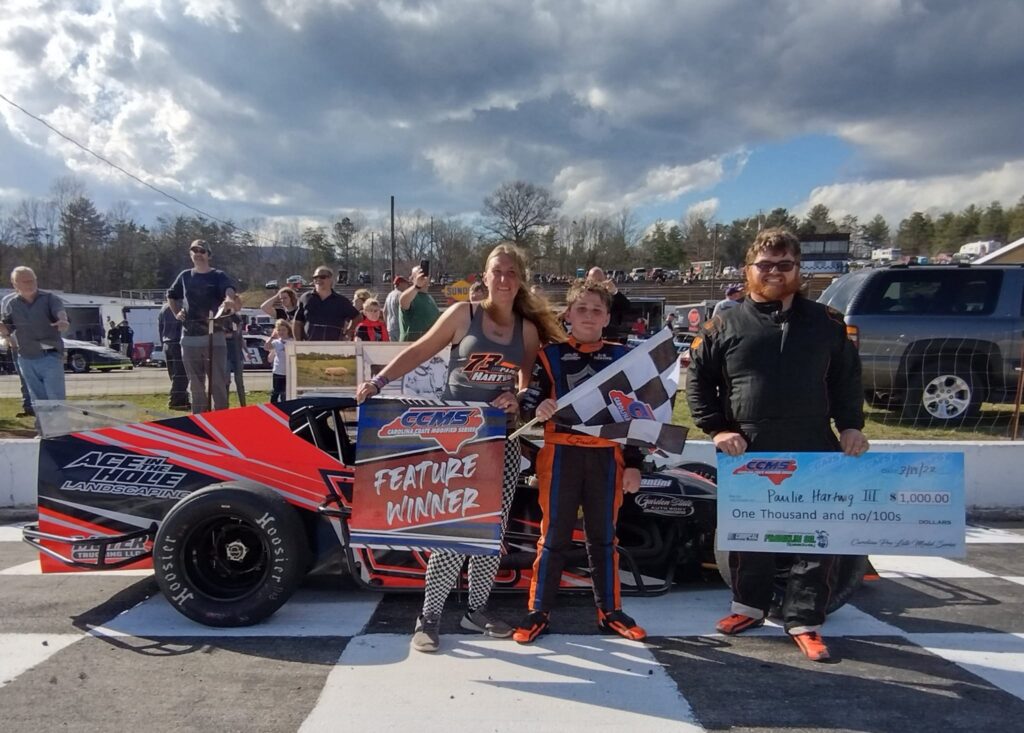 CAROLINA PRO LATE MODEL SERIES FEATURE EVENT
Josh Lowder is your fastest qualifier for this event with a blistering lap of 13.935 seconds, but the field's starting spots are determined by a pre race invert, and that leaves Lowder starting eighth for this event, and puts # 95 Caleb Costner on the pole for the start followed by the # 98 of Matt Henley starting second, # 21 Ryan Mathews third, # 96 Katie Hettinger fourth, and # 51 Mason Maggio fifth.
Costner brings the field down as flagman Dennis Hall looks over the field and nods his approval, and Caleb Costner gets a great start. But it's too good as the restart is called off, which is actually great news for Costner as he already has a mechanical issue and brings his machine down pit road early. So now, Matt Henley inherits the top spot. Hall looks over the field yet again, and we're back green. Ryan Mathews gets a great start and takes the point from the outside, as Mason Maggio makes a run outside of Katie Hettinger, and brings his machine to third behind Henley. # 48 Tovia Grynewicz also gets a great start and moves up beside of Hettinger as well, as Maggio moves past Henley for second. Grynewicz is looking strong as he now moves past Henley with # 63 Josh Lowder looking at his rear as he moves past Hettinger and looks to the outside of Henley as well. But Henley looks to stop the bleeding and races Lowder hard for the spot, and the two get together door to door, but Lowder is too strong and he maneuvers his machine to fourth. Hettinger now comes under fire from # 5 Jasec Holladay as her car isn't responding as she would like early on, but she fights back to hold on to what she has, but to no avail as Holladay now moves his machine to the sixth position, and Hettinger is now under fire from the # 03 of Kyle Campbell.
Up front though, Maggio has caught Mathews and begins to challenge for the lead, as Josh Lowder looks under Grynewicz for third. Grynewicz fights hard on the outside, but after a couple laps Lowder gets past and sets his sights on the leaders who are now two wide as Maggio makes his move for the lead. Mathews slips a bit on the outside of Maggio, and now he will have to deal with Lowder who looks to take advantage. But Mathews gathers his machine up and closes the door, but again Lowder moves under as Mathews can't keep his car down on the inside groove, but he's not giving up the spot without a fight as he makes his car work on the outside line. Grynewicz uses the fight to close in, and now he sticks a nose in under Mathews with Henley now challenging as well closing in behind them. Grynewicz gets by and now Mathews tries to hold off Henley who's got his nose underneath, and as he moves past here comes Jasec Holladay who wants in on the action too, and this allows Hettinger to close in as she looks to regain any ground she can. Kyle Campbell has been close in behind Hettinger, and as she works past Mathews, he dives in to also claim another spot on the falling Mathews who's car appears to be a bit tight, and he just can't get down to the inside like he needs to at this point in the race.
As Maggio runs up front now with a good 3 to 4 car lengths lead, Hettinger tries to gain some more ground and starts to work on Jasec Holladay to gain another spot back. But Holladay uses it as a signal and he gets back on the wheel and moves his machine back to the Matt Henley machine, and now Henley, Holladay, and Hettinger are as tight as you can imagine for the fourth, fifth, and sixth positions. And add to that third place running Grynewicz as they tighten up to his machine as well, and the bottom half of the top five are now nose to tail, challenging each other every lap. And now count in Kyle Campbell, as he sees some hard racing ahead and he wants some of that too, and the five cars behind the top two machines run nose to tail.
Maggio is running some great laps up front as Lowder edges in a little bit lap in and lap out, but he's having to work to get to the leader who's on rails up front. And this is the story of the rest of the race. The pack behind the leaders race tooth and nail for the rest of the event, with side by side battles between Holladay and Grynewicz. Holladay would get the best of this battle as Grynewicz would later have mechanical issues. Hettinger gets into the mix with Kyle Campbell right there challenging, but as they battle for the rest of the event, all eyes are on Mason Maggio and Josh Lowder who will battle for the rest of the race. Lowder looks high and then he looks low. But Maggio runs consistent. Lowder moves in until there is no space between Maggio's rear bumper and Lowder's front. Lowder puts the pressure on Maggio for several laps like that, trying to get Maggio to make a mistake. Then Lowder intently makes his move and starts to cut his car as far to the bottom as he can. And then it happens. I'm watching closely in the middle of turns one and two and I saw it. Lowder slips up. He doesn't lose much ground at all. Maybe a couple of inches at the most. But I recognize it. Watching Lowder over all of last year and in his dominating win in the opener, I have come to recognize when Lowder feels it's time to go.
But today, when he makes his move, what would more than likely be the winning move, his car doesn't fully stick. The car has went away just a bit. But Maggio is still consistent, running the exact same line lap after lap. And now, he is inching away from Lowder. Notice I said inching. The reason I am making this point is for you to know that Maggio is running the race of his life. And he has to because Lowder is that good. And he will not give up. He is one of the hardest driving racers we know. But it won't be enough today, as he has taken Maggio to a new level, and he's responded, winning his first Carolina Pro Late Model Series race of his career. Lowder comes home just a car length back, with Matt Henley fighting hard for third, Jasec Holladay fourth, and Katie Hettinger fighting back for another top five finish.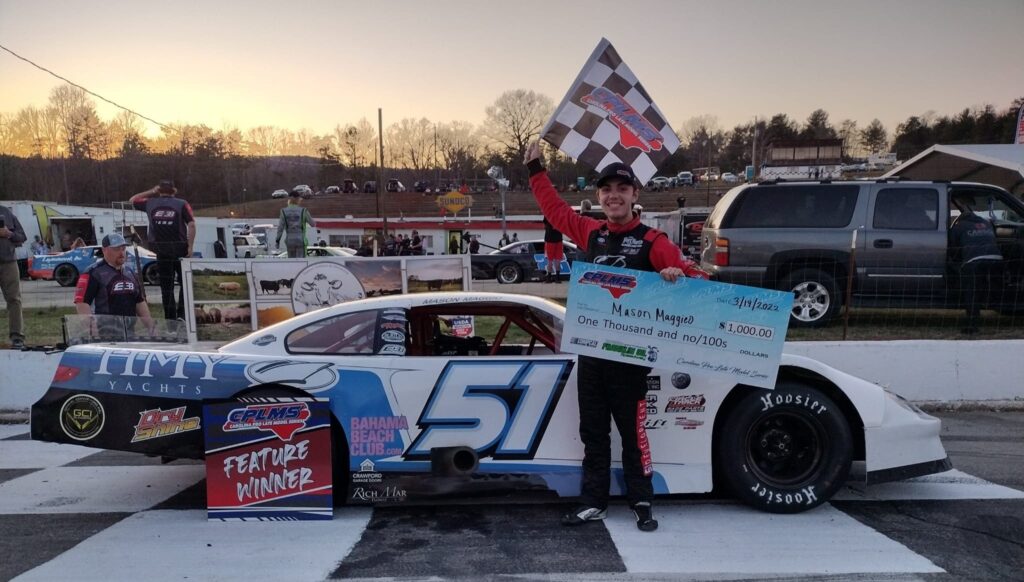 MY TAKE
On the surface, for many of today's racing fans, as it is for many sports and life in today's world in general, this event at Franklin County would just seem like another short track racing event. But as you know, we always look for what lies beneath the surface. And so, we also know that the readers and followers of our race coverage love short track stock car auto racing as we do, and know there is always much more to the story. First of all, fittingly, this event was filled with firsts. Mason Maggio wins his first Carolina Pro Late Model Series race in his third start on the tour, and his first Pro Late Model win for E33 Motorsports, also giving them their first win on the tour. And Paulie Hartwig III gets his first win in his first start in the Carolina Crate Modified Series. And while both of these wins may seem like just a couple more wins in the short track racing world, it's what lies beneath that is the true story. Mason Maggio held off one of the toughest drivers we cover in any division. To make a long story short, you just don't beat Lowder like that. But Maggio, when challenged to step it up, did just that, running the race of his career. It was unlikely and unexpected. But, it goes to show you the work JR Courage is doing in the efforts of driver development for Rick Ware Racing. And if it's the indicator we think it to be, though this is the first win on the tour for E33 Motorsports, it's highly unlikely to be the last. Do not underestimate the feat, as this win is as big in many ways as a win can get. Not only for Mason Maggio, but for the team he drives for.
And speaking of not underestimating the feat, Paulie Hartwig III's win is also bigger than you think. For in case you are unaware, Paulie is a full eleven years old. Yes, you heard that right, 11. But, it's not as surprising as you might think. His father is Paul Hartwig Jr.. Hartwig Jr. of Hartwig Racing is a multi time Modified winner at Evergreen Raceway in Pennsylvania, and most notably, one of those wins was over Matt Hirschman. And if you are a Modified fan of any sort, you know that's a feat in itself. He's a driver that dominates everywhere he goes, for example, he is two for two on the SMART Modified Tour this year, matching his showings of last year already, or to simplify, Matt Hirshman is 4 for 4 on the SMART Tour, along with his many, and I mean many accomplishments in his career. Hartwig Jr. also has 3 top 5's and 5 top 10's at the World Series Of Asphalt at New Smyrna Speedway in Florida. His son Paulie Hartwig III is a multiple time winner and champion in Quarter Midgets at numerous tracks and series and is also a 4 Cylinder winner at Evergreen Raceway. And now, at 11 years old, he is also a Crate Modified winner in just a handful of starts. In other words, this kid's a winner. I saw a post about his win from someone here in the central east coast region from a fan that said, "They got schooled by an 11 year old" and had a number of laughing emojis around it. I had to laugh. Not because, as they put it, an 11 year old schooled the Carolina Crate Modified field, but because that post is as uninformed as it comes. It's insinuation is that the 11 year old driver wasn't that talented because he is only 11 years old. But with drivers today learning their craft at younger and younger ages, we have been telling people all along that this kind of thing would be happening. And instead of it being a slight on the series, it's instead an indicator of the talent this kid possesses. It should not be understated or underscored. It should be acknowledged.
And we are set to do just that, as our Blue Collar Racer Of The Week award was the hardest we've had to decide. It seems to be a trend this year. A trend we relish. At the CARS Tour season opener, we had what was to that date the hardest choice we've ever had that literally took days for us to decide. And so we have to tell you, this was harder for all the reasons I stated above. Mason Maggio ran the race of his career, and I watched as he took his talent to a whole new level. We also saw Paulie Hartwig III qualify on the pole for the Carolina Crate Modified race only to have to start in the rear of the field after the tour's redraw. And we watched as he methodically worked his way past the field to the front without touching a soul on the way through. And when Cody Norman left him to wear out his tires so that he could retake the lead at the end, Hartwig III instead set a pace to keep his car under him throughout. And when he had to make a restart at the end of the race due to a late caution, he was flawless and brought home the win. A win that earns him and his Harwig Racing team our nod for Blue Collar Racer Of The Week this week.
And lastly, we have to again give a huge nod to Langley Austin and his crew at Franklin County Speedway for another amazing show. And it's time to put it into a little more perspective. You see, today's independent short tracks have more adversity thrown at them as they ever have. After years of a downturn in attendance in stock car racing in general, the independents are the tracks in our opinion that had to innovate the most. They learned to do more with less. And now, with parts shortages in a slowed supply chain, it gets even more challenging. And now, with the stock car racing tire shortages becoming a challenge for all tracks, affiliated or independent, tracks are having to innovate more than ever. But let's be honest here now about this. It's obvious that the tire manufacturers are being selective in their distribution. Maybe out of necessity, but let's not act like it's not an issue. And with that fact, an independent track such as Franklin County Speedway is again left to fend for itself. It's nothing new to Franklin County Speedway however, as it's not to many other independents. But for over 50 years, Franklin County has dealt with it, and continues to put on great shows. And what's surprising is it's putting on even greater shows. And when the tours and series come to this historic track, it does what it's done for over those 50 years. It produces great racing. The track had seen some of the greatest short track stock car drivers that's ever done it cross it's gates in the quest for history, in the name of tradition.
There is a saying by Henry James that states, "It takes an endless amount of history to make even a little of tradition." And I know this to be true, and Franklin County Speedway is my proof, as the tradition here is great racing. And great racing that will be historic for years to come. And now we can add Mason Maggio and Paulie Hartwig III to that great tradition as they go into the history books with nothing less than historic wins they will cherish for a lifetime. That is why we love this track. It knows it's business. And it's business is producing some of the greatest short track racing in the nation. A historic 50 plus year tradition that we relish every time we head out to Callaway, Virginia. Always a trip that we will remember for a long time after the event. So if you ever have the time, and want an adventure you'll not soon forget, make a trip to Franklin County. And as always, 'till next time, See You At The Track!