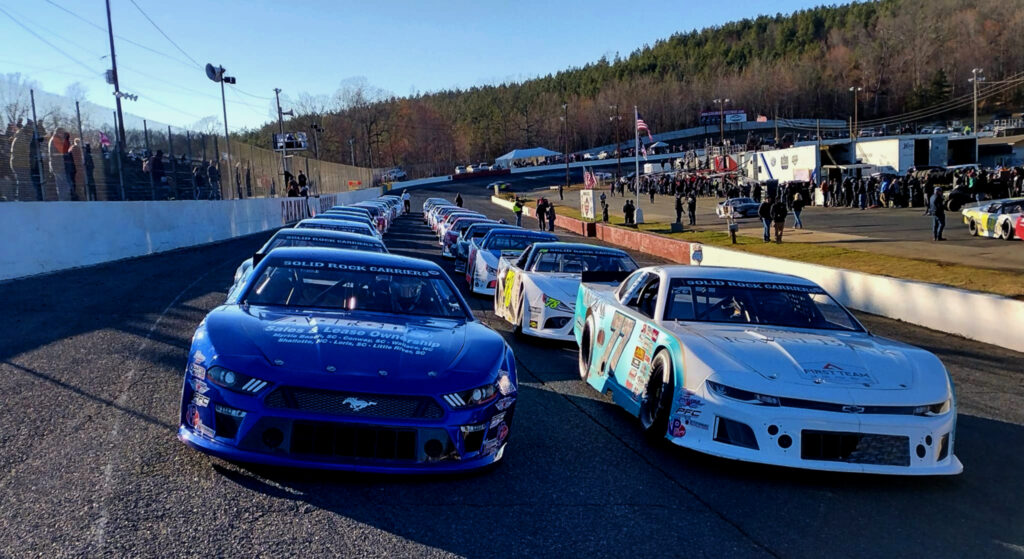 On March 13, 2022, the region's most prestigious tour made it's season debut, The Puryear Tank Lines Old North State Nationals presented by GXS wraps at historic Caraway Speedway. Sporting a new look with the new Pro Late Model Series replacing the former Super Late Models, the tour came to Sophia, North Carolina albeit with the same competitive atmosphere the tour has become known for over the years. And this year the drivers in the Late Model Stock Series came vying for the thirty thousand dollar payday. A great bonus to the driver winning the biggest race of the season, and another indicator of why the tour is considered not only the best in the region, but is mentioned in discussions of the best in the nation.
Mother nature tried to put a hindrance on the event, as Saturday's events were canceled, forcing the tour to condense the weekends schedule into one day on Sunday, and although the temperature by mid afternoon was almost ideal for a short time, the cold set in by early evening, hampering at show attendance somewhat, but fortunately, the tour, being one of the first to broadcast all of it's events online via CARS Tour TV powered by Pit Row TV, was available worldwide to a large viewing audience. In the end, the competition was all it was expected to be and more. And on the surface, the storylines that came from this event were many and will leave the fans and insiders alike of short track racing talking throughout the 2022 season, with many implications that will affect the competition throughout the year. But for us, there was much more to it than what can be seen in the short term, for this race has long term implications that will be looked back on for years to come that were in formation long before this event had ever began. So with that, let's take a look at the feature races of this event, and talk about what it could all mean for this year's CARS Tour season and beyond.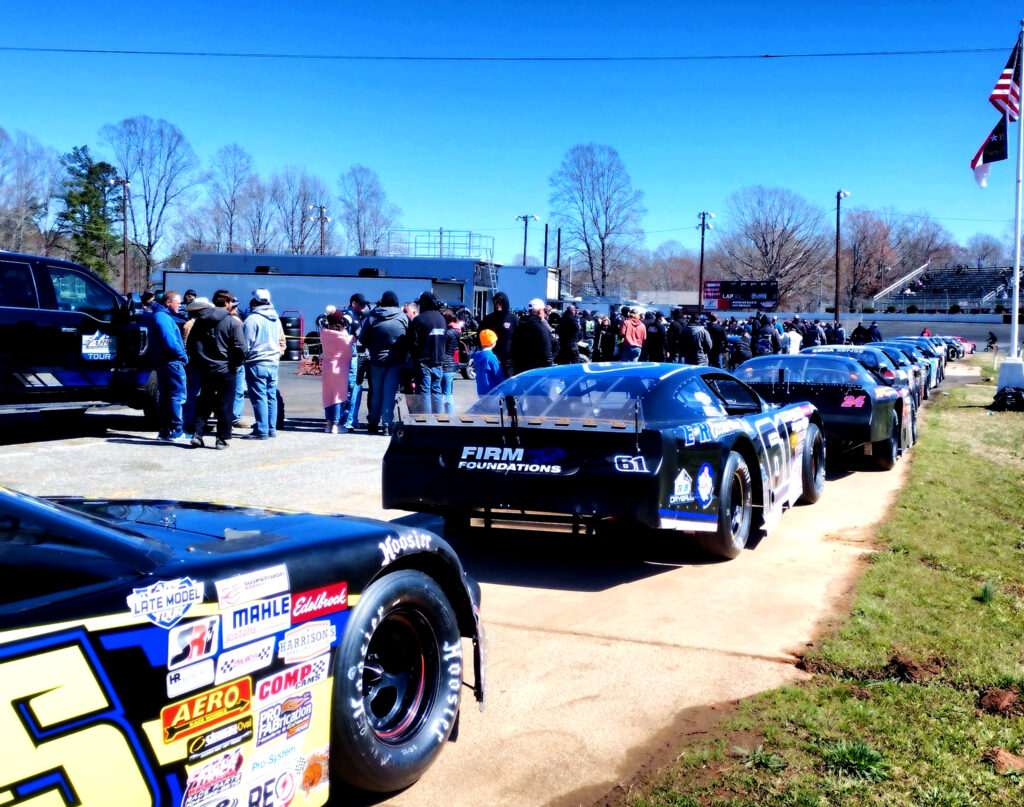 CARS TOUR INAUGURAL PRO LATE MODEL FEATURE EVENT –
2021 Slinger Nationals winner # 96 Luke Fenhaus sits on the pole with a fast time of 16.788 seconds. Breakout star # 35 Caden Kvapil will line up alongside in second, # 6 William Sawalich third, #07 Clint King fourth, and the # 13 of Canada's own Austin MacDonald will round out the top five. CARS Tour flagman Brandon Willard anxiously looks over the field, likes the formation, and we're green for the first ever CARS Tour Pro Late Model race!
Fenhaus gets a great start, but Kvapil puts up a great fight on the outside. Fenhaus is just too strong however and clears for the early lead. Local favorite # 7 Dylan Ward heads down pit road early and is eliminated from the race with a clutch issue. Behind the top two, King gives Sawalich a run for his money, but it's ultimately the Setzer Racing And Development machine of Sawalich that maintains third place. He then puts a nose underneath the Kvapil car, and gains the silver spot with ease. But Kvapil is stuck on the outside and that allows King to position himself up another spot. Kvapil finally fights his way to the inside in front of MacDonald as Fenhaus is already beginning to put a sizeable gap between him and Sawalich. But it'll all be erased as the caution flies for the first time as the # 76 of Tyler Johnson loops his machine in turn 4. Johnson gets it refired and drives away with no damage.
Fenhaus chooses the inside for the first restart as it's the dominant line here at Caraway. Sawalich will line up second, King third, Kvapil fourth, and MacDonald fifth. Willard looks them over, likes what he sees, and we're back underway. As with Kvapil earlier, Sawalich is adamant to take the lead, but Fenhaus shows his skill again and clears the field. Behind, Kvapil is able to clear King and is now riding all over Sawalich. But Sawalich isn't having any of it and immediately dives down to protect his lane from Kvapil. King now begins to breathe down Kvapil's neck for the third spot as his car is starting to show some muscle. Young dirt prospect Brent Crews in the # 24 is off the pace deep in the field but is able to bring the car down pit road without issue. His day is unfortunately over.
King is finally able to rid the # 35 machine and now sets his sights on second place running Sawalich. But the caution is out for the second time today as the # 21 of Bowman Gray Stadium champion Tommy Neal gets into Tyler Johnson and Johnson goes around on the frontstraight. During the caution period, Caden Kvapil heads down pit road to make some adjustments to get more acquainted with the tough Caraway Speedway. He'll have to restart at the tail end as Fenhaus once again chooses the inside as Sawalich lines up second, King third, MacDonald fourth, and Neal fifth. Willard looks them over, is satisfied with the view, and we're back green. Sawalich gets a great run on the outside but it's the same song and dance for Fenhaus who once again clears for the advantage.
Fifth place running Neal almost spins on the backstraightaway trying to get a little too much out of his car, which allows the # 1 of Lee Faulk Development driver Kody King to take the fifth spot. Kvapil is also methodically moving his way up the field as it seems he has a brand new # 35 car after the adjustments. Kvapil is able to root past Kody King as Kody then has a problem and will bring his car down to his crew as he falls victim to a mechanical gremlin. Meanwhile, the other King in Clint is trying to hang onto third, but MacDonald is like a kidney stone and is succeeding in making the outside work here at Caraway. But King is determined to make history today as he doorslams MacDonald and sends him up the track. This allows Kvapil to sneak inside of him to take fourth away as MacDonald has got to be fuming inside of his race car.
King, showing no mercy, is now all over Sawalich and gives him a little nudge to remind him that he's there. Sawalich unwillingly obliges as King may be the one to dethrone Fenhaus as the leader. But Kvapil may have something to say about it as well as he is able to get by Sawalich with ease for third. As the race progresses, Fenhaus and King find themselves running almost equal lap times, which is good for Fenhaus as King can't eat into his lead. But King has a tire go down in turn 4! He smacks the wall and this will bring out the caution for the third time today. Fenhaus again chooses the inside for this race ending shootout. Kvapil will now line up second, Sawalich third, MacDonald fourth, and Neal fifth. Willard nervously looks over the field, likes the formation, and we're green for a shootout!
Fenhaus gets a great restart, but Kvapil turns up the wick and is able to clear Fenhaus coming off of turn 2! MacDonald finds his way past Sawalich for third in the scramble, and Neal gives way to # 29 Trevor Sanborn for fifth. Kvapil now tries to run away from Fenhaus, but Fenhaus is glued to the 35's back bumper. They stay this way all the way to the white flag. Kvapil slips a little coming off of two, and Fenhaus is right there. Fenhaus sends his car into turn three with no remorse, but Kvapil has the grip and comes off of turn 4 to win the inaugural CARS Pro Late Model Tour race! Fenhaus comes home second, MacDonald third, Sawalich fourth, and Sanborn fifth.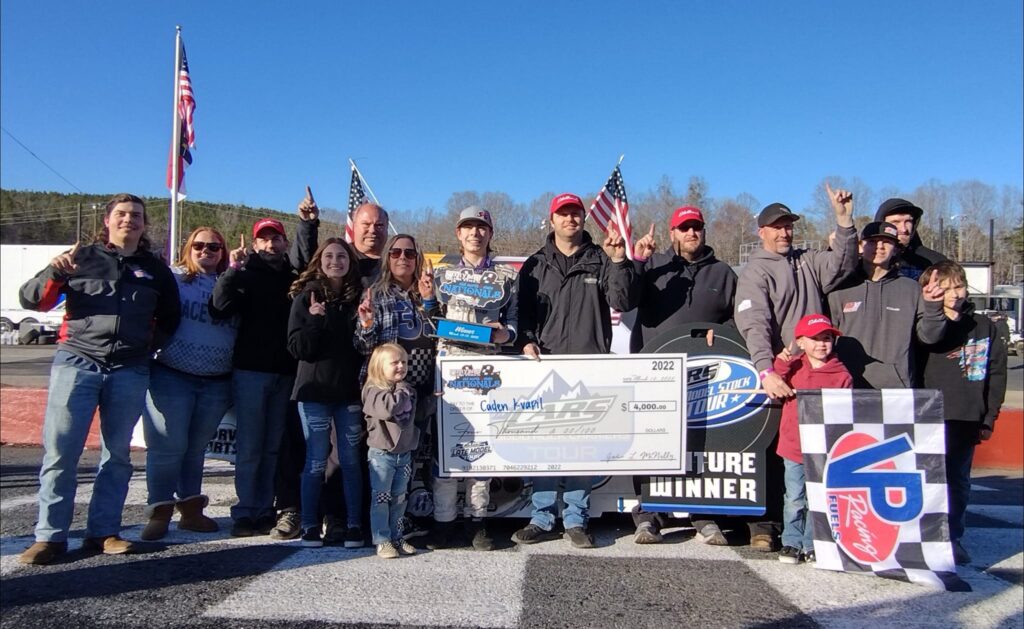 2022 CARS TOUR PURYEAR TANK LINES OLD NORTH STATE NATIONALS Presented By GXS Wraps-
# 77 Connor Hall is your fastest qualifier and the pole sitter for this year's opening event with a lap of 16.597 seconds, earning his team the $250 bonus for putting his machine on the point. No less than thirty four starters will line up for this event, with Hall leading them to the starting zone, followed by # 16 Chad McCumbee second, # 78 Corey Heim third, # 12 Kaden Honeycutt fourth, and # 91 Jonathan Shafer rounding out your top five. And it's an awesome view on the speedway as 34 of some of the very best Late Model drivers in the country run their parade laps behind two semis that Puryear Tank Lines has pacing the field on the parade laps, the front one of which sports Old Glory in her grand splendor on top of a rendition of World War 2 soldiers raising her atop Mt. Suribachi during the battle of Iwo Jima. A powerful sight, and a great touch to send these asphalt warriors into battle here today.
Due to the temps, the tour gives the field a few extra pace laps to warm their machines, but then CARS Tour flagman Brandon Willard gives the signal to double up as the Puryear Tank Lines trucks head off the speedway, and the field prepares to do battle in the opening race of the season for the series. Willard looks over the field as Hall and McCumbee take off. Willard likes the start as he throws the green, and we are underway in the 2022 Old North State Nationals.
McCumbee slips wide in the middle of turns one and two, allowing Honeycutt to power up to the second spot with Heim trying to follow to third, and Shafer challenging McCumbee for fourth, followed by the rest of the field, side by side and nose to tail. McCumbee recovers however and powers back up on the outside of Heim and then clears for third. The rest of the field however is a battle zone, as drivers maneuver for what they can get in the opening laps of the race. Honeycutt wastes no time in going for the lead as he dives in under Hall for the point, drops in front, and drives off to a two car length lead. McCumbee looks to make up the ground he lost early and he dives under Hall with Heim following and diving in under Hall as well, and bringing his machine up to third.
Hall is content to let them by however, as he falls a few positions and decides that burning up his tires is not in the game plan for this 200 lap event, happy to let the rabbits run for now. # 22 Bobby McCarty moves his machine in under the # 7 of Dylan Ward for sixth, as # 99 Layne Riggs looks on Ward for seventh. Up front, McCumbee wants the point over Honeycutt, and he takes the lead position, leaving the # 12 machine to settle for second. They have an eight car length lead over the rest of the field, who are settling in for a long run, but with everyone staying close to take advantage of any mistakes made. Shafer tries to wok on Connor Hall now, but as he fights for position, leader McCumbee falls off the pace leaving the field scrambling to get by clean. It's dire for McCumbee as he rolls into the pits, and the second place qualifier is done for the day. That leaves Honeycutt with a sizable lead early, and in the scramble, # 91 Jonathan Shafer brings his machine to second, followed by Heim third with McCarty on his outside running fourth, and Hall working on holding off Riggs for fifth.
In the blink of an eye though, Hall falls back again, as McCarty comes to third, and Riggs moves past Heim and a falling Hall to fourth. The rest of the field has finally settled in for the most part in a single file line, saving machines and tires for the middle and end of the race, but of course taking spots when the opportunity arises, as # 26 Peyton Sellers now moves past a still falling Connor Hall for eighth, as # 08 Deac McCaskill looks under Hall now for ninth, leaving Hall doing all he can just to stay in the top 10 at this point.
# 18 Jason York now starts to makes a run to the front as he moves into the top 5 under Heim for fifth and starts looking on Riggs for fourth, as McCarty looks under Shafer for second. Shafer holds his ground as York now looks under Riggs for fourth, but he counters by looking under McCarty in third, as the top five, knowing a caution is coming soon, now challenges each other to get what they can before the break. McCarty gets past Shafer with a strong move to second as York tries to follow and York and Shafer door each other, with York getting the advantage and now Riggs is on Shafer's outside as well, but Shafer holds him off.
The gloves are off however up front as we aren't even halfway and the tone has been set. Now York moves past McCarty and he dives in under Honeycutt for the lead and he takes it. So at this point, the tenth place starter Jason York finds himself leading the field, while the polesitter finds himself just the opposite, running tenth. And it's become apparent that the competitors have set the tone already and four words can describe it: knock down, drag out. Strategy can and will come into play, but it's obvious that for the most part, it'll be a battle in the trenches here today. And there is the first competition caution on the day, and it comes at the right time for # 6 Mike Darne as he brings his machine down pit road with a flame coming out from the center of his wheel, as heavy braking has become an issue in this heavily contested field. As he stops, the flames become more intense and the right front blows before they can get a jack under it, and the team has their hands full trying to attend to the # 6 Chevy. On the next lap, the bulk of the field comes down pit road as everyone wants adjustments to their machines as the competition is intense to say the least.
Some cars stay out however, and so the field has been shaken up a bit for the restart with # 26 Peyton Sellers leading the way, followed by # 8B Chase Burrow, # 2W Ryan Wilson, # 2R Braden Rogers, and # 18 Jason York as your top 5 on the restart. Late Model veteran Peyton Sellers brings the field down to the restart zone as flagman Willard surveys the field, and Sellers drops the hammer. Willard approves and waves the green and we are back underway. Sellers fights his way past Burrow who got too good of a start and gets the warning from race control in his first CARS Tour start, but it all settles out as Burrow drops in behind Sellers, but Wilson is there and he wants the second spot, dropping Burrow to third and within reach of all the cars that pitted and got adjustments, and now looks to retake their spots up front.
York comes to third, with McCarty following to fourth as they set their sights on Wilson and Sellers up front. Honeycutt now moves to fifth as York is by Wilson and looking on Sellers' bumper for the point, and he wastes no time diving under Sellers for the lead. Wilson tries to follow but Sellers closes the door as the two make contact. McCarty gets underneath Wilson for third but Wilson fights back but to no avail as McCarty moves past and now Honeycutt wants past and he moves by and Burrow now tries to take advantage and get past Wilson as well. # 2R Braden Rogers has a good view of the battle as he moves in as well. Burrow gets past for fifth as Rogers now tries to take his turn getting past Wilson. Rogers takes the spot and Wilson swings his car in behind to finally shut the door and stop the bleeding.
Up front, York leads the pack as Sellers tries to hold what he has in second over the Autos By Nelson team of McCarty and Honeycutt, and behind them, the rest of the field again settle in for a long run and run nose to tail in an effort to save what they can for the latter stages of the race. Except for Ryan Wilson who gets shuffled to the outside again and is losing spots, but finds an opening and maneuvers his machine to the bottom of the track and makes his way to pit road and the care of his team, just as Mike Darne's team finishes repairs to their car, and finally comes back onto to the track several laps down. The # 99H of Colby Higgins is also on pit road with a sour sounding engine, which may be the end of the day for that team.
Now Riggs moves under the Braden Rogers machine just outside the top five, and # 08 Deac McCaskill tries to get in underneath as well, but Rogers shuts the door. McCaskill was committed already however, and he gets into Rogers who skates up the track but is able to hold onto the position. McCaskill drives up and gives him a little shot however to let him know he didn't appreciate the block, but he lets him live and they run nose to tail. The field is stacking up behind Rogers who runs seventh, but he still holds on for now, as behind him the battle is starting to heat up as the field gets tighter and tighter. And then just as # 87 Mike Looney gets loose after contact from # 44 Conner Jones, Dylan Ward gets a little wide in turn 4, and before he can correct it, # 10 Janson Marchbanks puts his nose in and they collide. Ward still tries to correct the car by coming down, but Marchbanks was committed and had nowhere to go, and sends the # 7 machine around on the frontstraight.
Under the caution, the leaders come in to pit for adjustments, but a precedent has been set. The knock down drag out that this race has become is getting even more intense, and no quarter will be given here today, setting up a series of incidents caused by hard racing and a desire to run great here today. As they come off pit road, defending champion Bobby McCarty shows as the leader, but he chooses the outside line to protect his flank where he finds teammate Kaden Honeycutt, followed by Jonathan Shafer, Deac McCaskill, and Corey Heim rounding out the top five. Flagman Brandon Willard gives the signal and the drivers line up for the start. McCarty gets a great start and Willard concurs and puts out the green flag, and again we are underway in the season opener. Honeycutt times the start perfectly and gets the advantage on McCarty as he settles in behind with Deac McCaskill in pursuit. In the fight behind them, Connor Hall gets his nose damaged, and further back, the field gets stacked up and Marchbanks gets into the # 99 of Layne Riggs and he goes around and sits in the middle of turns three and four. Again everybody somehow gets through, but the # 4 of Justin Johnson sustains some front clip and fender damage and has to come down pit road to the attention of his team. It doesn't take long for the track crew to get everything cleaned up and again we are ready to get back to racing.
It will be Honeycutt to lead them down this time with teammate McCarty second, McCaskill now third with Shafer fourth and now it's Corey Heim closing out the top five. Willard again gives the signal, and Honeycutt brings them down. As they reach the KRC Power Steering restart zone however, McCarty takes off but Honeycutt doesn't go, and the field stacks up behind them and it's a yard sale on the front stretch with several cars involved. Jacob Heafner, Mike Looney, Hayden Swank, and Janson Marchbanks, all with significant damage. Others are involved as well, but these are the cars with the heaviest damage who look to have no chance at fixing their machines to rejoin the race. So whether Honeycutt missed a shift or was contesting the start, it causes chaos and carnage here in the Old North State Nationals. The track crew has a mess, and so as expected, it takes a bit to get the track back ready for competition, but when they do, Honeycutt will still be your leader with McCarty second, McCaskill third. Shafer fourth, and Corey Heim restarting fifth, as the last restart, or I should say attempted restart is ruled a no start as McCarty indeed got an early start, and so we'll try it again, albeit several cars lighter this time.
Flagman Willard gives the signal and they double up to go back racing. Willard gives them an extra look, but this time Honeycutt gets a good start, and Willard likes the view and puts the green back out and again we are back underway. Everybody settles in line quickly this time up front, but again the middle of the field is filled with eager racers and the battle again begins in earnest. # 8 Carson Kvapil makes his first appearance inside the top ten after he made an amazing move to miss the last incident, and now finds himself in position to make a run to the front. But he's been patient all day, and he continues to take care of his machine, lurking just inside the top ten runners. But then # 24 Mason Diaz goes in deep as Shafer entered the corner wide, and as he came down too late to close the door, Diaz runs up on top of the side of that machine, leaving Shafer with heavy damage as he sits in the middle of turns one and two, unable to continue. Again Kvapil makes a great move to avoid the carnage in front of him, as most of the field follows him through, but # 27 Coy Beard gets caught in it adding damage to his already hurt race car, and Justin Johnson is also stopped in the turn momentarily, but gets his machine refired and continues on.
Again track clean up is quick, and Willard doubles up the field with Honeycutt again leading them to the start, teammate McCarty second, McCaskill third, Heim now fourth, and Connor Hall back to fifth. Honeycutt again gets a great restart, but the handling is apparently going away on the # 22 machine, as McCaskill gets by for second, and then Heim works underneath with Hall trying to follow him through, and Jason York has worked his way back up front and now he's looking on McCarty for sixth. And again, just outside the top 10 it's a boxing match with no one giving any ground intentionally. And now the caution is out once again as Justin Johnson's machine has had enough and goes up in smoke. After the caution, Deac McCaskill will maneuver past Honeycutt and will lead for the first time in the race, with Heim and Hall still hot on their heels, with the rest of the field actually intensifying the battles for position throughout the rest of the field. But, they manage to get enough laps in this time to get to the last competition caution of the race, setting up for a hotly contested finish to this already hard fought race.
Jones, Causey, Kvapil, # 14 Jared Fryar, # 41 Trevor Ward, and # 2 Brandon Pierce all take advantage of the controlled caution and stay out for a chance at $30,000. They double up, and Kvapil immediately attacks on the restart. He's able to easily dispatch of Causey and Jones, and now looks to walk away from the field. But the caution will come out yet again as Causey finds himself around in turns 1 and 2. So, it's Kvapil on old tires trying to hold off the field, but behind him is a determined Jared Fryar and Kaden Honeycutt. For Kaden, this is a perfect opportunity to pounce on the cars who previously stayed out. Willard doubles them back up in no time and we're green for the final time.
Honeycutt gets a great restart in third, but Kvapil gets an even better one. Kvapil is able to get out to a pretty sizable lead as Honeycutt is easily able to power by Fryar for second. Now, only the iRacing Chev of Carson Kvapil stand between him and $30,000. But Kvapil is playing his strategy just right. Honeycutt is within reach of Kvapil, but just can't get to the bumper. He finally does get a run, but lapped traffic hinders his progress, and Kvapil gains even more time. Honeycutt prepares one final charge, but Kvapil is finally in full song and is able to cross the line first and bags $30,000 for him and JR Motorsports.
So to sum up this incredibly eventful race, the field here today basically beat each other up in an acknowledgement to the importance of having a great finish, but Carson Kvapil, guided by his spotter Josh Berry, ran the perfect race, letting everyone use up their stuff, and at the end finally showed his hand. He played the long game, and came out the 2022 Old North State Nationals victor.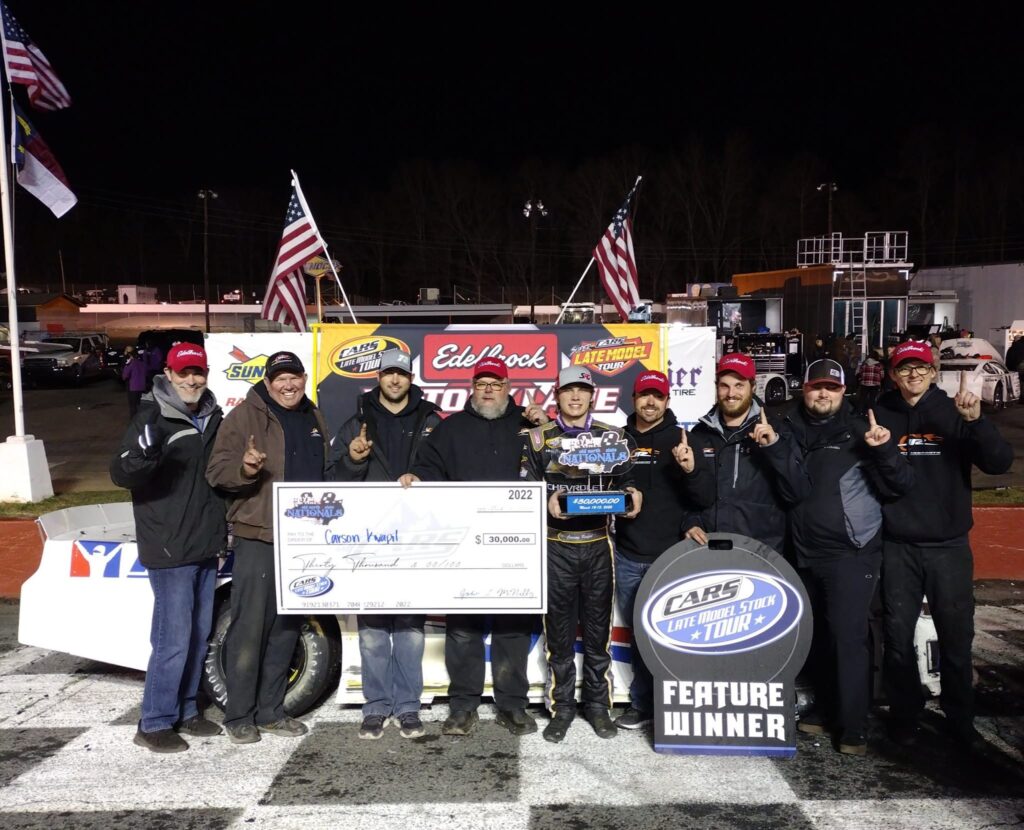 MY TAKE –
When me and my son Josh did our ritual pre race evaluation, we discussed the fact that a Kvapil brothers sweep this weekend was indeed a reasonable possibility. Carson has secured a season in the infamous JR Motorsports signature # 8 ride in the CARS Tour Late Model Stock Series, while brother Caden moves into the new CARS Tour Pro Late Model Series after showing he could run good and win consistently the previous season on the Carolina Pro Late Model Series, a developmental series that both brothers had great success in. Carson being the 2020 Carolina Pro Late Model Series, the inaugural Champion for that tour, and then following that up with the 2021 CARS Tour Super Late Model Championship. Caden will run the season this year driving for the Kvapil family team, as he did last year in the Carolina Pros, and as Carson did when he won the Carolina Pro Late Model Championship and the CARS Tour Super Late Model Championship.
So, the team knows how to win. They should. For the team's foundation is the pair's father, Travis Kvapil. It should be known though that Travis doesn't want the spotlight to be on him. And as a race coverage entity, we can vouch for the fact that Travis wants the spotlight to be on his drivers. Respectable. For indeed it is the driver's development that is the story here. And though they are his blood, his family, they are drivers in their own right, developing the skills to be the best stock car drivers they can be. And at this event, these drivers exhibited the talent that they have amassed.
And truth be told, they garnered much of that knowledge, and their driving skills from their original team owner and driver mentor, Travis Kvapil. And after this event today, we feel it must be recognized. Most people know that Travis Kvapil is a retired accomplished NASCAR driver. He is the 2003 Craftsman Truck Series Champion, after receiving the Rookie Of The Year honors in the Series in 2001, leading to being selected as a 2004 IROC Series participant, and a 2005 ARCA winner at Pocono. Before all of this, he was the 1996 Madison International Speedway Super Late Model Champion, and at the time, the youngest to do it. But unfortunately, for a lot of NASCAR fans, what he is most remembered for was marginal success in the NASCAR Xfinity and Cup Series, in which he competed in for a number of teams from 2001 to 2015. To the point that as I was watching a NASCAR race a few years back that Travis competed in, and after a less that stellar finish for his team, a fellow fan asked me, "Why does he even race?" I just laughed. Not at the fact that Travis had a bad day, or that he really didn't get a fair shake in the big leagues of NASCAR, but because I thought it really to be an asinine uninformed comment, as shown above, anyone really paying attention couldn't say that he didn't have great success in stock car racing.
But even I could not have known how valuable a racing career Travis has truly had. A career, that although retired as a driver, is far from fully written. But a career that is already hinting on the legacy that it will fully be by the time it is finished. For while some look at trophies in the case as a matter of success, families like the Kvapils are playing the long game that branches more than just one trophy case. And every trophy added is knowledge gathered. And that knowledge today is being passed down along with everything that was learned in the gathering of those trophies to begin with. It is reported that Travis Kvapil learned his love of cars from his father. And it's obvious that Travis' sons Carson and Caden have also learned that same love from their father. And have taken the knowledge that Travis gathered through his successful racing career, and are turning into their own successes. And both Caden and Carson in their wins at the CARS Tour 2022 Old North State Nationals played strategy. They played the long game and let the rabbits run until it was time to make their move. And I for one will be one that points out the true significance.
Travis is leaving a legacy. But one that truly is now in the hands of the drivers he's developed. They're already winners, and time will tell how far they can go in this sport. But just today all of their careers have met a crossroads of sorts. Where Travis has passed the torch marked with a broom. In the history books it will read two wins on this day. A day that saw the first time two brothers swept a CARS Tour weekend. A day that saw Caden Kvapil winning the very first CARS Tour Pro Late Model event. And Carson winning his first race with his new team in JR Motorsports. And for the competitors, both drivers just made a major statement in their chase for a 2022 CARS Tour title. And for the fans the knowledge that both of these young men are worth watching well into the future. And while only Travis can tell you the true reason why he raced, I can inform you now that stock car racing is better off that he did. And it's obvious that the Kvapil name will be one that stock car racing fans will hear for several years to come.
Our Blue Collar Racer Of The Week this week was one of the most difficult choices we've ever had. It took us several days now to decide it. Braden Rogers is the first name we'll mention, as the Lee Faulk Racing And Development rookie CARS Tour Late Model Stock driver was in the thick of the battle all day, starting twenty first on the field, and in the end, coming home with an amazing ninth place finish. Second we have to talk about Corey Heim. Corey started third and finished fifth. But if I just told you that, you wouldn't get the depth of his race in the season opener. Corey Heim battled with the best on the Tour all day and never gave an inch, even when it seemed he would be shuffled out, and survived carnage all around him to finish in the top five.
We also came really close to giving the nod to the winner Carson Kvapil, who started sixteenth, but through strategy and skill took the lead after the last caution of the night, and never looked back, running a near perfect race. But at the end of the discussion, we came back to Justin Johnson Racing driver Carter Langley. Langley qualified thirty first out of thirty four starters, and had to spend the first part of the race just getting into position to compete with the front runners. That was a battle in itself, because, and we can't stress this enough, the CARS Tour fields are filled with the best Late Model racers in the region.
And when Carter raced his car up through the field, he of course met stiffer and stiffer competition, until he found himself in the thick of the knock down drag out race the event had become. He was beating and banging, and getting beat and banged, but he never wavered. He just kept moving forward. And after being in the middle of the battlefield all day, came home just a few spots short of the top five, finishing seventh, strongly inside the top ten. In a race like this, with so much on the line, an outstanding achievement considering everything that happened around him. A run from 31 to 7 against improbable odds earns Carter Langley and his team our Blue Collar Racer Of The Week award, and one very well earned.
With so much history at one event, it leaves us fully excited looking toward the rest of the CARS Tour season this year. If the first race was any indicator, it will be one for the ages. And we look forward to seeing all the region's great racing fans this year in what promises to be a historic year in the central east coast racing region, so as always, See You At The Track!