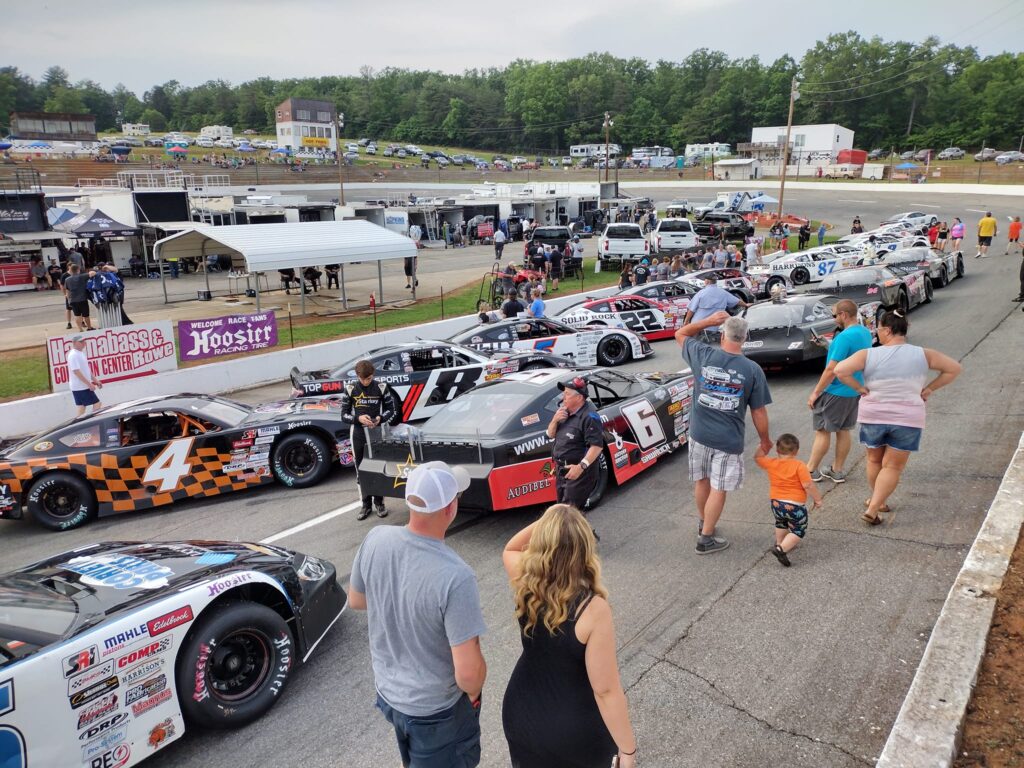 Endurance is not just the ability to bear a hard thing, but to turn it into glory

William Barclay
The truth of it is, while we put a lot of thought and care into the schedule choices we make at Short Track Report, some shows are immediately added because of how special we know they will be. Big money races at certain tracks, big points races on certain tours and series, and even crucial local shows at certain times of the season at a various number of tracks around the region. But some shows just get your attention. So when the CARS Tour revealed their date at Franklin County Speedway, the hair stood up on the back of my neck. When you put the best drivers on one of the fastest and most challenging tracks in the country, the potential outcome could be epic. So, just to know, we were looking forward to this event for a long time. And as the date grew closer and closer, so did our anticipation. For the season on the Tour has been an interesting one thus far already. The youth movement is afoot and strong on the Tour this year, and the veterans are having to play a little catch up, and in the midst of that they came to Franklin County. There will be no guarantees of a good finish here as anything can happen and usually does. And this track has a tendency to produce some of the best racing you can imagine, so to win here is challenging to say the least as many times it gets a bit physical coming to the line. A winner here has to earn it. Throw in a few local track ringers who definitely know how to get around this place and the challenge is real.
So we aren't the only ones excited about this event, as the car line to get into this place started growing early, and it didn't cease until right before showtime. The fans were treated to a meet and greet, and again we can't state it enough that all tracks should do this as often as possible as what fan wouldn't like getting to meet their favorite driver while also getting a good closeup view of their competition hot rod as well? And after every fan got the opportunity to see their favorite teams up close and personal, the invocation was spoken, and the National Anthem played for a portion of what we feel are the greatest sports fans on earth, the teams are ready…the fans are excited…and the Tour is ready so…Let's Go Racin'!
CARS TOUR PRO LATE MODEL FEATURE
Starting on the pole with a blistering time of 13.475 seconds is the # 96 of Luke Fenhaus, still looking for his first career CARS Tour Pro Late Model win. Alongside will be former Camping World Truck Series winner # 24C Cale Gale, with # 57 Gus Dean starting third, # 6 William Sawalich fourth, and the # 35 of Caden Kvapil will round out the top five. CARS Tour flagman Brandon Willard looks over the fast field, likes what he sees, and we're green for the Pro Late Models!
Fenhaus gets a great jump as Sawalich rockets all the way up to second, picking off Dean and Gale. Behind, the # 55 of Charlie Keeven powers around Kvapil to get into the top five but the field is slowed as what is best described as a monsoon covers the track and delays the race for nearly four hours. But with persistence and determination, the Pit Row TV crew is able to get the track dry with their personal vehicles and we're ready to go back racing at nearly 11 o'clock at night.
In an effort to dry the track even more, the field will go under a green/yellow condition, meaning that caution laps will count as the cars try to get heat into the track. After a handful of pace laps, the field is ready to go back green with Fenhaus first, Sawalich second, Gale third, Dean fourth, and Keeven fifth. Fenhaus and Sawalich are nearly dead even as Dean is able to get by Gale for third and Kvapil comes out of nowhere and passes Keeven and Gale to capture fourth. Sawalich hangs tough on the outside but Fenhaus is eventually able to stay out front as Sawalich scoots in line behind. There's trouble behind however as Keeven and the # 13 machine of Austin MacDonald make contact which sends the # 13 machine around out of four. Fenhaus still maintains the lead with Sawalich second, Dean third, Kvapil fourth, and Gale fifth. Willard likes the lineup and we're back green.
Sawalich gets a better jump this time around and clears for the lead. Kvapil also gets a monster restart and is able to pick off Dean for third. Gale loses some momentum behind and surrenders fifth to Keeven as Sawalich looks to walk away from Fenhaus. Gale fights back though and drives right back by Keeven. Back up front, Sawalich just can't get away from Fenhaus as Fenhaus dives underneath and takes back the top spot with ease. But there's trouble in turn 4 as a piece of the track has come up and has forced a red flag to be displayed on the field. After a lengthy stoppage for repairs, the track is race ready and so is the field as Fenhaus lines up first, Sawalich second, Kvapil third, Dean fourth, and Gale fifth. Willard likes the formation and we're back green. Both Fenhaus and Sawalich slide sideways at the line as Sawalich briefly clears for the lead. But Fenhaus fights back, pitting Sawalich on the outside in the clutchs of Dean. Fenhaus clears as Sawalich and Dean make contact, sending Sawalich into the wall. Sawalich recovers but loses second to Dean as the # 57 machine sets his sights on Fenhaus. But there's more trouble as the # 30 of Michael Gaier spins and slams the wall out of turn four, bringing out another caution.
For the ensuing restart, Fenhaus will line up first, Dean second, Sawalich third, Kvapil fourth, and Gale fifth. Willard likes what he sees and we're back green. Fenhaus gets another great restart, but Dean is right there. Dean dives into turn three and bumps Fenhaus out of the way, allowing Sawalich to make it three wide for the lead. Dean finally clears but Fenhaus won't give up and gets back by Dean for first. Dean has a major tire rub from all of the mayhem and has to pit, giving up second to Sawalich. Behind them, the # 74 of Ryan Moore has somehow made it into fourth, getting by Gale in the process. But it's all Fenhaus up front as he's got a huge lead with three to go. But trouble behind as Kvapil's machine gives up the ghost and lays fluid all over the race track. This will set up a late race shootout with Fenhaus lining up first, Sawalich second, Moore third, Gale fourth, and Austin MacDonald, recovering from an early spin, lining up fifth. Willard anxiously looks over the field and we're green for a late night, short track showdown.
Fenhaus gets a fantastic jump as Moore powers underneath Sawalich for second. As the white flag waves, Moore is somehow able to get underneath Fenhaus into one. They bump and bang with Fenhaus keeping the advantage. Coming into three and out of four, they're still side by side! And as they come to the line, they're glued together up against the wall, reminiscent of Kurt Busch and Ricky Craven at Darlington! Smoke flies and Moore barely edges out Fenhaus at the line for his first career CARS Tour Pro Late Model win! Fenhaus comes home a heartbreaking second after dominating, Gale is able to take third, MacDonald gets fourth, and Sawalich falls to fifth.
CARS TOUR LATE MODEL STOCK FEATURE
Former Franklin County track champion # 87 Mike Looney starts up front with a Late Model Stock track record of 13.495 seconds. Defending race winner # 77 Connor Hall starts alongside in second, with rookie # 32 Zack Miracle starting third, local # 4D Kyle Dudley fourth, and # 8B Chase Burrow rounding out the top five. Brandon Willard looks over the huge field of Late Model Stocks, likes what he sees, and we're green on a very early Sunday morning at Franklin County!
Hall is immediately able to clear for the lead as the # 8 of Carson Kvapil clears Burrow to capture the fifth spot. Dudley uses the high side to his advantage and clears Miracle for third as Hall and Looney look to walk away from the field early. But their plans are foiled as the # 4S of Hayden Swank spins on the front and brings out the caution early. Hall picks the outside for the restart as Looney lines up second, Dudley third, Miracle fourth, and Kvapil fifth. Willard likes the lineup and we're back green. But the caution is right back out as the # 7 of Dylan Ward is slow on the back. It'll be the same lineup as Willard gives the thumbs up once again and we're right back green. Hall gets a great jump but we have an early case of yellow fever as the # 2R of rookie Braden Rogers has looped it into the inside wall on the backstraightaway. The front row will stay the same as Miracle will line up third this time with Dudley fourth and Burrow fifth. Willard looks over the field, likes the formation and we're back underway yet again.
Hall gets a fantastic jump as Dudley takes the third spot back with Kvapil following him through by Miracle with Burrow dropping to eighth after a bad restart. Miracle can't seem to get into a rhythm as the # 22 of Bobby McCarty takes fifth away from him. But McCarty has a problem and is slow on the track! The caution will fly yet again as the race approaches one in the morning. For the restart, it'll be Hall first, Looney second, Dudley third, Kvapil fourth, and the # 12 of Kaden Honeycutt in fifth. A tired Willard looks over the field, gives the thumbs up and we're back green. Hall gets another fantastic jump as Kvapil powers by Dudley for third with Honeycutt holding on to fifth. Honeycutt then secures another spot as he gets by Dudley for fourth. Hall and Looney play cat and mouse for a handful of laps before another caution flies to check on the track in turn four after it came up earlier in the Pro race. After another lengthy red flag for minor track repairs, the field is ready for the green flag. Hall lines up first followed by Looney in second, Kvapil third, Honeycutt fourth, and Dudley fifth. Willard looks them over, likes his view, and we're back green.
Hall spins his tires but still gets a phenomenal jump but, as is the theme for tonight, the caution flies again as Chase Burrow has slowed on the track. For the restart, it'll be Hall first, Looney second, Honeycutt third, McCumbee fourth, and Kvapil fifth as he lost a couple of spots on the last restart. Willard likes the formation and we're back underway. It's dead even at the start but Hall eventually clears Looney and leads another handful of laps before the caution flies again, this time for local # 78 Daryn Cockram going around in three. Right before the caution, Kvapil had gotten around McCumbee, gaining him another spot. As they line back up, it'll be Hall, Looney, Honeycutt, Kvapil, and McCumbee. Willard likes the formation and we're back green.
They're dead even again as Hall and Looney put on a show for the lead. Looney finally clears for the lead on the backstraightaway but Hall gets into three too hot and spins Looney around! Hall is collected along with Honeycutt, # 77 Trevor Ward, # 2 Brandon Pierce, and local # 57 Jimmy Mullins. A heartbreak for both drivers as they're dominating performances go down the drain late in this one. For the restart, it'll be Kvapil, Dudley, McCumbee, # 95 Jacob Heafner, and Miracle. Willard looks over the field, likes the view and we're back green. But Kvapil gets a little pedal happy and the start is called off. On the second attempt, all is well as Kvapil tries to walk away. But Dudley is having none of it as he gets underneath Kvapil and they both nearly spin as they make contact in one and two! McCumbee and Miracle begin to fall back through the field, allowing Heafner to take third with # 24 Mason Diaz following through. Also coming up through the field is Connor Hall, trying to make what he can out of a disappointing race. But Kvapil barely hangs on and beats out the Franklin County favorite in Dudley to win his second race of the year. Heafner comes home third, Hall miraculously gets fourth, and Diaz rounds out the top five with the morning sunrise nearing.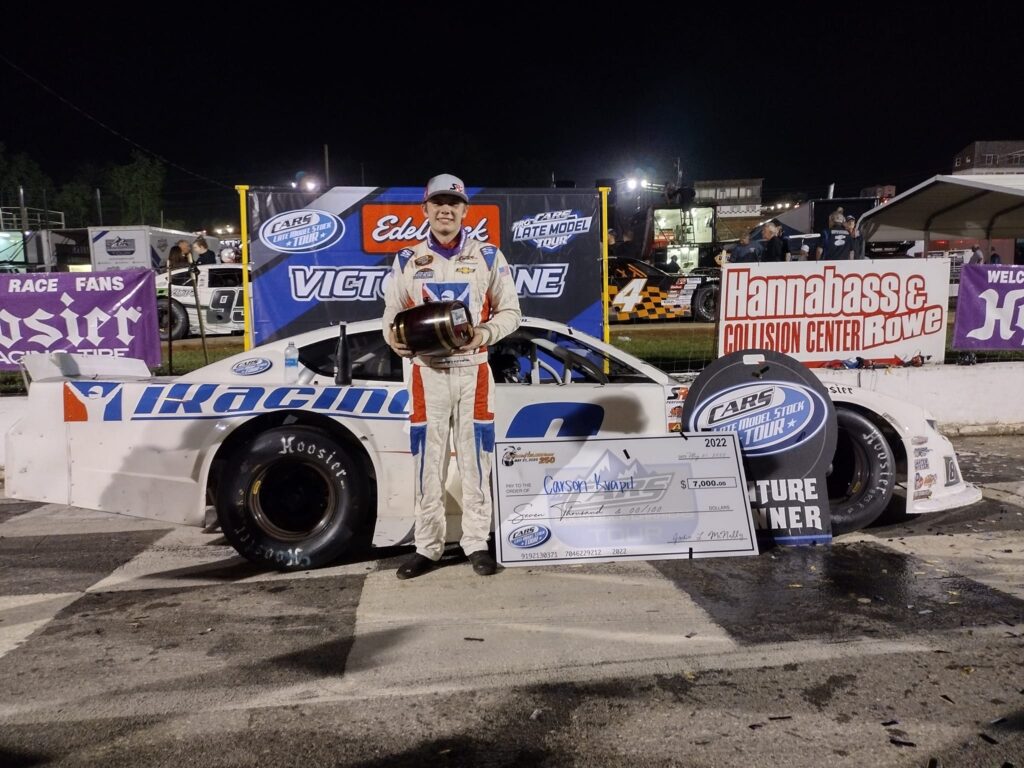 MY TAKE
Well, we've already heard some rumblings on social media about the number of times the track had to be repaired so unfortunately I have to start here first. Number one, the track surface is literally over 50 years old. So why you might ask? Well, when a track produces the kind of racing you see at Franklin County…epic racing so let's not pretend otherwise, why would you want to change it? As many know, I'm a proponent of the old saying, "If it ain't broke, don't fix it". And so I tend to agree with the track owner and promoter that knows when he has a good thing and has the intelligence to not keep tinkering around when things come together. Second, a good bit of this comes from the new ride heights on the cars now, kind of a product of bump stops. The cars are low, and the proof is in at any short track in the region with any bit of banking, the sparks that fly from underneath at night. Yes they've always done it, but now it's a prevalent sight. And third…well, it's time. Time to actually address the age of the track. 50 years of the best racing imaginable has taken a toll on the old girl and she needs a little love. But for this track it's going to be a challenge deciding exactly what action to take. When you have one of the best, fastest little tracks in the country, you definitely don't want to do anything to change it. But trust me on this, everyone needs to relax. The promoter here knows exactly what he has. And, he knows after this race that it's time to give the track surface some extra attention. But again, trust me when I tell you that it will be addressed in the best way possible. In other words, this will be fixed, and in a way that will keep the track producing great racing action. Langley Austin knows his track and he knows short track racing. If there was anyone who could take care of this type of issue, it's Mr. Austin. And trust me when I tell you, no one loves this place more than him. So, we're not as concerned as the Facebook warriors, and neither should you be.
But I can't go any further in this article and not mention the great fans that came out to this event. No words I write here can express the fortitude shown by these great people. They endured a very lengthy rain delay, not to mention the monsoon type weather that brought it. Cold, heavy, almost torturous rain. But still they stayed. And after they endured it, in the middle of some outstanding racing, they endured the track repairs as well, and still they stayed. They stayed until they were able to see some amazing finishes, as that's what they came for, and nothing was going to keep them from it. It was to the point of being emotional for me. As the sport has endured so much over the past couple of decades, but like me and my son, they have never lost their love for short track racing. And man can I understand that. But still, I am struggling to correctly describe what this crowd endured, and how they endured it. But they stayed and they got their payoff. Watching Ryan Moore come from nowhere to take the exciting win in the Pro Late Models, and then to see the improbable finish in the CARS Tour Late Model Stock feature that saw one of their hometown heroes removed from the win chance, only to be replaced by another local track competitor challenge one of the best teams and drivers in the country for the win. But to everyone reading this that was in the crowd at this show, our hats are off to you! And I don't know any other fans in the entire country that showed the dedication to the sport that you did for this show.
Next, speaking of great performances, our Blue Collar Racer Of The Week this week is Ryan Moore. Seemingly coming from nowhere, Ryan started eighth in the CARS Tour Pro Late Model feature, and bid his time as the other competitors battled it out. Moore kept them in sight but took care of his car, working the whole race to keep himself in reach. And taking advantage of a late race restart, laid it all on the line coming to the finish, just nudging Luke Fenhaus for the win. In the end it all paid off in victory for his team with a spectacular performance that gets Ryan Moore our Blue Collar Racer award for this event.
At the end of it all, though it took as long as it did, and through everything that happened at this event, the racing was phenomenal. We came to the track early, not long after the pit gates were opened, and we didn't leave until the next morning around 3AM. But we weren't alone. Everyone involved showed the dedication that you don't find much in this world anymore, but that's short track racing in our region, and one huge reason we feel makes this the best region in the country. And every event is unique and memorable. This week it was moonshine at sunrise. A moment in time we will definitely never forget!