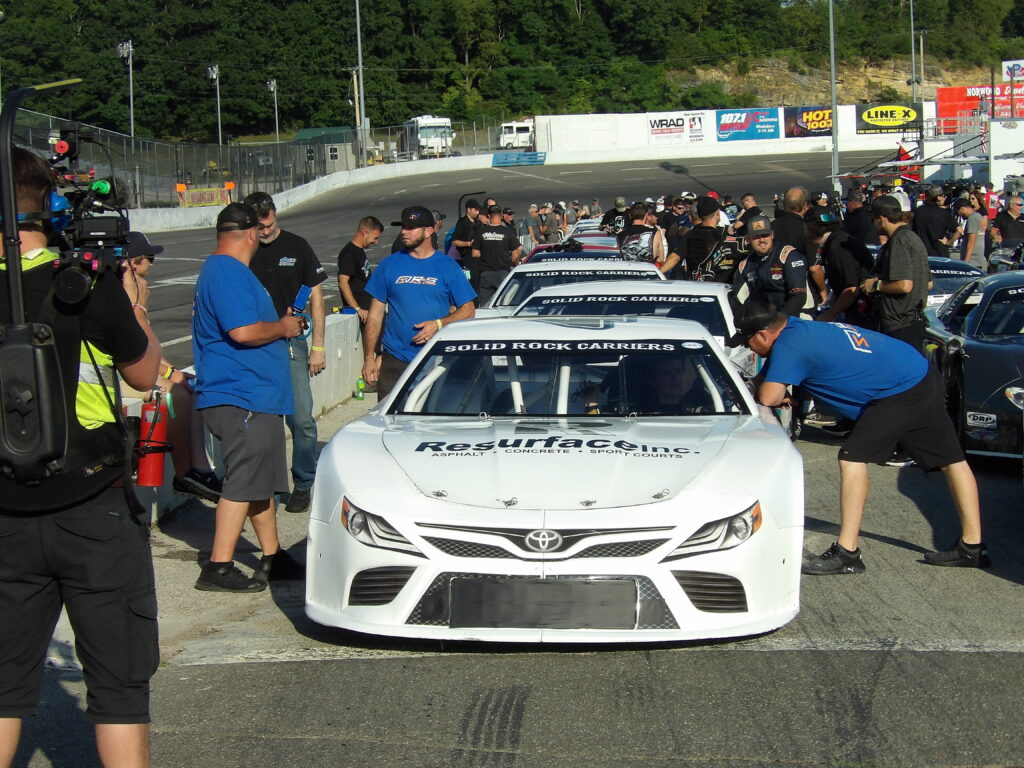 This week we headed up Highway 52 and then took the scenic route deep into the beautiful western mountains of Virginia to Motor Mile Speedway in Fairlawn to catch back up with the most competitive Late Model division in the country known as the CARS Tour. With just six races left to decide a champion, things are ramping up on the tour as the drivers are now out to get all they can to stay in the hunt. But with a tour this competitive, that's kind of just par for the course in any CARS Tour event. The prestige and notoriety that comes with a win on this tour is second only to the big three NASCAR Series, but that also makes it twice as difficult to win as the stakes are as high as it gets in the world of short track stock car racing.
And with the season headed into the final stages of 2022, it only adds to the competitiveness of this tour. Every competitor is capable here. And today, the drivers find themselves kind of in a predicament. A good amount of Friday practice was rained out, and so the drivers are practicing here today before the event on a very hot track. But they will be racing primarily at night when the track will change significantly. And also, qualifying will be in between as the track will start to cool as the day transitions to dusk. This combination of heating extremes will be challenging to say the least. Strategy will definitely come into play here tonight, and it's going to be interesting to see how each team and driver plays it.
The crowd is filing in as the pre-race ceremonies start. The invocation has been eloquently spoken and the National Anthem sung. Pit Row TV is wrapping up it's pre-race spiel with one lucky fan chosen to give the command to start the engines, so, Let's Go Racin'!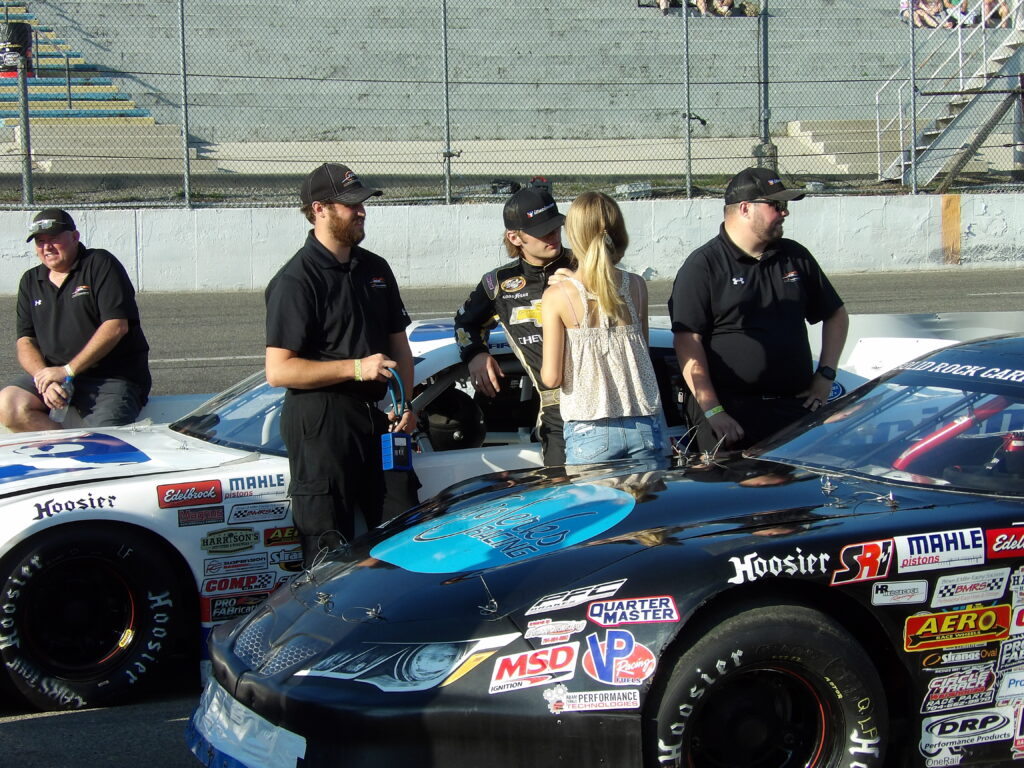 FLUID LOGIC 225 PRO LATE MODEL FEATURE
Multi-time season winner # 6 William Sawalich starts on point with a fast time of 15.773 seconds. Starting alongside will be the # 96K of Katie Hettinger followed by # 5 Gavan Boschele, # 35 Caden Kvapil, and dirt racing wunderkind Buddy Kofoid in the # 24K rounds out the top five. CARS Tour flagman Brandon Willard looks over the great field, likes what he sees, and we're green at Motor Mile! Sawalich gets a monster jump as Boschele barely clears Kvapil to maintain third. Moving up through the field quickly is the # 96 of Luke Fenhaus as he's pressuring the # 13 of Austin MacDonald for sixth, eventually getting by and setting his sights on Kofoid. Kofoid fights hard, but the pressure is too much for now as Fenhaus makes his way into the top five. But Kofoid is still there, as he gets right back by Fenhaus. Fenhaus tries to mount another attack but the competition caution will fly as the field has completed forty consecutive laps without a caution. Lining up for the restart will be Sawalich, Hettinger, Boschele, Kvapil, and Kofoid. Willard looks over the field, likes the formation, and we're back green! Sawalich gets another fantastic launch as Kvapil barely clears Boschele for third on the outside. Behind them, Kofoid and Fenhaus are still fighting tooth and nail as now Fenhaus will clear once again for fifth. Kofoid gives him the slightest of nudges, but it's not enough as Fenhaus now pounces on Baschele. Fenhaus dives underneath and clears Boschele with ease, leaving him to deal with Kofoid. Kofoid takes advantage of Boschele's lost momentum and grabs the spot away, dropping Boschele out of the top five. Before you know it, Fenhaus is now all over Kvapil. Fenhaus looks to the outside, now allowing Kofoid to catch up and make it a three way dance for third. Kvapil somehow hangs on as Fenhaus and Kofoid are back side by side for fourth. Fenhaus barely keeps the spot as the battle up front is starting to steam.
Sawalich has led the majority of the race, but Hettinger tries to change that as it seems she's slowly reeling Sawalich in. To Sawalich's displeasure, he runs into heavy lap traffic, a very difficult task to navigate at a track like Motor Mile. This only allows Hettinger to get ever so closer. She's finally right there on Sawalich's back bumper, but her car starts to cut off when exiting the corners! She tries to recover as best as she can, but it's just too much time lost as William Sawalich take Brandon and Dennis Setzer to victory lane for the fourth time in a row. Hettinger somehow hangs onto second with an ailing car followed by Kvapil in third, Fenhaus in fourth, and Kofoid gets a very hard earned fifth in his CARS Tour debut.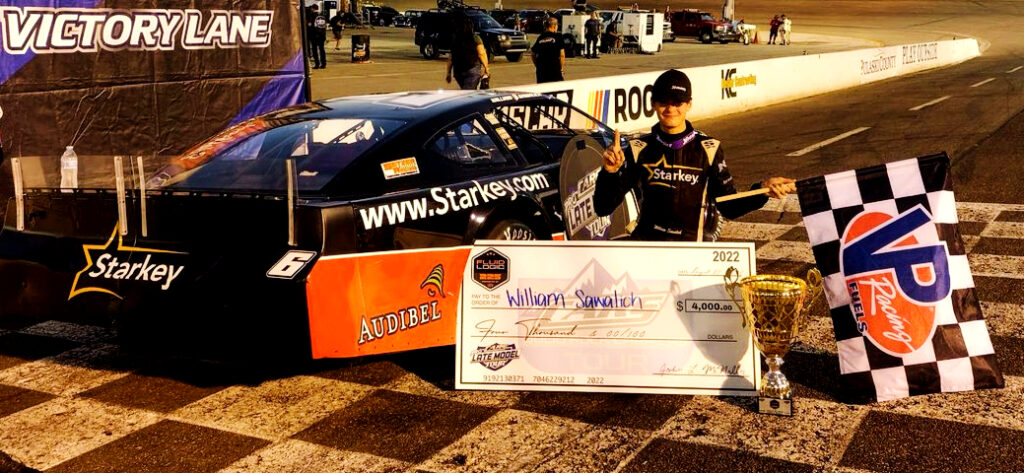 FLUID LOGIC 225 LATE MODEL STOCK FEATURE
Point leader # 8 Carson Kvapil nabs the pole with a quick time of 15.946 seconds, followed by title challenger # 77 Connor Hall. Rounding out the top five will be the # 87 of track favorite Mike Looney, # 08 Deac McCaskill, and the # 5 of Carter Langley. Brandon Willard looks over the beautiful field of Late Model Stocks, gives the thumbs up, and honorary starter Matthew Fawbush waves the green! Kvapil and Hall are dead even for the point as another track regular in the # 4D of Kyle Dudley takes fifth away from Carter Langley. McCaskill is able to power by Looney as Kvapil and Hall are still side by side. Hall finally clears as McCaskill starts to pressure Kvapil. Dudley now gets by Looney for fourth as McCaskill is to the outside of Kvapil, battling for multiple laps. He gets by and immediately looks on Hall, as there's amazing racing all throughout the field at Motor Mile. McCaskill gets by for the lead with Dudley now passing Kvapil for third. Dudley isn't letting up as he now powers by Hall for second as the crowd goes wild. McCaskill and Dudley start to pull away from Hall, Kvapil, and Looney, as those three are nose to tail. In the middle of the field, the # 24 of Mason Diaz and the # 95 of Jacob Heafner are beating and banging every single lap, as is most of the field. Back up front, the Dudley machine seems to be going awry, losing considerable ground from McCaskill. He then starts to drop spots like a rock, eventually bringing his car down pit road in a heartbreaker of a finish for the multi-time track winner. This will now move the # 22 of Bobby McCarty up to fifth as the competition caution flies for the first time tonight. Under the caution, the # 12 of a hard charging Kaden Honeycutt heads down pit road for potential issues, but eventually comes out before the restart. As the field has barely caught its breath, the ensuing restart will see McCaskill, Hall, Kvapil, Looney, and McCarty as the top five. Willard looks over the competition, likes the lineup, and we're back green!
McCaskill will clear his machine off of turn two as the field scrambles wildly behind. Looney kills two birds with one stone as he gets by both Kvapil and Hall to move into second. Langley has made a resurgence as he gets by McCarty and now looks on the Kvapil hot rod. He gallops his way by and then pounces on Hall, moving to third. As Langley looks ahead to Looney, the caution flies for the slow # 91 of Andrew Grady on the back. He immediately gets it refired, resulting in a one lap penalty for intentionally bringing out the caution. Lining up for the restart will be McCaskill, Looney, Langley, Hall, and Kvapil. Willard looks them over, likes the formation, and we're green! McCaskill gets an amazing jump as Hall flies by Langley for third. He is then under attack from both Kvapil and McCarty, who get by with ease, moving Langley to sixth. Kvapil then gets under Hall, as they do battle once again. They beat and bang multiple times. Kvapil clears for the spot, but Hall immediately crosses over, pitting each other side by side again. While those two continue to battle, the hard charging # 2 of Brandon Pierce heads down pit road with a mechanical gremlin, ending his night prematurely. Back on track, Kvapil clears Hall again, but Hall gives him a huge shot off of turn two, nearly turning Kvapil. Kvapil gathers it back up as he tries to pull away in third. But there's trouble out of turn four as the # 8B of Chase Burrow and the # 10 of Janson Marchbanks have collided and spun. They both get back going as the order for the restart will be McCaskill, Looney, Kvapil, Hall, and McCarty. McCaskill once again gets a phenomenal launch as they're almost three wide for second between Looney, Kvapil, and Hall. Behind them, the # 44 of Conner Jones has gotten by McCarty for fifth as the drivers in front of him have settled down a bit. McCarty is right back on Jones, breathing down his neck, eventually taking the spot back to move into the top five. As they start to log some laps, the Honeycutt hot rod has started to move up through the field yet again, picking his competitors off like flies as he's now locked in a fierce battle with Jones. But the caution is out once more, this time for Burrow who is stopped in turn three. Like Grady, he immediately gets going, resulting in a one lap penalty. It's a very quick yellow period as McCaskill will once again line up first followed by Looney, Kvapil, Hall, and McCarty. Willard looks them over, gives the thumbs up, and we're back green!
It's wash, rinse, and repeat for McCaskill as he yet again pulls away at the start. Behind, it's three wide again. It's then ultimately down to Looney and Hall, as Kvapil gets put back in fourth while Honeycutt has now moved into fifth. It's Hall who somehow takes second away from Looney, as he looks to now do something with McCaskill. Behind, there's three wide racing throughout the field, with Heafner, Jones, and Diaz making the most contact. It eventually results in another caution, as Diaz is stopped on track. But, once again, he immediately gets going, resulting in another penalty. As there's now just thirty laps to go, it'll be McCaskill, Hall, Looney, Kvapil, and Honeycutt the top five. Willard likes what he sees and we're green once more! For the first time all night, the restart is close as Hall gives McCaskill all he can. But McCaskill is just too good as he eventually clears for the point again. Kvapil gets by Looney behind, with McCarty finding his way around teammate Honeycutt for fifth. As McCaskill starts to pull away again, the battle for second begins to amaze as Hall, Kvapil, and Looney go three wide for the spot. Kvapil wins out and it's now Hall and Looney who battle. Looney gets the power down and gets by, also allowing McCarty to follow through, pushing Hall to fifth, just ahead of Honeycutt. But up front, it's a showcase of a seasoned veteran as Deac McCaskill comes home the victor at Motor Mile. Kvapil comes home second, Looney gets a hometown third, McCarty battles for a fourth, Hall drops to fifth, and Honeycutt somehow ends up sixth after some last lap contact with Conner Jones. What a fantastic race here in Fairlawn!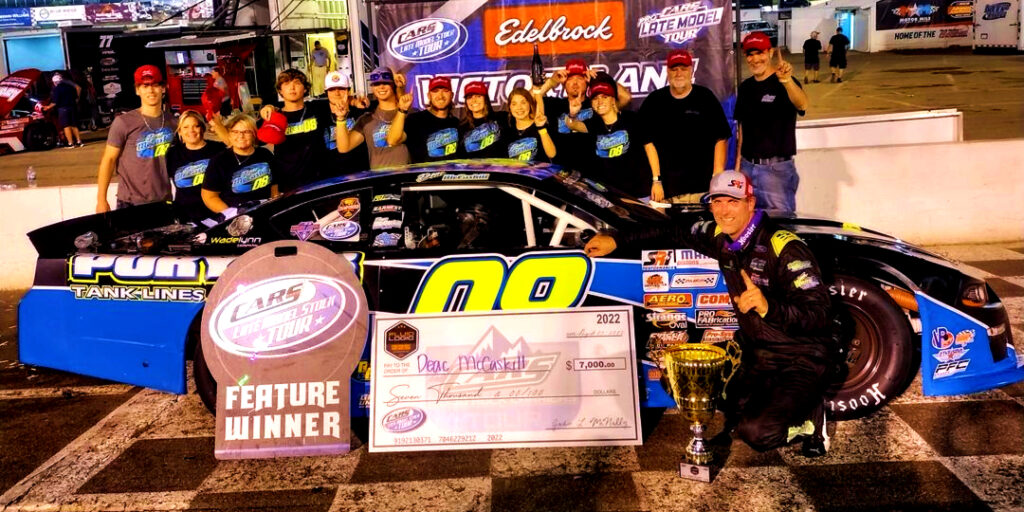 MY TAKE
Usually in any CARS Tour race you see, in the beginning stages, the drivers play a strategy we've named Late Model Talladega. The drivers through the field from front to back run two wide, saving tires, and using race breaks to work on their machines. Today was different. And it was so because of the track they raced on this week. Motor Mile, for whatever reason, is now perfectly seasoned. As predicted, the track changed tremendously, literally from day to night. The teams practiced and qualified on a hot, slick track. But when it cooled off, though it didn't go tremendously tight, it did expand the racing groove. That gave the drivers some options, but, it also allowed the teams that hit on the right race setup to have an advantage. At the same time, tire wear during this race was almost nonexistent. So instead of Late Model Talladega, drivers had to fight for every inch of the track they wanted to use.
In the Pro race, that left the field chasing William Sawalich who's team had the car perfect, not only for qualifying, but for the race as well. But one driver found the perfect car saving strategy, and through the middle to the end of the race, Katie Hettinger used her time to walk down the leader, and after watching where he was running, decided to make her move. But as she did so, just as she put the front fender at an angle to get a run under the # 6 machine of William Sawalich and went to power up off the corner, you could physically see the car give up. Then coming back down the backstretch to try again, the car literally died in the middle of the straight, and instead of battling for the lead, the young driver found herself trying to nurse the ailing car home, which she did, remarkably able to hold on for the runner up position coming across the stripe.
The Late Model feature was a recipe that involved the perfect seasoning. A perfectly seasoned track, topped with a youthful points leader qualifying on point for the start, followed by an up and coming driver who's proven to be the hottest driver on the Tour as of late, with two seasoned veterans who know this track like the back of their hands thrown in the mix, and what you have is a short track meal of epic proportions. Deac McCaskill wrestled away the lead early and he set the pace for the field. Carson Kvapil didn't let him get too far away however, as he kept McCaskill in his sights. But he was hampered throughout the race, first by Connor Hall who's been on fire lately, and then by Mike Looney who was using his experience to follow through on a strategy that would put him with the leaders down the stretch when it counted. But it was McCaskill who found himself in victory lane as Kvapil, Hall, and Looney put on a show for the ages here. They all had a car that could win, but the battle they embarked upon canceled them out for the win as they went toe to toe on who would be the one to challenge Deac for the trophy and the big check, but their battle never saw a clear cut challenger emerge as the front four cars were as equal as you could imagine for the entire event, leaving McCaskill not far out front, but with no one in position to challenge him for the win.
Meanwhile, the battles through the field were just as intense with drivers challenging each other for every inch as we indicated, but with a field so even, that although the field was never separated from the leader by too much, they also never made any real ground either. But with the field qualifying mere thousandths from each other as they do each and every event, the track today was the true equalizer as the field was running lap times in the end comparable to as in the beginning, and Deac McCaskill gained the position early, and he never relented, making it hard for anyone mounting a charge to make enough ground to do so. But, not without some great effort by the amazing talent that comprises this tour. And our perfect example comes from this week's Short Track Report Blue Collar Racer Of The Week.
Starting fifteenth, Kaden Honeycutt made some ground and started moving toward the top 10 but not without consequences. As I stated a couple of times, no one gave an inch and you had to fight for each and every position you gained in this race. And as Honeycutt looked to move into the top 10, contact with the # 32 of Zack Miracle did enough damage to the car, that when the competition caution waved after the first 40 lap green flag run, Kaden had to bring the car in to the care of his team, who righted the car, but left Kaden Honeycutt on the restart in the back of the talented field of Late Model contenders. But in a race where it was near impossible to gain any ground, Kaden Honeycutt by the end of the race, found himself not only inside the top 10, but looking to break into the top 5, finishing sixth. But on his way there, he was challenged by every car he moved around intently. It would be hard for me to fully describe the battles he fought through on the way through the field, but let me ensure you the intensity was immense. So immense, that when it was all said and done, we couldn't deny last year's, and the first ever, Short Track Report Blue Collar Racer Of The Year winner this week's nod as well. McCaskill, Kvapil, Hall and Looney were definitely considered for all the obvious reasons. But putting our criteria into play, no one worked harder that Kaden Honeycutt for this week's nod. Congratulations to Honeycutt and his team for a performance we couldn't deny. And congratulations to Deac McCaskill and his team for the great crowd pleasing win.
All and all, it was another great CARS Tour race that ended up the perfect recipe for great racing with just the right amount of seasoning. And so as always, 'till next time, See You At The Track!
(Race writeup by Joshua Weatherman. Intro and My Take written by Billy Weatherman. 2022 Copyright SHORT TRACK REPORT)
Tags
Austin MacDonald
,
Bobby McCarty
,
Brandon Pierce
,
Brandon Willard
,
Buddy Kofoid
,
Caden Kvapil
,
CARS Tour
,
Carson Kvapil
,
Carter Langley
,
Chase Burrow
,
Conner Jones
,
Connor Hall
,
Deac McCaskill
,
Fluid Logic 225
,
Gavan Boschele
,
Jacob Heafner
,
Janson Marchbanks
,
Kaden Honeycutt
,
Katie Hettinger
,
Kyle Dudley
,
Late Model Stocks
,
Luke Fenhaus
,
Mason Diaz
,
Mike Looney
,
Motor Mile
,
Motor Mile Speedway
,
Pro Late Models
,
William Sawalich
,
Zack Miracle