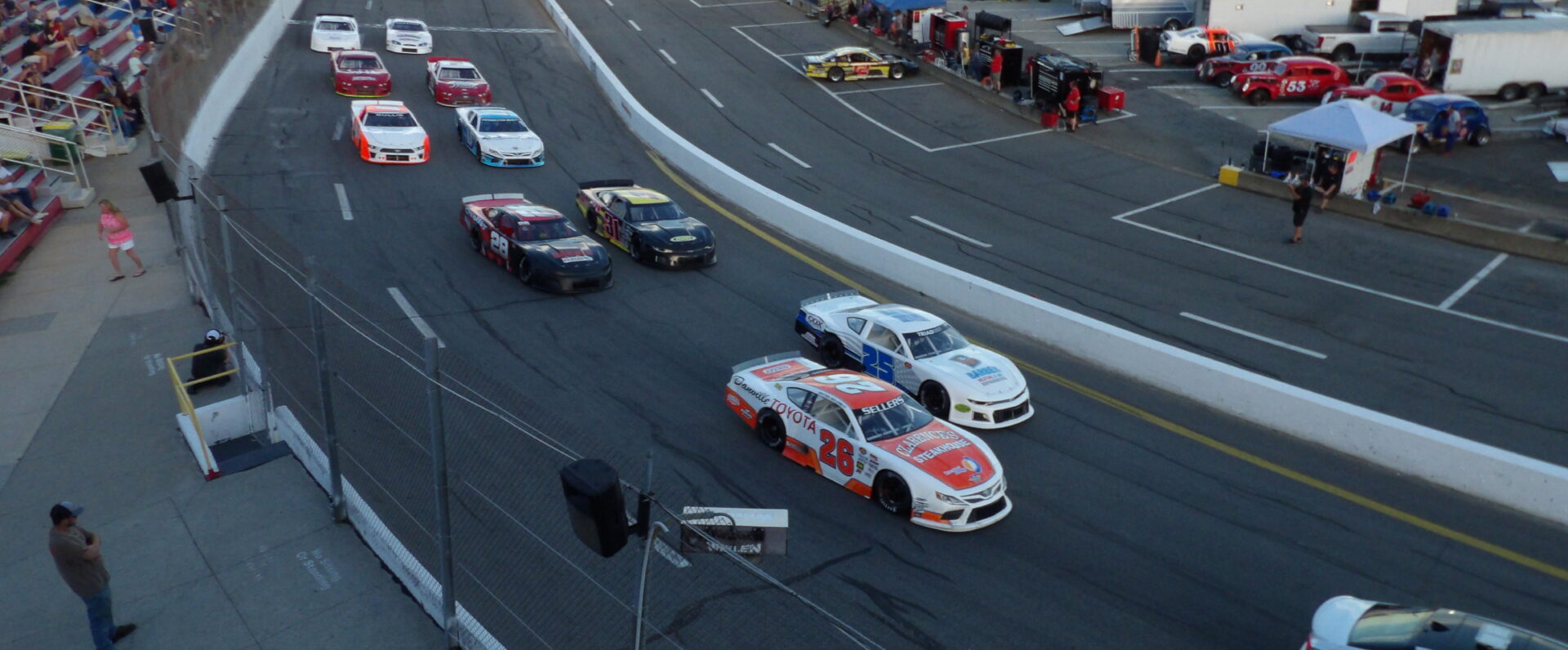 SETTING THE STANDARD – 2022 Italian Delight 65th Anniversary Night At South Boston Speedway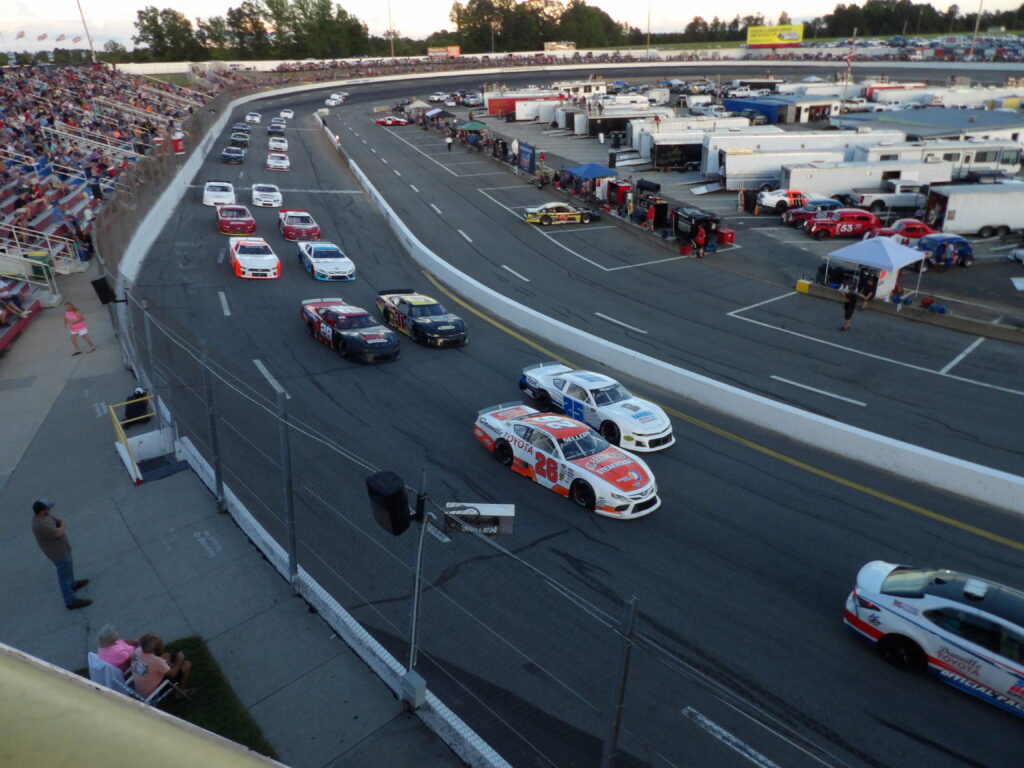 In the music industry, there was a term for the places that upcoming artists could perform and craft their talents in front of the largest crowds, preparing themselves for the big time where they would perform at the highest levels. They were called show clubs, and they were known for being venues where artists would emerge and show they were the best. They were places where you found out if you had what it took. The best in the business performed there, and so the fans of the place were used to seeing the best do what they do and they settled for nothing less. If you could make it in one of these places, you could make it anywhere.
Racetracks have kind of the same deal. There are tracks you go to just for the entertainment value, and then there are the show tracks where you have to be able to actually race. The show tracks are where you go to find out if you can make it in the highest levels of the sport and if you are off just a little bit, it shows. These are places where the competition is the best in the nation, and the facility itself is as good as it gets for racing. South Boston is one of those places. Starting as just another little dirt track in the south, she grew to be a staple for NASCAR at the highest levels, and even carrying it into the modern era, hosting the Busch Grand National Series until the year 2000. And today, she looks as good as ever, hosting the best in local racing as well as the best independent touring series in the country. For example, the SRX Series came here this year and it never looked better than it did in the lights of South Boston.
This week, we came to the Jewel Of The Commonwealth for the second to last event for the speedway in 2022 with National points implications as tight as we can remember, and an epic track championship chase as hot as any in the country. It also happens to be the 65th Anniversary for the famed track, and so the sights coming into the Speedway this week were nothing less than spectacular, with cars representing the vintage era of the sport as well as the awesome competitors that are here perfecting their craft today. A great crowd is gathering to take in the view, and to see some of the best local racing action as they have for the last 65 years. But today is special, and you can feel it here. The pre-race activities are drawing to a close, with track personalities recognized for the contributions to this great facility, the invocation being given, and a spirited National Anthem being sung. And now it's time for what we've all been waiting for, as the engines fire on the Southern Ground Pounders Vintage Racing Club machines who are slated to start this historic show. It's a sight to behold and the crowd is on their feet, so, Let's Go Racin'!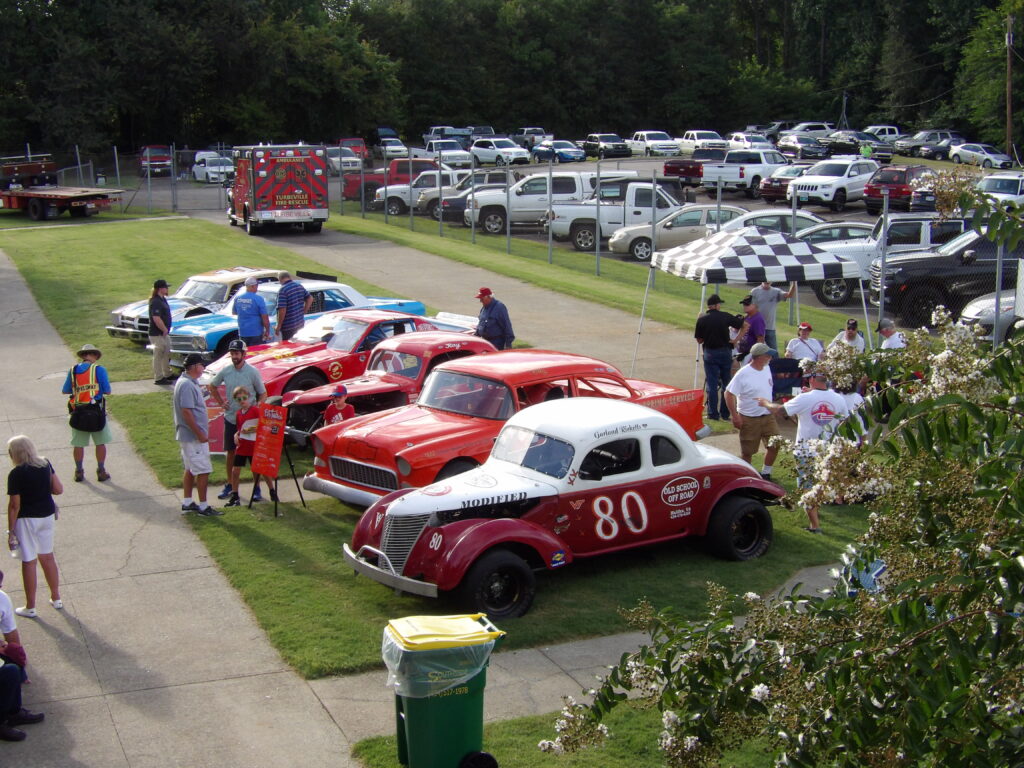 SOUTHERN GROUND POUNDERS VINTAGE RACING CLUB FEATURE
What better way to celebrate 65 years than to start the night off with these beautiful machines? The Flyin' # 11 of David Werner starts on pole alongside the # 21 of Dwight Sauls. The # 58 of Don Lassiter starts third, the # 12 of Bobby Griffin starts fourth, and the # 5 Hot Wheels machine of Dennis Werner rounds out the top five. The green flies and Sauls immediately gets the jump and top spot, moving the # 11 to second. But not for long as the Werner machine is all over Sauls. Sauls tries all he can to maintain, but it's not enough as Werner gets back by. But behind, his biggest challenger has come through the field and is now alongside Sauls for second, this being his brother Chris in the # 19. Chris Werner makes easy work of Sauls and now looks on David. David is determined to hang tough, but it's not enough as Chris gets by. David turns up the wick though as he's now looking back under Chris as the white waves. He dives one last time into turns three and four, but it's not enough as brother Chris Werner comes home first followed by David Werner, Sauls, Dennis Werner, and the # 63 of Sportsman winner Chris Hicks, who methodically moved his way through the field as the lead battle raged.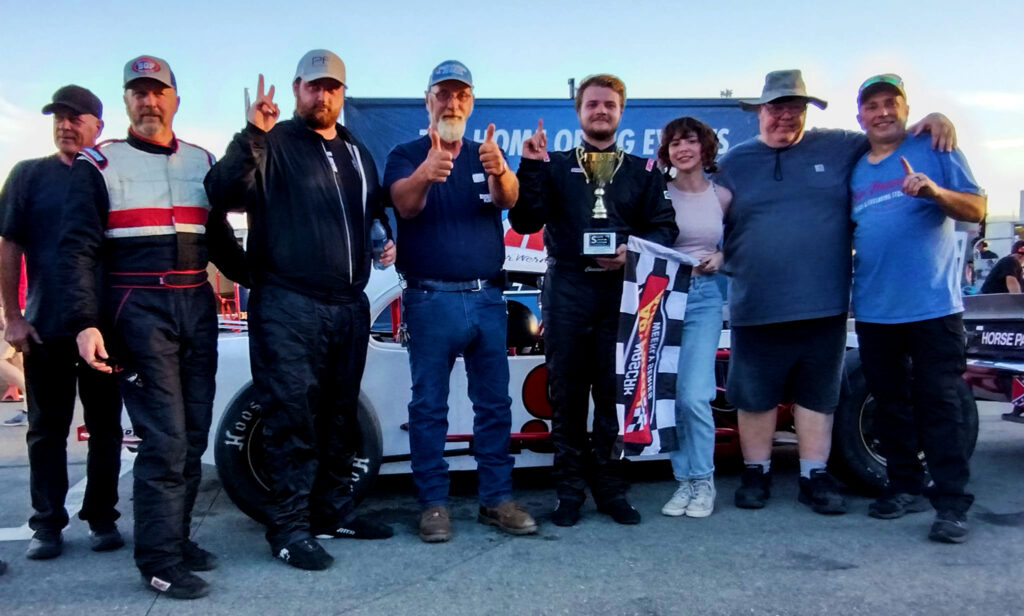 EAST COAST FLATHEAD FORD RACING ASSOCIATION FEATURE
The popular East Coast Flathead Fords take the track as another homage to the past tonight as the # 7 of Jeremy Cox starts first alongside outside pole sitter # 53 Richard Wikle. Starting third will be all-time wins leader # 99 Johnny Johnson with the # 6 of Donovan Freeman rounding out the top four. The green waves as Johnson pounces early, getting by Wikle and setting his sights on Cox. He then powers underneath Cox, but it seems Johnson has a problem early! He starts to slow considerably, but is somehow able to keep his machine on track and in the top four. In front of him, the # 45 of Wayne Lawson has made his way into second, but can't hold it long as Freeman's machine starts to come to life. Lawson falls to third as the Wikle machine has fallen all the way to fifth. But in front, it's a fierce battle for the point, as Freeman starts to put the heat on Cox. They're nose to tail coming to the white flag. Cox runs a nearly perfect line, but so does Freeman as they come to the line side by side in one of the closest finishes I've ever seen! Cox barely holds on for the exciting overall victory with Sportsman winner Freeman right behind followed by Lawson and Johnson.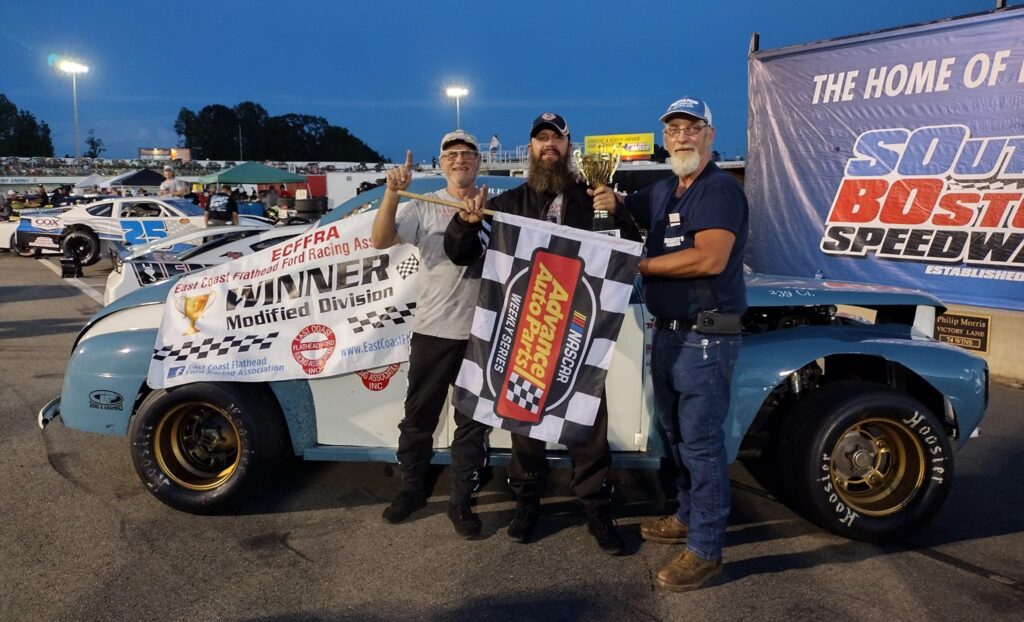 VSP HEAT HORNET FEATURE
The # 63 of Dillon Davis starts on point for this one followed by the # 54 of Jason DeCarlo, # 18 Cameron Goble, # 12 Andrea Ruotolo, and the # 14 of Jason McCauley. The green flies and McCauley doesn't get going, allowing the # 28 of Kendall Milam to take fifth away. Back up front, Davis and DeCarlo are dead even. But the caution is out early as the # 31 of Tyler Stanley has looped his machine on the backstraight. For the restart, it'll be DeCarlo with the top spot, followed by Davis, Goble, Ruotolo, and Milam. DeCarlo and Davis are dead even once again as Milam is able to get by Ruotolo for fourth. Davis finally clears as Goble nearly spins DeCarlo in second, but DeCarlo somehow hangs on. The # 49 of Kevin Currin is now on the hunt, getting by Ruotolo and Milam, now setting his sights on Goble. Currin gets by Goble, and uses his momentum to now slide by DeCarlo. But Davis is far out, leaving Currin little opportunity to catch up. Behind, Goble is by DeCarlo, but not for long as DeCarlo comes right back, reclaiming that spot. Milam has found a second life with his car, as he now passes Goble. Milam isn't finished though as he catches up to DeCarlo and takes that spot as well. But up front, Davis has a huge lead as he crosses the line first followed by Currin, Milam, DeCarlo, and Goble.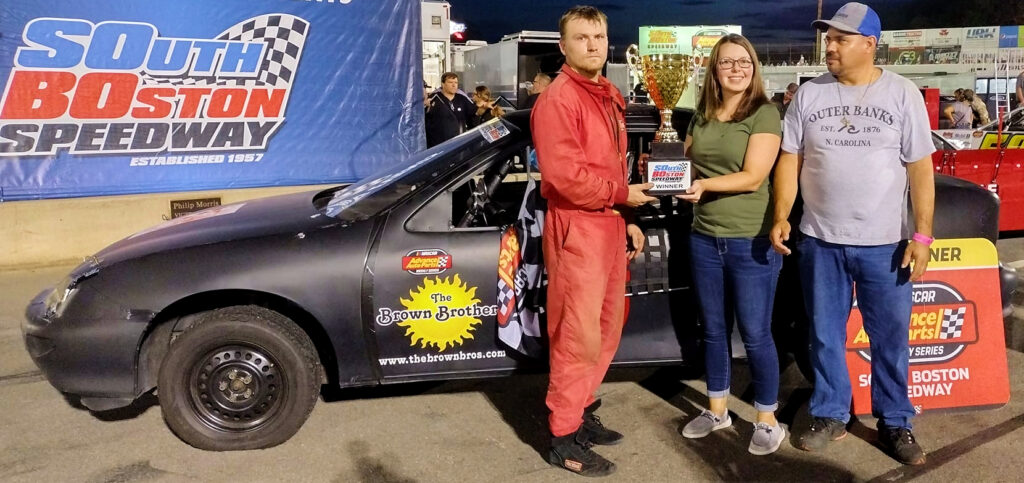 SOUTHSIDE DISPOSAL PURE STOCK FEATURE
Multi-time winner # 3 Nathan Crews starts up front for this one followed by the # 9 of Johnny Layne, # 66 Scott Phillips, # 00 Bruce Mayo, and the # 11 of B.J. Reaves. Layne gets the initial jump but Crews fights right back and takes the top spot. Behind, Mayo gets by Phillips for third as the # 6 of Jarrett Milam sneaks his way into the top five, getting by both Reaves and Phillips to secure fourth. Crews starts to run away with the lead as he quickly reaches five to go, but Mayo spins in turn four to bring out a late caution. It'll be Crews, Layne, Phillips who had just gotten by Milam who lines up fourth, and the # 17 of Joe Allred. Crews is able to clear quickly as the field shuffles but there's more trouble as something on Milam's car goes awry, causing him to dart hard into the turn three wall. It's a quick cleanup though as Crews lines back up first followed by Layne, Phillips, a hard charging Mayo, and Allred. Crews gets an even better restart this time as he clears Layne with ease out of turn two. Mayo is able to get by Phillips, but it's no matter to Crews as he collects yet another Pure Stock win at SoBo. Layne comes home second, Mayo gets a hard earned third, Phillips fourth, and Allred fifth.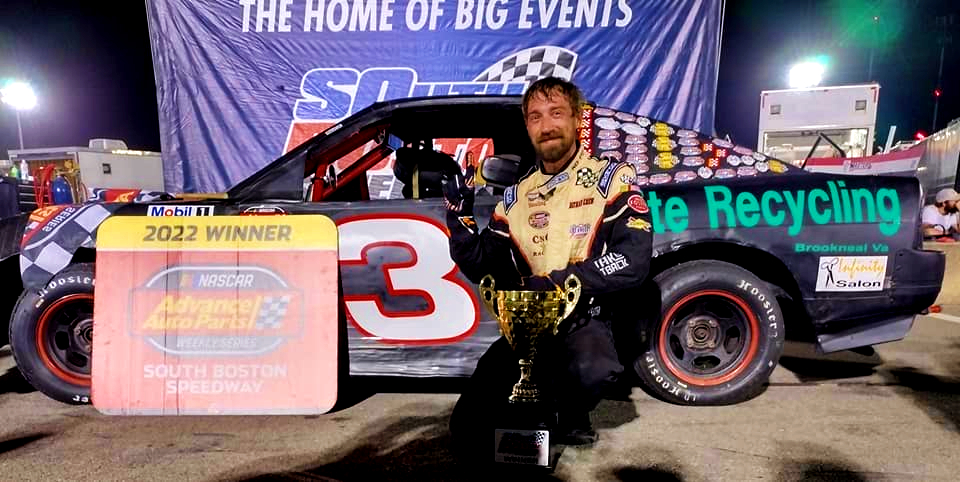 BUDWEISER LIMITED SPORTSMAN FEATURE
Veteran Jason Myers in the # 17 will start up front with the # 05 of father Billy Myers starting second, # 12ZP Zach Peregoy third, # 19 Bob Davis fourth, and the # 88 of Justin Dawson fifth. Jason Myers clears quickly as it's a mad scramble behind. Dawson is able to get by both Davis and Peregoy to secure third as Peregoy and Davis battle side by side for fourth. Peregoy eventually gets the spot as # 00 Kyle Barnes follows through to take fifth from Davis. Barnes then gets under Peregoy, sliding by for another position. The # 26 of Parker Brookfield takes advantage of Peregoy's lost momentum, grinding his way into the top five. # 21 Carter Russo is also there, getting by both Peregoy and now Brookfield for fifth. All of the chaotic racing finally catches up to the field as the caution flies for Peregoy and the # 07 of Ryan Renfrow getting together in turns three and four. It's a quick cleanup as it'll be Jason Myers, Billy Myers, Dawson, Barnes, and Russo the top five. Jason Myers gets the launch as Dawson powers by Billy Myers for the silver spot. Behind them, Russo is by Barnes who then gets by Billy Myers. Barnes follows suit as it's amazing racing here at South Boston. Billy Myers finally slots in line in fifth as son Jason starts to gap the field. Barnes is back by Russo as Dawson's car seems to be slowing, getting passed by Barnes, Russo, and Billy Myers. He finally settles in fifth as there's major trouble on the backstraight. Davis and the # 8 of Drew Dawson get together, with Dawson spinning and hitting the outside wall hard. He's none too happy as he shows his displeasure as Davis comes by the wreckage. Lining up for the restart will be Jason Myers, Barnes, Russo, Billy Myers, and Justin Dawson. Jason gets the jump on Barnes, but Barnes hangs tough as Myers gets loose underneath, allowing Barnes to take the lead. Dawson is able to get by Billy Myers as the caution flies yet again, this time for the # 19 of Bob Davis around and into the outside wall in turn two. It's another quick cleanup as Barnes lines up first followed by Jason Myers, Russo, Dawson, and Billy Myers.
Barnes gets a great jump as they scramble for position behind. Dawson gets by Russo as Brookfield gets by Billy Myers, setting Russo up for a pass. Russo tries to hang on, but Brookfield gets by. He then looks on Dawson, who puts up another challenge, but it's not enough as Brookfield is up to third. Dawson loses a bunch of momentum as both Russo and Billy Myers get by, moving Dawson to sixth. Back up front, Barnes and Jason Myers encounter lap traffic, splitting them three wide and allowing Jason to regain the lead for a split second. But Barnes is just too strong as he takes it back with ease. Back behind, both Russo and Billy Myers gets back by Brookfield for third and fourth. But up front, it's all said and done as Barnes takes the checkered first followed by Jason Myers, Russo, Billy Myers, and Brookfield.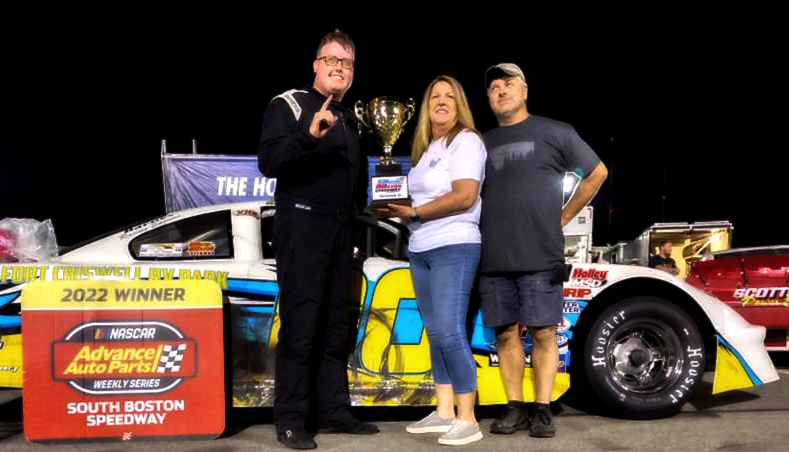 LATE MODEL STOCK FEATURE ONE
Defending Track and National champion # 26 Peyton Sellers starts up front for race one as the # 25 of Jacob Borst starts second, # 28 Jason Barnes third, # 90 John Goin fourth, and the # 0 of Landon Pembelton rounds out the top five. South Boston flagman Brandon Willard looks over the field, likes what he sees, and we're green for Late Model Stock race one! Sellers clears quickly as Goin takes third from Barnes. The # 01 of Camden Gullie is able to power by Pembelton for fifth as the third fastest qualifier in the # 99 of Layne Riggs is nearing after starting in the middle of the field due to the winners rule. Gullie is on a roll as he now gets by Barnes, who's then attacked by Riggs, who has made his way into the top five. Riggs then gets underneath Gullie, but Gullie gives him one heck of a challenge as the two battle side by side for nearly ten laps straight. Gullie finally concedes as Riggs now sets his sights on Goin. Goin finds himself running great lap times, but Riggs is eventually there. Gullie follows through as well, sending Goin to fifth. But up front, Sellers has gapped the field and ends up taking the much needed victory. Borst comes home second, Riggs guts out a third, Gullie gets fourth, and Goin rounds out the top five.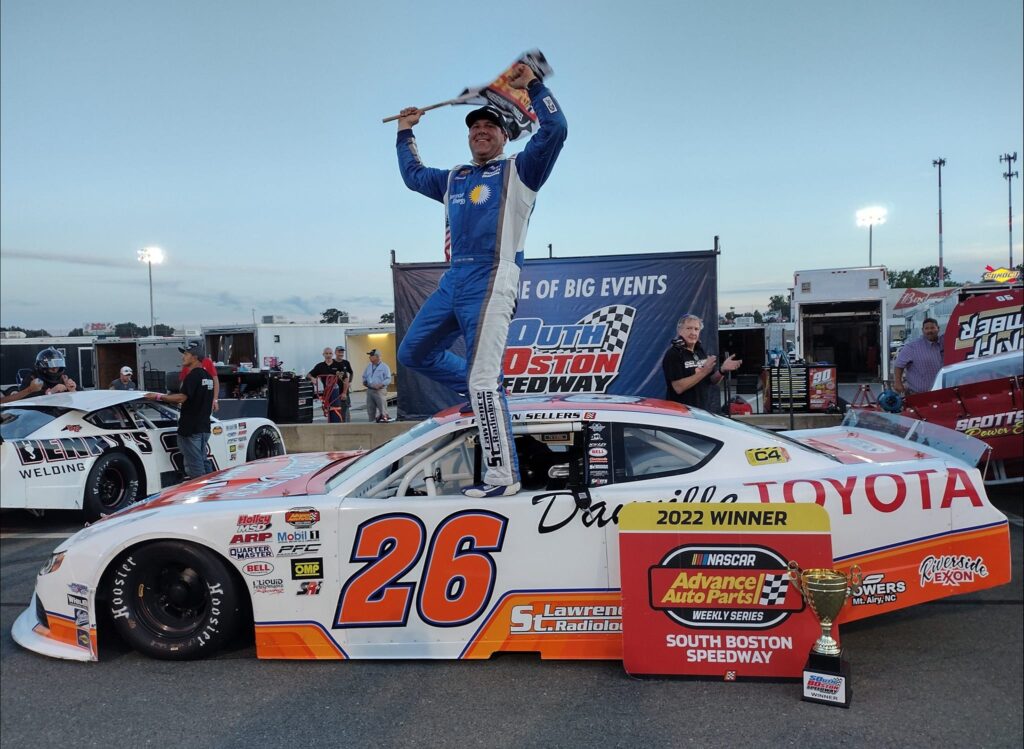 LATE MODEL STOCK FEATURE TWO
Starting on the point for race two will be the # 8S of Thomas Scott with the # 31 of Aaron Donnelly starting alongside. Behind them will be the # 28 of Jason Barnes, # 12 Austin Thaxton, and the # 0 of Landon Pembelton. Willard looks over the great field, likes the formation, and we're green for race two! Scott gets the jump as Barnes starts to slow, allowing Thaxton to get by with Goin following through. # 26 Peyton Sellers also makes his way into the top five quickly, then getting by Goin for fourth. To no surprise, the # 99 of Layne Riggs is also there, following Sellers' every move as he moves into the top five, getting by Goin. Sellers is then by Thaxton, getting followed once again by Riggs. It's the same song and dance with Donnelly as both Sellers and Riggs pass. And before you know it, Sellers has somehow found himself in the lead, with Riggs right behind. Also now joining the mix is the # 01 of Camden Gullie, who has gotten by Goin and Thaxton. He's eventually by Donnelly for fourth as Riggs is now all over Sellers. They're running almost identical lap times as they're nose to tail for the top spot, mimicking each other's lines to a tee. Riggs keeps looking but Sellers holds his own as the rest of the top five continue to shuffle for spots. Riggs looks one more time and gets underneath this time around. He gets the power on the bottom and gets by as the fans roar. Sellers gives him a shot off of the corner, but it's not enough as Riggs barely hangs on to his machine. Sellers tries to mount multiple charges, but his tires are noticeably worn as Riggs starts to gap. It's a clean race from there forward as Layne Riggs will take home another South Boston victory, setting up an amazing championship battle at the season finale. Sellers comes home second, Gullie gets a fantastic third, Borst hangs on to fourth, and Scott ultimately falls back to fifth.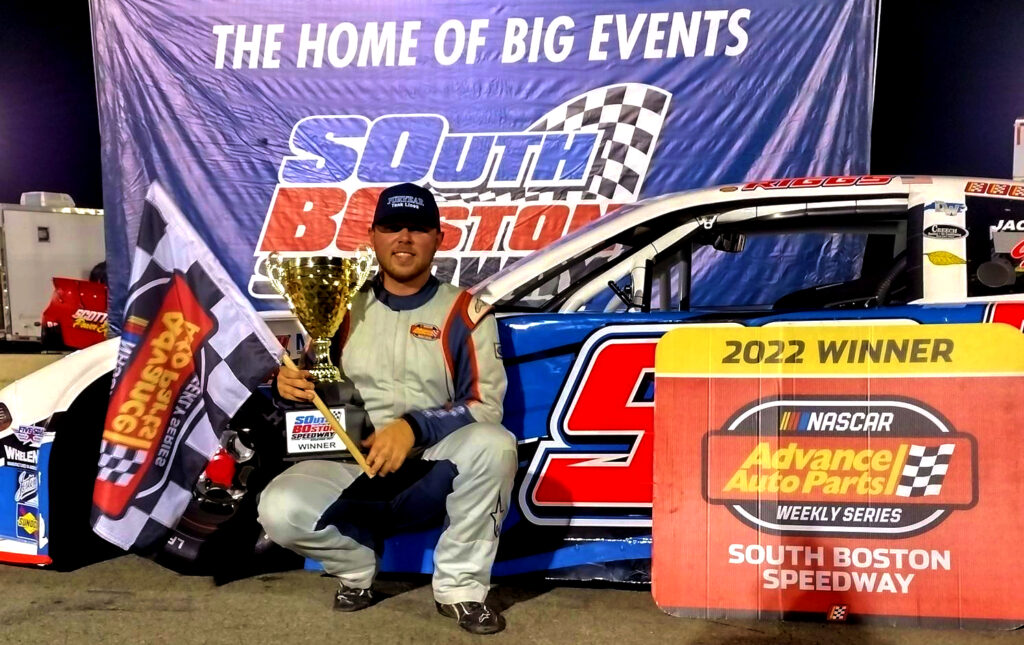 MY TAKE
Old school met new school tonight in an awesome 65 year anniversary celebration for the Speedway as it should be. And the points in the feature Late Model Stock division didn't change much for the top points leaders as neither gave an inch. And as an indication of the talent we are talking about here, both Peyton Sellers, the defending National Champion, and his young and upcoming opponent Layne Riggs split the twin Late Model Stock features with so much on the line. And they had to do it trying not to use up the tires they were given because as it stands now, amid the tire shortage that teams and tracks have had to deal with all year, leaves the division also having to start the season finale on the same tires they competed with here tonight. What a daunting task given to these competitors to compete in twin 65's here tonight, to try and win and save the tires you win on enough to be competitive in the final twin 65 lap races to end the season. Now that's a challenge, and it's going to be interesting to see how it all plays out in a couple of weeks.
Both drivers set the standard this week once again both coming home with huge wins for their teams, and with the pressure that comes with this level of competition, it's only normal that this week's Short Track Report Blue Collar Racer Of The Week conversation came down to these two drivers. But in the end, this time it came to default on the driver that gets this week's nod for the award. On the one hand, Layne Riggs qualified third for the first feature, but due to the "winners rule" here at the Speedway, he had to start mid-pack, managing to still come away with a third place finish. So we had to take a good hard look at that as Layne did have the harder challenge there. But, Peyton Sellers in a must win situation took the pole and the win, and followed that up with a second place finish in the second Late Model Stock feature after starting tenth on the field. So as you can see, that left us with a pretty lengthy conversation on it, but in the end, we resorted to the final part of our criteria for the award, which is "The hardest working performance that netted the highest gain." And so as Peyton managed to cut into Layne's lead just a bit, we had to take it all into account, and this week our Blue Collar Racer Of The Week goes to defending National and South Boston track Champion, Peyton Sellers.
It's hard to believe that this is the first Blue Collar Racer Of The Week award to Peyton Sellers, but it couldn't have come at a more pivotal time. So our hats are off to Sellers and his team for not only his first Blue Collar Racer Of The Week nod, but for performing at the highest level when they needed it the most. That is indeed the sign of a worthy champion. Congratulations Peyton Sellers and team, you most certainly earned this one.
The road for the National Title has for years ran through South Boston Speedway, and no wonder. South Boston has been setting the standard for years as the showplace track of the central east coast region. And the same can still be said today. The season finale is in a couple of weeks with all the marbles on the table. And so, until next time, See You At The Track!
(Race writeup by Joshua Weatherman. Intro and My Take written by Billy Weatherman. 2022 Copyright SHORT TRACK REPORT)
Tags
Aaron Donnelly
,
Andrea Ruotolo
,
Austin Thaxton
,
B.J. Reaves
,
Billy Myers
,
Blue Collar Racer
,
Bob Davis
,
Bobby Griffin
,
Brandon Willard
,
Bruce Mayo
,
Camden Gullie
,
Cameron Goble
,
Carter Russo
,
Chris Hicks
,
Chris Werner
,
David Werner
,
Dennis Werner
,
Dillon Davis
,
Don Lassiter
,
Donovan Freeman
,
Drew Dawson
,
Dwight Sauls
,
East Coast Flathead Ford Racing Association
,
Hornets
,
Jacob Borst
,
Jarrett Milam
,
Jason Barnes
,
Jason DeCarlo
,
Jason McCauley
,
Jason Myers
,
Jeremy Cox
,
Joe Allred
,
John Goin
,
Johnny Johnson
,
Johnny Layne
,
Justin Dawson
,
Kendall Milam
,
Kevin Currin
,
Kyle Barnes
,
Landon Pembelton
,
Late Model Stocks
,
Layne Riggs
,
Limited Sportsman
,
NASCAR
,
NASCAR Advance Auto Parts Weekly Series
,
Nathan Crews
,
Parker Brookfield
,
Peyton Sellers
,
Pure Stocks
,
Richard Wikle
,
Ryan Renfrow
,
Scott Phillips
,
South Boston Speedway
,
Southern Ground Pounders Vintage Racing Club
,
Thomas Scott
,
Tyler Stanley
,
Wayne Lawson
,
Zach Peregoy