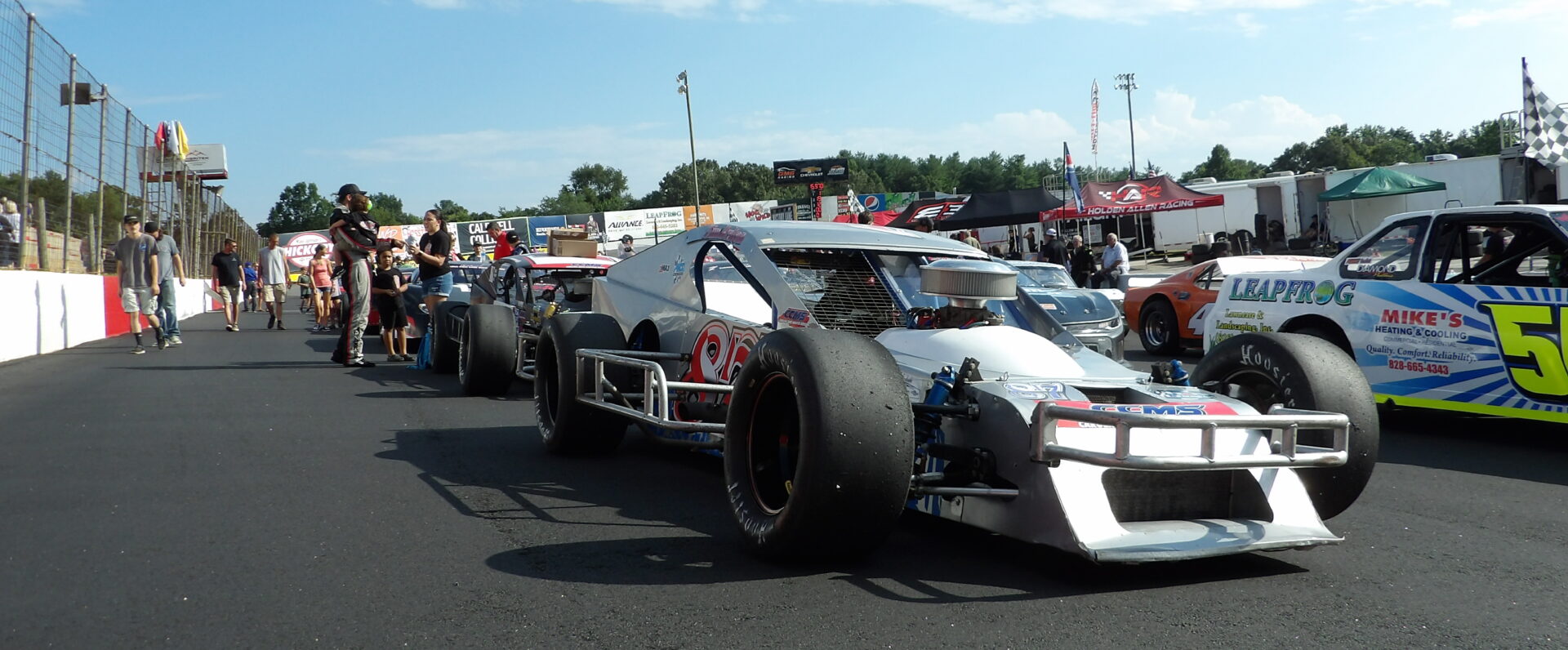 THE MORE THINGS CHANGE THE MORE THEY STAY THE SAME – Carolina Pro Late Model Series Debuts At Tri-County Speedway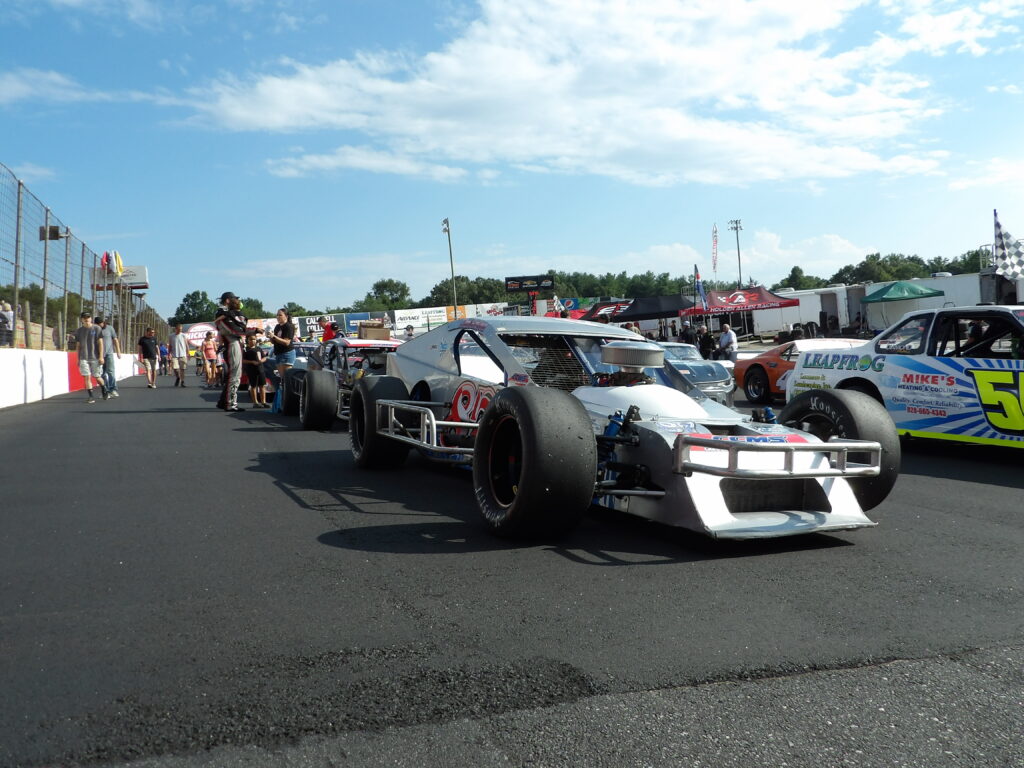 "The more things change, the more they are the same."

Alphonse Karr
As American short track stock car racing enters into a new era, there are certain to be many changes. And even though we state over and over to all who will listen that short track racing, especially in the central east coast region, is in a noticeable resurgence clear for all to see, we are acutely aware of the fact that coming out of the downturn, there are many things that linger from that period. Some tracks are still in the recovery phase and suffer from all that comes from that, and in a sport that feeds off of immense competition, that fact can be glaring for anyone that tends to see only the negative side of the equation. There are many reasons why some areas of competition are finding it harder than others to feel the upside of the resurgence, so many in fact it would take another complete article to highlight them all, but to use that to blind yourself that there is indeed a resurgence in play is to miss it altogether. As we stated in our article from Wake County Speedway last week, the struggle for track owners and promoters is all too real. That said however, the ones that find how to utilize their strengths and understand their fanbase will have a great chance at survival even as the thinning of the herd continues. It will be an art to be able to adapt to the changes and still stay true to the sport, but all that can manage the feat and have a good bit of healthy stubbornness to boot have a great chance to come out of the other side of the transition in better shape than when they went in a number of years ago. It's true however that many competition facilities will fall to the wayside. That's not to ignore however that many others will remain to carry on the tradition.
All of this is important to remember as we highlight our coverage choice this week. Sometime fans that are not familiar with what we truly and fully do here at Short Track Report may question some of our coverage choices. But we assure you, and those who've supported us from the beginning know this, that there is a method to our madness and we will stay true to our original organizational model. In other words, there are reasons for where and why we end up where we do, and why we don't just cover the so called "big events". Every event that we go to is a big event for us, and we are supporters of each and every driver and division that competes in short track racing. We know why you do what you do, and you are why we do what we do. And so coming to the Carolina Pro Late Model and Carolina Crate Modified debut at Tri-County was a no brainer for us. First of all, calling Tri-County Speedway our home track is not just something we say. There are a lot of reasons behind it, and we don't take it lightly. Tri-County is a saved speedway among the many lost and we won't let anyone forget that if we can help it. And it wasn't an easy task bringing a track left for dead back to life. It's more than just a track to us, it's a symbol of sorts for all we believe in when it comes to short track racing, and we are continually excited to see the improvements made to one of the raciest short tracks in the nation. And the Carolina Pro Late Model Series is to us an amazing developmental series in the region. One must remember that this series is where Carson Kvapil gained his first Late Model championship and where William Sawalich picked up his first Late Model win. Those drivers alone are a great indicator of what we mean when we talk about driver development as both are future big league NASCAR stars. But they are just two of the many drivers that started their Late Model development in this series.
And we also find it important that the tour is currently, at this time, the only tour in our region keeping a Crate Modified series alive amidst the many challenges to do so. That may change however as Touring Modified popularity grows much to the credit of the SMART Modified Tour here in the south, as we also know that in the future, in order to keep Touring Modified racing alive and healthy here in the south, developmental Crate Modified racing will also need to rise in popularity to feed the touring side of Modified racing with talented young drivers. And so we came to this show with excitement knowing this as a bigger event than some might have realized. It's also a moment we've been waiting for since we first started Short Track Report. The Carolina Pro Late Model Series is the first touring series we chose to cover from the beginning, and we will always appreciate them welcoming us at our very outset with open arms and outstanding access. And as we may be the only short track racing coverage entity who thought it was important to have and name a home track for our organization, we will also remember the reasons Tri-County was our choice and became the first individual speedway that granted us the same great coverage access. And no matter where we've gone from there and how much we have and are growing, we'll never forget where it all started. In many ways then, this is a dream coverage event for us, and there was nowhere else we would rather have been this past Saturday night! It was a great day for racing in Granite Falls in the beautiful foothills of North Carolina. A touching invocation was given and the National Anthem played…so, Let's Go Racin'!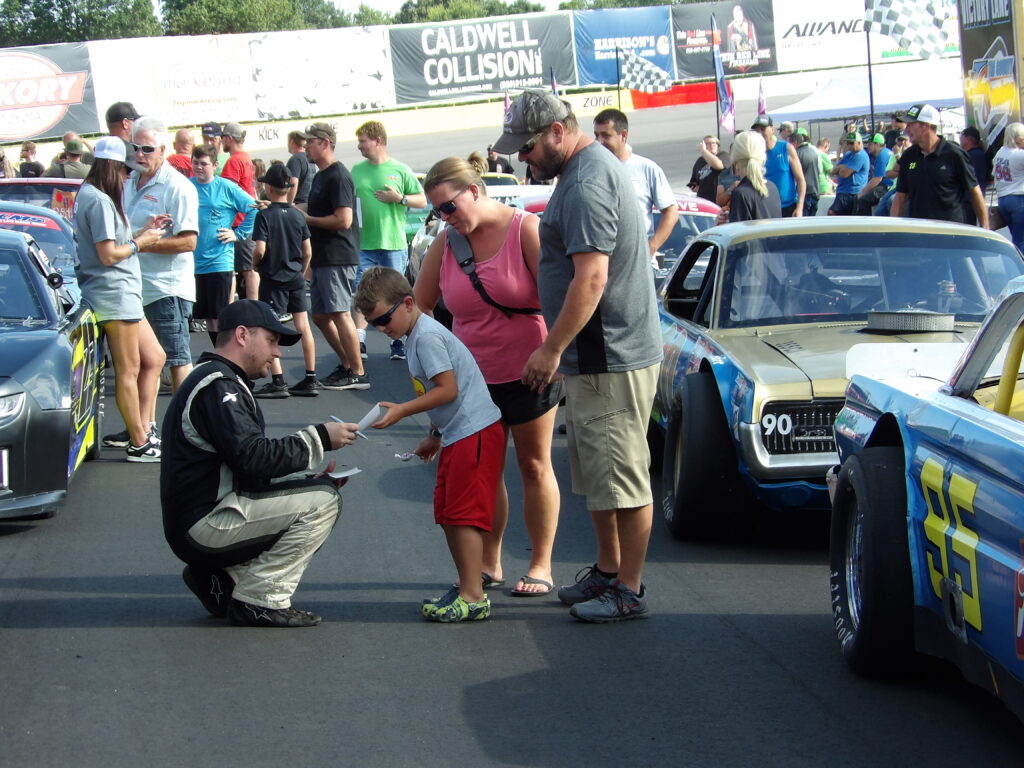 FRONT WHEEL DRIVE FEATURE
The # 12 of Kayla Powell will start on pole for the FWD race starting alongside Gary Willard in the # 54 with Randy Hupp rounding out the top three in the # 54H. Tri-County Speedway flagman Darrell Payne looks over the field, likes what he sees, and we're green! Hupp immediately makes it three wide on the inside, kicking Kayla Powell to third as Hupp and Willard battle for the lead. Now coming on the outside though is the # 27 of James Powell, as he makes it three wide for the lead! He clears with ease as Hupp and Willard are still dead even. Hupp finally finds enough grip to clear as Donny Holland in the # 10 breaks into the top three by Willard. Back up front, Powell looks to walk away, but Hupp is right there as he peeks inside multiple times. But Powell holds his ground up top and grabs win number eight of the year. Hupp hangs onto second followed by Holland in third.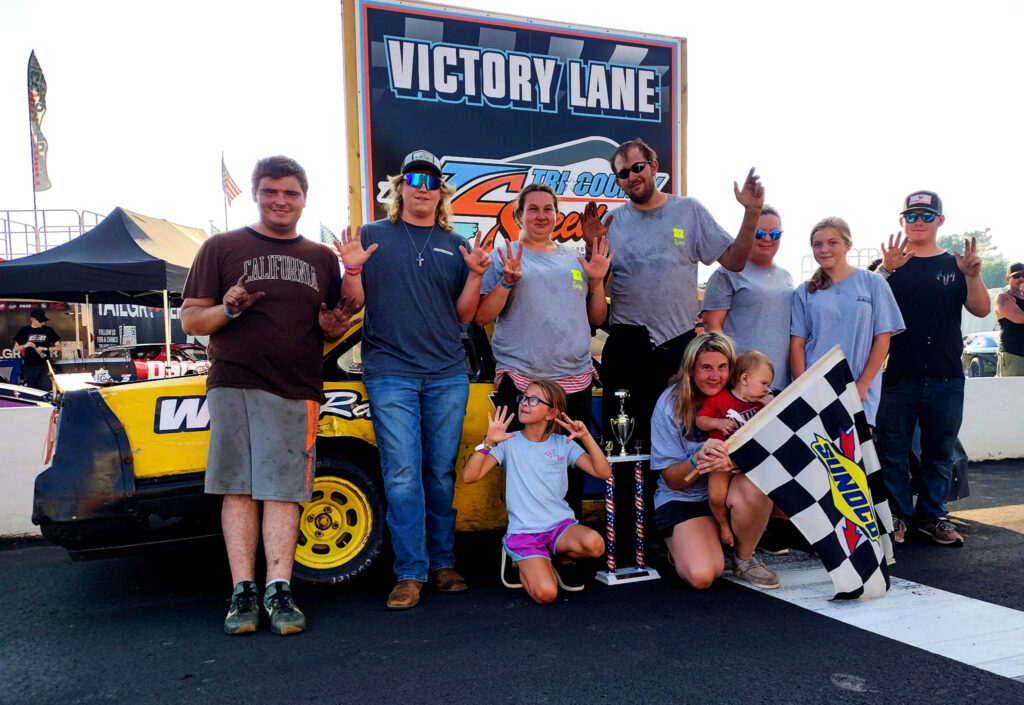 PRO 4 FEATURE
It's a family affair on the front row with Robbie Trivette leading the field in the # 11 with the # 6 of Rodney Trivette firing off on the outside pole. Rounding out the starting podium will be the # 61 of Jamison Whittington. Flagman Payne glances over the lineup, gives the thumbs up, and we're racing! Robbie Trivette gets an outstanding launch as they single file out behind him. Dennis Trivette in the # 57 now muscles past Whittington as Rodney Trivette spins in front of them, bringing out the caution. After the choose, Robbie will remain in first followed by Whittington and a reemerging Rodney Trivette. Robbie gets another flawless jump as Dennis Trivette gets by Rodney for third. Dennis Trivette now looks to the outside of Whittington, and clears without problem as Robbie continues to pull away. The caution is out again though as Rodney Trivette spins once more. Lining up for the restart will be Robbie and Dennis Trivette on the front row, followed by Whittington. Rodney gives Robbie a bit of a challenge, but the # 11 is just too strong on the outside and takes the victory. Rodney comes home second followed by Whittington in third.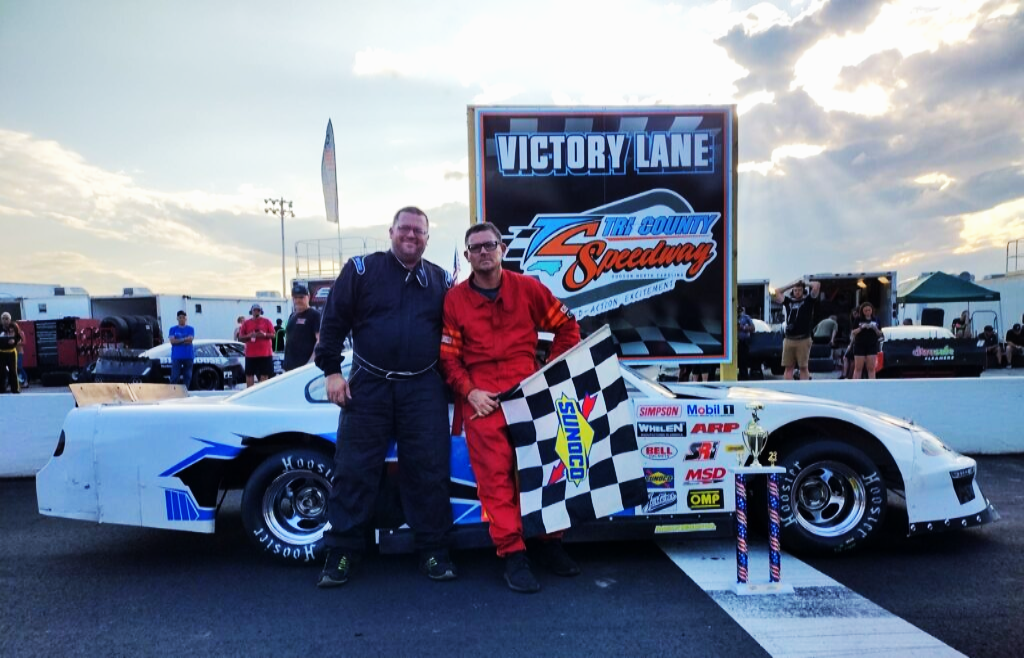 BLACK AUTOMOTIVE GROUP VINTAGE FEATURE
The beautiful # 39 of Mark Whitten will fire off first with the # 95 of multi-time winner Tim Gilbert starting second followed by son Eddie Gilbert in the Orange Blossom Special # 4 in third. Tim Gilbert assumes the lead early as Bob Wallace in the Smokey Yunick inspired # 35 takes second away. But here comes Eddie Gilbert as he gets past Wallace, moving Wallace to third followed by a fading Whitten. Before you know it, Eddie Gilbert starts to inch closer and closer to Tim, but the caution flies as the # 90 of Connie Mickel has spun in between turns three and four. Here at Tri-County, the choose rule is even implemented in the Vintage class as Tim and Eddie Gilbert line up side by side followed by Wallace in third. Tim Gilbert gets a fantastic restart but Eddie catches right back up and hounds the # 95 Tommy Houston throwback. Eddie looks to the inside, but once again, the outside lane is preferred as Tim holds his ground. Eddie tries the same move numerous times, almost clearing, but Tim's veteran experience over son Eddie prevails as he takes the checkered flag first followed by Eddie Gilbert and Wallace.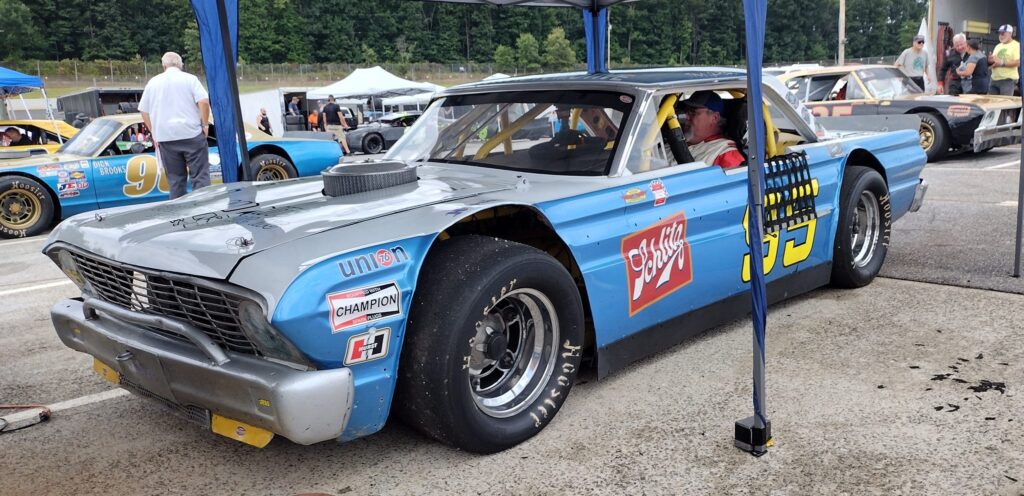 RENEGADE FEATURE
James Waldrop in the # 22W will have the pleasure of leading the awesome looking Renegade field to green with the # 34 of Gary Aldrich starting alongside followed by Klint Townsend in the # 9 in third. Waldrop drops the hammer and gets a great jump on Aldrich at the line. But it's a little too great as the start is called back. It's a better start the second time around with Waldrop grabbing the early advantage. It doesn't last long though as Dalton Ledbetter in the # 32 jumps out to the top spot, bringing Gary Ledbetter Jr in the # 28 along with Nathan Pate in the # 21 to round out the new top three. Pate has a great car and gets around Ledbetter Jr, now setting his sights on Dalton Ledbetter. But lap traffic hinders Pate's progress, opening the door for Ledbetter Jr to pounce and reclaim second. But Pate is once again to the inside, and trades the position once more with Ledbetter Jr in his Cale Yarborough throwback. But Pate has a problem! Pate comes to a crawl and eventually draws the caution. His night is unfortunately over early as for the restart, Dalton Ledbetter lines up out front followed by Ledbetter Jr and Townsend. Despite Ledbetter Jr's best efforts, Dalton Ledbetter remains on top as he pulls away and grabs another win in 2023. Ledbetter Jr crosses the line second followed by Townsend in third.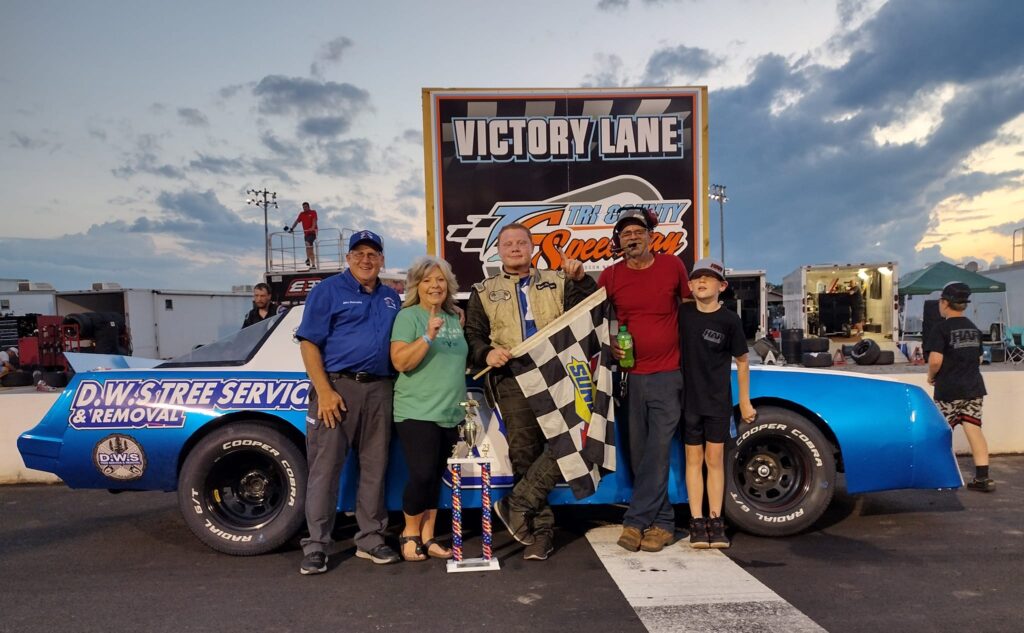 STREET STOCK FEATURE
Gary Ledbetter Jr in his familiar # 48 starts on point for the Street Stocks as he'll lead the # 08 of Marlin Yoder, # 10 Kolby Sawyers, # 14 Davey Smart, and the # 12 of Josh Goble. Payne looks over the very competitive field, likes the formation, and throws the green! Ledbetter Jr gets the launch, but it's a botched start as the caution immediately flies. It's a much better start the second time around as Yoder leapfrogs Ledbetter Jr and takes the lead. Ledbetter Jr's machine is noticeably ill-handling as now Smart gets by for second. Behind him, Sawyers slots into fourth while the # 03 of Kevin Eby finds himself in fifth. Back up front, Smart is flying as he powers underneath and by Yoder. Sawyers now looks on Ledbetter Jr but the caution flies as the # 99 of Jeff Morse has spun on the backstretch. After the choose, it's Smart with the lead followed by Yoder, Ledbetter Jr, Eby, and Sawyers. Smart gets a monster jump as Sawyers starts to look on Eby and the two collide! Sawyers climbs on top of Eby's machine, causing them both to spin. With nowhere to go, Boo Carlisle in the # 5 Bobby Gill throwback machine slams into Eby, taking Carlisle out of the race early. After the race, a sore Carlisle stated that the hit was the hardest of his career. After the lengthy cleanup and choose, Smart remains in front followed by Yoder, Alan Rich in the # 03R, Ledbetter Jr, and Goble. Smart and Yoder are dead even for the lead with Rich closing in, but the caution is back out as Eby has wrecked hard going into turn one. The red flag comes out as Eby climbs out but is visibly shaken up. It's further revealed that Eby suffered a cracked rib along with an internal bleed on his aorta, and is currently being evaluated at the hospital. We wish nothing but the best for both Carlisle and Eby as they both recover from their hard hits.
After the choose, Smart will once again fire off first followed by Yoder, Rich, Ledbetter Jr, and Maxx Porter in his gorgeous # 96. Smart gets the jump but Yoder fights back on the outside and clears for the lead. Rich takes advantage of Smart's lost momentum and gets by. Rich doesn't waste time either as he's now underneath and by Yoder for the top spot. Smart tries to follow through, but Yoder holds him off for the time being. Behind them, Goble gets around Porter for fifth. Meanwhile, Yoder and Smart continue their amazing battle as Rich has a problem! He brings it down pit road as Smart finally clears Yoder, now for the lead. Smart now begins to pull away as he crosses the line first. But in post-race inspection, Smart is found to have a tire infraction, meaning that Marlin Yoder has been declared your new winner. Gary Ledbetter Jr now finishes second followed by Goble, Morse, and Sawyers.
CAROLINA CRATE MODIFIED SERIES FEATURE
Dale Ogburn in the # 1 qualifies the fastest, but after the invert, Kevin Orlando in the # 00 lands in the top spot. Starting second will be Cody Norman in the # 12 followed by the # 19 of Jody Utt, Ogburn, and Brian Weber in the # 01. Flagman Payne looks them over, likes the formation, and we're green in the Carolina Crate Modified Series! Orlando and Norman are in a dead heat, but Orlando clears early and looks to pace the field. Behind them, Ogburn gets by Utt as well as Weber. Now the # 5 of John Barilka moves past Utt as Utt gets very loose in turn four and somehow saves it. Back up front, Norman has a mirror full of Ogburn, but Norman continues to hold serve in second. The caution flies shortly after as Barilka has stopped high in turn three as his day is unfortunately over early. Orlando retains his spot up front for the restart as he'll lead Norman, Ogburn, Utt, and Weber, who pits before the green. Like he never missed a beat, Orlando gets the jump and clears for the lead. Behind, Weber has a great short run Modified as he gets by Utt. Utt tries to get a run on Weber, but the caution is out again as Daniel Rupracht in the # 57 spins in between one and two. Weber once again uses the caution to his advantage and makes another visit to pit road. He makes it out just in time as Orlando is still first, Norman second, Ogburn third, Utt fourth, and Weber fifth.
Norman puts up a fight this time around as he sticks in Orlando's side, trying his best to generate a run for the lead. It's all for naught though as Orlando is clear, leaving Norman to deal with Ogburn. Behind, Weber slides by Utt for fourth. But Utt battles right back and secures the fourth spot once again. Norman now continues to battle with Ogburn, keeping his momentum up on the high side as Ogburn tries his best to get around down low. But up front, it's all Kevin Orlando as he returns to Carolina Crate Modified Series victory lane. Norman goes under the checkered second followed by Ogburn, Utt, and Weber.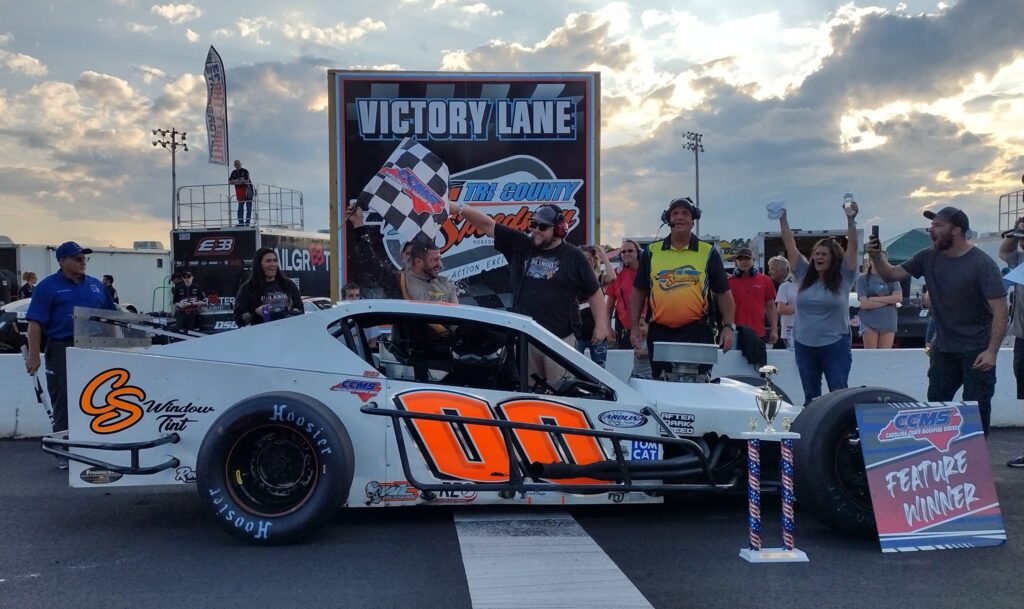 CAROLINA PRO LATE MODEL SERIES FEATURE
Thomas Annunziata in the Travis Kvapil Racing # 35 pulls out a phenomenal qualifying effort with a wicked fast lap of 15.282 seconds, winning the pole award in the process. But there's an invert of two, putting Michael Pilla in the # 77 up front. Annunziata will start second, George Phillips in the # 6 starts third as he looks for his fourth win in a row, Jonny Kay in the # 74 starts fourth, and Tyler Church in the # 7 rounds out the top five. Payne looks over the great field, agrees with the formation, and we're green for the Carolina Pro Late Model Series! Pilla powers out front early as Annunziata is sideways behind. But the young road racer gathers it back up and looks to the inside, grabbing the lead in the process. Beckham Malone in the # 23 breaks into the top five as he races by veteran Church. Now Pilla is under fire from Phillips, but Pilla makes his machine stick on the outside as the two battle side by side with neither one giving an inch. After numerous laps, Phillips finally gets around the black # 77 as Annunziata starts to pull away just a bit up front. Now Beckham Malone's Pro has started to spark to life as he's under Kay. But he can't make the move quite yet as a competition caution has come out. Under the caution, Church takes his machine down pit road for quick service and comes back out on the tail end of the lead lap cars. Up front though, Annunziata lines up first followed by Phillips, Pilla, Kay, and Malone. The green is back out for a 55 lap shootout!
Annunziata clears after a short lived duel with Phillips as Kay powers by Pilla and looks to the outside of Phillips. Phillips tries his hardest to hold on, but Kay finds the grip and gets by for second. Behind them, Malone and Pilla engage in battle, an absolutely fantastic battle that sees Malone grab fourth. Now Malone really turns up the wick as he stalks Phillips, dancing in his mirror hoping for any mistake to be made. Malone gets underneath and by, but Phillips crosses over! Malone is right back though as they battle side by side with occasional contact. The fans are on their feet as the two stay dead even like an oval track drag race. Phillips edges ahead finally as Church has rebounded nicely as he gets by Pilla for fifth. Malone is back though and they make contact! Both cars go around in turn two with Malone colliding with the inside wall! The caution flies with just three to go, giving Jonny Kay the chance of a lifetime. It'll be Annunziata looking for his second win, Kay, Church, Pilla, and Price, who are all looking for their first career Carolina Pro win. The green flies and Kay is right there on the outside. Annunziata drifts up high in the turns and nearly makes contact with Kay. And here comes Church! Church comes out of nowhere and dives underneath, briefly making it three wide. He dives one more time under Annunziata, but can't get it done as Pilla spins behind and contacts the outside wall hard in turn three. But none of that matters to Annunziata as he grabs his second career Carolina Pro Late Model Series win. Church grabs an amazing second, Kay holds onto third, Price gets fourth, and Phillips rebounds for fifth.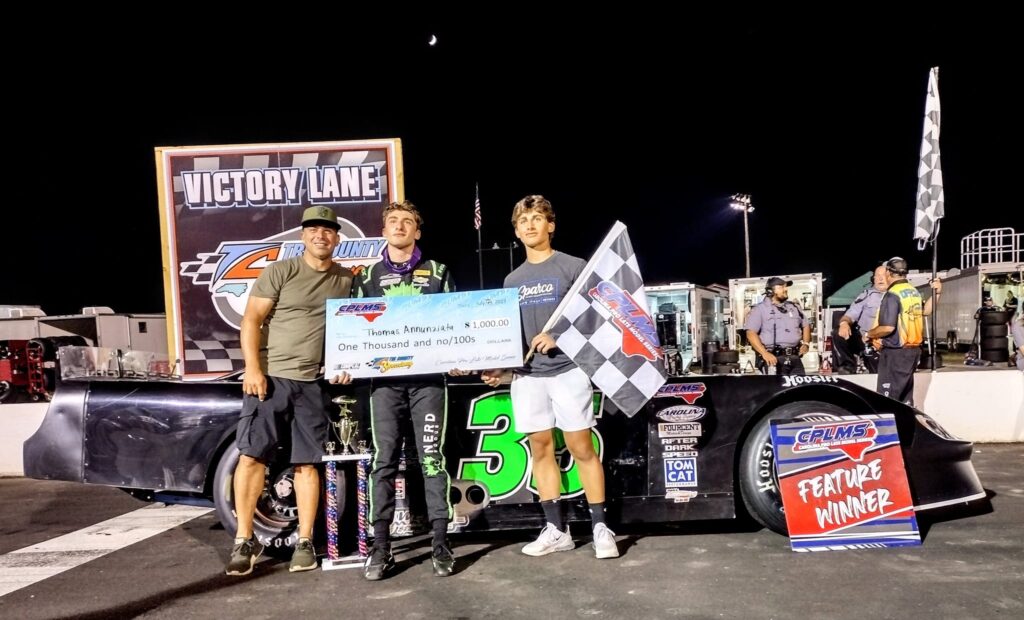 MY TAKE
There's a lot to take away from this one. But one thing that sticks out to me is family. At a family owned track, the Trivettes dominate the Pro 4s as brothers Robbie and Rodney finish one and two respectively, and the father and son team of Tim and Eddie Gilbert do the same after a hard fought battle in the Vintage division. James Powell wins again in the Front Wheel Drive division on a solemn anniversary for him and his family on a night that Kevin Orlando returns to victory lane in the Carolina Crate Modified Series in the family owned # 00 machine. And in the Carolina Pro Late Model Series feature event, Thomas Annunziata takes his second win in as many starts driving the Kvapil family # 35 Pro Late Model machine, a car that gave Carson Kvapil his first Late Model championship and Caden Kvapil his first ever Late Model win, and now gives Thomas Annunziata his second win on the tour. Proving once again that the quote "The more things change, the more they stay the same" still has tremendous merit. And in a sport that is seeing tremendous change, there is at least one thing that will remain the same for as long as the sport remains, and that is that in several respects, the sport of auto racing is a family affair at the core. Not just even in blood, but that the racing community at heart and in it's totality is a family within itself and everyone that becomes intrenched in it will tell you. It is what drives the resurgence even as a new generation comes forward. Yes, there is a lot still in the short track racing world that's not perfect, but no family is. But a family that works to be the best it can be is a family to be reckoned with, and it will fight for it's survival and find a way to thrive. And the short track racing family in the end of this new age will be stronger than it ever was. And even this one event at Tri-County Speedway as it welcomed the Carolina Pro Late Model and Crate Modified Series to the speedway for the first time ever was in it's own way an indication of that. On it's surface it was to most just another good and competitive short track racing event. In reality however, it was a family affair.
This week's Short Track Report Blue Collar Racer Of The Week choice was another tough decision for us. In the end however it came down to a couple of drivers who's determination earned them great hard fought finishes for themselves and their teams. The conversation began in earnest however with Thomas Annunziata and the Travis Kvapil Racing team who took the pole and the win after starting second due to the series invert. Hardly challenged until the last three laps, Annunziata had his hands full with Jonny Kay but managed to hold on to the exciting win in the closing laps. But then we couldn't help but take a look at E33 Motorsports driver Max Price in the # 1 who drove a smart race, missing every bit of chaos that unfolded in front of him, and used his determination to move from his ninth place starting position to come home with a top five finish, his second in as many races, finishing fourth overall in his last two starts on the tour. But in the end, we couldn't deny the work on track by Tyler Church in the # 7 Tyler Church Racing entry. Starting fifth on the field, Tyler had his hands full with the competitive Pro late Model field, losing a couple spots early on and having to battle mid pack for much of the event due to a mid race pit stop that put him on the tail end of the lead lap. But Church was saving as much as possible in the process, and when the last restart saw an immense battle form up front, Tyler Church used the opportunity to show what he'd been keeping close to the vest and battled his way into the runner up position and became prominent in Annunziata's rear window, but not with enough time to capitalize, settling for an exciting second place finish in a performance we just couldn't deny for this week's Blue Collar Racer Of The Week award. Congratulations Tyler! That was one determined on track performance. Until next time, as always, See You At The Track!
(Race write up by Joshua Weatherman. Intro and My Take written by Billy Weatherman. 2023 Copyright SHORT TRACK REPORT)
Tags
Alan Rich
,
Beckham Malone
,
Black Automotive Group Vintage
,
Blue Collar Racer
,
Blue Collar Racer Of The Week
,
Bob Wallace
,
Bobby Gill
,
Boo Carlisle
,
Brian Weber
,
Cale Yarborough
,
Carolina Crate Modified Series
,
Carolina Pro Late Model Series
,
CCMS
,
Cody Norman
,
Connie Mickel
,
CPLMS
,
Crate Modified
,
Crate Modifieds
,
Dale Ogburn
,
Dalton Ledbetter
,
Daniel Rupracht
,
Davey Smart
,
Dennis Trivette
,
Donny Holland
,
E33
,
E33 Motorsports
,
Eddie Gilbert
,
Front Wheel Drive
,
Front Wheel Drives
,
FWD
,
Gary Aldrich
,
Gary Ledbetter Jr.
,
Gary Willard
,
George Phillips
,
Granite Falls
,
James Powell
,
James Waldrop
,
Jamison Whittington
,
Jeff Morse
,
Jody Utt
,
John Barilka
,
Jonathan Kievman
,
Jonny Kay
,
Josh Goble
,
Kayla Powell
,
Kevin Eby
,
Kevin Orlando
,
Kolby Sawyers
,
Late Model
,
Late Models
,
Mark Whitten
,
Marlin Yoder
,
Max Price
,
Maxx Porter
,
Michael Pilla
,
Modified
,
Modifieds
,
NASCAR
,
Nathan Pate
,
Orange Blossom Special
,
Pro 4
,
Pro 4s
,
Pro Late Model
,
Pro Late Models
,
Randy Hupp
,
Renegade
,
Renegades
,
Robbie Trivette
,
Rodney Trivette
,
SMART Modified Tour
,
Smokey Yunick
,
Street Stock
,
Street Stocks
,
Thomas Annunziata
,
Tim Gilbert
,
Tommy Houston
,
Travis Kvapil
,
Travis Kvapil Racing
,
Tri-County
,
Tri-County Speedway
,
Tyler Church
,
Tyler Church Racing
,
Vintage
,
Vintage Cars
,
William Sawalich