CARS TOUR PURYEAR TRUCKING 125 AT WAKE COUNTY SPEEDWAY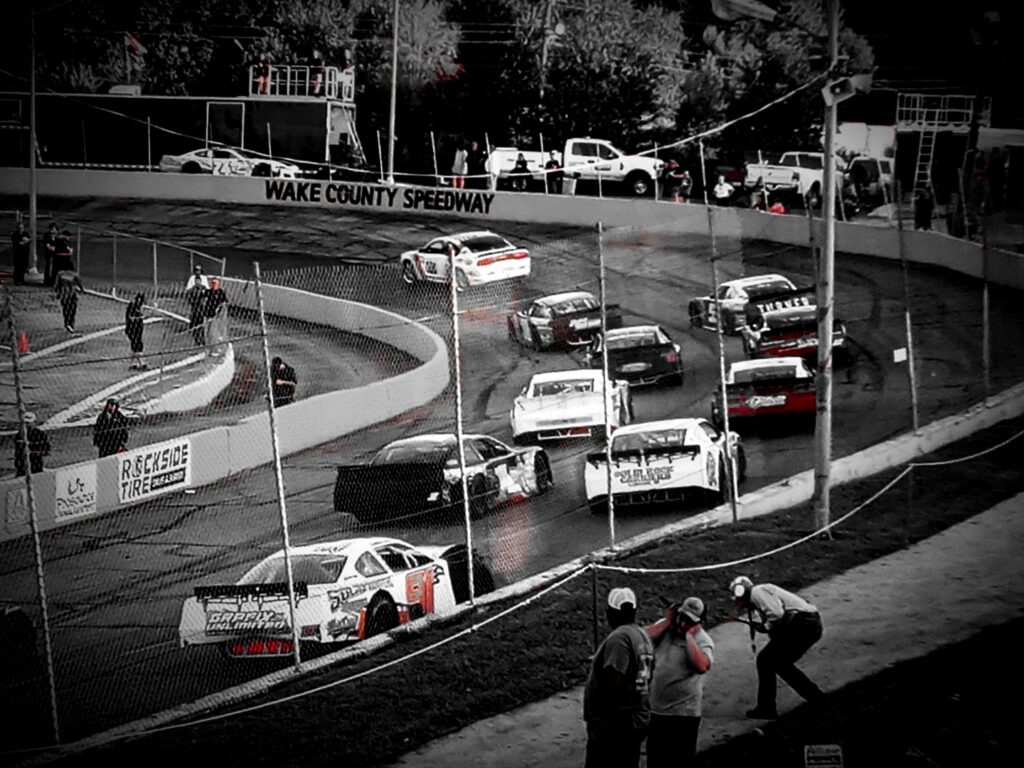 THE ARENA
I'm almost a little embarrassed to admit it now, but I'd never been to Wake County Speedway. But as we were putting together our schedule when we began Short Track Report, we felt we needed to do an honest assessment of where we needed to be. And so we put a little order on the madness of trying to cover the best there is in short track racing in our region. That's tough in this region that is the central east coast, as in the heart of NASCAR, there is of course a lot of great short track racing. And so, in our assessments, we came to understand that we had to get out to Wake County Speedway in Raleigh, North Carolina. And when trying to figure out where we could schedule it, we realized that with two races left in their season to decide a champion, the premier short track racing tour in our region, the CARS Tour, was coming to Wake County on a Saturday night under the lights on October 9th. We marked it down knowing it was a perfect fit for our schedule. And we purposely tried to learn as little about Wake County Speedway as possible. Let me explain. For those of you who don't know, if we go to a track we've never been to, we try to learn as little about the history of the place as possible, on purpose because we want to bring to you our honest opinion of the place from someone new to it. Then after we have our first impression, then we go and get the history, as much as we can find, and that's how we bring the track to our audience. Many of which, like us, have never been to the track. So, first, a little of the history.
Built in 1962, it was originally a dirt track run by Glenn and Marvin Simpkins. It was then paved in 1987. Some of the great drivers that have competed here include – J.D. McDuffie, Benny Parsons, Ken Schrader, and Dennis Setzer, just to name a few, so it had a great reputation for an independent track. In 2018, Charlie Hansen took over. He knew the place as he was not only a employee of the track, he had also been a competitor. And so we know he has to love the place to take it on after spending so much time there, and coming to know what it truly is. And to his credit, he has brought NASCAR sanctioning to the quarter mile track, for the first time ever, in 2020. We were curious about how the track pulled in NASCAR sanctioning for the quarter mile track, for as many know that as a highly coveted distinction. What we did know was the fans' great comments on the track, as of course we followed them on social media, which we highly recommend. And so, with the CARS Tour coming into the track with a smoking hot points race with two to go, and what we know is going to be a great show at a track dubbed America's Favorite Bullring, we were ready to get to the track. We were going to have to wait an extra day however, as mother nature had other plans for Saturday. So, Sunday it is. And as we head out for the hour and thirty three minute trip to Wake County, we can't help but get into a discussion about the race. One point separates Bobby McCarty, the points leader, from Kaden Honeycutt, who's making a run at the former champ late in the season, with Justin Johnson, and Jared Fryar within reach as well in the championship hunt. And with that, a race where survival may be the key. Would veteran McCarty be able to capitalize on a rookie mistake by true rookie Kaden Honeycutt? We tried to pick who we thought would win this week, but it comes down to a toss up. Anyone in the field can win. A group of some of the best Late Model drivers in the country.
As we arrive, the drive in kind of reminds us of the drive in to Florence Motor Speedway. It's a sandy road that breaks off into a grass parking area. But as we get toward the end of the short drive way, off to the left is the speedway. And right away you start to get a feel for the place. It's truly a bullring. There is excitement in the air. The car haulers are in a parking lot outside of the track, but all the cars, drivers, and teams are in the infield preparing for practice, to get the cars set up for qualifying. And as we cross the track to get to the infield, I take a look around the place to get a good measure. There's good banking that gives the cars amazing speed for this small arena. Tall metal bleachers to give the fans a great view, and on the backstretch, a view that centers you to the scoreboard, to give you a focus to easily keep track. What I notice immediately, is that the place centers the view perfectly to the track where you can focus on the competition without much effort. And as practice and qualifying came to an end, I came to know that this track is complicated. Drivers have to be on their toes. They will have to work here today. The track is challenging, with braking and acceleration points crucial. But what is surprising, is the speed. These drivers are getting around this place as fast as they can think about it. No time for distractions. Or more importantly, no time for mistakes.
And so, we come down to time for the show. And folks, little do we know what a show it will be. Our answer to how Charlie Hansen landed that sanction is about to be obvious in a big way. All I can say right now, is folks, welcome to the show. And a show starts here with the tracks mascot, Checkers The Bull, who enters the speedway after a rousing introduction, in a racing cart. And as he gets up to speed running around the track, sparks and green colored smoke fly off the back of the cart, much to the kids delight. He makes a couple fast showy laps for the kids entertainment, and after a flood of cheers after he stops and waves to the crowd, he then comes up and joins the crowd as the children flock around. Then the invocation is given, and CARS Tour spokesperson and media personality Jacklyn Drake introduces a young 10 year old National Anthem singer. During the singing of the anthem, the young singer got a look at the huge crowd she was singing for, and she froze a bit and got nervous. The crowd urged her on, and they helped her get through it, by singing loudly with her as she followed along with them. And as it was complete, the crowd cheered loudly for her bravery. I'm not going to mention her name here. Why? Because she was embarrassed. I've already seen her put out there in social media. But if she was to hear what we thought about her performance, in front of thousands, at this huge event? We would tell her, she shouldn't be embarrassed at all. She wanted to give up, but she didn't. And I'll be the first to tell you, as a singer and entertainer myself for over 30 years, getting up on that stage is one of the hardest things you can do. And so to anyone that would even think of making fun of that situation, you should second think it. For us, we applaud her, for firstly volunteering to get up and sing for her country, and secondly, for when thinking she couldn't get through it, she did anyway, and gave an amazing moment for those of us that realized the momentous feat you accomplished. And as we cheered, the track sent off fireworks with a loud bang, firing up the crowd even further. A young man from the Puryear Trucking family gives the command, and the field of competitive Late Models come to life. And as they start to come around for the parade laps around this awesome little raceway, two semi tractors, the first hailing a huge American flag, lead the cars around in front of the still cheering, amazing crowd, gathered to see this great American race. Oh and by the way, did I mention that there is $10,000 is on the line? So, the drivers are ready, the crowd is ready, the speedway itself is ready, so Let's Go Racin'!
THE PERFORMANCE
THE BOMBERS
The Wake County Bombers are, simply put, a run what you brung type of class. We've got plenty of small cars, and we even have a Cadillac in the field for this one. The # 02 machine of Jeremy Mock starts on the pole with Ricky Heigl in the # 4 rolling off second. Flagman Brandon Willard looks over the field, likes what he sees, and we're green in the Bomber feature! Mock and Heigl are dead even on the start and battle side by side until Heigl uses the high groove to clear himself going into turn 3. The field behind begin to scatter for every position they can. As Heigl tries to gap the field, the crowd is amazed at the sight of the huge # 115 white Cadillac of Adrian Lasater dirt tracking it around such a small track. But back up front, Mock has a problem with his hot rod and starts to slow exponentially. This allows the # 743 of Sammy Pacitti to inherit the second position. As Pacitti starts to walk down Heigl, the caution flies as Mock spins his ailing car out of turn 4. He immediately takes his car down to pit road and calls it a day. Coming to the restart, Heigl chooses the prestigious inside lane, which leaves Pacitti to fend for his life on the outside. Willard looks them over, likes the formation, and we're back green.
Pacitti gets a great jump on the outside and tries to find a way to clear Heigl. But as they exit turn 2, they collide! They both go around and collect the # 115 of Lasater and the # 81 of Brian Craver, as they have nowhere to go. Craver takes a violent hit into the inside wall as the rest of the field scatters. The # 8D of Daniel Stephenson and the # 37 of Les Fenton also get collected. The red flag comes out, as safety is of the utmost importance. Thankfully, Craver is able to walk away from his battered machine. Lining back up for the restart, it'll be Lasater up front as he got away with minimal damage. The # 0 of Chris Vestal will line up second. Willard surveys the thinned out field and waves the green yet again. They're both dead even and allow Heigl to make it a three way dance for the lead. They put on a heck of a show as Vestal eventually gets the nod on the outside. Heigl is able to get by the loose Lasater and is all over the Vestal machine. Without much challenge, Heigl is able to retake the lead. Vestal sends it and gives Heigl a shot, but it's not enough as Heigl walks away and takes the Bomber win here at Wake County. After the race, a bit of a fracas breaks out regarding the big crash that took out Craver. But none of that matters to Heigl, as he will take home the trophy and the $500 winners purse.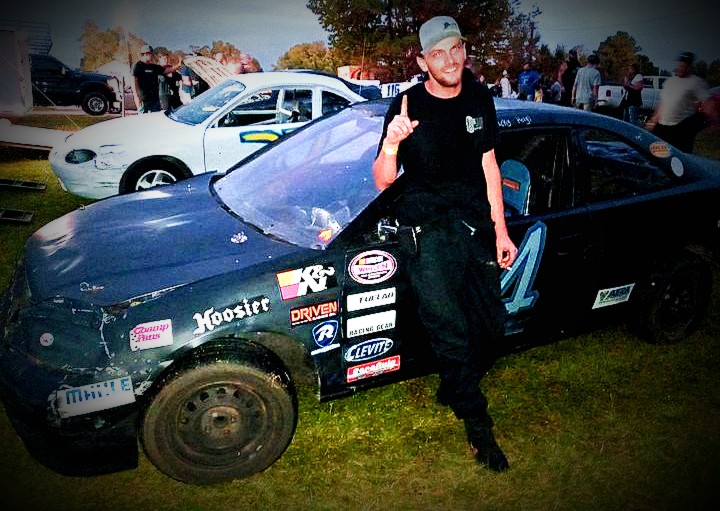 THE CARS TOUR PURYEAR TRUCKING 125
The CARS Tour comes into Wake County Speedway with just two races left to crown a champion. Four drivers have a mathematical shot at the title, including points leader and former champion Bobby McCarty, true rookie Kaden Honeycutt who's had an amazing year and sits one point back, Justin Johnson who's found his way to victory lane this year on the tour and sits just 13 points back, and Jared Fryar who's been Mr. Consistency on the tour this year, putting him just 20 points back with a couple of races left on the season. To say that these drivers will need a good finish here today would be the understatement of the year. The tour comes to America's Favorite Bullring with all the stakes on the line. The champion will be crowned at South Boston Speedway. But the road to the shot at the title runs through Wake County. The challenge is real, and only the strong survive.
Bobby McCarty's car stalls on pit road as he's given the green sign off pit road to enter the track and qualify. McCarty tries again but the car won't fire. And in a testament to how well the CARS Tour is run, a crewman starts to eagerly undo the hood pins in an effort to diagnose the problem. But he is aware enough to first ask the CARS Tour official if he has permission to do so. I note it as I am struck by the crewman who has the presence to make sure he does the right thing in a stressful situation, and a tour ran so well he had to be mindful of his actions. He immediately gets the engine fired and puts the hood back down and latches the pins, and McCarty spins his hotrod off of pit road to start his qualifying run, and takes the pole position with a blistering lap of 12.905 seconds. McCarty is not going to be shaken today, and under pressure, sets a lap so quick he didn't even have time to think about it. # 81 Mini Tyrrell will start second, # 99 Layne Riggs third, # 9 Conner Jones starts fourth, and # 24 Mason Diaz starts fifth with just .172 separating the top five starters.
The field is led by two semi tractor trucks from sponsor Puryear Trucking on the parade laps in an awesome sight, with the first one sporting a large American flag, waving in the breeze created by the semi, and making for an awesome view. Puryear Trucking has went all in on this event, putting up $10,000 for the winner, and now starts the show with this great visual display to the approval of the large crowd gathered to see this great American racing event. The semis take a few laps and exit the speedway, and CARS Tour flagman Brandon Willard gives the field the double up signal. You can feel the excitement as the tour's pace car pulls away. Willard gives the field a good look as McCarty methodically brings them down and drops the hammer in the KRC Power Steering Fluid starting zone. Willard likes the view, and the green is out and we are underway in the Puryear Trucking 175 main event for $10,000, the biggest purse ever offered for a main event winner here at Wake County Speedway, and a shot at the title going into the South Boston finale.
# 22 Bobby McCarty gets a great start, but # 81 Mini Tyrrell is right there on his outside. # 99 Layne Riggs clears behind them, and the whole field looks to get in line early as the track is known to eat up tires, and conservation is going to be critical with tire management crucial here today. McCarty clears Tyrrell who settles in second, as # 08 Deac McCaskill is the only car out of line up front as he battles with # 24 Mason Diaz for the fifth spot. Diaz, looking to hold the spot and then some, dives in under # 9 Conner Jones for fourth, as # 4H Kaden Honeycutt looks to get into the mix, and almost taking the group 4 wide, with Diaz, Jones, and McCaskill. They get it sorted out but now Diaz is still under Jones, with Honeycutt under McCaskill tight behind them. McCaskill falls in behind Honeycutt as Diaz clears Jones, who's now stuck on the outside by himself. Jones sees his predicament, and he wisely decides to drop in behind McCaskill with the field closing in behind them. But # 1 Andrew Grady has already committed to diving in under Jones, and before the door is closed completely, Grady is there and rides up onto the top of Jones car after making contact. Behind them # 17 Joe Valento and # 50 Daniel Vuncannon get together trying to miss the melee. Vuncannon has some minor damage and pulls away, but fluid is rolling out underneath the # 17 machine of Valento, and we have our first caution of the event just 6 laps in. Jones and Grady both have heavy damage as well, but are able to drive off to pit road to make repairs, and somehow Valento also gets his machine fired and drives away to the care of the crew, as the track crew gets to work to clean up the mess.
The track crew does their work, and the teams have their cars repaired as good as they're able, except for Valento who's car is done for the day. Flagman Willard again gives the signal to double up, with McCarty on point, followed by Tyrrell, Riggs, Diaz, and Honeycutt rounding out the top five. McCarty brings them down, and hits the throttle, as Willard drops the green to get us back underway. McCarty again gets a good start, but Tyrrell challenges on his outside. Riggs settles in behind in third, with Diaz and Honeycutt side by side for fourth. Honeycutt gets clear for fourth and tightens in on Riggs as # 95 Sam Yarbrough and Deac McCaskill look to get in on the action. Honeycutt moves in under Riggs for third as Yarbrough moves under Diaz for fifth. Yarbrough then moves in under Riggs as he makes a move into the top 5 with McCaskill and Diaz in tow. Behind them is a bevy of machines with eager drivers trying to gain positions before they settle back in line and again go into tire conservation mode. Honeycutt up front is under Tyrrell for second, as he looks to challenge McCarty for the point. Yarbrough clears Riggs as McCaskill follows him through with Diaz looking in on the action in seventh. Yarbrough gets to Honeycutt's bumper as he works under Tyrrell, as they battle for dominance up front. Tyrrell battles to get back in line behind Yarbrough, but McCaskill wants another spot too and closes the door, as up front, Honeycutt moves under McCarty for the lead, and again Yarbrough attaches to his bumper and he follows Honeycutt and is under McCarty for second. Meanwhile McCaskill clears by Tyrrell as he's now under fire from Riggs who wants to clear as well for fourth. Honeycutt moves out front, followed by Yarbrough, as McCaskill now moves under McCarty for third. Tyrrell slips to sixth as Diaz also moves past, but Tyrrell now is able to get in line and stop the bleeding. The top six now run in line, but Yarbrough wants more and looks on Kaden Honeycutt for the lead. He persists and after just a few laps, he dives under and we have a new leader as the # 99 machine powers his way to the front, as McCaskill sees the opportunity and follows him past Honeycutt to second. And finally, the dust settles down a bit and the field runs in line. Many of the veterans said before the race that they may drop to the back and ride due to the nature of tire wear here, but this race is taking a turn, with the fastest cars battling for the front and setting a solid pace. And if this continues and the leaders are able to keep the cars under them, anyone laying back is going to get devoured.
# 4 Jonathan Findley darts out of line under Tyrrell for seventh, as # 51 Ethan Johnson follows him through. # 50 Daniel Vuncannon also follows them through to ninth, as Tyrrell has to settle for tenth. Up front, McCaskill has seen enough of the rear of Yarbrough's machine and he dives under and takes the point at his home track as you can hear the roar of the crowd's approval. They have more to cheer about as local track Late Model drivers Ethan Johnson and Daniel Vuncannon now look under Diaz as they move in closer to the top 5 runners. Diaz who apparently was in tire save mode is having none of it however, as he jumps to the outside of Riggs to try to make his way past. He moves around Riggs on the outside and then moves on the outside of Diaz as Johnson and Vuncannon close in. Now McCarty and Riggs are side by side for sixth with Johnson and Vuncannon looking on. Ahead of leader McCaskill is the # 44 Justin Johnson who's proving our prediction true, as Johnson was content to ride in the back until the next race break, but now finds himself in jeopardy of going a lap down to the fast running leaders. Riggs and McCarty door bang a little sorting out the fifth position with Riggs finally clearing for the spot, as Ethan Johnson sees his chance to dive into the fray, moving under McCarty for sixth. McCarty battles back and is back outside of Riggs, as they close in on Diaz and Honeycutt running just in front of them. Again they get together as they are all over Diaz. Riggs tags Diaz just enough to make him check up to catch it, and McCarty and Riggs have to adjust as McCarty settles in line behind the # 99 machine. Diaz gets the hint, and he now moves to the bumper of Honeycutt, but then they all settle down, remembering the importance of this race, and they again look to settle in line and cool the tires back down.
Points contender Justin Johnson finds his championship hopes slowly slipping away as McCaskill is now all over his back bumper trying to get by. Johnson, being the gentleman racer he is, lets the leaders by and doesn't put up much of a fight. His only hope now is to get the free pass on the upcoming competition caution. Just before the competition caution comes out, McCarty starts to slow drastically, allowing the Diaz and Ethan Johnson machines by. Johnson is then able to get underneath Diaz to take the fourth spot. McCarty takes advantage of the # 24's lost momentum and gets by for fifth. Back up front, to Justin Johnson's chagrin, McCaskill laps the # 2 machine of Brandon Pierce, putting Pierce in the free pass position as Willard waves the mandatory caution flag. Pierce takes advantage of his free pass position and comes to the pits to switch his right front and right rear tires. McCaskill, Yarbrough, Honeycutt, Ethan Johnson, and McCarty will be your top five coming to the restart. The field is ready, Willard is satisfied with the view, and we're back underway at Wake County.
Yarbrough puts up a fierce fight, but McCaskill is hooked up on the bottom and clears for the lead. McCarty is able to maneuver around the Johnson car and is now all over Honeycutt. McCarty divebombs underneath and clears Honeycutt as Honeycutt scrambles to get to the bottom and makes it. Riggs now inherits the fifth position and they all try to get into a smooth rhythm. Johnson gets stuck on the outside and finally is able to settle in behind Andrew Grady in tenth. McCarty knifes his way underneath Yarbrough and gets by for the second spot, setting his eyes on McCaskill and $10,000. But behind him, Honeycutt follows him through by Yarbrough, putting him in third. Riggs is then by Yarbrough as Yarbrough has lost his earlier pace. Justin Johnson goes another lap down, putting him into an even deeper hole going into South Boston. Coming out of turn four, Jonathan Findley brings his machine down pit road and is done for the day. Honeycutt has seemed to have found his line as he sneaks his way under McCarty and powers by. McCaskill has caught a hornet's nest of lap traffic up front as Jonathan Shafer is giving him a battle to remember to stay on the lead lap, but gives it up, knowing McCaskill is faster. McCaskill has seemed to gap the field for good. But caution is out on the track! A piece of debris from the Conner Jones machine has flew off of his car and onto the track due to his earlier incident. Jones decides that he's had enough and noses his machine into the pits for good. Diaz, Pierce, Vuncannon, and Shafer, who gets the free pass, all decide to play strategy and head to the pits. Shafer pulls the same strategy as his teammate Pierce and swaps the right side tires.
It'll be McCaskill, Honeycutt, McCarty, Riggs, and Yarbrough for this late race restart. Willard eyes the formation, gives the thumbs up, and we'll have under 20 laps to settle a $10,000 payday. McCaskill gets an excellent restart as Honeycutt and McCarty begin to engage in an absolute dogfight for the second position. McCarty carves his way under and is able to power off of the corner past Honeycutt. Honeycutt is now stuck on the outside, and gets land rushed by Riggs, Fryar, and Yarbrough, finally settling in behind the # 95. But McCarty gets pushed to the outside by Riggs and now finds himself stuck on the high side. He eventually settles in behind Fryar as the top half of the field try to settle things out. But Honeycutt has none of it and dives underneath Yarbrough and settles in behind McCarty. As Honeycutt makes his charge, the caution flies yet again, this time for a three car collision in turn 2 involving Diaz, Pierce, and Shafer. Pierce has major damage as his left side sheet metal is dragging the track. Shafer also has significant damage to his front end. The track crew gets it cleaned quickly and we're back doubled up in no time. It'll be McCaskill, Riggs, Fryar, McCarty, and Honeycutt for the restart. Willard looks over the field, he likes what he sees, and we're back green to settle this one. But Riggs gets a little throttle happy and jumps the field. The caution immediately flies and a warning is given to Riggs. They're doubled back up and we'll try again.
It's a much better start this time as McCaskill again clears for the lead, but behind them, Honeycutt turns up the wick and gives McCarty a shove to try to take the fourth position. Chaos ensues behind them as the field races for every position they can on the bullring as cars are out of shape everywhere. Honeycutt is able to get around McCarty as McCaskill begins to gap the field. In the middle of the chaos, Jonathan Shafer, with half of his front end gone, has found his way into the top five! Riggs and Fryar go to war for second, as Riggs barely hangs on. Shafer is all over McCarty, gets by, and sets his sights on Honeycutt. Shafer, like a bullet, immediately gets by Honeycutt and is now breathing down Fryar's neck. Shafer moves his way under and by Fryar. But up front, McCaskill is able to pull away and ends the McCaskill drought as he is able to win at his home track! Riggs comes home second, Shafer third, Fryar fourth, and Honeycutt fifth, which puts him one point back going into South Boston.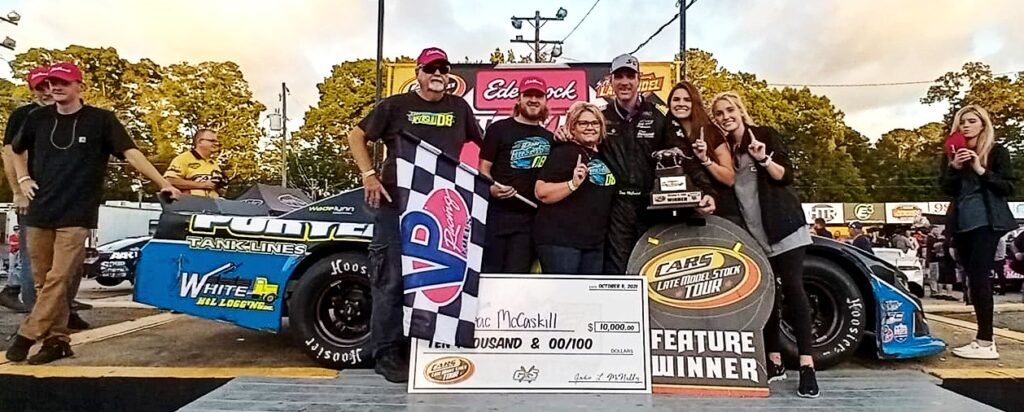 THE ENCORE (MY TAKE)
As I stand here in victory lane and watch this remarkable winner's celebration, I can't help but think to myself, "Welcome to the show!". You see, as a huge short track racing fan, I am remindful of the sports beginnings. Stock car auto racing began right here in our area as a thrill show where daredevils risked their lives for your entertainment, on a bet of who was the best driver with the fastest car. They started in farmers' fields and ended up at fairgrounds all across the country. A quarter mile speedway was the first to run weekly shows an hour and a half down the road at Bowman Gray Stadium, and short tracks grew up all around the land. And even when the sport sorted itself out and started running the premier NASCAR races on the superspeedways, and growing the sport well beyond the expectations of most, the short tracks have and will always be the backbone of the sport. And now, as the weekly short track racing scene stands still as the true core of the sport, I stand here today still able to hear the call of the vintage short track racing announcer shouting to the fair goers, "Come one, come all. Watch these daredevils in their flying machines risk their lives to be the best. Welcome to the show!" And tonight, what a show it was. And it always hits me when I see such an amazing performance. After all the racing I've seen. From the premier Cup Series down to the local short tracks. That the best racing you'll see in your life happens at a place like this. A quarter mile bullring where the action is always intense. Here at Wake County Speedway, Charlie Hansen and company know how to put on a show. From Checkers the mascot, to the fireworks after the National Anthem and the race. But most of all, they know the value of the short little bullring they call home. And they've turned in into one of the best places to watch racing in the country. Welcome to the show indeed!
As always for the Blue Collar Racer Of The Week, there were lots of contenders in the running. Deac McCaskill took the lead early and absolutely ran away with the win, ending his winless drought. Both Bobby McCarty and Kaden Honeycutt fought tooth and nail all day long, trying to settle their close points battle. We could even give it to Jared Fryar, who stayed quiet all day and came to the front when it mattered the most. But we just couldn't deny Jonathan Shafer. Shafer decided to play common strategy and rode around in the back for the majority of the race, even going a lap down at one point. But the cautions worked in his favor as he was able to get his lap back and was able to swap his tires for maximum grip. And on the final restart, he came out of nowhere to secure the third spot. And who knows, if the race was 10 laps longer, he could've been knocking on the door of McCaskill for $10,000. So we tip our hats to Jonathan Shafer and his team for an outstanding comeback at Wake County, making him our Blue Collar Racer Of The Week.
So now it comes down to this. With only 1 point separating the two points leaders, Bobby McCarty and Kaden Honeycutt, as we come to the showplace that is South Boston Speedway for the season finale. We leave here looking forward to the time we can return to Wake County Speedway, but we look forward to next week as the premier Late Model tour in the country comes down to the season finale that will decide it's champion. We love short track racing! Just because of times like these. See You At The Track!